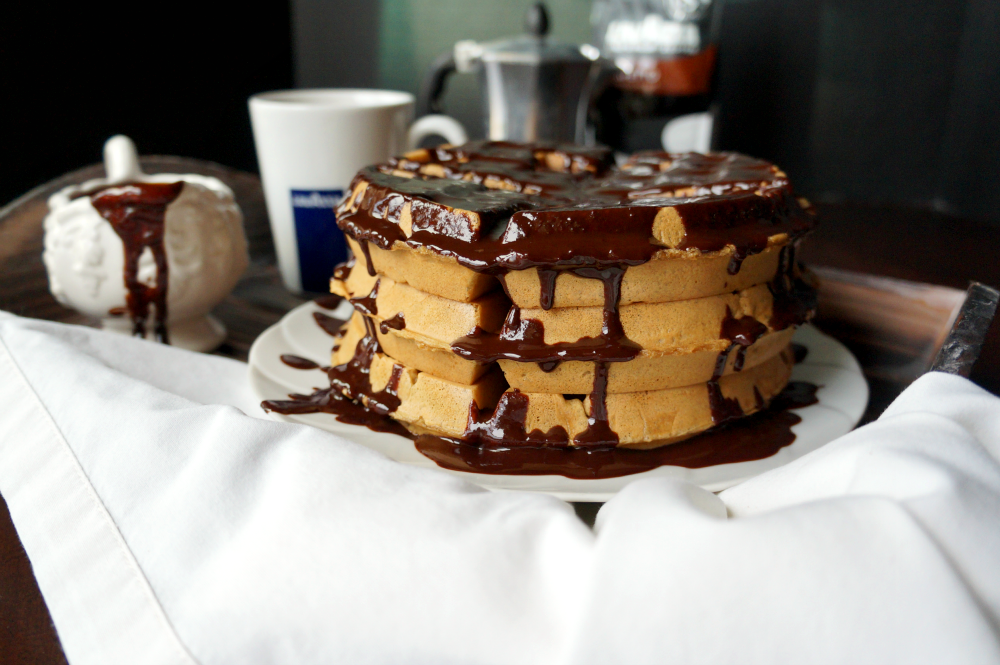 Hello, friends! Today, I've once again paired up with Lavazza Coffee (#ad) to bring you something delicious to start off your day! Coffee waffles, topped with a thick, decadent mocha ganache. Oh, yes. Can I just have this for breakfast every single day, or....? These are serious caffeinated perfection. How do you make these? Well, I'm glad you asked.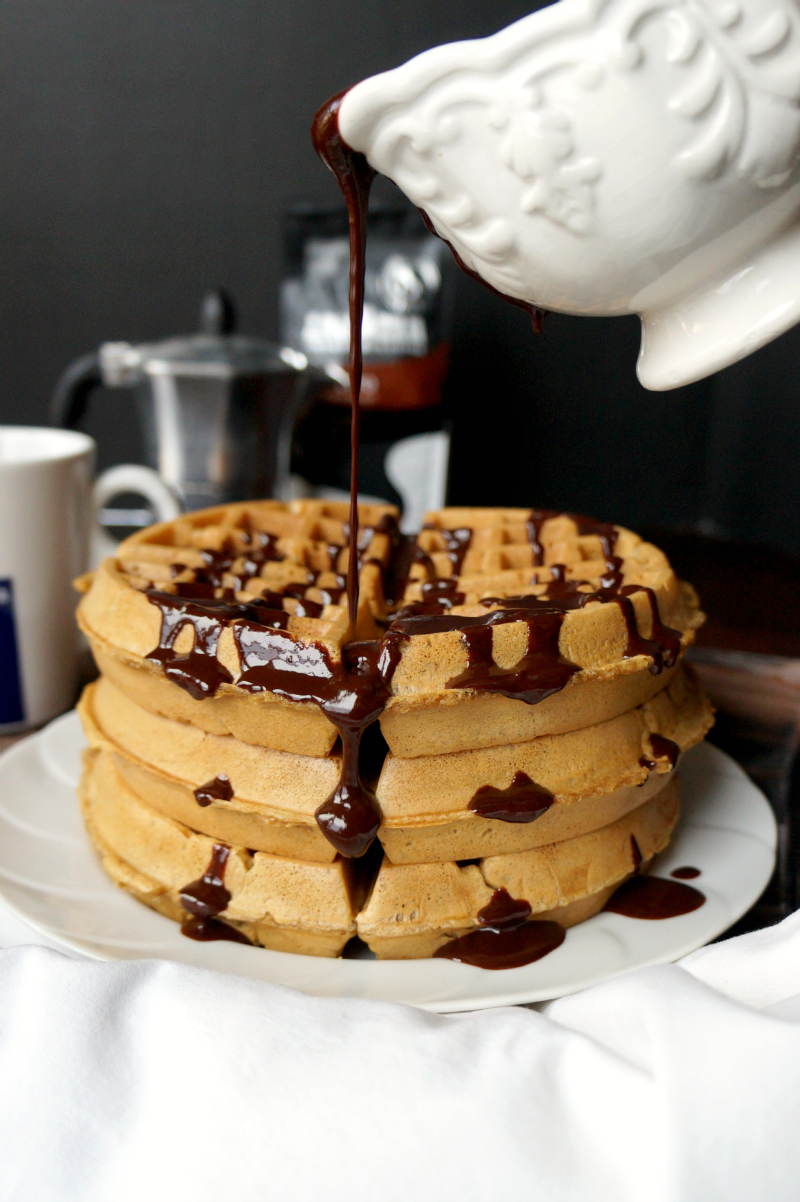 You start by making some fluffy, criminally easy waffles that have coffee right in the batter. That's right! Because we all know that while drinking coffee in the morning is great, nothing is better than eating it, too. And the topping? Well, this ganache is made of two simple ingredients: semisweet chocolate chips and black Perfetto espresso coffee. So easy! Just pour the hot coffee over the chocolate, and stir until smooth and creamy. The sauce is perfectly bittersweet, and an amazing complement to the light, crisp waffles.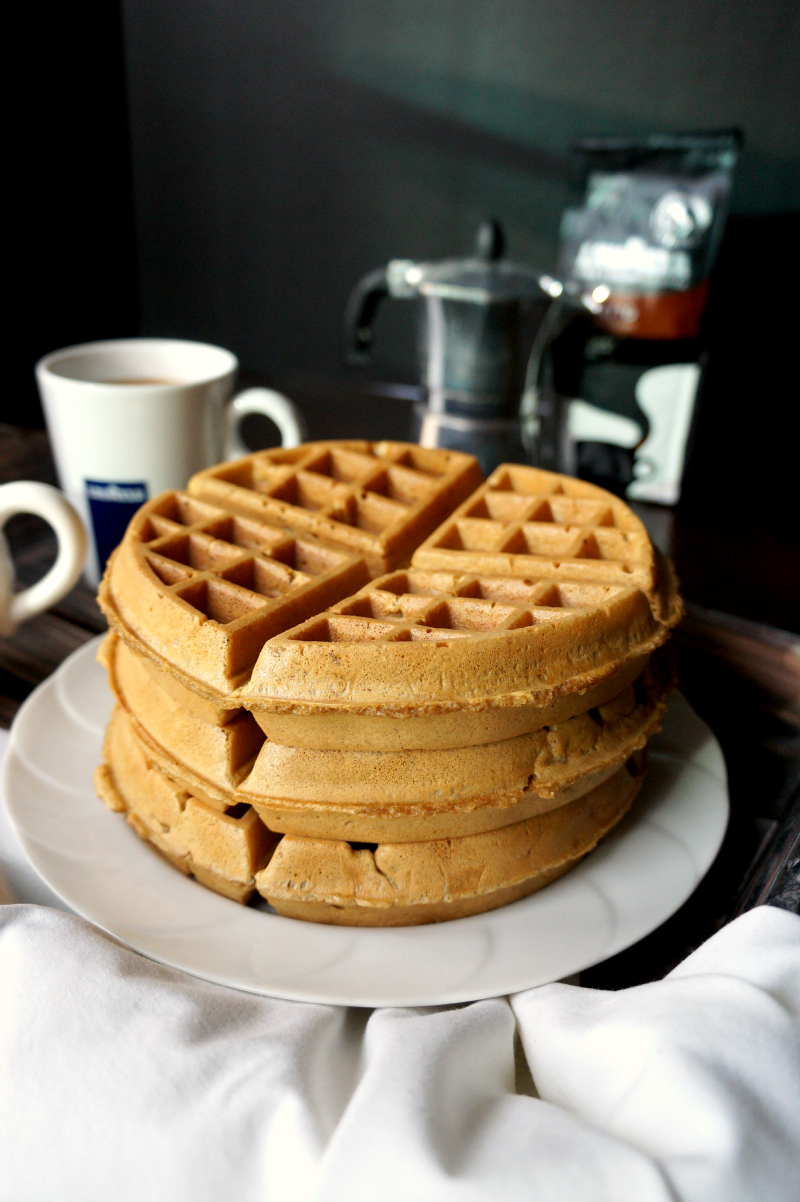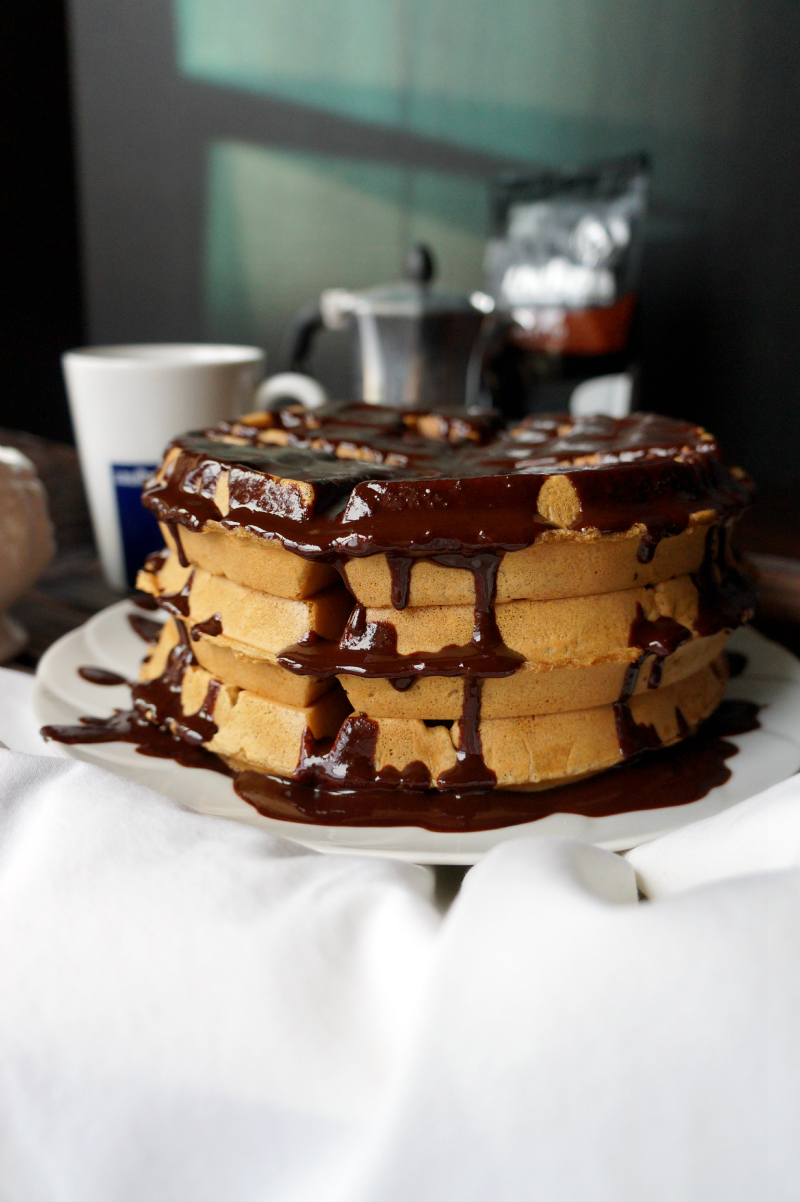 This month, Lavazza is promoting their Perfetto espresso blend! And, I'm not gonna lie, it's pretty perfect. It's sinfully dark and rich, with a smooth, bold flavor. It's great for a jolt of caffeine first thing in the morning, and it's my personal favorite for sweet blended drinks and to add to desserts, as the slightly bitter blend can definitely hold it's own when combined with sugary flavors. I have a Keurig and I love how easy and convenient the Lavazza pods are to use!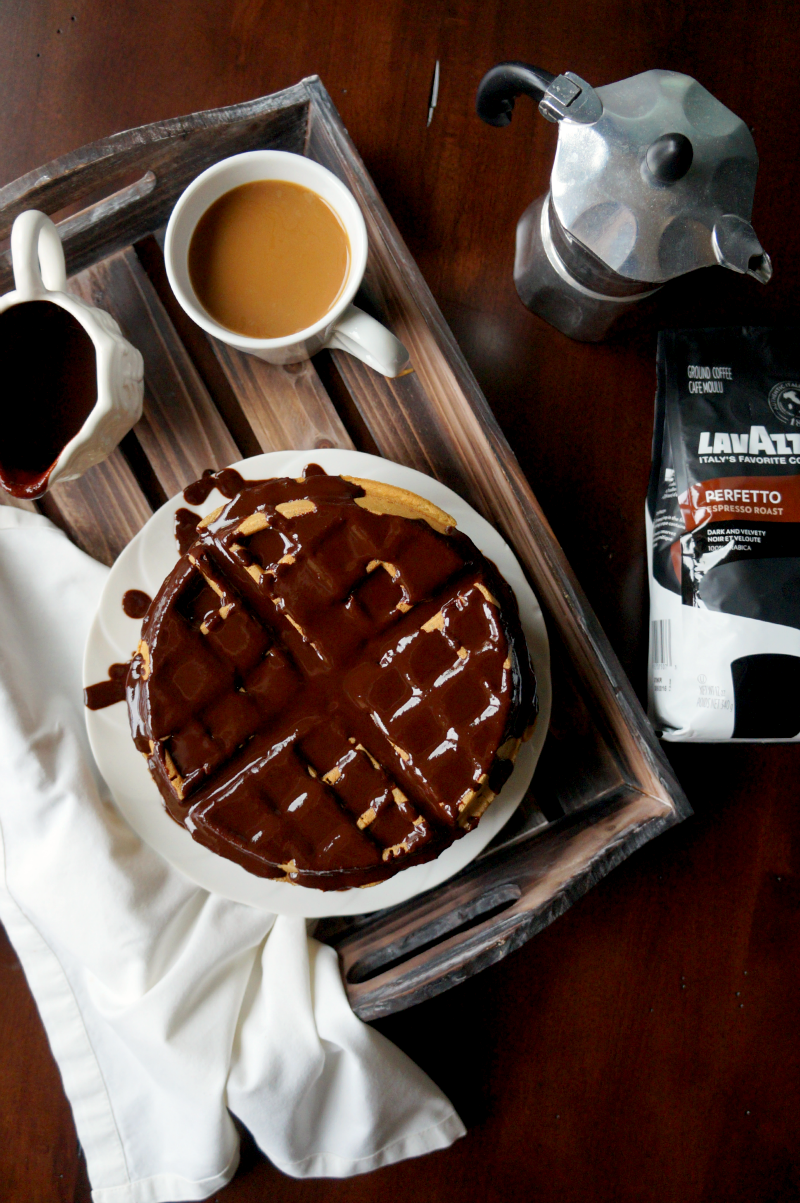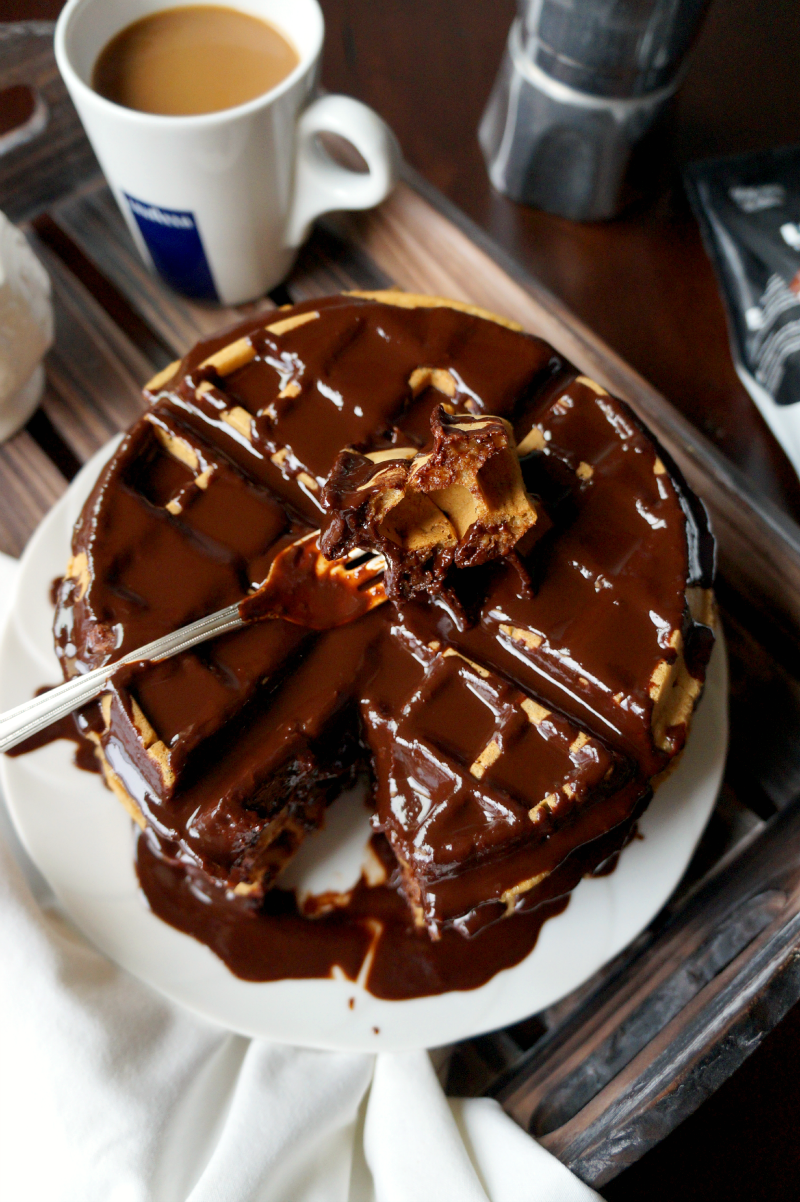 I also decided to have some fun with this recipe and included a gif for y'all! I just couldn't resist that decadent chocolatey drip shot. Enjoy! 🙂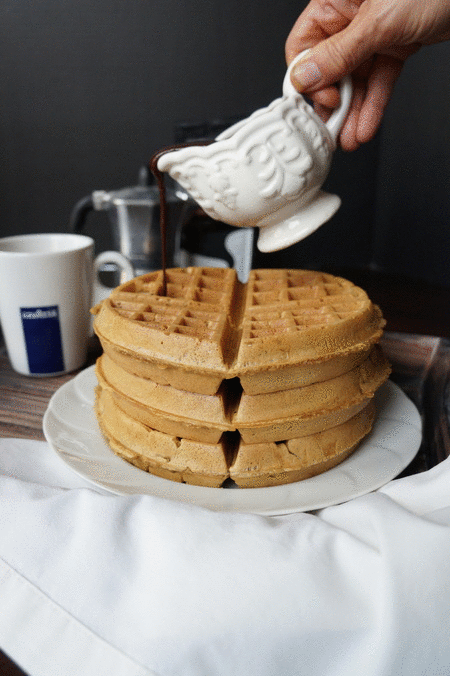 coffee waffles with mocha ganache
Author:
Valentina | The Baking Fairy
Ingredients
*for the waffles*
1¾ cup all-purpose flour
¼ cup cornstarch
3 tablespoon sugar
1¼ cups Lavazza Perfetto coffee, at room temperature
½ cup whole milk
¼ cup vegetable oil
2 eggs
1 tablespoon vanilla extract
¼ teaspoon salt
*for the ganache*
1 cup semisweet chocolate chips
¼-⅓ cup Lavazza Perfetto coffee
Instructions
First, make the waffle batter. Heat your waffle iron. In a small bowl, whisk together the coffee, milk, oil, eggs, and vanilla extract.
In a large bowl, whisk together the flour, cornstarch, sugar, and salt. Pour the wet ingredients into the dry, and mix until just combined.
Cook the waffles in your waffle iron. I have a belgian iron and I got about 6 waffles, a smaller iron will probably yield more!
As the waffles cook, make the ganache. Pour the chocolate chips in a small bowl, and pour about ¼ cup of hot Lavazza coffee on top. Whisk until smooth. If the mixture is too thick, add a bit more coffee until you reach the desired consistency.
Serve waffles warm with ganache on top!
In accordance with the FTC Guidelines, I am disclosing that I received compensation from Lavazza for my time and participation in the Lavazza Passionistas Program. Although I have material connection to Lavazza Coffee, any publicly stated opinions of Lavazza and their products remains my own. Recipe is an original creation of Valentina Celant at TheBakingFairy.net.