If you're looking for the easiest dessert ever, this is it! Lemon White Chocolate Poke Cake just requires lemon cake from a box and white chocolate pudding, but it's so delicious you'd never know it!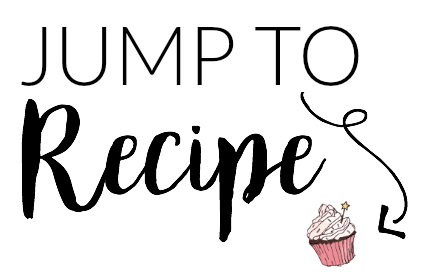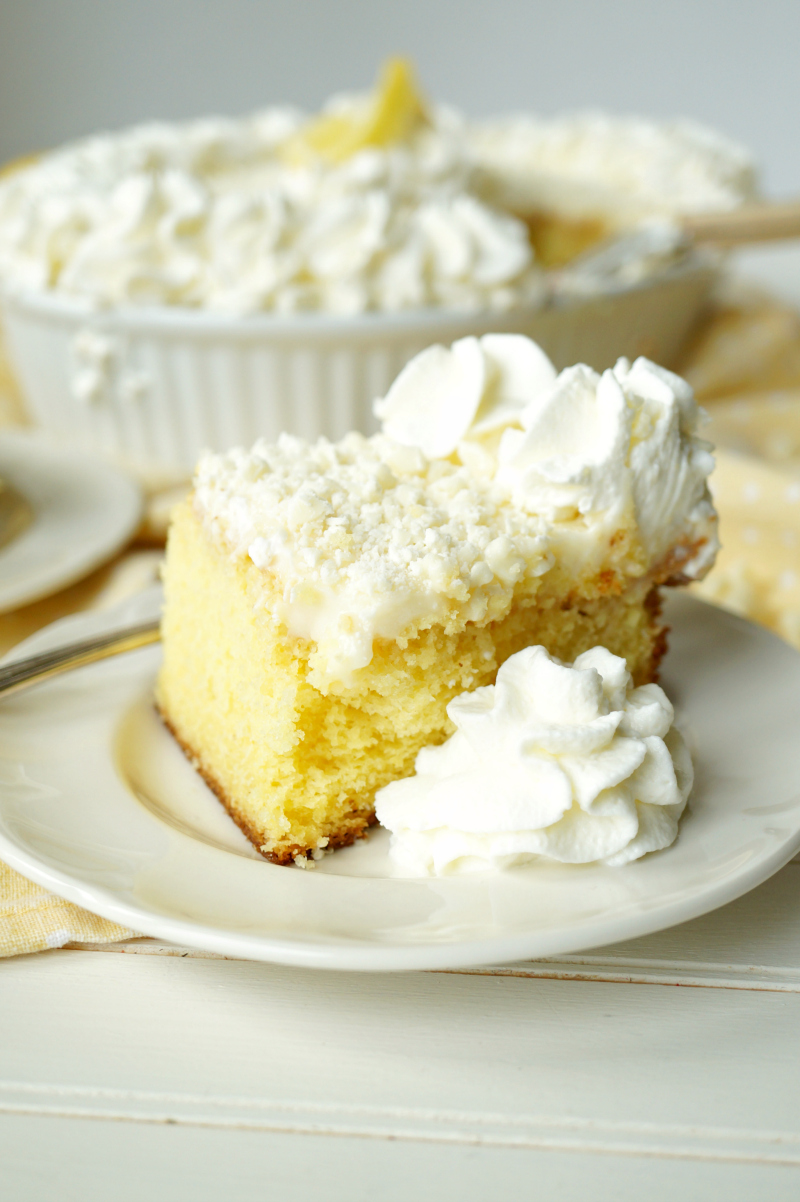 Happy Fri-YAY! We made it through another week, y'all! As it seems to be the theme this week, here is another recipe with a yellow main ingredient... and it's almost easier than the cherry turnovers from the other day! This Lemon White Chocolate Poke Cake is about to become your summertime staple! All you really need is a box of lemon cake mix and two boxes of white chocolate pudding. SO simple. And so yummy!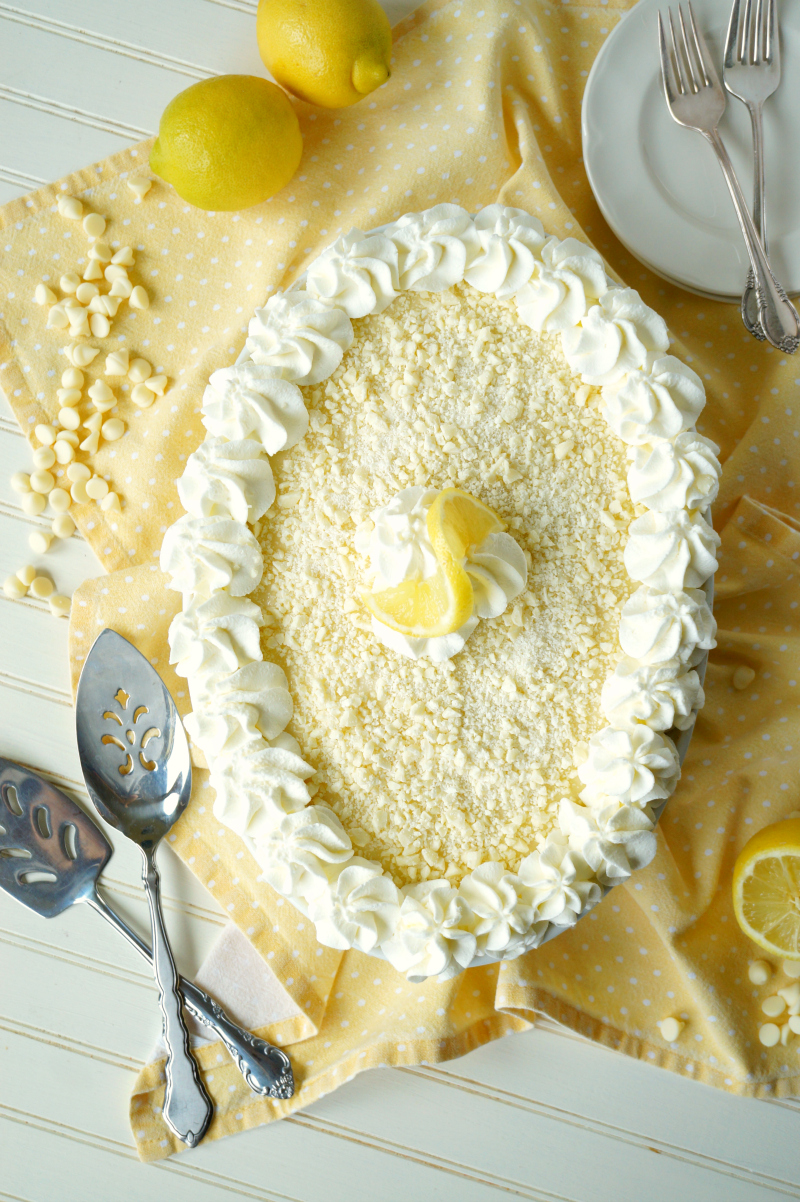 If you can believe it, this is one of TWO different poke cakes that I baked this week. This might be turning into a problem. BUT - hear me out! Poke cakes are embarrassingly easy and there are so many possibilities. You can mix and match whatever cake and pudding you like. If you're not feeling the white chocolate, just use lemon pudding and now you have an extra-citrusy cake! Or go with vanilla pudding. Or basically anything your heart desires. Lemon and white chocolate are a combination that is near and dear to my heart and that I accidentally discovered years ago when making sweet rolls. Because I'm nothing if not predictable, YES of course I have a recipe for lemon white chocolate rolls. 😉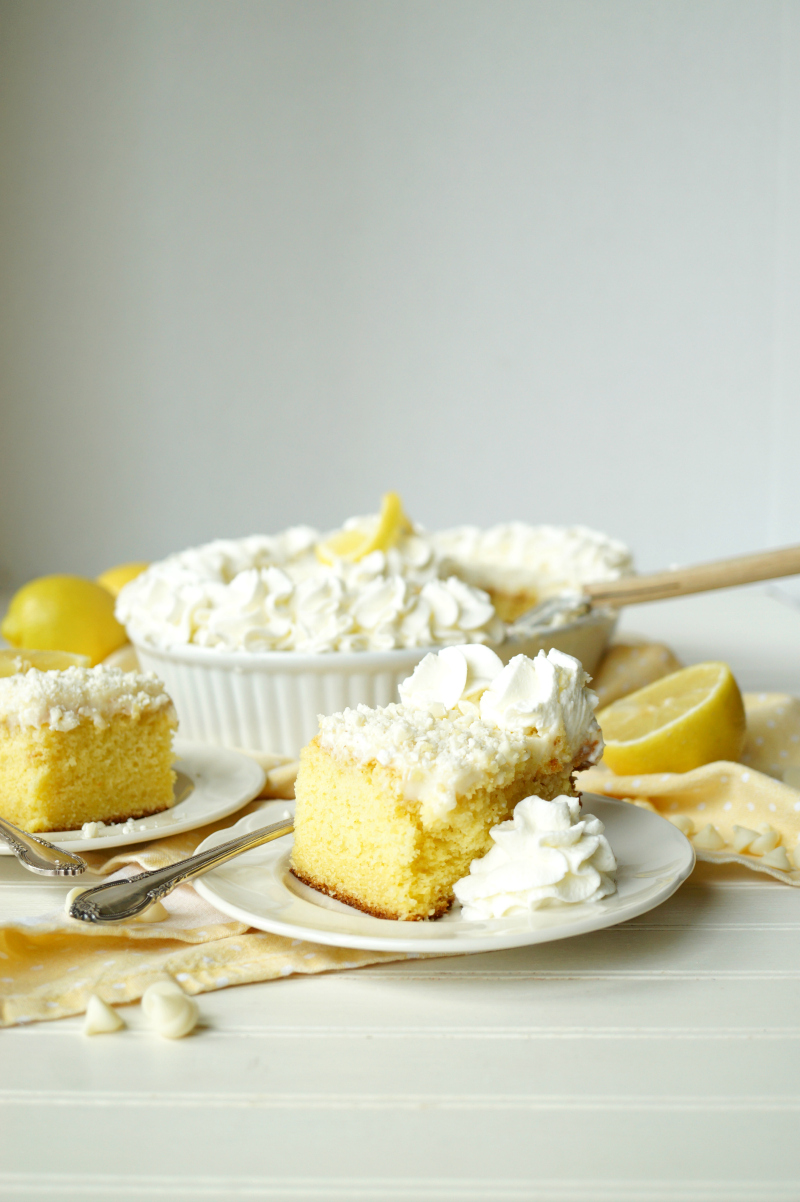 So here are your instructions. Bake your cake according to package directions. Let it cool and then use the handle of a wooden spoon to basically stab holes all over it. Yes I'm serious. And THEN, make pudding and pour it all over the top! You can really eat it as soon as the pudding sets, but I like having it chill in the fridge for a few hours so the cake soaks up all that pudding goodness. You can eat as is, or be like a food blogger and cover it with white chocolate shavings and whipped cream. It's great either way, to be honest!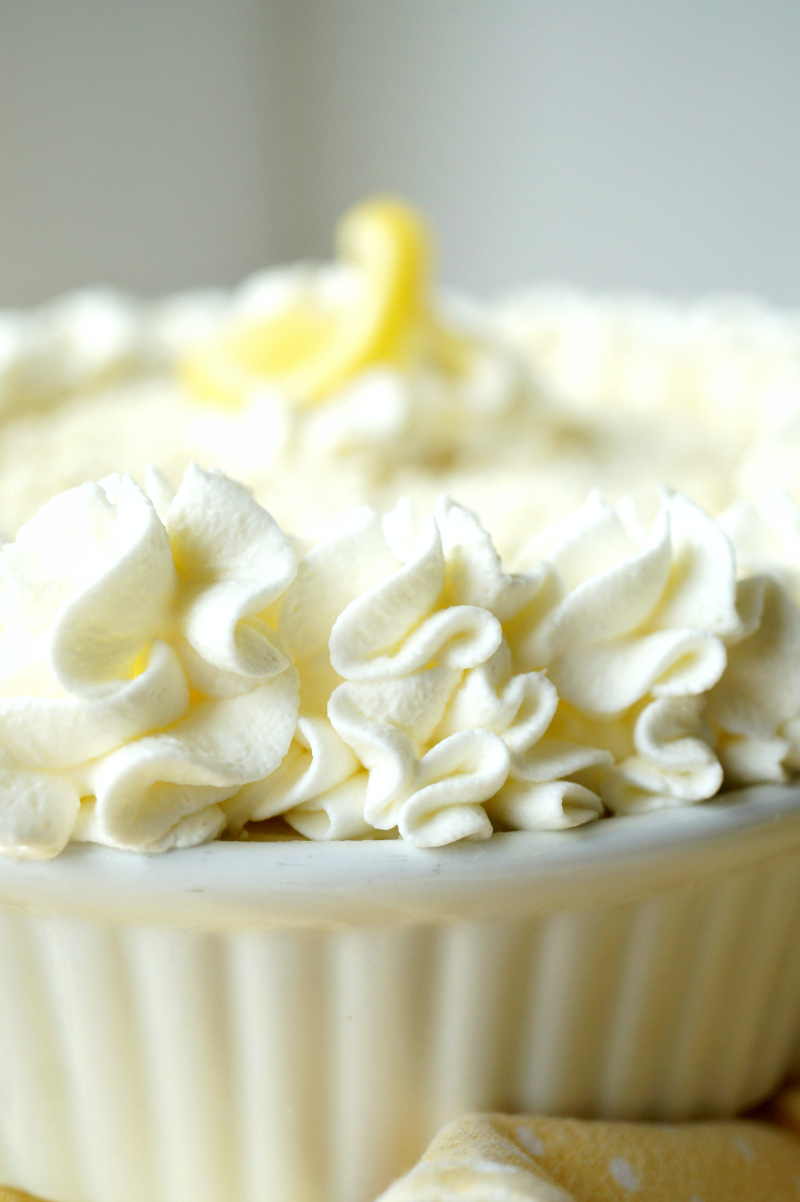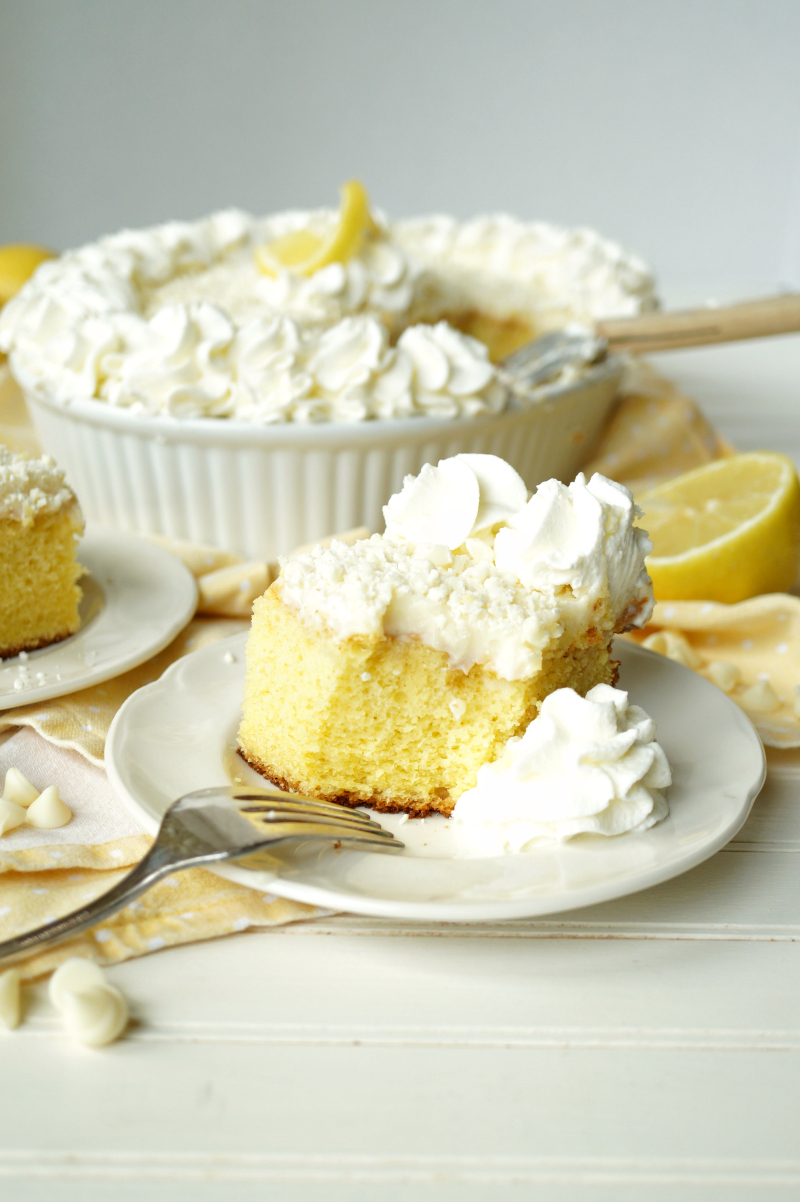 I loathe turning on the oven in the summer too, but I promise this lemon white chocolate poke cake is great for hot weather! It's COLD cake covered in cool, creamy pudding. It'll be a hit at any cookout... bring it to your 4th of July party and be ready to be the most popular person there. Happy baking! 🙂
Looking for more cake? Check out my Triple Chocolate Poke Cake!
lemon white chocolate poke cake
Author:
Valentina | The Baking Fairy
Ingredients
1 box lemon cake mix
ingredients called for on cake (eggs, water, oil)
2 boxes instant white chocolate pudding
milk for pudding
4oz white chocolate
1 cup heavy whipping cream
1 tablespoon powdered milk
1 tablespoon powdered sugar
lemon slices, for garnish
Instructions
First, spray a 9x13 pan well with baking spray. Prepare cake mix according to package directions, pour into prepared pan, and bake as directed.
Let cake cool to room temperature, then use the handle of a wooden spoon and poke holes all over the surface of the cake (be sure to poke all the way through!).
In a large bowl, prepare the pudding according to package directions. When it's still pretty thin and liquid, pour all over the surface of the cake. Use a spatula to smooth the surface.
Refrigerate for at least 1hr.
To prepare the white chocolate, simply chop into tiny pieces with a knife, or you can quickly pulse it in a food processor until fine.
Spread the white chocolate pieces all over the cake surface.
To make the whipped cream, pour the heavy cream in the bowl of a stand mixer with a whisk attachment. Turn onto medium-high, and beat until slightly thickened. Add in the powdered milk and powdered sugar, and beat on high until thick and creamy.
Decorate the top of the cake with the whipped cream and lemon slices, and enjoy! Store leftovers in the fridge.