If you like cookies & cream, you will love this Oreo Poke Cake! Rich chocolate cake is covered in pudding and crushed Oreo cookies for a delicious, melt-in-your-mouth dessert.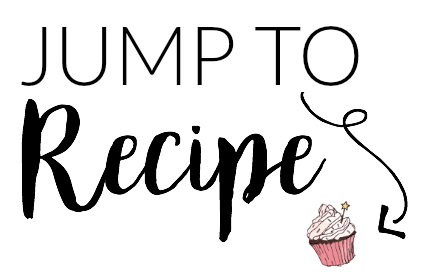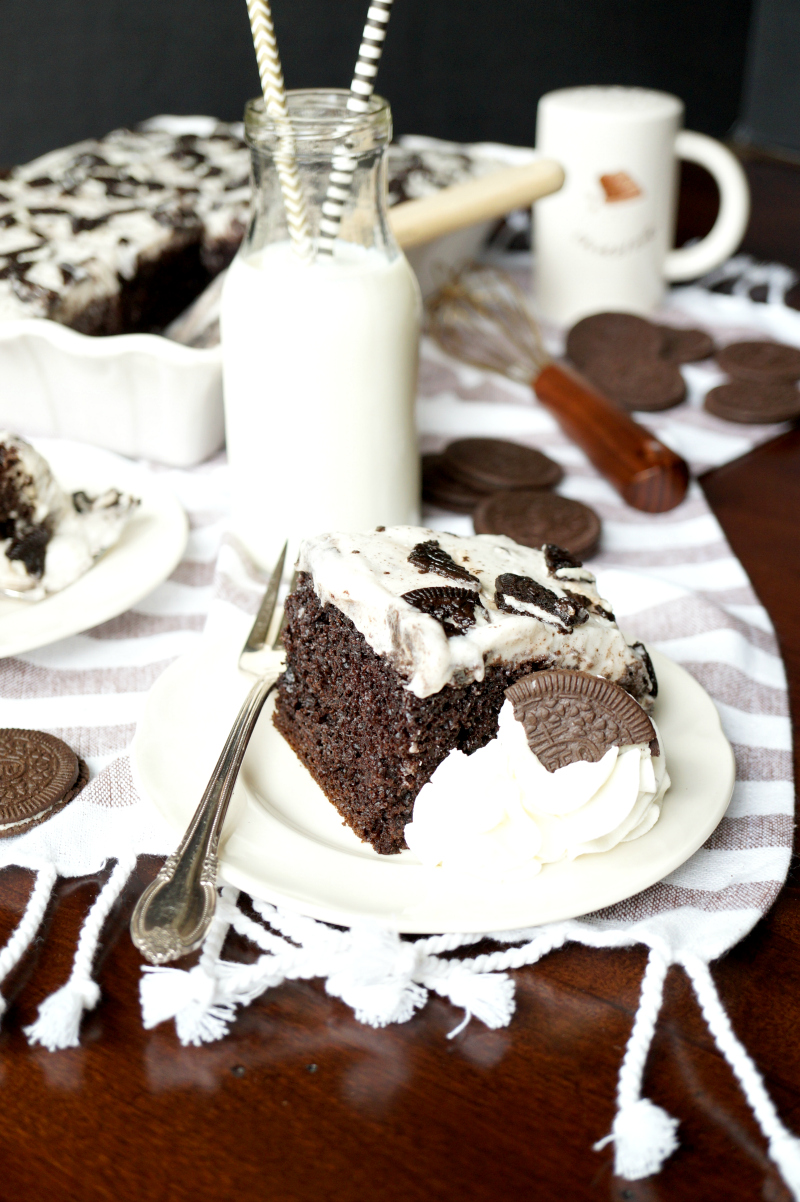 Happy Tuesday friends! Apparently poke cakes have become my new favorite thing. After that lemon white chocolate poke cake from the other day, I present to you Cookies and Cream Oreo Poke Cake! Just like the other one, it starts with cake mix and pudding mix, and it's so easy it should almost not be considered a recipe. Almost. Because it's amazing and you deserve some Oreo poke cake in your life!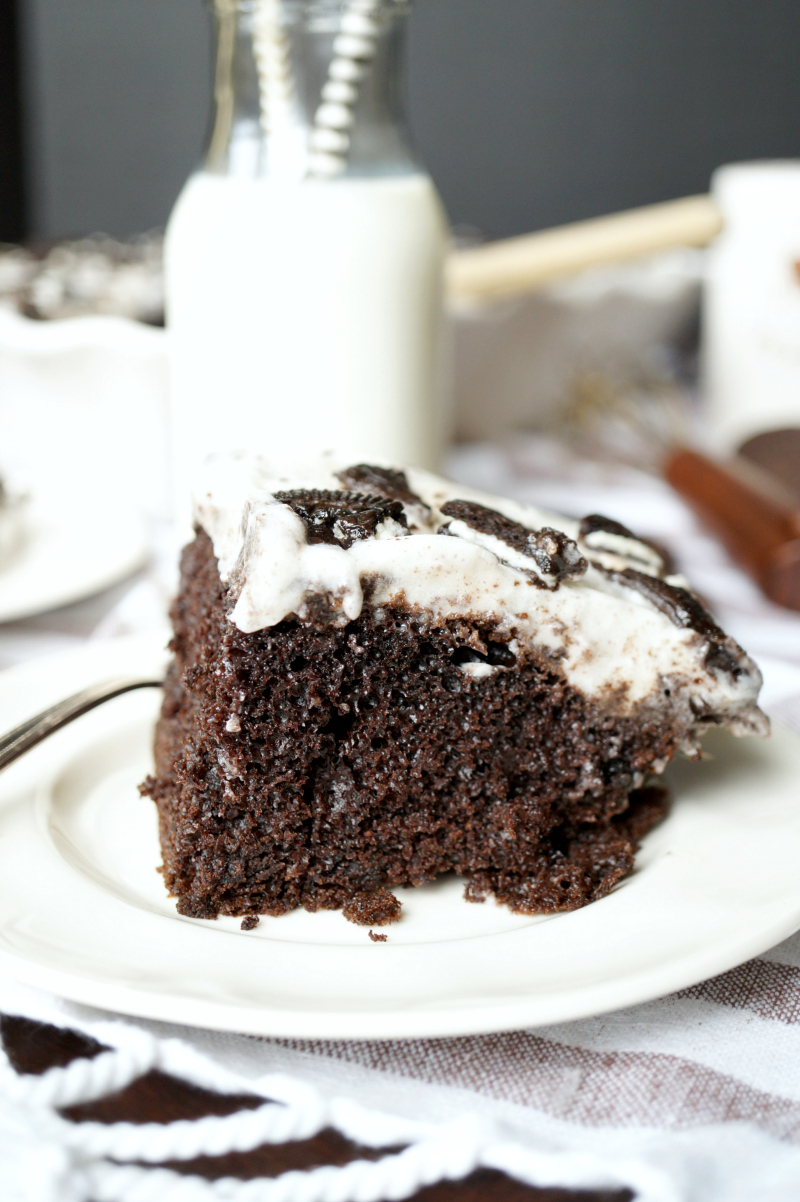 So funny story, this was actually the first poke cake recipe I ever made back in the day! One bite and I was hooked. There is nothing quite like rich chocolate cake that literally melts in your mouth. And the classic combination of cookies and cream can't be beat! SO YUM. The fact that you can use box mix shortcuts is only a bonus. I had to make it again all these years later and beautify it a bit. Something this good deserves the glamour shot treatment!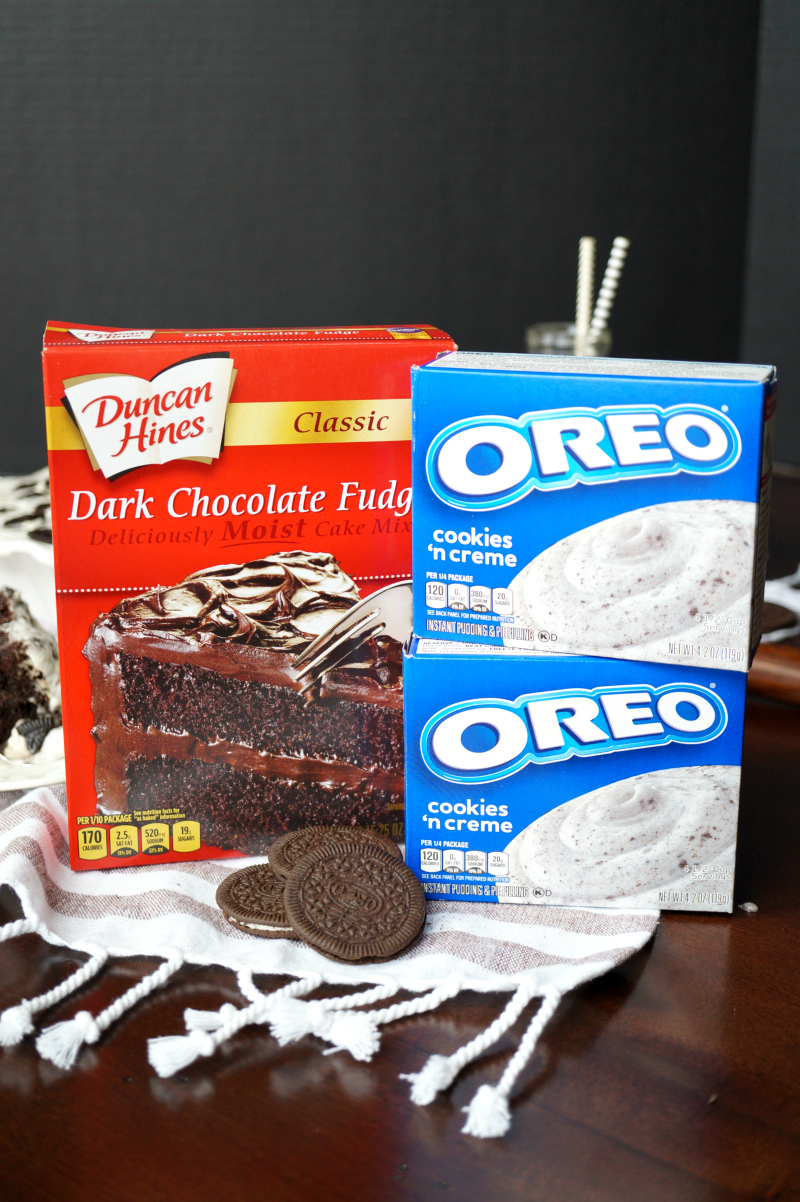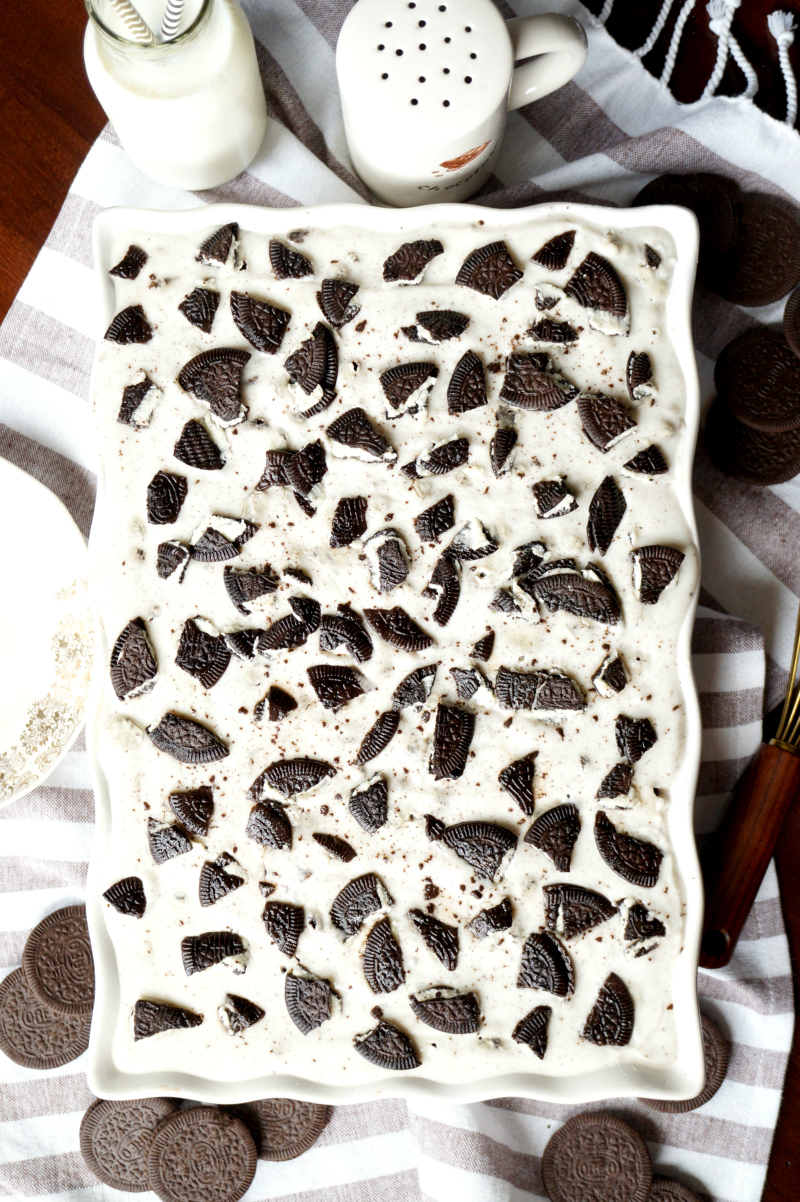 So in other news, PA school is still kicking my butt as usual ? We just wrapped up our surgery block, which means we have finally reached pediatrics! YAY! I have literally been waiting my entire PA school career for this. However, it also means I am as close as ever to clinicals! Cue quarter life crisis. We have a countdown going and I just have one month to go. Eeep! But. Let's not think about that now. Let's think about chocolate and pudding and Oreo poke cake. That sounds much more fun! Or, as my nanny baby used to say, that's much more better.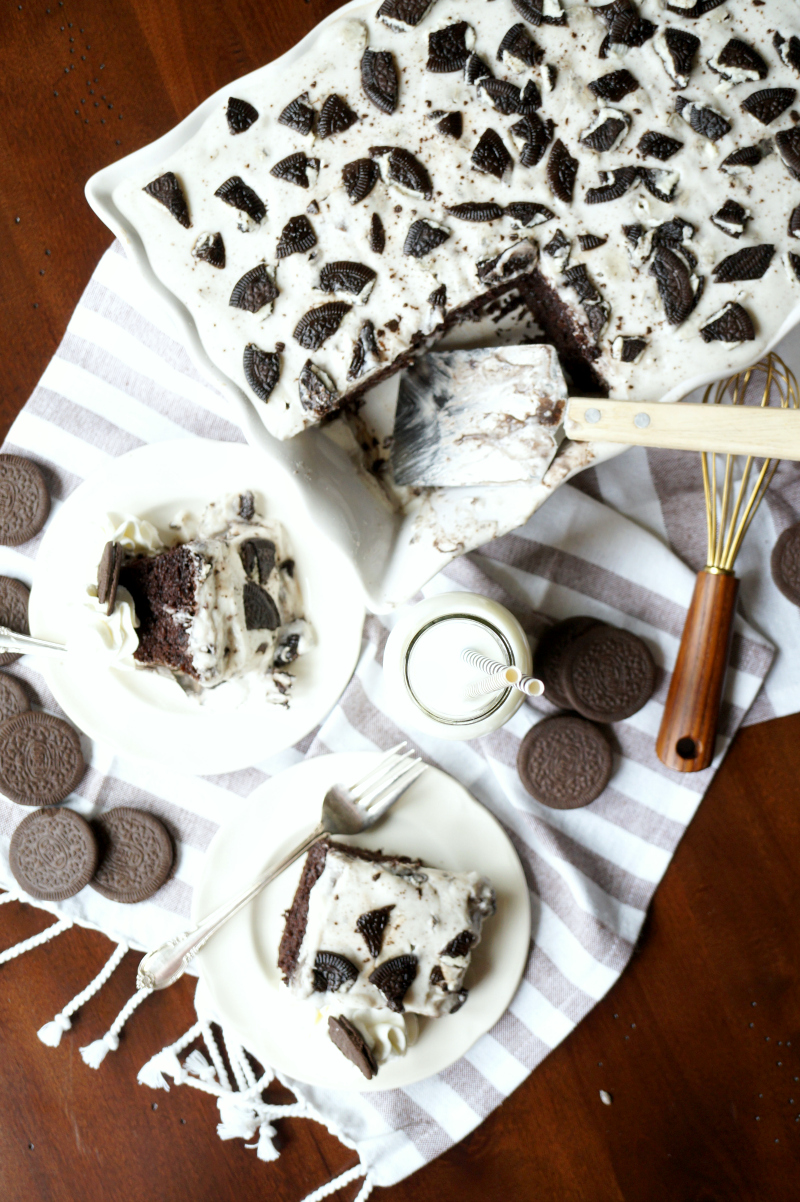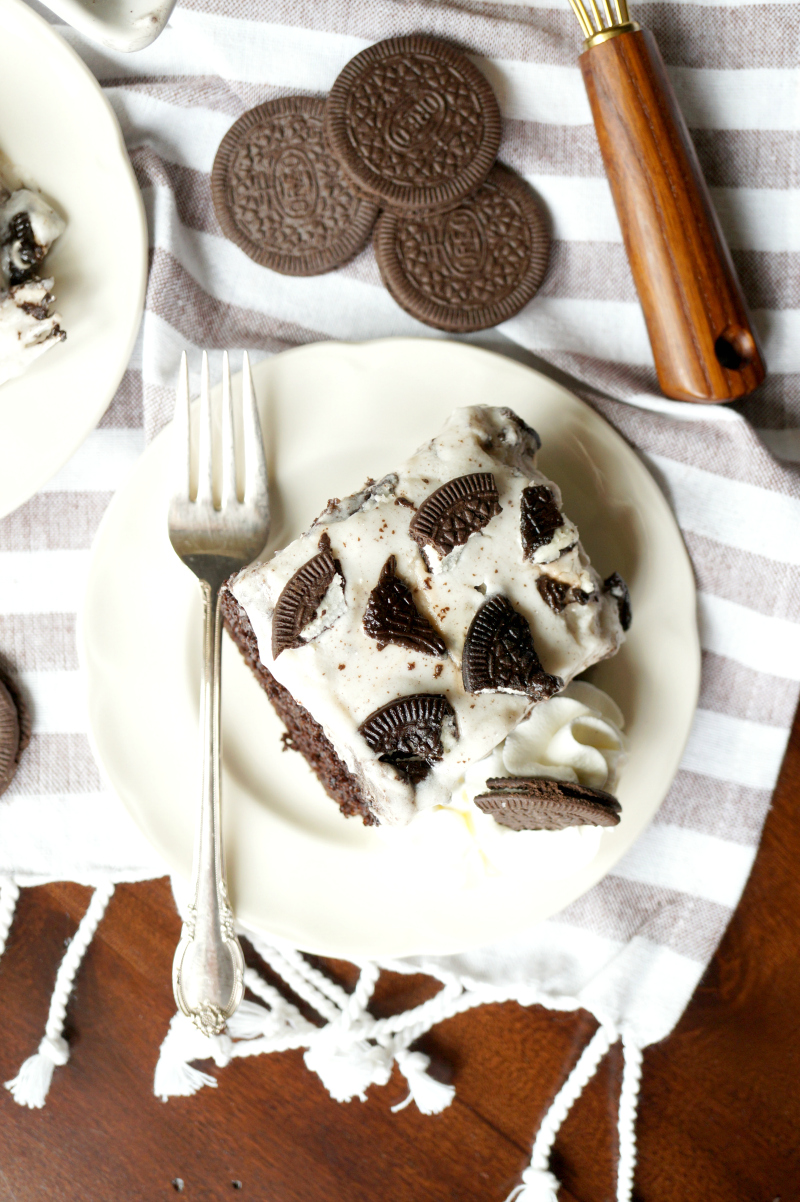 I hope you'll give this cookies and cream Oreo poke cake a try! It is seriously the easiest dessert you'll ever make and it's absolutely delicious. It's sure to become your new favorite thing. Bring it to your Fourth of July parties and everyone will love you!
Looking for more poke cakes? Check out my Triple Chocolate Poke Cake and Lemon White Chocolate Poke Cake.
cookies and cream Oreo poke cake
Author:
Valentina | The Baking Fairy
Ingredients
1 box chocolate cake mix
ingredients called for on cake (eggs, water, oil)
2 boxes instant Oreo pudding
milk for pudding
10-12 Oreo cookies, for topping
Instructions
First, spray a 9x13 pan well with baking spray. Prepare cake mix according to package directions, pour into prepared pan, and bake as directed.
Let cake cool to room temperature, then use the handle of a wooden spoon and poke holes all over the surface of the cake (be sure to poke all the way through!).
In a large bowl, prepare the pudding according to package directions. When it's still pretty thin and liquid, pour all over the surface of the cake. Use a spatula to smooth the surface.
Refrigerate for at least 1hr.
Lightly crush Oreo cookies, and sprinkle all over the cake surface. Serve immediately and store leftovers in the fridge.

SaveSaveSaveSave
SaveSave
SaveSaveSaveSave
SaveSave