If you like eggplant parmesan, try these Mini Stuffed Eggplant! Bite sized veggies are stuffed with a meatball mixture, covered in cheese, and baked until crisp and golden!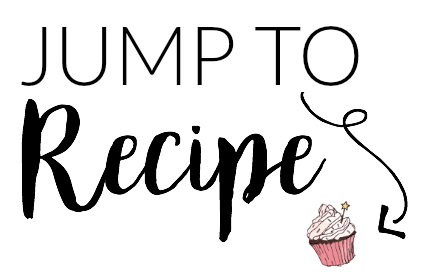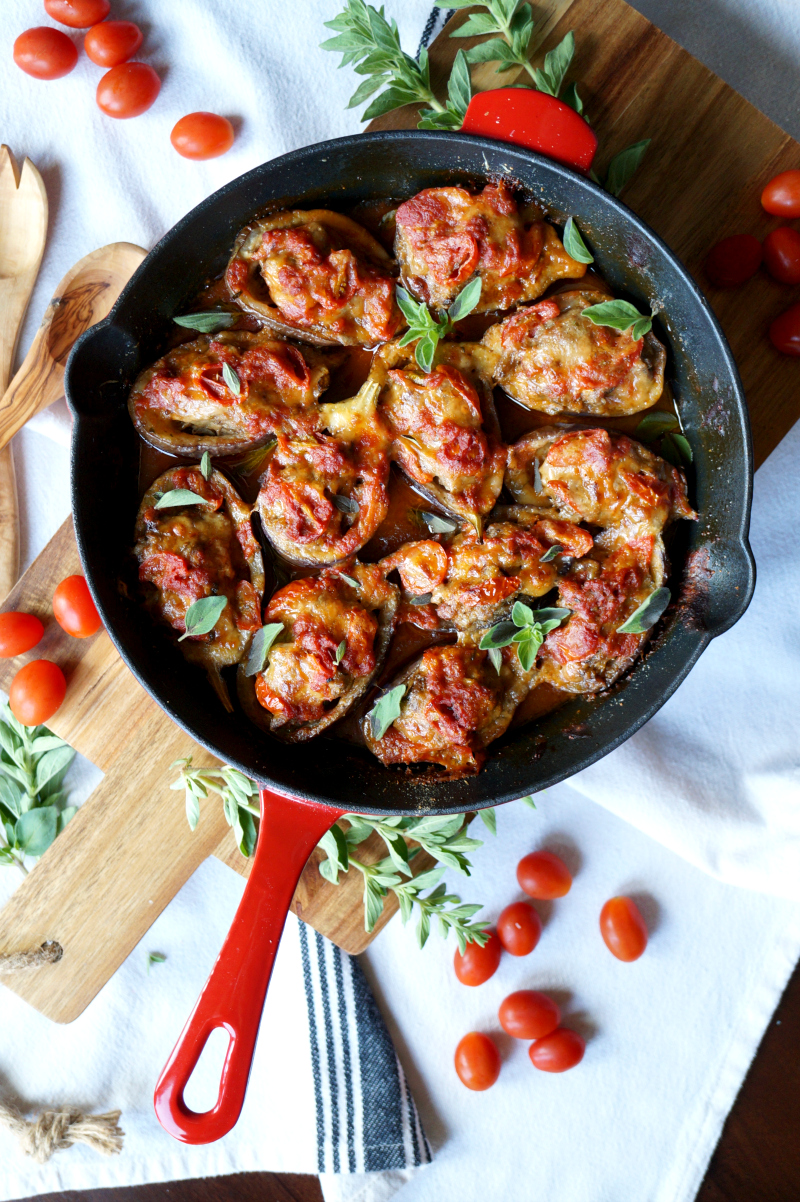 Hello friends, and happy Wednesday! I have a recipe today that will blow your mind. Eggplant parmesan... stuffed inside of tiny little eggplants! So cute and SO tasty. You are going to love it. This Mini Stuffed Eggplant Parmesan combines savory beef, cheese, and tomato sauce inside of a sweet little eggplant shell. Let's go make some!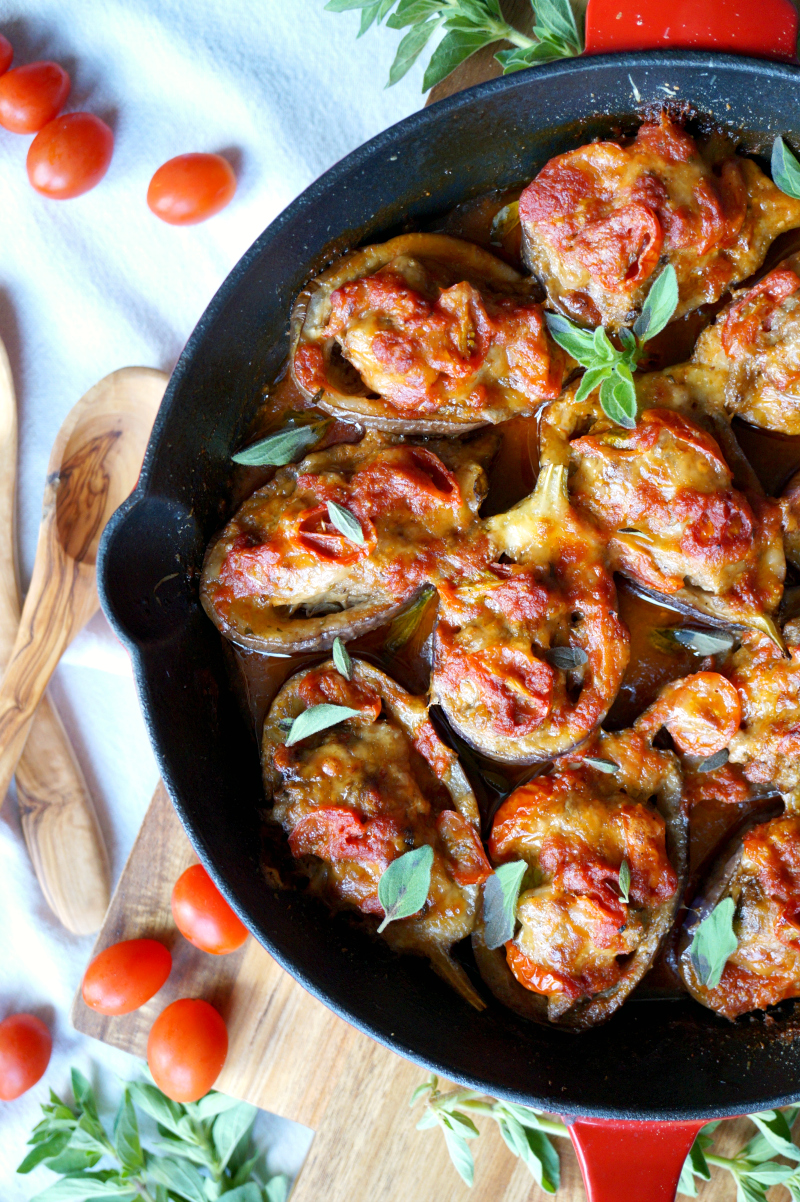 I do want to apologize for being a bit more absent this past few weeks! I am currently in my LAST classroom semester of PA school (before I start clinical, EEK) and it has been kicking my butt! Remember last summer, when I first started school and I was like, boohoo life is hard? Yeah, NO. I had no idea what hard was then. Hard is when you spend literally every waking moment studying and you are somehow still behind. I know it's going to be worth it and school is honestly so rewarding but like... that doesn't mean it doesn't suck sometimes. PA school ain't for sissies. That's all I gotta say about that. So that is why my posting schedule has been a bit more lax! I am currently typing this when I should be studying but...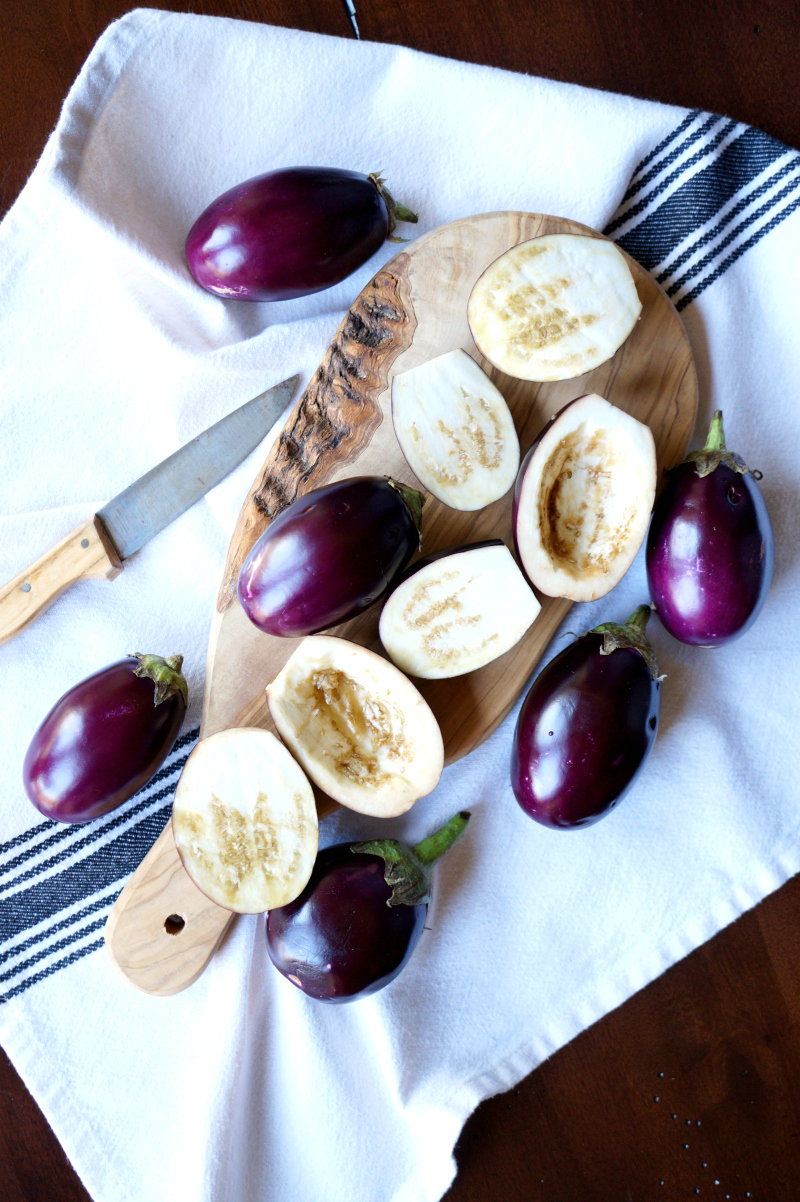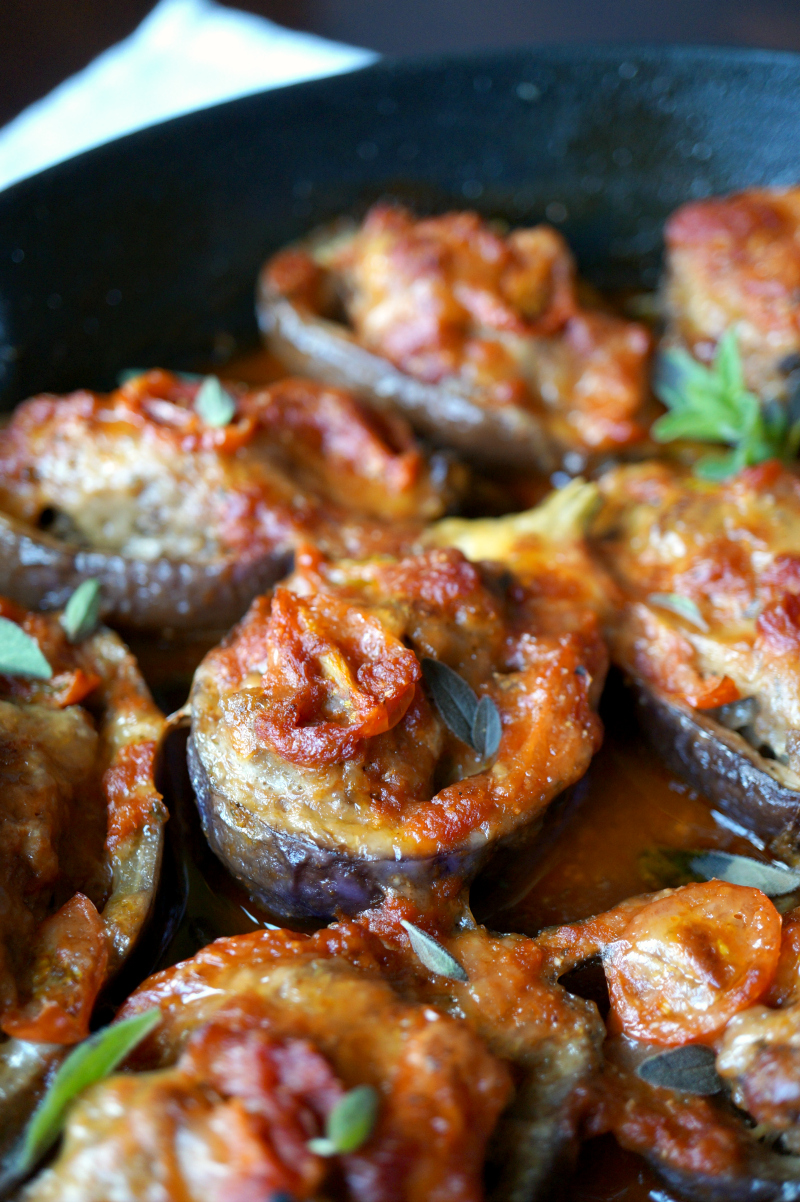 ANYWAYS. Back to this food! My mom, being the wonderful mom she is, recently saw these adorable mini eggplants at the store, and brought them home for no reason other than she thought they would be good for the blog. I'm telling you, living with a food blogger does things to you. ? But I'm just happy she really gets me. These cuties were halved and scooped, and filled with a mixture of ground beef, soaked bread, egg, and cheese. Basically I put meatballs inside of them. Cover with more cheese, tomato sauce, bake, and done! You now have mini stuffed eggplant!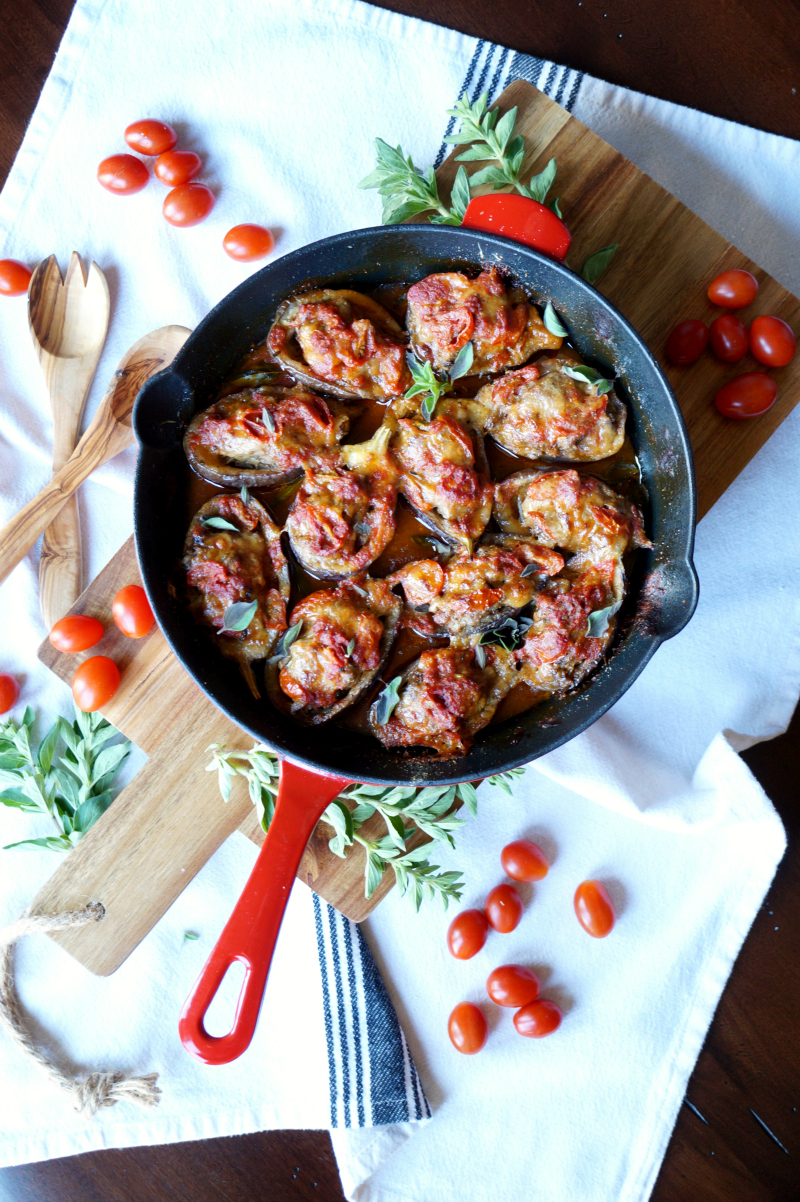 If you can't find the tiny bite sized eggplant at the store, can you use the regular sized ones? Well of course! To be honest, I already can't find these at my grocery store anymore either. But the technique is still the same! Just instead of mini stuffed eggplant, you have less-fun-but-equally-delicious big stuffed eggplant. We served these over spaghetti, but you could also do rice (or cauli-rice if you want to be low-carb). These are absolutely scrumptious and so fun!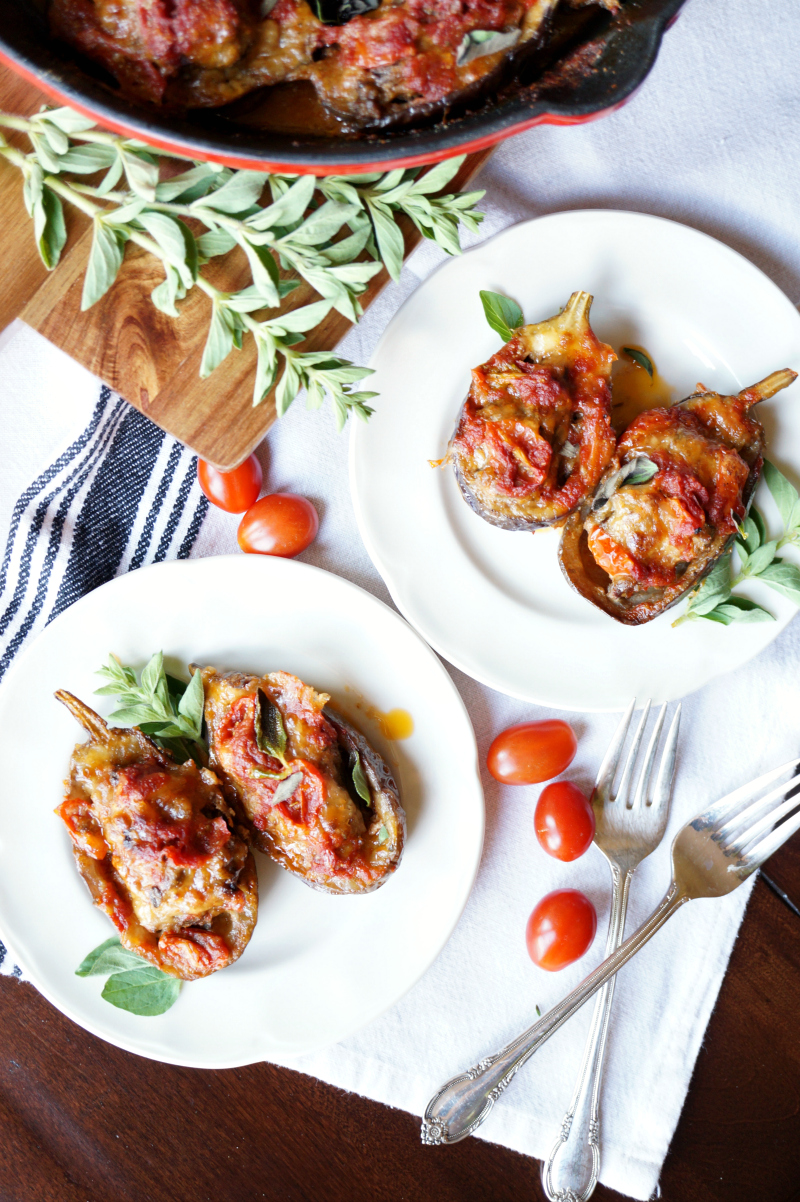 Looking for more eggplant recipes? Check out my Cheesy Eggplant Rollatini (vegetarian), Baba Ganoush, and Grilled Eggplant Parmesan! Happy cooking! 🙂
mini stuffed eggplant parmesan
Author:
Valentina | The Baking Fairy
Recipe type:
Meat & Seafood
Ingredients
1 lb mini eggplants
½ tablespoon olive oil
¾ lb lean ground beef
1 egg
2 slices white bread, crustless
2-3 tablespoon milk
¼ cup freshly grated Parmesan
1 teaspoon garlic powder
1 teaspoon onion powder
1 teaspoon salt
1 teaspoon pepper
2 teaspoon dry parsley
1 teaspoon oregano
½ teaspoon paprika
½ cup fresh mozzarella
8oz can tomato sauce
¼ cup breadcrumbs
Instructions
First, wash all your eggplant and cut in half. Scoop out the center, and set that aside (don't throw it away!).
If you have the time, place the cut eggplants in a large bowl, and cover with cold water mixed with salt. This will help pull out any bitterness. If you don't have time, you can skip it!
Grab the eggplant centers you set aside, and chop finely. Heat the olive oil in a small nonstick pan, and saute the eggplant until tender and slightly golden. Season lightly with salt and pepper.
In a medium bowl, combine the milk and bread, and mash together with a fork. Add in the ground beef, egg, grated parmesan, and all of the seasonings. Add in the cooked eggplant. Mix everything together until well incorporated.
At this point, preheat the oven to 400F. Grab a large 10" cast iron skillet or 9x13 pan, and lightly oil the bottom. Arrange the eggplant shells in a single layer, then fill each with the meatball mixture.
Divide the fresh mozzarella evenly among all of them, then spoon some tomato sauce on top of each. Sprinkle with the breadcrumbs.
Add about ½" of water into the bottom of your pan or skillet, then cover with foil, and bake for 35 minutes. Then remove the foil, and bake for 10-15 more minutes, until cheese is melted and bubbly.
*Note: if you make this with large eggplants, you will have to increase the cooking time.*
Serve immediately over pasta or rice and enjoy!
*Disclosure: I am part of the Amazon Associates Program, and there may be affiliate links on this page. If you buy anything through my website, I will receive a small percentage of the profit at no extra cost to you. Thank you for supporting my blog!*

SaveSave
SaveSave
SaveSave