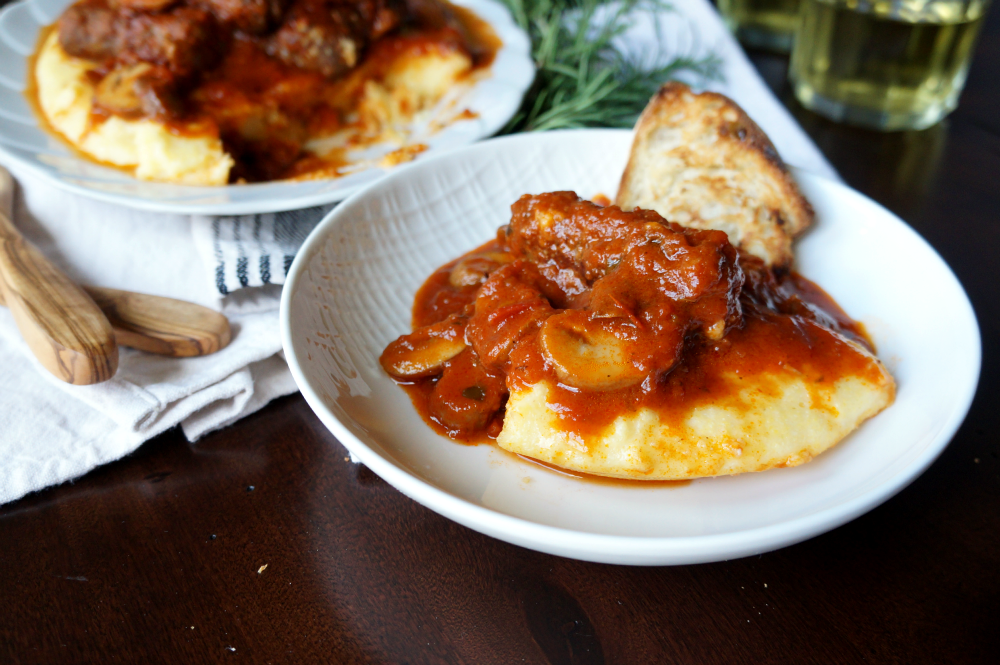 Hello, friends! The holidays are fast approaching, and I am beyond excited to be sharing these Italian recipes with you today! I have paired up with Colavita Olive Oil and Perugina chocolate to bring you two amazing dishes perfect for the holidays. We are starting off with a delicious creamy polenta topped with a savory sausage and mushroom tomato sauce, and we will wrap everything up with a luscious dark chocolate Italian cake… with a sweet surprise!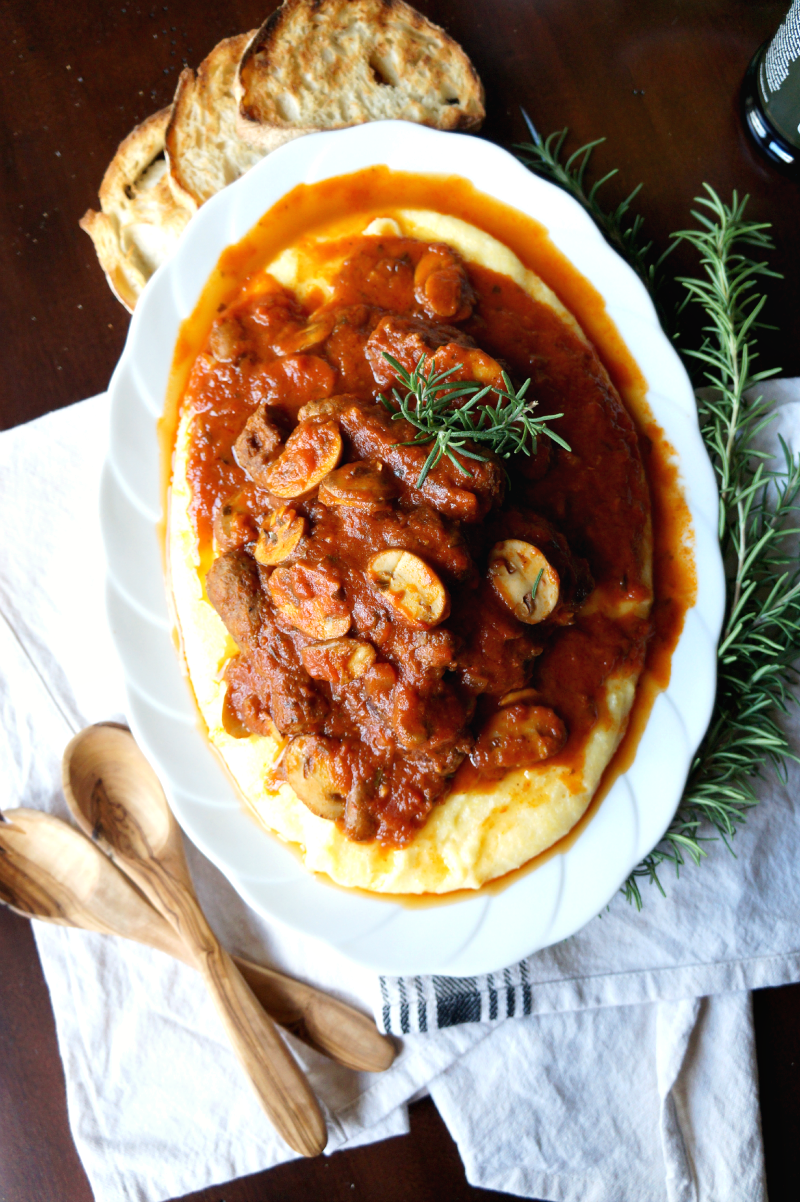 Let's start off with this rich and hearty polenta dish, Polenta con Salsiccia e Funghi. Polenta is a typical northern italian peasant dish, and when topped with a slow-cooked sauce of sausage and mushrooms, it's the perfect comforting cold-weather dinner! To start off, I drizzled some Colavita extra virgin olive oil in a deep dish pan, and browned some sweet Italian sausage. I then tossed in some crushed garlic, plenty of thickly sliced mushrooms, and a splash of red wine. I let it cook down until the alcohol evaporated, then poured in a jar of Colavita's tomato and basil pasta sauce, covered my pot, and let it simmer for a couple of hours so the flavors could develop. This is seriously phenomenal!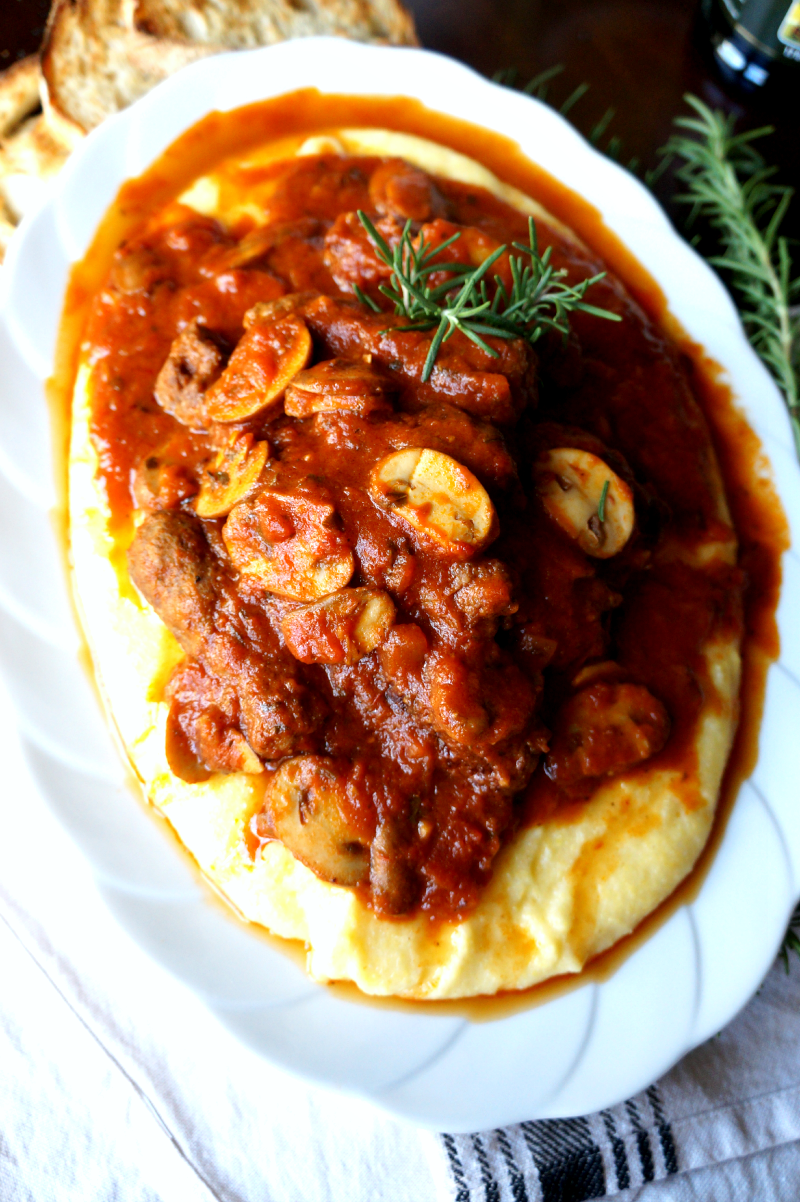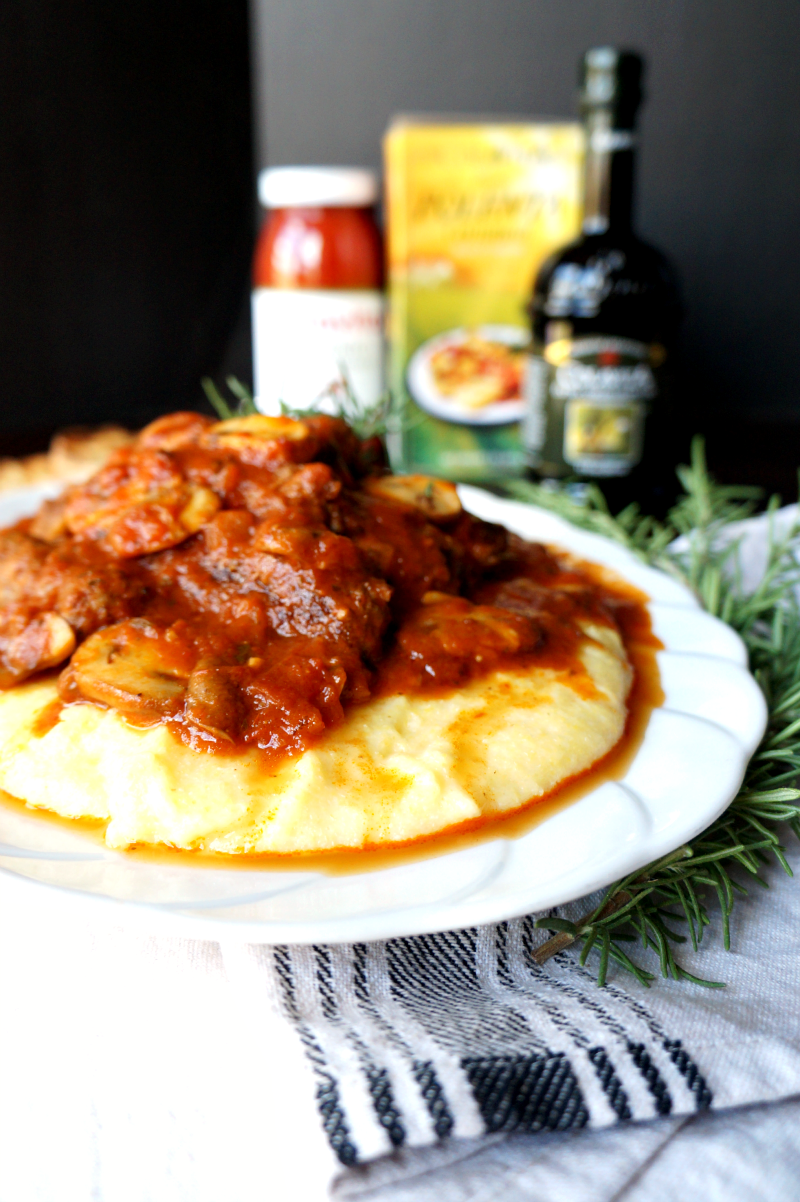 The other main component of this meal is, of course, the polenta! Traditional polenta, since its made of crushed cornmeal, typically takes forever to cook, and because it easily clumps, it has to be stirred constantly as to not turn into a lumpy mess. Thankfully, Colavita makes a fabulous instant polenta that takes just 5 minutes of cooking! I made mine with 3 parts water to 1 part milk for extra creaminess, and added butter and tons of parmesan cheese for the perfect base to the savory sauce.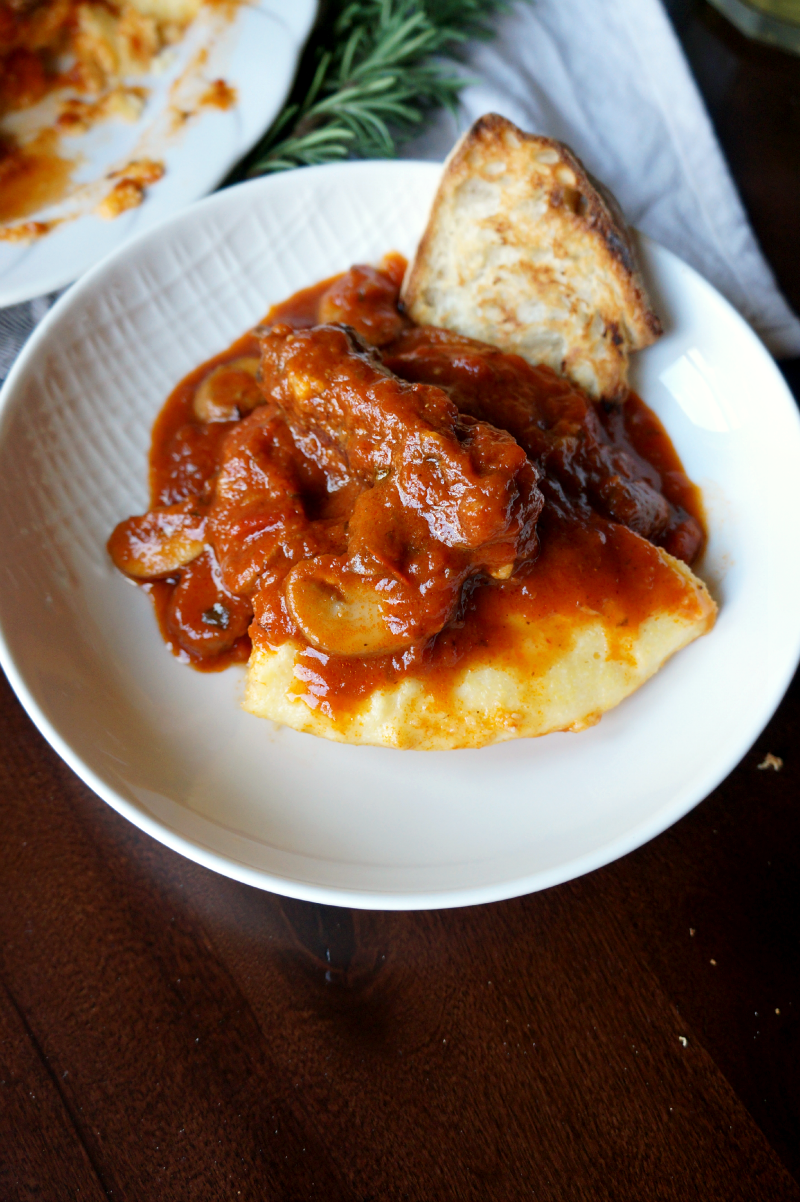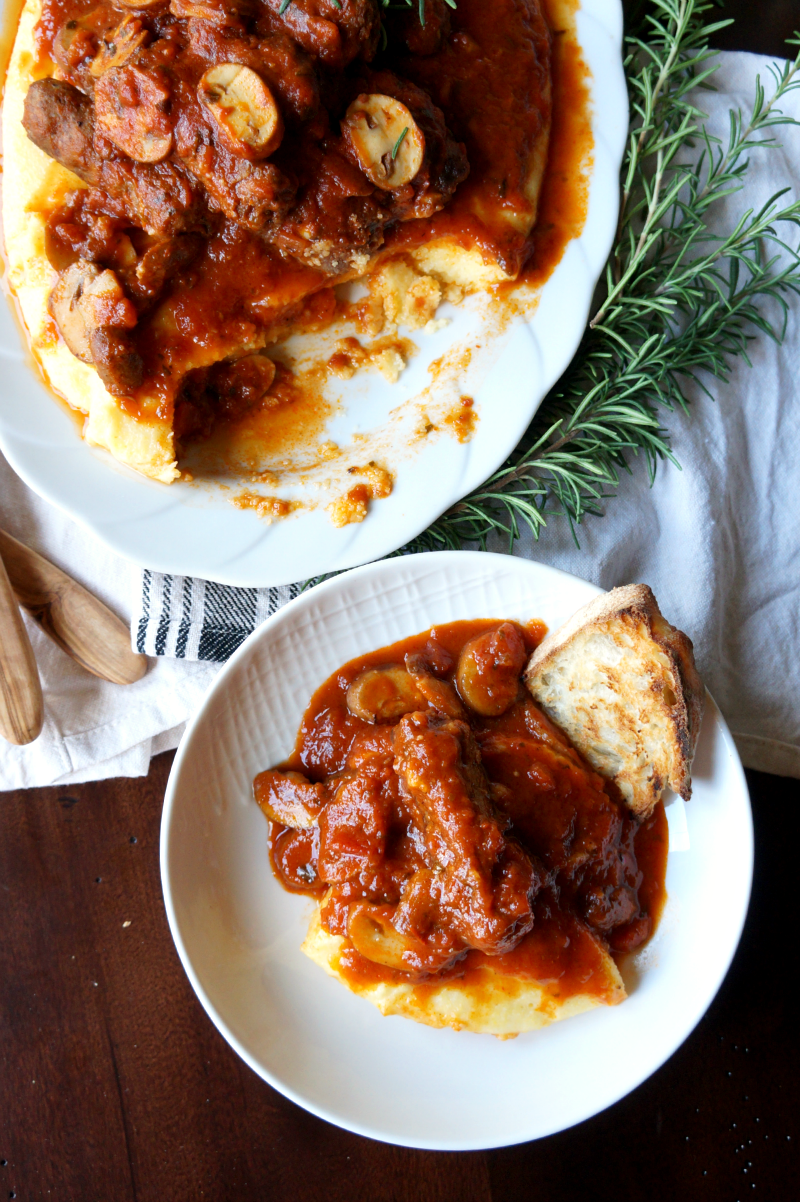 And now, onto the best part of any meal (though this entrée, is, admittedly, pretty great)… dessert! I was beyond excited to get to work with Perugina chocolates, as I basically grew up on their Baci truffles and gianduiotti. In case you've never had Baci chocolates, let me just start off by saying that you're totally missing out. These little bites are filled with a whole hazelnut and a creamy chocolate-hazelnut mixture, and covered in a thick layer of rich chocolate. I decided to up the deliciousness factor and stuff them in chocolate cake!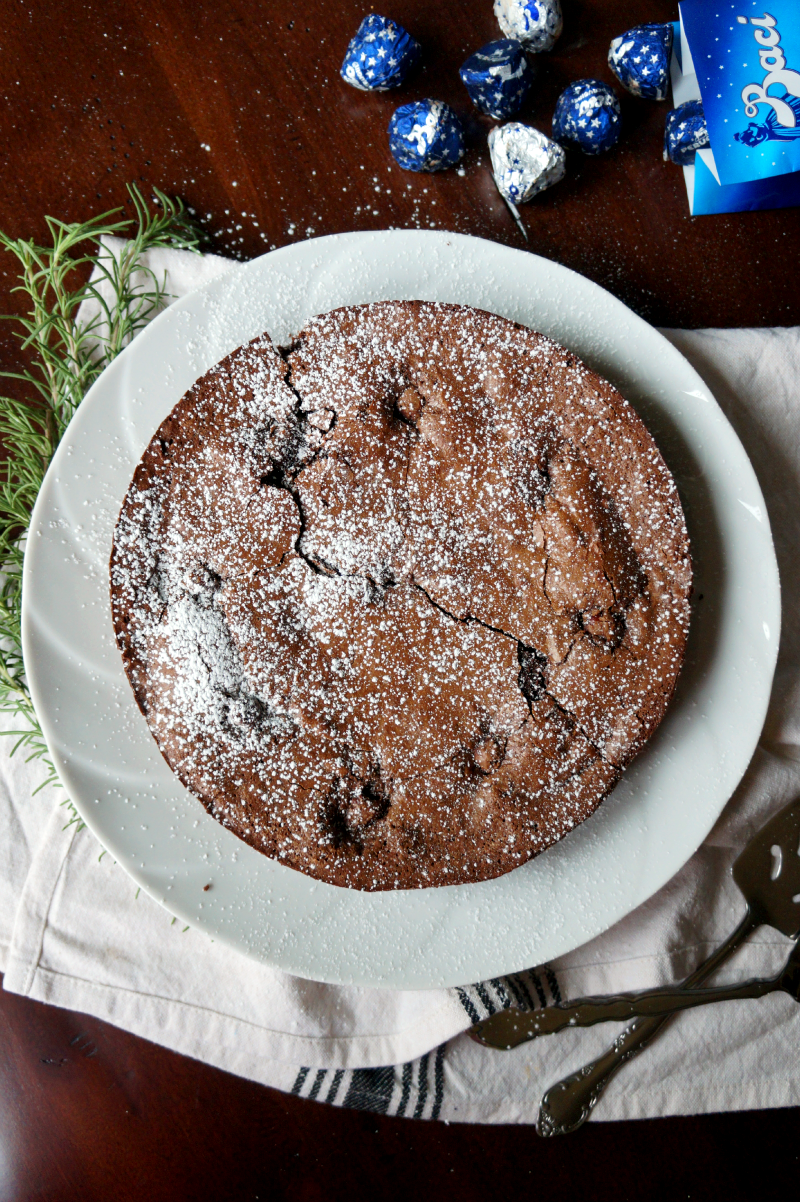 I decided to take my mom's classic Italian chocolate cake recipe, and add Baci chocolates around the edges so that you would get one in every slice. I'm not sure what to call the original base recipe, I just know my mama has made it for as long as I can remember, and she's always called it Torta al Cioccolato, or simply chocolate cake. It's a totally scrumptious treat, more brownie than cake, and super fudgy and soft in texture. Serious chocoholic heaven!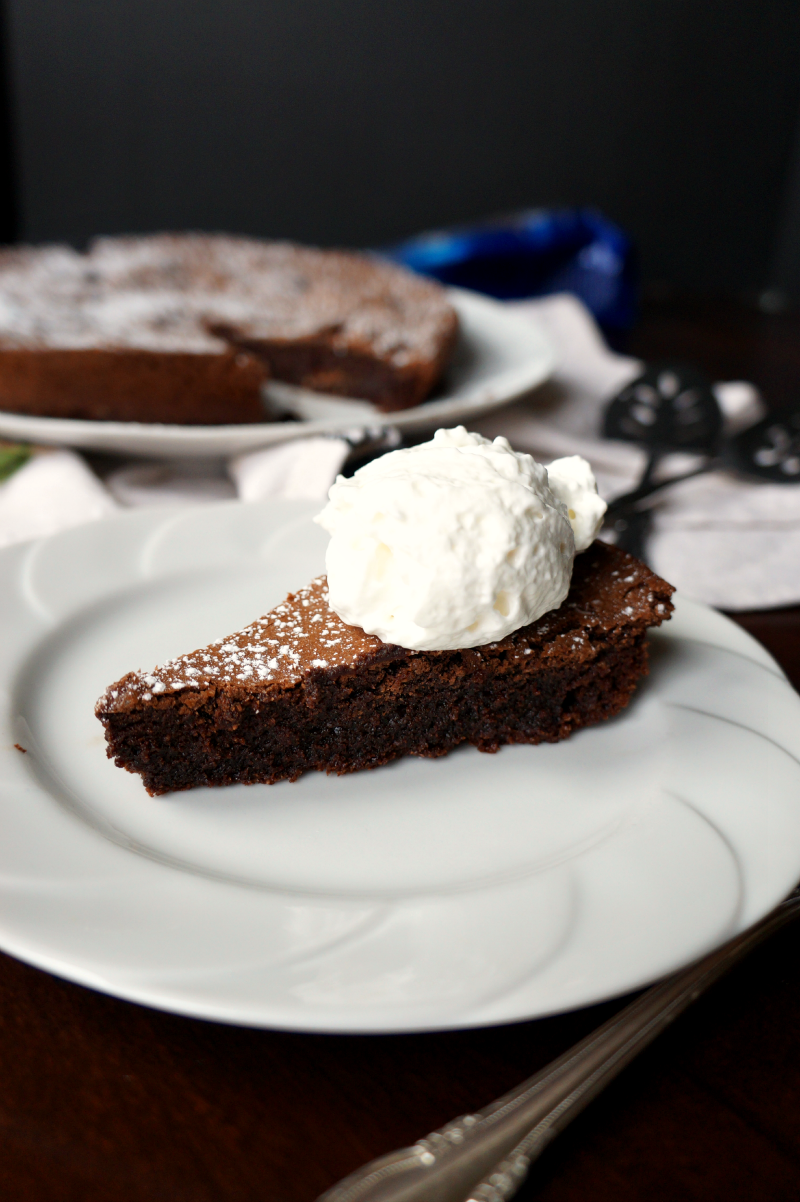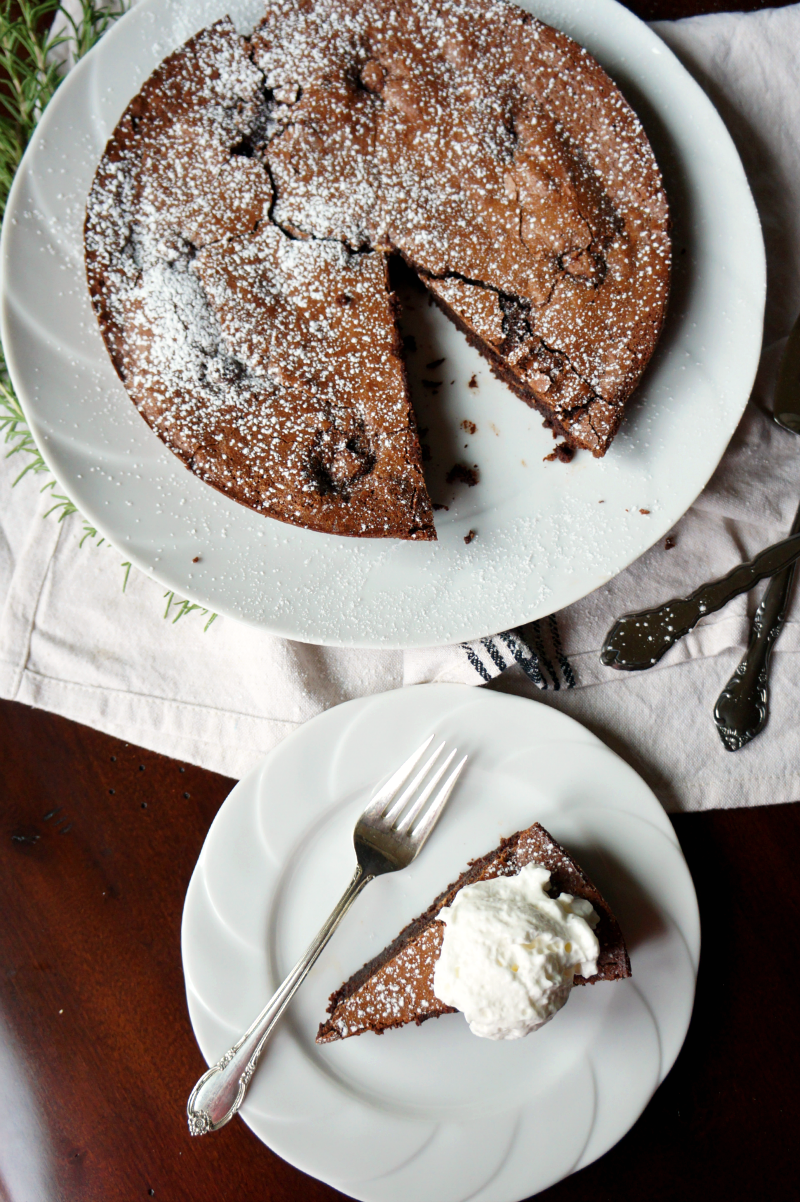 To make this cake, you start off by melting down two (yes, two!) bars of Perugina's 70% dark chocolate with some butter and sugar. You then add in some eggs and just a couple tablespoons of flour, pour your batter into a cake pan (assuming you didn't eat all the cake batter straight from the bowl… it's pretty great), bake for about 10 minutes, then remove from the oven and gently press Baci chocolates all around the edge of the cake. You put it back in the oven for 20 more minutes to let it finish cooking, then let it cool off as long as you can bear, and dig in! It's absolutely perfect with a sprinkling of powdered sugar and a dollop of softly whipped cream. And if you want to eat the leftovers the next morning with a cappuccino, well, I won't judge.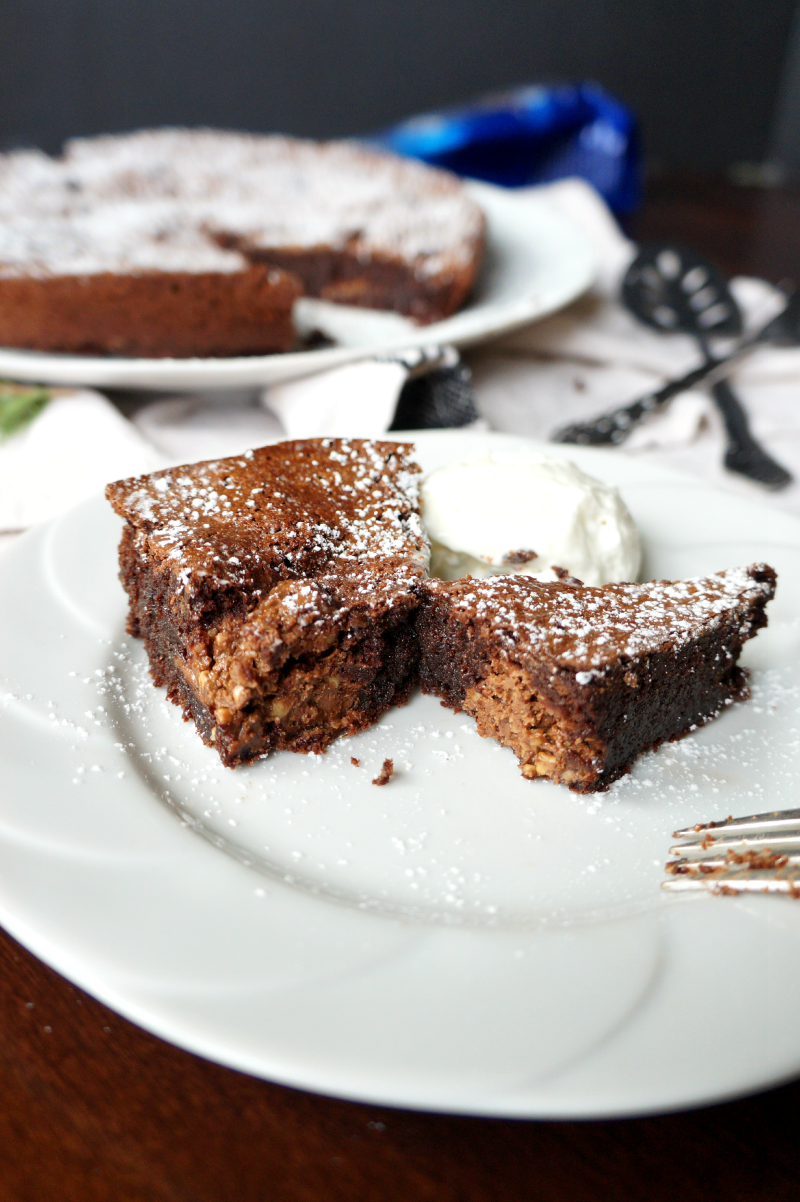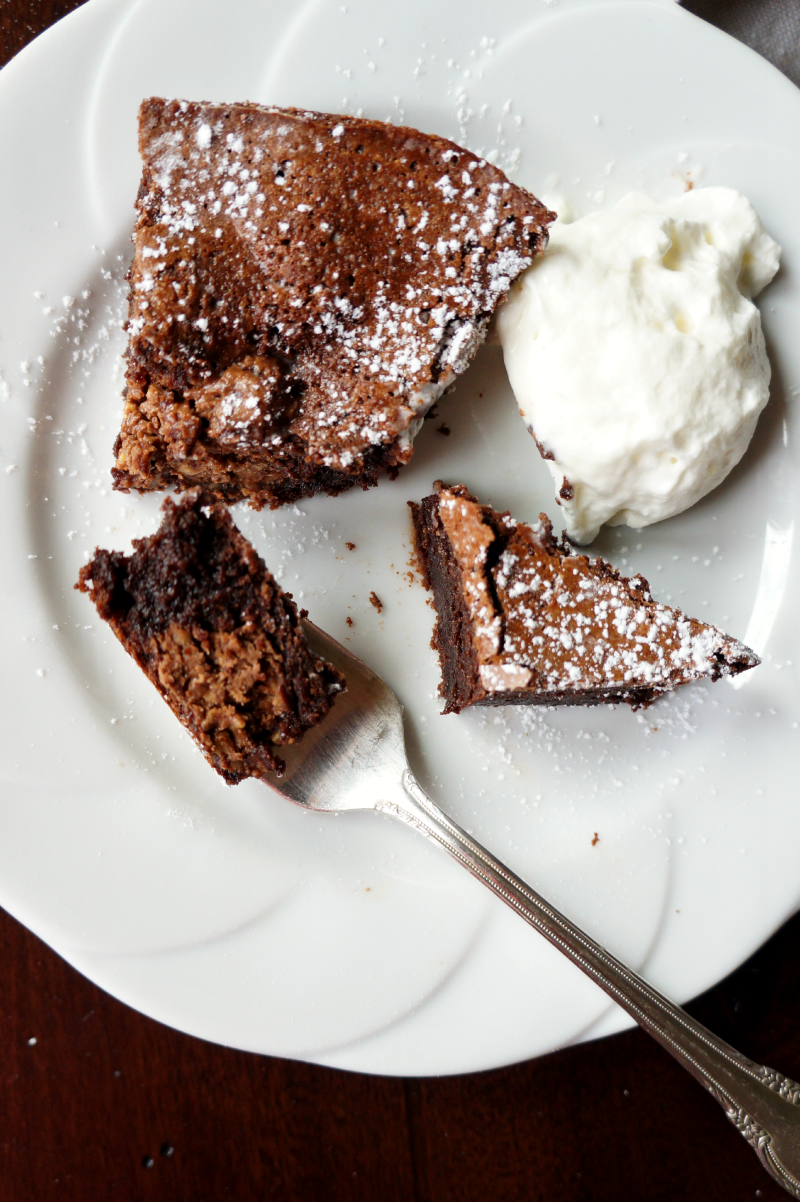 I hope you'll join my Italian holiday table and try these recipes this season! To make the deal even sweeter, Colavita and Perugina are giving away a fabulous gift basket to one of my readers! Just use the widget below to enter!
Good luck, and happy cooking!
Polenta con Salsiccia e Funghi
Author:
Valentina | The Baking Fairy
Recipe type:
Meat & Seafood
Ingredients
1 cup Colavita instant polenta
3 cups water
1 cup whole milk
½ cup freshly grated Parmesan cheese
2 tablespoon butter
1 package sweet Italian sausages
1 tablespoon Colavita extra virgin olive oil
3 cloves garlic, crushed
8 oz fresh Cremini mushrooms, thickly sliced
¼ cup red wine
1 jar Colavita tomato and basil pasta sauce
salt and pepper, to taste
pinch of sugar
Instructions
First, start the sauce. In a large pan, heat the olive oil over medium-high heat. Once the oil shimmers slightly, add in the Italian sausages, and cook until browned (they do not have to be cooked all the way at this point).
Toss in the garlic, mushrooms, and some salt and pepper to taste, and saute until the mushrooms have softened. Add in the red wine, and cook until most of the liquid has evaporated and the sauce in the pot has thickened.
Add in the jar of pasta sauce and a small pinch of sugar, lower the heat down to low, and let the sauce simmer for at least 1 hour.
Shortly before serving, make the polenta. In a large nonstick pot, heat the milk and water to boiling. Add in one cup of polenta, stirring constantly, until the mixture thickens and turns creamy (about 5 minutes).
Remove from heat, and stir in the Parmesan cheese, butter, and salt and pepper as needed.
To serve, scoop some polenta in a bowl, and top with the sauce. Enjoy immediately!
-------------------------------------
Baci-Stuffed Italian Chocolate Cake
Makes: one 8-inch cake
Prep time: 10 min / Cook time: 35 min
7 oz (2 bars) Perugina 70% dark chocolate
½ cup (1 stick) unsalted butter
¾ cup granulated sugar
4 eggs, separated
2 tablespoon flour
Pinch of salt
10 Baci Perugina milk chocolate truffles, unwrapped
Preheat the oven to 350F, and butter and flour an 8 inch cake pan. Set aside.
In a heatproof bowl set over a pot of simmering water, gently melt the chocolate and butter until smooth and creamy.
In a medium bowl, beat together the egg yolks and sugar until a light and fluffy cream forms. Still whisking, slowly add in the melted chocolate mixture until smooth, then add in the flour.
In the bowl of a stand mixer, beat the egg whites until stiff peaks form.
Add about half of the beaten egg whites to the chocolate mixture to lighten it, then gently fold in the remaining whites. Pour the batter into your prepared pan, then bake for about 10 minutes.
Remove the pan from oven, and quickly press the chocolates evenly around the edges of the cake.
Return the cake to the oven for 20-25 more minutes, until the middle no longer jiggles and the top has crackled slightly.
Let cool before removing from pan, and serve with powdered sugar and whipped cream. Enjoy!
In accordance with the FTC Guidelines, I am disclosing that I received compensation from Colavita & Perugina for my time and participation in the Join my Italian Holiday Table program. Although I have material connection to Colavita & Perugina, any publicly stated opinions of them and their products remains my own. Recipe is an original creation of Valentina Celant at TheBakingFairy.net.