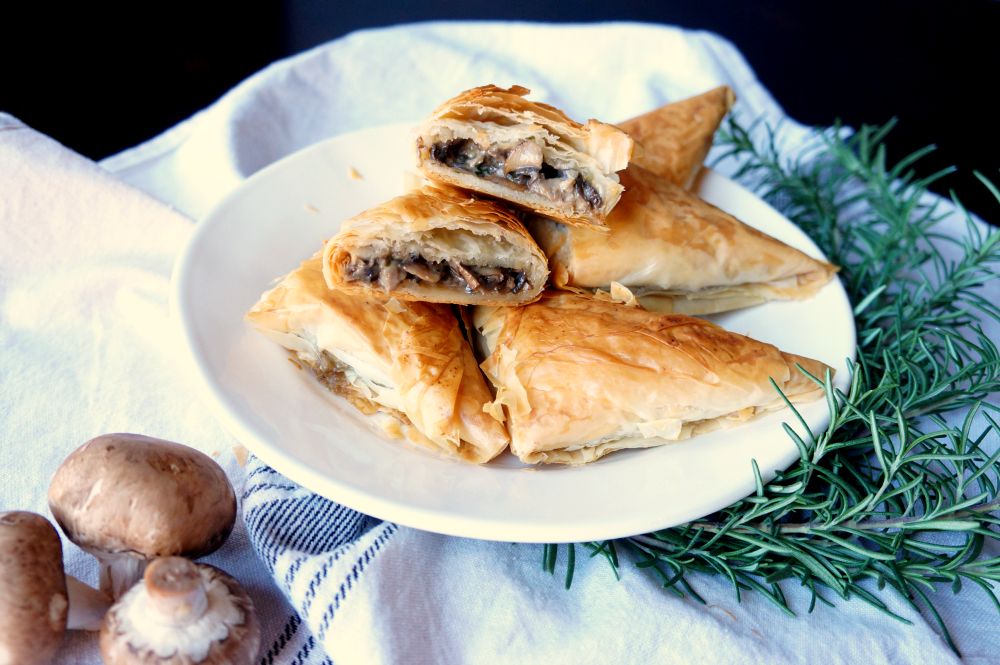 Oh my gosh, y'all. I am so excited to be sharing this incredibly delicious savory recipe with y'all today! I love December and I definitely love Christmas-time, but I definitely don't feel like all of December should be all things red, white, green, and peppermint. After all, it's not like we spend all month eating cookies right? Well... at least not cookies exclusively. Today, we are making Creamy Mushroom Pockets with phyllo dough and a criminally easy mushroom filling. So simple and so yummy!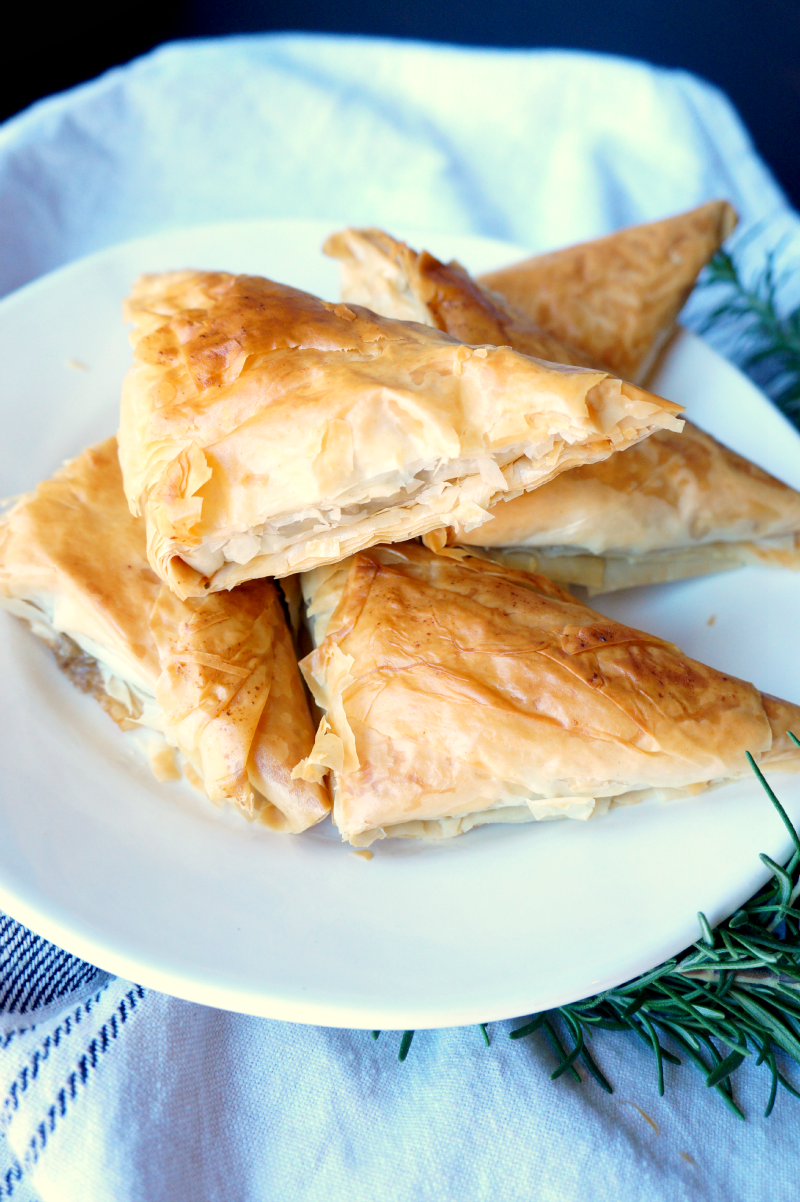 I have to point out, before anything else, that the flake factor on these is seriously insane. Incredibly light, layered, flaky goodness that shatters into a million buttery pieces when you bite into it. Swoon. The light and crisp phyllo dough is the perfect envelope for a flavorful, rich mushroom filling made with plenty of freshly sliced baby bellas, crushed garlic, a pinch of parsley, grated Parmesan cheese, and heavy cream. Think of these kind of like a cross between a croissant and a hot pocket. Kind of hilarious but it's true!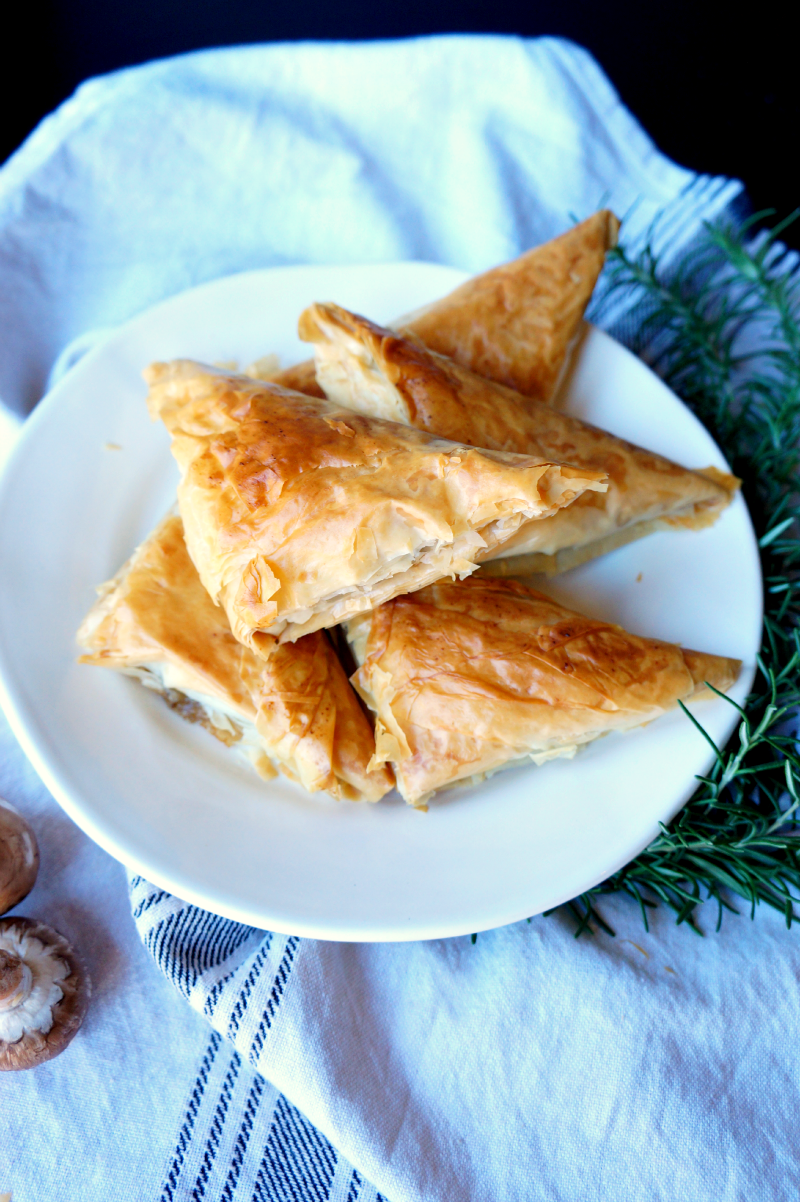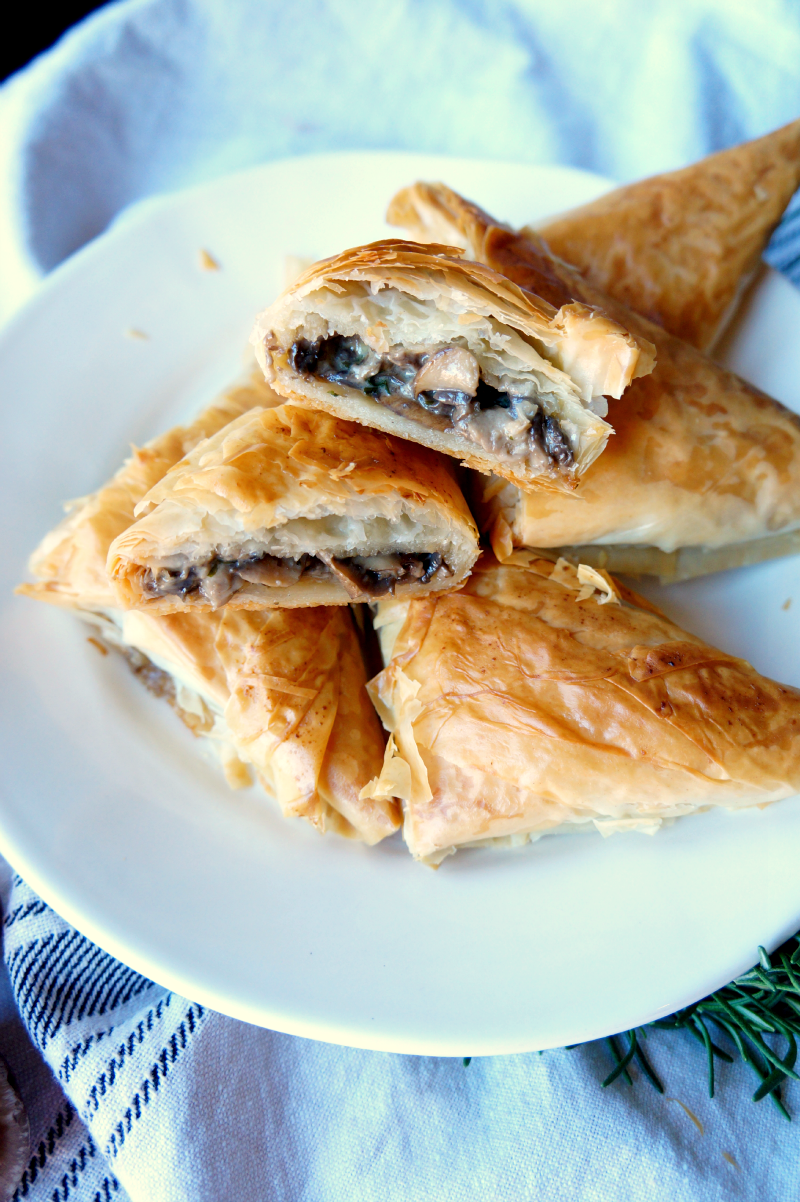 The secret to all those flaky, irresistible layers is the phyllo dough itself! If you've ever worked with phyllo, you'll know that this dough is super thin and almost brittle, and it needs to be brushed with generous amounts of butter in order to be workable and delicious! I used a mixture of melted butter and extra virgin olive oil to brush every other "sheet" of dough, making it crisp and airy without having the buttery flavor be too heavy or overwhelming. Balance is key! You want to brush the layers enough so that they're moistened, but not so much that they're totally soaked through with butter. I never said this was a diet recipe, but too much butter will just turn this greasy which isn't what you're going for. 😉 These creamy mushroom pockets are absolutely addicting and the perfect weeknight dinner with a light salad. Try them soon!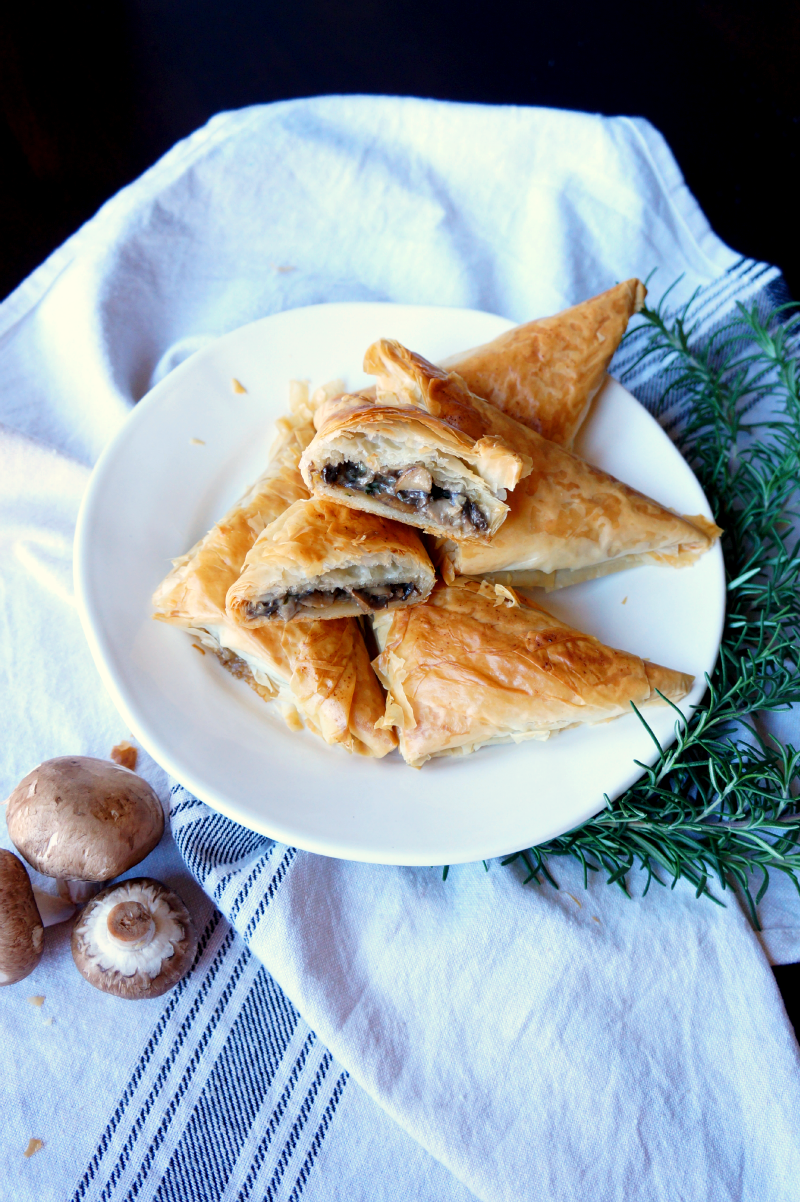 creamy mushroom pockets
Author:
Valentina | The Baking Fairy
Ingredients
1 roll phyllo dough, thawed
6 tablespoon salted butter, melted
6 tablespoon extra virgin olive oil
*for the filling*
16 oz baby bella mushrooms
2 cloves garlic, finely chopped
2 tablespoon olive oil
¼ cup white wine
¼ cup heavy cream
¼ cup freshly grated Parmesan cheese
2 teaspoon chopped parsley, fresh or dried
½ teaspoon garlic powder
salt and pepper, to taste
Instructions
First, prepare the filling. In a medium pot, heat the 2 tablespoon olive oil with the garlic over medium-high heat. Clean the mushrooms and slice them thinly, then add them to the pot. Season with salt, pepper, and garlic powder, and let the veggies cook until they are soft and tender (about 6-8 min).
Add in the white wine, stir, and let the mixture cook until the alcohol has evaporated out. Lower the heat to medium-low, and stir in the heavy cream, parsley, and Parmesan cheese. Cook until mixture is thick and creamy, then remove from heat.
Preheat the oven to 350F (on convection setting, if possible).
Line your work surface with wax paper, and unroll your phyllo dough. Mix the melted butter and olive oil together.
Lay down two pieces of phyllo, then brush generously with the butter and oil mixture. Top with two more sheets, brush with the butter again, then two more sheets, and more butter, for a total of 6 sheets of phyllo.
Using a pizza cutter or knife, cut the dough in half vertically, so that you have two long and skinny pieces.
Scoop 1-2 tablespoon of mushroom mixture on the bottom part of the dough, then fold into a triangle over and over (think paper football or school-note style). Tuck in any extra dough, and place the pocket on a baking sheet lined with parchment.
Repeat with all dough and filling. You should be able to get 8 pockets.
Brush any remaining butter on top of the pockets, then bake for 18-20 minutes, until golden brown and crisp. Let cool slightly, then enjoy!
If you are having trouble understanding how to fold the pockets, you can check out this image
HERE
which explains it visually. A little easier to understand, in my opinion 🙂