This shop has been compensated by Collective Bias, Inc. and its advertiser. All opinions are mine alone. #DeliciousDinners #CollectiveBias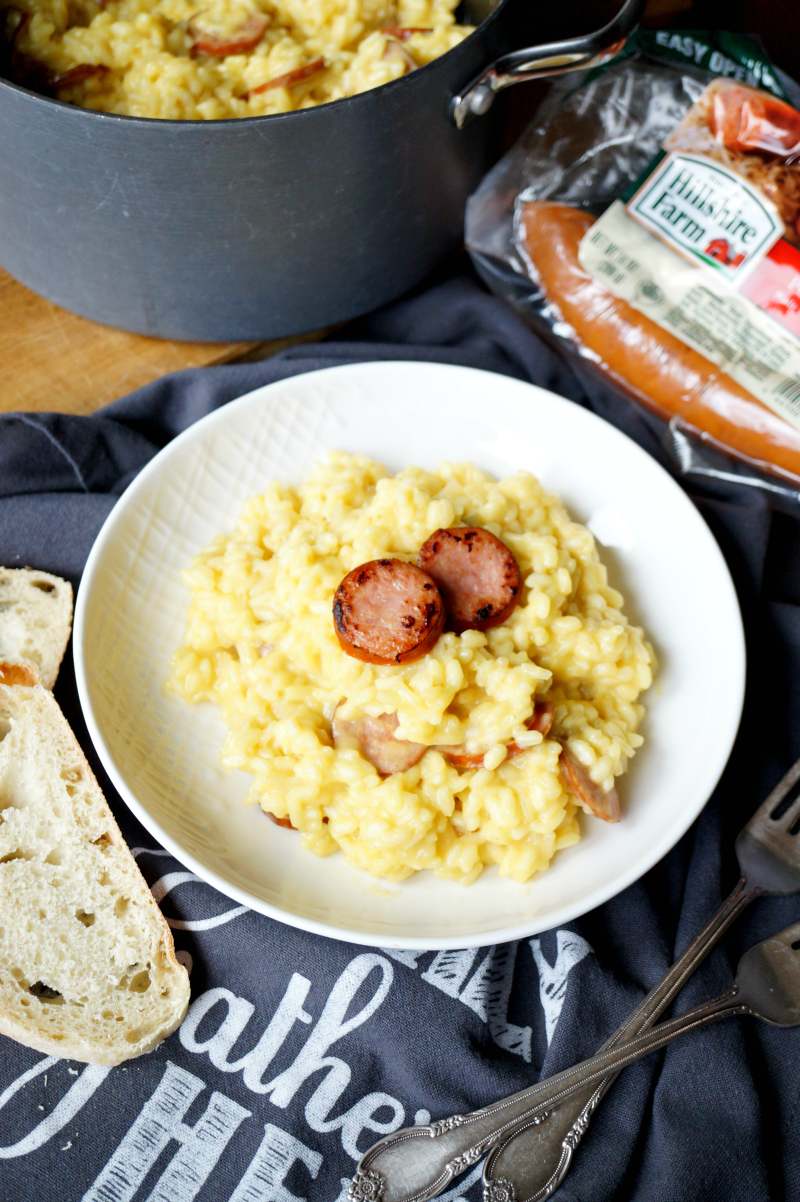 Hello, lovely readers! I am so excited to have paired up with Hillshire Farm® today to bring a delicious twist on an Italian staple: Risotto Milanese. While the traditional version uses crumbled sausage, I decided to swap it out for Hillshire Farm® Polska Kielbasa for a new, scrumptious weeknight dinner option. Imagine creamy, cheesy risotto, spiced with garlic, onion, and just a hint of saffron, combined with tasty, flavorful kielbasa sausage. It's a match made in heaven! Let me show you how it's made.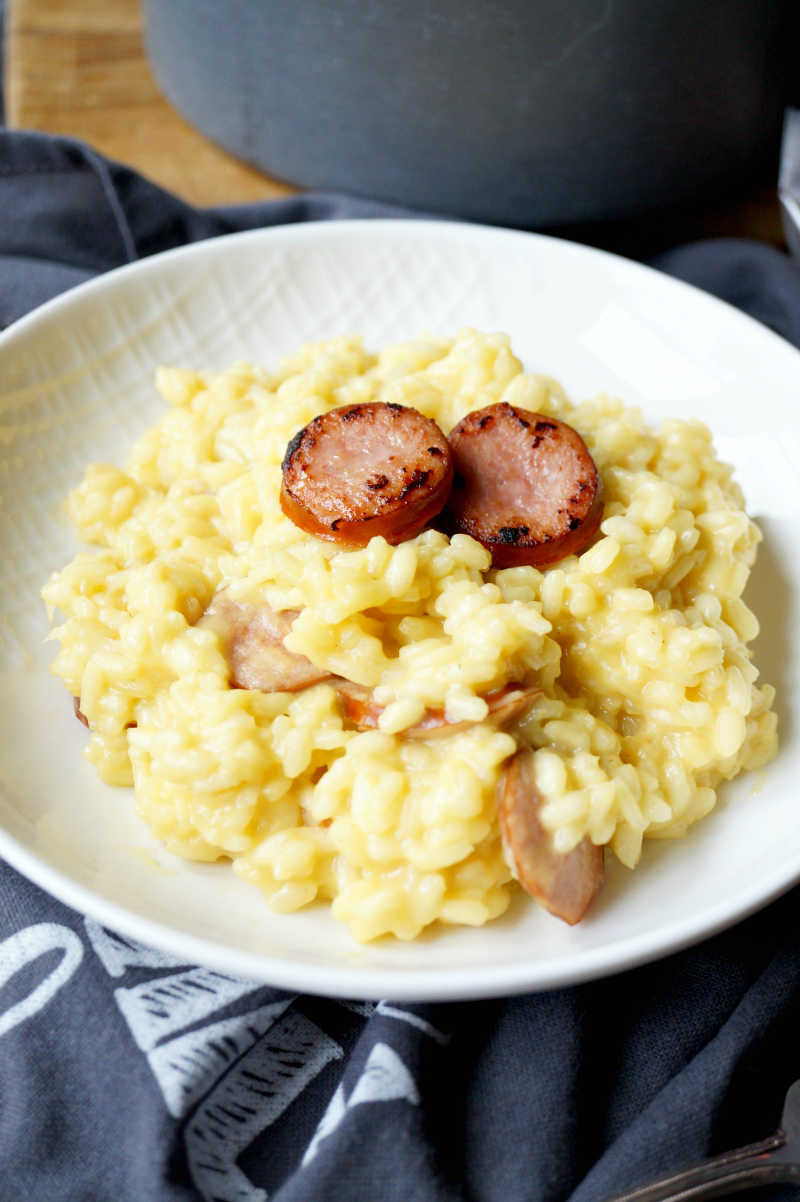 I feel like risotto is one of those dishes that seems to be really time consuming or complicated but really isn't! Any good risotto starts with a few simple key ingredients: arborio rice, onion, butter, white wine, and broth. Anything beyond that is up to you! I love using Hillshire Farm® Polska Kielbasa in my recipes because it's perfectly spiced and made with high quality ingredients. The flavor is robust enough to stand alone, but still mild enough to play well with any other ingredients I want to pair it with.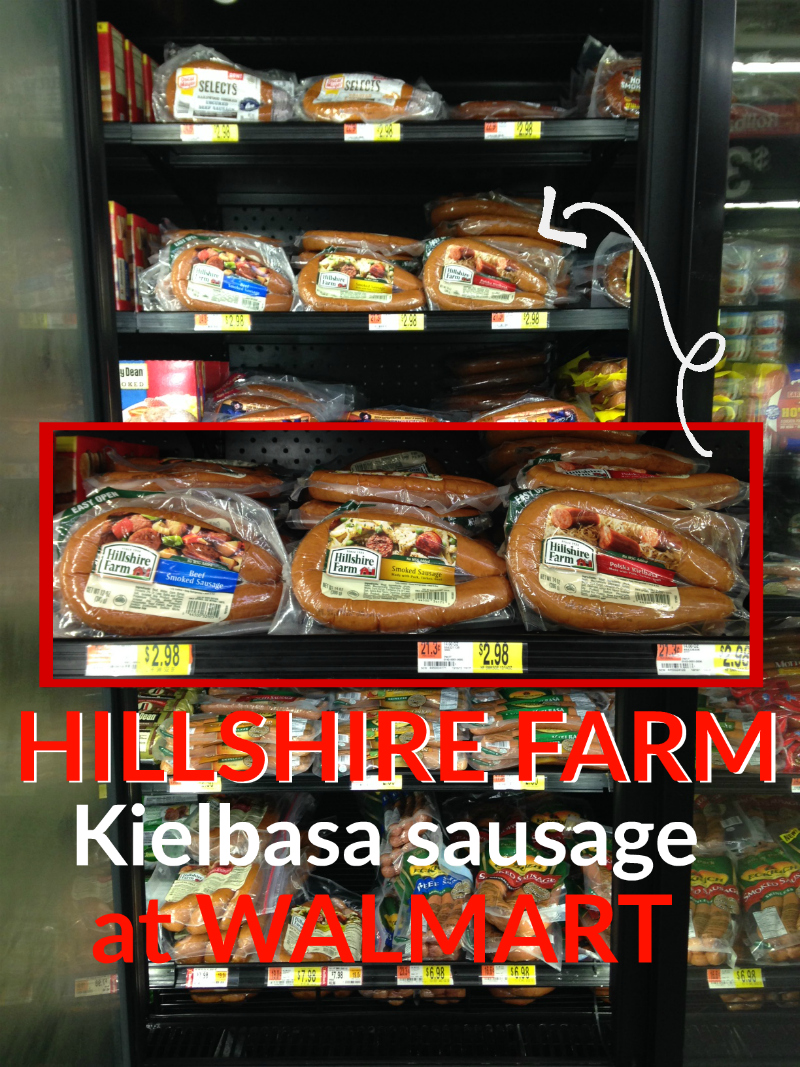 You can find Hillshire Farm® Rope Sausage at your local Walmart! I found mine in the refrigerated section by the breakfast meats and cold cuts. I chose to use the Polska Kielbasa variety for this recipe, but any of theirs will work well in this risotto! While you're shopping, be sure to also grab the arborio rice, onion, butter, saffron, white wine, and your favorite chicken or vegetable broth, along with Parmesan cheese and some mild shredded cheddar. Hey, I did say this was a twist on the original! No shame on putting some American cheddar in the risotto. It's mild enough to not be too noticeable, but it gives the dish a rich, cheesy creaminess you would otherwise miss.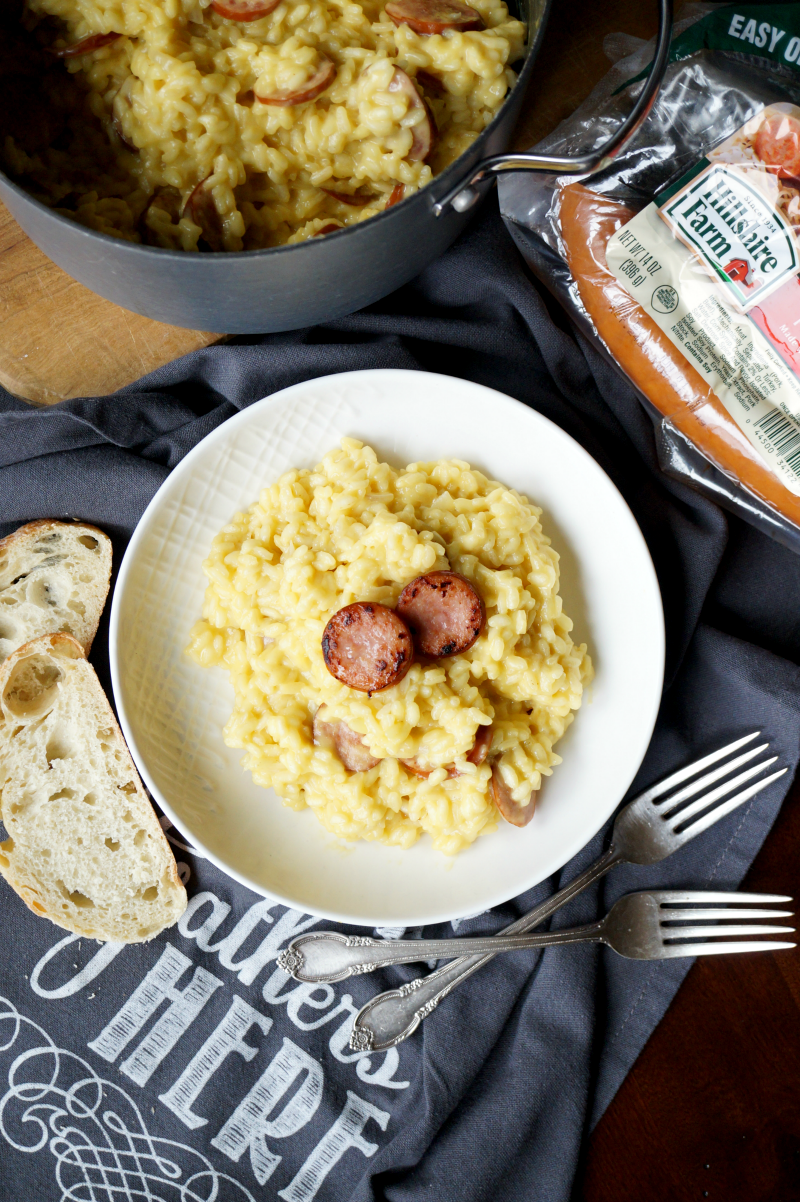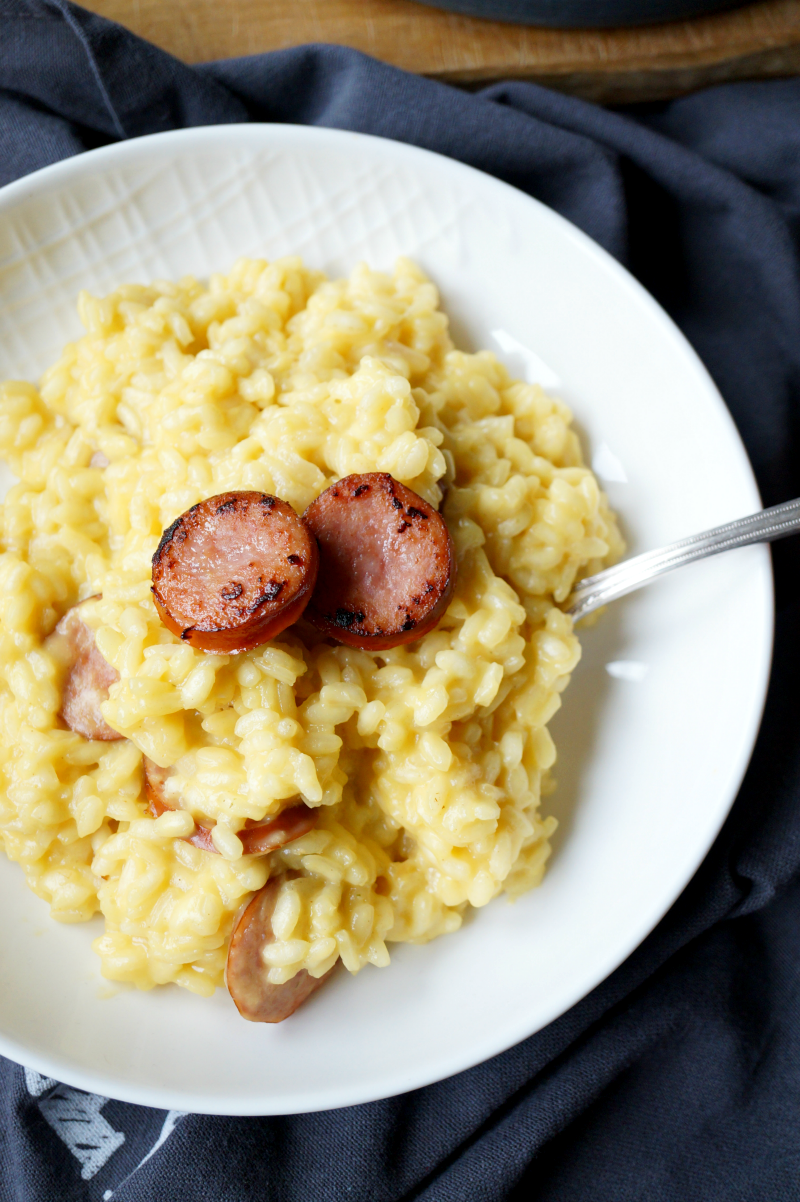 Hillshire Farm® Rope Sausage is a delicious and versatile ingredient in the kitchen! Use it to break the dinnertime routine and create new twists on old favorite recipes. My favorite uses for this sausage are in pasta dishes and casseroles, and on top of pizza in place of the traditional pepperoni. If you're looking for more creative, tasty ideas using Hillshire Farm® Polska Kielbasa and other sausages, you can find more recipes on their website HERE. Happy cooking!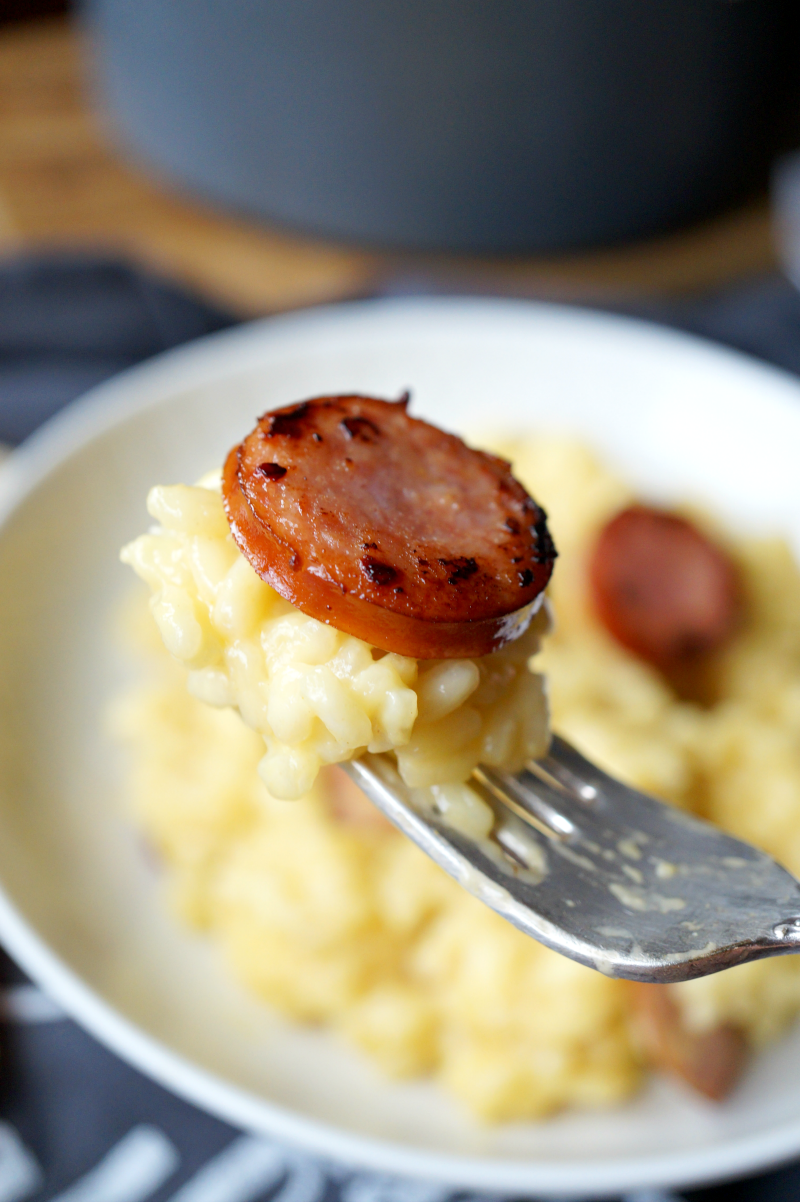 sausage risotto milanese
Author:
Valentina | The Baking Fairy
Recipe type:
Meat & Seafood
Ingredients
1 lb arborio rice
1 tablespoon salted butter
1 tablespoon olive oil
½ cup chopped onion
½ Hillshire Farm® Polska Kielbasa, sliced
½ cup white wine
2 cups chicken broth
2 cups water
1 teaspoon garlic powder
1 teaspoon onion powder
½ teaspoon salt
½ teaspoon black pepper
¼ teaspoon saffron
⅓ cup shredded mild cheddar
⅓ cup grated Parmesan cheese
Instructions
In a medium nonstick pot, heat the butter and olive oil over medium heat. Add in the chopped onion and sliced Hillshire Farm® Polska Kielbasa, and cook until onion is soft and fragrant. Add in the salt, pepper, garlic powder, and onion powder.
Pour in about half of the white wine, stir, and let this cook until the alcohol has evaporated out and you can no longer smell it.
Stir in the arborio rice, and let it toast for 1-2 minutes, until it turns slightly translucent. Pour in the rest of the wine, and let it evaporate once again.
Now, start adding the water and chicken broth about ½ cup at a time, letting it be absorbed completely by the rice before adding more. Stir occasionally.
The risotto will be cooked when it's thick and creamy, and the grains are tender but not mushy. You may need a little more or less water than I did. When it's cooked through, stir in the saffron.
Remove from heat, and finally stir in the cheddar and Parmesan cheese. Serve immediately!