This shop has been compensated by Collective Bias, Inc. and its advertiser. All opinions are mine alone. #MySmoothie #CollectiveBias
Start your day off with a deliciously healthy mocha smoothie bowl that tastes like a coffeehouse shake! It combines coffee, peanut butter, and chocolate.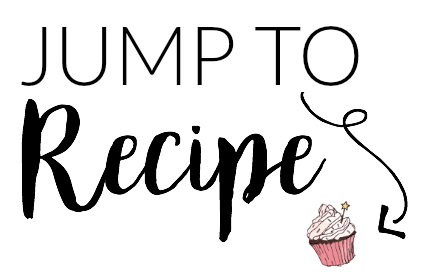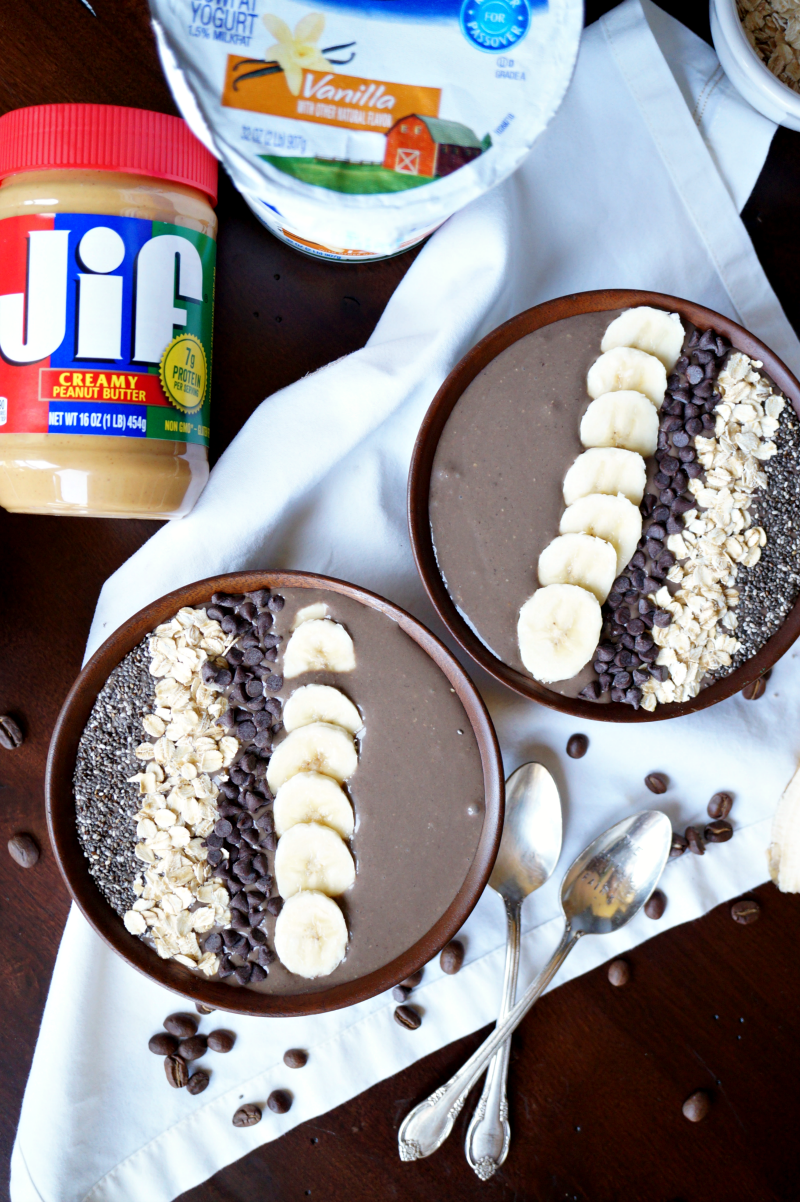 Smoothie bowls have seriously been taking over social media and food blogs lately, and I have to say this is a trend I absolutely love! Smoothies have always been a delicious breakfast or snack option, and smoothie bowls have turned these quick meals into serious works of art! I have paired up with Jif™ and Dannon today to bring you this gorgeous Peanut Butter Mocha Smoothie Bowl! This beauty combines creamy Jif™ Creamy Peanut Butter, Dannon Vanilla All Natural Low Fat Yogurt, bananas, coffee, oats, chia seeds, and cocoa powder to create a delicious, super filling smoothie that tastes just like an indulgent coffeehouse shake!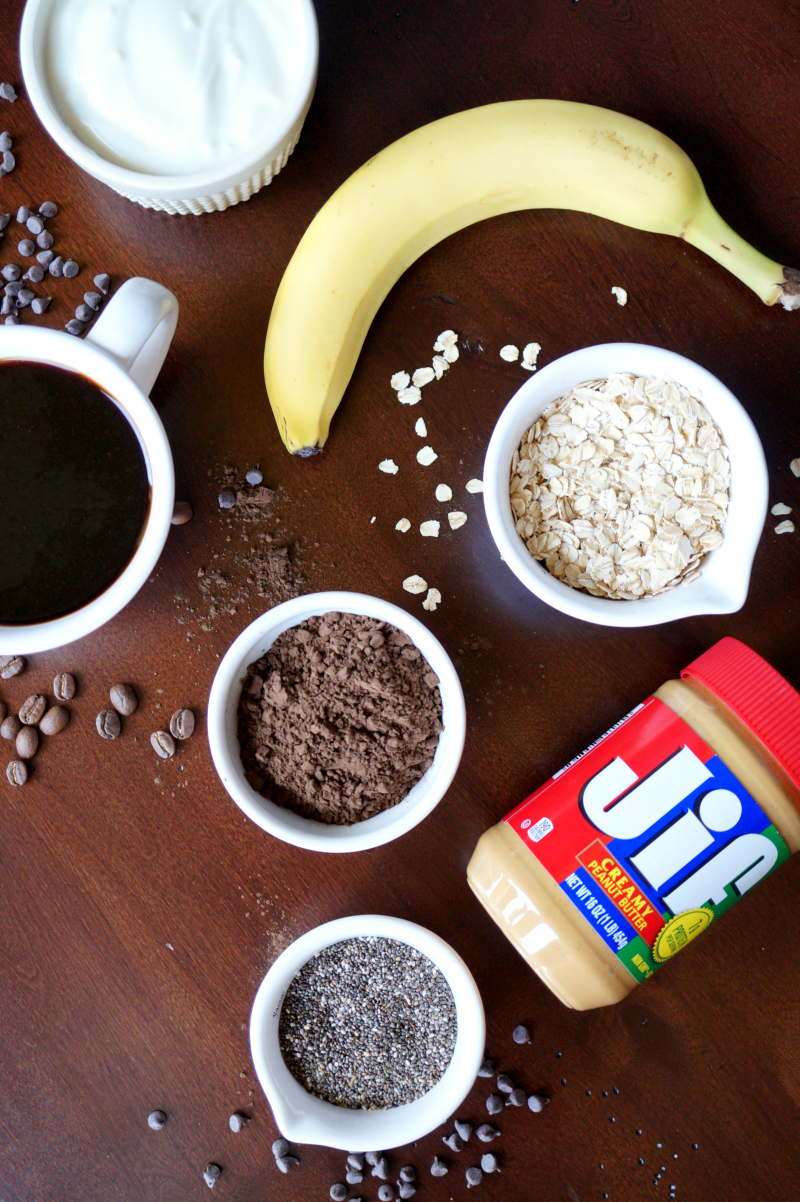 This mocha smoothie bowl takes just a few minutes to whip up, and if you're in a hurry, it's just as good poured into a cup instead of in a bowl. But I personally love the bowl because the toppings are so fun 🙂 This smoothie takes a few simple ingredients that are total nutrition powerhouses, and combines them into an absolutely delicious but better-for-you breakfast. Jif™ creamy peanut butter is delectably rich and creamy while being naturally gluten-free and packing a generous 7 grams of protein per serving, and Dannon vanilla yogurt is a smart choice that is made with only natural ingredients, and is low in fat but high in flavor! I blended these up with antioxidant-rich dark cocoa powder, chia seeds packed with healthy omega-3's, nutrient rich oats, and a splash of cold brew coffee for good measure. A girl needs her caffeine after all!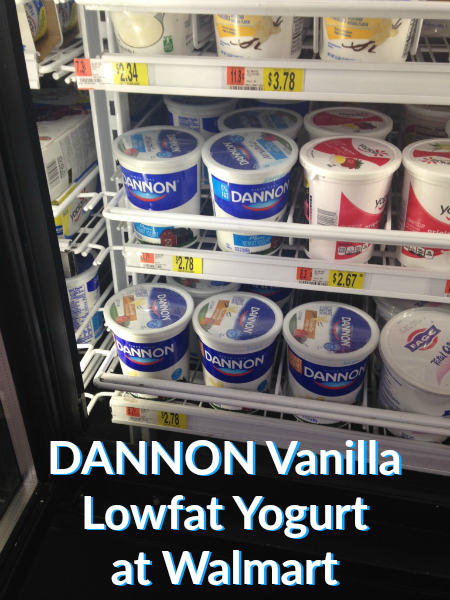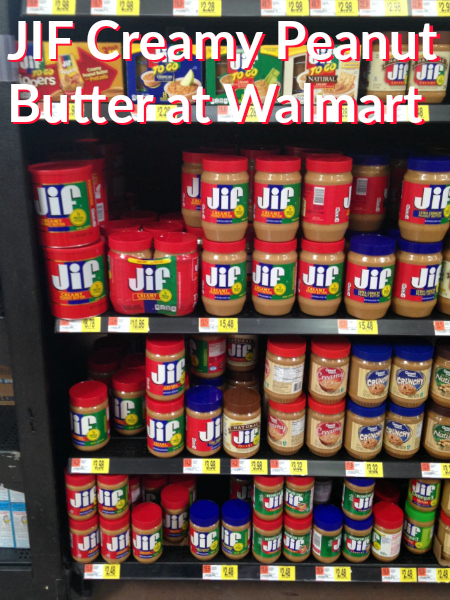 I went to my local Walmart to grab all the ingredients for this peanut butter mocha smoothie bowl! I found the Dannon Vanilla All Natural Lowfat Yogurt in quart size in the refrigerated yogurt section, and the Jif™ Creamy Peanut Butter in the peanut butter and jelly aisle! I went for the creamy option this time, but I think a spoonful of chunky peanut butter would be a delicious smoothie bowl topping for next time! If you buy these two items at Walmart, you can even get an exclusive $1.50 coupon through the Ibotta app. You can click HERE to see the offer!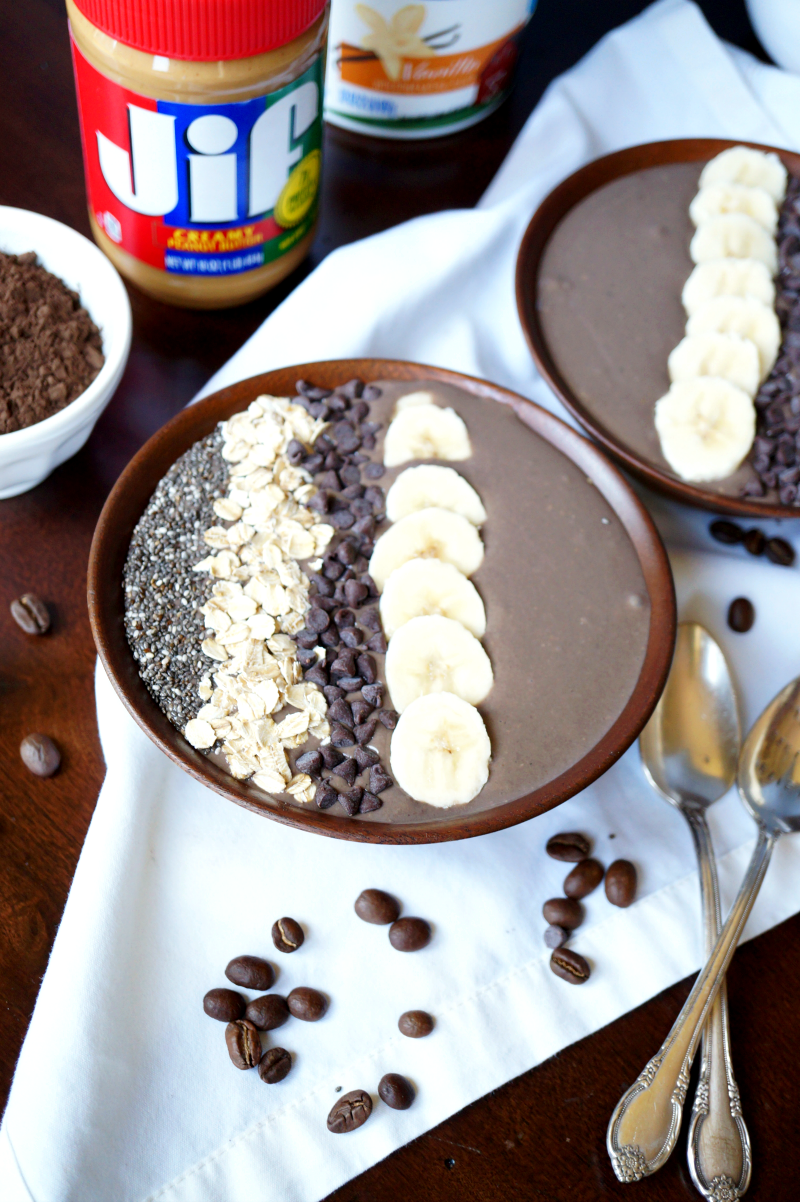 I know that due to all the gorgeous, photogenic smoothie bowls we see on Instagram and other social media, it's easy to be intimidated and think these may be hard to make. Not so! All you have to do is draw inspiration from what's inside the smoothie... and put it on top! Banana slices were an obvious choice, and I decided to add a sprinkle of mini chocolate chips for texture and a little bit of a treat. The oats and chia seeds are also in the smoothie, and the colors coordinated so perfectly I just couldn't resist!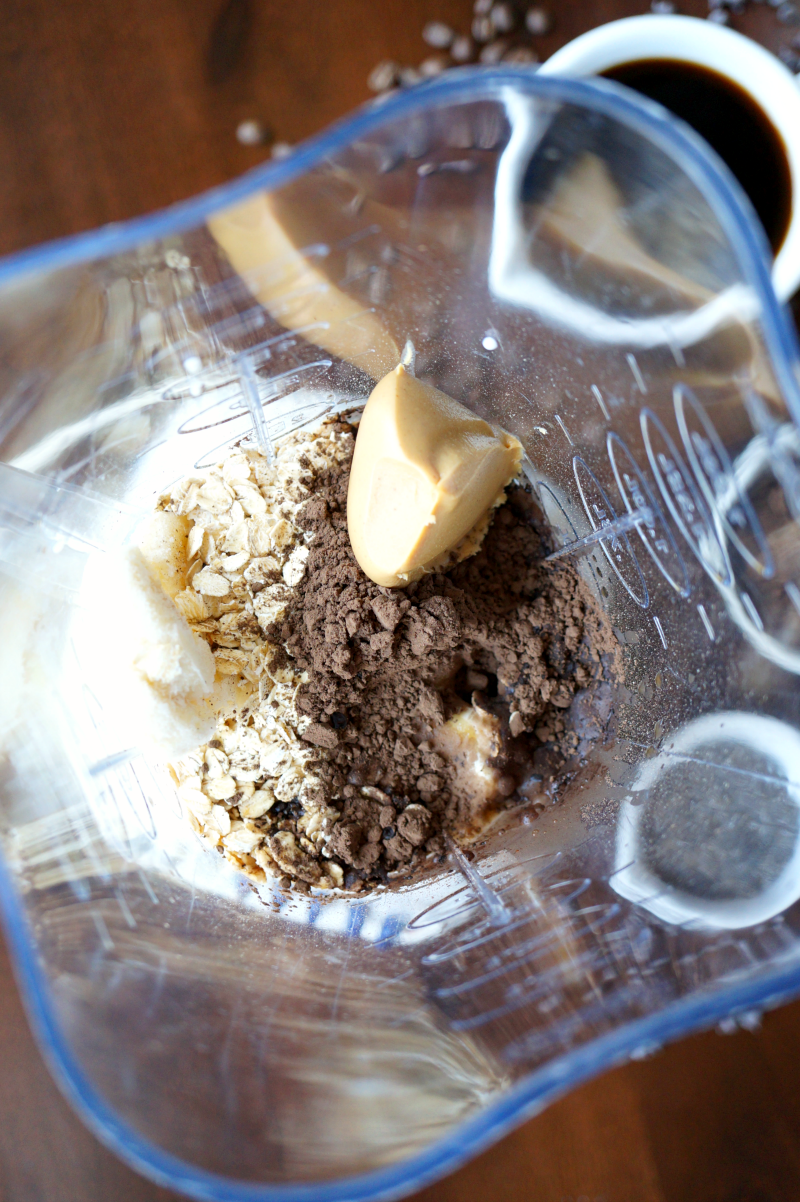 This smoothie is so fast and simple to make, all I had to do was throw all the ingredients into my trusty Oster® blender, blend away, and enjoy! I've had it for years and it still works like a charm. If you don't own a blender or need to replace yours, Oster® Blend-N-Go® MyBlend® is a perfect option for personal-sized smoothies. The blending container is actually a to-go cup, so you can just fill, blend & go!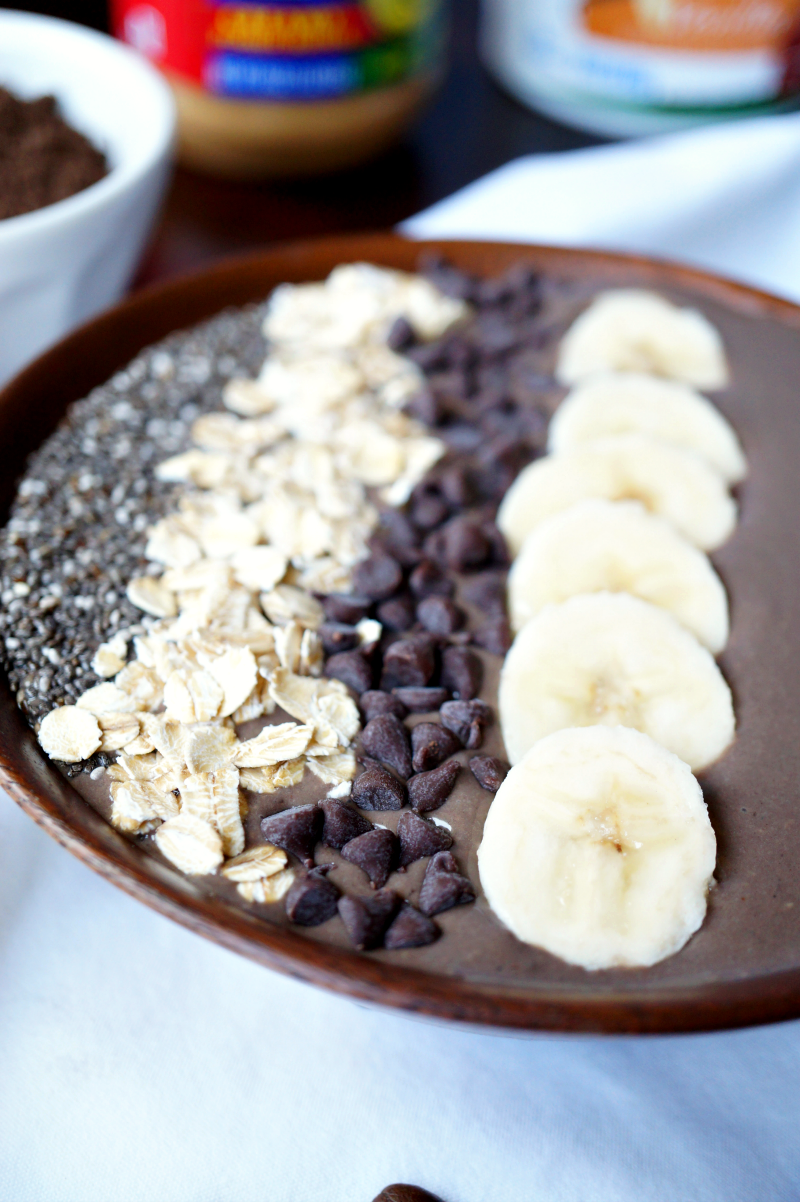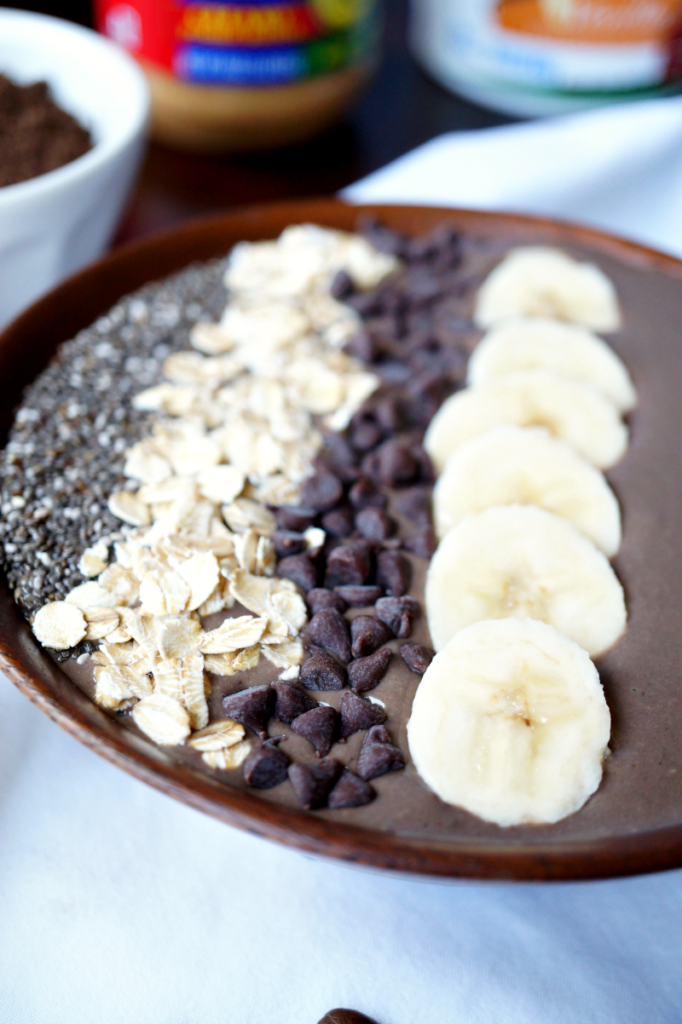 I hope this recipe showed you that smoothies can be good for you while tasting absolutely indulgent, and that creating the perfect smoothie bowl is really not as hard as it looks! Happy blending! 🙂
peanut butter mocha smoothie bowl
Author:
Valentina | The Baking Fairy
Ingredients
2 bananas, sliced and frozen
4 tablespoon Jif™ Creamy Peanut Butter
1 cup Dannon Vanilla All Natural Lowfat Yogurt
4 tablespoon chia seeds
½ cup old fashioned oats
½ cup cold-brew coffee (you can sub this with instant espresso powder and milk or water!)
¼ cup dark cocoa powder
if you prefer a sweeter smoothie, you may also add 1-2 tablespoon of honey
for topping: sliced bananas, mini chocolate chips, old fashioned oats, and chia seeds
Instructions
In a blender, combine the frozen banana slices, Jif™ Creamy Peanut Butter, Dannon Vanilla All Natural Lowfat Yogurt, chia seeds, oats, coffee, and cocoa powder. Blend until smooth, adding more of the yogurt or some milk if it's too thick. If you want the smoothie to be a bit sweeter, you can also blend in some honey.
Enjoy the smoothie in a cup, or pour into a bowl, and arrange the banana slices, mini chocolate chips, oats, and chia seeds on top as desired. Enjoy immediately!