These Veggie Alfredo Stuffed Shells combine zucchini, mushrooms, and cheese with a rich sauce and a sprinkle of crispy, savory bacon. 
It's September y'all! This means that pumpkin is finally fair game, right? Right. I'm glad we're all on the same page. For those of you who think I'm utterly ridiculous, worry not, because this particular recipe does not have pumpkin in it. Yet. Today, I'm sharing these delicious Veggie Alfredo Stuffed Shells with Bacon! These babies combine sautéed zucchini and mushrooms, ricotta, and parmesan cheese (as well as a bit of crispy bacon), stuffed inside pasta and covered in creamy Alfredo. Heck to the yes. Pull out your stretchy pants for this one.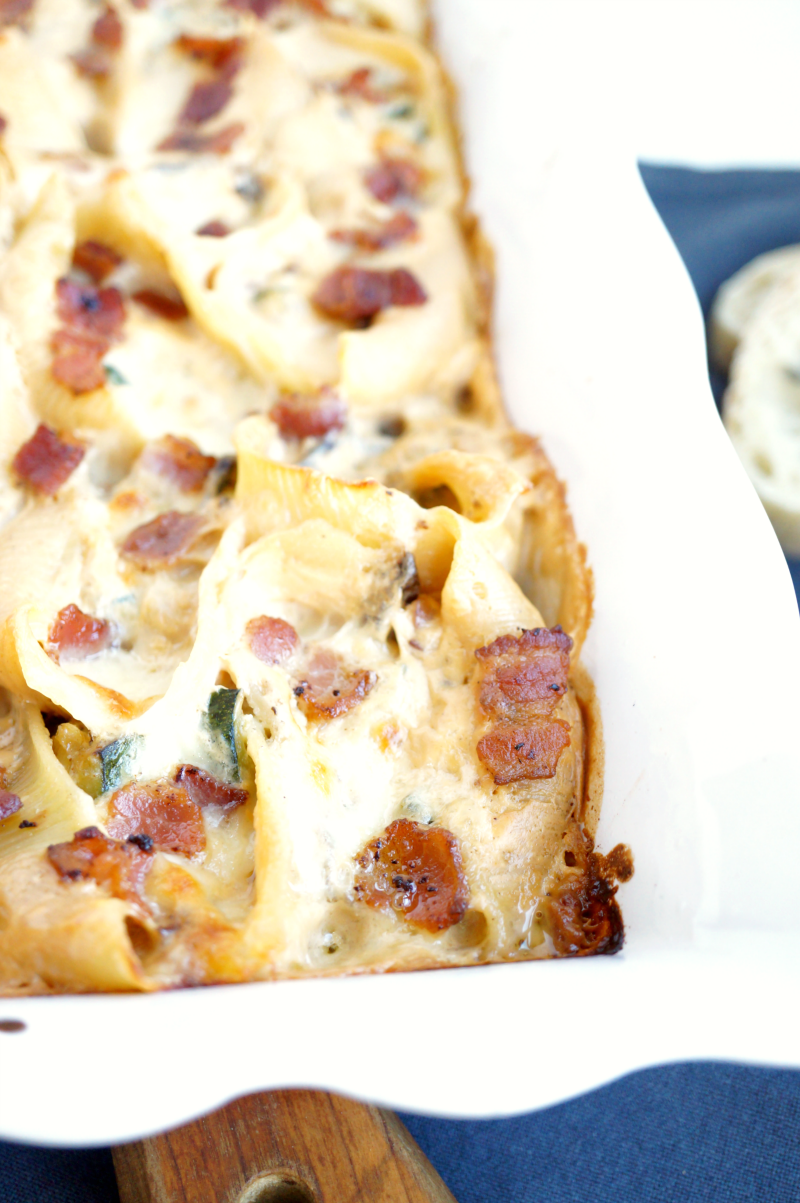 I think stuffed shells are such a fun take on the classic pasta bake! You can't go wrong with carbs and cheese regardless, but serving your friends and family a big pan of gooey pasta is nothing short of impressive. I decided to add some bacon to these veggie alfredo stuffed shells, but of course feel free to leave it out if you're vegetarian! You could even just add more veggies in to compensate. I bet some spinach would be delicious in here!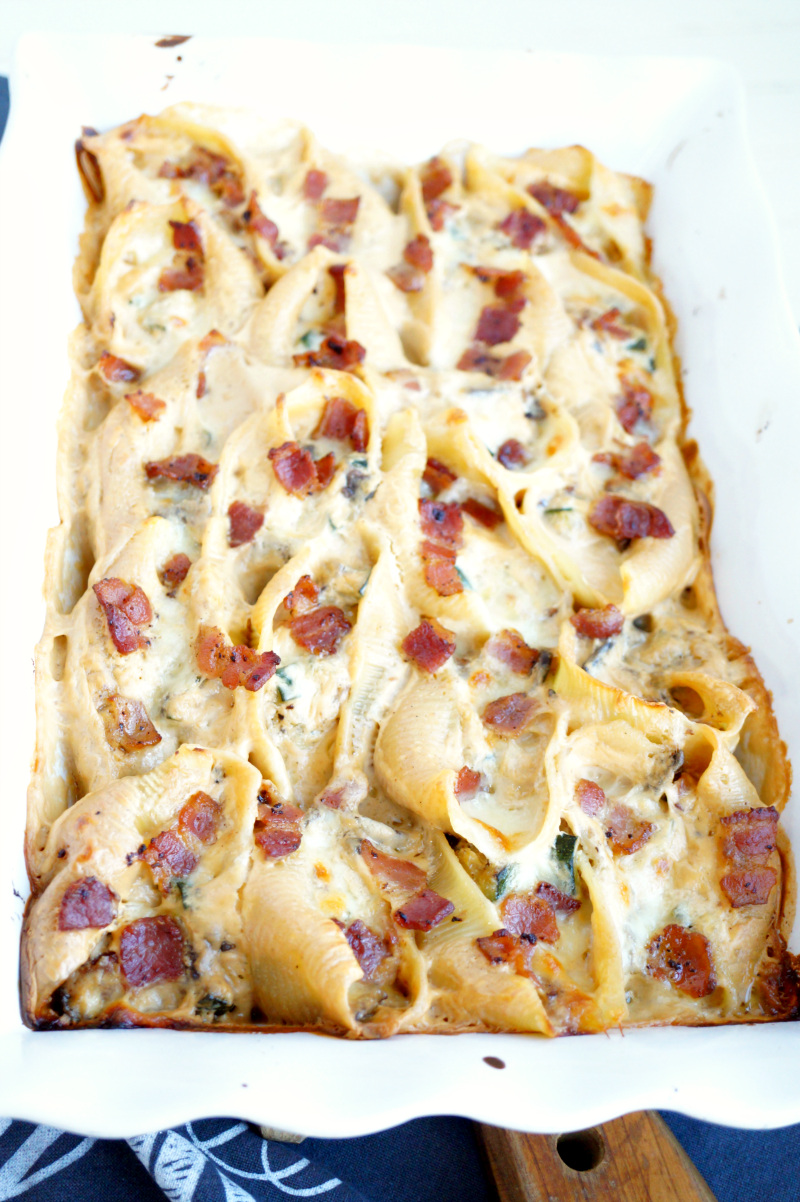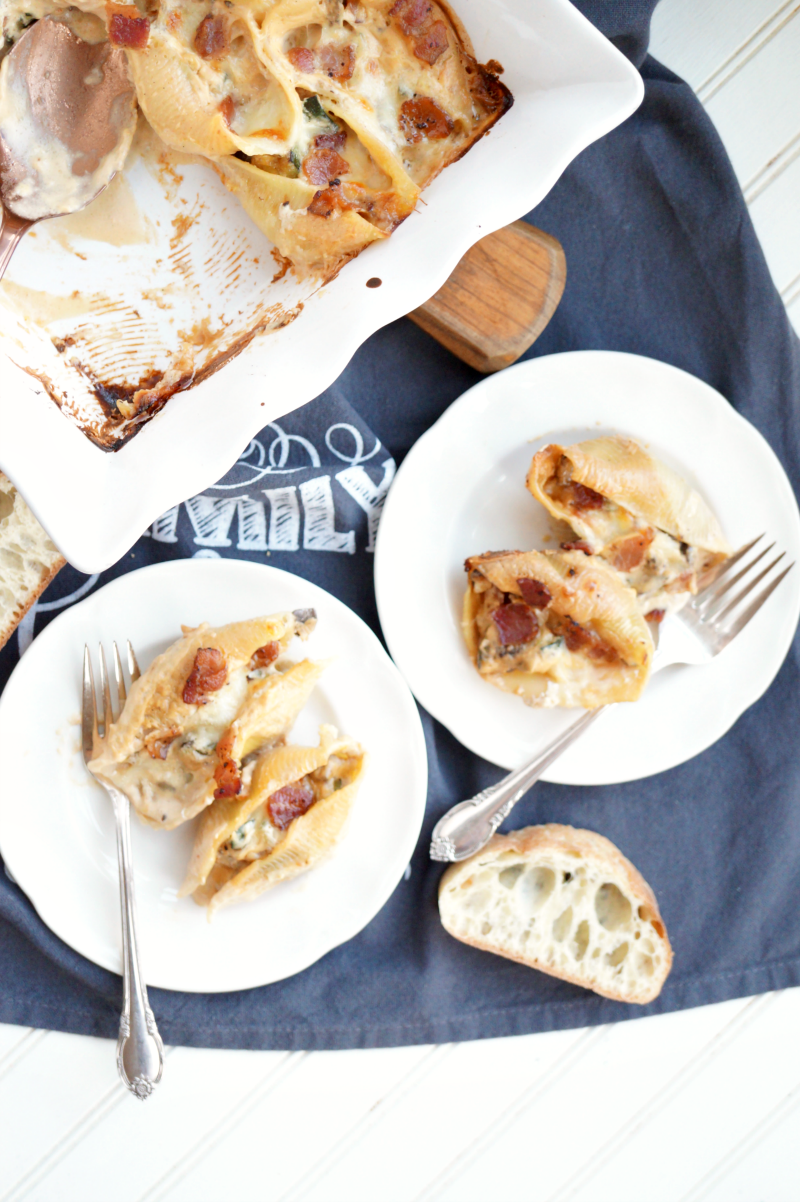 Because the prep work for these veggie Alfredo stuffed shells is a little lengthy, I would say this is more of a weekend dinner! It's really not difficult though, and if you have little helpers in the kitchen, you can get someone to chop veggies and crumble bacon for you. This recipe also works great as a make-ahead meal, so you could just assemble everything ahead of time and pop it in the oven when you need it! This recipe for veggie alfredo stuffed shells is one you'll be revisiting all fall season long!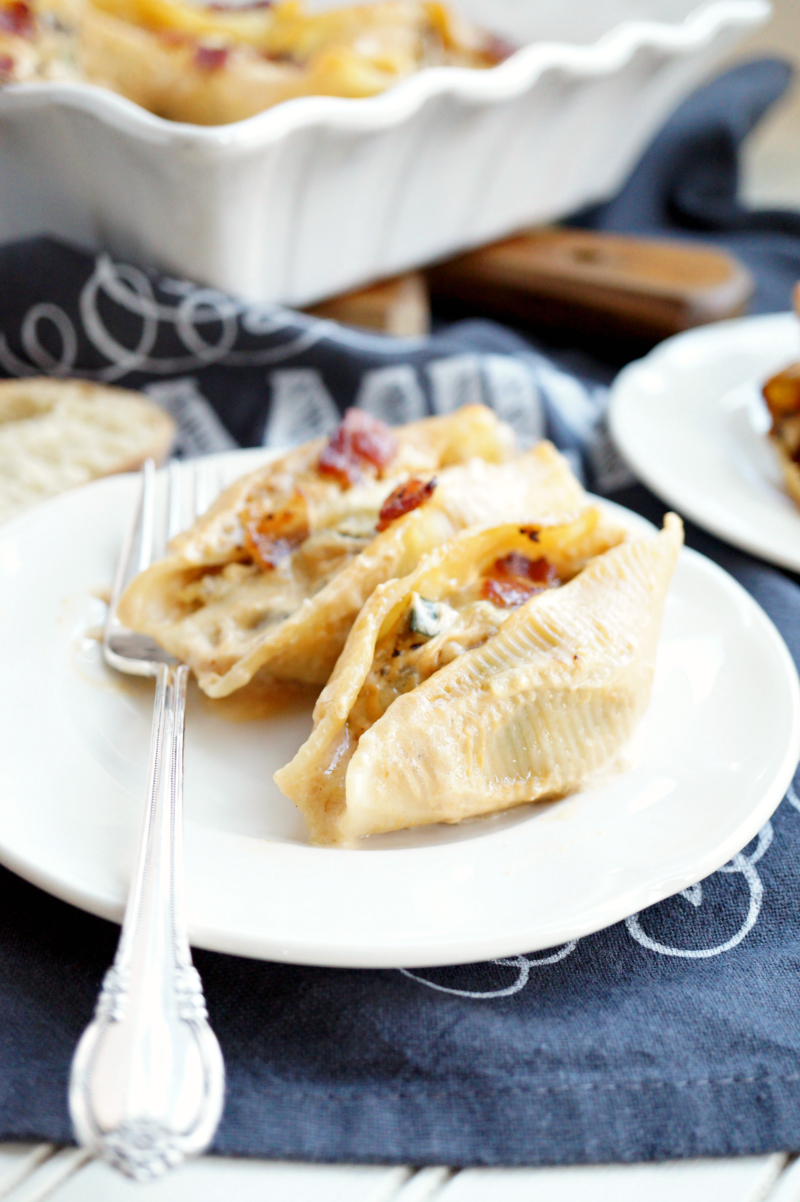 Looking for more baked pasta recipes? You can check out my Cheesy Lasagna Pasta Bake, Pasta al Forno, and my Zucchini Lasagna Pasta Bake.

veggie alfredo stuffed shells with bacon
Author:
Valentina | The Baking Fairy
Ingredients
½ package jumbo shells (about 25-30 shells)
1 15oz jar alfredo sauce
*for the filling*
½ lb bacon, diced
2 cups sliced mushrooms
2 cups diced zucchini
1 lb ricotta cheese
2 cups shredded mozzarella cheese
½ cup freshly grated parmesan cheese
½ teaspoon garlic powder
½ teaspoon onion powder
¼ teaspoon paprika
salt & pepper to taste
Instructions
First, cook the shells. Bring a large pot of water to a boil, and cook shells 1-2 minutes less than the package directions (should be somewhere around 5-6 minutes). When cooked, drain the shells and separate them out on a baking sheet so they don't stick together. Set aside.
Now, cook the bacon to desired crispiness. When ready, set on a plate lined with a paper towel to pick up excess grease.
Using the same pan you cooked the bacon in, turn it to medium-high heat and add in the zucchini and mushrooms (add a little olive oil if the pan isn't greased enough). Season with some salt and pepper, and saute until the veggies are soft.
In a large bowl, combine the ricotta, mozzarella, parmesan, vegetables, and most of the bacon. Save some bacon for topping! Add in the seasonings, and stir everything together.
At this point, turn oven to 350F. Grease a 9x13 baking pan, and spoon a little bit of alfredo sauce on the bottom. Stuff your shells with the prepared filling, and arrange in the pan. Top with the rest of the alfredo sauce, and sprinkle the reserved bacon on top. Add about ¼ cup of water to the bottom of the pan.
Bake until crusty and bubbly, about 25 minutes. Serve immediately!