This Prosciutto Pear Brie en Croute combines melty brie cheese with sweet pear and salty prosciutto in a perfectly light, crisp puff pastry shell. It's a show-stopping appetizer that's surprisingly simple to make!
Y'all we did it! We survived Christmas! So how did everybody do... I hope y'all got everything you wanted from Santa 😉 I personally can't complain. Among other things, I did get some new kitchen goodies so you know those will be making an appearance on here sooner or later! I got the prettiest new bundt pan so I'll be breaking that in soon. Since Christmas has now passed... time to start planning your New Year's Eve party! I'm sharing this incredible Prosciutto Pear Brie en Croute today and you are gonna LOVE it. Let's make it!
So I figured out that brie en croute is really just a fancy way to say "brie in crust" in French. I'd been calling it baked brie, but apparently that's a different thing and it doesn't involve puff pastry. Though, why you'd deprive yourself of puff pastry when it's an option I don't know. To each their own 😉 All you need to make this is the aforementioned puff pastry, a small wheel of brie, a ripe pear, and some cubed prosciutto. That's it! It's so easy, and you'll be rewarded with light, crisp pastry enveloping a sea of melty, delicious cheese. Holy yum.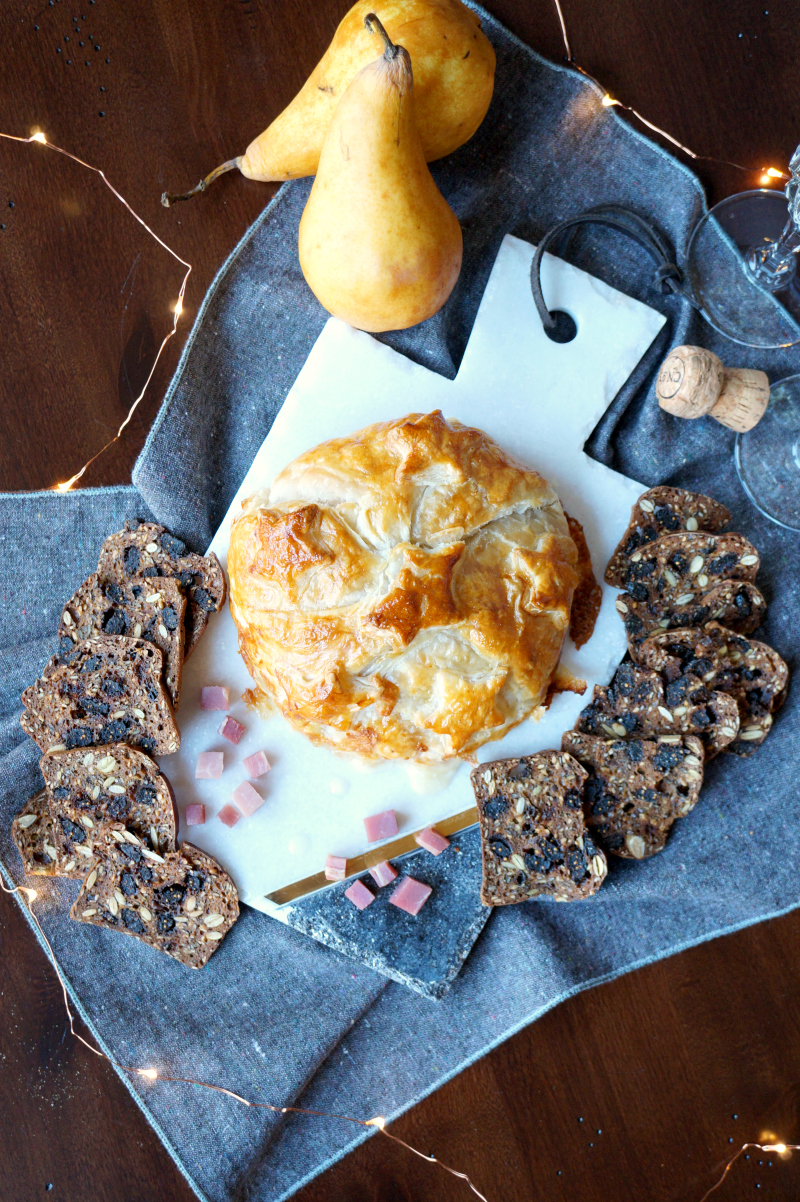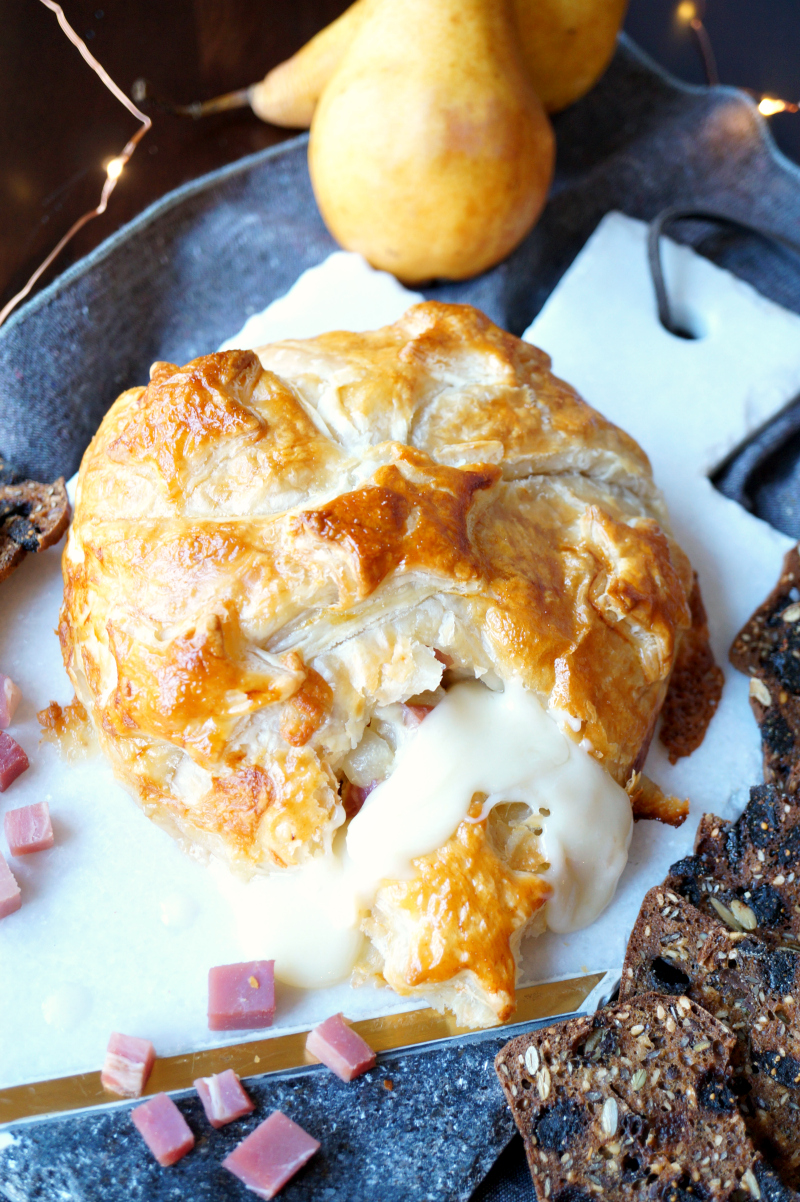 I had been planning on making this with traditional brie, but while I was at the store, I spotted goat cheese brie and decided I absolutely had to try it. It's so good! It's creamier than normal brie, and while it's not as strong as traditional goat cheese, some of that tang does come through. I thought it was perfect with the sweet pears and smoky prosciutto! I've seen it at Aldi and Trader Joe's, if you're wanting to give it a try! If you can't find it, or if you don't like goat cheese, this brie en croute will absolutely work with normal brie, too.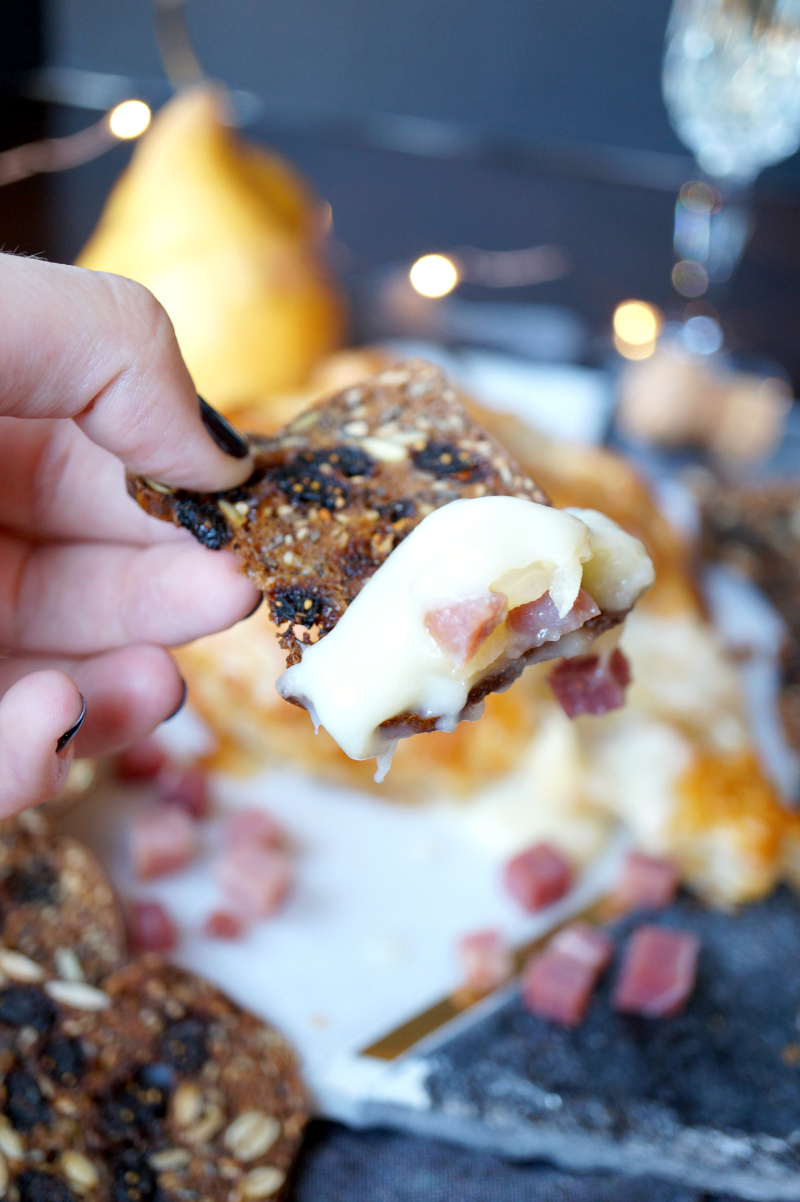 I hope this cheesy, impressive, deceivingly easy appetizer makes its way to your NYE celebrations! Your guests will love the sophisticated flavors and nobody has to know how simple it is to make 🙂 You can also check out my Cranberry Jalapeño Baked Brie here! Happy eating!

prosciutto pear brie en croute
Author:
Valentina | The Baking Fairy
Ingredients
1 wheel brie cheese
1 sheet puff pastry
1 ripe pear, diced small
1 tablespoon salted butter
½ cup diced prosciutto*
1 egg yolk + 1 tablespoon milk, beaten
*NOTE: if you can find pre-diced prosciutto at the store, that works perfectly. If not, you can buy one thick slice of prosciutto at the deli counter and dice it at home!*
Instructions
Preheat oven to 400F.
In a small pot, combine the butter and pear over medium heat, and cook until pears softens and gets jammy. This should take 5-8 minutes!
Line a baking sheet with parchment or silicone, and lay the sheet of puff pastry on top.
Place the wheel of brie in the center, and top with the pears and diced prosciutto.
Wrap up the pastry around the filling, and brush the surface with the egg yolk + milk mixture.
Bake for 20-25 minutes, until crust is golden brown and crisp.
Serve immediately!