This shop has been compensated by Collective Bias, Inc. and its advertiser. All opinions are mine alone. #SameSilkySmoothTaste #CollectiveBias
Who says healthy food has to be boring? This Sweet Potato Crust Quiche is stuffed with spinach, mushrooms, and turkey bacon, but you'd never think it was gluten-free, dairy-free, or just 110 calories per slice!
Hello dear readers, and happy Monday! I can't believe January is almost over already. How are you holding up on your new year's resolutions?! I know that it's easy to fall off the dieting bandwagon after a bit, because you get so tired of eating the same stuff. Lucky for you, the recipe I'm sharing today is packed with flavor and nutrition, gluten-free, dairy-free, and it's only 110 calories per serving! This Spinach, Mushroom, and Bacon Sweet Potato Crust Quiche is about to make allll of your healthy living dreams come true. Let's get to work!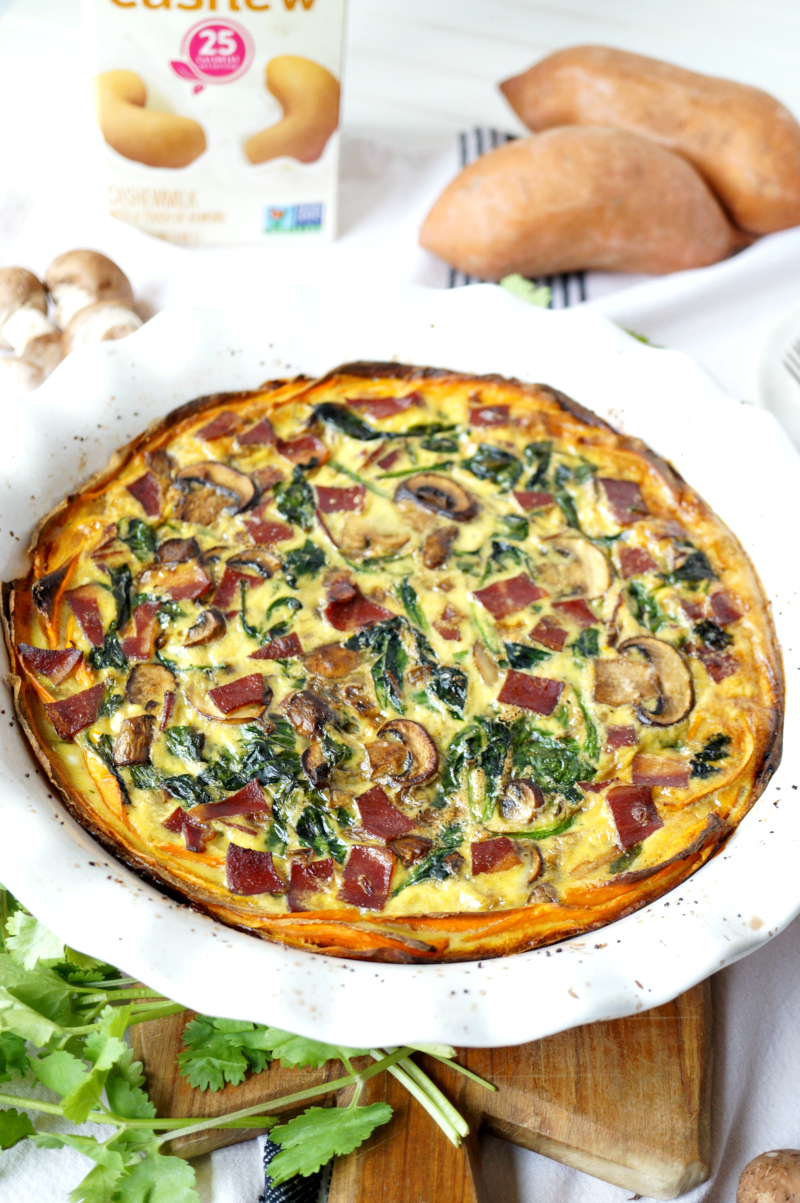 When Silk asked me if I wanted to pair up and create a recipe using their products, of course my answer was a resounding "Yes"! I've been drinking Silk nondairy milk for years, so it only seemed natural to feature them on my blog. I was hooked on their classic almond milk for a long time, but I think since the cashew variety has come out, it's become my new favorite! It's so thick and creamy, and while it tastes indulgent, I know it's a healthy choice. It even has fewer calories than skim dairy milk! I decided to use the unsweetened cashew milk in my sweet potato crush quiche, but any of their unsweetened varieties will work great.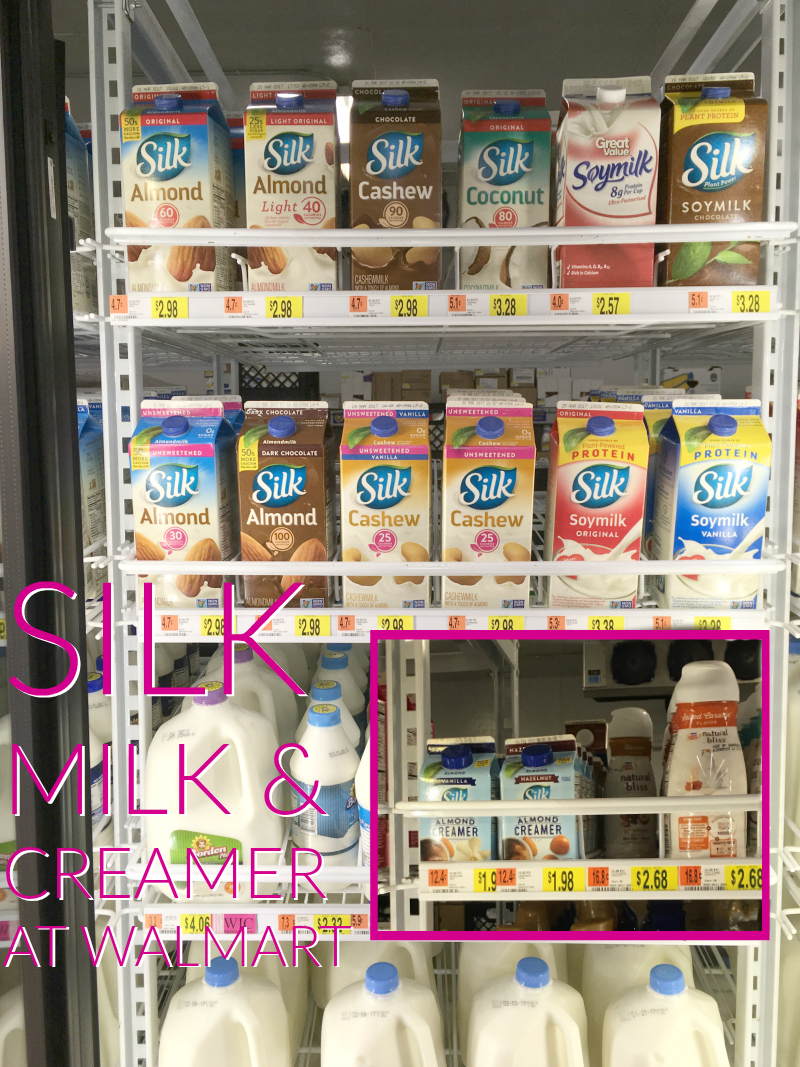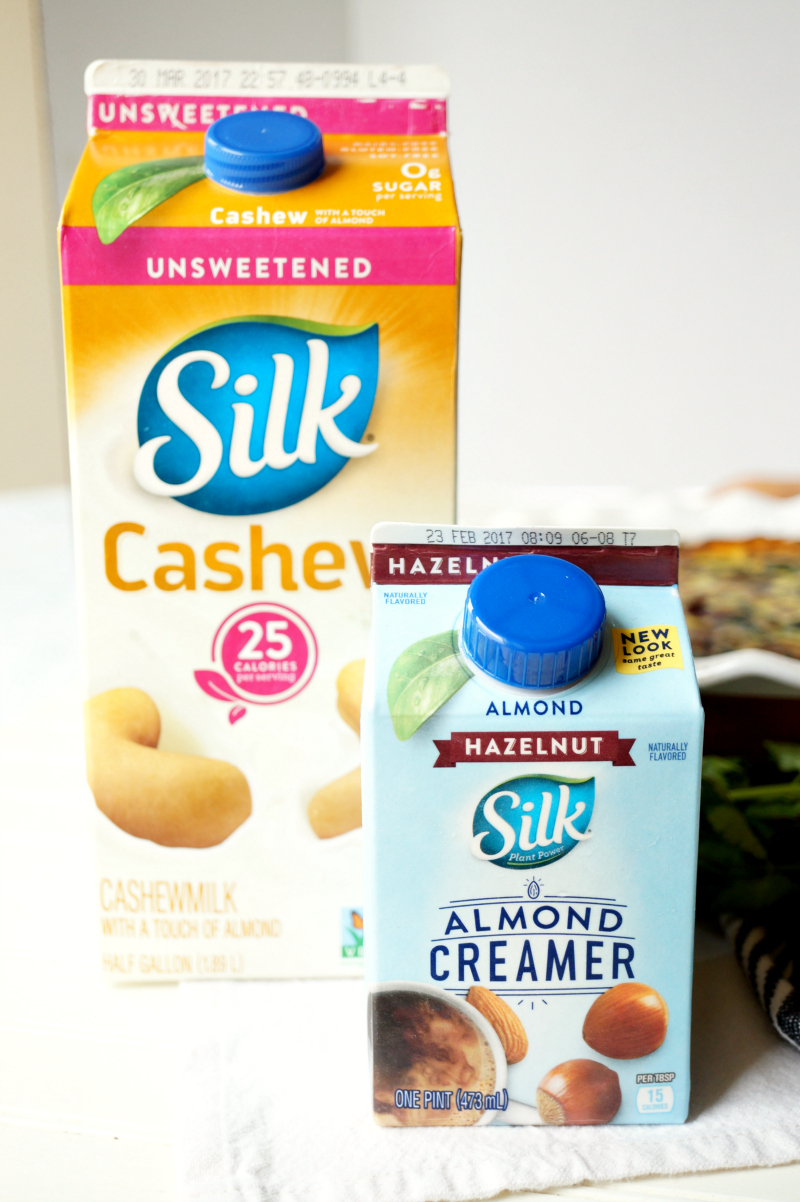 For this recipe, I headed to Walmart to grab all the necessities. Silk recently came out with an almond milk creamer, which is awesome news for a coffee fiend like me! I love occasionally treating myself with creamer instead of plain cashewmilk in my coffee, but it can be hard to find a nondairy creamer that actually tastes good. Silk's definitely has my seal of approval, and I thought the Hazelnut flavor was delicious. You can also find the Vanilla and Caramel varieties at Walmart! I found a bunch of Silk milk varieties with the dairy milk, and the almond creamers were alongside the dairy creamers. Silk has been rolling out their brand new packaging, so be on the lookout for that when you're shopping!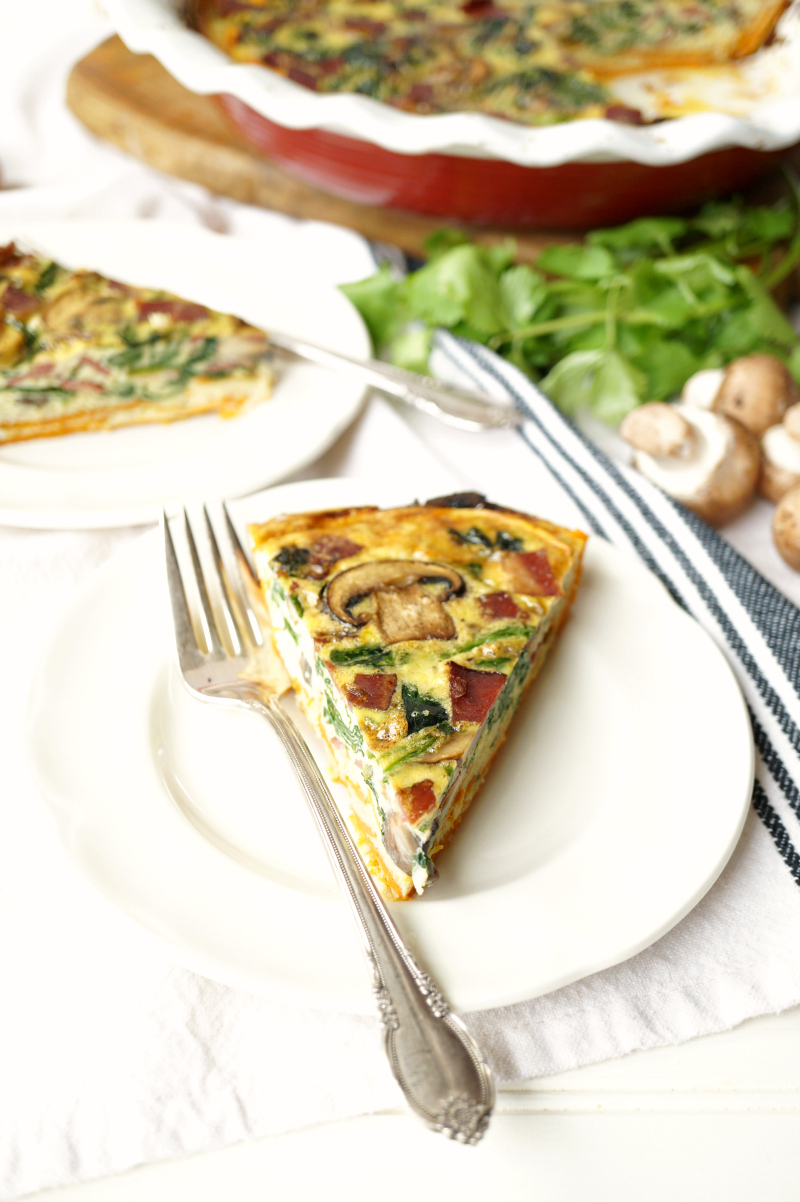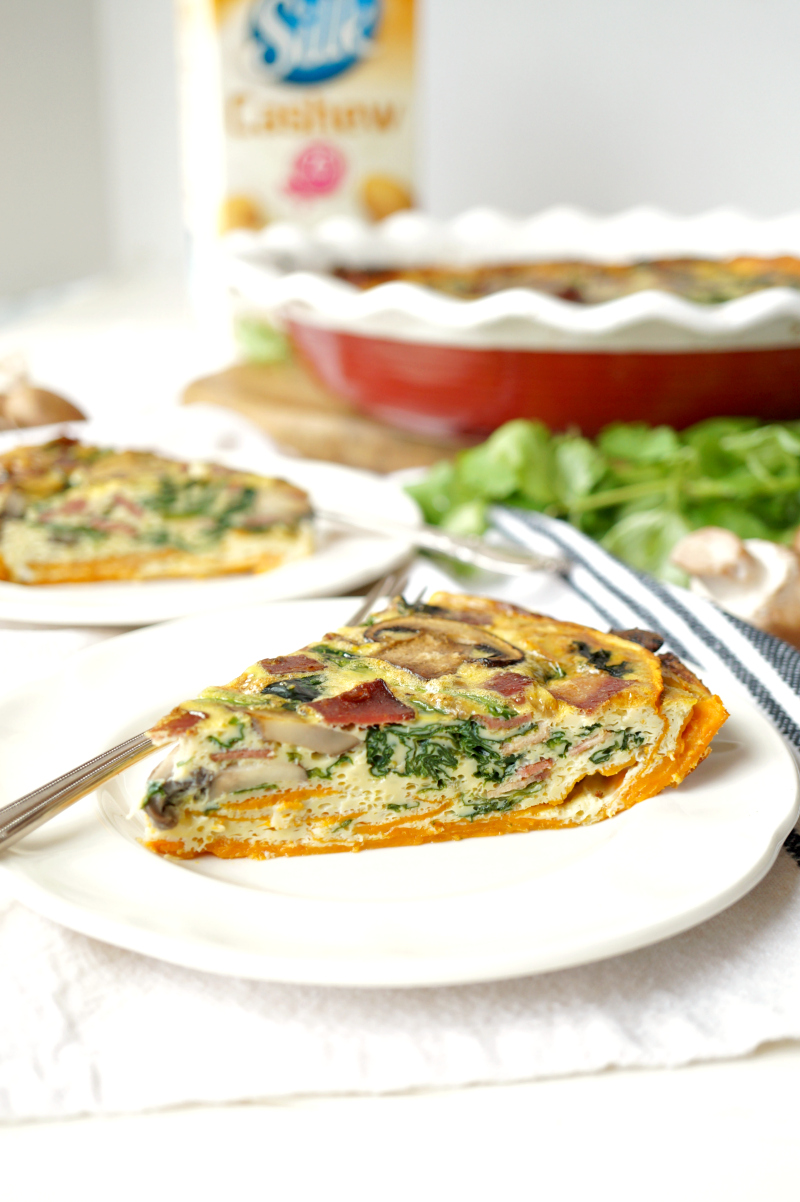 I have been meaning to try making a sweet potato crust quiche for quite awhile, and I have to say I was so pleased with how it turned out! The potatoes were cooked through without being soggy, and they formed the perfect crust for the savory filling. I made my quiche with spinach, mushrooms, and turkey bacon, but honestly the sky is the limit! You can definitely omit the bacon for a vegetarian version. If you're feeling adventurous, my good friend Emilie has a fantastic vegan eggplant "bacon" recipe you could add in! No matter what you add into your quiche, it's sure to be a winner! 🙂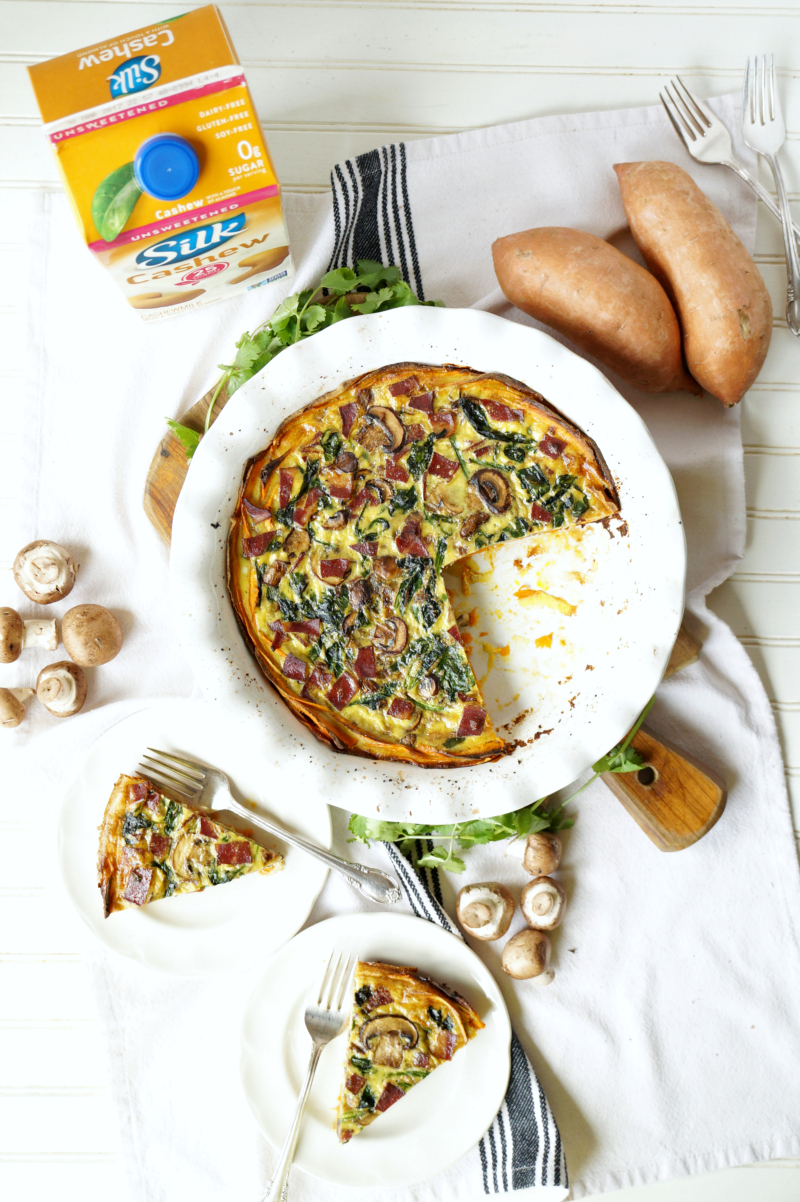 spinach, bacon, and mushroom sweet potato crust quiche
Author:
Valentina | The Baking Fairy
Recipe type:
Meat & Seafood
Ingredients
1 large sweet potato, washed and peeled
6 whole eggs
½ cup Silk unsweetened cashew milk
1-2 teaspoon olive oil
1 cup sliced mushrooms
¼ cup diced onion
3 cups fresh spinach
6 strips turkey bacon, diced
¼ teaspoon garlic powder
salt & pepper to taste
Instructions
Preheat the oven to 350F.
Using a mandolin or sharp knife, cut the sweet potato into thin slices.
Grab a deep-dish 9-inch pie plate, and lightly spray with nonstick spray. Lay out the sweet potato slices on the bottom and sides of the pan, making 2-3 layers to ensure the whole pan is lined. Season with salt and pepper, and bake for 20 minutes.
Meanwhile, heat the olive oil in a medium nonstick pan over medium-high heat, and add in the chopped turkey bacon. Cook until lightly golden brown, then add in the onion and mushrooms.
Cook, stirring often, until veggies are tender and crisp. Season with more salt and pepper.
Finally add in the spinach, and cook until just wilted and soft. Remove mixture from heat.
In a large bowl, whisk together the eggs and Silk cashew milk.
Add in the cooked turkey bacon and vegetables, then pour the whole mixture in the prepared sweet potato crust.
Turn the oven up to 400F, and bake quiche for 25-27 minutes, until it's golden brown on top and does not jiggle. Let cool slightly, then cut and enjoy!