This Three Cheese Spinach Artichoke Lasagna transforms the classic dip combo into a pasta casserole! It's vegetarian and so rich that you won't even miss the meat.
Hello dearest readers, and welcome to the latest episode of, "When Valentina is obsessed with something, she's really obsessed with it." We are talking, once again, about my beloved spinach artichoke combo! After making stuffed crescent rolls and cheesy bread, today, it's in Spinach Artichoke Lasagna form. This masterpiece combines layers of light pasta, spinach, artichokes, parmesan, fresh mozzarella, and the dreamiest ricotta-artichoke cream. SO yum. You're gonna love it!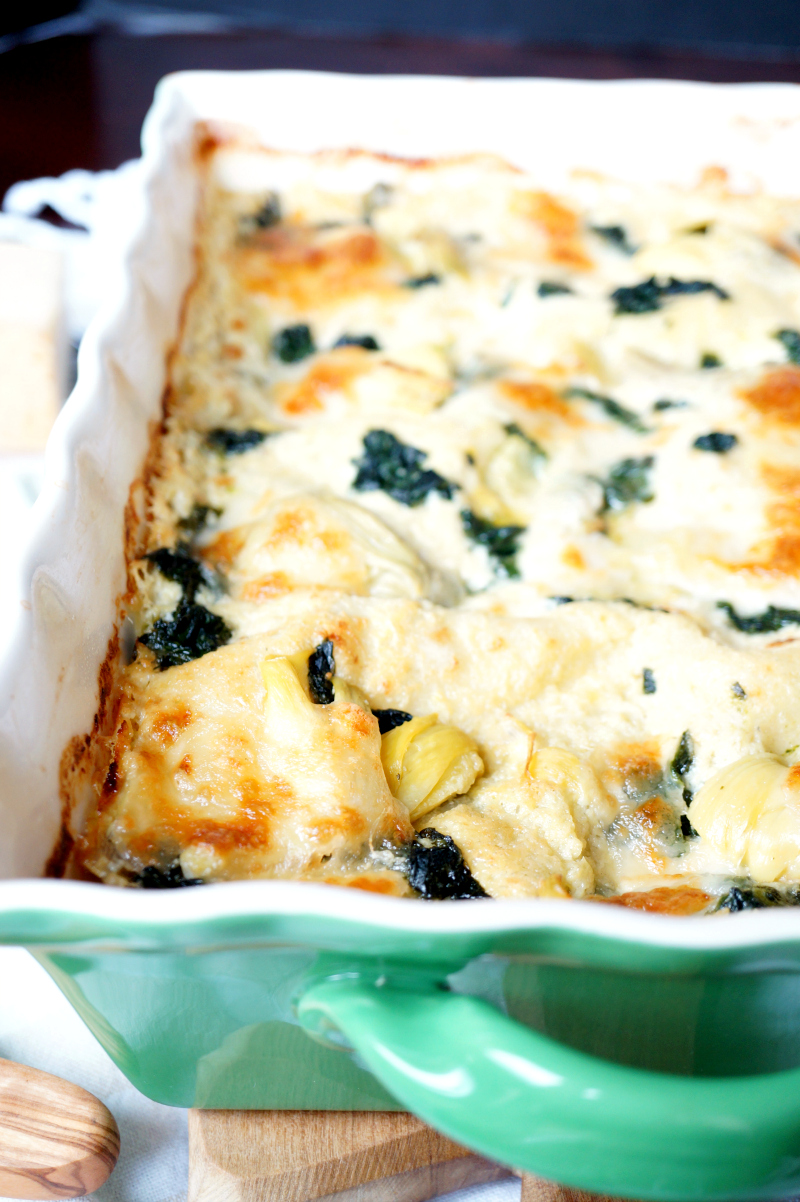 So quick eyeball update, it's been a little over a month since I got my Lasik done and I am LOVING it! My left eye had a little trouble after the surgery because of the corneal abrasion, but it's all better now which is awesome. Both eyes see basically at 20/20 which is literally a dream come true. Before the surgery, I couldn't see things clearly until they were like 4 inches from my face so the difference is enormous. If you're thinking about getting Lasik done, DO IT. Do it, do it, do it. No peer pressure or anything. But you should really do it.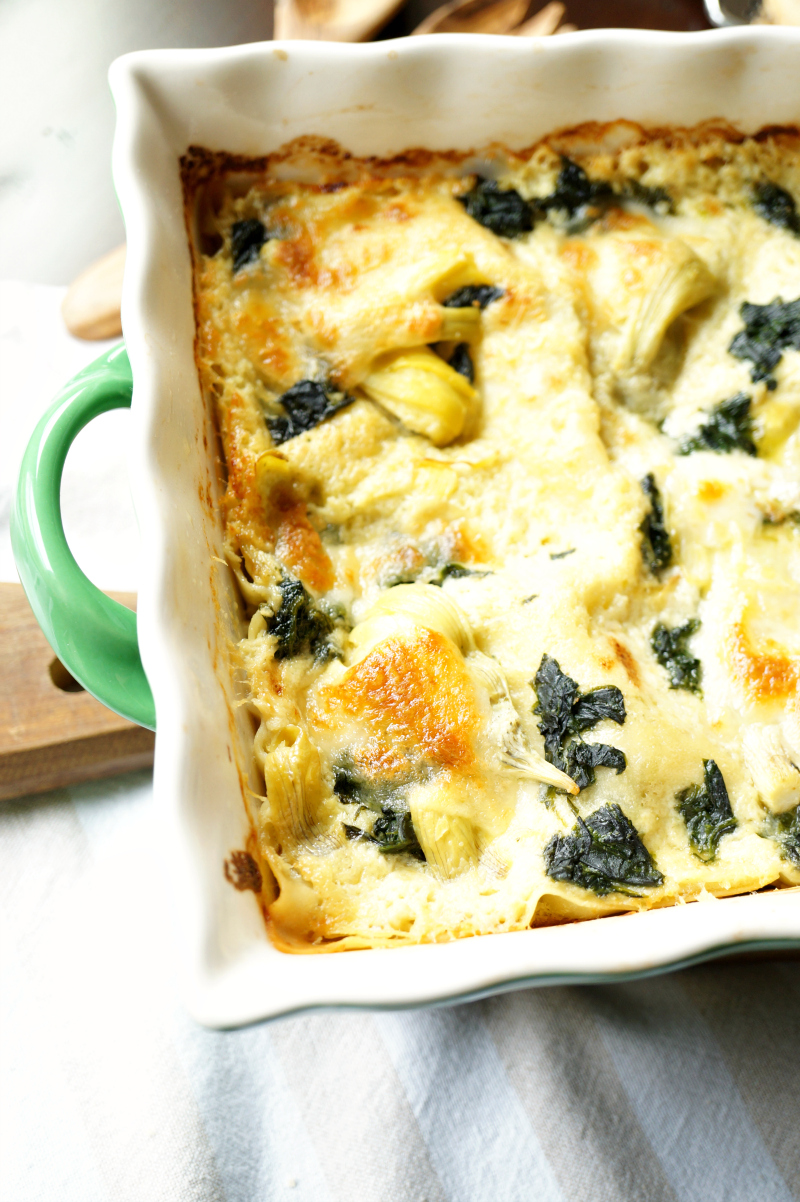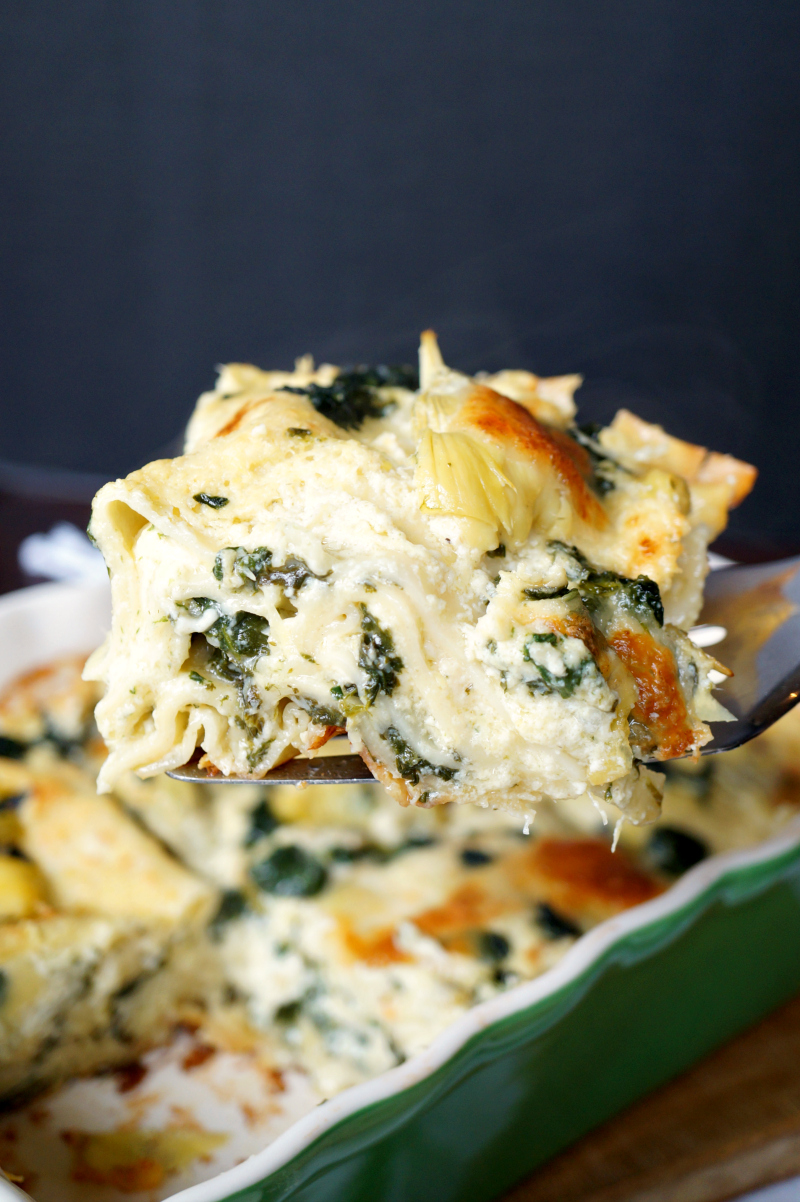 But okay, back to lasagna. Since that's what you came here for! This spinach artichoke lasagna is basically the perfect vegetarian pasta dish. Cheesy, creamy, totally satisfying. Who needs meat anyway? If you absolutely needed to put some sort of meat in here, I would recommend chicken. But honestly it's not necessary! I have to say for being a pasta casserole, this lasagna has a pretty light feel. I love the traditional bolognese sauce version as much as the next person, but I have to admit that after a portion of the classic, I am stuffed forever and ever. This spinach artichoke lasagna, not so much! What I'm saying is that it's still filling, but you won't be popping out of your jeans 🙂 Next time you're looking for something new for pasta night, give this a try! Happy cooking!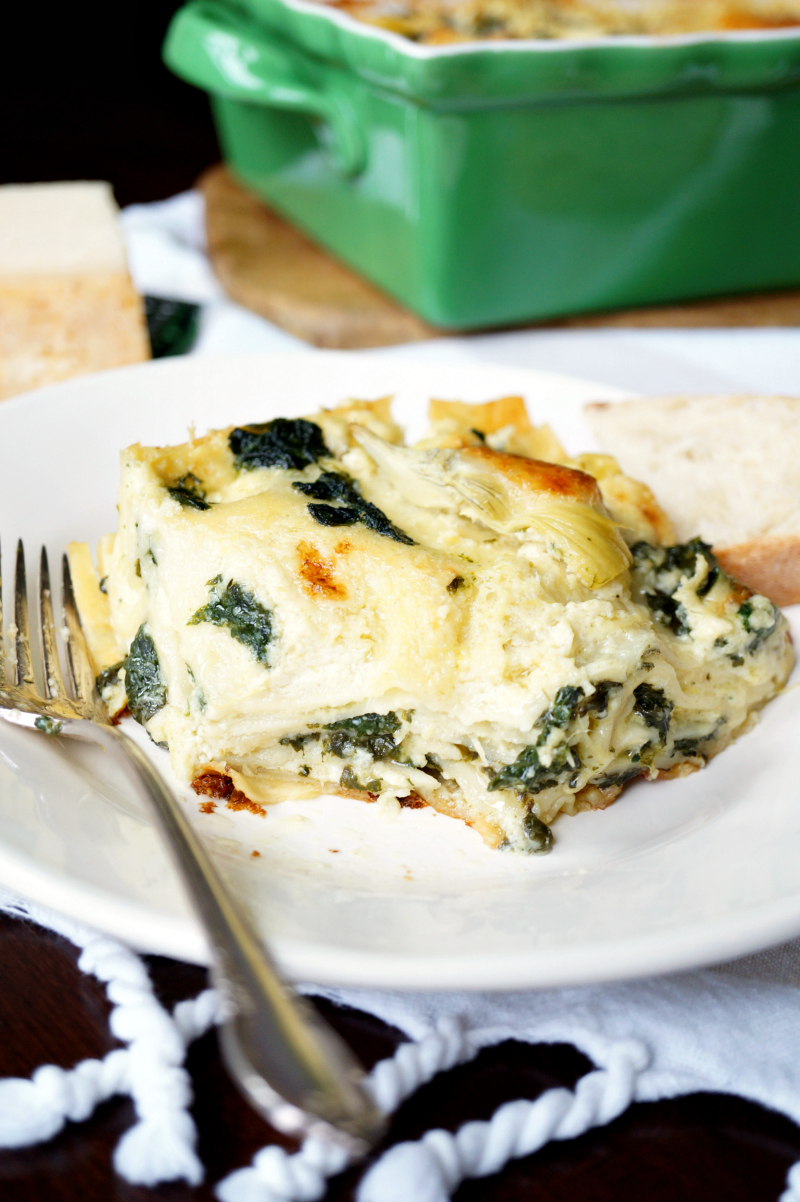 spinach artichoke lasagna
Author:
Valentina | The Baking Fairy
Ingredients
1 box no-boil lasagna noodles
6 cups fresh spinach (1 standard bag)
1 can artichokes
1-2 tablespoon olive oil
2 garlic cloves
1 15oz container ricotta
2 cups shredded mozzarella cheese
8 oz fresh sliced mozzarella
1 cup grated parmesan
2 tablespoon butter
salt & pepper to taste
Instructions
Preheat oven to 375F.
First, prepare the lasagna noodles. Fill a large bowl with hot water, and let the noodles soak for a few minutes until they soften slightly. Careful as they tend to stick to each other! Meanwhile, you can prepare the rest.
Next, prep the artichokes. Drain and rinse well.
In a small pan, heat the olive oil with the garlic on medium-high heat. When the oil is warm, add in the artichokes and saute until lightly golden brown. Add salt and pepper as needed.
In a food processor, combine the ricotta cheese, ¼ cup of parmesan, ¼ cup of grated mozzarella, and half of the artichokes. Process until a smooth cream forms. Add more s&p as needed.
Grab a 9x13 baking pan, and lightly grease the bottom and sides with some olive oil. Spread a small amount of the ricotta cream on the bottom, and top with one layer of lasagna noodles.
Layer on more cream, ¼ of the artichoke pieces, spinach, fresh and grated mozzarella, and parmesan. Repeat until you have created 4 layers, saving a little more of the cream and cheese for the very top. Cut the 2 tablespoon of butter into small pieces and scatter on the top.
Cover tightly with foil, and bake for 35-40 minutes, then uncover and bake for 20 minutes more, until the top is golden brown and bubbly. You can also broil the lasagna for 1-2 minutes at the end, watching carefully!
Let cool slightly then cut and enjoy!