Brighten up your Thanksgiving dessert table with this colorful, zesty Cranberry Pear Lattice Pie! Flaky pie crust is filled with fresh fruit and warm spices for a delicious treat.
Hello friends, and happy Friday! I have officially survived my first week on pediatrics rotation... well, mostly, since literally 4 days in I already got the flu. Booo! I guess that's what seeing sick, sneezing little kids does to you. It makes you sick too! I'm hoping I'll get over this soon and back to the clinic helping lots of little ones. 🙂 Thanksgiving is quickly approaching, so you know I'm here to help. Today, I am sharing this Cranberry Pear Lattice Pie which is sure to become your new favorite! A little sweet, a little tart, and so delicious. Cran-apple is classic but... where is the fun in that?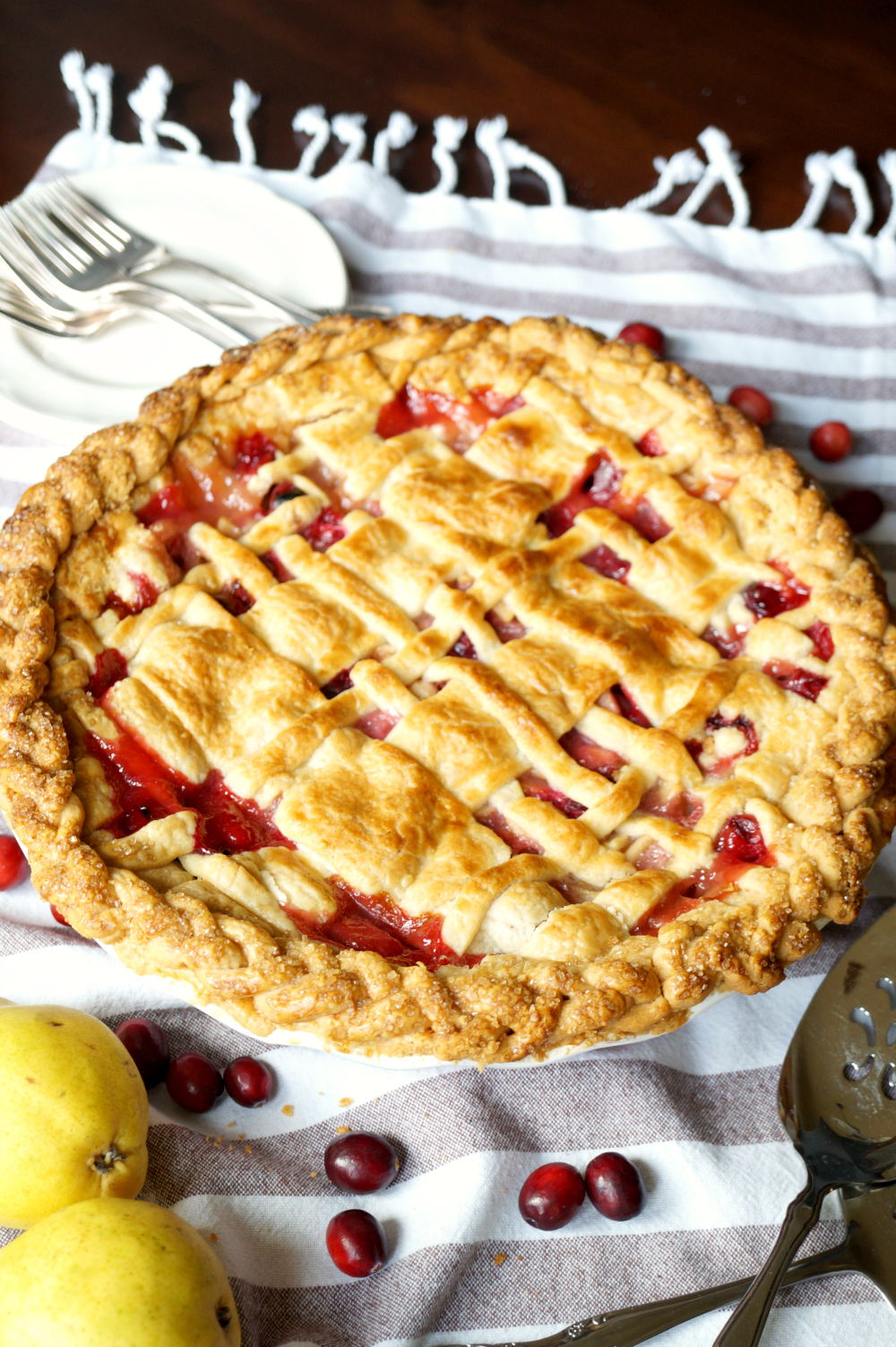 So I have really made a point to practice my pie-making more this year, especially pretty pie latticing! It's nowhere near perfect but... I'm trying, okay. I feel like I'm pretty good at seeing desserts online and replicating them but somehow, it's just so much harder with pie! ? And that is considering the fact I don't even make my pie crust, I opt for my all time fave from Trader Joe's (real butter in the dough, hollaaaa). Slowly but surely I'm improving. Until then, I'll keep telling myself my pies just look more ~rustic~ this way. *snort*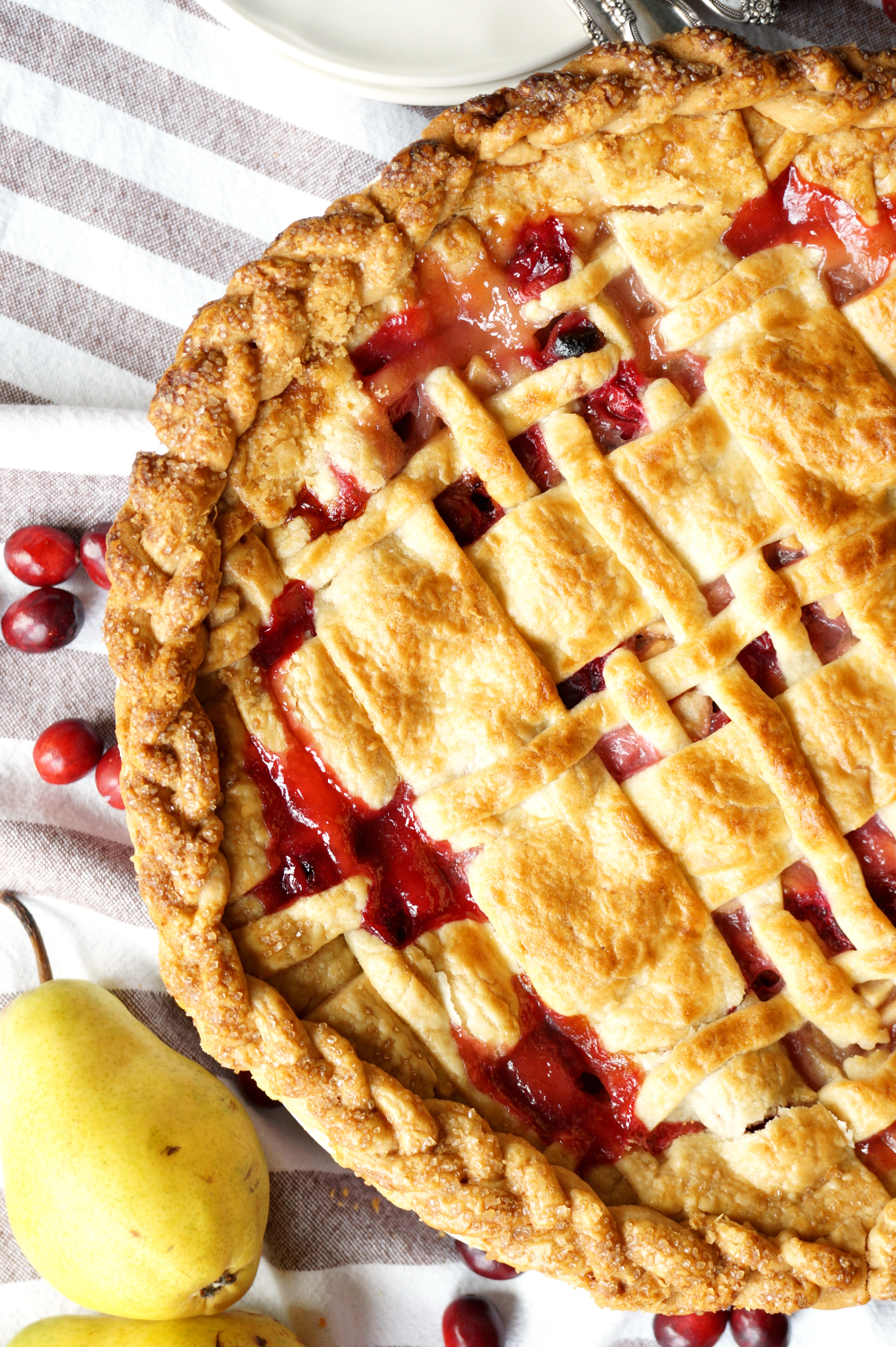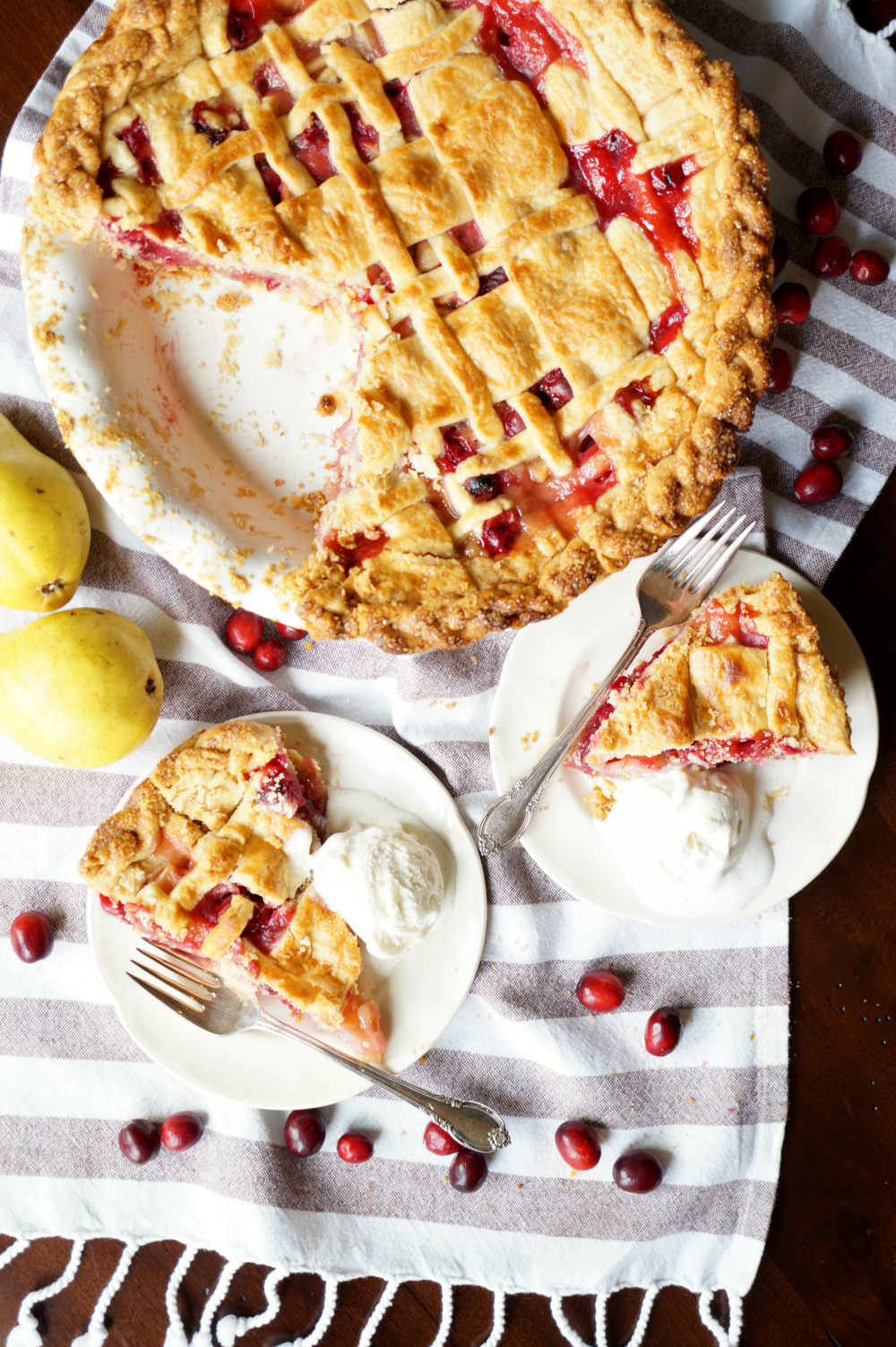 I do have another pie, as well as a couple side dishes, planned for the blog soon, but what else would you want to see before Thanksgiving? Should I try my hand at a cocktail? Nontraditional desserts like cupcakes? Just more pie? You tell me! Personally, I think this cranberry pear lattice pie is an excellent start. Both pies and side dishes are categories that are seriously lacking on this blog, but I'm working on it. 😉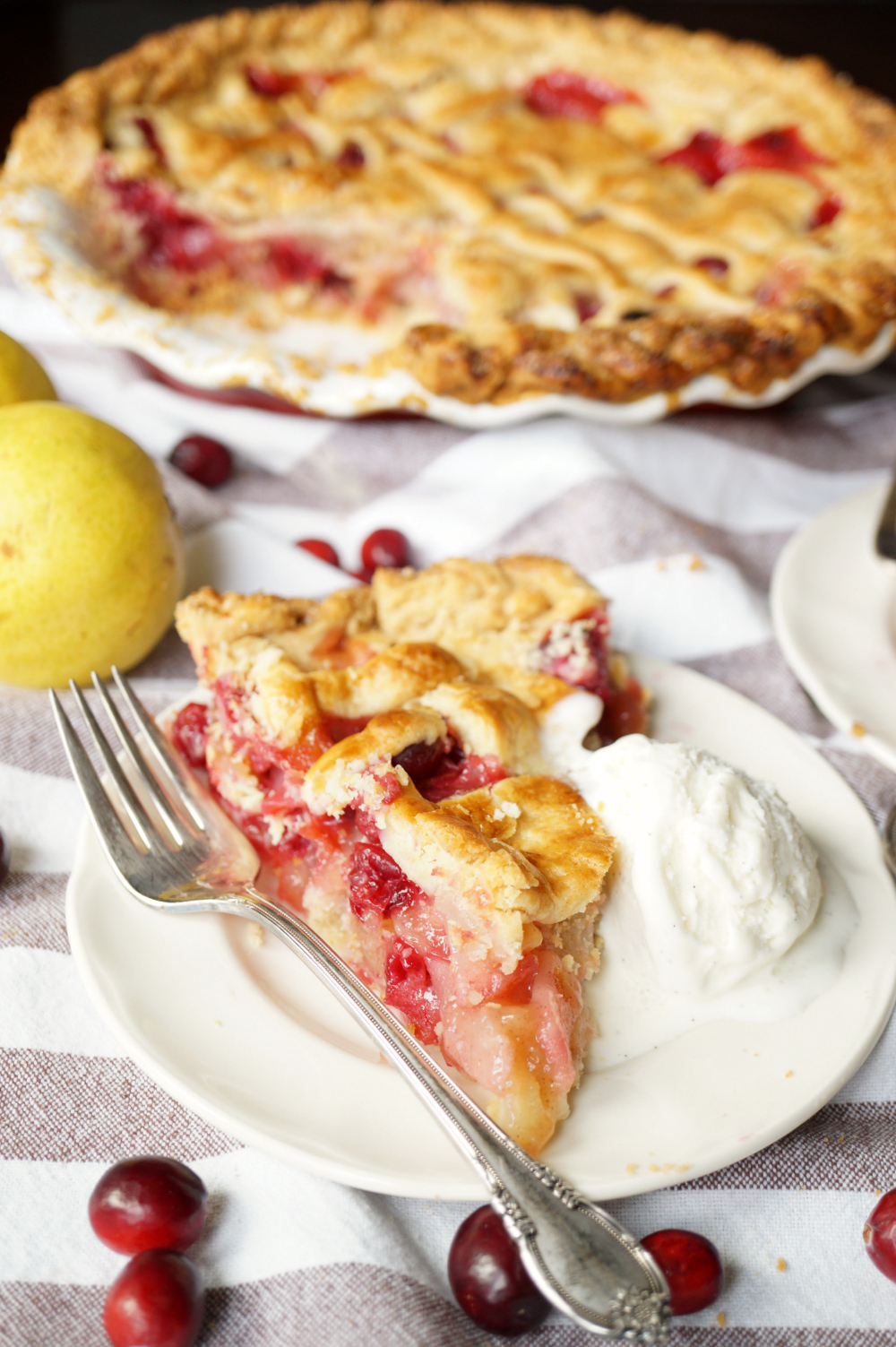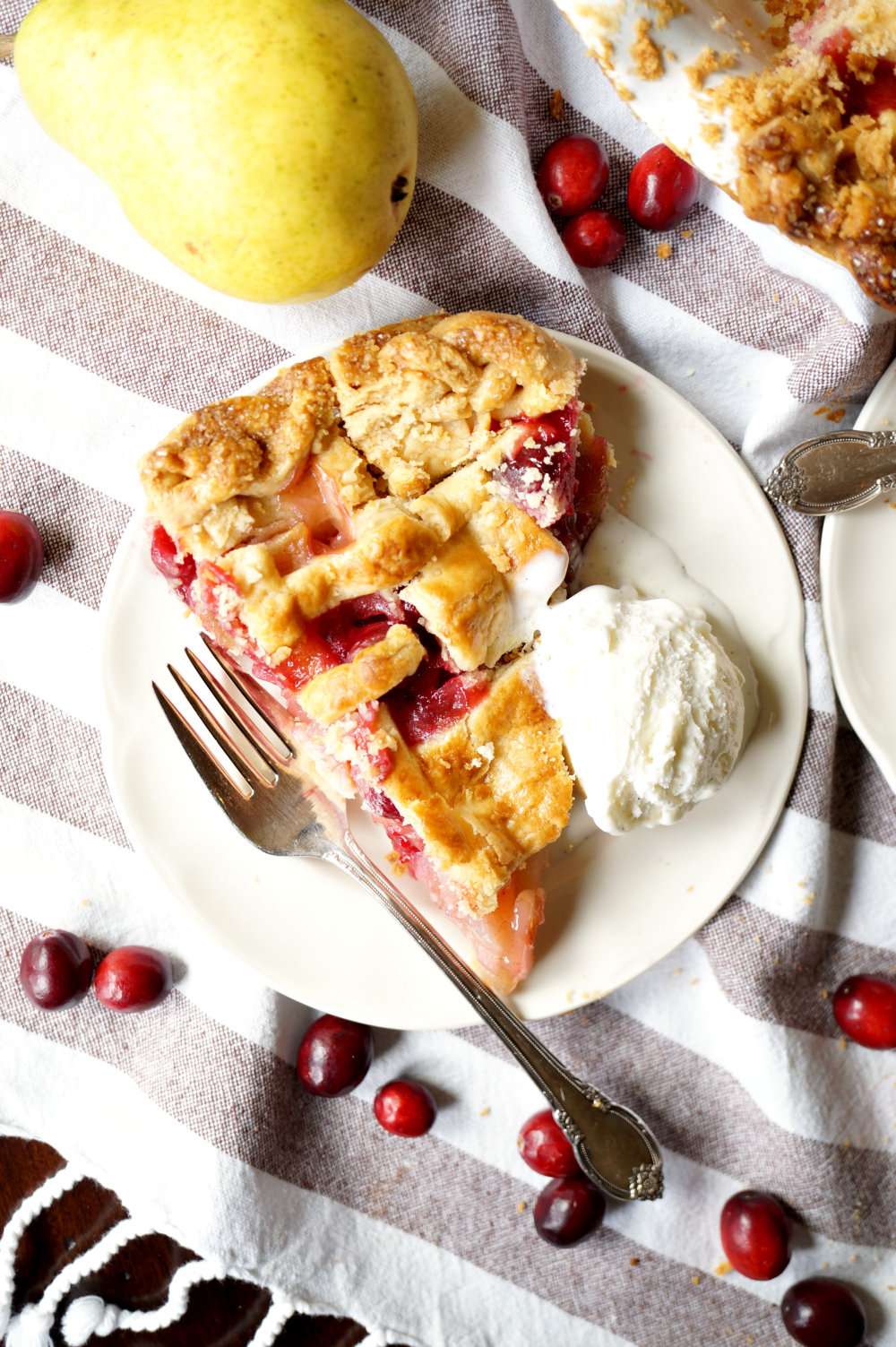 Keep following along for more Thanksgiving goodies! I did a side dish series a few years back, so here it is for your meal-planning enjoyment... Vegan Rosemary Roasted Garlic Mashed Potatoes, Simple Roasted Broccoli, Homemade Green Bean Casserole with Fried Shallots, Acorn Squash with Rice & Sausage Stuffing, and No-Knead Oatmeal Rolls.
cranberry pear lattice pie
Author:
Valentina | The Baking Fairy
Recipe type:
Pies & Tarts
Ingredients
2 frozen pie crusts (my favorite is Trader Joe's)
2 cups fresh cranberries
5 fresh pears (about 3-4 cups sliced)
1 cup white granulated sugar
¼ cup flour
½ teaspoon cinnamon
¼ teaspoon ginger
¼ teaspoon nutmeg
¼ teaspoon cloves
1 teaspoon vanilla extract
2-3 tablespoon heavy cream, for the crust
*NOTE: simply use your favorite nondairy milk and shortening-based pie crust for a vegan pie!*
Instructions
First, prepare the filling.
Wash, peel, and thinly slice the pears. Place in a large bowl, and add in the cranberries, sugar, flour, and all the spices. Toss until combined.
Preheat oven to 400F.
Place one of your pie crusts in a pie dish, and pour in the prepared cranberry pear filling.
Cut the second pie crust into strips, and arrange in lattice pattern as desired.
Brush the pie crust with heavy cream, and sprinkle on some extra sugar.
Bake at 400F for 55-60 minutes, until filling bubbles and crust is golden brown.
If the crust appears to be browning too fast, cover the edges with some foil to protect them.
Let cool completely before slicing and serving. Enjoy with some vanilla ice cream!
*Disclosure: I am part of the Amazon Associates Program, and there may be affiliate links on this page. If you buy anything through my website, I will receive a small percentage of the profit at no extra cost to you. Thank you for supporting my blog!*