Add a fresh new side dish to your Thanksgiving table or fall dinner rotation with roasted Delicata Squash! The sweet and peppery balsamic maple vinaigrette takes it over the top!
Happy happy Tuesday! So I've come up with a sort of plan of attack for all these Thanksgiving recipes I want to share with y'all. For every sweet thing... I'll try to share a savory thing to even it out! I started with those pretty Stovetop Rainbow Carrots, then shared a Cranberry Pear Pie... and today I have another side dish for you. This Roasted Delicata Squash with Balsamic Maple Vinaigrette is dead simple and SO delicious! I have to admit that this was my first time cooking delicata squash and I loved it. It's tender, just a bit sweet, and melts in your mouth. It goes perfectly with the sweet and punchy maple balsamic dressing!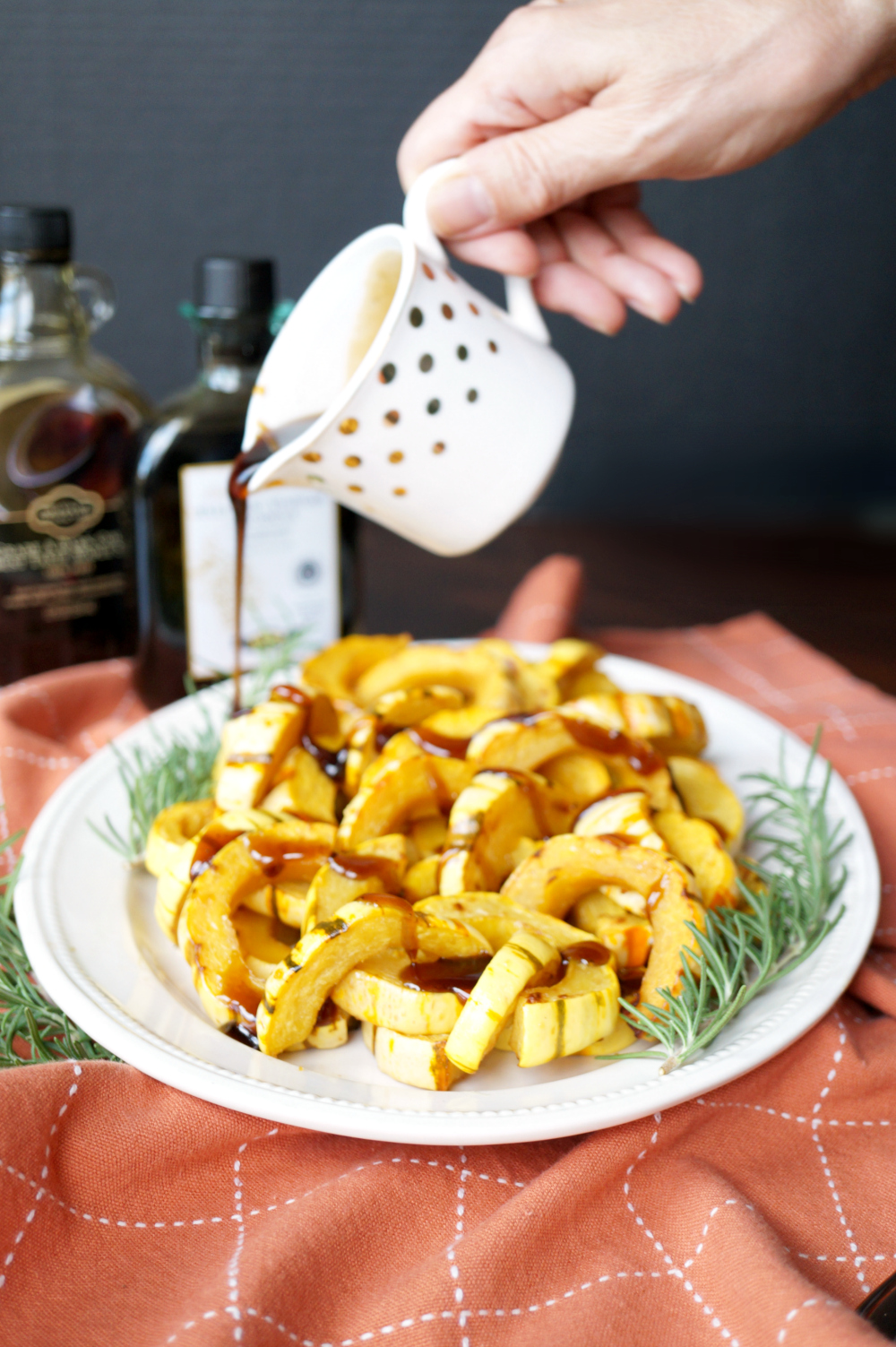 So, real talk. Who out there is actually making non-traditional Thanksgiving dishes this year? I know I love to share these recipes, and plenty of other bloggers out there do too, but I wonder who makes them! I mean honestly, as long as you make them at some point in your life, I'm content. It doesn't have to be on Thanksgiving day, I'll settle 😉 Delicata squash is a great food all fall and winter long!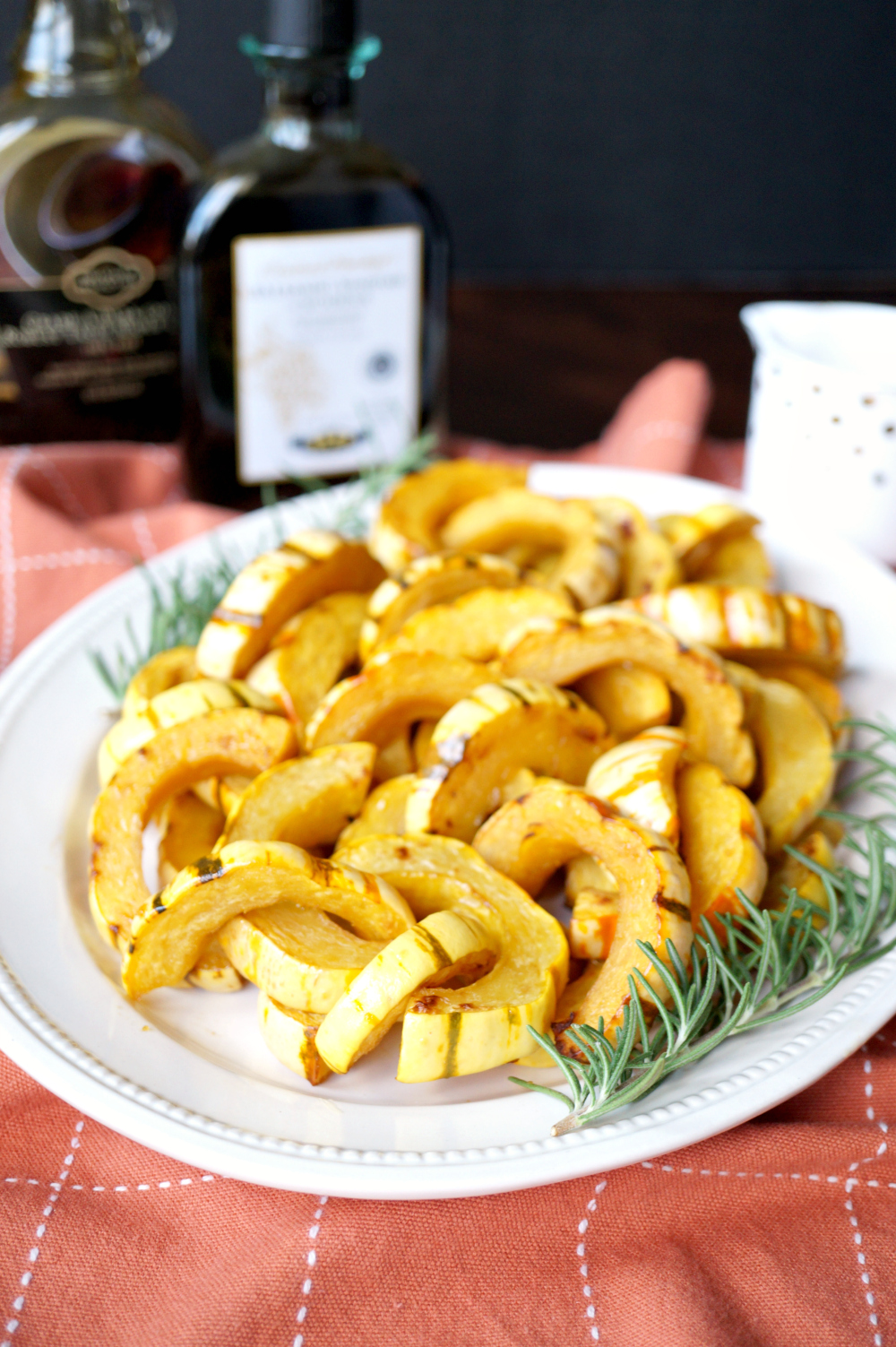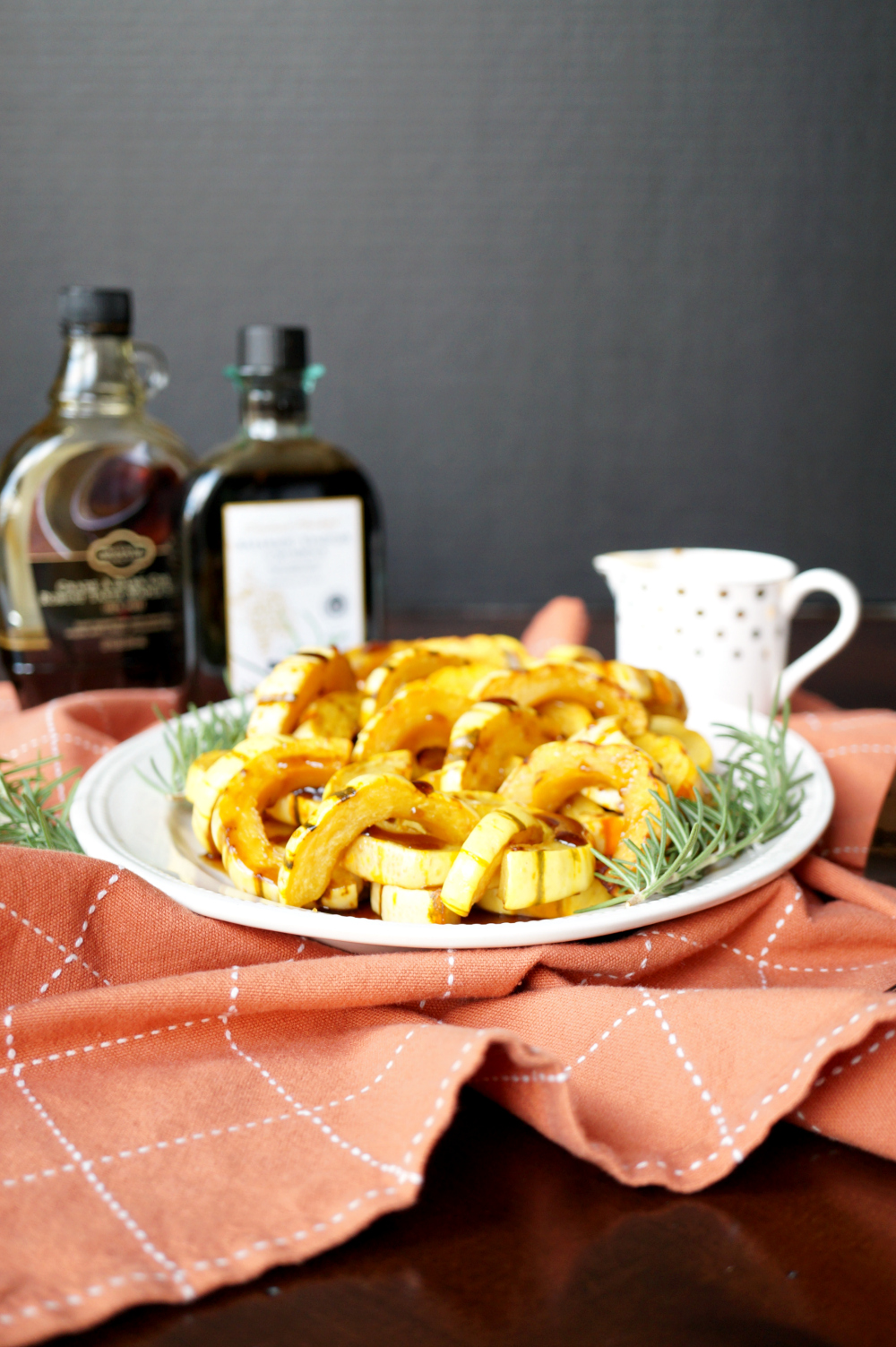 In other real-life news, I am current on pediatrics rotation! Wheee! I was sick alll weekend because that's just what happens when you're around sick kids all day, but it seems that I'm back to normal now which is good news for everybody. Both medicine and blog-wise. 🙂 Also one of my good friends just told me she is pretty-much-officially set on becoming a PA after college which is so exciting!!! I really, honestly will someday write a post all about PA things, I promise. I have been toying with the idea of adding a weekly or bi-monthly PA-related thing to my blog but there are seriously not enough hours in the day. But! If you have interest and questions in the greatest profession of all time, please email me or message on social media! I want to talk to you! 🙂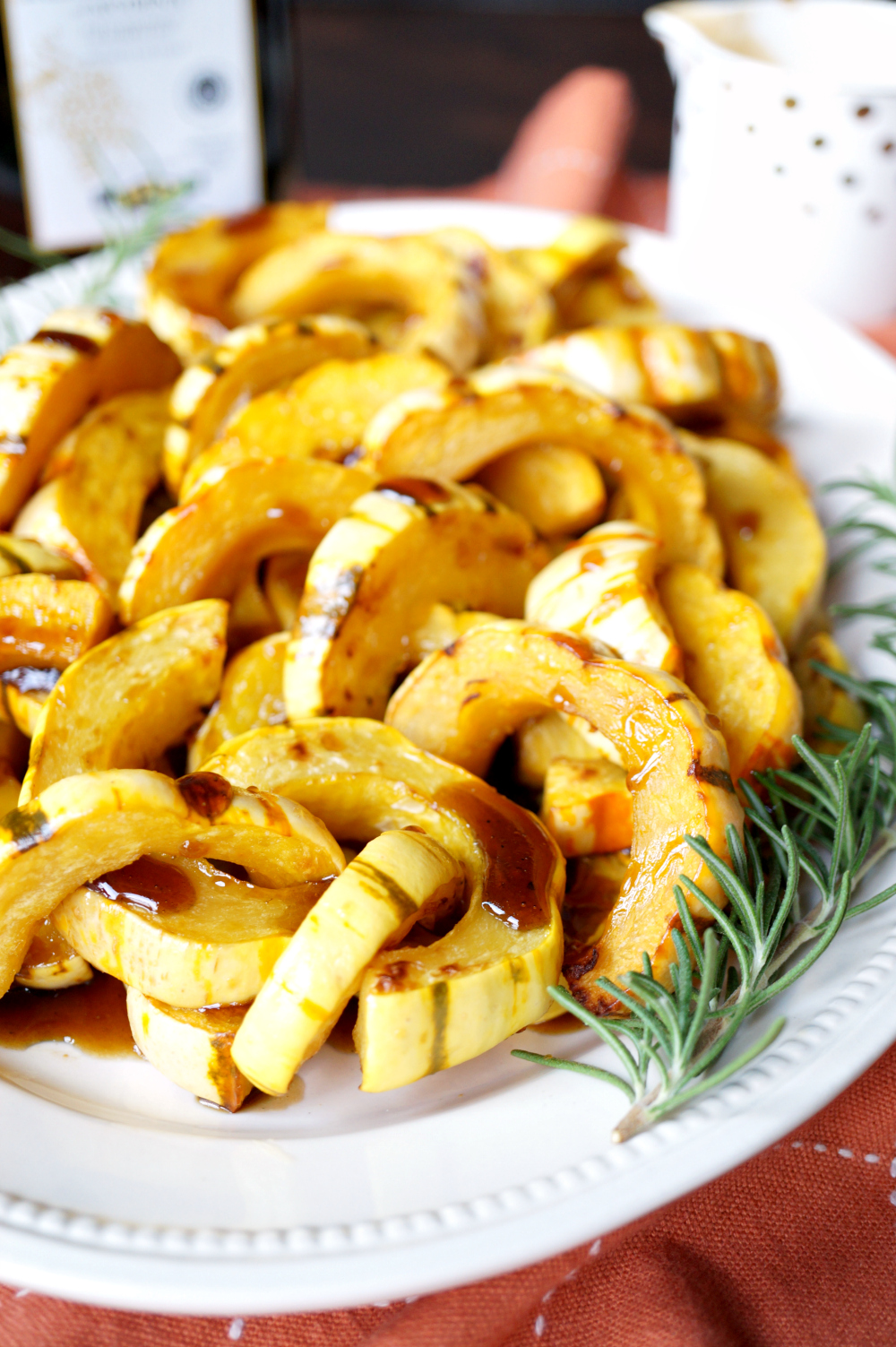 In conclusion - delicata squash. It's good. It's great! You should eat it while it's in season! The best part is you can be lazy and eat the peel too! 😉

Looking for more Thanksgiving-friendly side dishes? Check out my Rainbow Carrots with Caramelized Onions, Mushroom Risotto, Mashed Potato Croquettes, Homemade Green Bean Casserole with Fried Shallots, and Rosemary Roasted Garlic Mashed Potatoes!
roasted delicata squash with balsamic maple vinaigrette
Author:
Valentina | The Baking Fairy
Ingredients
3 delicata squash
2-3 tablespoon olive oil
3 tablespoon pure maple syrup
salt & pepper to taste
*for the vinaigrette*
4 tablespoon pure maple syrup
4 tablespoon extra virgin olive oil
2 tablespoon balsamic vinegar
salt & pepper to taste
Instructions
Preheat oven to 425F, and line a baking sheet with parchment. Set aside.
Rinse and scrub the delicata squash well. Cut off the tops and bottoms, and cut in half length-wise. Use a spoon to scoop out the seeds, then cut the squash into slices.
Place the squash in a large bowl, and drizzle in the olive oil, maple, and salt/pepper. Toss to coat.
Lay in a single layer on the prepared baking sheet, and cook 15-20 min. Squash should have a golden brown crust and be easily pierced with a fork.
In a small bowl, whisk together the ingredients for the dressing.
When ready to serve, arrange squash on a serving dish and drizzle with the vinaigrette. Enjoy!
*Disclosure: I am part of the Amazon Associates Program, and there may be affiliate links on this page. If you buy anything through my website, I will receive a small percentage of the profit at no extra cost to you. Thank you for supporting my blog!*