If you're looking for more plant-based cookie recipes this Christmas, look no further! These Vegan Chocolate Chip Molasses Crinkles Cookies are ridiculously simple to make, and taste delicious!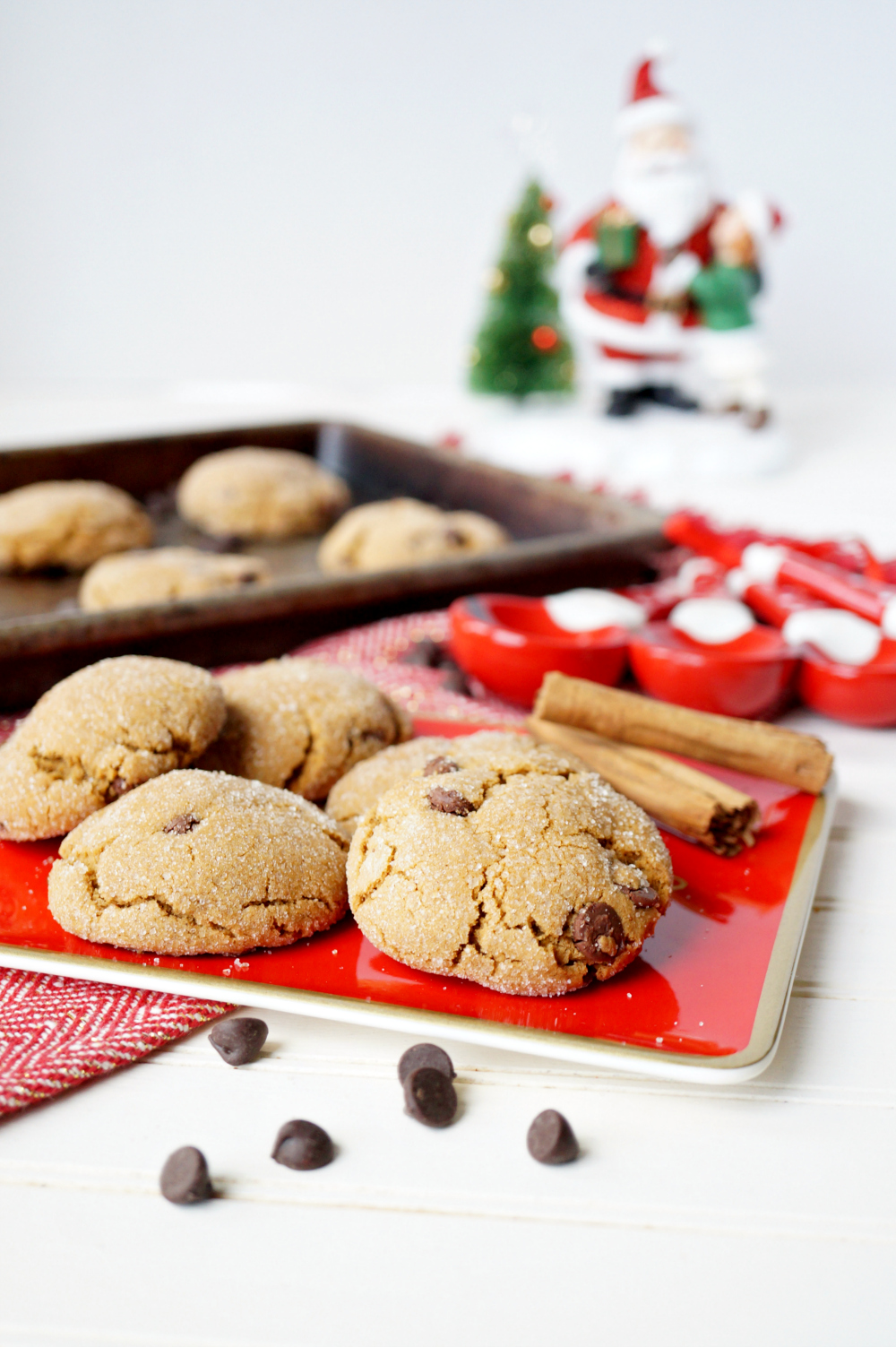 Happy Monday, y'all! Tis the season for Christmas cookies and today, I'm sharing my annual Food Blogger Cookie Exchange Recipe! This is my FIFTH year now, and it is so much fun. So the rules are that I bake a batch of cookies, and send it to 3 bloggers. And then 3 bloggers send a batch back to me! It's a great way to meet new foodie friends and discover new recipes. This year, my creation was these Vegan Chocolate Chip Molasses Crinkles Cookies! Sweet, spiced, and so chewy!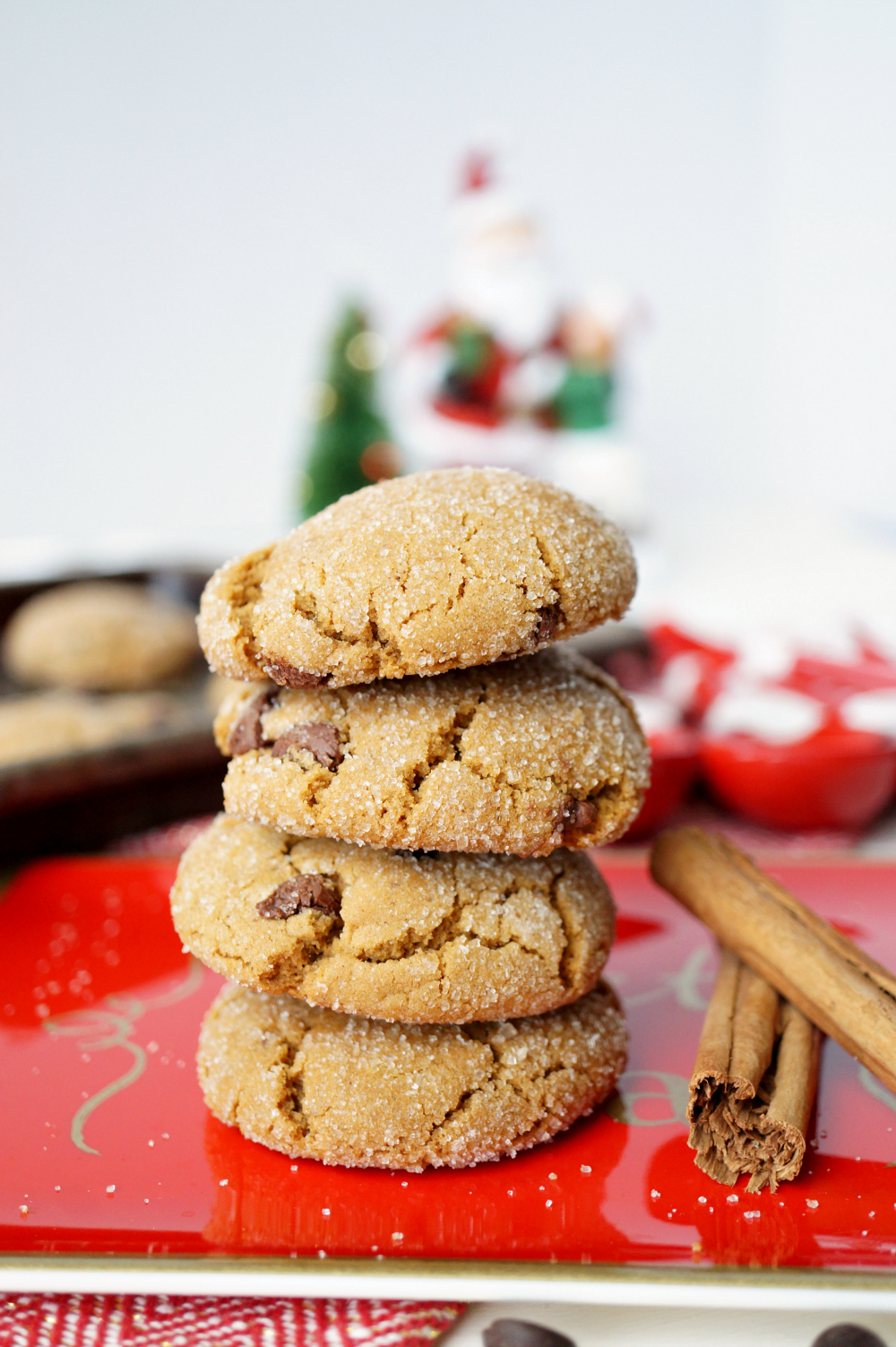 As I'm sure you've noticed, my collection of vegan recipes just keeps growing! I am definitely making an effort to be as plant-based as possible, and it has been so fun to experiment with vegan baking! It's so interesting to see what will work in recipes.. and what will not. LOL. For this recipe, I used shortening and vegan butter instead of normal butter, and aquafaba instead of eggs. The rest of the recipe is exactly the same as the original and honestly these came out perfect! If anything, I like these better because they are even puffier and chewier. 🙂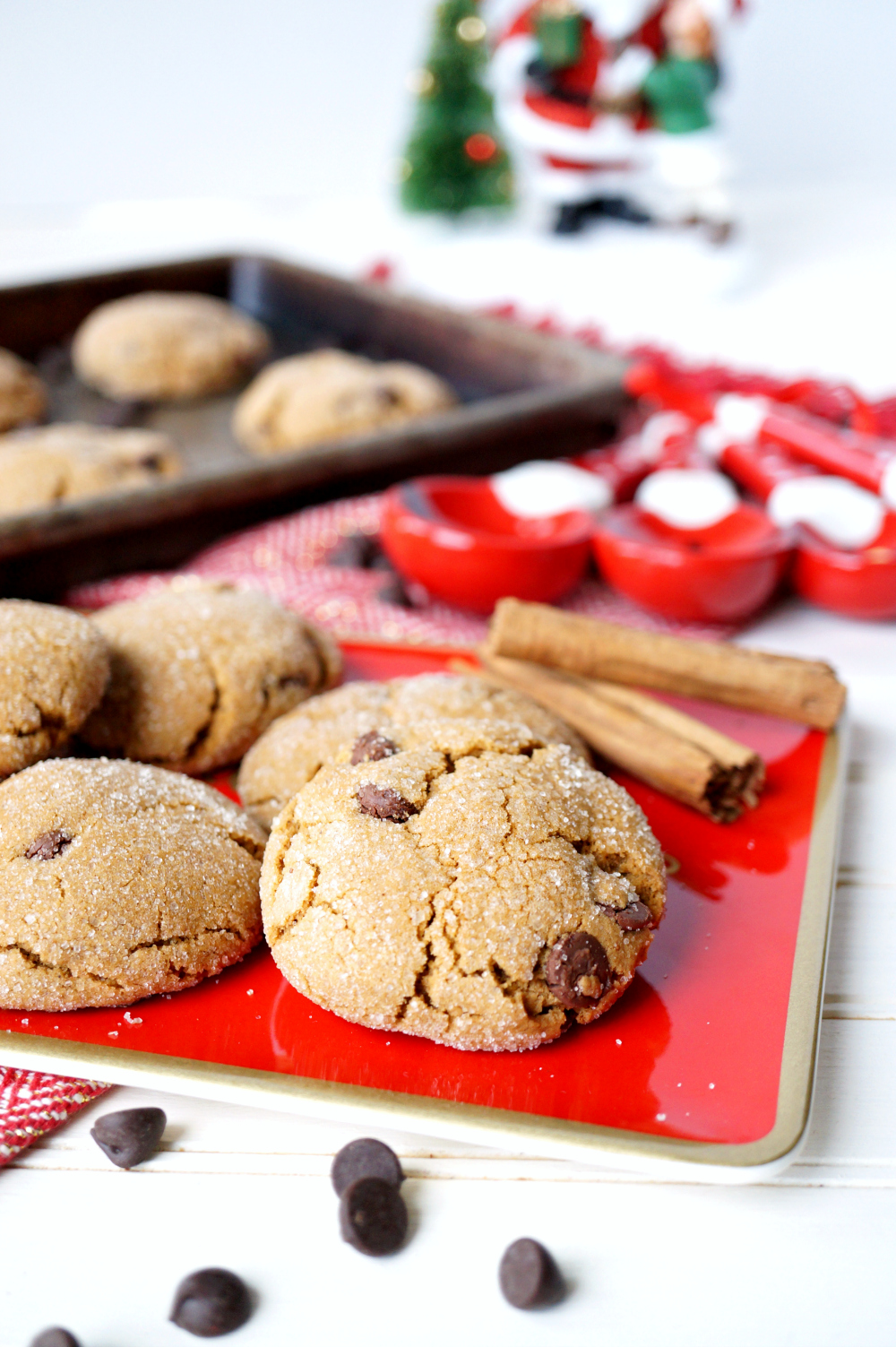 So let's take a trip down memory lane! My very first year doing the food blogger cookie exchange, I made these Mint Dark Chocolate Biscotti. To this day, still my only mint cookie recipe and my only biscotti recipe ? To be completely honest, I'm not a huge mint fan but if I'll eat it, it's definitely with chocolate! The second year, I made these super fun Confetti Chocolate Chip Shortbread cookies. These are seriously so delicious and well, you know me. I can't resist a good sprinkle. The third year, I made these super classic Buttery Berry Linzer Cookies. These are so quintessential Christmas and there is nothing better than the classic butter cookie with jam filling! Finally, last year I made Double Chocolate Chip Cranberry Cookies! Most people do white chocolate and cranberry but... that's boring. A little dark chocolate never hurt nobody. 😉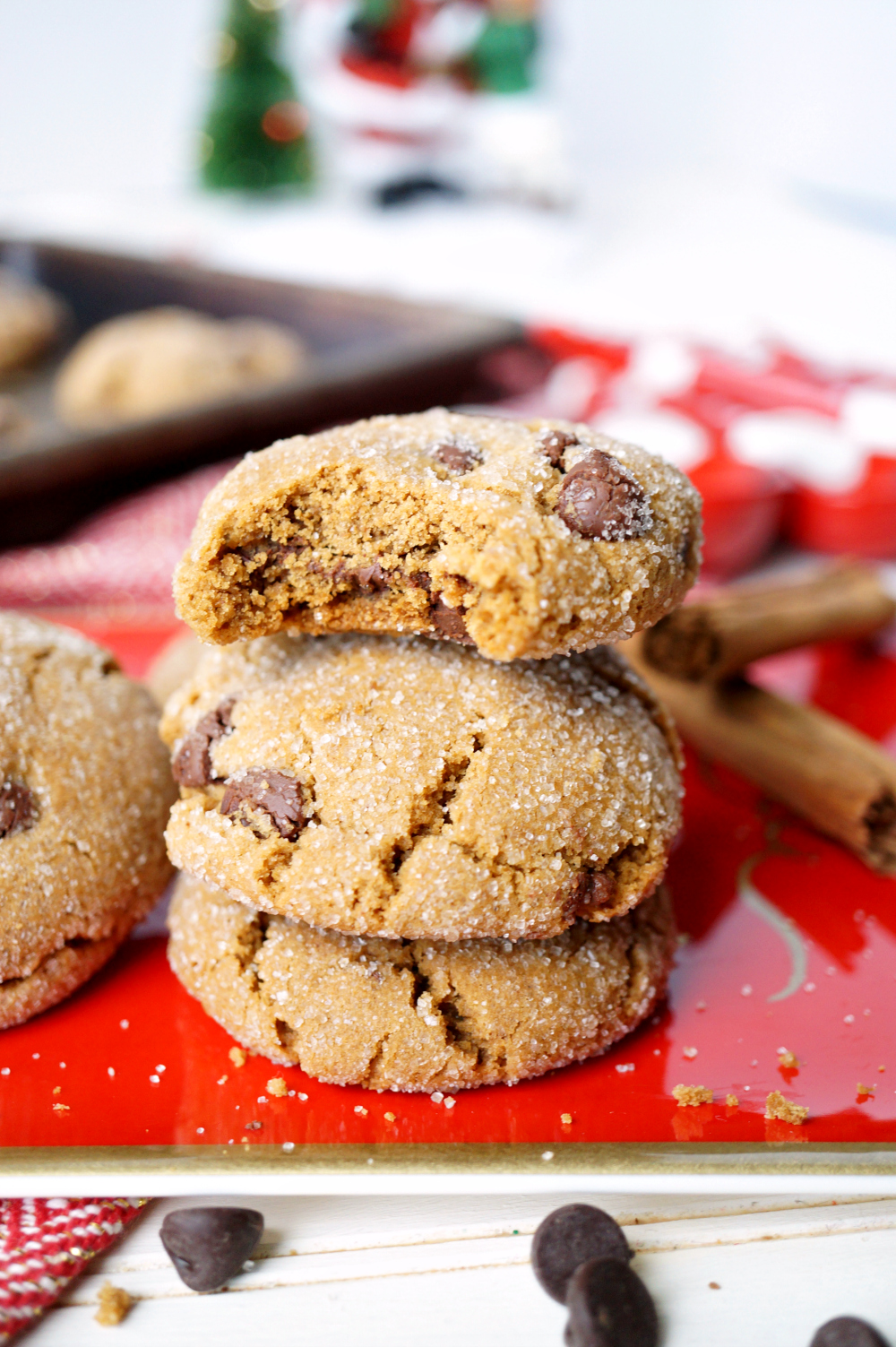 And now, of course, I have to give a little shout-out to all the lovely ladies who sent cookies to ME! I received Gingerbread Spritz Cookies from The PinterTest Kitchen, Chocolate-Dipped Peppermint Cheesecake Cookies from Cook with 5 Kids, and Double Chocolate Chip Peppermint Cookies from A Healthy Bite of Life! Thank you ladies! 🙂 In turn, I sent a batch of these cookies to Cook with 5 Kids, The Emotional Baker, and Milk and Cardamom.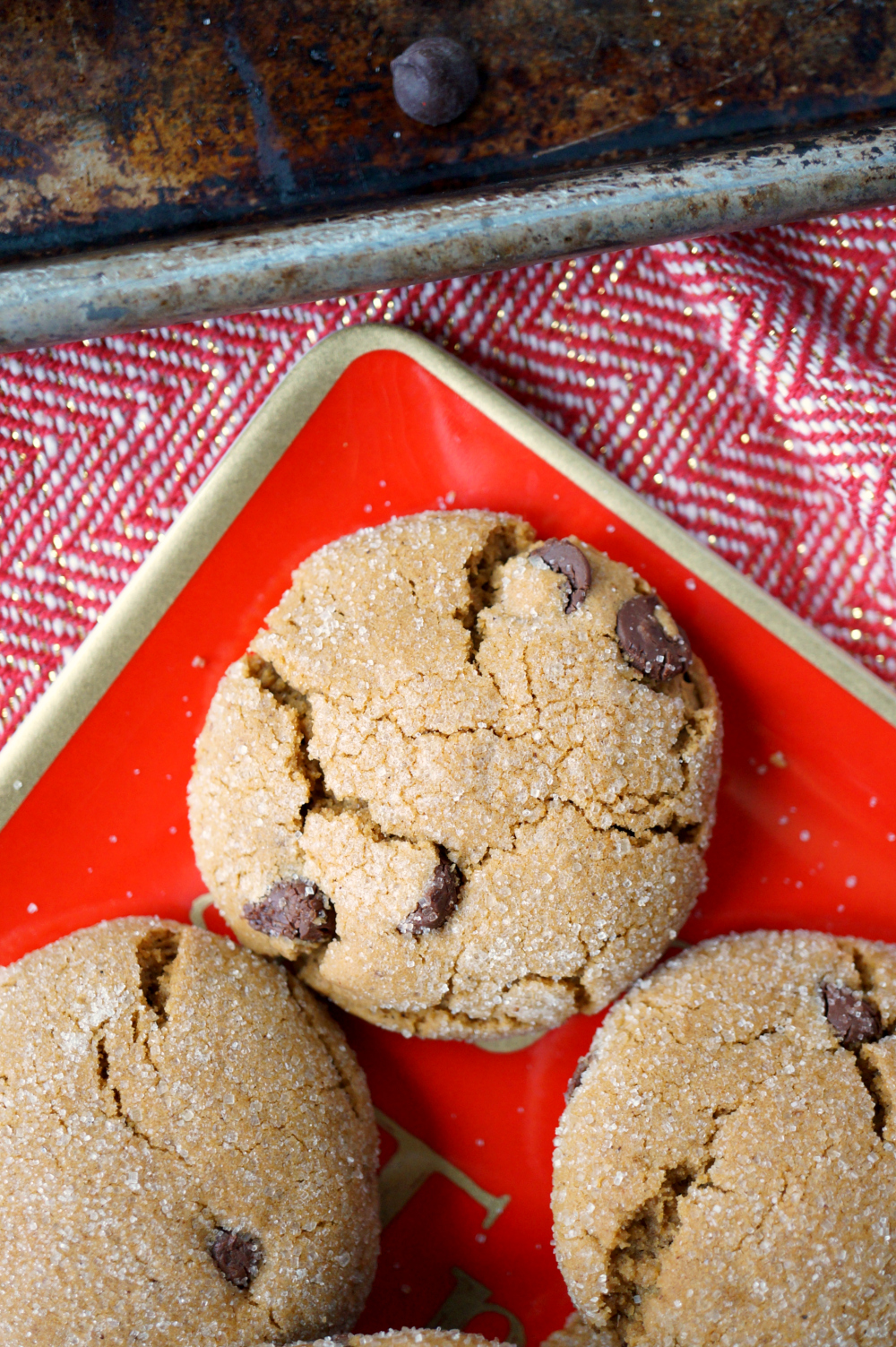 To see all the amazing cookies that were baked for our food blogger exchange, check out the full round-up at the bottom of this post! And follow along on social media with the hashtag #FBLCookieExchange. I hope you'll make some of these delicious vegan chocolate chip molasses crinkles cookies this year! Happy baking! 🙂

vegan chocolate chip molasses crinkles cookies
Author:
Valentina | The Baking Fairy
Ingredients
½ cup vegan shortening
¼ cup vegan butter such as EarthBalance
1 cup packed light brown sugar
3½ tablespoon aquafaba (liquid from canned chickpeas)
¼ cup molasses
2½ cups all-purpose flour
2 teaspoon baking soda
¼ teaspoon salt
1 teaspoon cinnamon
¼ teaspoon ground cloves
½ teaspoon ground ginger
1 teaspoon vanilla extract
1 cup dark chocolate chips (I like Guittard)
about ½ cup of granulated sugar, for rolling
Instructions
Preheat oven to 375F, and line two cookie sheets with parchment or silicone liners. Set aside.
In the bowl of a stand mixer, beat together the shortening and butter, brown sugar, and molasses until light and fluffy.
Add in the aquafaba, vanilla, and spices, and beat until incorporated.
Mix in the flour, baking soda, and salt, and mix until a dough forms. Stir in the chocolate chips.
Using a medium cookie scoop or a tablespoon, make walnut-sized balls of dough, and roll them in the granulated sugar. Place on baking sheet, then sprinkle with a few drops of water to facilitate the cracking.
Bake for 10-12 minutes, until the cookies have spread and cracked, and are lightly browned.
Let cool slightly and enjoy!

SaveSaveSaveSave
SaveSaveSaveSave
SaveSave
SaveSave
SaveSave
SaveSave