Enjoy summer's fresh strawberries with this sweet and simple Strawberry Olive Oil Cake! It's light, fluffy, full of juicy berries and crowned with freshly whipped cream.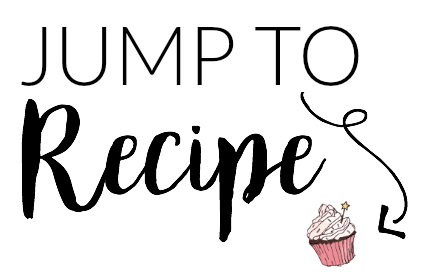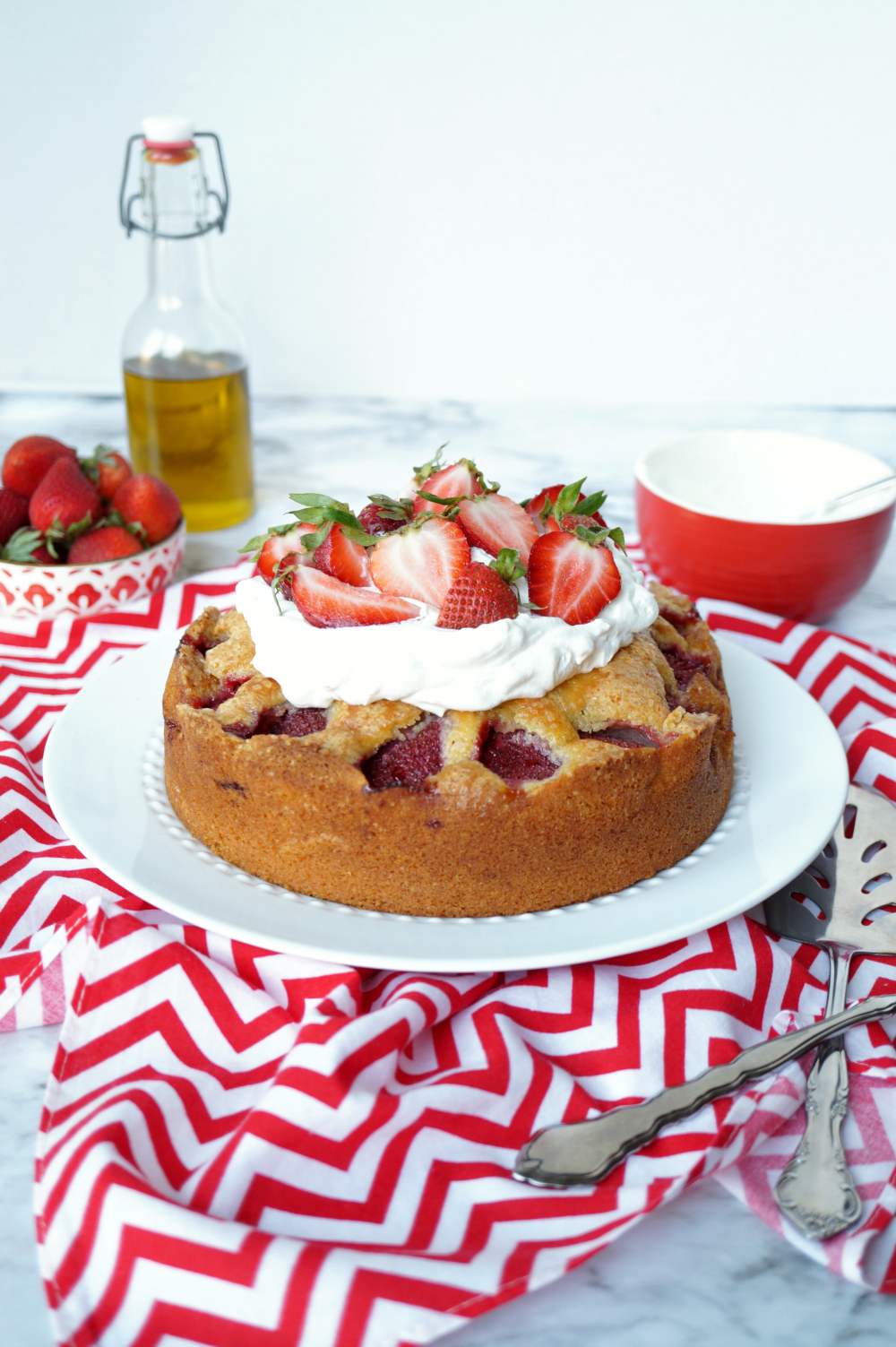 Hello friends and happy FRIDAY! Today is the last day of #FarmersMarketWeek, and I thought I would finish us off with something sweet and delicious. This Strawberry Olive Oil Cake is a light and fluffy cake made of simple ingredients that really let the fresh berry and lemon flavors shine through! I initially made it a few years ago, and it was much overdo for some new pictures. It wasn't very pretty then and... honestly it isn't pretty all by itself now either ? That's why I had to bring in the whipped cream and sliced strawberries! The wonders of food styling, y'all.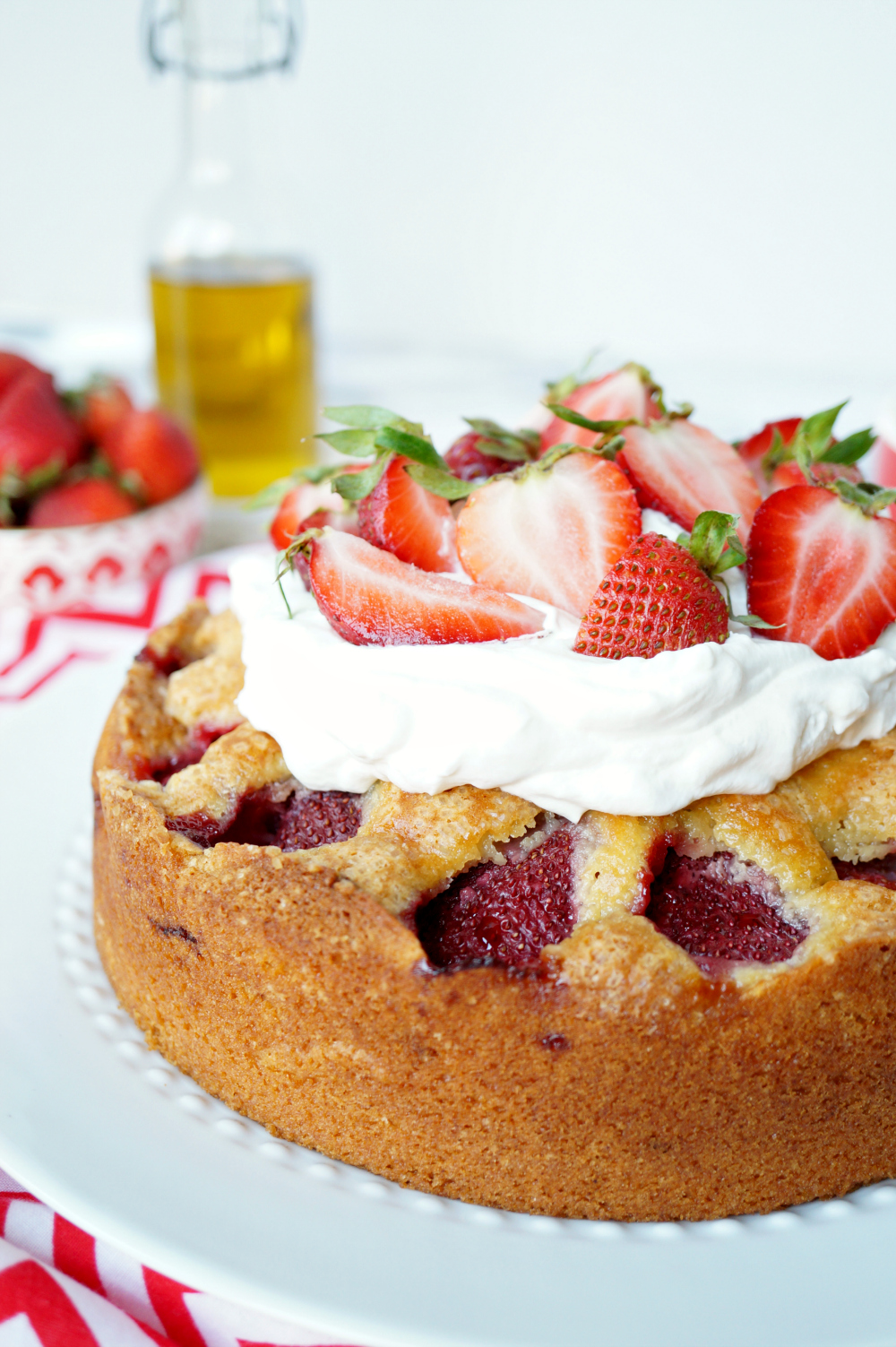 This strawberry olive oil cake is seriously wonderful and I am so ashamed of myself for forgetting about it for like 5 years! It is super simple to make, one-bowl, and the olive oil base is fantastic for basically any fruit your heart desires. Any berry would be great in here, but I'm thinking the lemon juice and zest would pair nicely with some peaches or thinly slices apples, too! Just pick up whatever looks good at the farmer's market and throw it in here!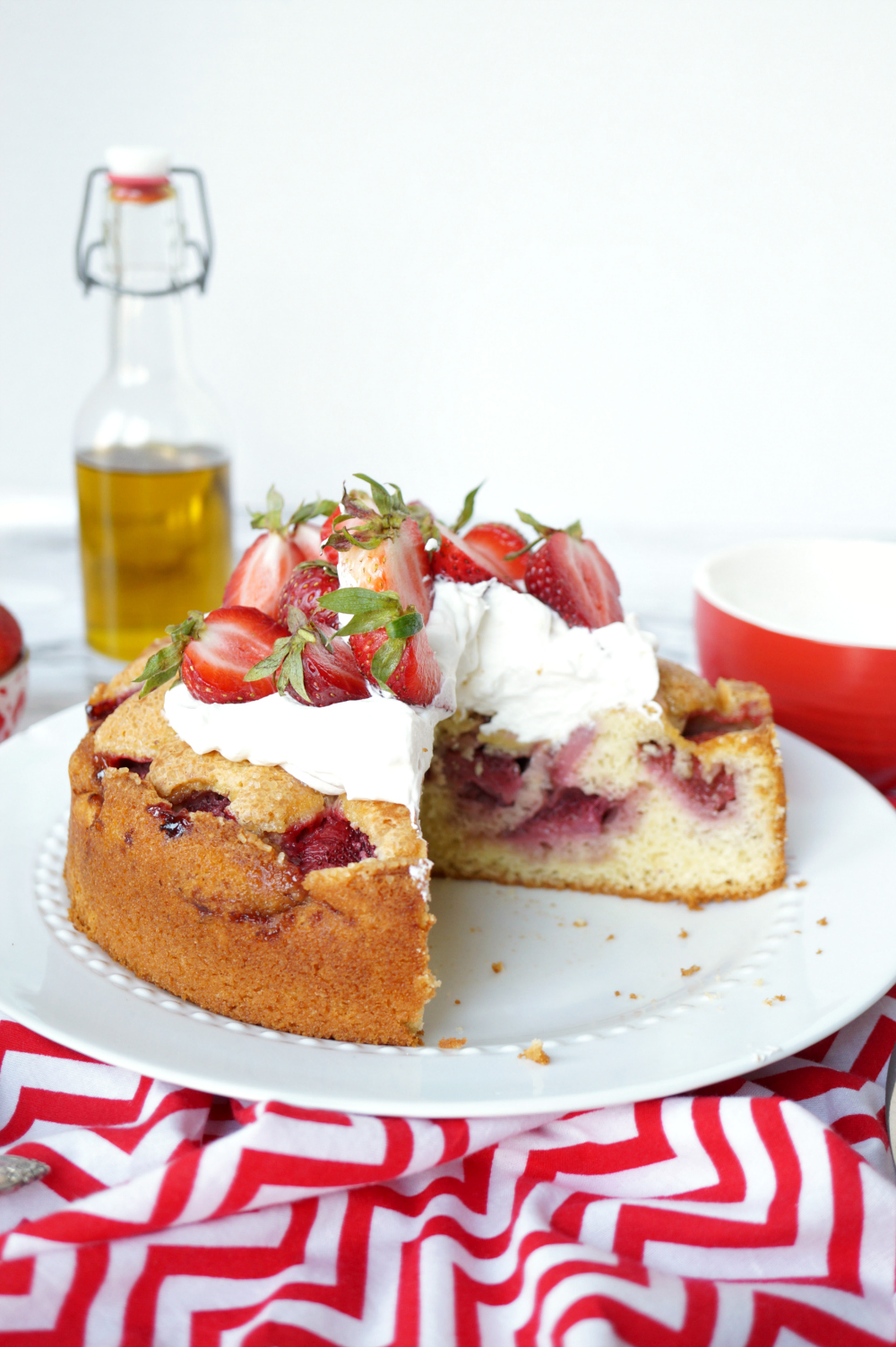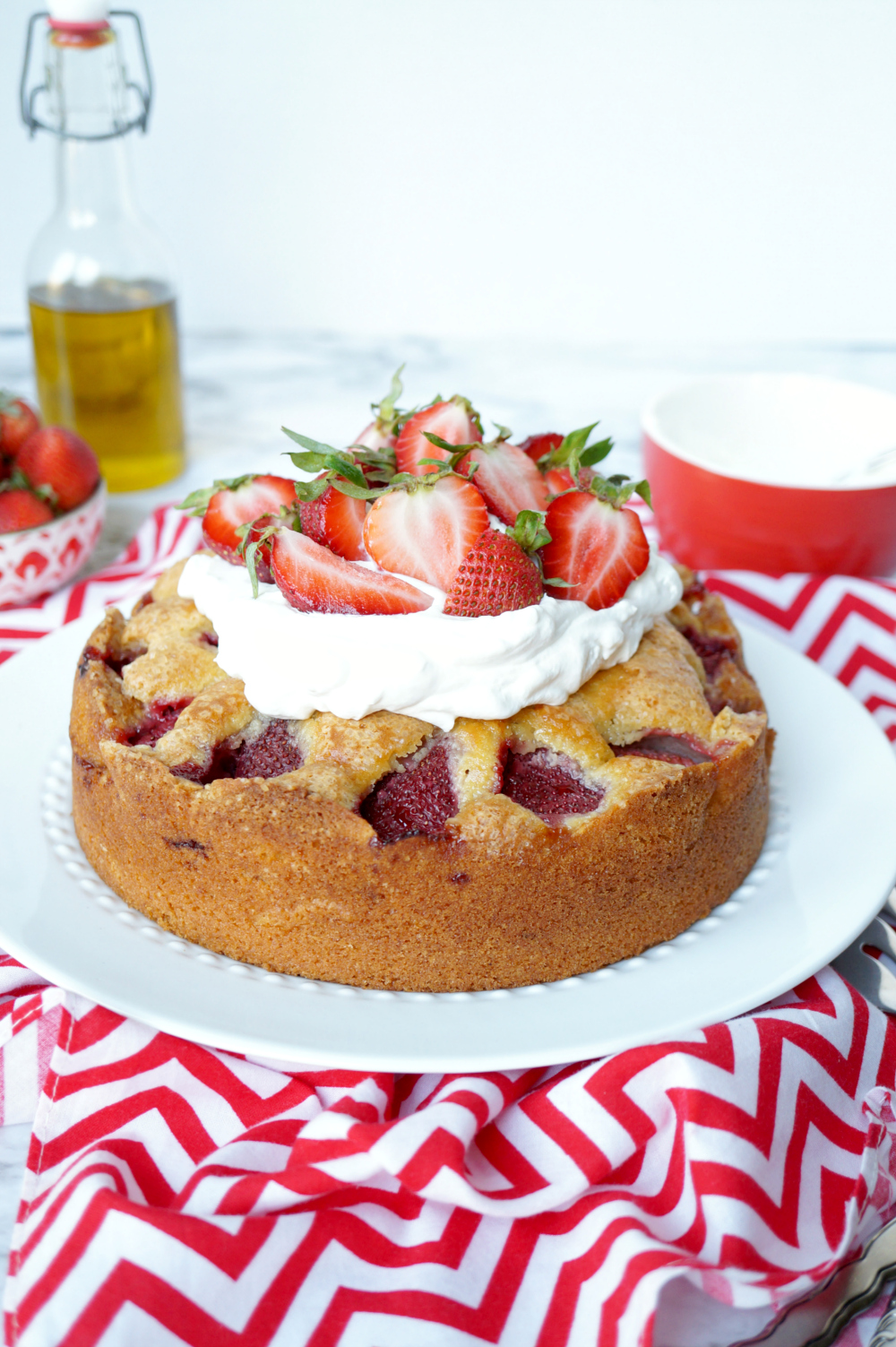 This strawberry olive oil cake is delicious all by itself, but honestly even better with a big scoop of vanilla ice cream, or crowned with fresh whipped cream and fresh berries like I did here! I used my secret trick to keep the whipped cream from deflating even days later. The cake is tender and fluffy, full of bright lemon flavor and the subtle depth of the olive oil. The fresh berries sink as it bakes and form the most wonderful little soft, juicy pockets!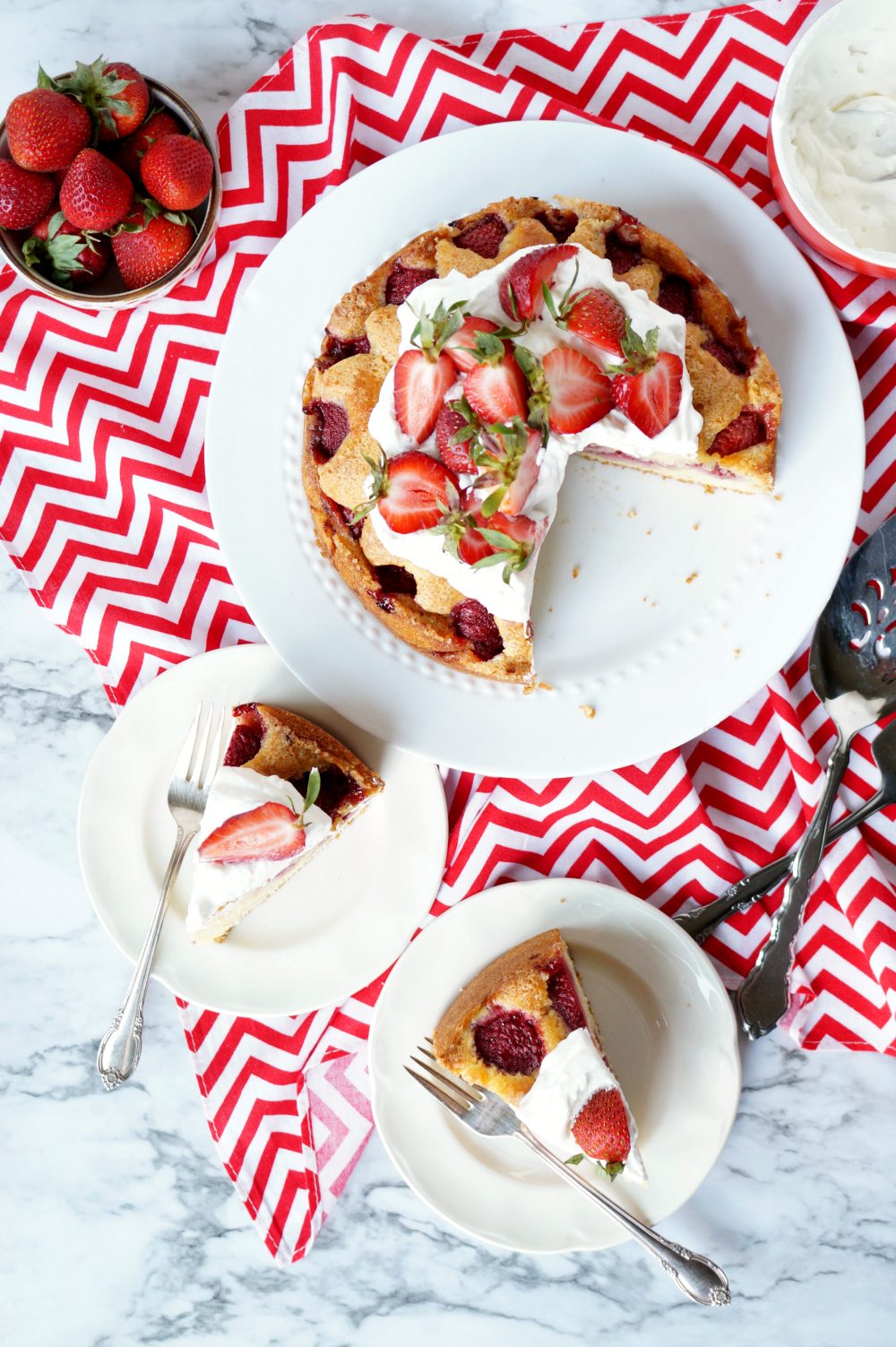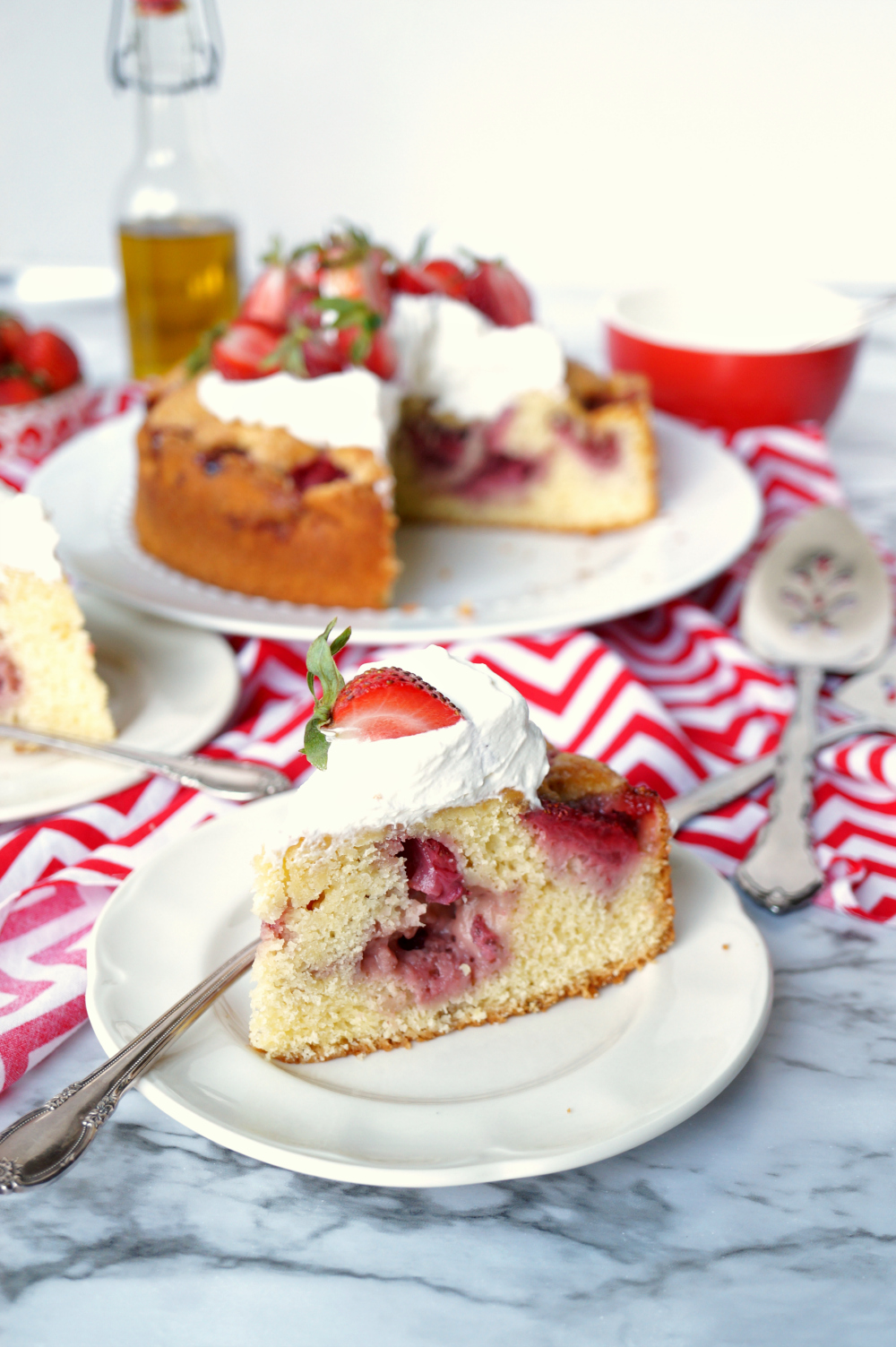 I hope you'll give this strawberry olive oil cake a try soon! It's the perfect quick snack cake for summer entertaining, or just when you're craving something sweet 🙂 Happy baking!

Looking for more quick fruit cakes? Check out my Italian Apple Cake, Dark Chocolate Browned Butter Pear Cake, Fresh Plum Cake, Red Wine Poached Pear Chocolate Cake, and Peach Blueberry Buckle!
Earlier this #FarmersMarketWeek: Blueberry Peach Pie with Pecan Streusel and Charred Corn, Zucchini & Arugula Pizza

strawberry olive oil cake
Enjoy summer's fresh strawberries with this sweet and simple Strawberry Olive Oil Cake! It's light, fluffy, full of juicy berries and crowned with freshly whipped cream.
Author:
Valentina | The Baking Fairy
Ingredients
1½ cups all purpose flour
1 teaspoon baking powder
¼ teaspoon baking soda
¼ teaspoon salt
¾ cups granulated white sugar
¼ cup extra virgin olive oil
¼ cup milk
zest and juice of 1 lemon
½ teaspoon vanilla extract
2 eggs
2 cups fresh strawberries, halved
*for topping*
1 cup heavy whipping cream
2 tablespoon powdered sugar
1 tablespoon powdered milk
pinch of salt
1 cup fresh strawberries, quartered
Instructions
Preheat the oven to 350F. Spray a 9″ cake pan with baking spray (or use butter and flour), and set aside.
In a large bowl, combine the sugar, olive oil, milk, vanilla extract, lemon zest, and lemon juice.
Mix until well combined, then add in the eggs.
Beat until smooth, then add in the flour, baking powder, baking soda, and salt. Beat on medium until the batter is light and fluffy. Pour into your prepared cake pan.
Wash and dry the strawberries, cut off the tops, and cut in half.
Starting in the center of the cake, lay down the strawberry halves close together, and work your way out until the whole cake is covered.
Bake the cake for about 45 minutes uncovered, then check it. If the middle is still jiggly, cover the surface with foil, and bake for 5-10 more minutes, until a toothpick inserted in the center comes out clean, and the cake is no longer jiggly.
When cake is cooled off, prepare the whipped cream. Pour the heavy cream, powdered milk, powdered sugar, and salt in the bowl of a stand mixer and beat until light and fluffy. Spread on top of the cake, and arrange fresh strawberries on top. Enjoy!
Friday #FarmersMarketWeek Recipes
SaveSave
SaveSave
SaveSave
SaveSave