I received product samples from sponsor companies to aid in the creation of the #FallFlavors recipes. All opinions are mine alone.
This Vegan Coffee Layer Cake is perfect for any coffee lovers! Soft cake layers are infused with freshly brewed coffee, and covered in a rich vanilla bean frosting and white chocolate ganache for the finishing touch.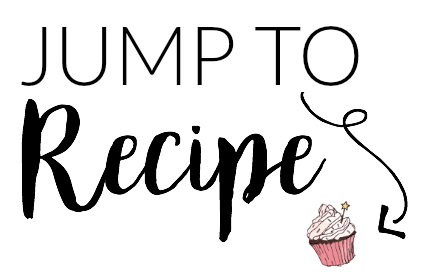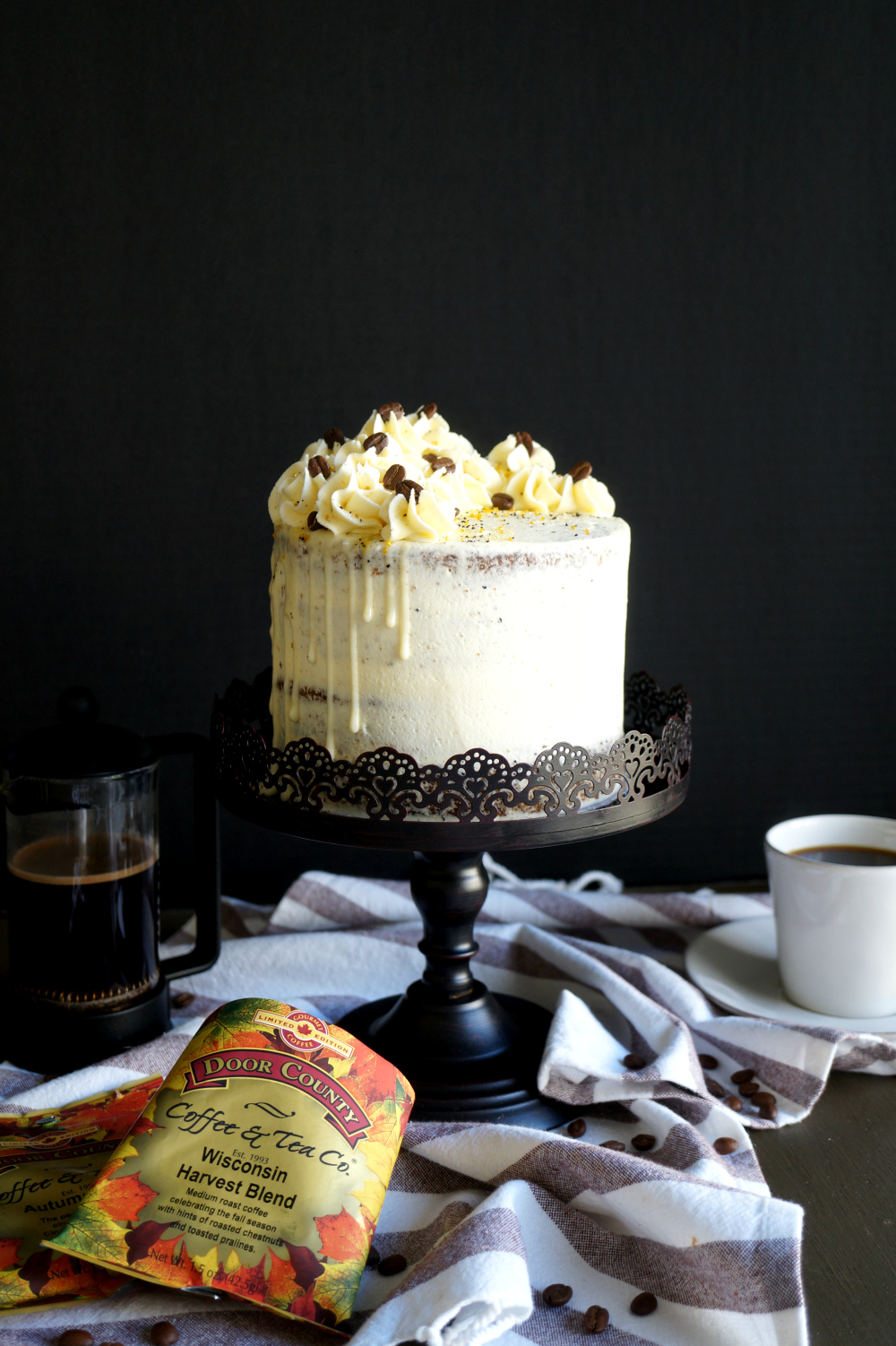 Hi friends and happy Monday! Today kicks off another fun themed week... #FallFlavors! We have a few brand new sponsors we are working with this week, and I am so excited to be sharing my recipes with you. As usual, there is an awesome giveaway involved too so that you guys can win some goodies! I know I say this like, every single time I post a new cake, but I am OBSESSED with how this Vegan Coffee Layer Cake came out. I think it's my new favorite 🙂 Read on to see what makes it so special!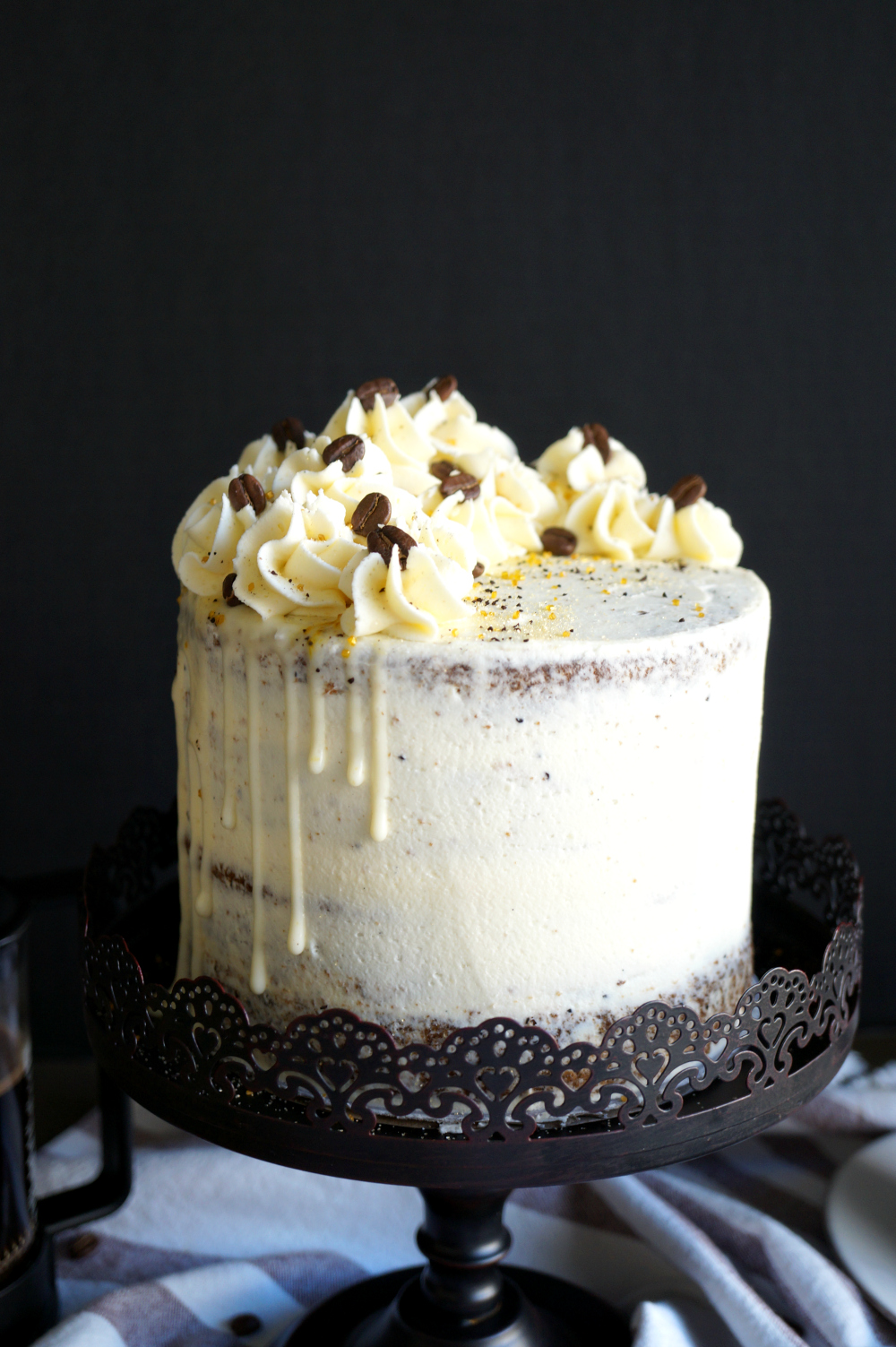 Welcome to Flavors of Fall where we celebrate all things associated with fall like squash, apples, pecans, sweaters, football; you get the idea!  Ellen from Family Around the Table and Christie from A Kitchen Hoor's Adventures have gathered 24 bloggers who have over 100 recipes they're sharing this week in celebration of cool weather and sweatshirts.  We hope you find many must make recipes so get your pinning, tweeting, and sharing fingers ready!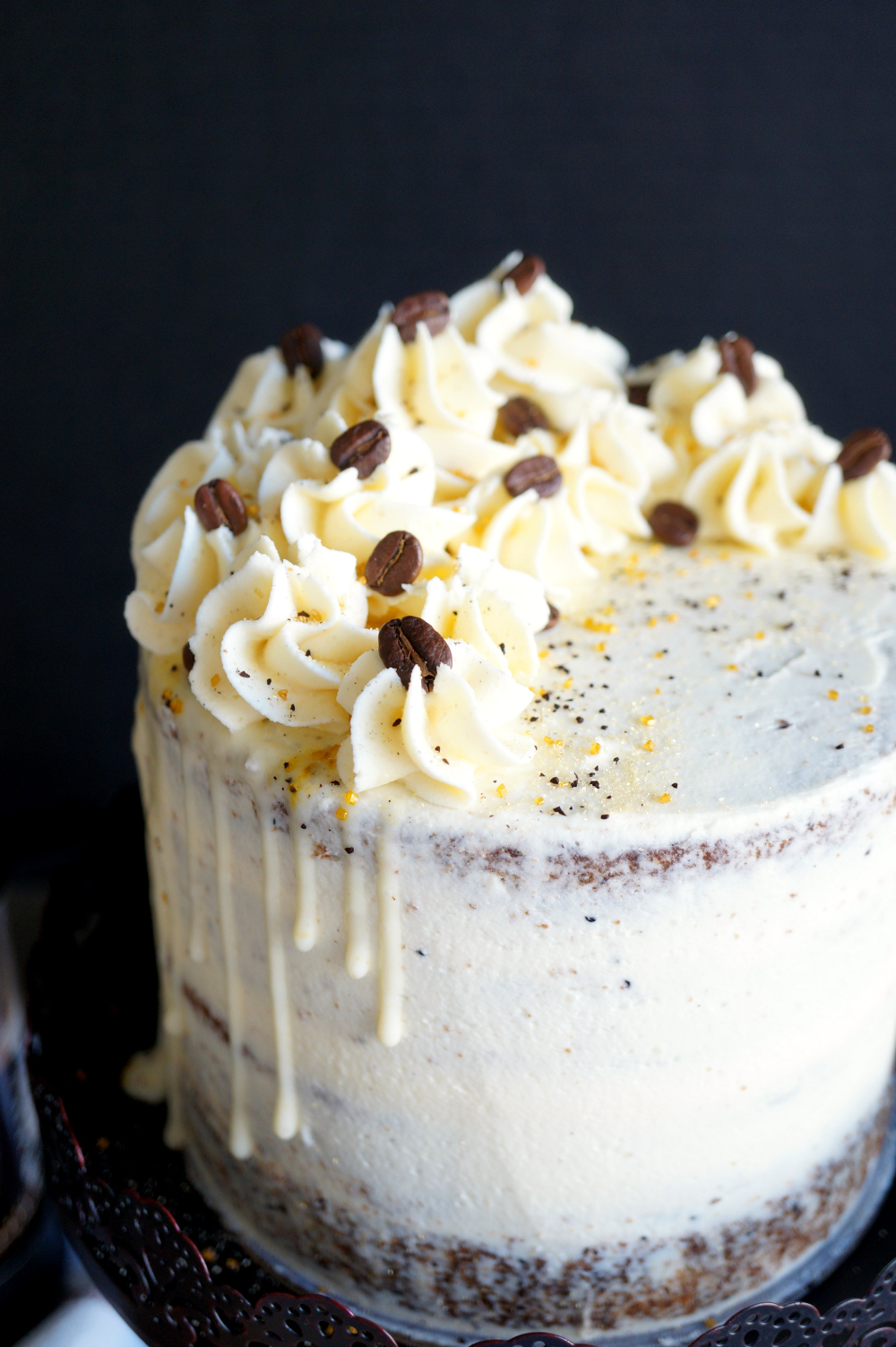 Okay so a few things about this gorgeous coffee layer cake - the first thing that makes it special is that it's made with Door County Coffee, which is one of our sponsors! We were sent a whole BOX of different fall specialty flavors, and it was so hard for me to pick which one I wanted to bake with. I ended up picking their Wisconsin Harvest Blend, which they say has hints of roasted chestnuts and toasted pralines. The sweet background in the coffee worked perfectly with the vanilla frosting on the cake! The other thing that makes this cake special is the VEGAN white chocolate drip!!! I have been hunting for a vegan white chocolate option for... well, since I went full-vegan. I almost died of shock when I saw it at the grocery store. The white cake drips are BACK, baby! Just FYI, the white chips are from the Nestle Tollhouse Simply Delicious line.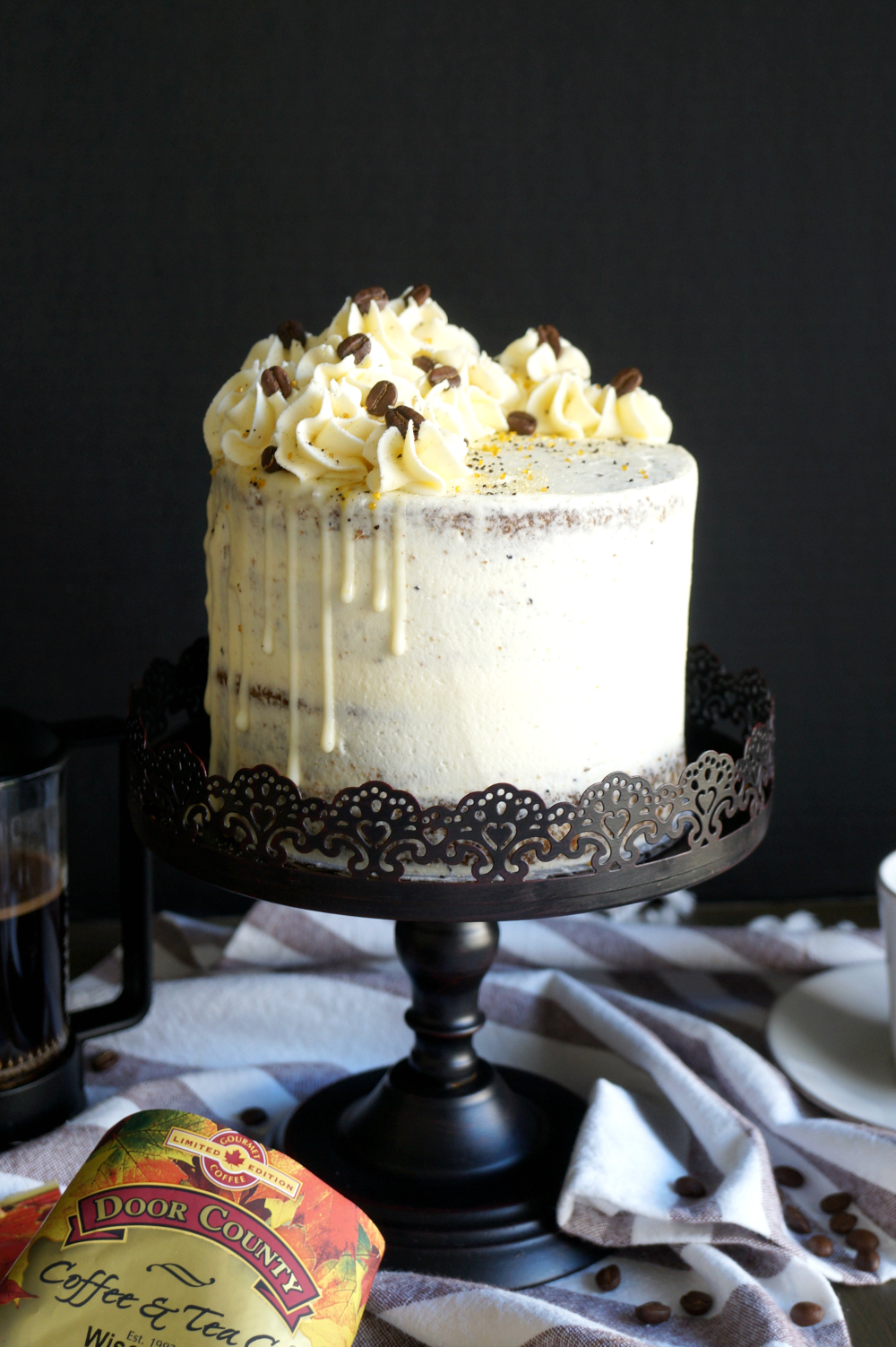 Over the years, I've experimented with coffee flavored cakes and frosting a few different ways! There are really two ways to bring significant coffee flavor to your cakes - either you replace the liquid in the cake with super strong coffee, or you add in instant coffee crystals or espresso. In this case, of course I used the fresh coffee! I even took a risk and added a bit of coffee grounds into the cake batter... eep! I figured that it works for tea, so why not coffee? I didn't hate it, but it added a bit of weird texture so I would skip it next time. Incorporating coffee into frosting can be a little trickier - I left my frosting as vanilla this time, but you can see in my pumpkin spice latte cake how I used instant coffee to flavor it!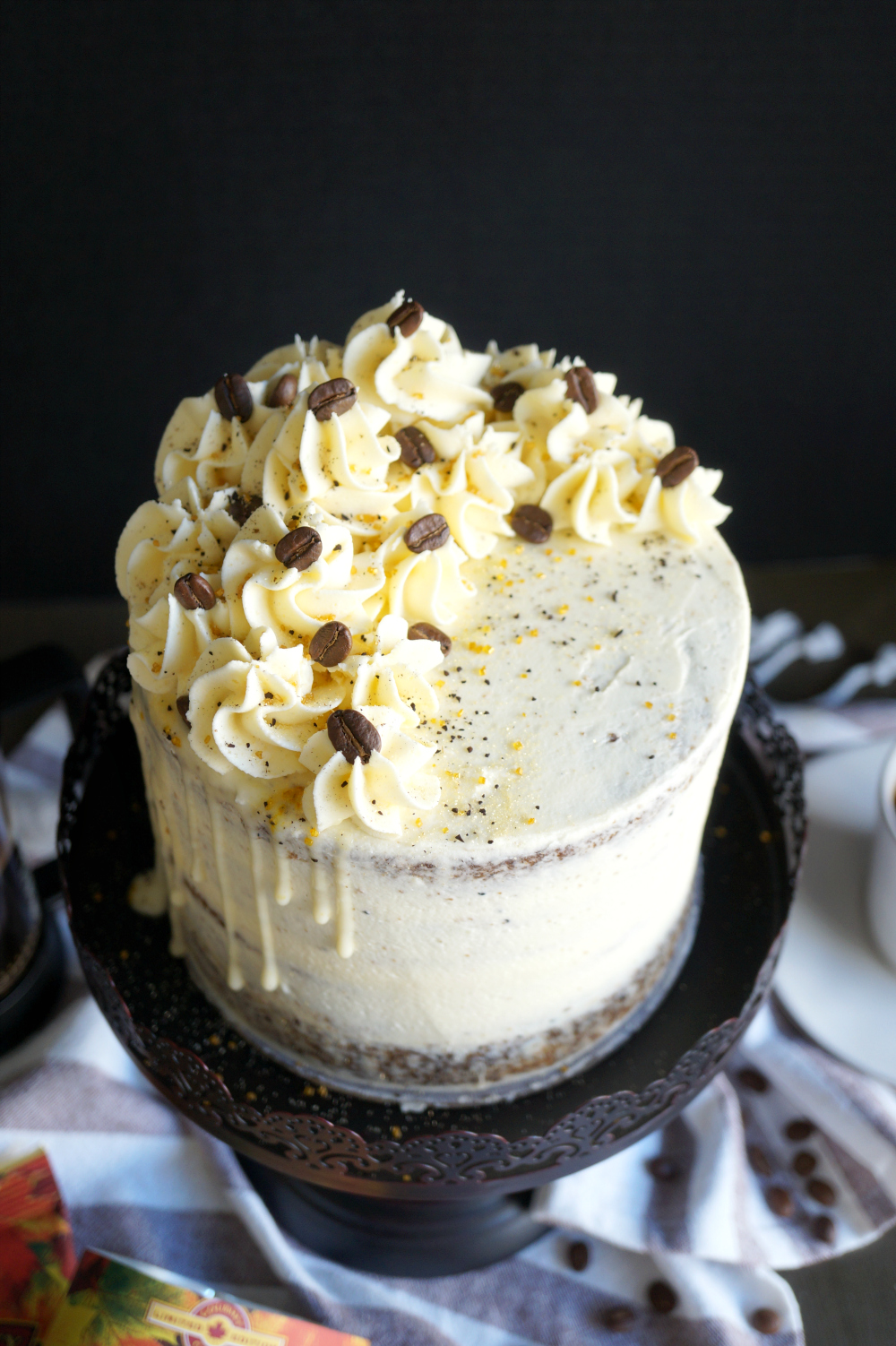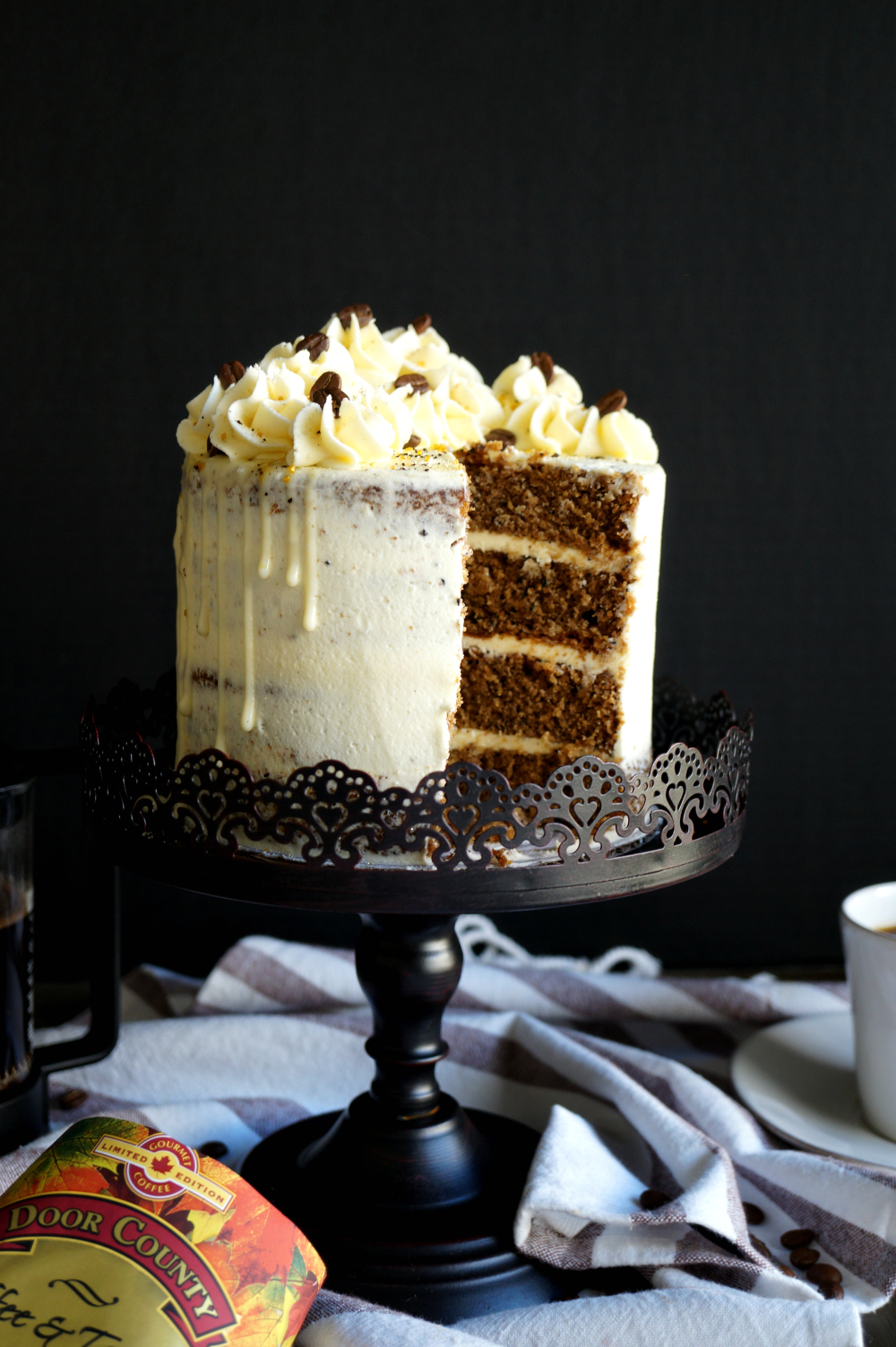 Here's what we made for Monday:
Breakfast
Cinnamon Glazed Donut French Toast by Daily Dish Recipes
Cranberry Pecan Coffee Cake by Family Around the Table
Ginger Pear Muffins by Jolene's Recipe Journal
Healthy Chocolate Pumpkin Waffles by Tip Garden
Spiced Coffee Toffee Bread by Cheese Curd In Paradise
Savory
Baked Stuffed Acorn Squash with Sausage and Apples by Simple and Savory
Door County Maple Coffee-Crusted Steak by Culinary Adventures with Camilla
Fig and Brie Grilled Cheese by The Redhead Baker
Java Beef Flatbread Pizza by Cindy's Recipes and Writings
Pecan Crusted Chicken Cutlets with Pears by A Day in the Life on the Farm
Tuna Pot Pie by Palatable Pastime
Vegan Chili by Red Cottage Chronicles
Dessert
Apple Cheesecake Streusel Bars by Love and Confections
Caramel Apple Cookie Cups by Sweet Beginnings
Caramel Pecan Cookie Sticks by The Freshman Cook
Chocolate Cappuccino Biscotti with Pecans by Blogghetti
Cinnamon Maple Pecan Cookies by Hezzi-D's Books and Cooks
Coffee Granita by Karen's Kitchen Stories
Irish Apple Cake by A Kitchen Hoor's Adventures
Pecan Chocolate Chip Skillet Cookie by Crumb Top Baking
Pecan Pie Bars by Books n' Cooks
Pumpkin Bundts with Brown Butter Glaze and Candied Pecans by Our Good Life
Vegan Coffee Layer Cake by The Baking Fairy
Make sure you like Fall Flavors on Facebook and follow the Fall Flavors on Pinterest, too! Scroll down past the recipe to see all the details for the GIVEAWAY!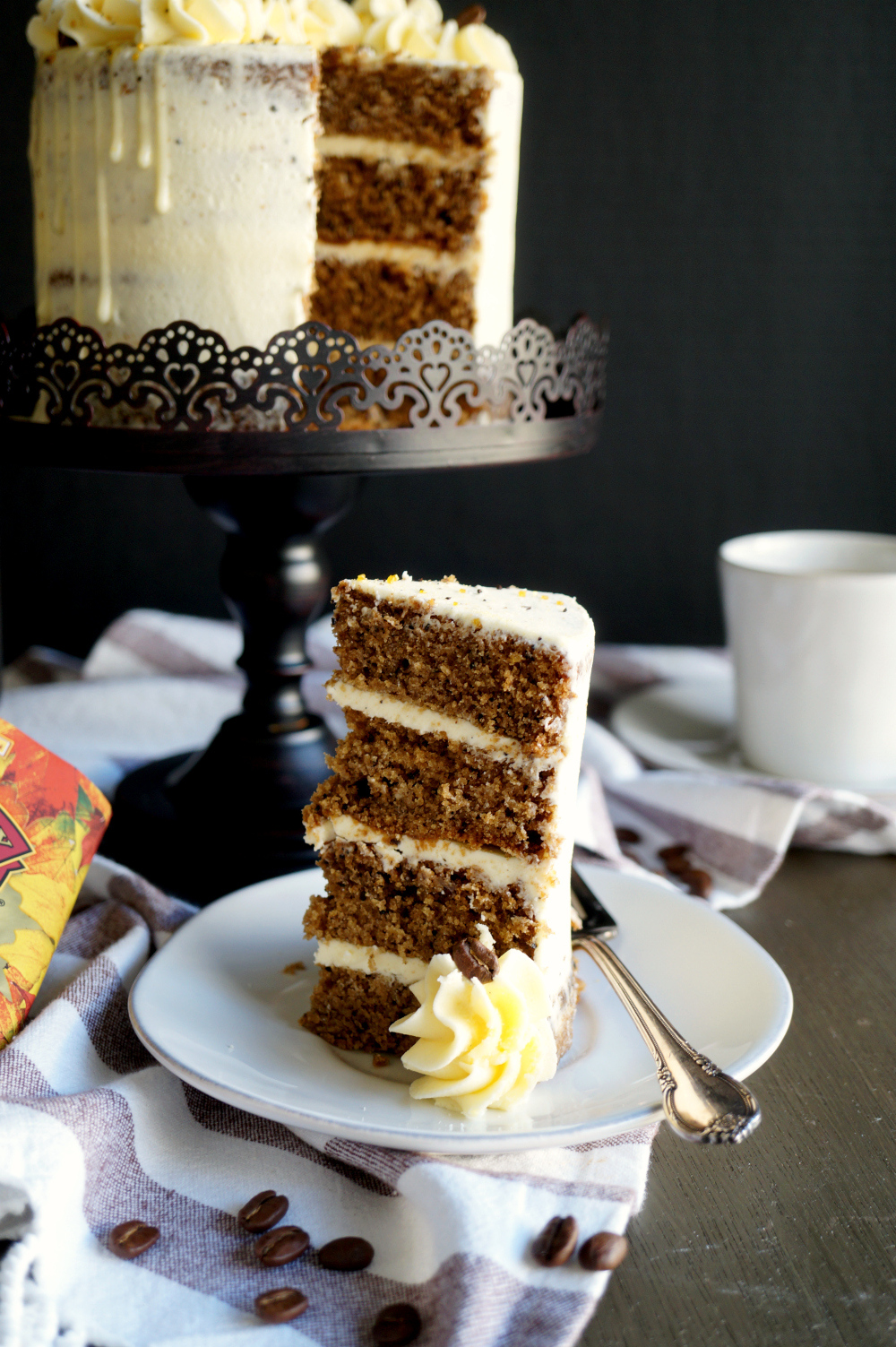 Here's what I'm making for #FallFlavors week!
vegan coffee layer cake
This Vegan Coffee Layer Cake is perfect for any coffee lovers! Soft cake layers are infused with freshly brewed coffee, and covered in a rich vanilla bean frosting and white chocolate ganache for the finishing touch.
Author:
Valentina | The Baking Fairy
Ingredients
*for the cake*
2 tablespoon ground flaxseed + 6 tablespoon water
⅔ cup of hot water + 3 tablespoon Door County Coffee Wisconsin Harvest Blend ground coffee
1 cup granulated sugar
1¾ cup all-purpose flour
1½ teaspoon baking powder
1 teaspoon baking soda
½ teaspoon salt
¼ cup vegan butter, at room temperature
⅓ cup nondairy yogurt
¼ cup vegetable oil
1 tablespoon vanilla extract
*for the frosting*
½ cup shortening
¼ cup vegan butter
2 cups powdered sugar
1 tablespoon vanilla bean paste
1-2 tablespoon of nondairy milk, as needed
pinch of salt
*for decorating*
melted vegan white chocolate, coffee beans, and sprinkles
Instructions
First, make the cake. Preheat oven to 350F and spray two 6" round cake pans with nonstick baking spray.
In a small bowl, whisk together the ground flaxseed with the water and set aside to thicken.
Next, brew the coffee. I use a French press, so I combined ⅔ cup of boiling water with 3 tablespoon of the coffee. Set aside to steep as you make the rest.
In the bowl of a stand mixer, combine the flour, baking powder, baking soda, salt, and sugar.
Add in the vegan butter, and beat on low until it's incorporated and has a sandy texture.
In a small bowl, whisk together the oil, flaxseed mixture, nondairy yogurt, and vanilla extract, and add them to the dry ingredients. Mix until combined.
Pour in the cooled coffee, and beat on medium-low until smooth and creamy.
Divide batter evenly among the 2 pans, and bake for 35-40 minutes until cake is set in the center and a toothpick comes out clean.
When the cakes are completely cooled, you can make the frosting. In the bowl of a stand mixer, beat the shortening, vegan butter, and vanilla extract together until completely smooth and creamy. Add in the powdered sugar, 1 cup at a time, until a thick frosting forms. Add in the salt. It is normal to need to add 1-2 tablespoon of milk to get the right consistency.
To assemble the cake, divide the 2 cake layers in half to create 4 thin layers.
Place one cake piece on your cake stand or platter, and spread some frosting on top. Repeat with all.
Next, cover the cake with the remaining frosting. I always like the "naked" look, so I cover the cake and use a bench scraper to get rid of any excess. Repeat to fill any gaps!
Let the cake chill for 30 min-1 hr before covering with the ganache.
To make the ganache, place about ½ cup of white chocolate chips in a microwave-safe bowl. Add in a splash of nondairy milk, and microwave in 20 second intervals until smooth and creamy. Add more milk and keep stirring if the mixture is too thick.
Transfer your white chocolate ganache to a squeeze bottle, and decorate the cake. Finally, use any extra frosting to decorate the top (or make another half batch). I used a 1M tip and just piped frosting in different heights. Finish off with coffee beans and sprinkles as desired.
Allow the cake to chill until it's time to serve, and store leftovers in the fridge. Enjoy!