I received product samples from sponsor companies to aid in the creation of the #FallFlavors recipes. All opinions are mine alone.
These Mini Vegan Chocolate Pecan Hand Pies are absolutely adorable, and so simple to make! Pecan pieces are combined with melty dark chocolate and brown sugar, and wrapped up in a flaky pie crust.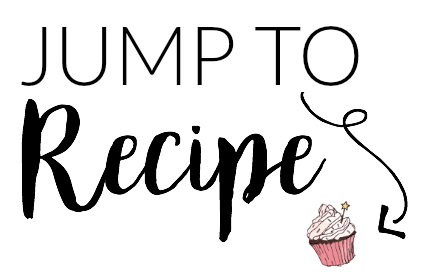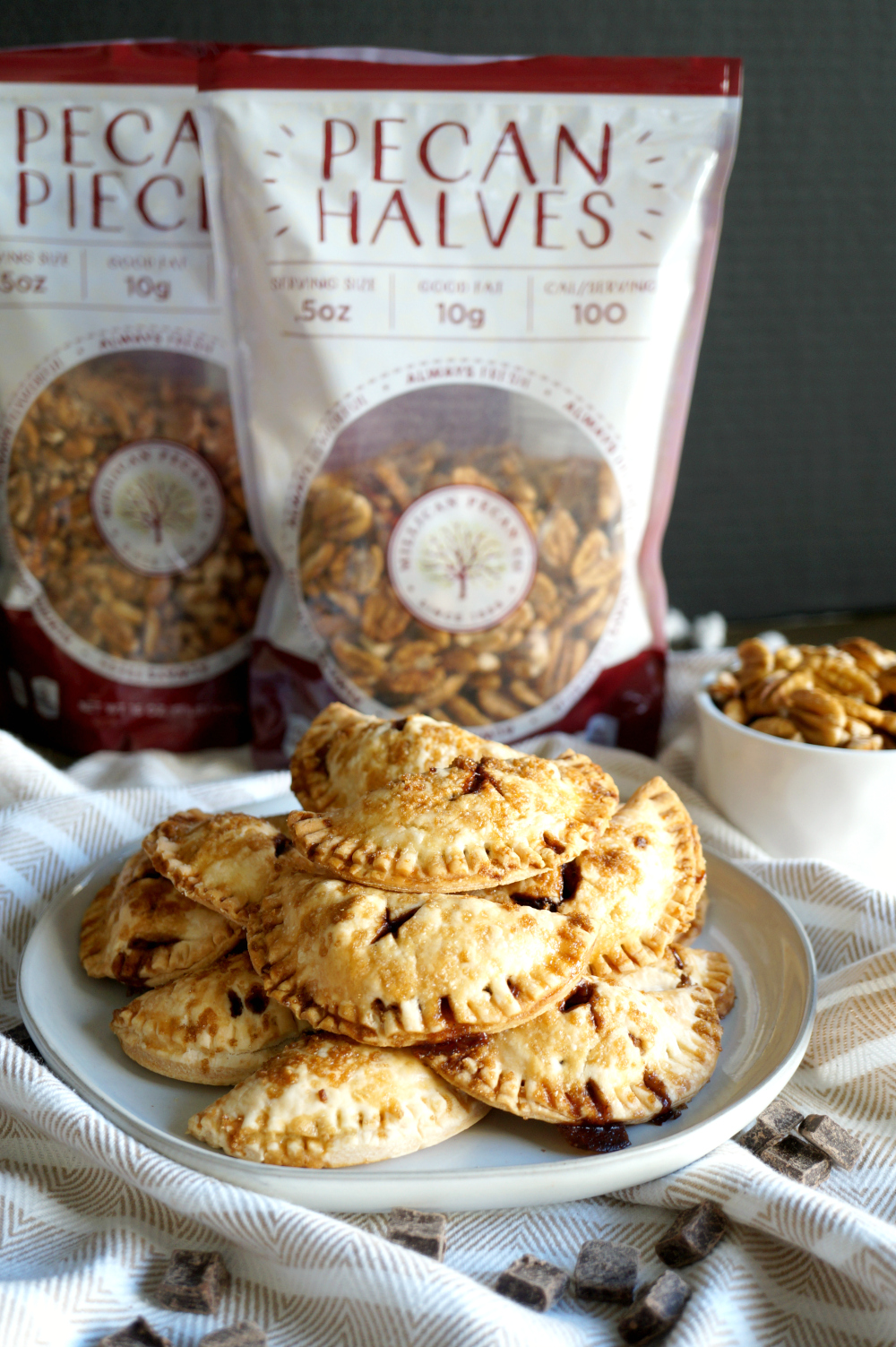 Happy Thursday, friends! I hope you have enjoyed #FallFlavors week so far! In case you missed it, I shared this Vegan Coffee Layer Cake on Monday, and Tuesday brought this Vegan Ginger Pear Bundt Cake. Sadly, today is the last day of the event (for me), so I just have one more treat in store for you! These Mini Vegan  Chocolate Pecan Hand Pies are absolutely delicious, and so easy to put together. They are made in partnership with Millican Pecan, who sent us heaps of their delicious orchard-fresh pecans to bake with! Their pecan pieces paired perfectly with dark chocolate and flaky pie crust to deliver the most scrumptious little bite-sized desserts.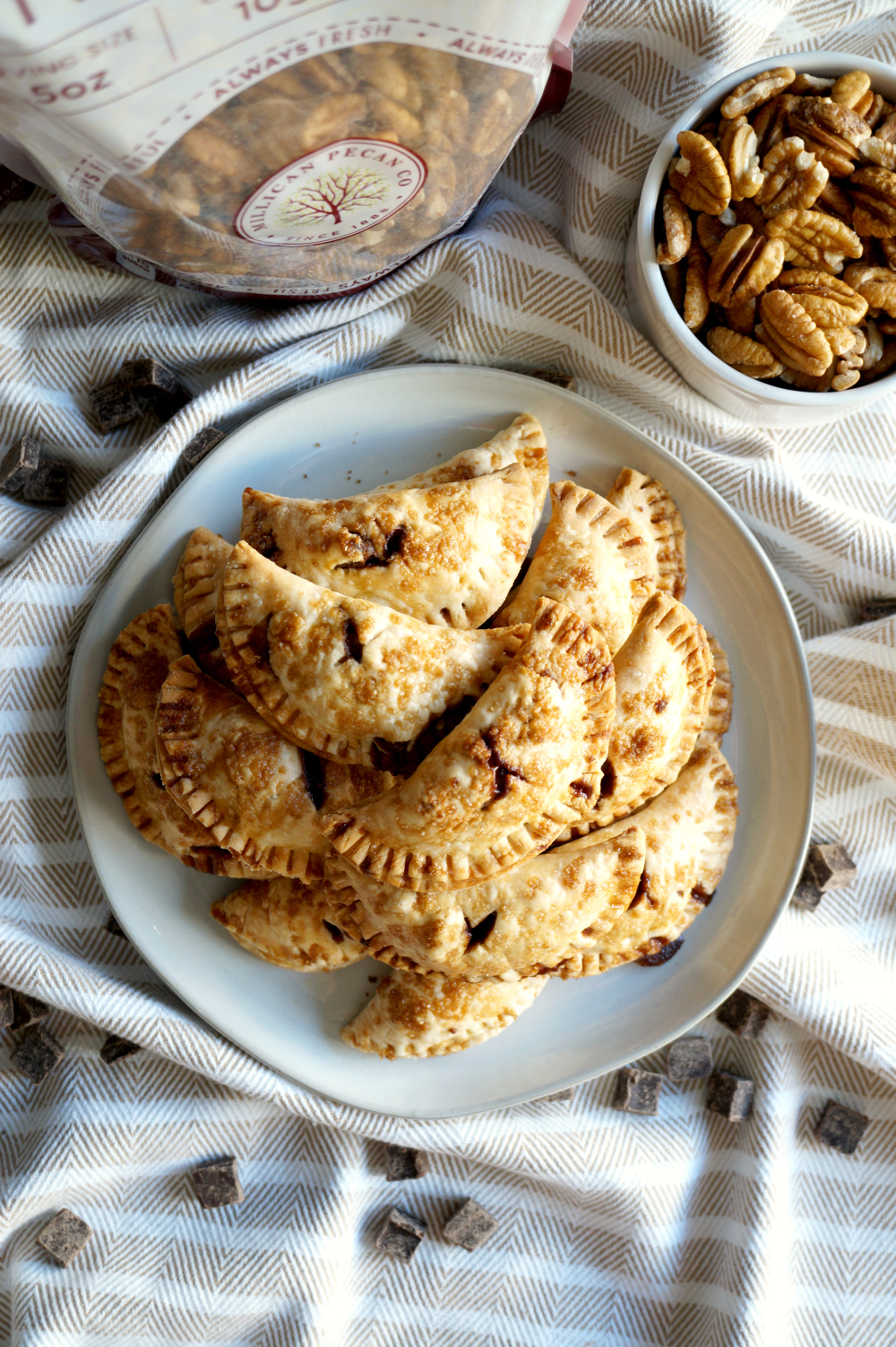 I admit I have been on a bit of a hand-pie kick (and I actually have ANOTHER hand pie recipe coming next week!), but they are just so cute and easy to make. If you want the flavors of pie with less work, the humble hand pie is a great compromise. It's also perfect if you're like me and love a good crust-to-filling ratio! Give me all the flaky pastry, please. These chocolate pecan hand pies take just a few minutes to come together and deliver maximum deliciousness! They come together extra fast thanks to one of my favorite grocery store shortcuts - refrigerated pie crust. You can definitely make yours from scratch if you so desire, but I'll stick with the easier route! 😉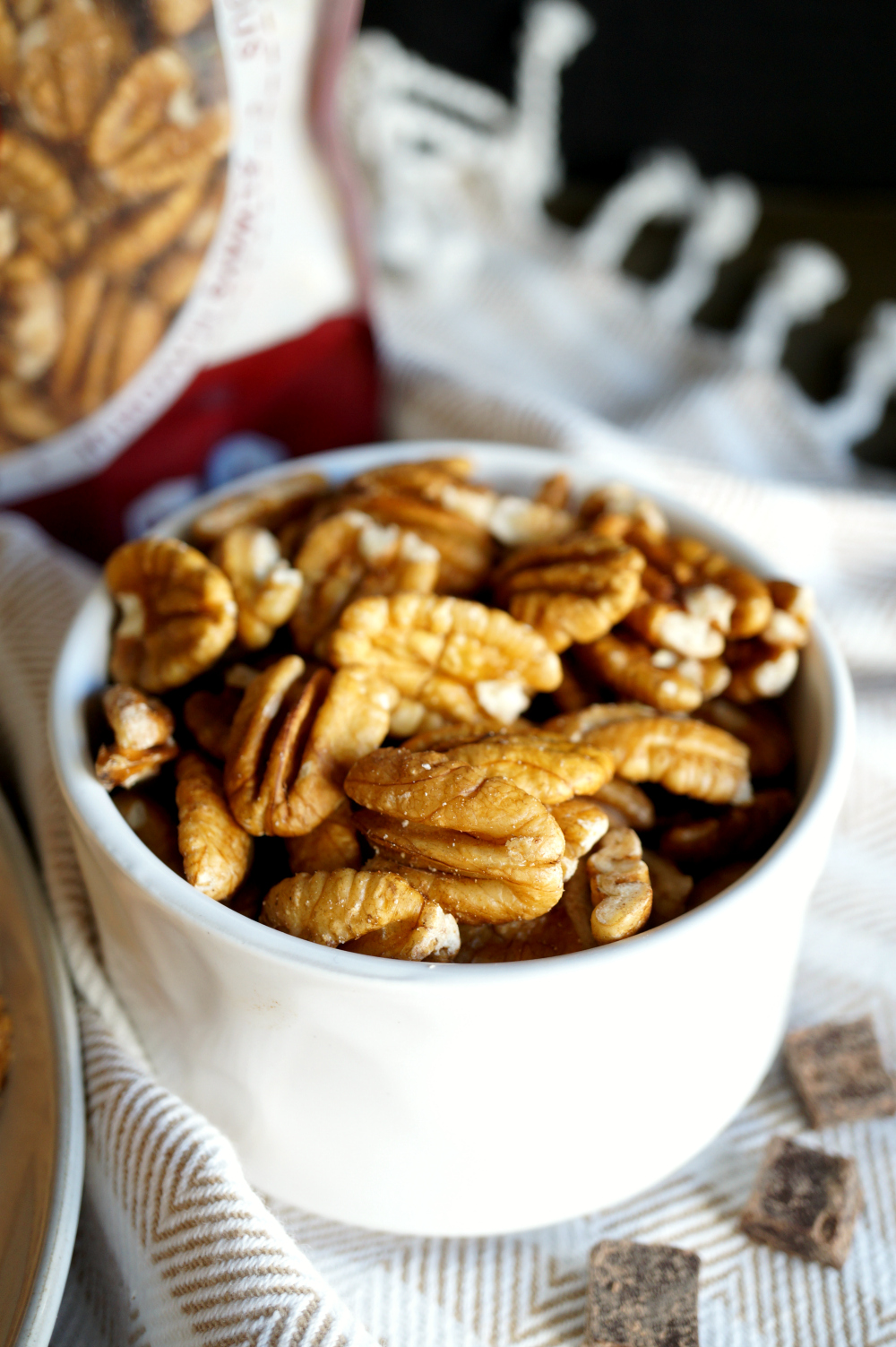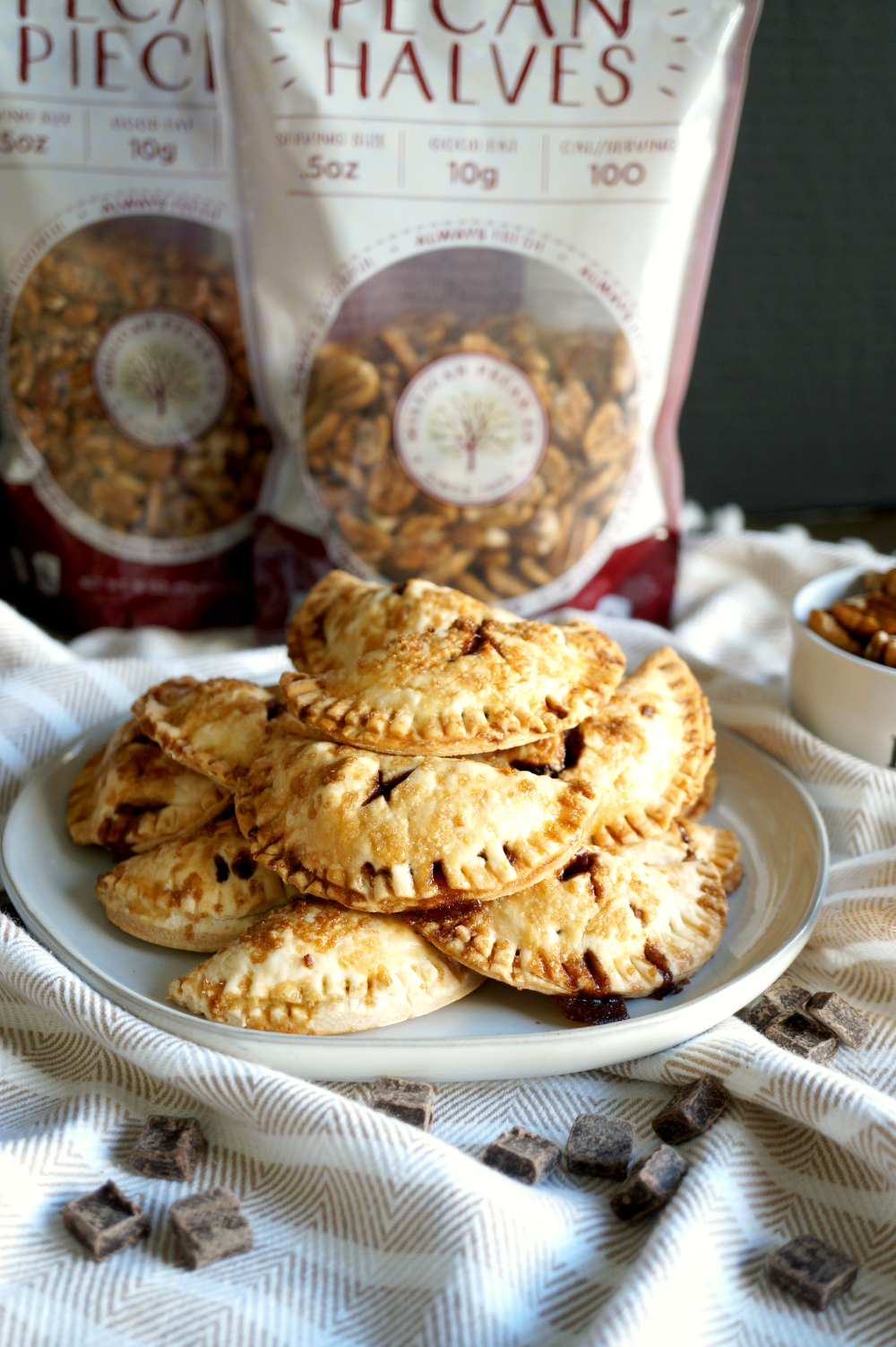 Remember to check out all the sweet & savory recipes my friends made, too!
Here's what we made for Thursday:
Beverage
Homemade Pumpkin Spice Creamer by Tip Garden
Plum Spice Bubble Tea by Daily Dish Recipes
Breakfast
Cinnamon Pecan Muffins by Cindy's Recipes and Writings
Coffee Cupcakes with Salted Caramel Frosting by Hezzi-D's Books and Cooks
Praline Pumpkin Spice Mini Muffins by Family Around the Table
Savory
Butternut, Kale, Butterbean & Pesto Salad by Sweet Beginnings
Coffee Rubbed Pork with Autumn Spices by A Day in the Life on the Farm
Eggplant Parmesan Boats by Culinary Adventures with Camilla
Potato Rosemary Bread with Roasted Garlic by Karen's Kitchen Stories
Savoury Pecan Granola by Crumb Top Baking
Dessert
Caramel Apple Upside Down Cake by Cheese Curd In Paradise
Caramel Pear Galette by A Kitchen Hoor's Adventures
Easy Cinnamon Roll Apple Cobbler by Palatable Pastime
Vegan Chocolate Pecan Hand Pies by The Baking Fairy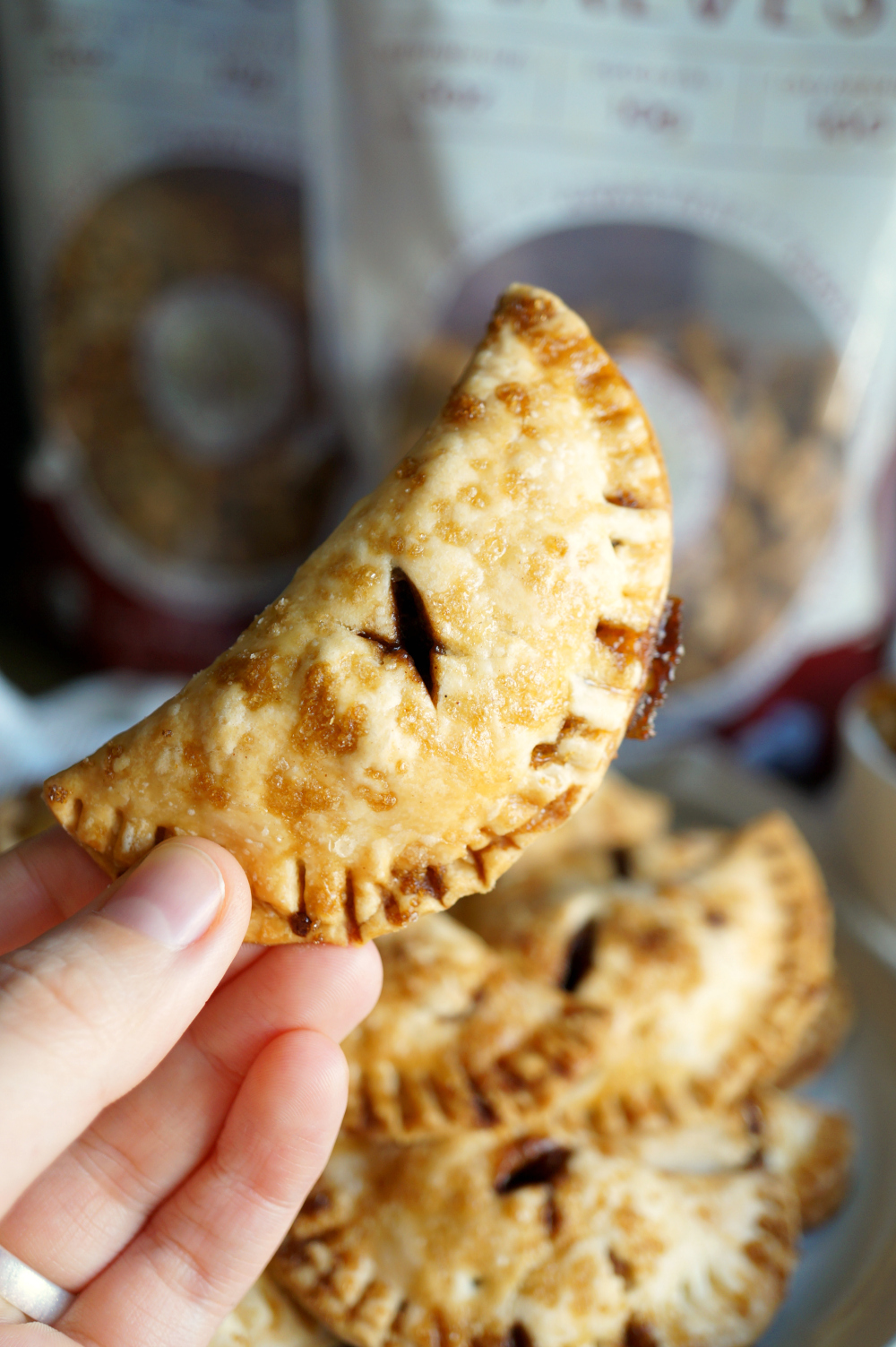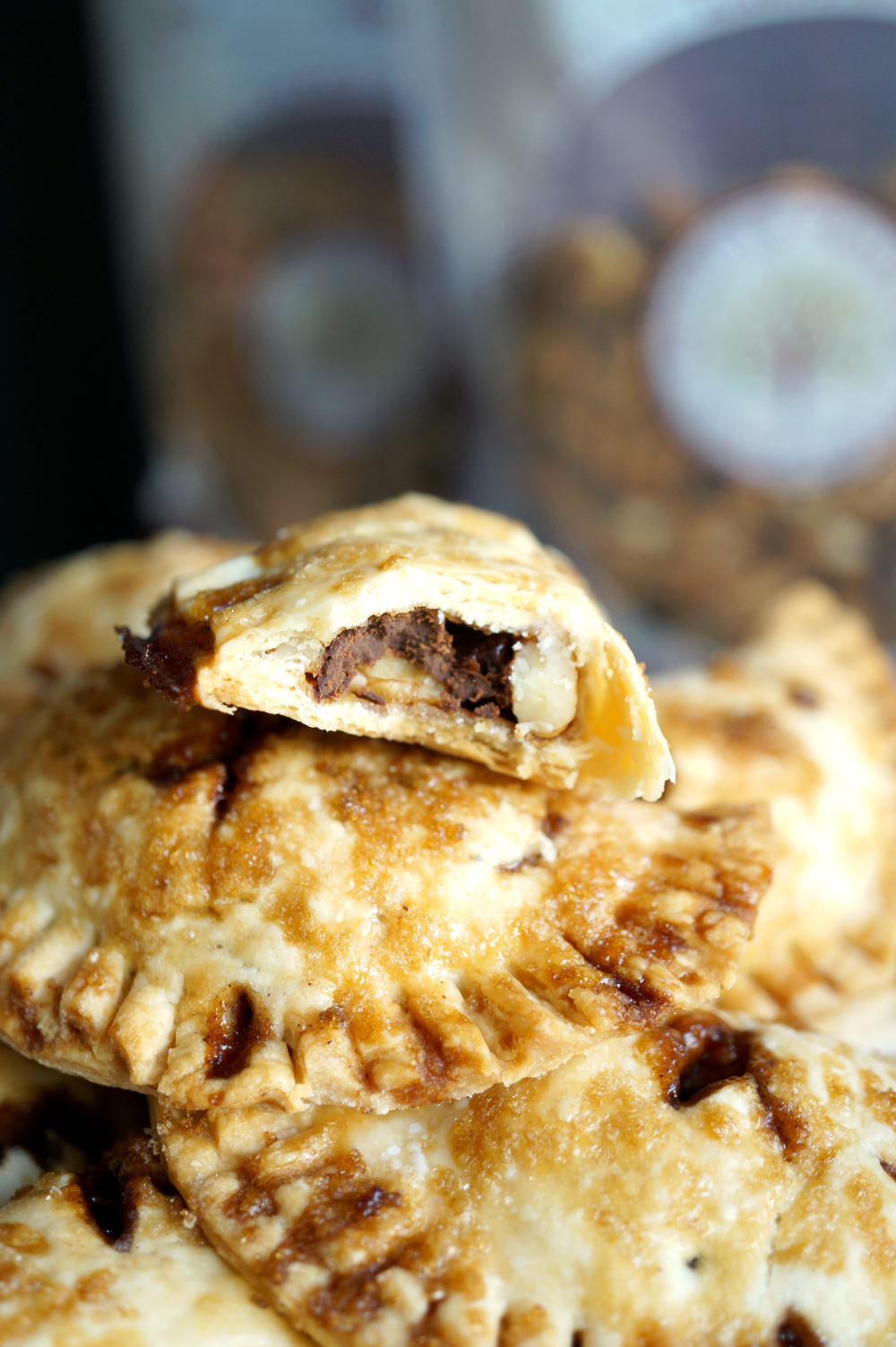 I hope you guys will give these mini vegan chocolate pecan hand pies a spin! They are scrumptious and just adorable. My family and I were big fans! I highly recommend enjoying with a glass of coffee or milk. And definitely heat them up for a few seconds before eating 🙂
HERE'S WHAT I'M MAKING FOR #FALLFLAVORS WEEK!
Looking for more hand pie recipes?
mini vegan chocolate pecan hand pies
These Mini Vegan Chocolate Pecan Hand Pies are absolutely adorable, and so simple to make! Pecan pieces are combined with melty dark chocolate and brown sugar, and wrapped up in a flaky pie crust.
Author:
Valentina | The Baking Fairy
Recipe type:
Pies & Tarts
Ingredients
2 refrigerated pie crusts
½ cup Millican Pecan pieces
½ cup chocolate chips
2 tablespoon vegan butter, melted and cooled
¼ cup packed dark brown sugar
½ teaspoon vanilla extract
pinch of salt
nondairy milk and additional brown sugar, for sealing and topping
Instructions
First, make the filling. Combine the pecan pieces and chocolate chips in a medium bowl.
Add in the melted & cooled vegan butter, dark brown sugar, vanilla, and salt. Mix to combine.
Lightly flour a clean work surface, and unroll the refrigerated pie crusts. Lightly sprinkle with more flour on top, and use a rolling pin to thin out the dough.
You can also use it as-is, but I find that the crust tends to come out a bit too thick with not enough filling! If you have a rolling pin, I do recommend stretching out the crust a little bit.
Cut out circles using a cutter or a large cup (my cutter is 4").
Spoon about ½ tablespoon of filling in the center of each circle. Moisten the edge of the crust with some nondairy milk, and fold the circles in half to make hand pies. Go around the edges and press down using a fork to seal. Repeat with all, and transfer to a baking sheet lined with parchment or a silicone liner.
Using a sharp knife, cut a few small lines on top of the pies to allow them to vent. Place the pies in the fridge for at least 30 min before baking.
When ready to bake, preheat oven to 400F.
Brush the pies with nondairy milk, and sprinkle on some additional brown sugar.
Bake the pies for 18-20 minutes, until they are golden brown and puffy.
Let cool slightly, then enjoy!