Looking for something different this Taco Tuesday? These Vegan Nopales Tacos are made of cactus, and topped with a fresh charred corn and black bean salsa.
Hi friends and happy Friday!! Today is a very special day indeed, it's National Taco Day! It comes to me as no surprise that this beloved food has its very own holiday. You know us food bloggers, we will take any excuse to celebrate, so of course today is all about tacos! I rounded up a few blogger friends to party with me, and we have all sorts of recipes prepared for you. Soft tacos, crispy tacos, veggie, fish, and meat tacos... we have them all! I decided to do something different than the usual, and made you these Vegan Nopales Tacos, which are made of... CACTUS! Trust me, these babies are delicious. Don't knock em til you try em!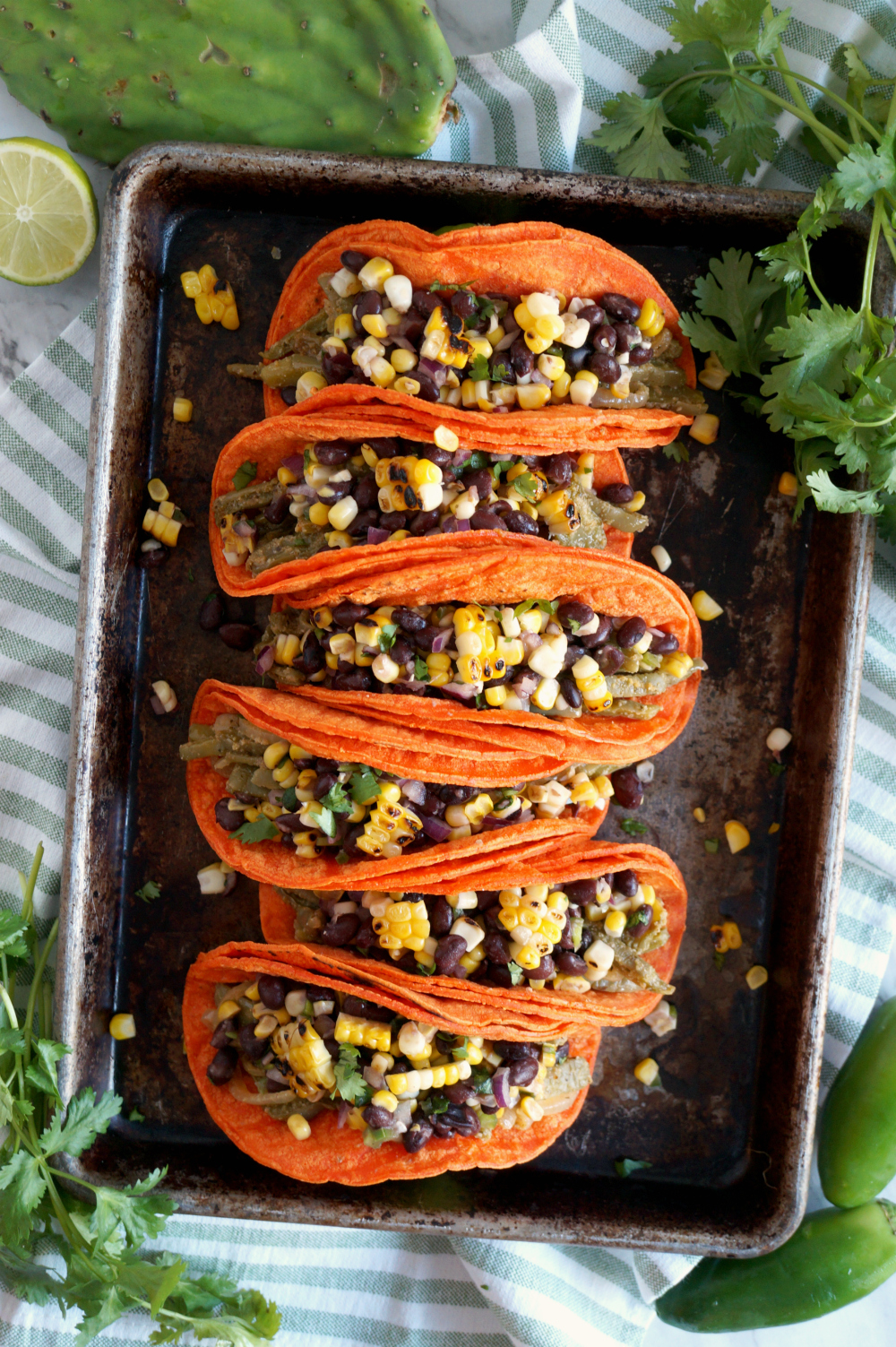 I've had nopales tacos a few times before, and I just thought they were so much fun! It really is true that everything tastes better in a taco, right? For the occasion, I sliced the cactus thin and sautéed it with onion and jalapeño. I then stuffed it in a taco and topped it with a salsa made of roasted corn, black beans, jalapeño, red onion, cilantro, and lime juice. Easy peasy and so fresh! I forgot to do this for the photos, but some avocado goes really well in these too.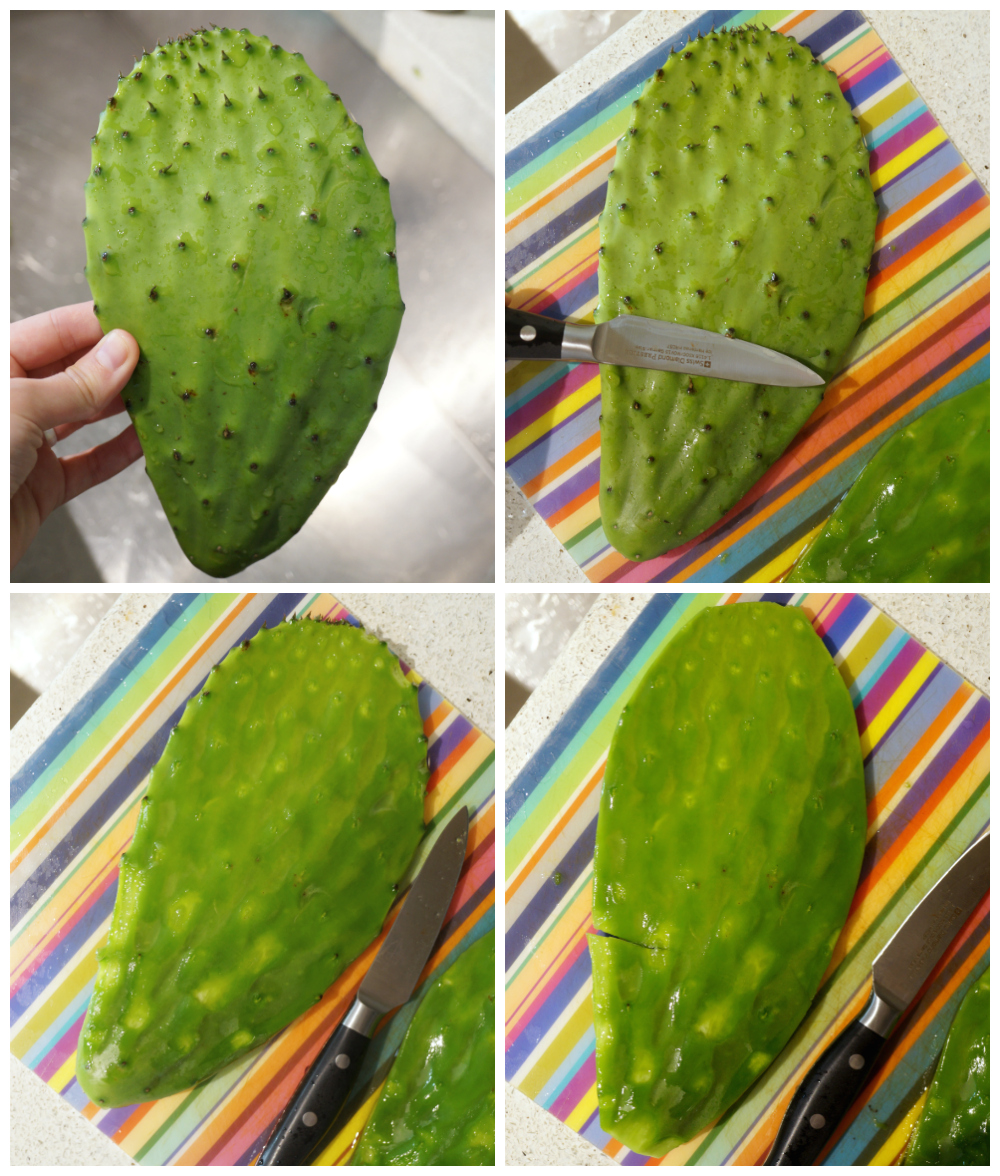 Tips for success for your nopales tacos:
Where do you buy nopales? I live in Texas, and I was able to easily find it at the Mexican grocery store. It was displayed with all the other fruits and veggies in the produce section! Regardless of where you live, a Hispanic grocery store will be your best bet.
How do you clean cactus?! This one is IMPORTANT! The cactus I bought was already partially cleaned so it wasn't too terribly poky.

Step 1: rinse the cactus off with water (like you would for any other veggie).
Step 2: use a small knife and firmly scrape the surface of the cactus AWAY from you. The nubs where the spines are protrude out, so this catches all of the spines and scrapes them off. I did this in my sink for easy clean up. I've also seen some people use a potato peeler!
Step 3: cut all around the perimeter of the cactus leaf and discard. This will get rid of any spines that are around the edge!
Step 4: slice in thin strips. It is normal and expected for the cactus to release some slimy liquid... kinda like aloe vera. I rinsed mine off a few times, but more liquid is released when you cook it too so don't be surprised!
That is how I did it, but definitely look up a video on YouTube if you need more detail. 🙂

How do I char the corn if I don't have a grill? Worry not! I don't have a grill either! I usually just char the corn in a cast iron skillet, but you can use any other pan on the stovetop too. If you really wanna be quick, Trader Joe's also sells roasted corn in the frozen section.
And... most importantly... what does cactus TASTE like?! Honestly... not much! HA. It's pretty plain, which is why I think it's a great candidate for all sorts of spices and herbs. Texture wise, it almost reminds me of a cooked bell pepper. The skin stays slightly tougher, and the insides are soft and a bit chewy!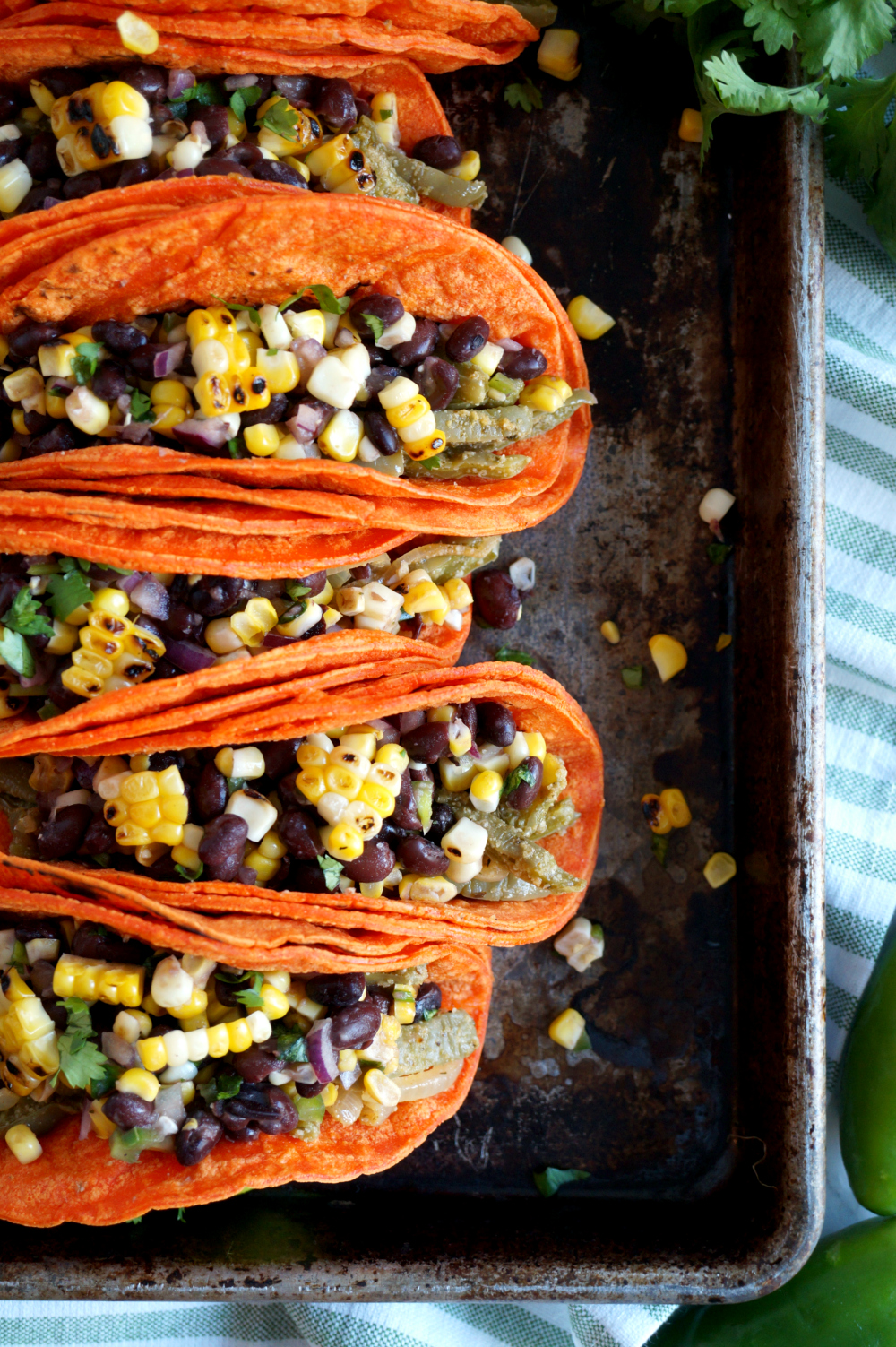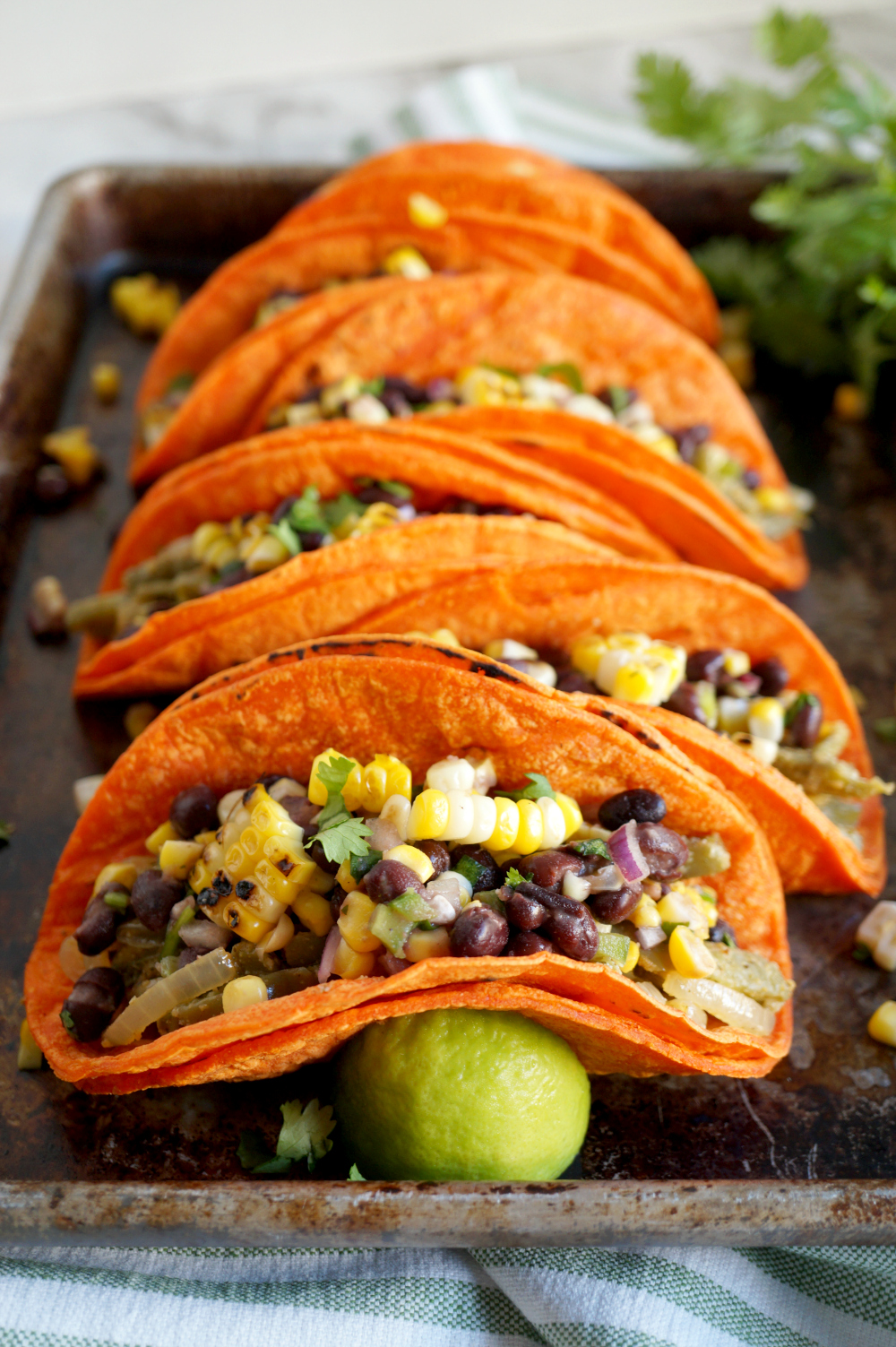 Happy National Taco Day!
Thank you to Valentina from The Baking Fairy for hosting this one-day event!
Check out all the delicious recipes we made for the occasion:
Breakfast Street Tacos by 2 Cookin Mamas
Chorizo and Sweet Potato Breakfast Tacos by A Kitchen Hoor's Adventures
Egg and Bacon Loaded Breakfast Tacos by Cheese Curd in Paradise
Garbage Plate Tacos by The Spiffy Cookie
Huevos Rancheros Tacos by Our Good Life
Instant Pot Pork Carnitas Tacos by The Redhead Baker
Lobster Roll Street Tacos by Daily Dish Recipes
Old-School Hard Shell Tacos by Karen's Kitchen Stories
Seared Albacore Tuna Loin Soft Tacos by Culinary Adventures with Camilla
Shrimp Tacos with Apple Pomegranate Salsa by A Day in the Life on the Farm
Tacos de Calabacitas by Tip Garden
Vegan Nopales Tacos with Charred Corn and Black Bean Salsa by The Baking Fairy
Vindaloo Pork Belly Street Tacos by Palatable Pastime
Walking Taco Bar by For The Love of Food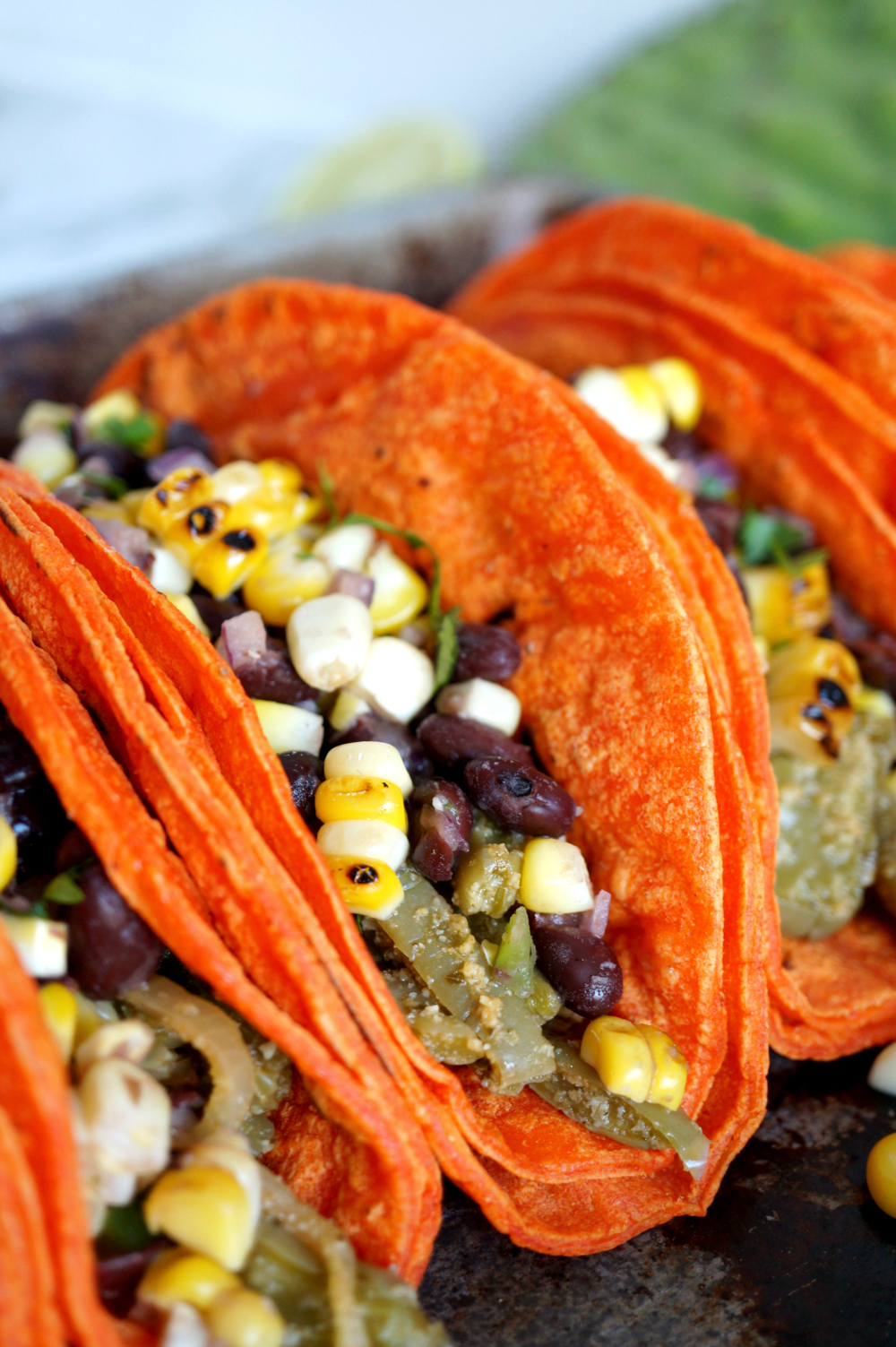 I hope you guys enjoyed this little #NationalTacoDay round-up! There are lots of delicious tacos to pick from that are sure to please everyone 🙂 And if you wanna change it up... I hope you will give my nopales tacos a try!
Looking for more taco ideas?
vegan nopales tacos with charred corn and black bean salsa
Looking for something different this Taco Tuesday? These Vegan Nopales Tacos are made of cactus, and topped with a fresh charred corn and black bean salsa.
Author:
Valentina | The Baking Fairy
Ingredients
*for the tacos*
4 nopales cactus leaves
½ red onion, sliced thinly
½ - 1 jalapeño, seeded and sliced
½ tablespoon olive oil
1 teaspoon garlic powder
1 teaspoon onion powder
½ teaspoon cumin
¼ teaspoon smoked paprika
1 teaspoon salt
*for the salsa*
2 ears of fresh corn, husks removed
1 can black beans, rinsed and drained
½ red onion, chopped finely
1 jalapeño, seeded and chopped finely
2-3 tablespoon fresh cilantro, if desired
juice of 1 lime
salt, to taste
tortillas, to serve
Instructions
First, prepare the cactus.
Rinse off the leaves, and using a small knife, scrape the surface away from you to remove all of the nubs and spines. Cut around the edge of the leaves to remove any spines close to the edges. Slice the cactus in thin strips, cutting them in half if they are too long.
It is normal for the cactus to release some slimy liquid. Rinse the strips off as best as you can, and pat dry with a paper towel.
In a large pan over medium heat, heat the olive oil. Add in the cactus strips, onion, and jalapeño. Cook, stirring occasionally, until the veggies are soft and translucent. It is normal for the cactus to release more liquid at this time! Keep cooking until the liquid is all evaporated/reabsorbed.
Add in the spices, and mix to combine. Cook the veggies to your desired doneness. Keep warm while you prepare the salsa.
Heat a cast iron skillet over medium heat, and add in the two ears of corn. Cook, turning occasionally, until corn is hot and some spots are charred.
In a medium bowl combine the black beans, onion, jalapeno, cilantro, lime juice, and salt.
Carefully cut the corn off the cob, and add it to the salsa bowl. Mix everything together, and add more salt if needed.
To assemble, warm up your tortillas. Place some of the nopales and onion mixture in the bottom, and top with the corn and black bean salsa. You can add some avocado or vegan sour cream if you want, too. Serve immediately!