This post is sponsored in conjunction with #BrunchWeek. I received product samples from sponsor companies to aid in the creation of the #Brunchweek recipes. All opinions are mine alone. #ad #SweetsSquad
If you have some jam and puff pastry at home, you can make these Vegan Mango Peach Toaster Pastries! Irresistibly sweet, flaky, and ready in just 15 minutes!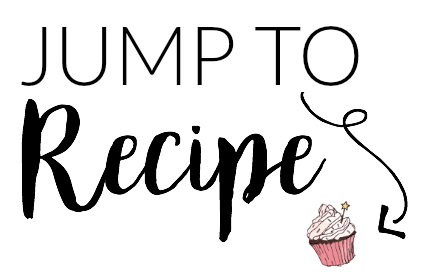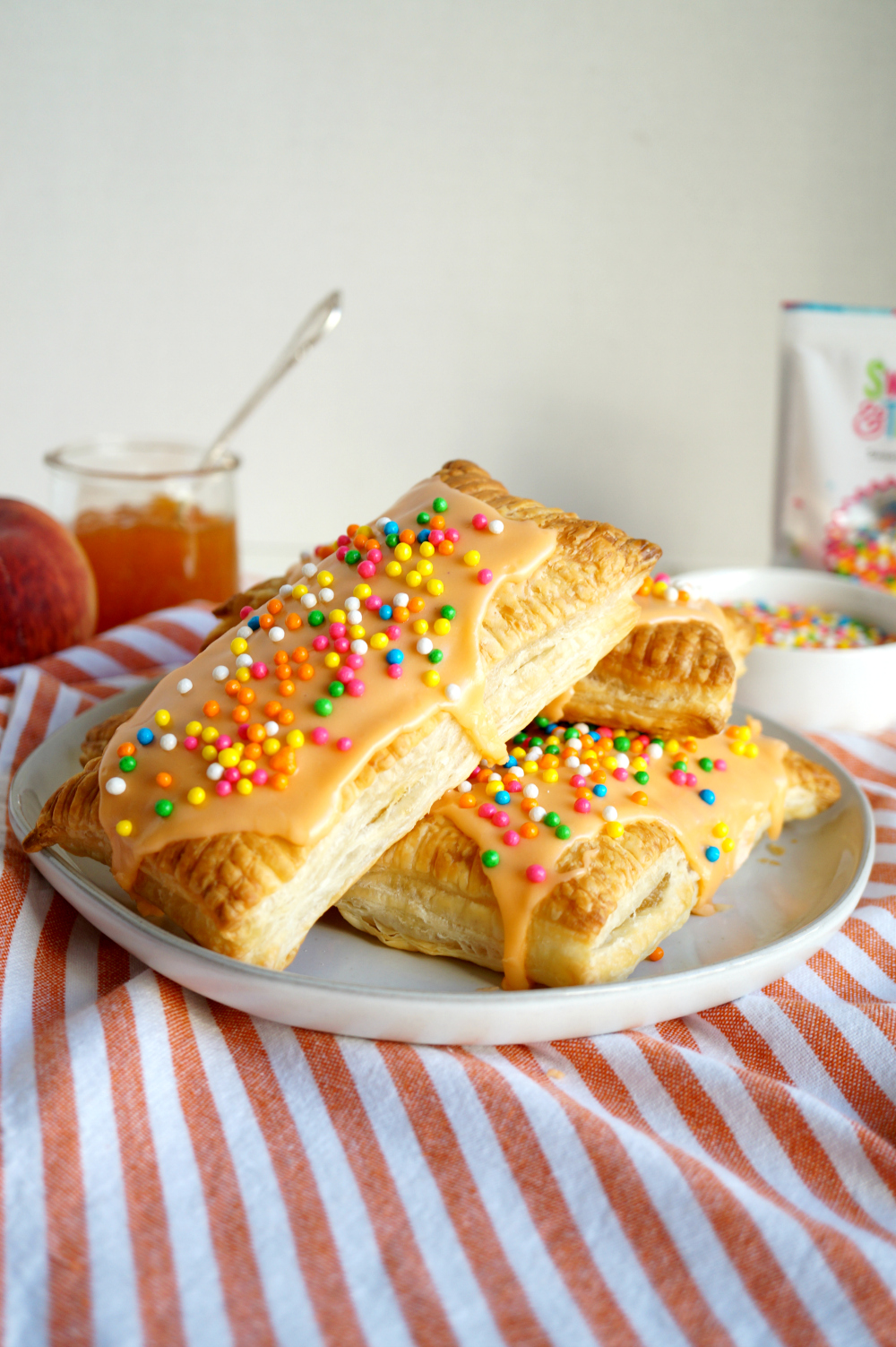 Hi friends and happy Thursday! #BrunchWeek continues today and I have seriously the easiest treat ever for you. HONEST. I couldn't have made this easier if I tried. If you have puff pastry, mango peach preserves, powdered sugar, and a lil bit of milk... you can make these Vegan Mango Peach Toaster Pastries! They're so simple and incredibly delicious. Flaky puff pastry, sweet jam, and colorful sprinkles all come together to create the perfect portable treat. Let's go make them!
Today's sponsor spotlight is on Sweets & Treats! You may remember them from events in the past, including #HalloweenTreatsWeek and #ChristmasSweetsWeek. I am so happy to be working with them again today to showcase these fun neon Crispie Sprinkles! So I recently learned that not all sprinkles are vegan, which was a total surprise to me!!! If you think about it, it makes sense though. Some mixes contain beeswax, cochineal extract, or even shellac which are all derived from bugs (eep!). Thankfully, Sweets & Treats has a vegan section on their website so you can find all their pretty plant-based sprinkles in one place!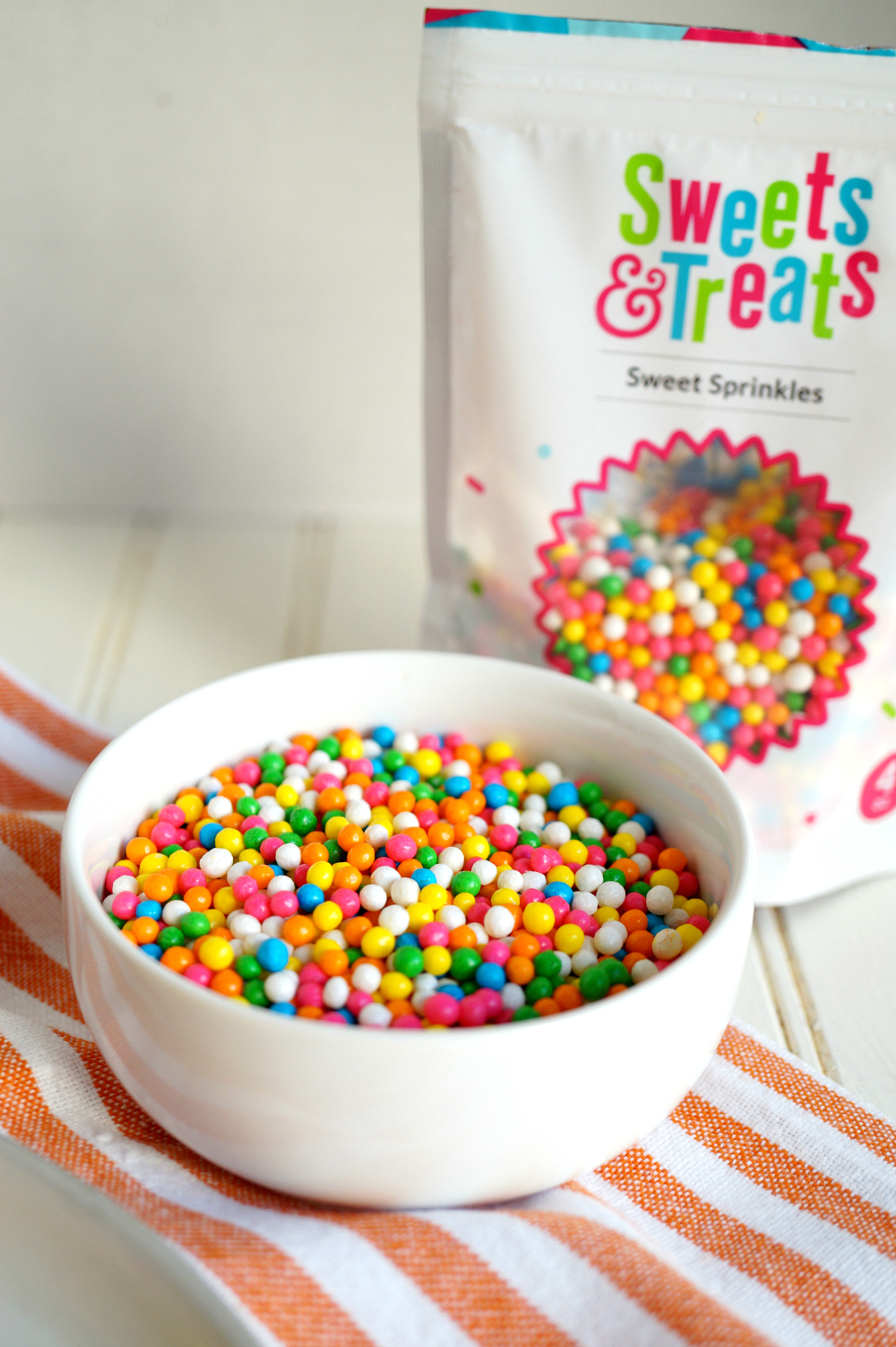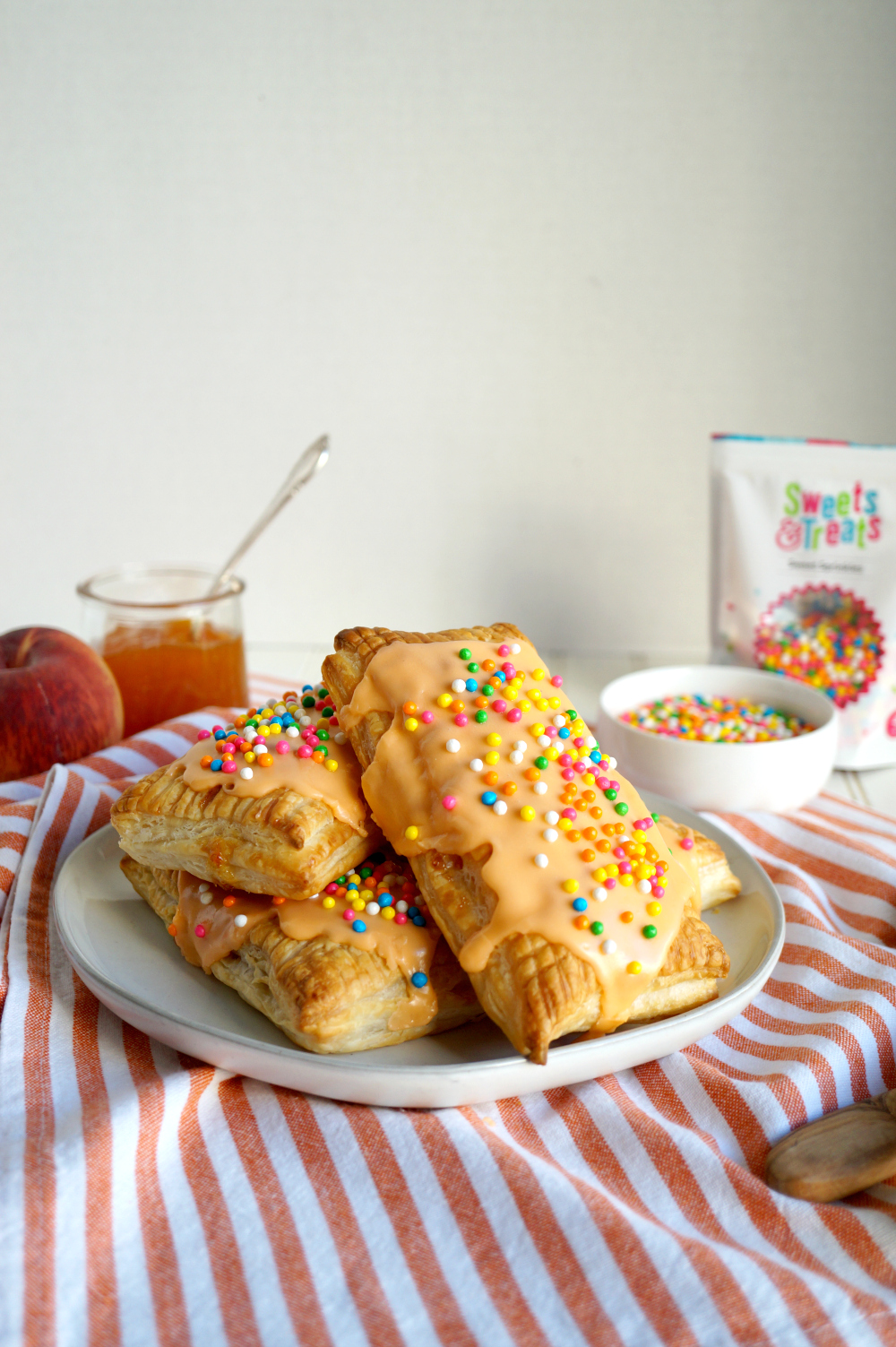 As usual, be sure to check out my talented blogger friends' delicious creations for today!
BrunchWeek Beverages:
Maple Bacon Old Fashioned from The Spiffy Cookie
Pimm's Iced Tea from Books n' Cooks
Sparkling Strawberry Peach Punch from For the Love of Food
Spicy Bloody Mary from Sweet Beginnings
Starbucks Copycat Chai Tea Latte from Snacks and Sips
Strawberry St Germain Gin and Tonic from Caroline's Cooking
Triple Orange Julius from The Crumby Kitchen
Watermelon Fizz Cocktail from Who Needs A Cape?
BrunchWeek Appetizers and Salads:
Breakfast Nachos from Culinary Adventures with Camilla
Cheddar Cheese Bites from Family Around the Table
BrunchWeek Egg Dishes:
Amish Breakfast Casserole from Platter Talk
Cheesy Poblano Frittata from Shockingly Delicious
BrunchWeek Breads, Grains, and Pastries:
Berry Baked Oatmeal from Kate's Recipe Box
Galaxy Donuts from Hezzi-D's Books and Cooks
Vegan Mango Peach Toaster Pastries from The Baking Fairy
Waffle Casserole with Maple Sausage from Karen's Kitchen Stories
BrunchWeek Fruits, Vegetables and Sides:
Bacon and Cheese Loaded Hashbrown Waffles from Big Bear's Wife
BrunchWeek Desserts:
Brunch Cake from April Golightly
Cream Cheese Coffee Cake from PasstheSushi
Lavender Mimosa Cupcakes from Strawberry Blondie Kitchen
Orange Creamsicle Cupcakes from Cookaholic Wife
Peachy Keen Buttercream from Cooking With Carlee
Raspberry Lemon Cake from The Redhead Baker
Salted Caramel Blondie Trifles from Jolene's Recipe Journal
Sugar Cookie Fruit Pizza from Hardly A Goddess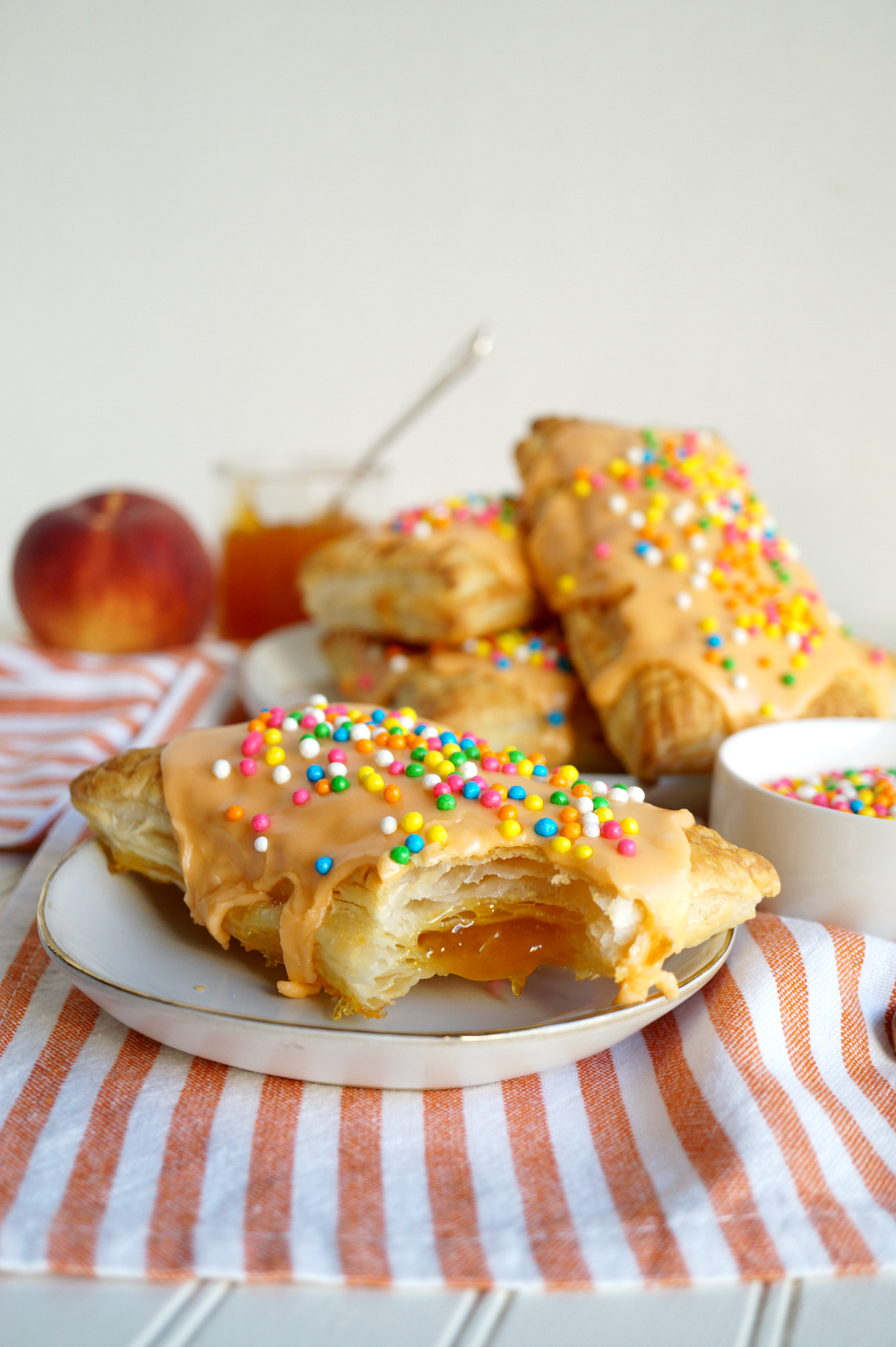 I hope you guys will give these mango peach toaster pastries a try! They are crazy simple and it's SO easy to customize them with your favorite jams & preserves! You could even do a PB&J combo or add chocolate in here. The possibilities are endless. Just don't forget the cute sprinkles on top! 😉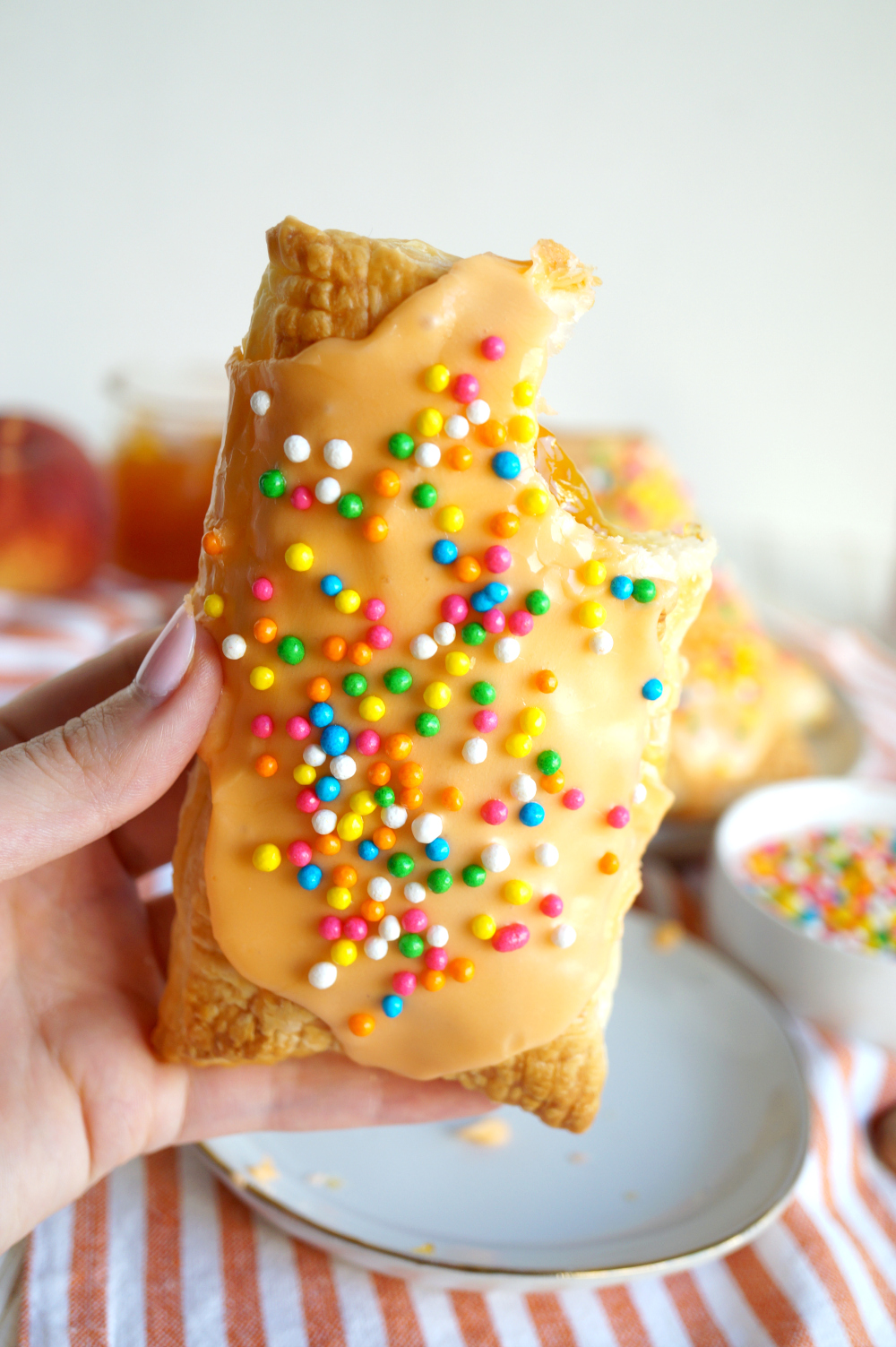 MY RECIPES FOR #BRUNCHWEEK:
vegan mango peach toaster pastries
Author:
Valentina | The Baking Fairy
Ingredients
1 sheet refrigerated puff pastry (check ingredients to make sure it's vegan)
5 tablespoon mango peach jam
*for the frosting*
1 cup powdered sugar
3-4 tablespoon nondairy milk, more or less as needed
¼ teaspoon vanilla extract
pinch of salt
orange food coloring
Sweets & Treats Neon Rainbow Crispies Sprinkles
Instructions
Preheat oven to 425F.
Lay out your sheet of puff pastry, and cut into 10 even rectangles.
Place a tablespoon of mango peach jam in the center of 5 of the rectangles, spreading it a bit but still leaving an edge. Top with the 5 remaining rectangles, and using a fork, press all around the edges to seal. Place pockets on a baking sheet lined with parchment or a silicone liner.
Bake puff pastry pockets for 15-18 minutes, until puffy and golden brown.
While the pockets cool off, make the frosting. Add the powdered sugar to a small bowl and mix in the nondairy milk a spoonful at a time until a thick glaze forms. Add in the orange food coloring, vanilla extract, and pinch of salt.
To finish the puff pastry pockets, spoon some of the frosting on top, and add on the Sweets & Treats Crispies Sprinkles. Enjoy!