These cute Vegan Chocolate Peppermint Cupcakes are sure to get you in a festive mood. Fluffy chocolate-peppermint cupcakes are topped with a fun red & white swirled peppermint frosting!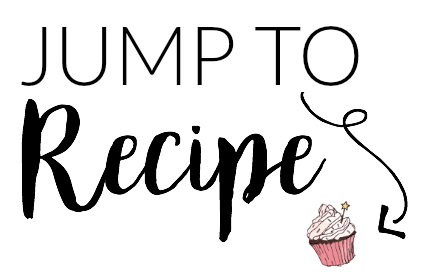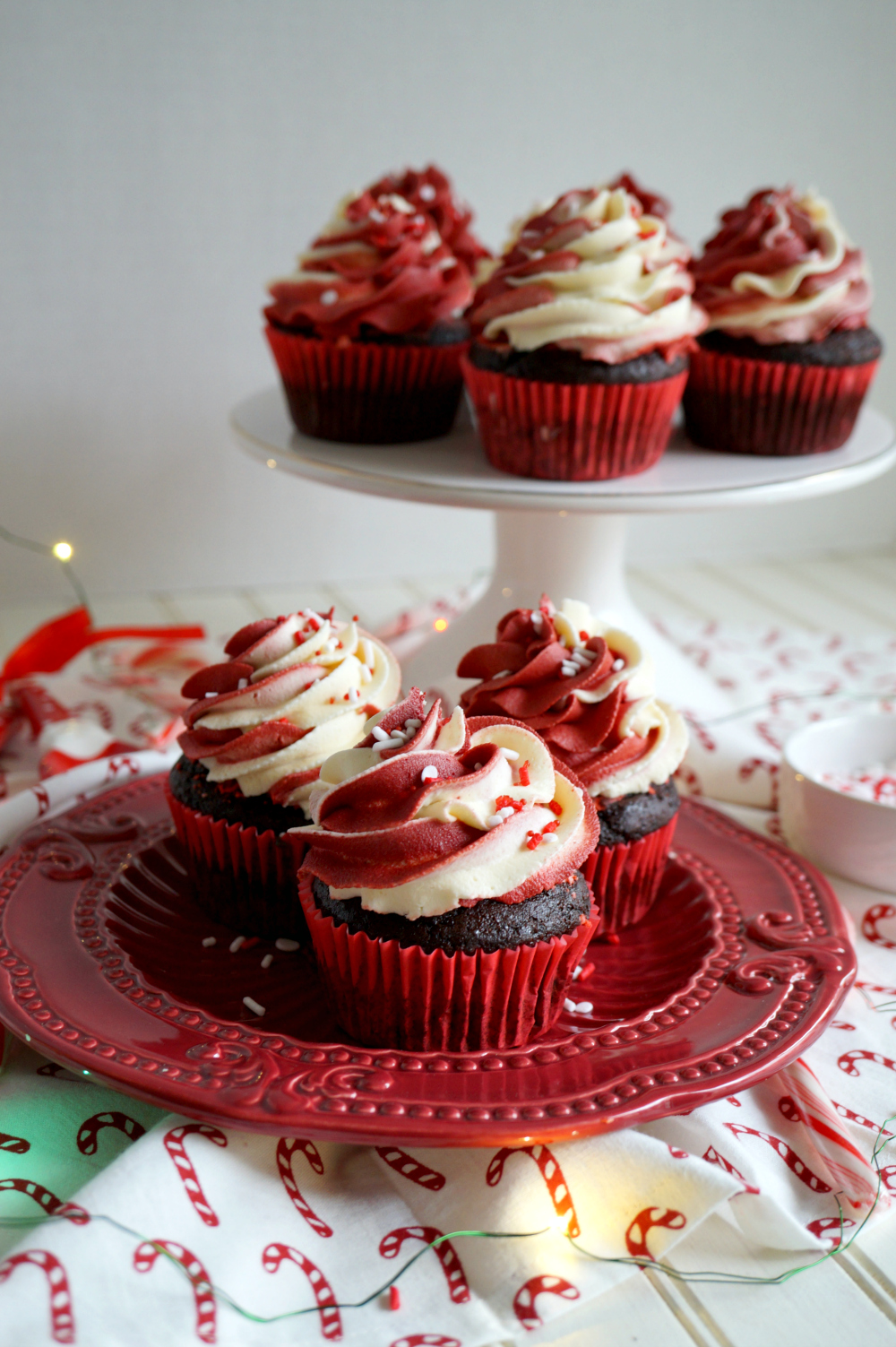 Happy Thursday, friends! #ChristmasSweetsWeek continues today, and I have another delicious treat for you. Vegan Chocolate Peppermint Cupcakes! These sweeties are made of rich chocolate cake flavored with a hint of peppermint, and topped with a gorgeous swirled red & white peppermint vanilla frosting. These cupcakes may look impressive, but they really are deceivingly easy to make. I promise I will share all my secrets 🙂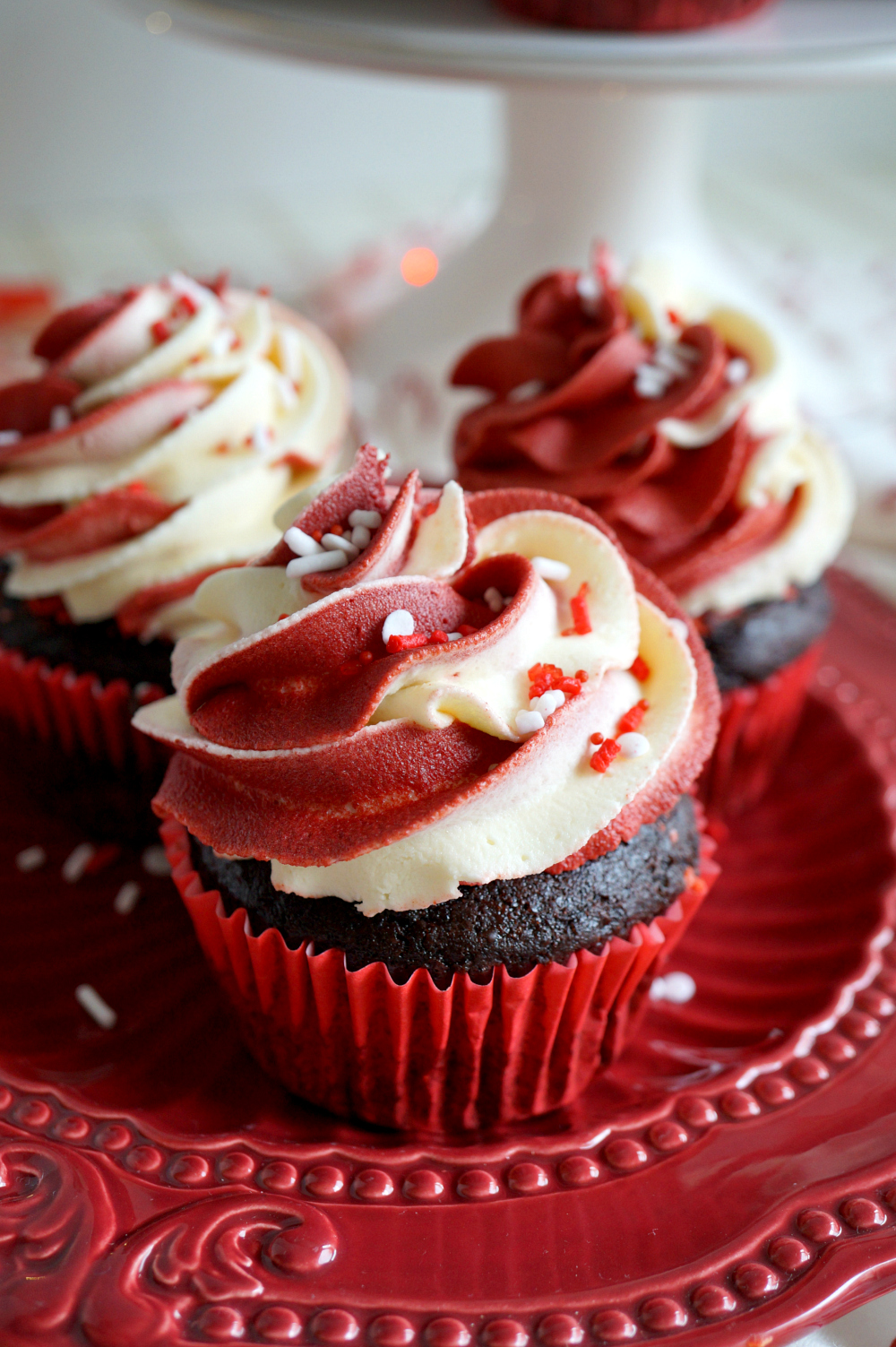 I have never been a fan of peppermint in my life and yet... last year I tried drinking hot chocolate with a bit of crushed candy cane in it and I became obsessed. You may remember these cute peppermint bark madeleines I made last year in the same vein. I knew the peppermint had to make a comeback this year, but in cake/cupcake form! I asked my trusty vegan BFF for advice, and she said that since the gingerbread cake I made earlier this week was already a layer cake, to make my chocolate-peppermint treat into a cupcake to make it less daunting! Which, she is totally right. I may think that layer cakes are no sweat, but cupcakes are way more approachable for the casual baker 🙂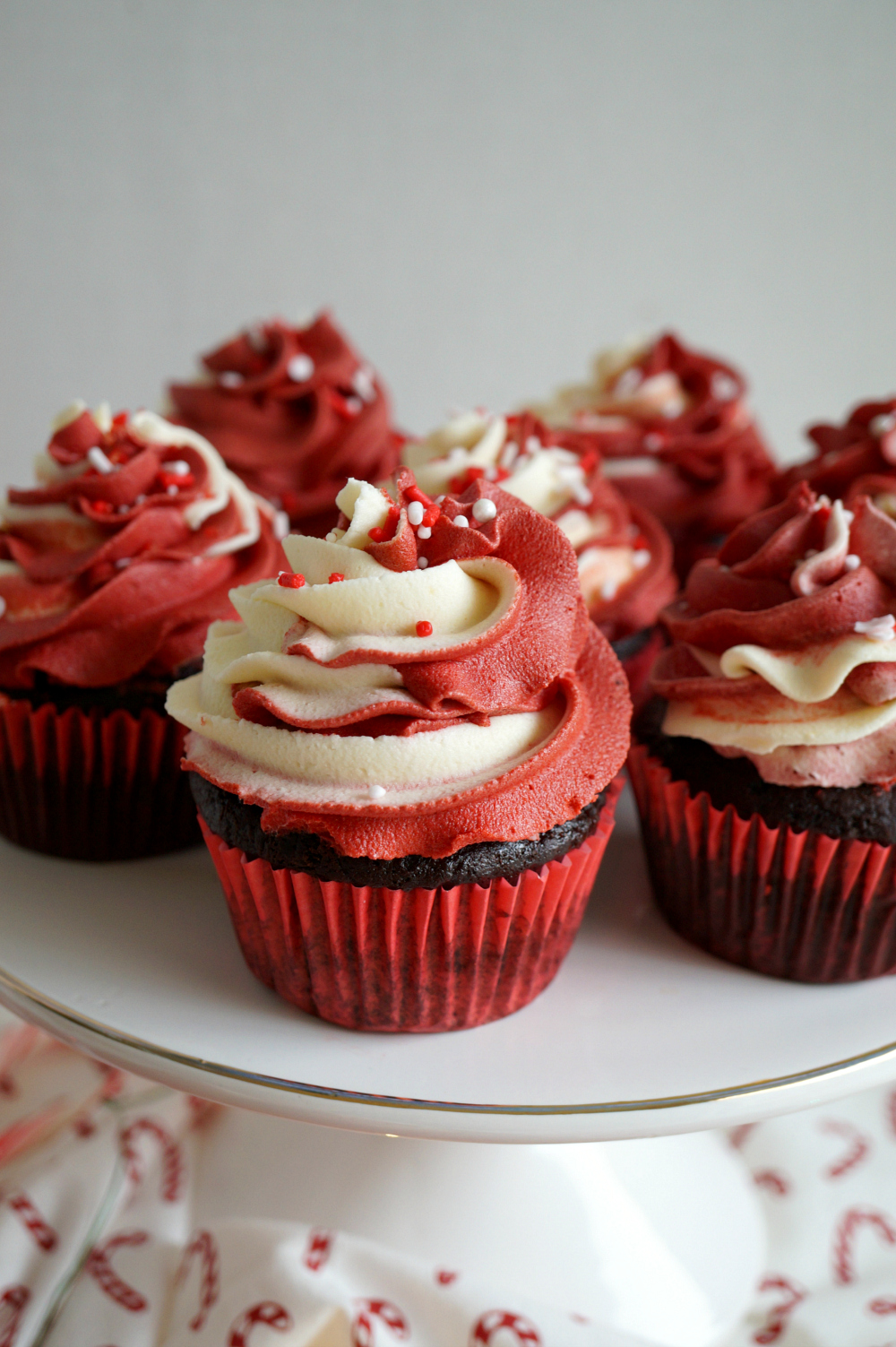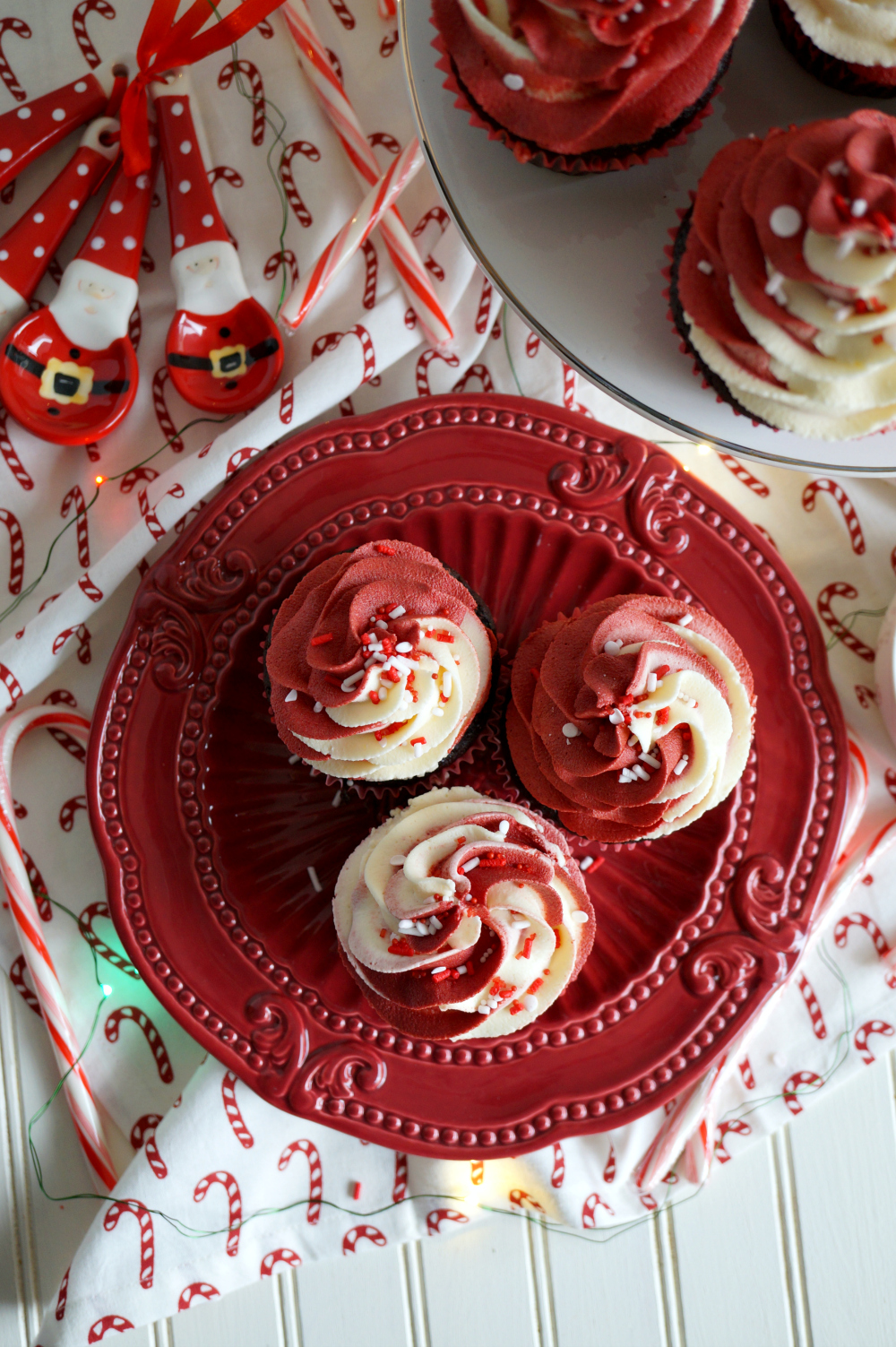 Tips for success for your chocolate peppermint cupcakes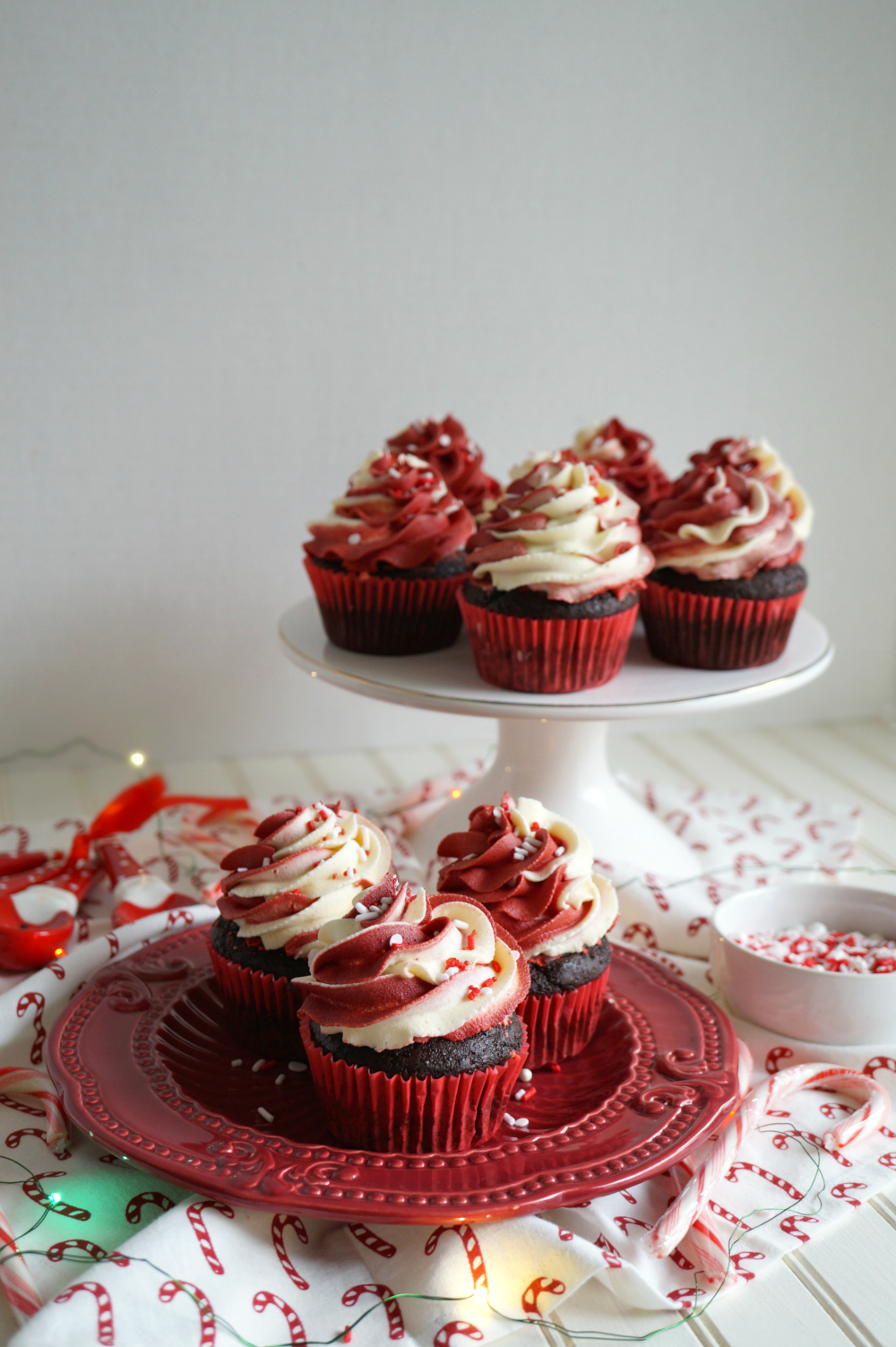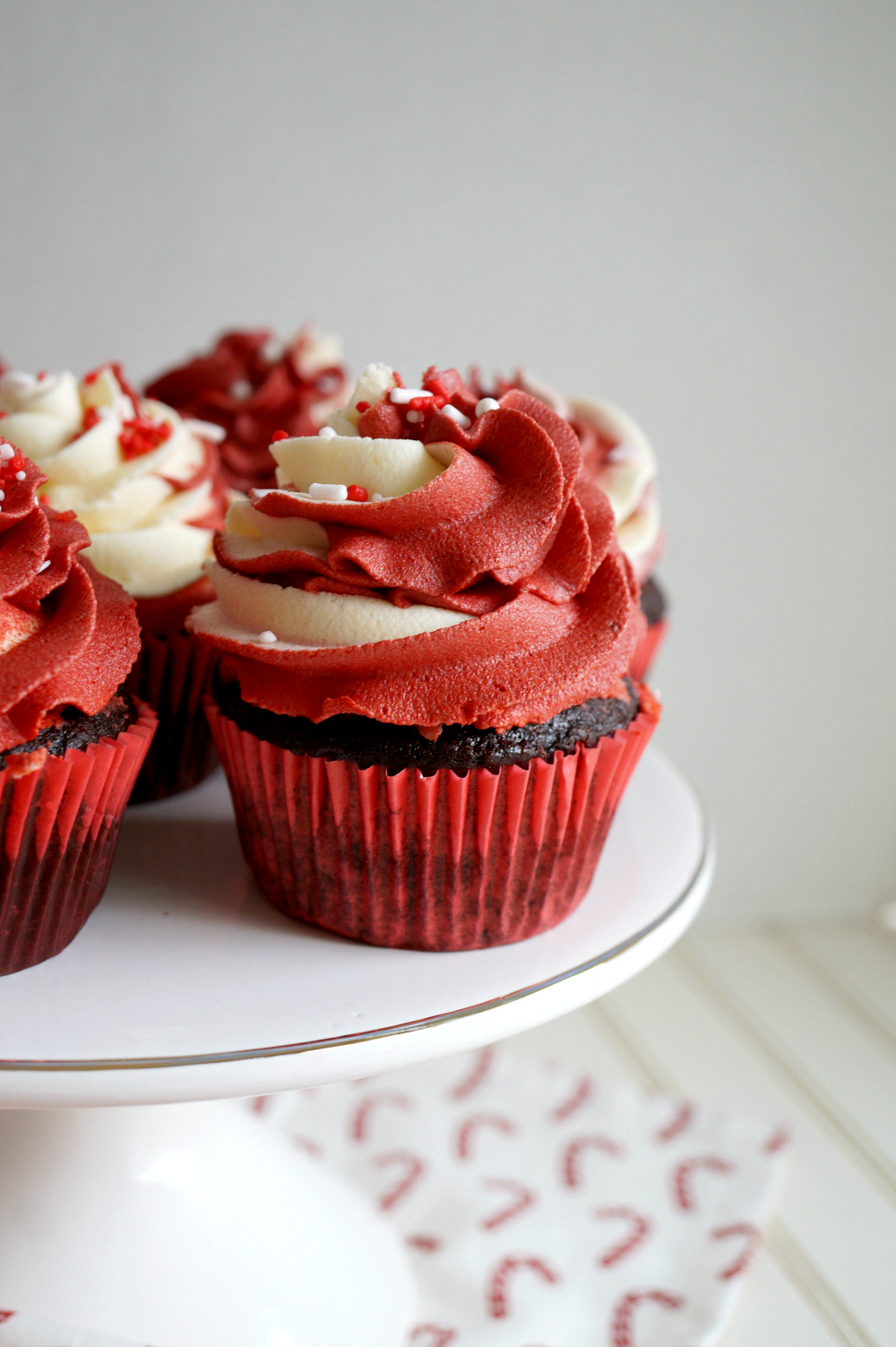 I hope you guys liked these vegan chocolate peppermint cupcakes and that you'll make them sometime this winter! They are super simple and so tasty. If you want to make them easier - skip doing the swirled frosting, and just make it white with red sprinkles on top (or even crushed peppermint pieces or a peppermint candy). Still cute and it gets the point across 🙂
Be sure to check out Monday's recipe for #ChristmasSweetsWeek: Vegan Gingerbread Layer Cake

vegan chocolate peppermint cupcakes
These cute Vegan Chocolate Peppermint Cupcakes are sure to get you in a festive mood. Fluffy chocolate-peppermint cupcakes are topped with a fun red & white swirled peppermint frosting!
Author:
Valentina | The Baking Fairy
Ingredients
*for the cupcakes*
1¼ cups all-purpose flour
1 cup white granulated sugar
½ cup cocoa powder
1 teaspoon baking powder
½ teaspoon baking soda
¼ teaspoon salt
1 cup unsweetened vanilla almond milk
⅓ cup vegetable oil
2 tablespoon white vinegar
1 tablespoon vanilla extract
1 teaspoon peppermint extract
*for the frosting*
½ cup shortening
½ cup vegan butter
4 cups powdered sugar
2 teaspoon vanilla extract
1 teaspoon peppermint extract
pinch of salt
red food coloring, as needed
red and white sprinkles to decorate
Instructions
Preheat the oven to 350F. Line a cupcake pan with 18 liners, and set aside.
In a large bowl, whisk together the flour, cocoa, sugar, salt, baking powder, and baking soda.
Add in the almond milk and oil, and mix vigorously. Add in the vinegar, vanilla, and peppermint, and mix until well combined.
Divide batter evenly among the prepared liners, filling each cup about ⅔ of the way.
Bake for 18-20 minutes, until a toothpick inserted in the center comes out with just a few crumbs.
While the cupcakes cool, make the frosting.
In the bowl of a stand mixer, beat the shortening, vegan butter, vanilla extract and peppermint extract together until completely smooth and creamy. Add in the powdered sugar, 1 cup at a time, until a thick frosting forms. If frosting appears too thick or lumpy, add a few spoonfuls of nondairy milk until it smooths back out.
Scoop half of the white frosting into a separate bowl, and add red food coloring to the frosting in the stand mixer. Mix and add more until you reach your desired color.
Grab three piping bags and snip the tip off of all. Spoon some white frosting in one of the bags, and red frosting in a second bag. Place your piping tip in the third bag, and then insert your white and red frosting bags inside as well. See the video linked above if you need a visual!
Decorate the top of each cupcake, and top with the sprinkles. Enjoy!
Welcome to #ChristmasSweetsWeek 2019! Co-hosted by Terri from Love and Confections and Christie from A Kitchen Hoor's Adventures! What better way to celebrate the holidays than with food and fun? 25 bloggers from around the country have come together to share some of their favorite sweet Christmas recipes!! Deck the halls and get ready for very merry sweet treats, like fudge, cookies, Christmas morning breakfasts, layer cakes, cocoa, and more! Follow along on social media with our #ChristmasSweetsWeek hashtag. Happy Holidays!
Enjoy these #ChristmasSweetsWeek recipes from our bloggers:
Christmas Breakfasts:
Easy Candied Orange Peel Sticky Rolls from A Day in the Life on the Farm
Christmas Pastries and Desserts:
Cherry Streusel Pie from Seduction In The Kitchen
Chocolate Chip Rudolph Cheese Ball from Big Bears Wife
Eggnog Danish Kringle from The Kitchen Prep
Key Lime Thumbprint Cookies from It Bakes Me Happy
Peppermint Mocha Brownies from The Redhead Baker
Polar Bear Paws from Our Good Life
Vegan Chocolate Peppermint Cupcakes from The Baking Fairy
Christmas Candies:
Easy Nut Brittle from A Kitchen Hoor's Adventures