Welcome winter with this fun Vegan Gingerbread Layer Cake! It's flavored with powdered ginger, fresh ginger AND crystallized ginger for a triple threat of deliciousness.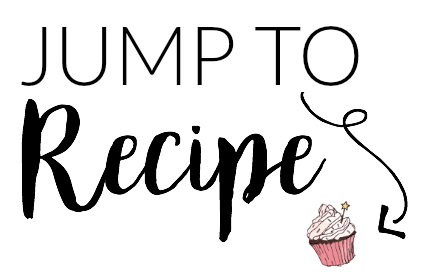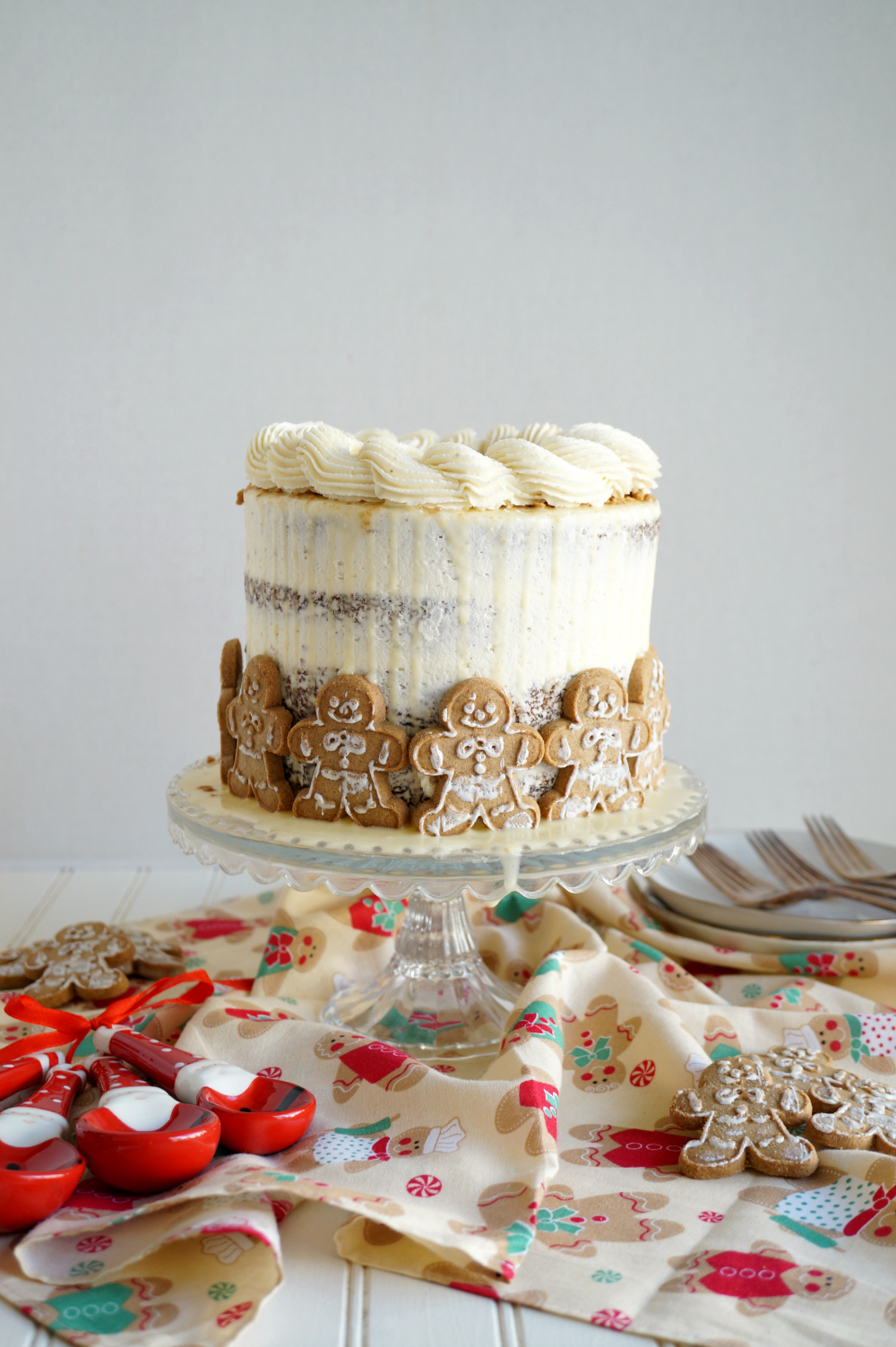 Hi friends and happy Monday! I am so excited to be sharing this recipe for this fun Vegan Gingerbread Layer Cake today, as it marks the first day of #ChristmasSweetsWeek! You may remember I participated last year and made fun Christmas-themed treats including this Vegan Hot Chocolate Layer Cake, these Vegan Gingerbread Cupcakes with Eggnog Frosting, and Vanilla & Spice Mulled Wine. I was more than happy to join in the fun again this year. Since I've been on a big layer cake kick recently, a pretty makeover for gingerbread cake seemed fitting!
This adorable gingerbread layer cake has just a couple of simple components that come together to create holiday perfection! Of course you have the gingerbread cake layers - flavored with a triple punch of powdered spiced, fresh grated ginger, AND crystallized ginger pieces. The frosting is a simple vanilla buttercream that I added a bit of powdered ginger and cinnamon to for an extra layer of deliciousness. And the easiest (and cutest) part - the gingerbread men! I just bought a bag of Stauffer's gingerbread cookies at the store which happen to be accidentally vegan. I saved all the prettiest ones for the edge, and then crushed some to add extra flavor and texture to the top of the cake. I also attempted a white chocolate drip, but it wasn't super cooperative that day. LOL. Everything still tasted delicious though!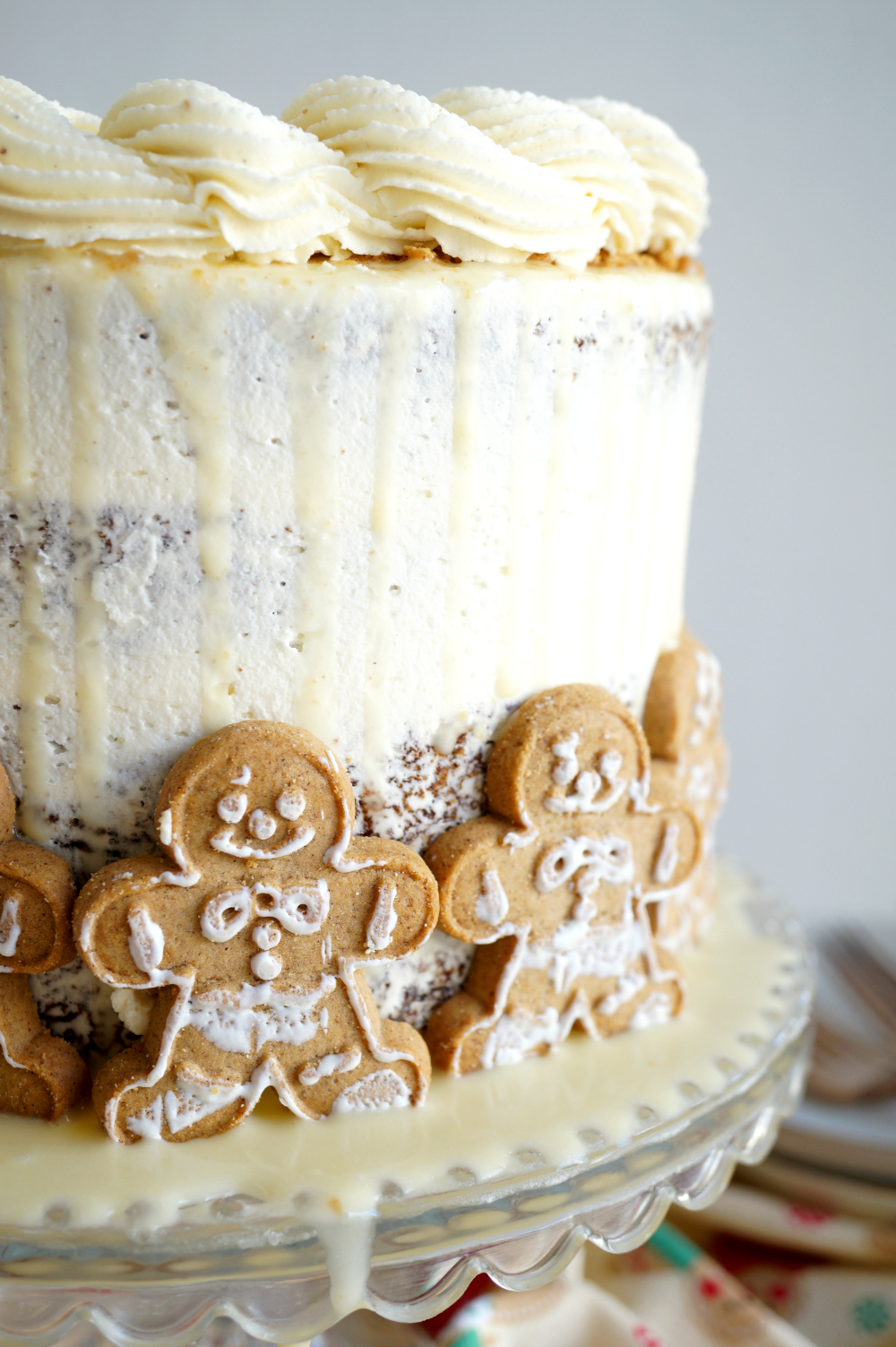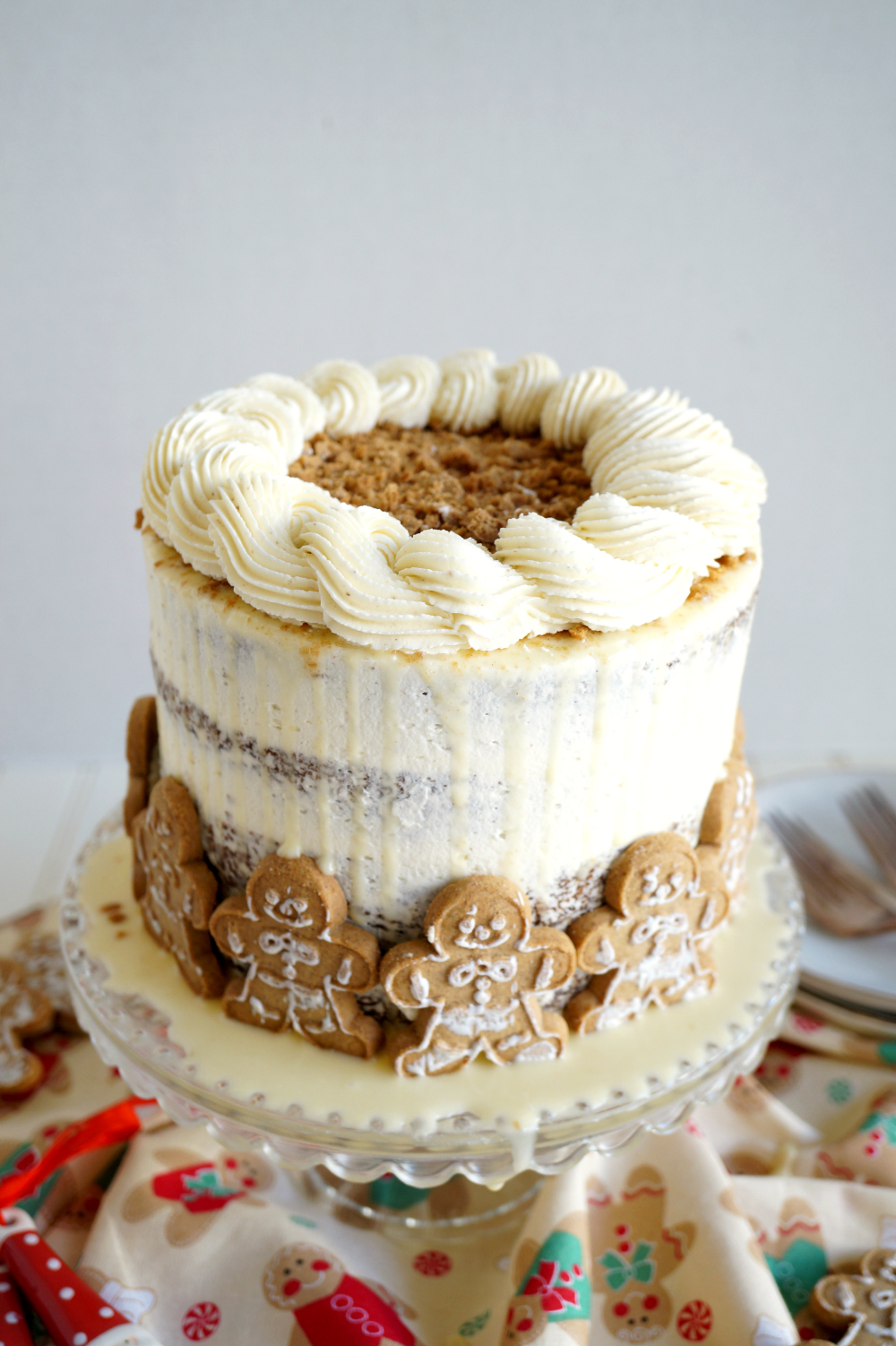 Tips for success for your gingerbread layer cake
Plan ahead! My cakes always look best when I bake them the day before, trim them, wrap them tightly in plastic, and let them rest in the fridge overnight. Letting them chill makes them nice and firm and super easy to work with. Doing everything on the same day makes me feel rushed and usually makes for a sloppier end product.
Don't skip the fresh ginger! I know grating it is an extra step, but adding the fresh product makes for such a flavorful cake. It also adds extra moisture! In a pinch, you could use a refrigerated squeeze tube of ginger (make sure there is no garlic or other seasonings added). Fresh ginger is so cheap though, so that's what I recommend 🙂
Why use half vegan butter and half shortening? I have tried all the combinations over the years, and I've found that doing half and half gives you the best tasting but also sturdiest frosting. All shortening doesn't taste as good (and ends up being too stiff), and all vegan butter doesn't reliably stay firm at room temperature. I have been using Country Crock Avocado Oil Plant Butter Sticks and Nutiva Red Palm Shortening for the past few months and they've been working really well.
How do you pipe the top border? I used a Wilton 4B tip, and piped in a circular motion to make the rope effect.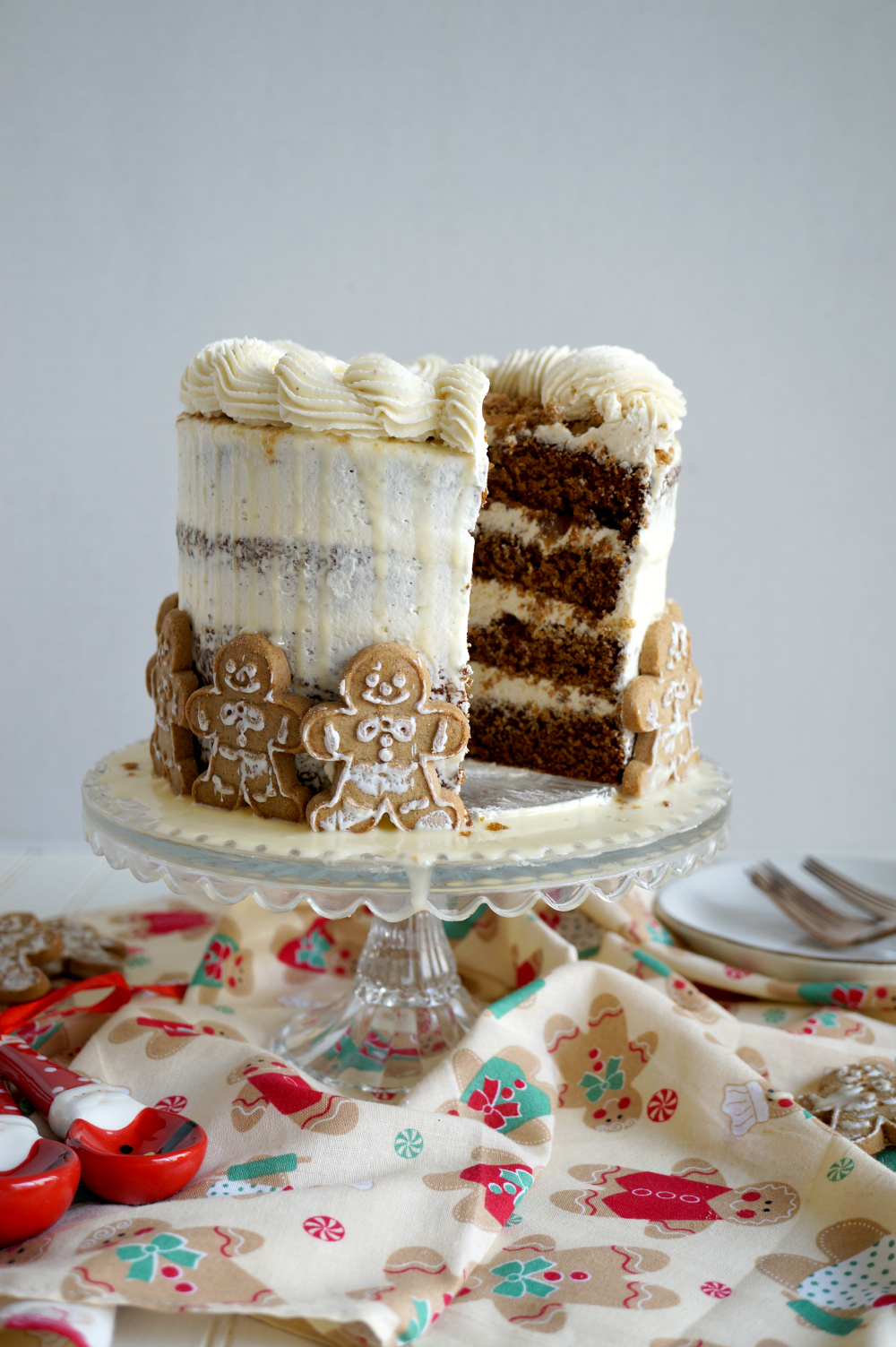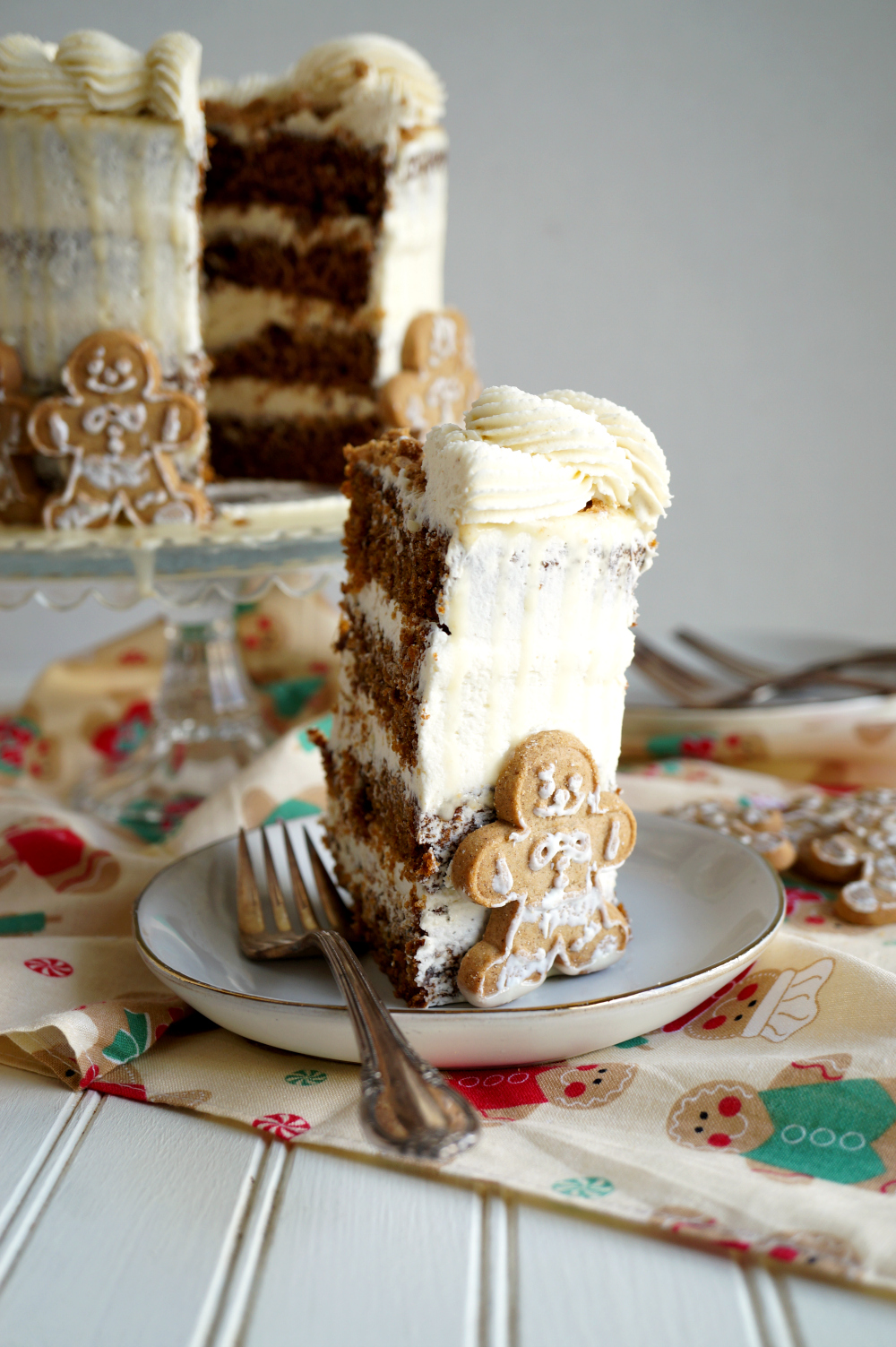 You guys MUST try this vegan gingerbread layer cake sometime this season! It is seriously so flavorful and tastes just like Christmas. I brought it to work, and I have NEVER gotten so many compliments about a cake before. It will seriously blow your mind! 🙂
I have another Christmas recipe planned for Thursday, so be sure to circle back around and see what I whipped up 🙂 Remember that #ChristmasSweetsWeek is a group event, so scroll past my recipe to see everyone's creations!

vegan gingerbread layer cake
Welcome winter with this fun Vegan Gingerbread Layer Cake! It's flavored with powdered ginger, fresh ginger AND crystallized ginger for a triple threat of deliciousness.
Author:
Valentina | The Baking Fairy
Ingredients
*for the gingerbread cake*
2 tablespoon ground flaxseed + 6 tablespoon water
½ cup packed dark brown sugar
½ cup granulated white sugar
1¾ cups all-purpose flour
2 teaspoon baking powder
1 teaspoon baking soda
½ teaspoon salt
2 teaspoon ground cinnamon
2 teaspoon ground ginger
¼ teaspoon freshly grated nutmeg
2 teaspoon vanilla extract
2 tablespoon grated fresh ginger
¼ cup vegan butter
¼ cup vegetable oil
⅓ cup vegan vanilla yogurt
⅓ cup molasses
⅓ cup nondairy milk
¼ cup crystallized ginger pieces
*for the frosting*
½ cup vegan butter
½ cup shortening
4 cups powdered sugar
1 teaspoon ground ginger
1 teaspoon cinnamon
½ tablespoon vanilla extract
pinch of salt
splash of milk, if needed
*to decorate*
store-bought gingerbread man cookies
Instructions
Preheat oven to 350F and spray two 6" cake pans with baking spray. In a small bowl, whisk together the ground flaxseed with the water and set aside to thicken.
In the bowl of a stand mixer, combine the flour, baking powder, baking soda, salt, sugars, cinnamon, ginger, nutmeg, and cloves.
Add in the vegan butter, and beat on low until it's incorporated and has a sandy texture.
In a small bowl, whisk together the oil, flaxseed mixture, nondairy yogurt, fresh grated ginger, molasses, and vanilla extract, and add them to the dry ingredients. Mix until combined.
Pour in the unsweetened nondairy milk, and beat on medium-low until smooth and creamy.
Finally, fold in the crystallized ginger.
Divide batter evenly among the two pans, and bake for 35-40 minutes, until a toothpick inserted in the center comes out clean.
Let cool slightly in the pans, then turn out onto cooling racks to finish cooling.
When the cakes are completely cooled, you can make the frosting. In the bowl of a stand mixer, beat the shortening, vegan butter, vanilla extract, ginger, and cinnamon together until completely smooth and creamy. Add in the powdered sugar, 1 cup at a time, until a thick frosting forms. Add in the salt. It is normal to need to add 1-2 tablespoon of milk to get the right consistency.
To assemble the cake, divide the 2 cake layers in half to create 4 thin layers.
Place one cake piece on your cake stand or platter, and spread some frosting on top. Repeat with all.
Next, cover the cake with the remaining frosting. I always like the "naked" look, so I cover the cake and use a bench scraper to get rid of any excess. Repeat to fill any gaps!
Grab your store-bought gingerbread man cookies, and pick the prettiest ones to create a border around the bottom of the cake. You may need to pipe a little dollop of frosting on the back of the cookies to get them to stay in place.
Crush 3-4 cookies and sprinkle the crumbs on top of the cake.
Finally, for the border, spoon the remaining frosting in a piping bag fitted with a 4B tip. Pipe in a coil/spiral motion to create the rope effect.
Let cake chill in the fridge for 30 or more minutes before serving. Enjoy!
Welcome to #ChristmasSweetsWeek 2019! Co-hosted by Terri from Love and Confections and Christie from A Kitchen Hoor's Adventures! What better way to celebrate the holidays than with food and fun? 25 bloggers from around the country have come together to share some of their favorite sweet Christmas recipes!! Deck the halls and get ready for very merry sweet treats, like fudge, cookies, Christmas morning breakfasts, layer cakes, cocoa, and more! Follow along on social media with our #ChristmasSweetsWeek hashtag. Happy Holidays!
Enjoy these #ChristmasSweetsWeek recipes from our bloggers:
Christmas Beverages:
Fluffernutter Latte from The Kitchen Prep
Hansel and Gretel Gingerbread Latte from Blogghetti
Mexicoco from YumGoggle
S'mores Hot Chocolate from For the Love of Food
Christmas Breakfasts:
Cinnamon Roll Pancakes from Daily Dish Recipes
Flaky Nutella Christmas Tree from Shockingly Delicious
Gingerbread Sweet Rolls from The Redhead Baker
Grinch Pancakes from Katie's Cucina
Mini Chocolate Peppermint Baked Donuts from It Bakes Me Happy
Christmas Pastries and Desserts:
Angel Sugar Crisps from Jolene's Recipe Journal
Chocolate Cherry Loaf from Seduction In The Kitchen
Hot Chocolate Cookie Cups from Sweet Beginnings
Peppermint Chunk Cookies from A Day in the Life on the Farm
Snowman Cupcakes from Hezzi-D's Books and Cooks
Toy Soldier Frosted Brownies from Big Bear's Wife
Vegan Gingerbread Layer Cake from The Baking Fairy
Christmas Candies:
Bourbon Balls from A Kitchen Hoor's Adventures
Chocolate Peppermint Truffles from Family Around the Table
Christmas Crack (Saltine Toffee) from Palatable Pastime
Gingerbread Fudge from Love and Confections
Slow Cooker Chocolate Peanut Candy from Cheese Curd In Paradise
Spiced Pecans with a Rum Glaze from Karen's Kitchen Stories
Star Crunch Inspired Bars from Our Good Life
*Disclosure: I am part of the Amazon Associates Program, and there may be affiliate links on this page. If you buy anything through my website, I will receive a small percentage of the profit at no extra cost to you. Thank you for supporting my blog!*