This Vegan Hummingbird Layer Cake is a delicious plant-based take on a Southern classic. A banana, pineapple, and pecan cake is layered with pineapple filling, dreamy vanilla frosting, and beautiful dehydrated pineapple flowers.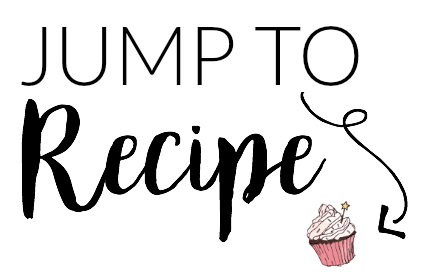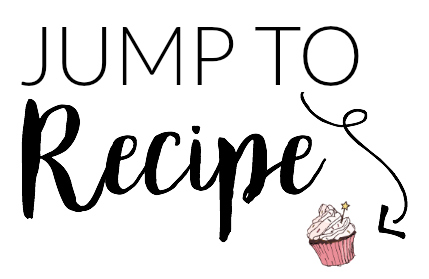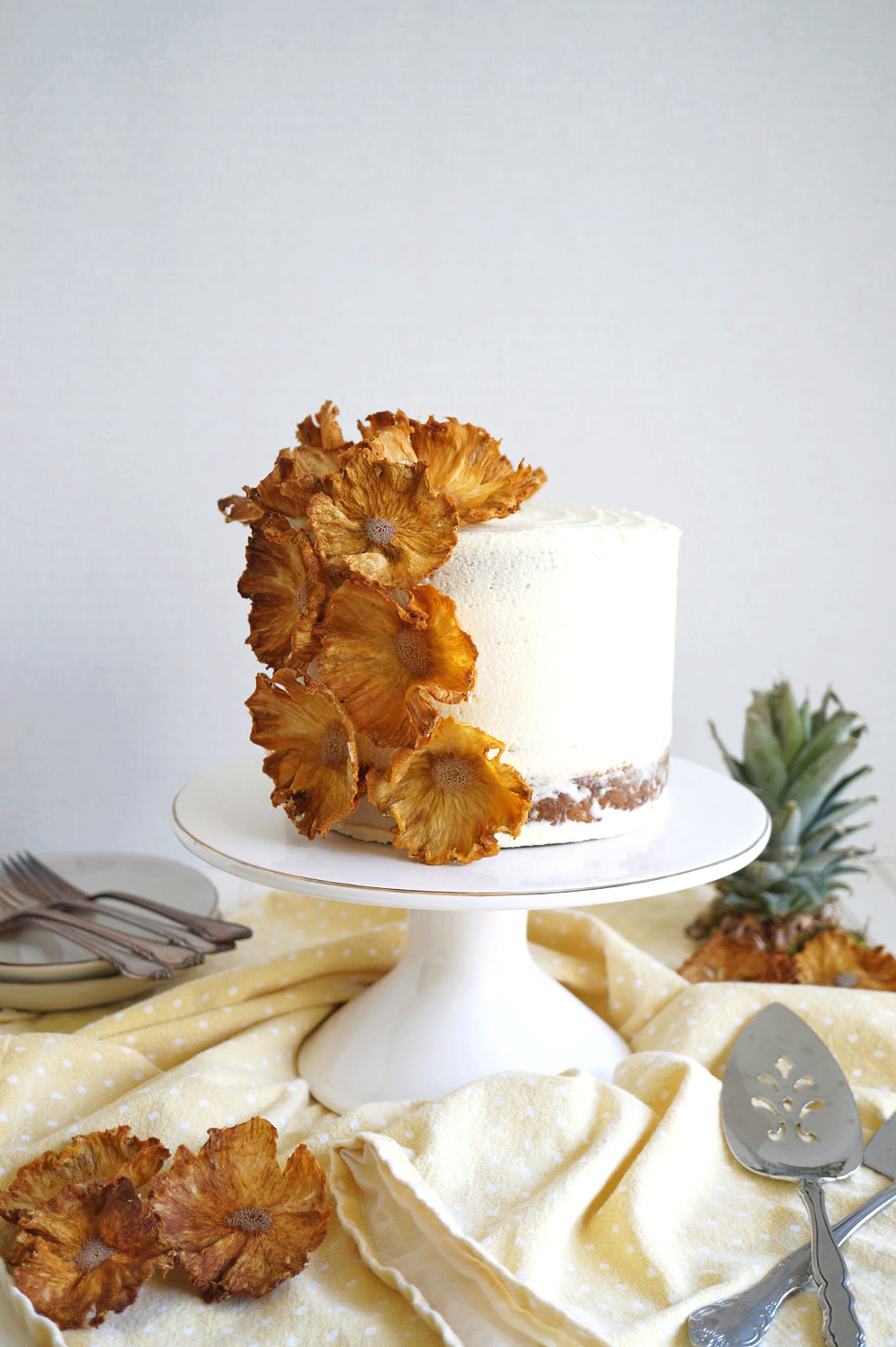 Hello loves and happy Thursday! I am so excited to be sharing this gorgeous cake with y'all today... I just love how it came out. This is my Vegan Hummingbird Layer Cake and it is as delicious as it is beautiful! If you are not familiar with it, hummingbird cake is a southern dessert of banana cake with pecans and pineapple. I decided to cover it in a scrumptious vanilla frosting, stuff it with some pineapple filling, and then decorated it with these stunning flowers made of dehydrated pineapple! It's actually quite a simple dessert, but the decorations are giving me allll the spring and summer vibes.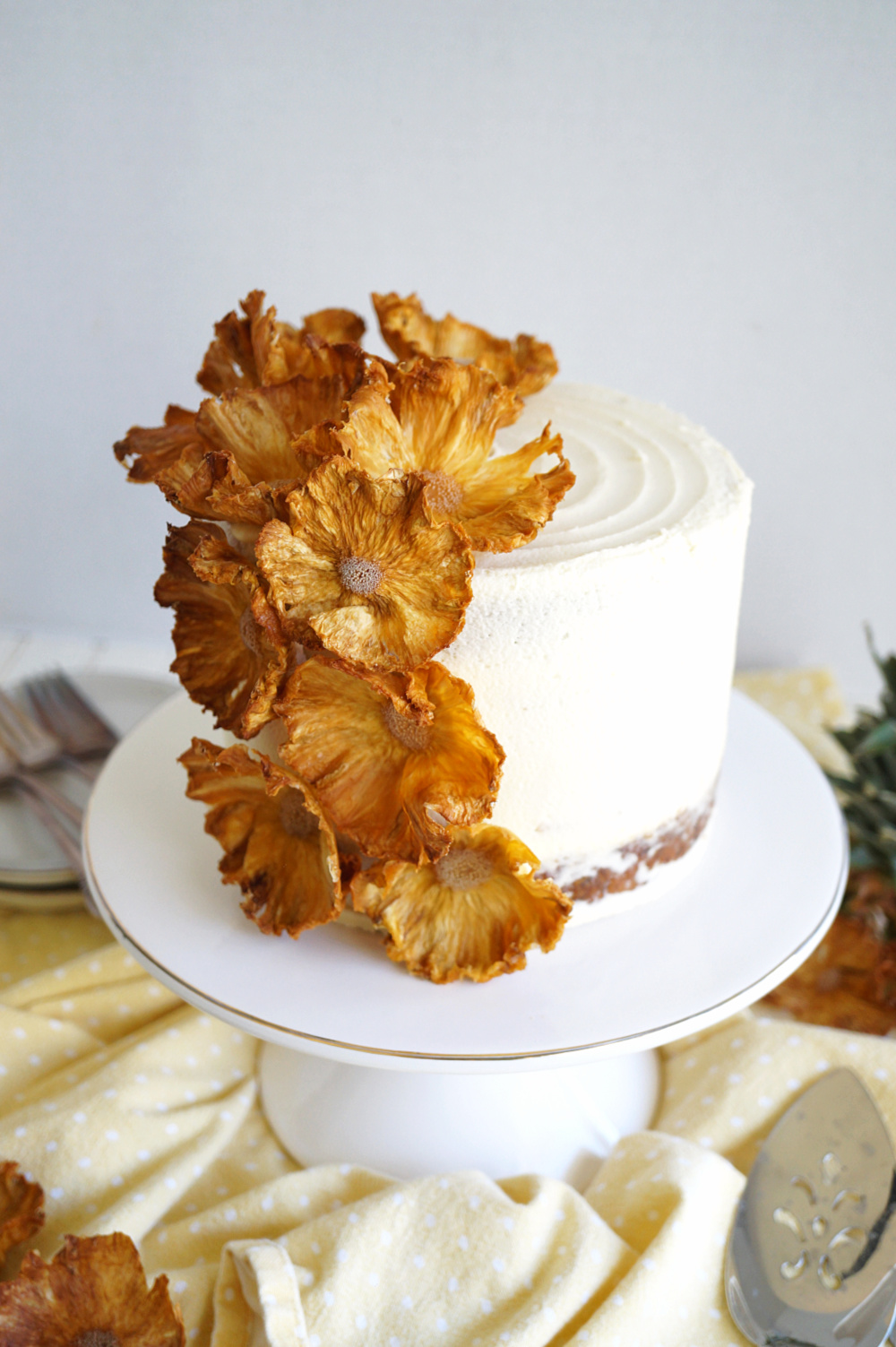 I have been wanting to make these gorgeous dehydrated pineapple flowers for years, but I never had the right recipe to use them with to really make them pop. When one of my readers asked if I had a hummingbird recipe on the blog, I had a total lightbulb moment! This was the perfect occasion to make those pretty flowers AND post a requested recipe, all in one 🙂 This hummingbird layer cake is soft, moist, and absolutely delicious. I just love how the pineapple, banana, and pecans all play together. And the dried pineapple flowers are actually pretty tasty themselves!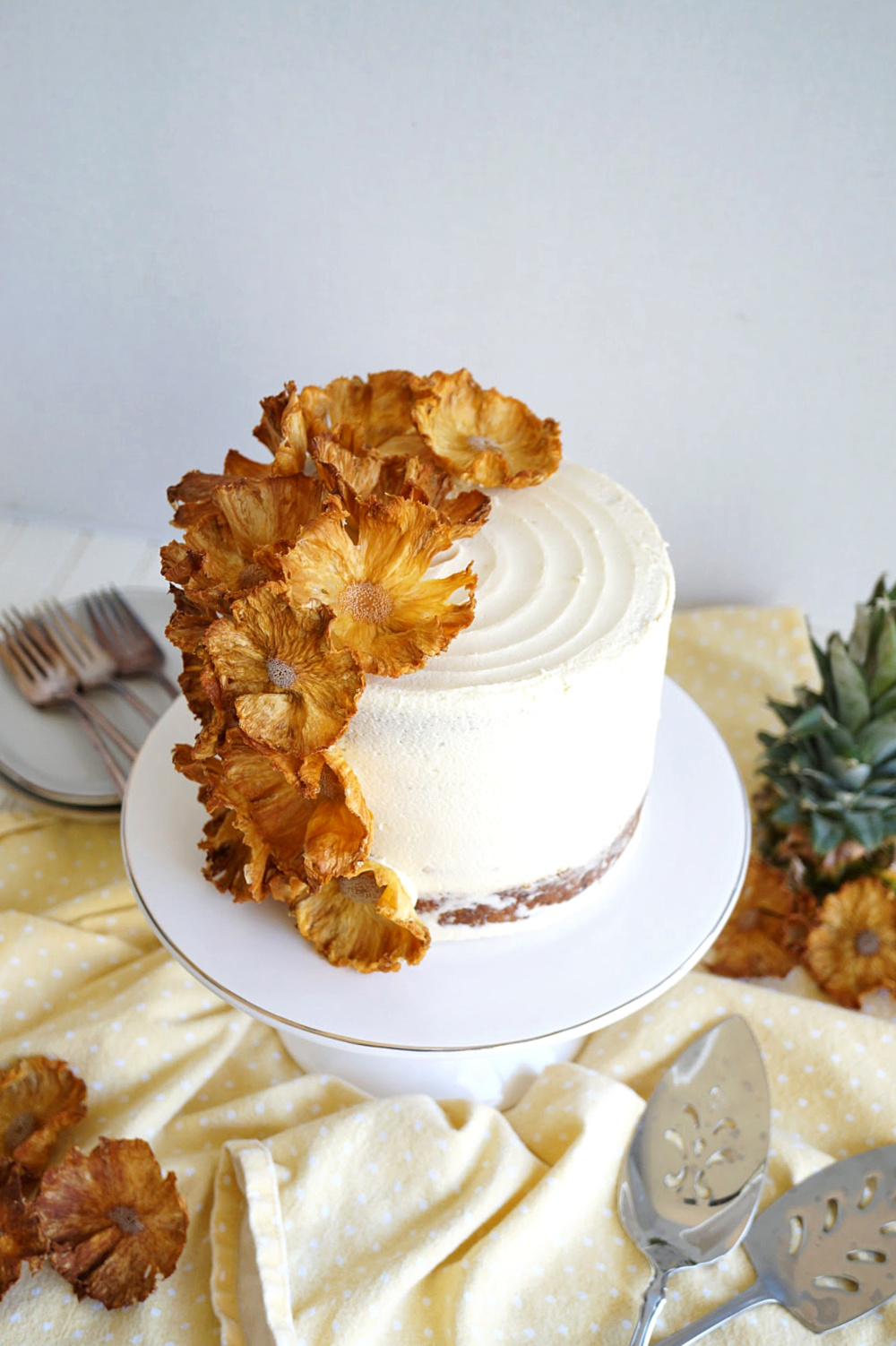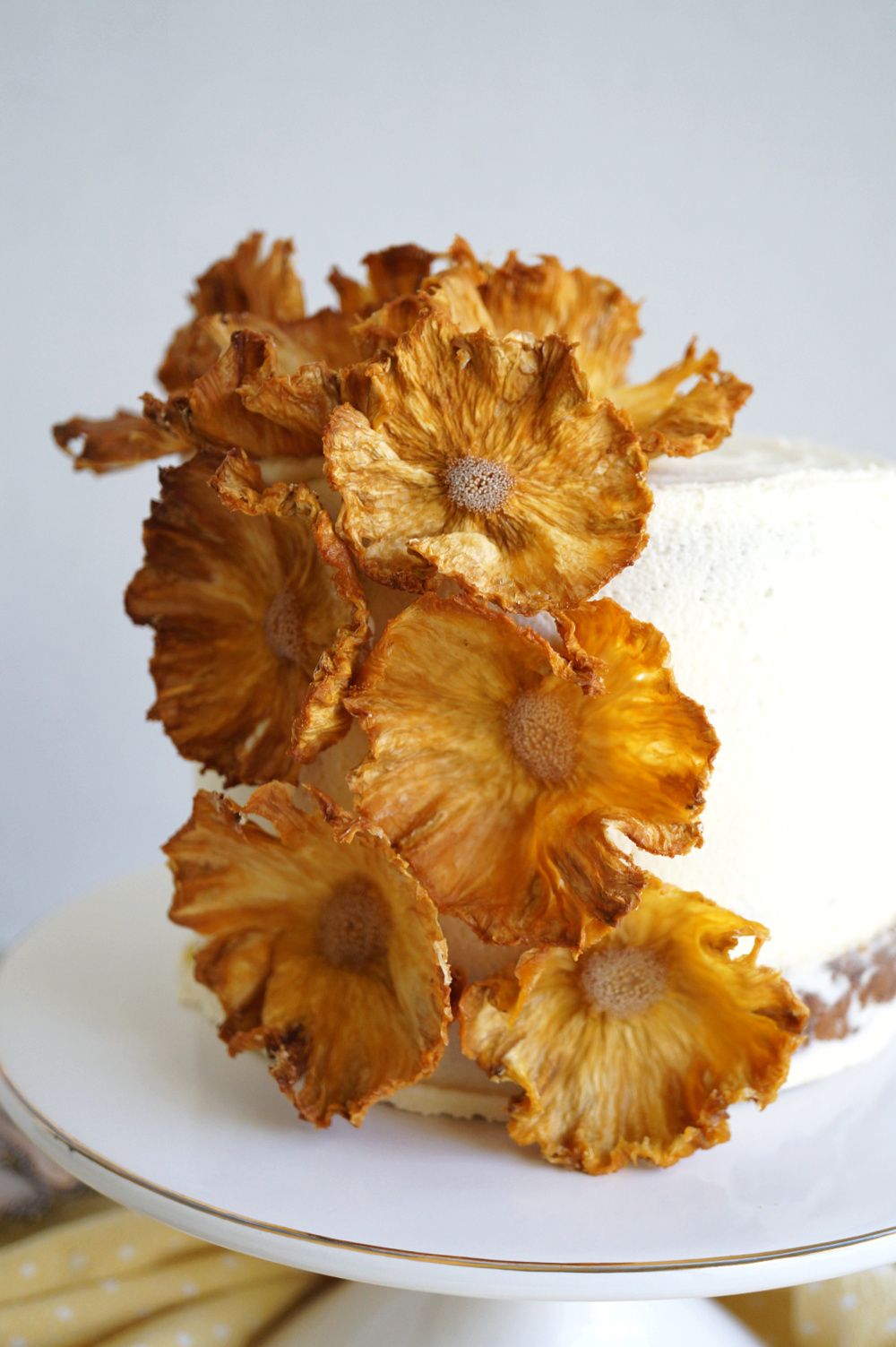 How do I make dried pineapple flowers at home?
These flowers are surprisingly simple! You only need two ingredients... a fresh pineapple and a lot of TIME.
First, cut off the top and bottom of your pineapple, and carefully go around and cut off the rind. Try your best to save as much pineapple as possible!
Next, slice your pineapple as thinly as you can. I used a knife and tried my best, but if you have a mandoline, that would be perfect too. Watch your fingers!
Lay your pineapple slices on some paper towels to absorb any excess moisture, and heat up your oven to 200F.
Prepare your wire racks (like the ones you use to cool cakes) on baking sheets, and lay your pineapple on them in a single layer. I used this technique from The Kitchn and stacked my racks on top of each other. Since I only ended up filling two trays, I could have also just done two individual baking sheets with the racks on top.
And now, the longest part... patience!!! I ended up baking my flowers for 3.5-4 hrs total, and I think part of that is because I had to cut my slices by hand so they weren't super thin. The thinner they are, the faster they will dry up!
Once your flowers are baked, but still warm and pliable, place them in a muffin tin to help shape them and allow them to cool.
The only downside is that these pineapple flowers get soft pretty quickly! Try your best not to make them more than 1 day before you will use them. I ended up reheating mine up at 200F for about an hour (in the muffin pans) to get them a bit more crispy on the day I used them. Be sure to let them cool before placing them on your cake!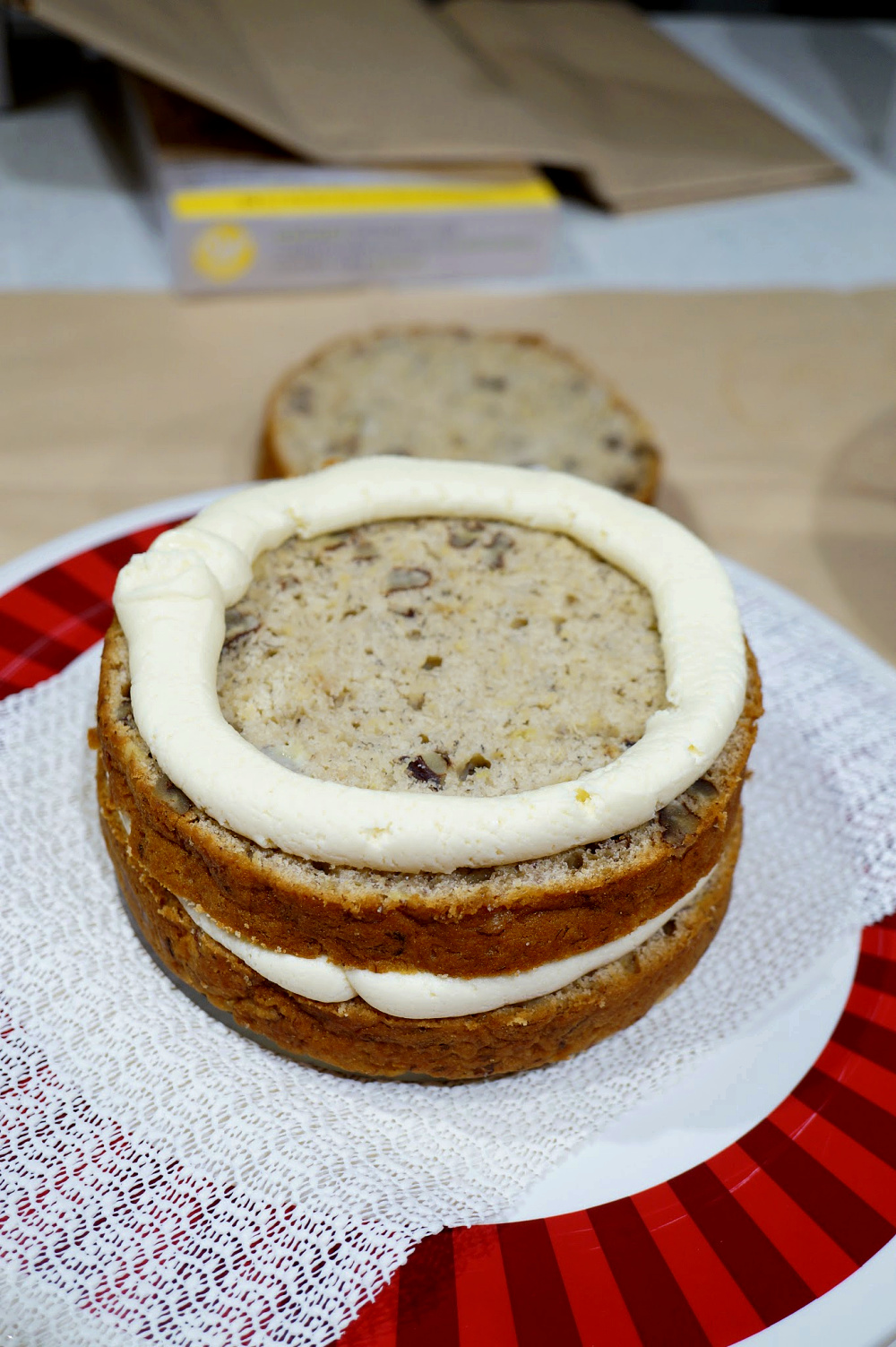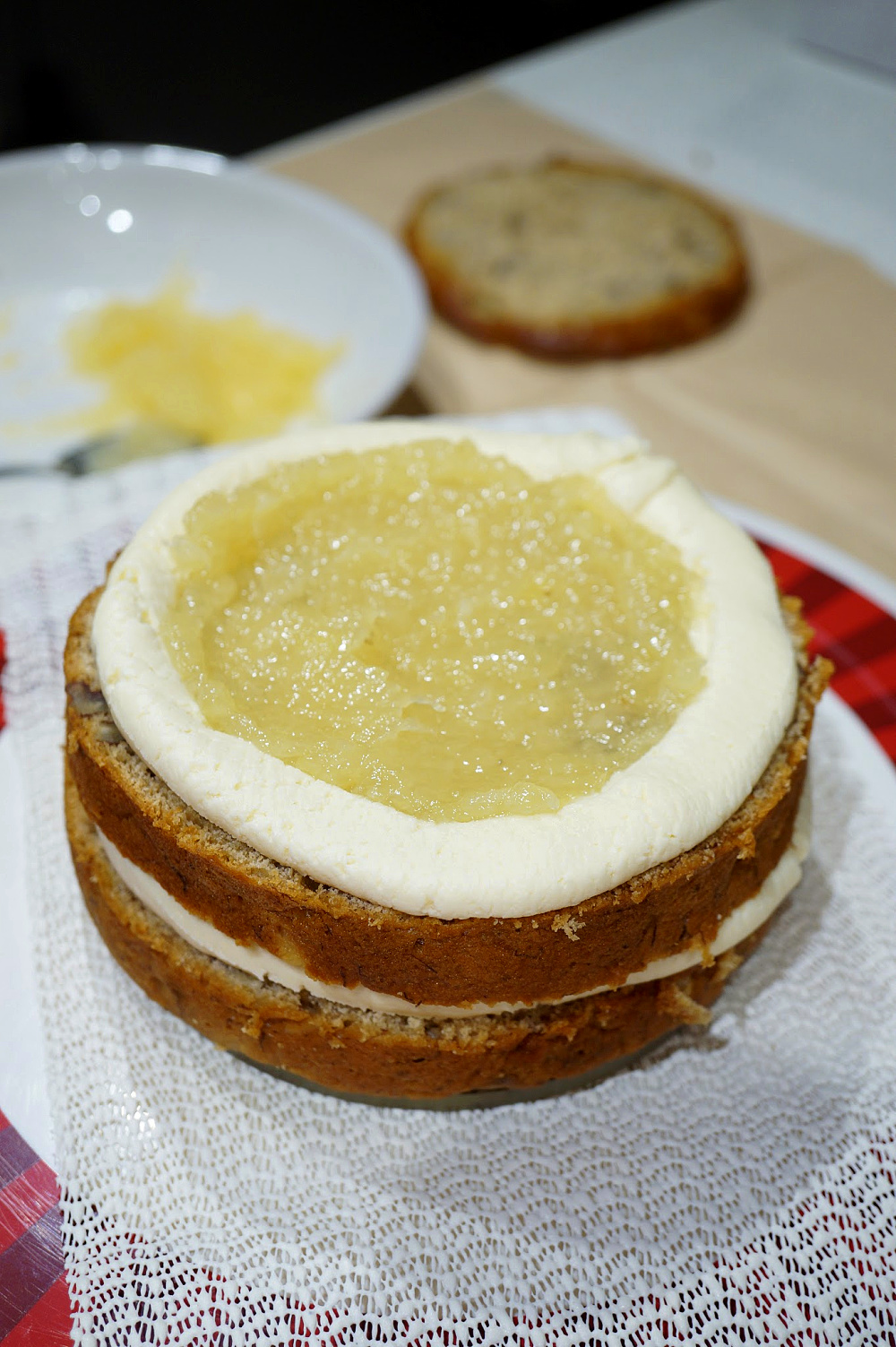 How do I fill my hummingbird layer cake?
This is a question I get a lot! How do you fill a cake with a fruit or cream filling without it oozing out? The secret is that you have to make a little "fence" to hold the filling in. I simply pipe my frosting around the edge of the cake, and then spoon in my filling. Be sure not to overfill. After that, just frost your cake as usual!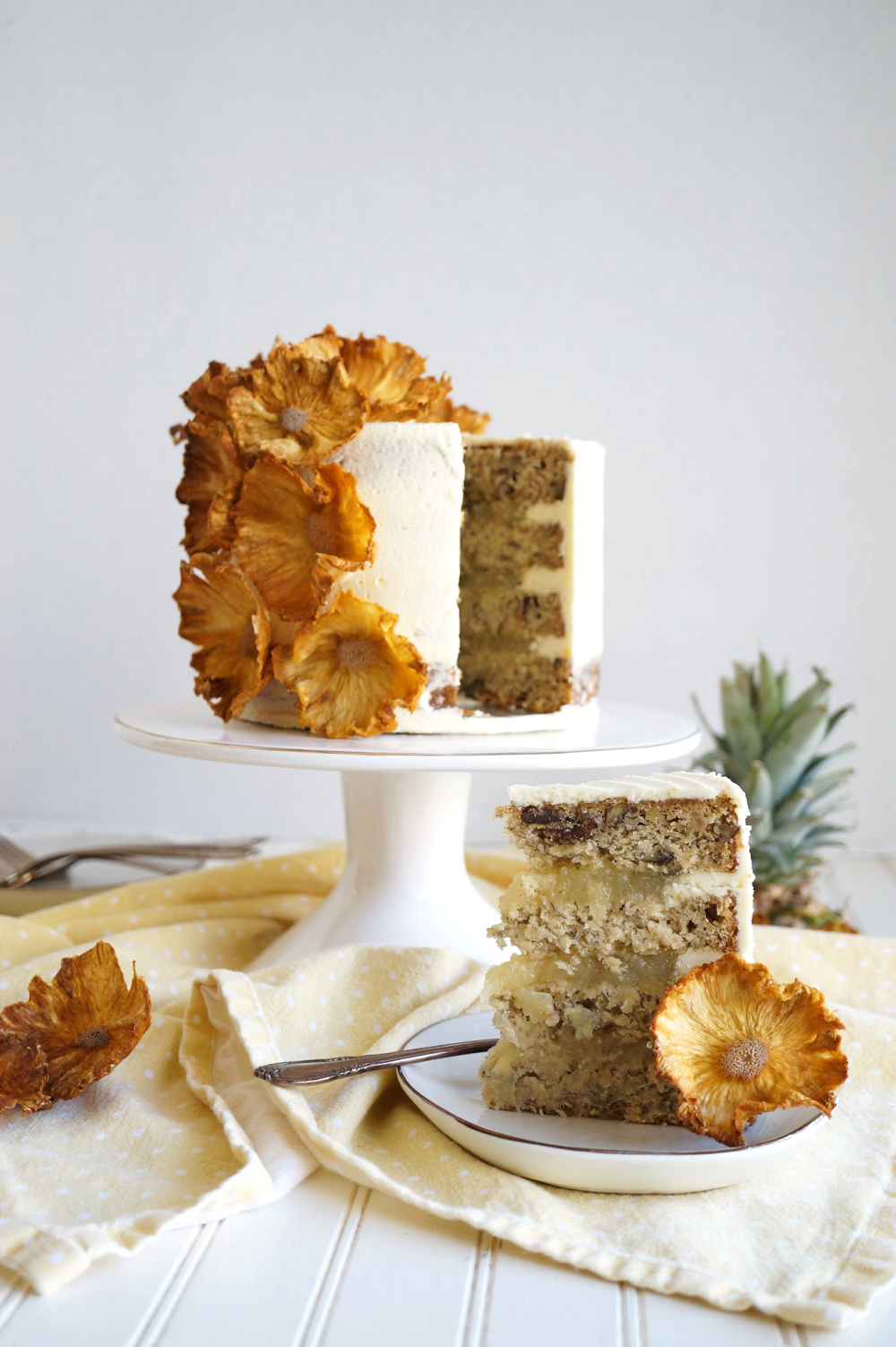 How do I make a vegan hummingbird layer cake at home?
This hummingbird layer cake, although delicious, does have a few different components! It can get tricky to time everything just right. Here is what I suggest as far as order of operations:
Work on the pineapple flowers FIRST, since these take the longest. You can make them ahead of time, but I wouldn't do more than a day or so since then they end up getting soft.
Second thing to make is the actual cake! I find that to make a really nice and sturdy layer cake, it is best to make the cake ahead of time and give it at least a few hours in the fridge. It is so much easier to handle and decorate a cake that has been chilled!
The third thing to do is make the pineapple filling. This takes just a few minutes and cools quickly, so it doesn't have to be made too far in advance.
Finally, the frosting! I basically just make this when I am ready to frost and assemble the cake so it's the right texture. I don't like making it ahead of time and putting it in the fridge because then it gets too firm and sometimes it can be a struggle to get it back to the right consistency.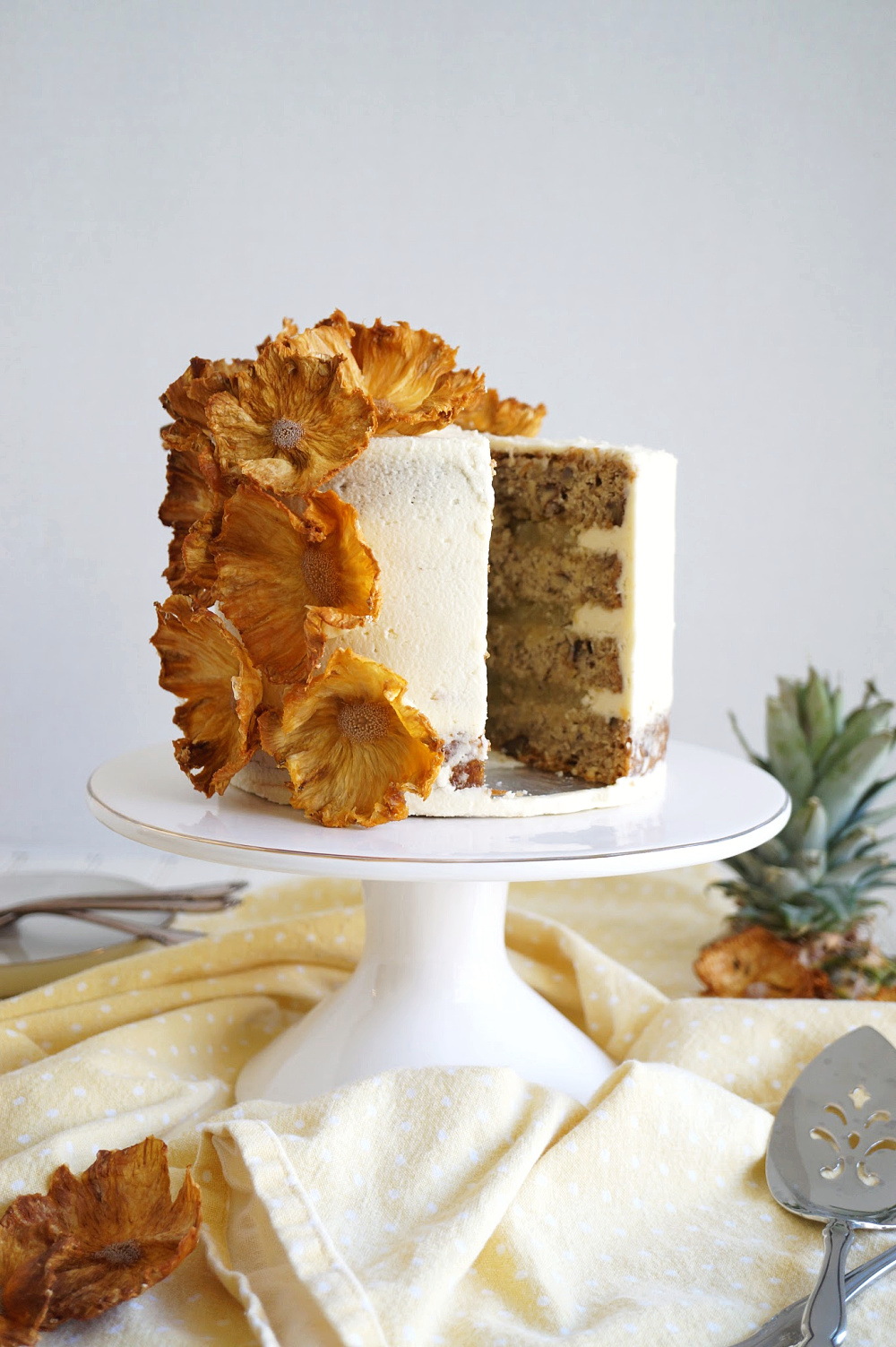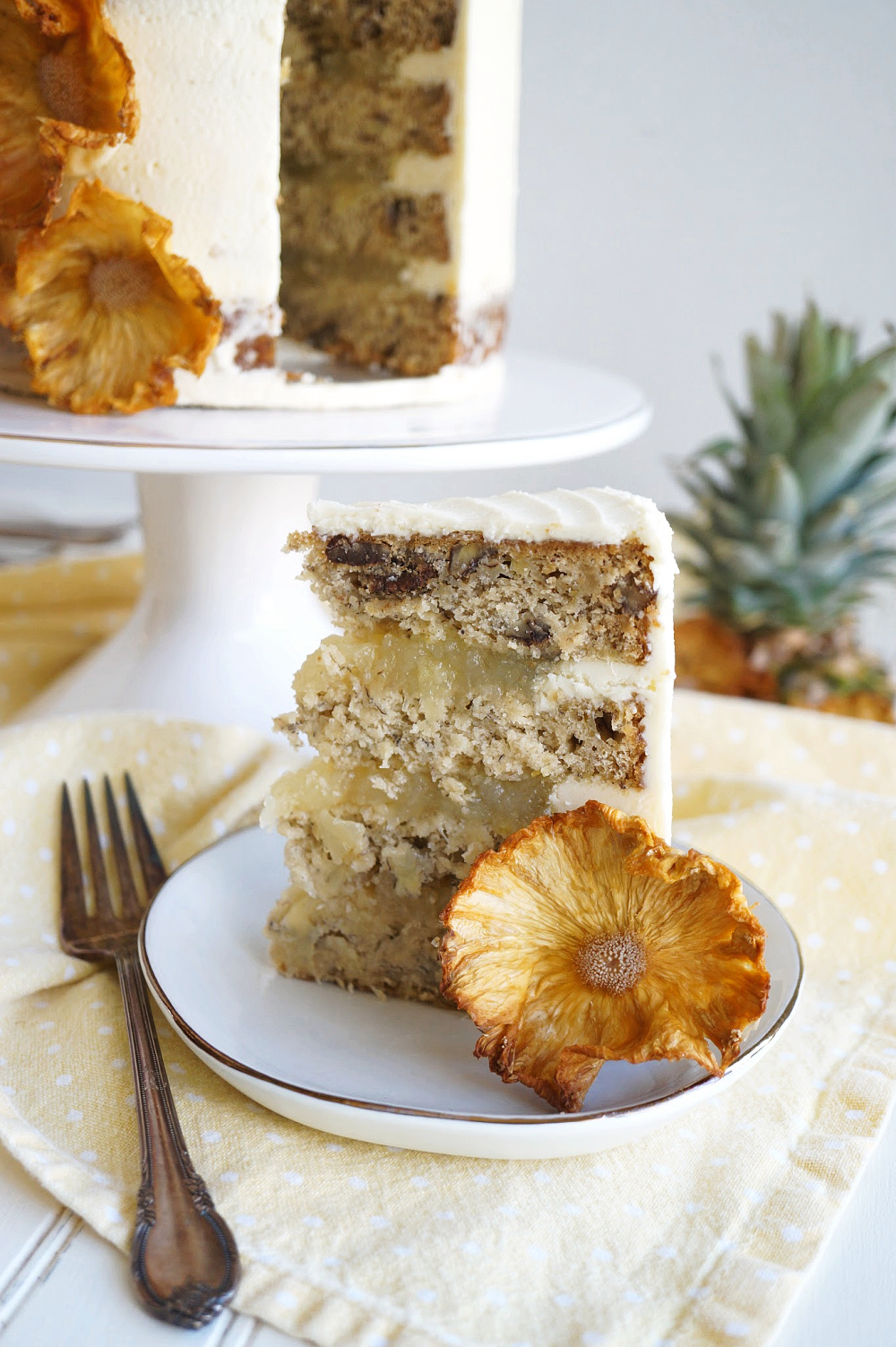 I hope you guys will give this vegan hummingbird layer cake a try! It is such a delicious plant-based take on a Southern classic, and it is absolutely delicious. If you like banana bread, you will love this treat!
Looking for a quicker version of hummingbird cake? Check out my Hummingbird Banana Bread!

vegan hummingbird layer cake
This Vegan Hummingbird Layer Cake is a delicious plant-based take on a Southern classic. A banana, pineapple, and pecan cake is layered with pineapple filling, dreamy vanilla frosting, and beautiful dehydrated pineapple flowers.
Author:
Valentina | The Baking Fairy
Ingredients
Note: you need one 20oz can of crushed pineapple for this recipe - 1 cup goes into the cake, and the rest (about 1.5 cups) goes to make the filling.
*for the pineapple flowers*
1 fresh pineapple
*for the hummingbird cake*
4 ripe bananas
½ cup packed brown sugar
¼ cup vegetable oil
20 oz can of crushed pineapple, divided - 1 cup goes into the cake
2 teaspoon vanilla extract
2½ cups all purpose flour
1 teaspoon baking soda
1½ teaspoon baking powder
½ teaspoon salt
¾ cup pecan pieces
*for the pineapple filling*
1½ cups crushed pineapple (this should be the rest of your 20 oz can)
⅓ cup white granulated sugar
1 tablespoon cornstarch
*for the frosting*
½ cup vegan butter
½ cup shortening
2½ cups powdered sugar
1 tablespoon vanilla extract
pinch of salt
Instructions
First, prepare the pineapple flowers (if desired). Preheat oven to 200F. Cut the top and bottom of your pineapple, and carefully remove the rind, saving as much pineapple as possible.
Carefully cut your pineapple in very thin slices (⅛" is ideal), and lay the slices on a paper towel to absorb excess moisture.
Place a wire rack over a baking sheet, and arrange your pineapple slices in a single layer. I ended up needing two racks. Set the pans in the preheated oven, and bake low and slow until the slices are dehydrated. I ended up having to bake them for about 3.5 hours. The thinner they are, the faster they will dry up.
Now you can prepare the cake. Preheat oven to 350F. Spray two 6" cake pans with baking spray, or grease with vegan butter and flour.
In a large bowl, mash up your ripe bananas. Add in the brown sugar, oil, crushed pineapple, and vanilla and stir to combine.
Next, fold in the flour, baking powder, baking soda, salt, and pecan pieces. Be sure not to overmix.
Divide the batter evenly between the two cake pans, and bake for 45-50 minutes, until a toothpick inserted in the center comes out clean. Let cool completely before frosting.
While the cake bakes, you can prepare the pineapple filling. Use the rest of your crushed pineapple (should be about 1.5 cups) and place in a small saucepan. Add in the sugar and cornstarch, and mix to combine.
Heat mixture over medium and cook, stirring often, until the pineapple is thick and glossy. This should take 5-7 minutes. Set aside to cool.
It is now time to assemble, so make your frosting. When ready to assemble, make the frosting. With a stand mixer fitted with the paddle attachment, beat together the vegan butter shortening until creamy.
Add in powdered sugar as needed to create a frosting, and add a pinch of salt. Add nondairy milk as needed if the frosting is too thick and lumpy.
To assemble the cake, divide the 2 cake layers in half to create 4 thin layers.
Place one cake piece on your cake stand or platter, pipe some of the frosting around the edge of the cake to create a "fence", then spoon some pineapple filling in the center. Spread it to create a thin layer, and repeat with all.
Frost the outside of the cake with the rest of the frosting as desired, and decorate with the pineapple flowers. Enjoy immediately, or refrigerate until needed!
*Disclosure: I am part of the Amazon Associates Program, and there may be affiliate links on this page. If you buy anything through my website, I will receive a small percentage of the profit at no extra cost to you. Thank you for supporting my blog!*