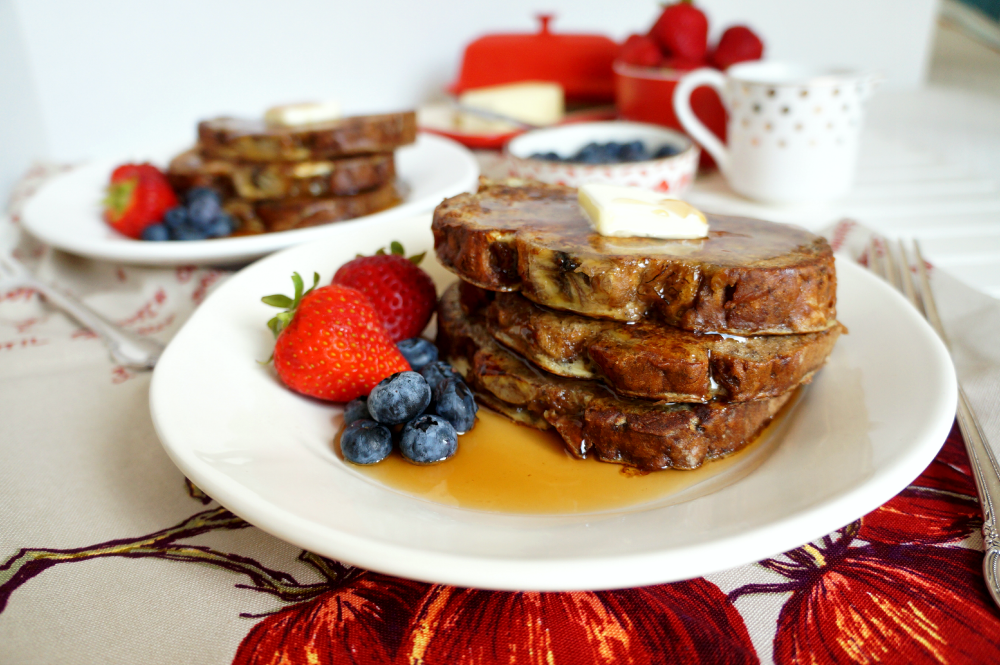 As I promised the other day when I shared my best-ever banana bread, I am back! And I have a fantastic recipe that USES that delicious banana bread we just made... banana bread french toast. GAH. There's just no words for this, y'all. It's basically the best thing ever! I love banana bread, and I love french toast, but this is like, brunch on a whole other level. Advanced brunch. Hmph, yes. I think I'll keep it.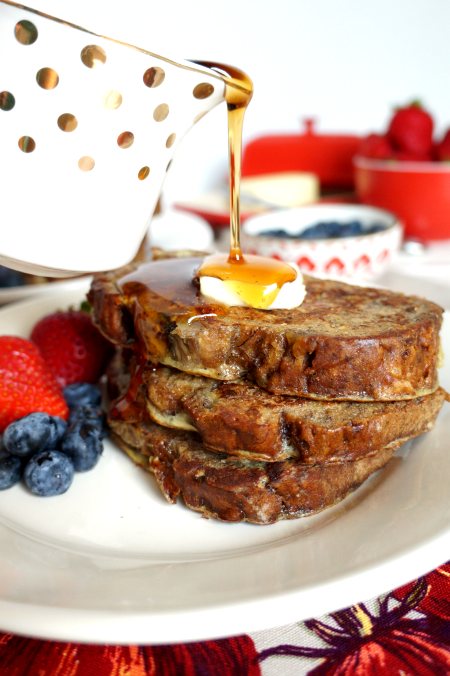 This is another recipe that I'd been wanting to make for ages, but the problem was always that the banana bread never lasted long enough to be turned into french toast! It would be devoured before it had a chance to become something more. This time, I made it with the specific intent to eventually french toast it, which was the only way it actually worked. I'm so glad I finally did this though, because it's pretty much life-changing. Thick slices of banana bread, when battered with egg and milk and toasted, become a fluffy, dense slice of heaven just begging to be drenched in butter and syrup. Yum.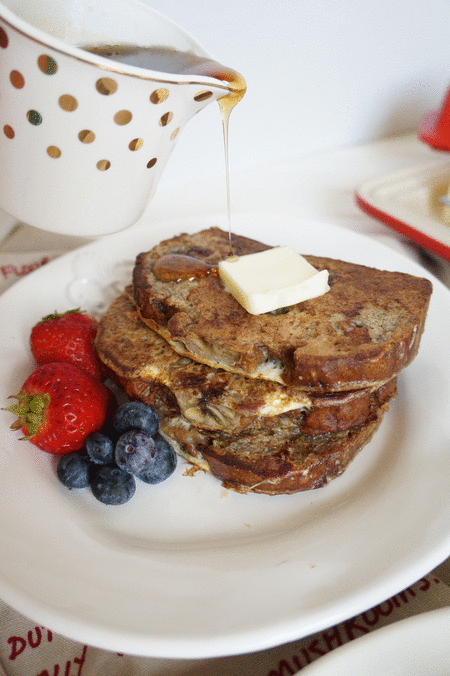 I'm also so excited to have another gif in this blog post! The only other one I have so far is for my Hazelnut Affogato, and I'm kind of obsessed with it. Making gifs as a food blogger is tricky just because, you know, food doesn't move. So I'm just kind of limited to pour shots. Which I'm okay with, since I think they're so pretty anyway! I will eventually get to powdered sugar gifs, but those are a little harder to do one-handed, so I'll have to wait until I have an assistant around. 😉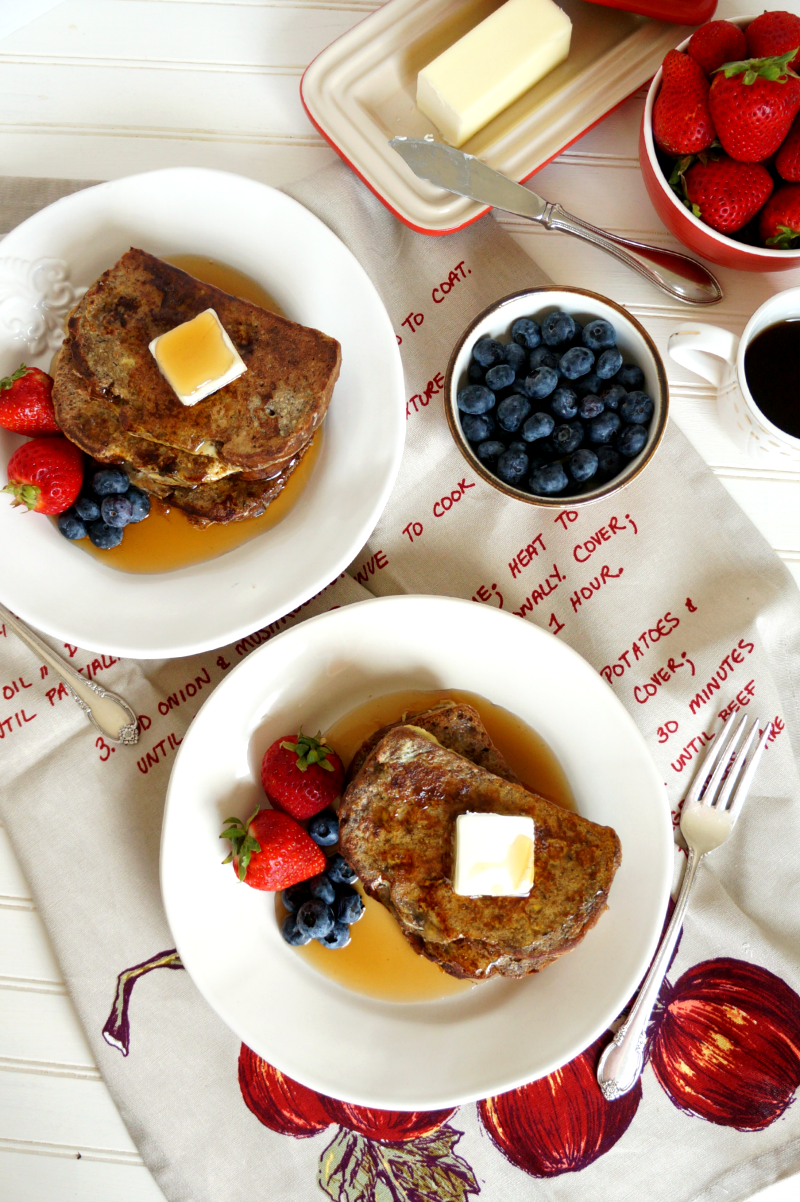 This recipe is super easy and quick to throw together, the only obstacle is that you need banana bread first! You can find my magical go-to recipe HERE, but feel free to use your own favorite. You could even get really fancy and make this using Peanut Butter & Jelly Banana Bread. Or Nutella-Swirled Banana Bread. Or Marbled Brownie Banana Bread. Really, the possibilities are endless! Happy cooking and happy brunching!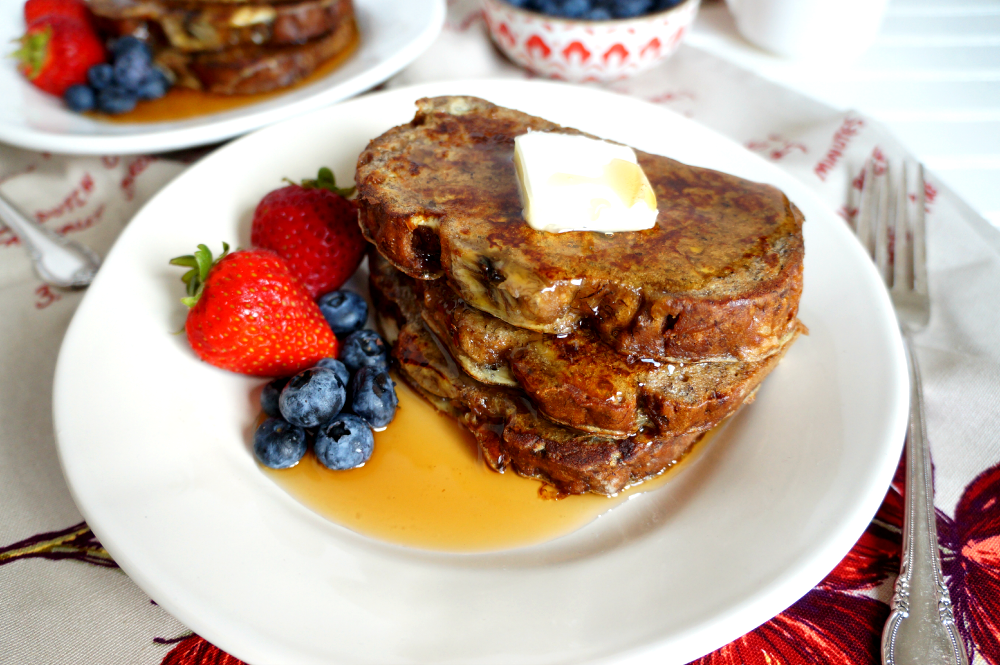 banana bread french toast
Author:
Valentina | The Baking Fairy
Ingredients
8 slices banana bread
3 eggs
½ cup milk
1 teaspoon vanilla
nonstick spray
butter and syrup, for serving
Instructions
In a shallow bowl, whisk together the eggs, milk, and vanilla.
Heat a skillet on medium-low heat, and spray with nonstick spray.
When it's hot, dip the slices of banana bread in the egg-milk mixture, letting them soak for a few seconds.
Cook the slices for 4-5 minutes, then flip and cook for 4-5 minutes longer. You want to make sure that the inside is cooked through and doesn't have raw egg.
Serve immediately, topped with butter and syrup!