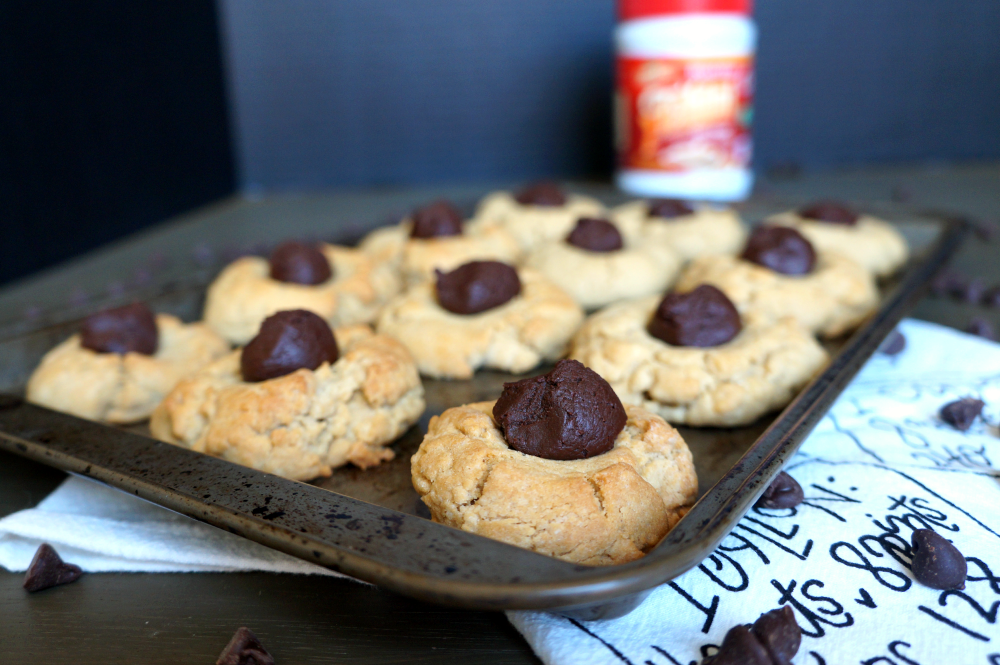 Hello, lovelies! Today, I am sharing another delicious recipe in collaboration with Sesame King Tahini, and I am so excited to tell y'all all about it! These are Tahini Chocolate Thumprints, and I like to think of them as the grown-up, more sophisticated version of the classic Peanut Butter Blossoms. The peanut butter is, of course, replaced with roasted tahini, and the storebought chocolates are replaced by a homemade mixture of dark chocolate chips and heavy cream that has the taste and texture of a chocolate truffle. Yes, please!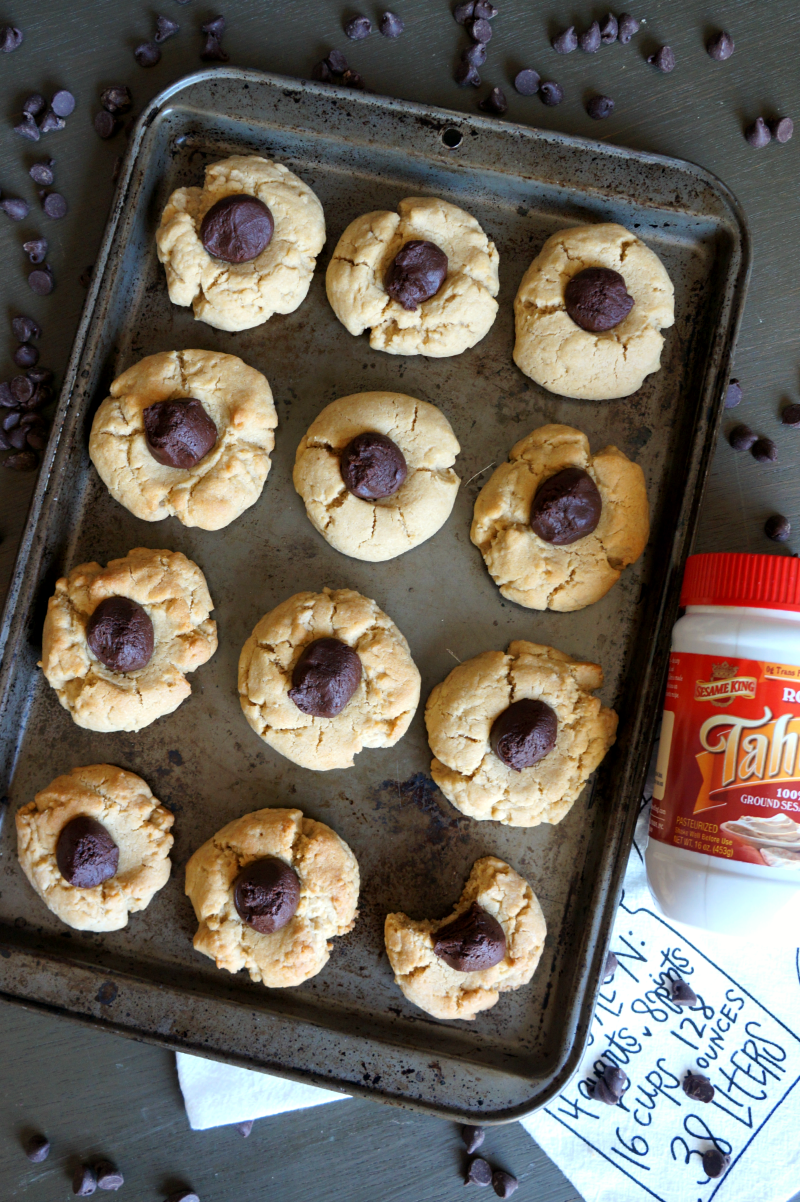 I personally love working with tahini, mainly because it's not something I'm used to cooking with, so it forces me to be creative and think outside the box! This ingredient is definitely reminiscent of natural peanut butter, but the flavor is much stronger and the texture is a bit runnier. I knew that after my Guacamole Hummus, I wanted to whip up something sweet. I've made Tahini Dark Chocolate Granola in the past, and that was absolutely delicious, but I wanted to make actual dessert!
These cookies are actual perfection. They're thick and slightly crumbly without being dry, with a strong nutty flavor that's not overpowering and pairs perfectly with the rich dark chocolate center. Like I said, they're the adult version of the beloved peanut butter blossoms of your childhood! And, it should come as no surprise, they're just as simple to make as the originals.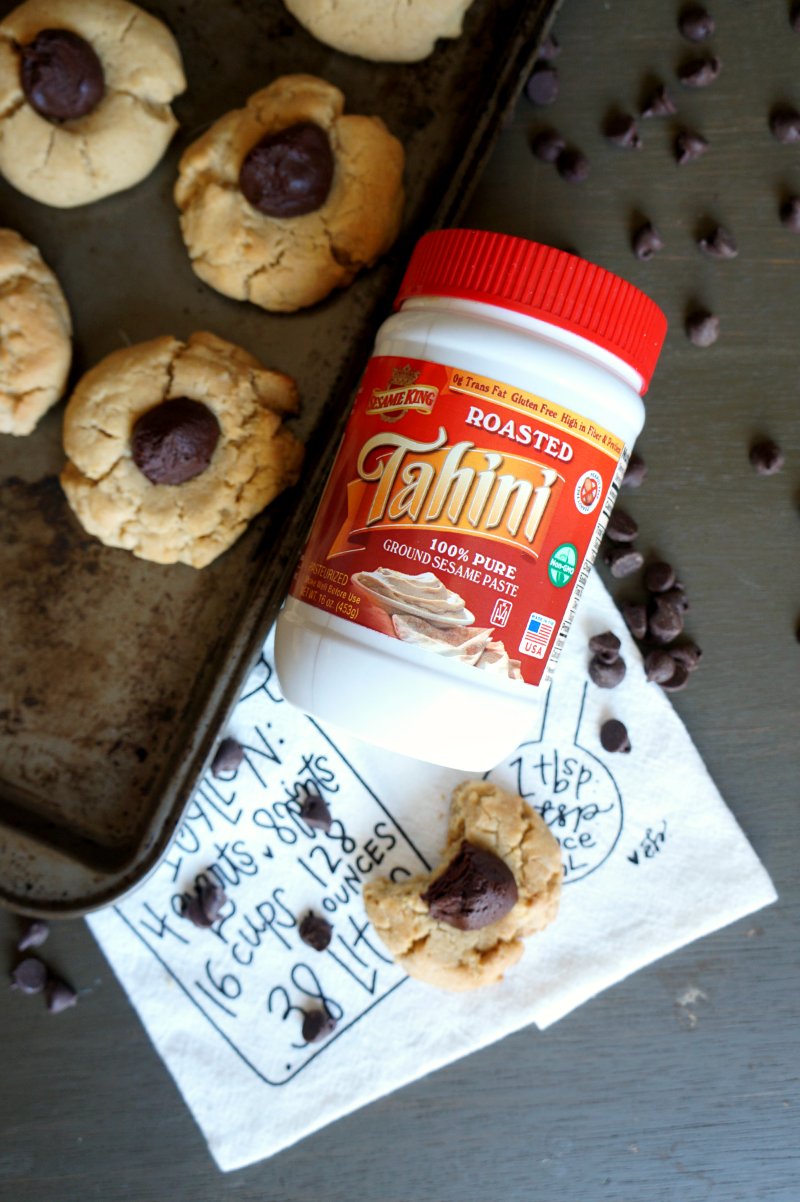 These little treats are incredibly easy to make, and they taste amazing! I might be biased, but next time you're craving something sweet... make these. The perfect balance of sweet and salty is to die for! From bowl to oven to mouth in just about 30 minutes. What could possibly be better? If you're looking for more tahini recipes, you can check out my Baba Ganoush, Guacamole Hummus, and Tahini Dark Chocolate Granola! Yum 🙂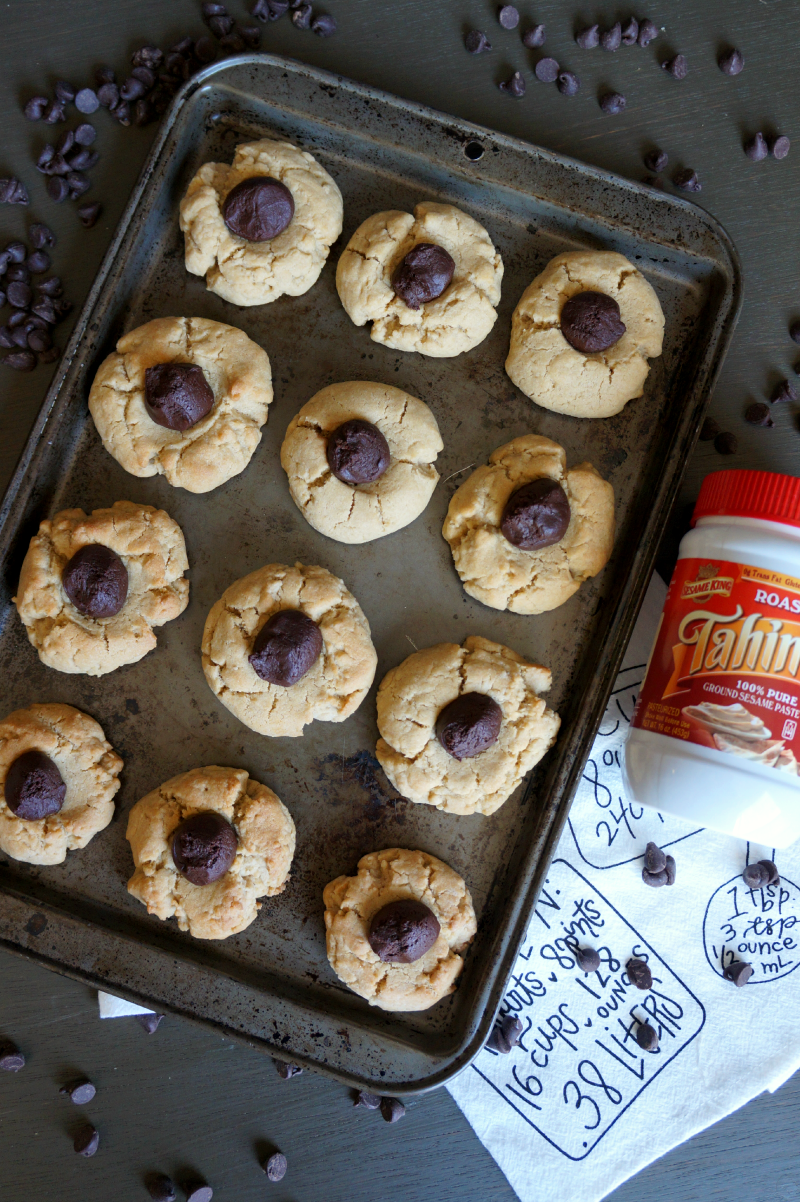 tahini chocolate thumbprint cookies
Author:
Valentina | The Baking Fairy
Ingredients
½ cup unsalted butter, softened
½ cup roasted Sesame King Tahini
⅓ cup white granulated sugar
⅓ cup packed light brown sugar
1 egg
2 teaspoon vanilla extract
2 cups unbleached all-purpose flour
1 teaspoon baking soda
½ teaspoon salt
1 cup chocolate chips
2 tablespoon heavy cream
Instructions
Preheat the oven to 375 F. Line two cookie sheets with parchment or silicone liners; set aside.
In a large bowl, cream together the butter and tahini until creamy and well-blended. Add in the white and brown sugars and beat until fluffy. Add in the egg and vanilla, and beat until incorporated. Add in the flour, salt, and baking soda, and mix until dough comes together.
Shape dough into 1-inch balls, place on the prepared cookie sheet, and make an indentation in the center of each with your thumb. Bake cookies 10-12 minutes.
While cookies bake, make your chocolate filling. In a small microwave-safe bowl, combine the chocolate chips and heavy cream. Microwave in 15 second intervals, stirring in between each, until chocolate is smooth and creamy. Transfer the chocolate mixture to a ziploc baggie.
When cookies are baked, remove from oven and press down the indentations in the center of each cookie again. I find that a cork from a wine bottle is the perfect size!
Grab the baggie of chocolate, snip the corner, and fill the center of each cookie with the chocolate cream.
Let cookies cool completely before enjoying!
In accordance with the FTC Guidelines, I am disclosing that I received compensation from Sesame King Tahini for my time and participation. Although I have material connection to Sesame King Tahini, any publicly stated opinions of their products remains my own. Recipe is an original creation of Valentina Celant at TheBakingFairy.net.