Message for 21+. This post has been compensated by Vinho Verde. All opinions are mine alone. #VinhoVerde #AlwaysTheRightTime #21andup #ad
Welcome summer with a gorgeous layered Vegan Dark Chocolate Raspberry Shortcake Loaf, served alongside a refreshing sparkling dry rosé wine by Vinho Verde.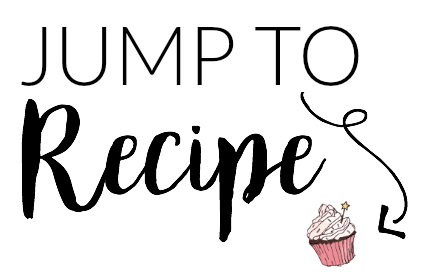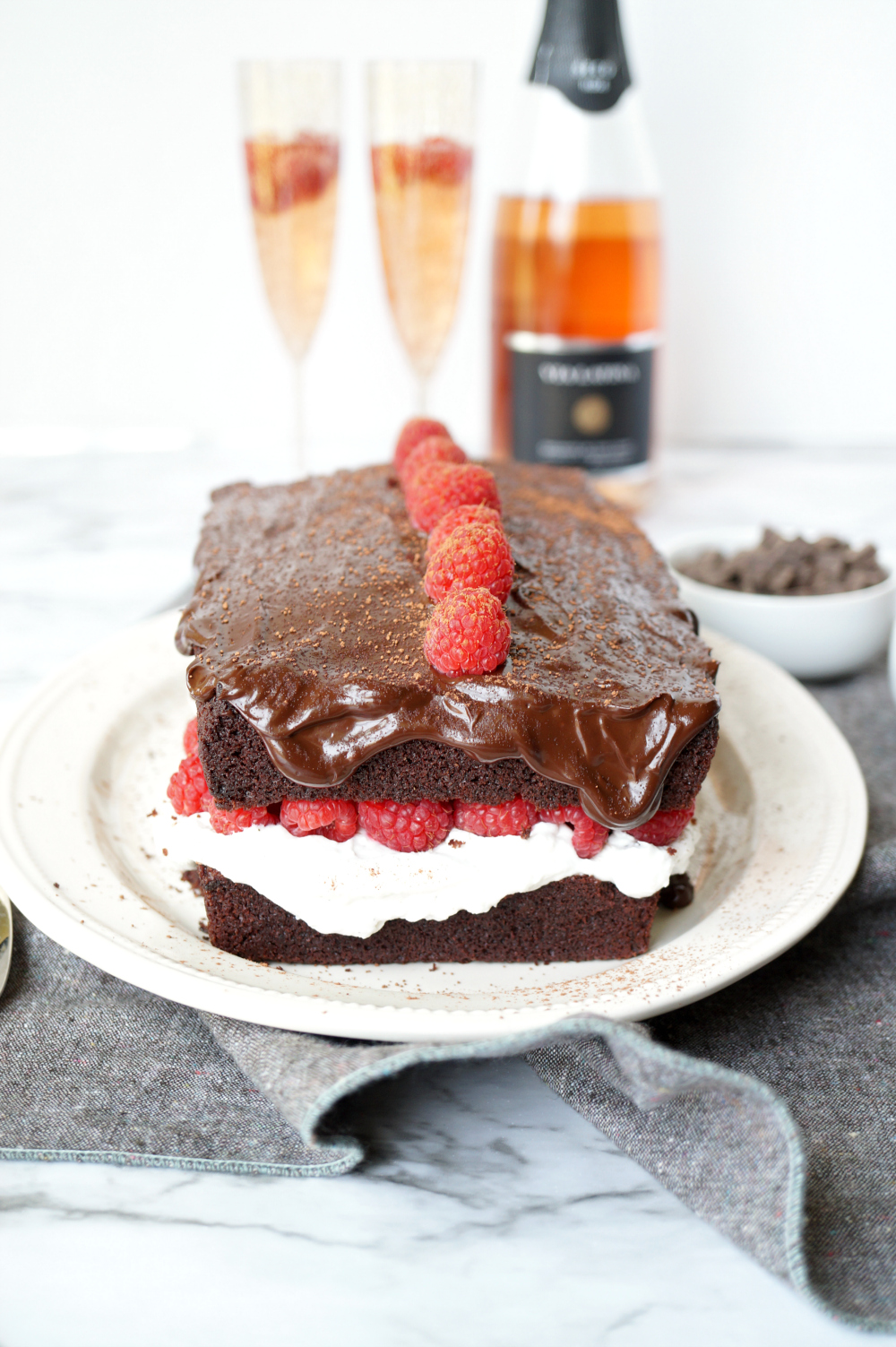 Hi friends! I am so excited to be working with Vinho Verde wines today to bring you this fabulous Vegan Dark Chocolate Raspberry Shortcake Loaf! A deep, dark chocolate loaf cake is stuffed with coconut whipped cream and fresh raspberries and topped with a dreamy dark chocolate ganache for a dessert that pairs perfectly with a crisp, sparkling rosé wine. It's deceivingly simple to make and so perfect for entertaining guests. This is going to be your go-to dessert all summer long!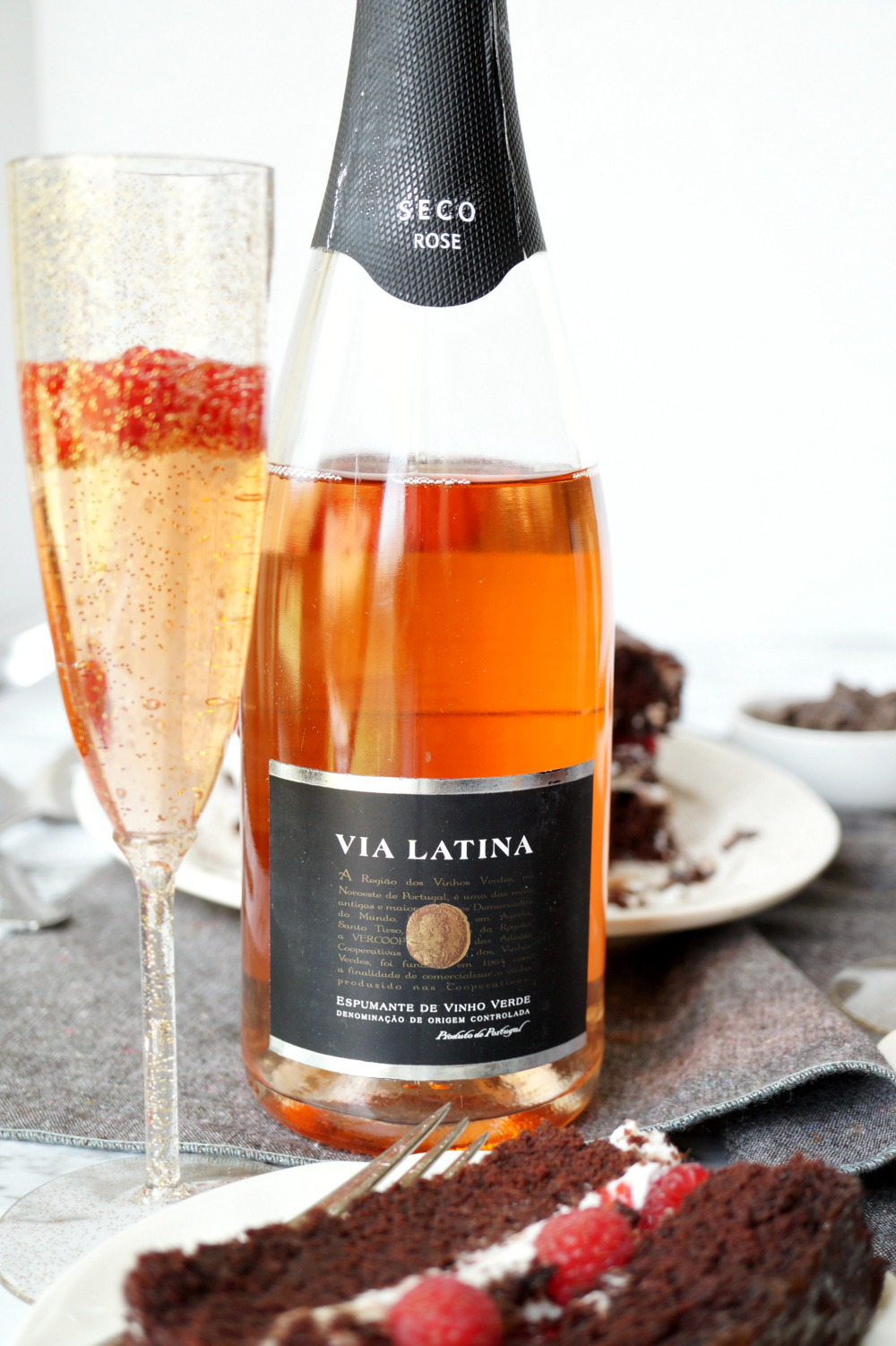 Okay, so let's talk wine! I am not a huge connoisseur of wine by any means, but in general I love anything that is unique, fresh, and crisp. The name "vinho verde" literally means green wine - but in actuality, it's a name used to indicate that these are young wines, released 3-6 months after harvest! This delicious sparkling rosé hits all those high notes, with citrus aromas and hints of strawberry and raspberry. It pairs extremely well with this bittersweet chocolate loaf and the fresh berries, but its vibrant and versatile profile is great with any dessert and many summer-inspired appetizers! Vinho Verde is the largest wine region in Portugal, and they produce a huge variety of delicious, affordable wines. Just look for the official Vinho Verde seal next time you go shopping for wine!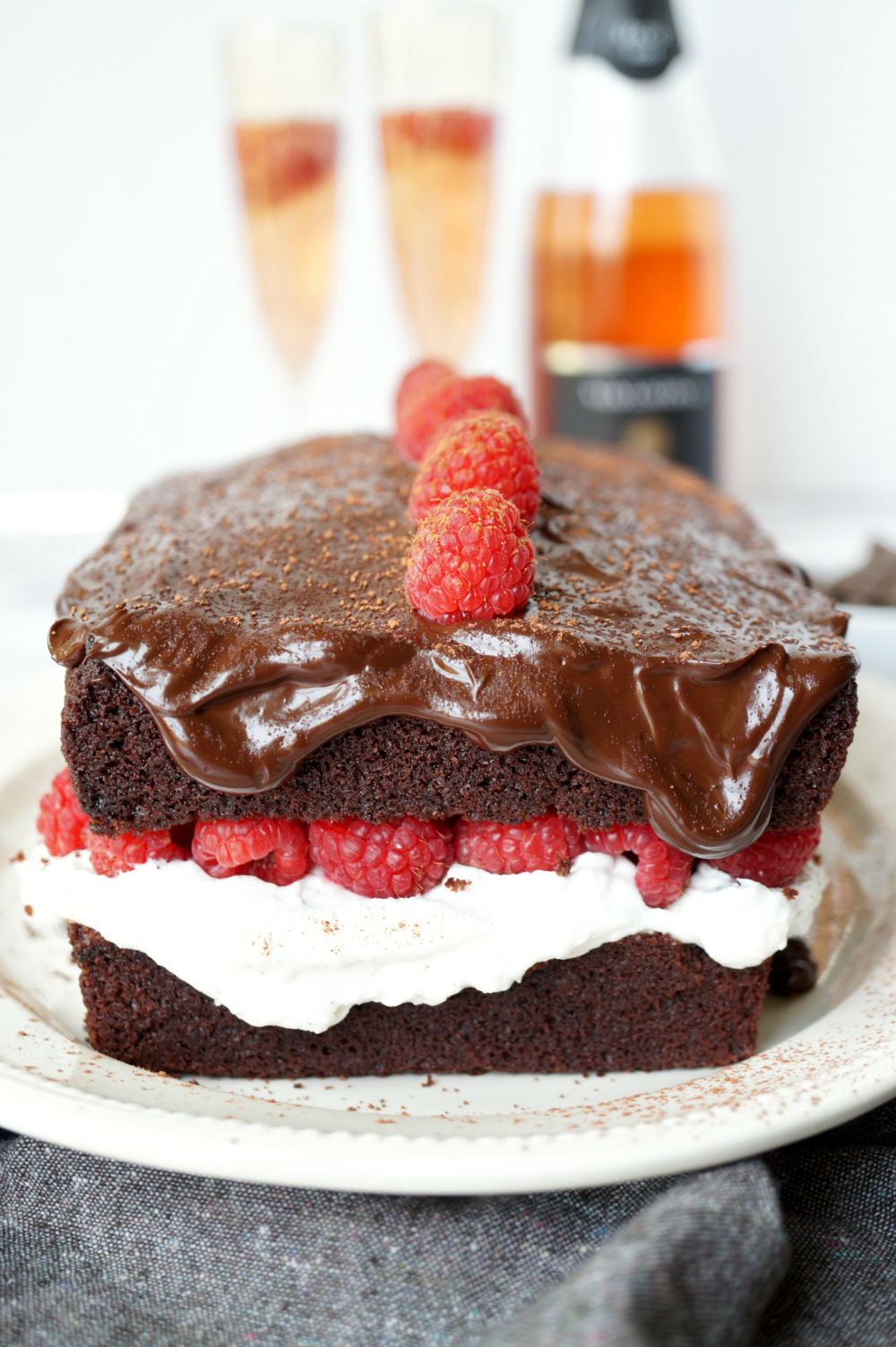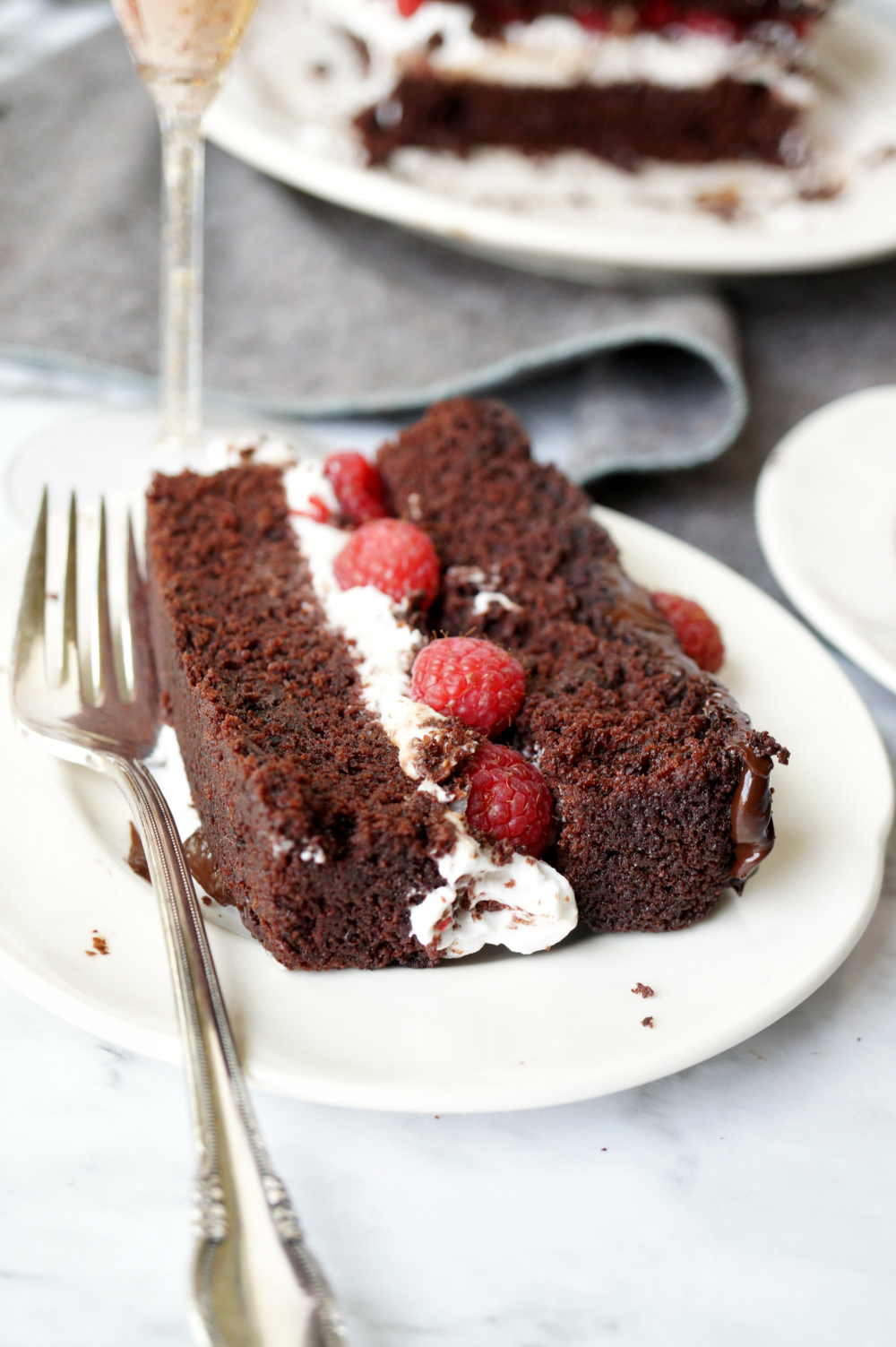 Now onto the cake! This scrumptious dark chocolate raspberry shortcake loaf totally elevates the humble loaf cake to the next level. This presentation is perfect for entertaining at home or for backyard gatherings, but if you wanted to bring a little something sweet to your next picnic, I would recommend just packing everything separately and assembling on the spot. I don't think anyone will complain when presented with a thick slice topped with whipped cream and fresh raspberries! The layering is more impressive by far, but you will still get all those delicious flavors either way.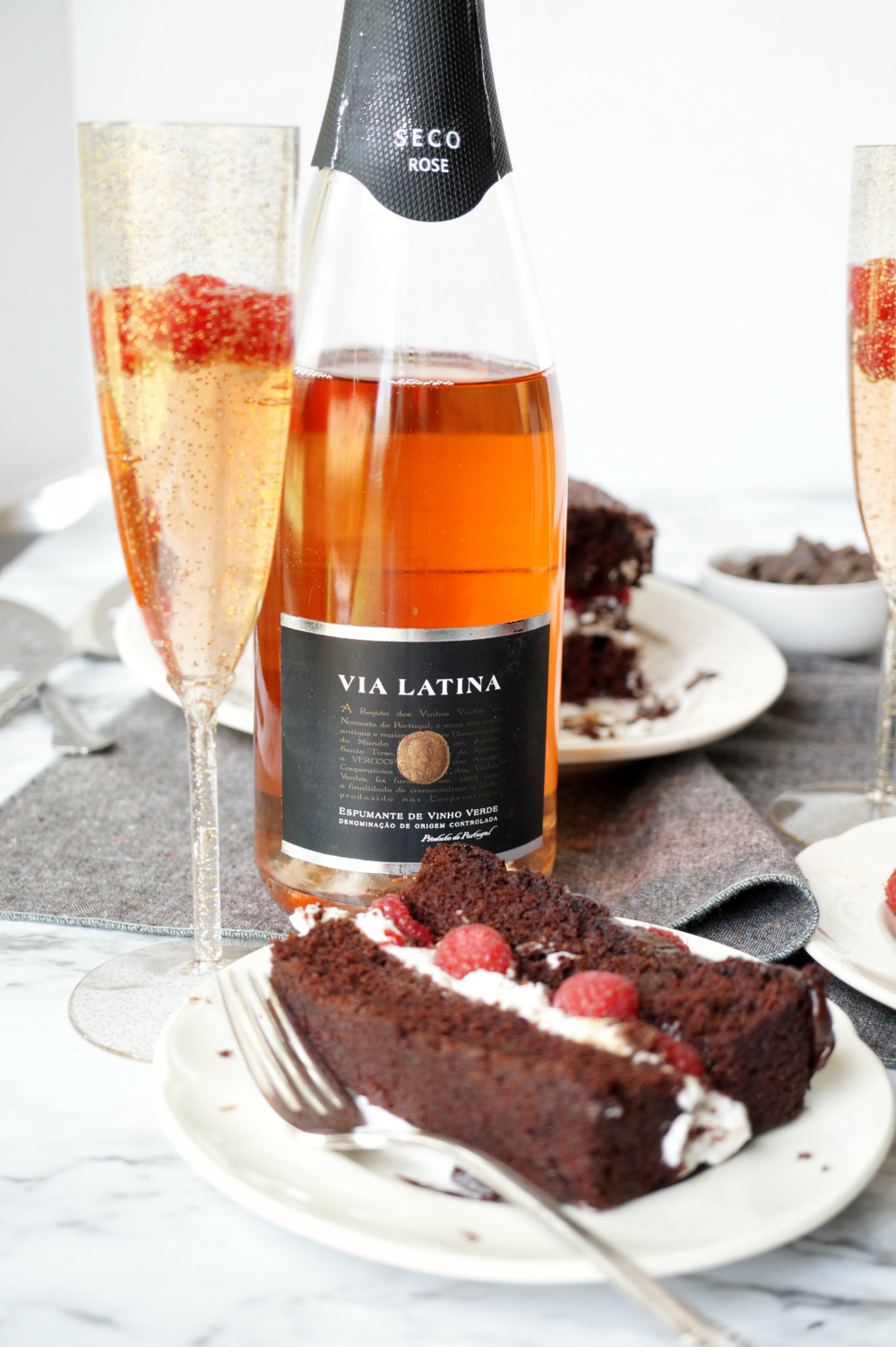 While this dark chocolate raspberry shortcake loaf would have been amazing regardless, I just had to try giving it a vegan twist and I am so pleased it worked! The cake is made with absolutely no eggs or dairy, and the whipped filling is actually coconut cream! The ganache on top is made by simply combining vegan chocolate chips with a little bit of almond milk and heating until melted and smooth. It's so easy and you'd never suspect it was vegan if you didn't know it. My family was absolutely shocked when I told them! 😉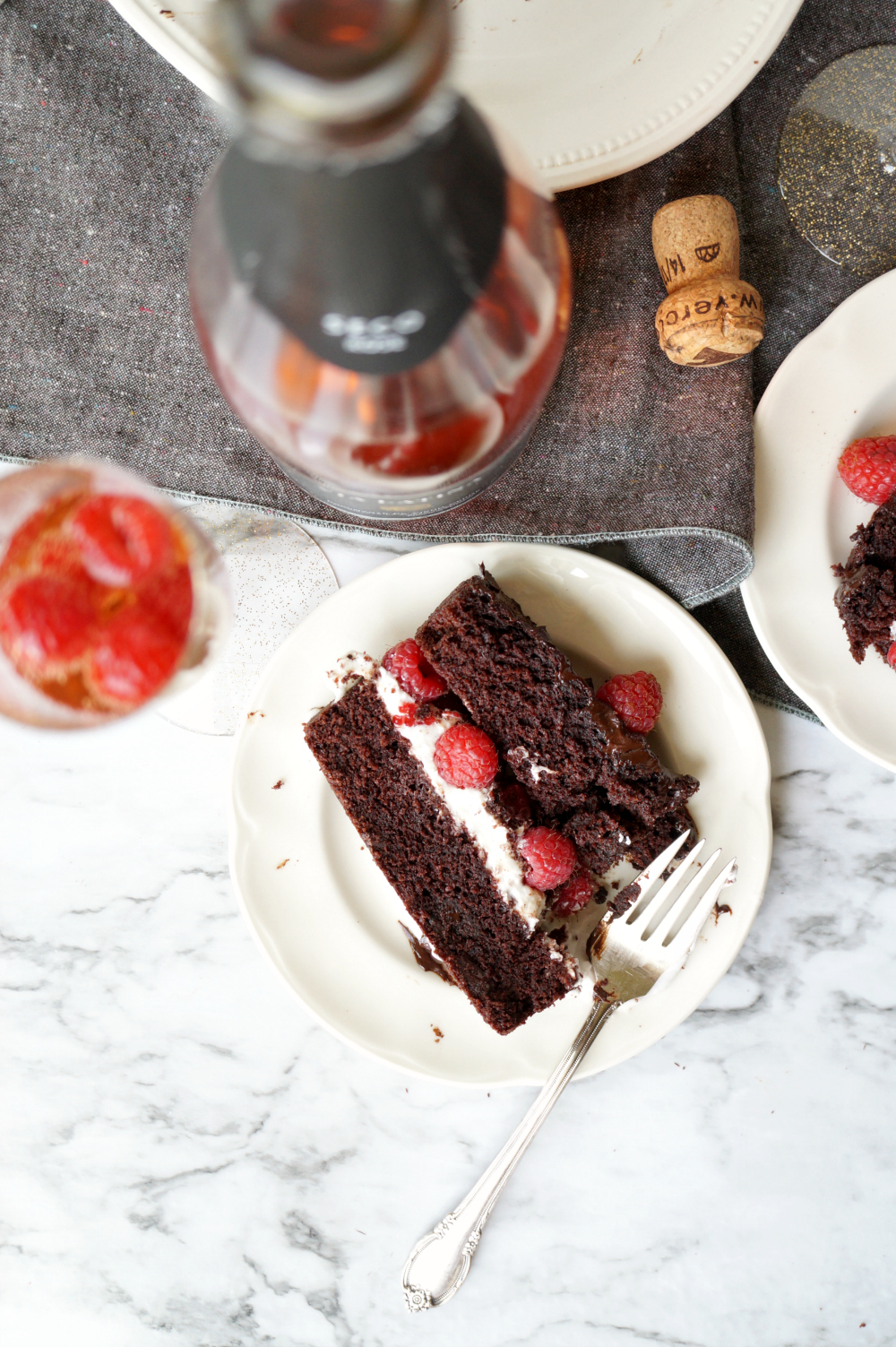 Next time you're looking for a fresh, versatile wine that's also a great value, give Vinho Verde wines a try! We are absolutely obsessed with this Via Latina dry sparkling rosé and I can already tell you it won't be the last time we'll be buying it. Its refreshing profile and subtle flavors let it transition seamlessly from aperitif to dessert, and it's sure to be the perfect pairing to your food all year long!
For more wine inspiration, be sure to check out Vinho Verde's website, Facebook, Twitter, and Instagram. Happy baking!

vegan dark chocolate raspberry shortcake loaf
Author:
Valentina | The Baking Fairy
Recipe type:
Breads & Loaf Cakes
Ingredients
*for the loaf cake*
1¼ cup all-purpose flour
⅓ cup cocoa powder
½ cup granulated white sugar
½ cup powdered sugar
1 teaspoon baking powder
½ teaspoon baking soda
¼ teaspoon salt
1 cup unsweetened nondairy milk
⅓ cup oil
2 tablespoon apple cider vinegar
½ tablespoon vanilla extract
1 teaspoon chocolate extract
½ cup vegan dark chocolate chips
*for the coconut whipped cream*
1 can coconut cream, chilled overnight
2 tablespoon powdered sugar
1 teaspoon vanilla extract or vanilla bean paste
*for the ganache*
½ cup vegan dark chocolate chips
2-3 tablespoon unsweetened nondairy milk
*for serving*
1 pint raspberry
Instructions
First, place the can of coconut cream in the fridge, and let chill for at least 6 hours but optimally overnight. DO NOT SHAKE AT ANY POINT.
Now, let's prepare the loaf cake. Preheat oven to 400F.
In a large bowl, whisk together the flour, cocoa, sugars, baking powder, baking soda, and salt.
Stir in the milk, oil, and extracts, followed by the vinegar. Finally, mix in the chocolate chips.
Spray a 9 x 5 loaf pan with nonstick spray, and pour prepared batter into pan.
Bake at 400F for 10 minutes, then lower temperature to 350F and bake for 25-30 min longer, until loaf is puffy and a toothpick inserted in the center comes out with just a few crumbs. Let cool COMPLETELY before assembling.
When ready to put everything together, prepare the coconut whipped cream. Carefully grab can from fridge, and open. Using a spoon, transfer all the solids into a bowl for whipping. Be sure to leave all the liquid behind in the can.
Using a hand mixer, beat coconut cream until smooth and creamy, then add in the powdered sugar and vanilla extract/paste. Beat until fluffy like whipped cream.
Finally, prepare the ganache. Combine the chocolate chips and nondairy milk, and heat in the microwave in 20 second increments until smooth and melted.
Carefully split loaf cake in half, and spread the coconut whipped cream on the bottom half. Top with most of the raspberries.
Place the top half atop the cake. Spread the ganache on top. Decorate with raspberries and cocoa powder as desired.
Serve immediately or refrigerate until needed. Serve with Vinho Verde sparkling rosé. Enjoy!