If you're looking for the summer version of the sugar cookie, look no further! These White Chocolate Lime Sugar Cookies combine fresh lime juice & zest with sweet white chocolate chips and a crunchy sugar shell for a completely irresistible treat.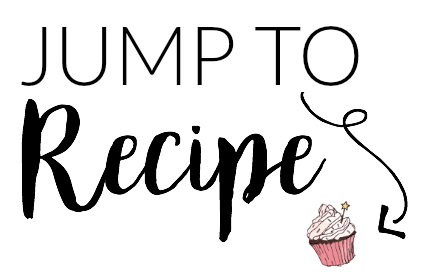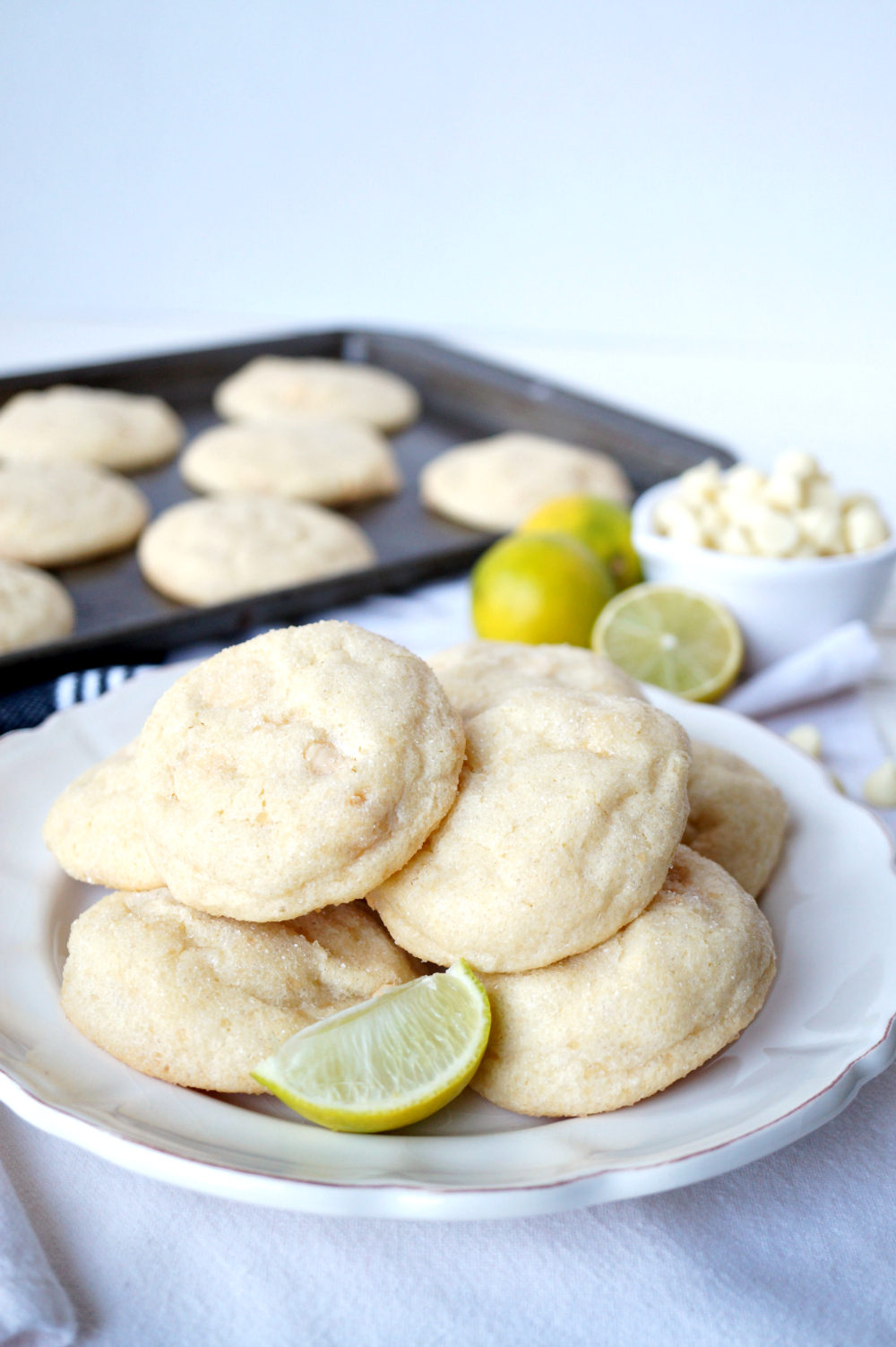 Hiiii friends and happy Thursday! Sorry things have been a bit quiet here this week. School and work are keeping me so busy and there seriously aren't enough hours in the day! To hopefully make up for my shortcomings, I am sharing this fab cookie recipe today that is perfect for summer. These White Chocolate Lime Sugar Cookies combine a thick and chewy sugar cookie base with fresh lime juice & zest, white chocolate chips, and the most perfect crisp sugar shell. They're amazing!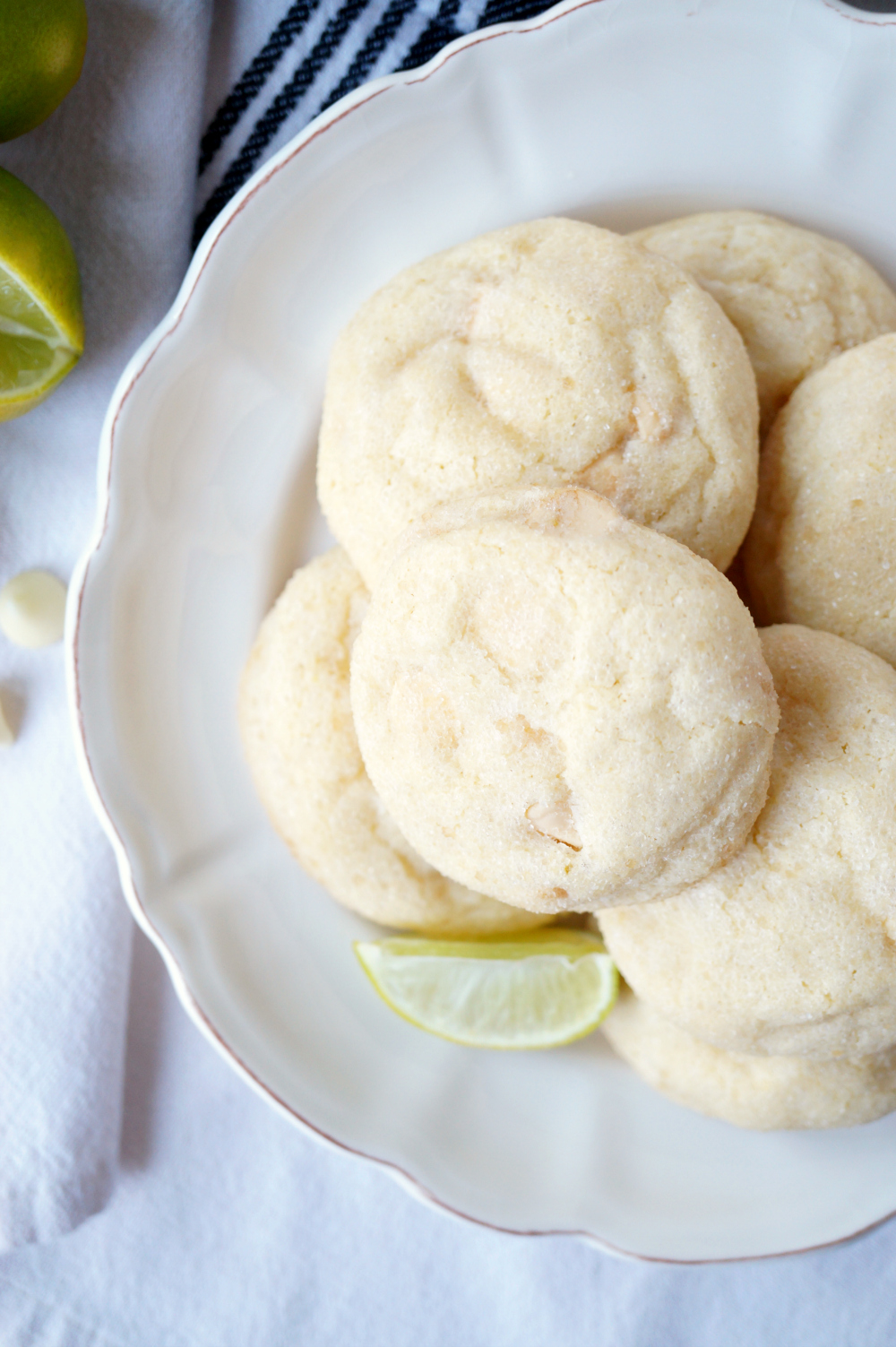 Soooo how is summer treating you, friends?! I hope well! I am just working away and I almost can't wrap my mind around the fact that I am on my second-to-last rotation ALREADY. WAH. Didn't I just start PA school?! For inquiring minds, I officially graduate in December but technically finish in November, and I have a month off in between to work on my Master's project so... it's gonna go so quick! The best way to not think about life and stress is to bake cookies. And then eat said cookies. Trust me. 😉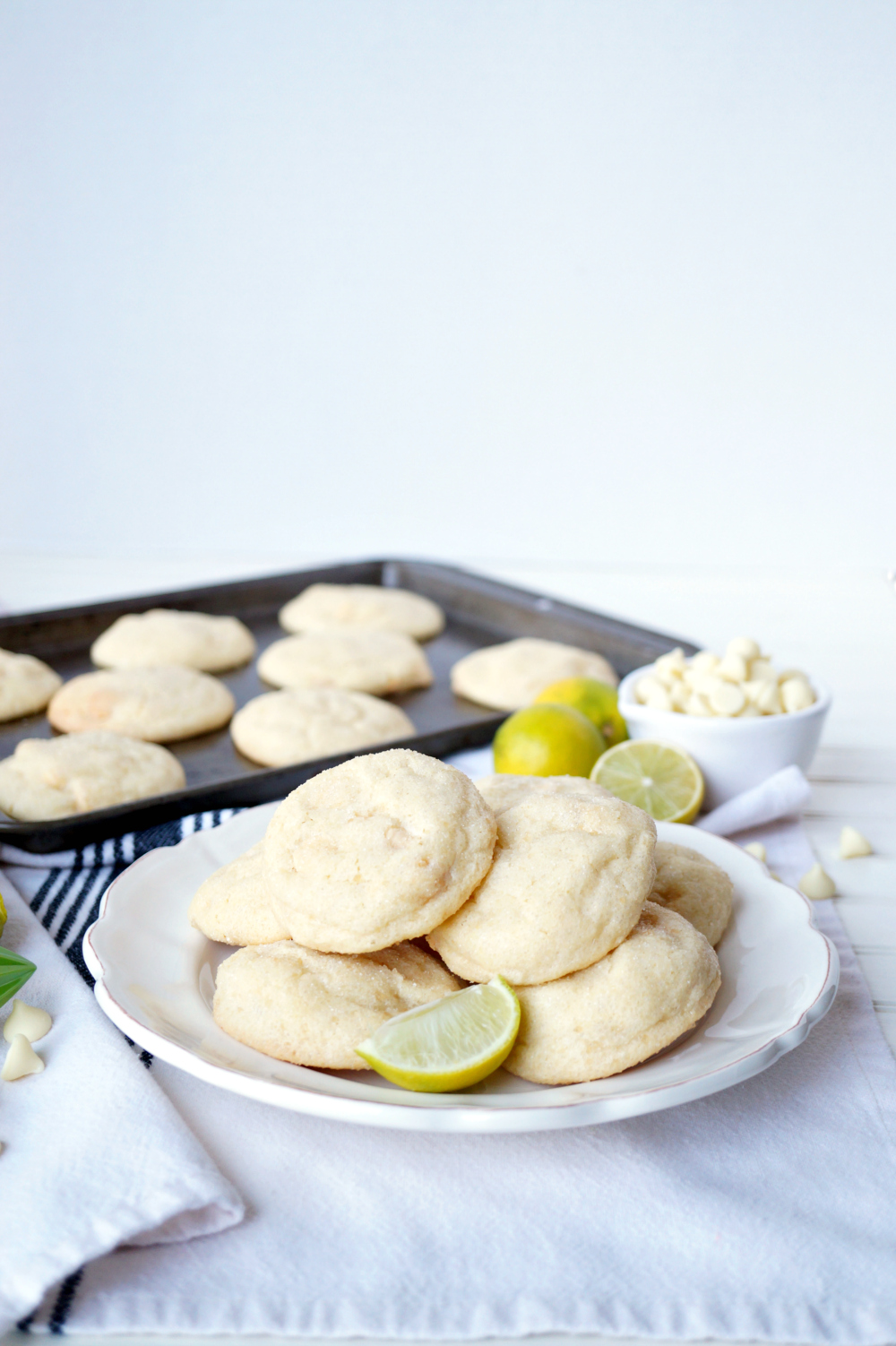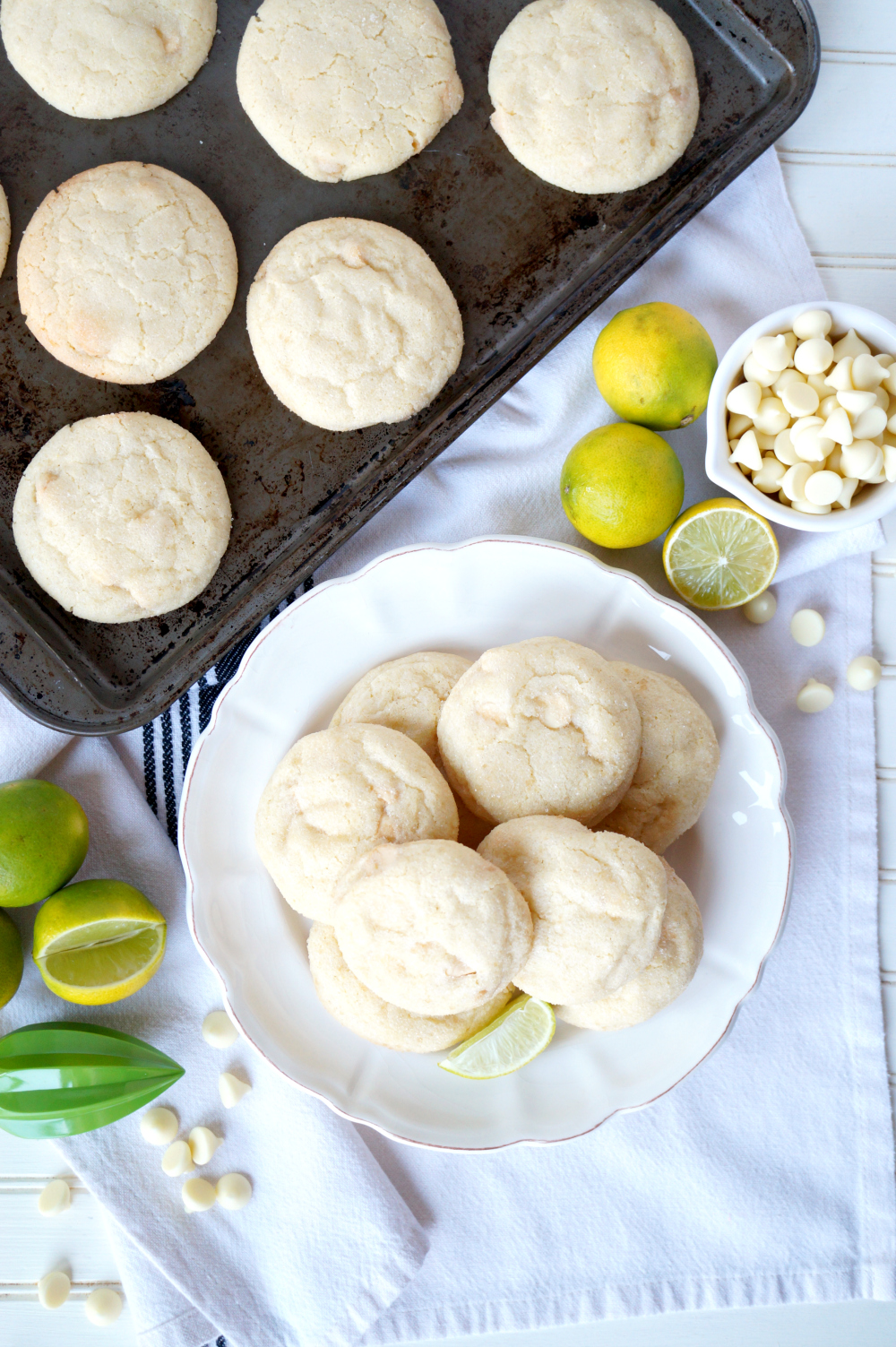 Let's talk about these white chocolate lime sugar cookies! Like I said above, they are the most wonderful combination of ingredients. I started with my tried and true cookie base, and just added goodies until I was happy! These boast a whole ¼ cup of freshly squeezed lime juice and fresh zest. It would have been good to stop there, but I just couldn't resist the little pops of sweetness from the white chocolate chips. The crunchy outer sugar shell just seals the deal and makes these so irresistible. I swear that extra step is totally worth it!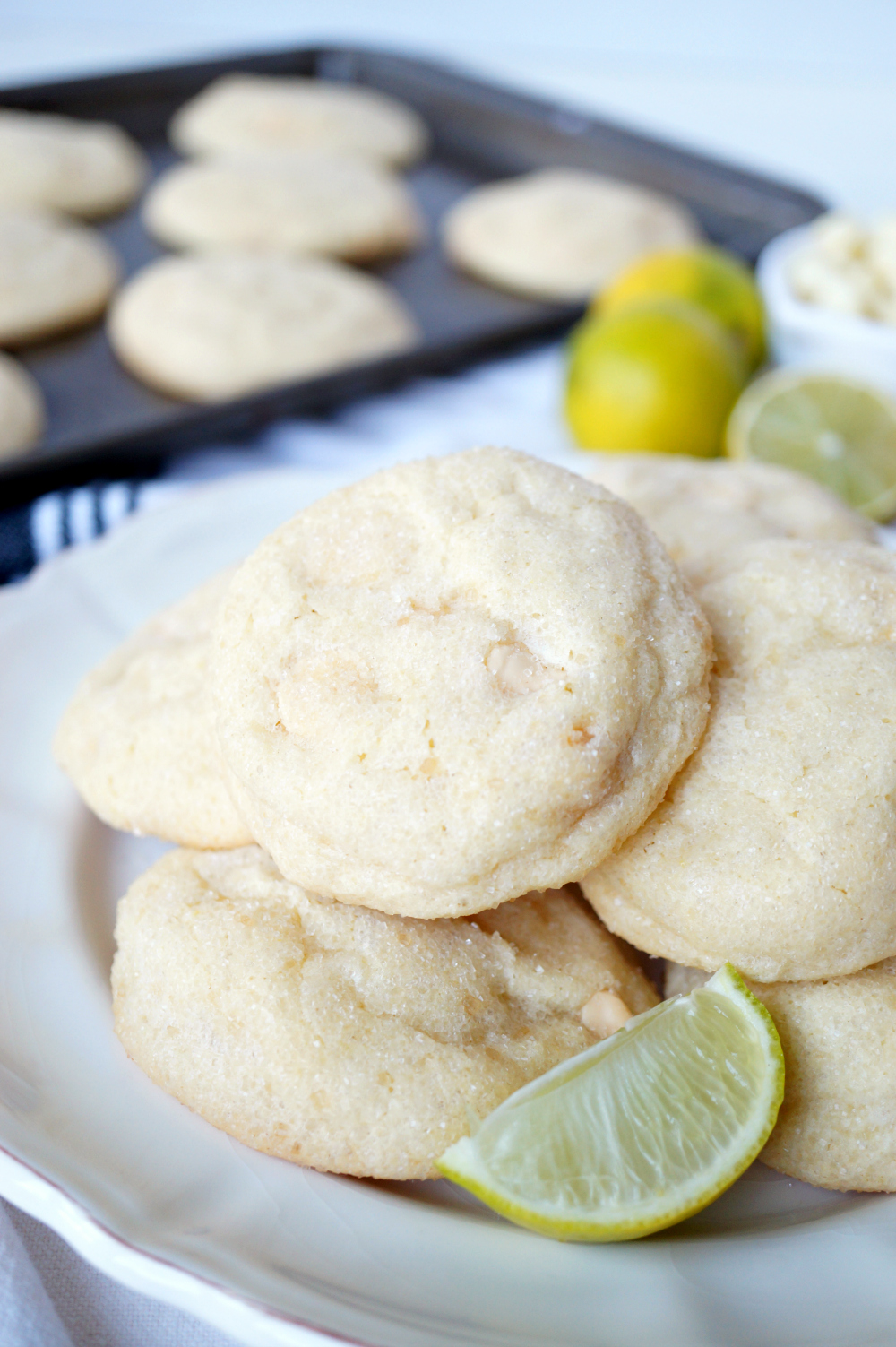 If you're looking for the cookie version of summer - this is it! Fresh, zesty, sweet, and so delicious. If you really wanted to stretch it, you could honestly even call these margarita cookies 😉 I wouldn't stop you. I hope you love these white chocolate lime sugar cookies!!

Looking for more fruity cookies? Check out my Lemon Cake Mix Crinkle Cookies, Strawberry Cake Mix Crinkle Cookies, Vegan Cherry Pistachio Chocolate Chip Cookies, and my Double Chocolate Chip Cranberry Cookies. Happy baking!
white chocolate lime sugar cookies
Author:
Valentina | The Baking Fairy
Ingredients
2¾ cups all purpose flour
1½ cups granulated sugar
2 eggs
¼ cup lime juice
zest of 1 lime
¾ cup melted butter
½ teaspoon baking soda
½ teaspoon salt
1 cup white chocolate chips
¼ - ½ cup granulated sugar, for rolling
Instructions
In a medium bowl, whisk together the flour, salt, baking soda, and lime zest. Set aside.
In the bowl of a stand mixer fitted with the paddle attachment, combine the melted butter and sugar, and beat until well-incorporated. Add in the eggs and lime juice, and beat until light and fluffy. Add in the dry ingredients, and mix until combined. Stir in the white chocolate chips, and place dough in the fridge for 30 or more minutes.
Preheat the oven to 325F. Place the reserved sugar for rolling into a small bowl. Scoop out tablespoonfuls of dough, roll into the sugar, and then place onto baking sheets lined with parchment or silicone sheets, placing 12 per pan.
Bake 20-25 minutes, until cookies are set and lightly golden brown. They will solidify more as they cool. Enjoy!
*Disclosure: I am part of the Amazon Associates Program, and there may be affiliate links on this page. If you buy anything through my website, I will receive a small percentage of the profit at no extra cost to you. Thank you for supporting my blog!*