I received product samples from sponsor companies to aid in the creation of the #PumpkinWeek recipes. All opinions are mine alone.
These Vegan Savory Stuffed Pumpkins are the cutest thing you will make all fall! Tiny pumpkins are roasted and stuffed with quinoa, veggies, and vegan chorizo for a delicious plant-based main course.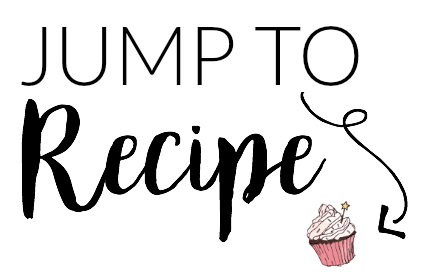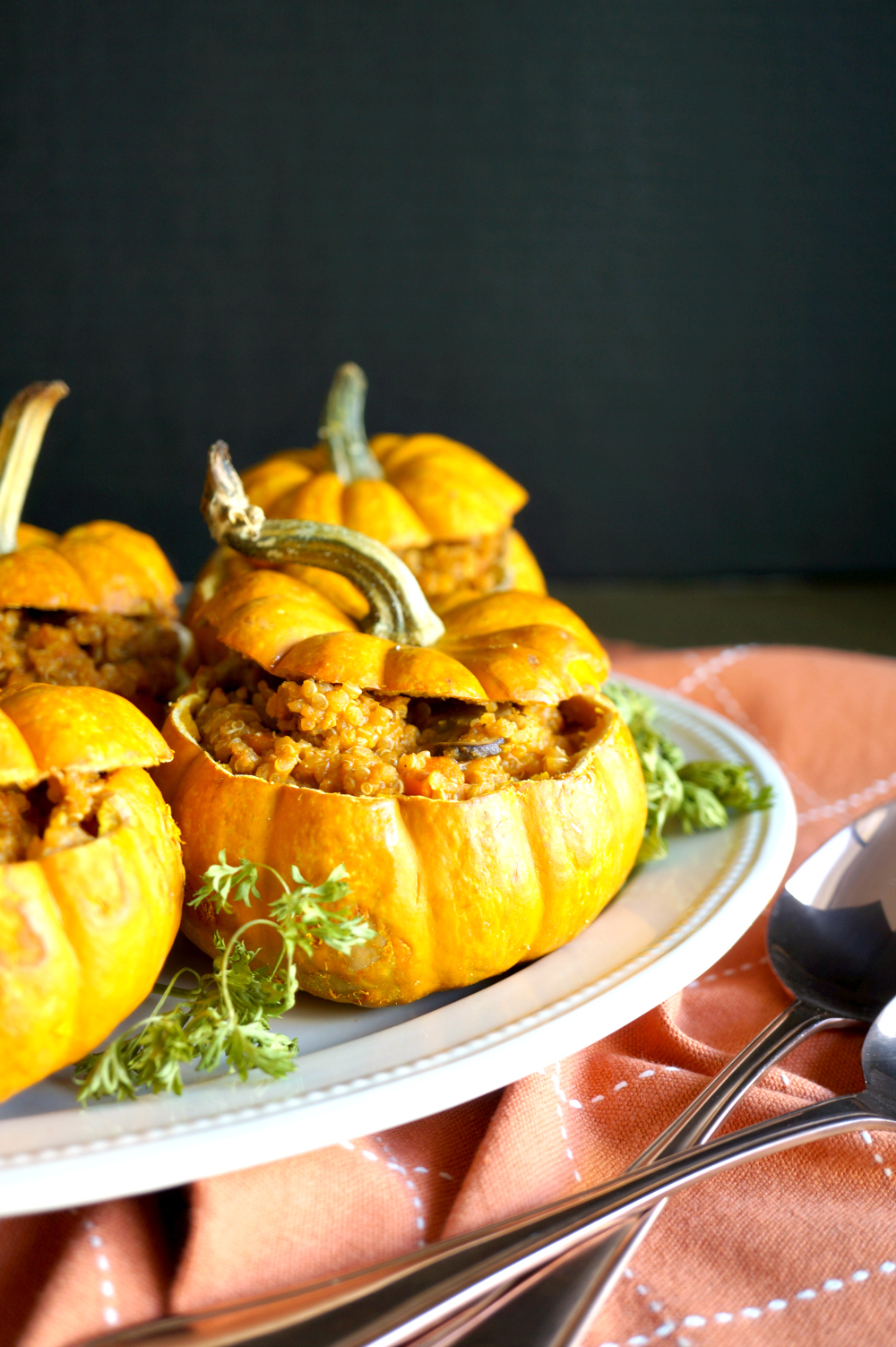 Happy Tuesday friends! Today is day 2 of #PumpkinWeek, and I am changing it up with a savory recipe! These adorable Vegan Savory Stuffed Pumpkins are made of tiny roasted pumpkins, hollowed out and then filled up again with a stuffing of quinoa, mushrooms, vegan chorizo, carrots, onions, and pumpkin puree. They are deceivingly simple to whip up and oh-so-cute. Who knew those ~decorative~ mini pumpkins they sell are actually totally edible and delicious?!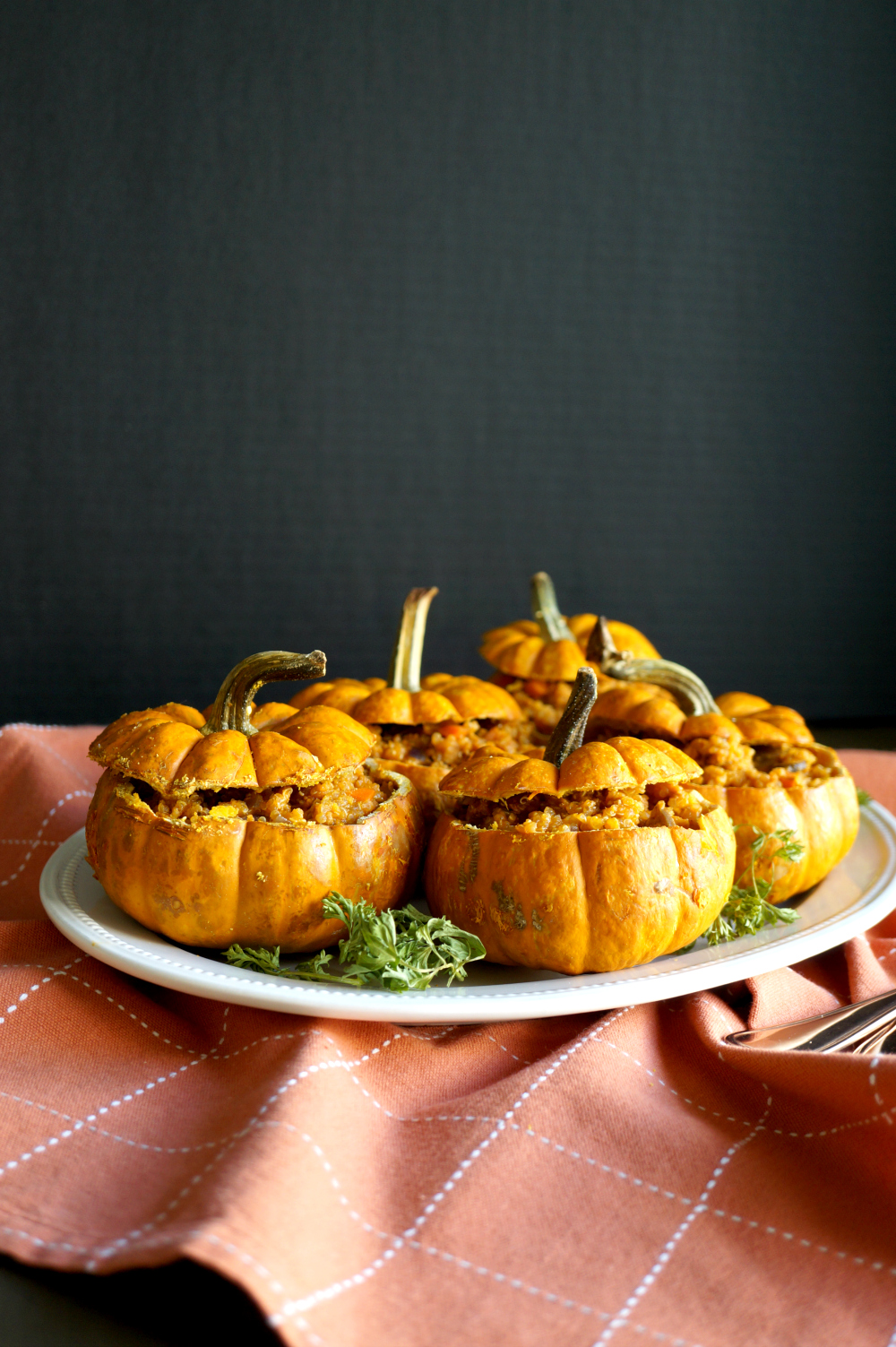 While everyone is obsessed with pumpkin season, you have to admit that savory pumpkin recipes are a little bit harder to come by! I just have these creamy pumpkin macaroni (a'la cheeseless mac & cheese) on the blog, and I have some roasted delicata squash and stuffed acorn squash from WAY back in the archives. But does winter squash really count as pumpkin?! ANYWAY. I digress. If you need more savory deliciousness on your fall menu, these adorable stuffed pumpkins are a must! They are super simple to make and it is very easy to change up the filling based on what you like. I meant to also add some kale or spinach to the filling but forgot. A hint of greens would be great in here!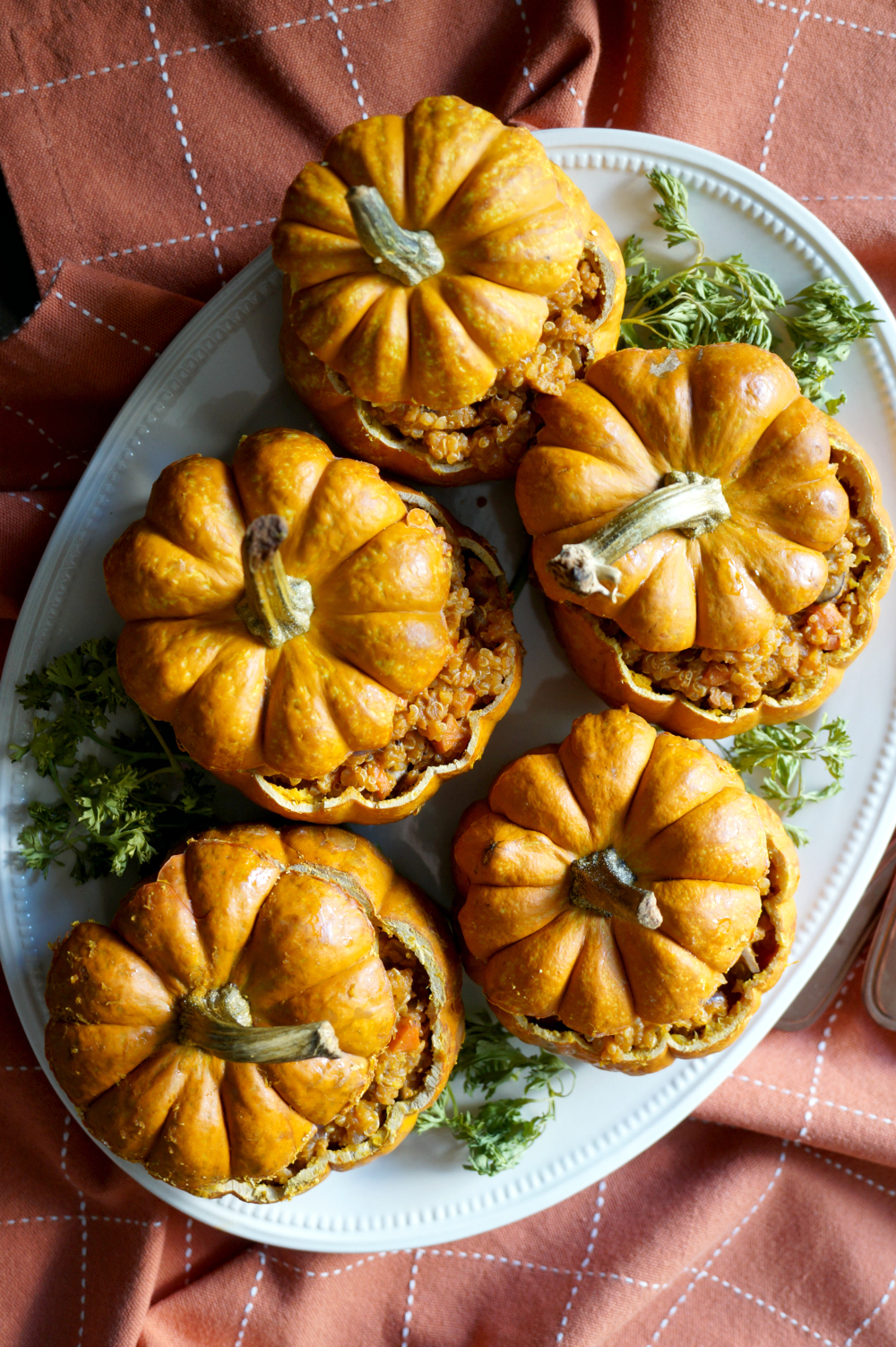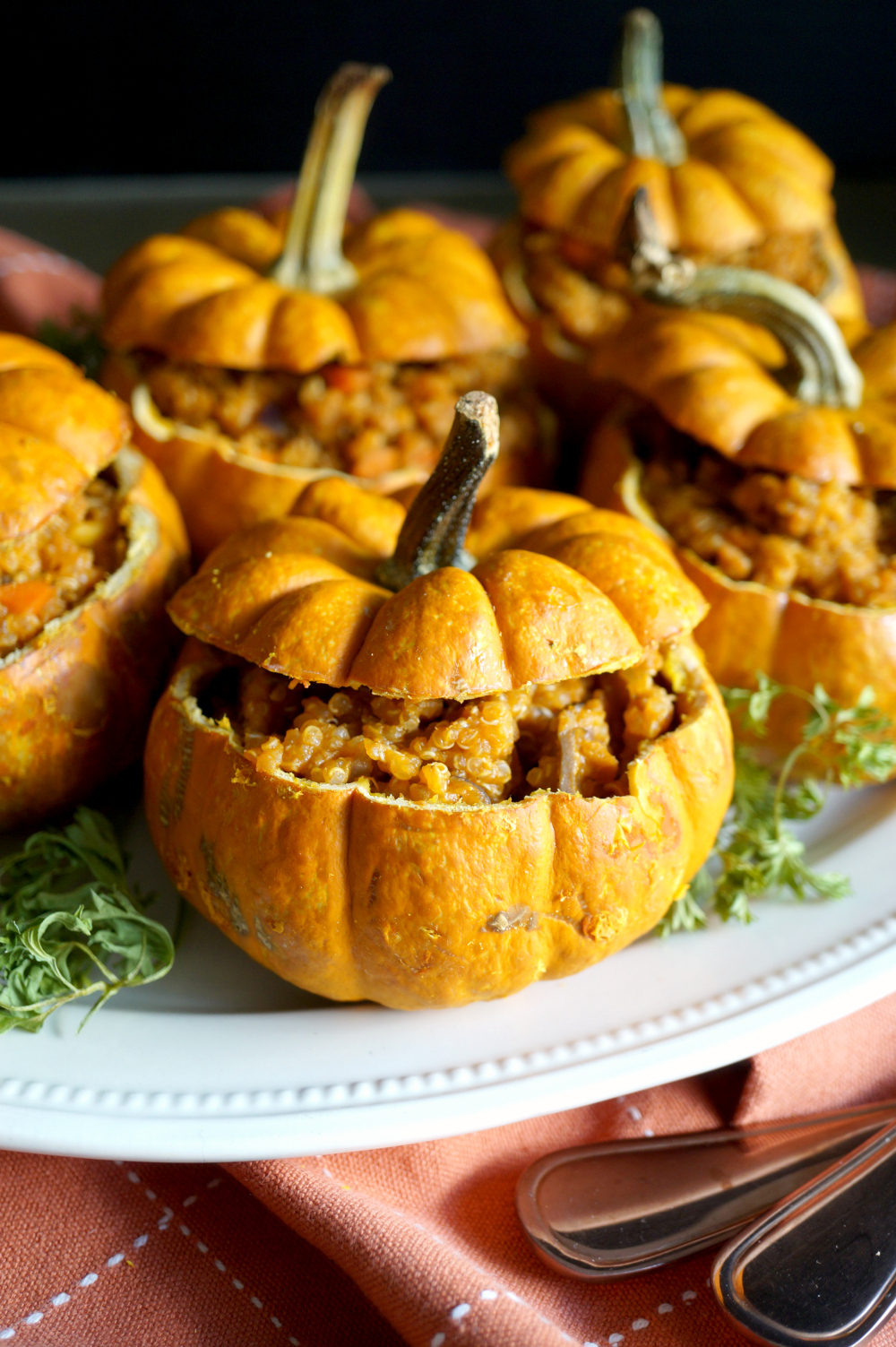 Enjoy these #PumpkinWeek recipes from our bloggers:
Pumpkin Drinks:
Boozy Pumpkin Party Punch from The Crumby Kitchen
Healthy Pumpkin Smoothie from Red Cottage Chronicles
Pumpkin Fizzy from Cindy's Recipes and Writings
Pumpkin Pie Milkshake from Cheese Curd In Paradise
Pumpkin Pie Milkshake from Seduction In The Kitchen
Pumpkin Breakfasts & Baked Goods:
Pumpkin Cinnamon Rolls from Jen Around the World
Pumpkin Donut Cake from Kelly Lynns Sweets and Treats
Pumpkin Pecan Monkey Bread from Love & Confections
Pumpkin Shakshuka from Food Above Gold
Savory Pumpkin Recipes:
Pumpkin Gnocchi from Palatable Pastime
Vegan Savory Stuffed Mini Pumpkins from The Baking Fairy
Pumpkin Desserts:
Pumpkin Cake Rolls with Maple Buttercream Filling from Sweet Beginnings
Pumpkin Pie Macaron from A Kitchen Hoor's Adventures
Pumpkin Spice Sheet Cake from Daily Dish Recipes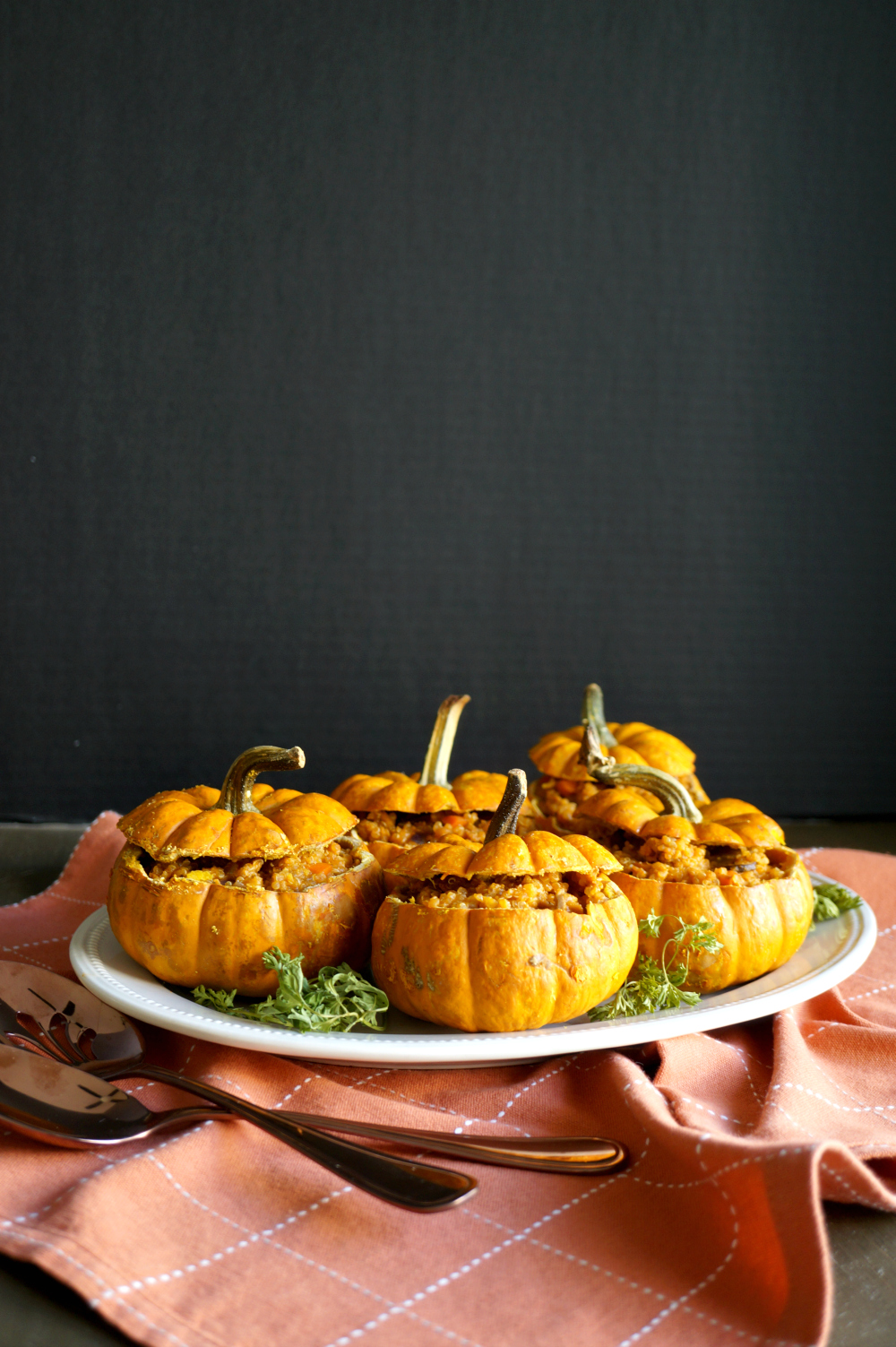 I hope you guys will give these vegan savory stuffed mini pumpkins a try. They are so delicious and such a fun way to celebrate fall. Don't forget the real reason for #PumpkinWeek though... a bunch of amazing prizes for our beloved readers. Check out the details and how to enter below, just scroll past the recipe!
Here are my planned #PumpkinWeek recipes!
vegan savory stuffed pumpkins #PumpkinWeek
These Vegan Savory Stuffed Mini Pumpkins are the cutest thing you will make all fall! Tiny pumpkins are roasted and stuffed with quinoa, veggies, and vegan chorizo for a delicious plant-based main course.
Author:
Valentina | The Baking Fairy
Ingredients
5 mini pumpkins
½ cup quinoa + 1 cup water
1 tablespoon olive oil
½ red onion, chopped small
2 carrots, diced
1 cup sliced mushrooms (about 5-6 medium sized mushrooms)
1 cup vegan chorizo crumbles
½ cup pumpkin puree (I just used what I scooped out of my pumpkins after roasting them!)
1 teaspoon Italian herbs
salt and pepper to taste
Instructions
First, roast the pumpkins. Preheat the oven to 425F. Wrap each pumpkin loosely in foil, and place in the preheated oven. Roast for 45-55 minutes. The outside of the pumpkins will stay hard even if the are cooked on the inside!
Let the pumpkins cool until they can be handled safely. While they cool off, make the filling.
First, cook the quinoa. Rinse well under running water, and place in a small pot with the 1 cup of water. Add a pinch of salt or a vegetable bouillon cube if desired.
Bring pot to a boil over high heat, then reduce heat to medium-low and cover.
Cook quinoa for about 15 minutes, until it is soft and fluffy, and the water has been absorbed.
Next, prepare the rest of the veggies. In a large nonstick pan, heat the olive oil over medium-high heat.
Add in the onion, carrots, and mushrooms, and cook for a few minutes, stirring often. Add in the chorizo crumbles and continue to cook until veggies are soft and fragrant. Season with the Italian herbs and salt & pepper. Next, add in your cooked quinoa and stir everything together. Remove from heat and set aside for now.
Now it's time to prepare the pumpkins! Using a sharp knife, carefully cut off the top of each pumpkin. Scoop out the seeds and discard. Then scoop out the soft pumpkin flesh, and set aside in a small bowl. Repeat with all.
Going back to the filling, I added the pumpkin puree that I scooped out from my mini pumpkins. You can also add canned pumpkin puree. Stir everything together, adding a bit of water or vegetable broth if it's too thick.
Add more seasoning if needed, then scoop the filling into your hollowed out pumpkins. Serve immediately!
For a yummy finishing touch, you can sprinkle some vegan cheese on top and place the stuffed pumpkins under the broiler for 1-2 minutes to get the cheese melted and golden brown!