This is really the EASIEST Vegan Pecan Pie Cobbler ever. No bowls needed, as you make it all right in the baking dish. It forms a fluffy, cake-y pecan layer on top, with brown sugar caramel underneath. Absolutely delicious with some vanilla ice cream on top!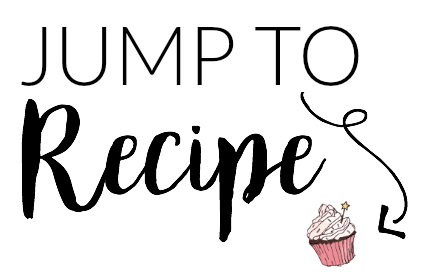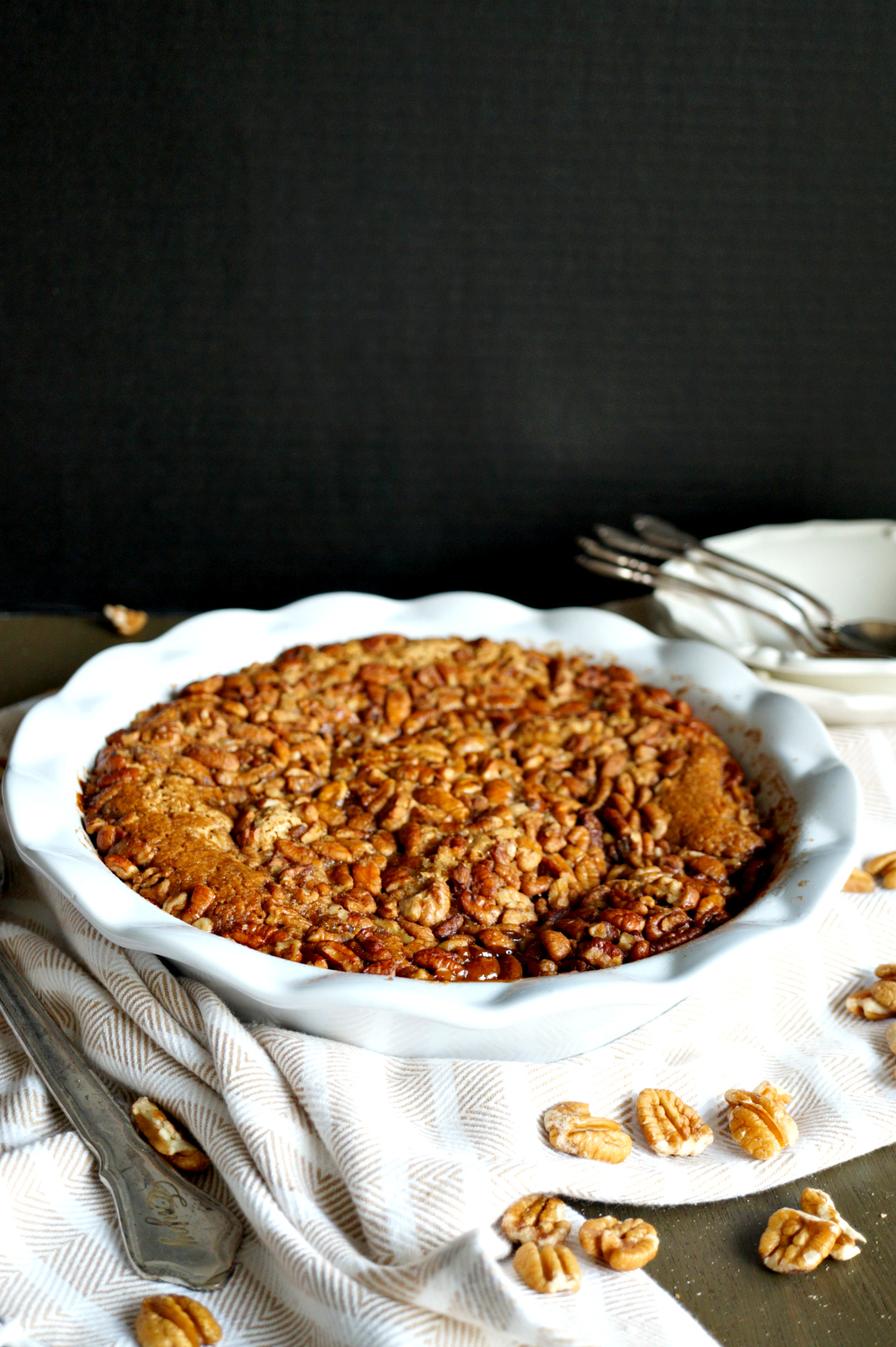 Hiiiii friends and happy Tuesday! I am finally out of the tunnel that was themed week after themed week, and I can finally just post whatever I feel like ???? Life of a blogger in the fall/winter, y'all! Today's treat is super duper simple and absolutely scrumptious. It gives me all of the warm and cozy autumn vibes! Say hello to The EASIEST Vegan Pecan Pie Cobbler! Seriously, this sucker is ready to be baked in the time it takes to preheat the oven, but it tastes like you worked hard on it for hours. These secretly easy recipes are what I am all about!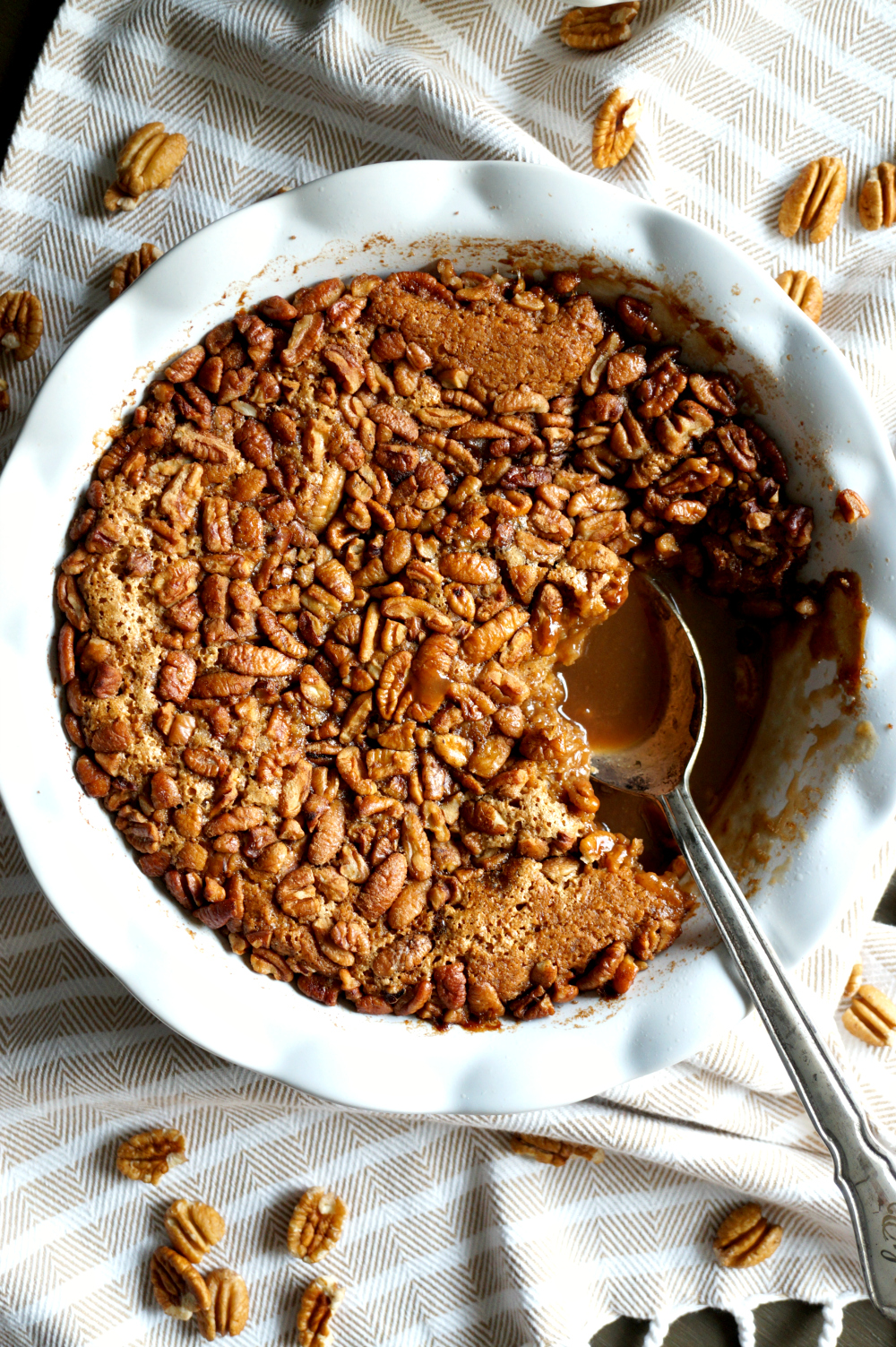 So I'm sure you might be wondering... how can you have pecan pie COBBLER? Doesn't cobbler need fruit or something? Well, I am happy to tell you that it sure does not! A cobbler is mainly dependent on the cake/biscuit topping, as well as a saucy component. In this case, the sauce is basically a brown sugar caramel instead of caramelized fruit juices like you'd find in a traditional cobbler. And all in all, this pecan pie cobbler is freaking delicious. Especially with some vegan vanilla ice cream or coconut whip on top!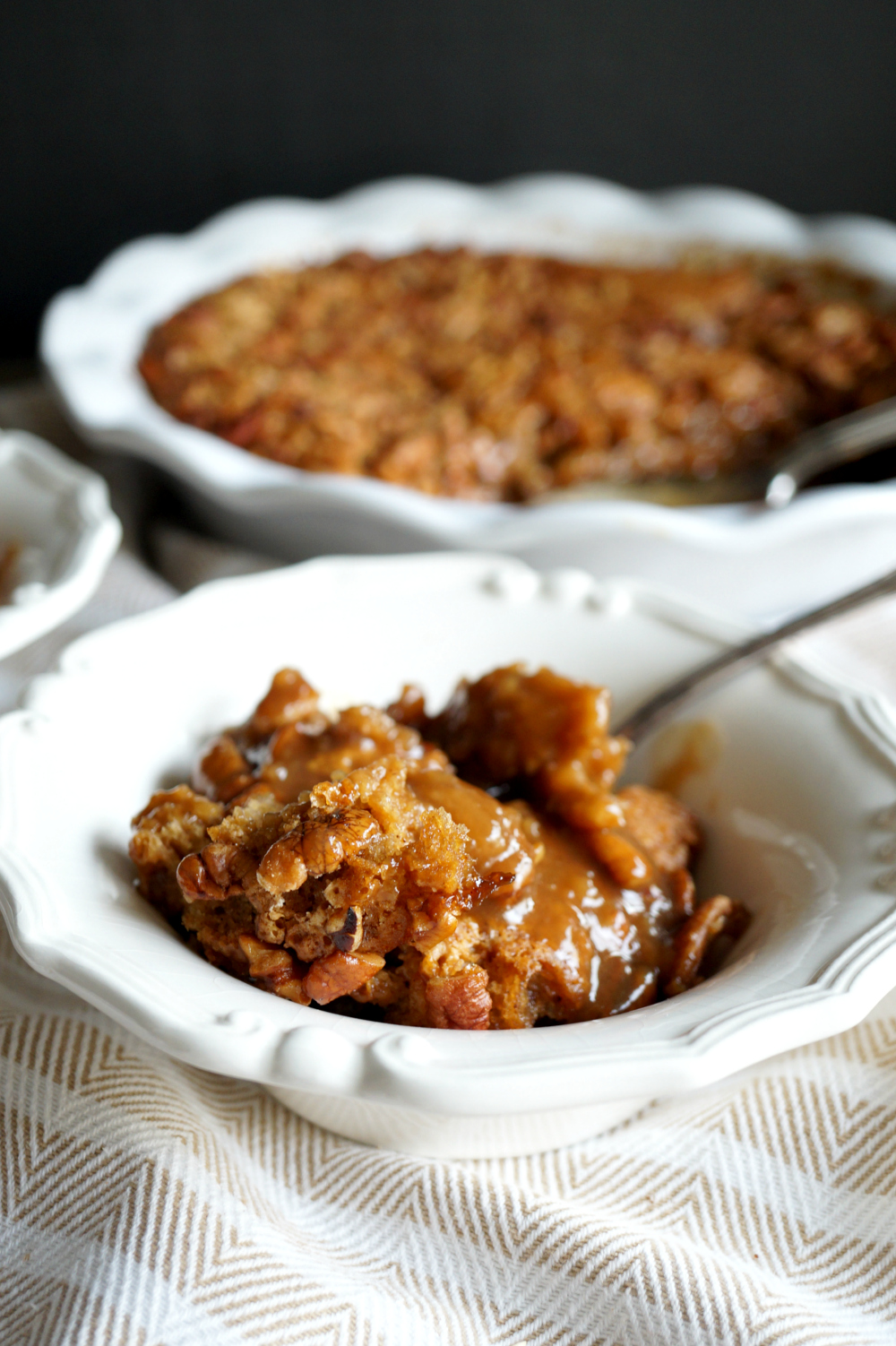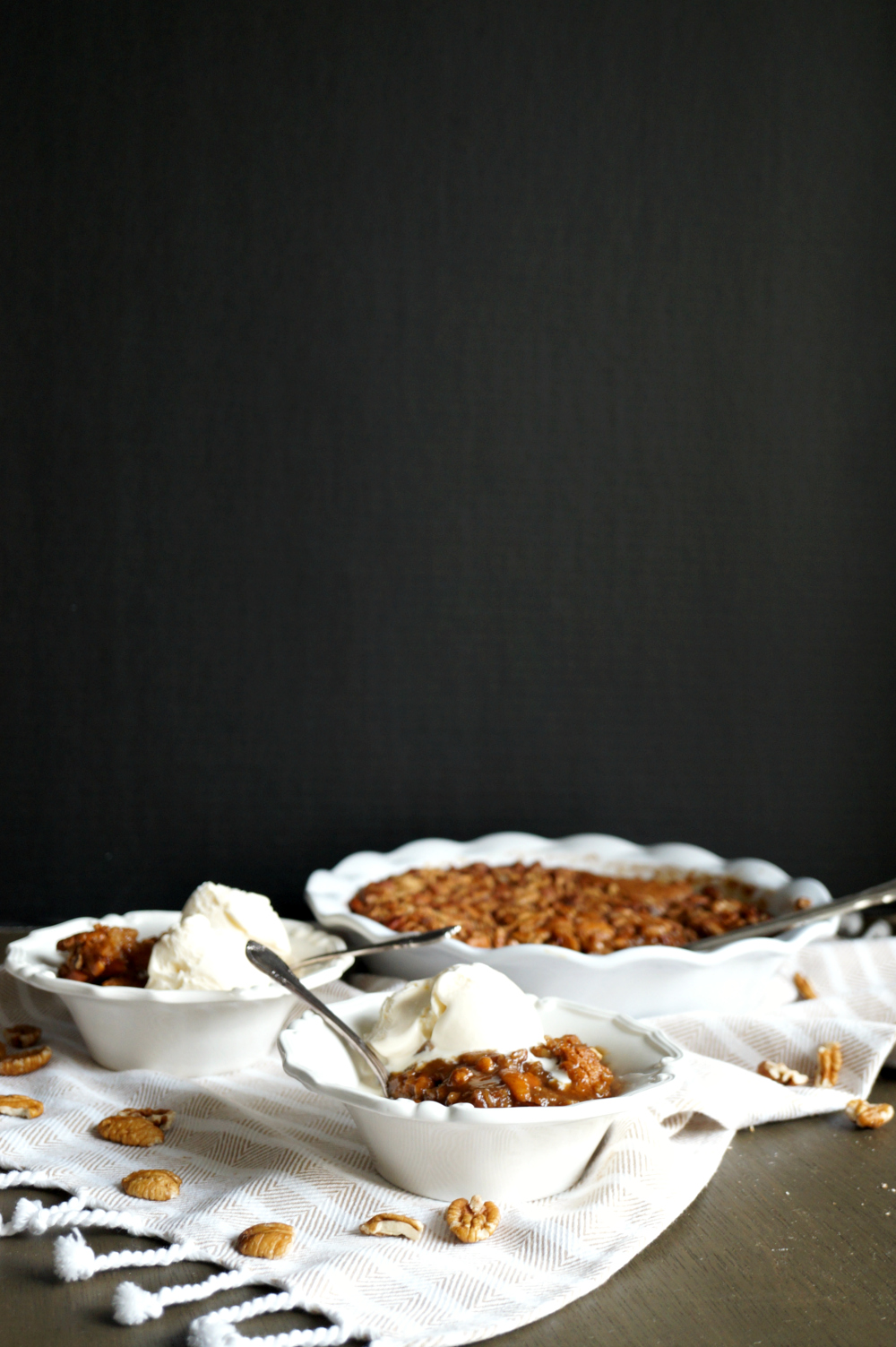 Before making this recipe for the blog, I actually hadn't had pecan pie cobbler since college! I still remember one of my roommates' mom had come to visit, and she brought this mysterious pan of pecan-filled, gooey, caramel-y goodness and left it on the counter while they went out to run errands and then dinner. Me and my other two roommates couldn't resist the temptation and we just HAD to text her in the middle of dinner with her mom asking if we could try the dessert. LOL. Worth it!!! It was SO good and I have been such a big fan since!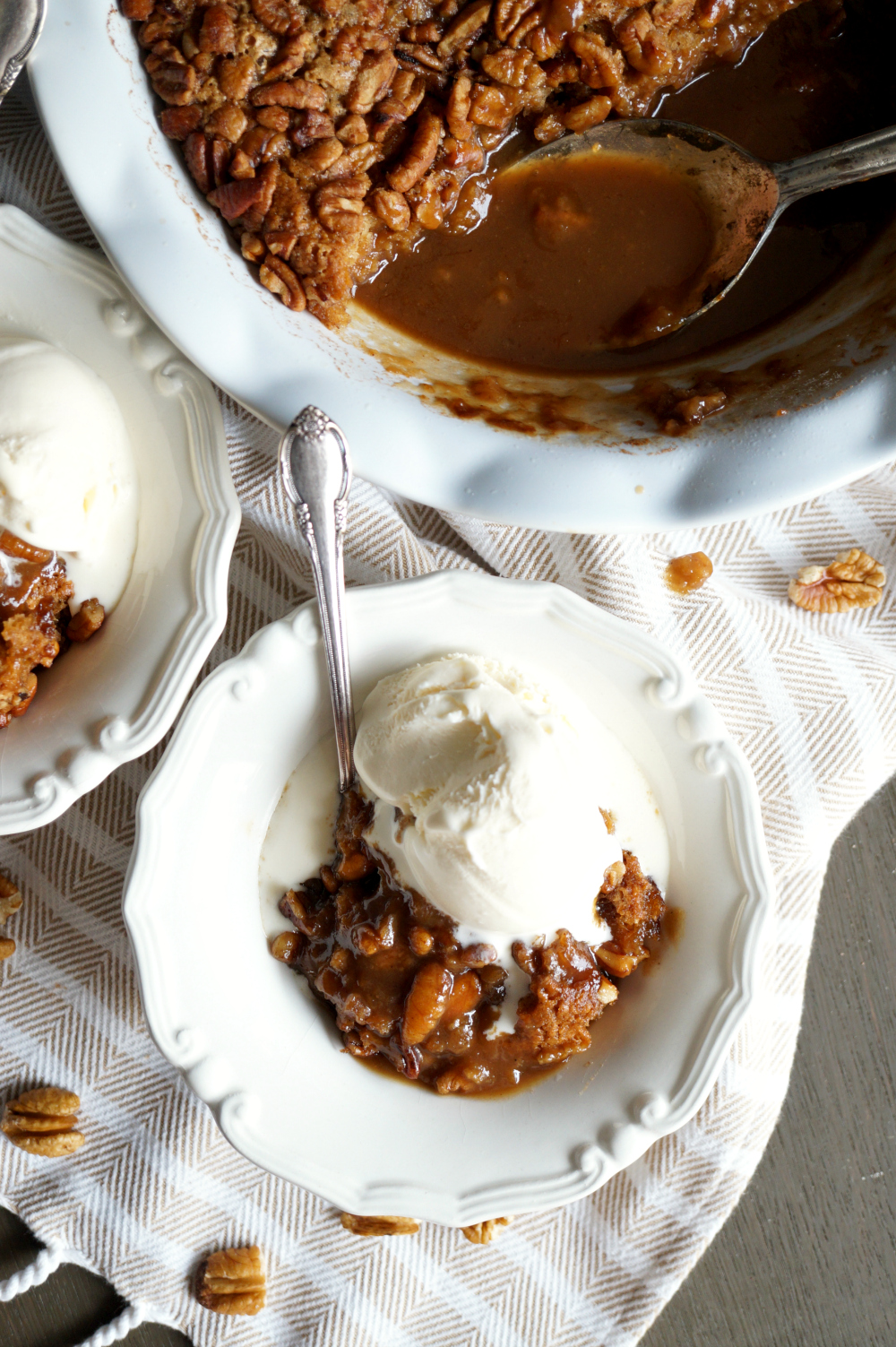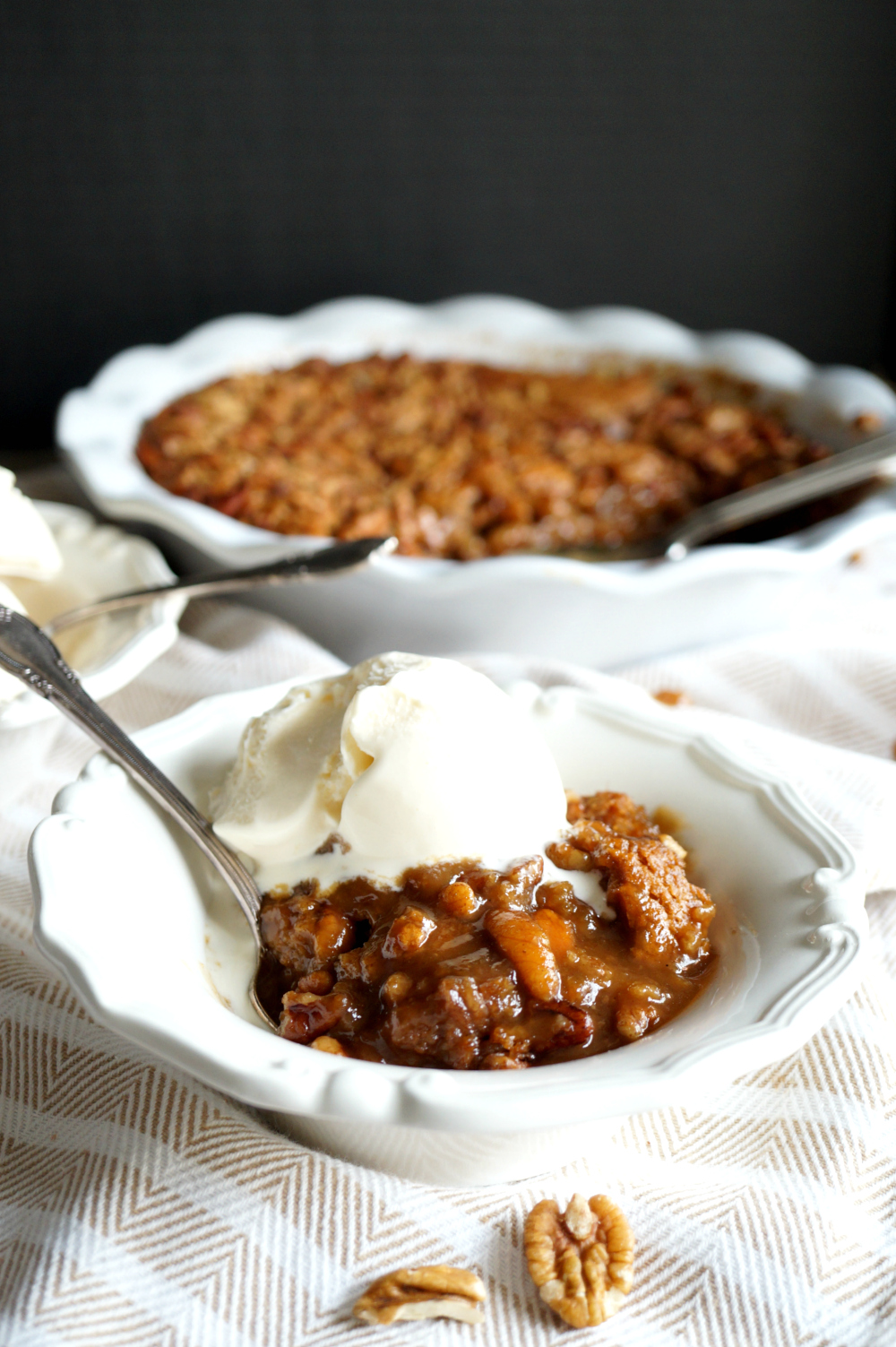 I hope you guys will give this easy peasy pecan pie cobbler a try! It is so simple to make and ridiculously delicious. It would be a perfect sub for the traditional pecan pie at Thanksgiving or Friendsgiving! Or, like, anytime. Let's be real 😉
Looking for more pecan deliciousness?
the easiest vegan pecan pie cobbler
This is really the EASIEST Vegan Pecan Pie Cobbler ever. No bowls needed, as you make it all right in the baking dish. It's delicious with some vanilla ice cream on top!
Author:
Valentina | The Baking Fairy
Recipe type:
Pies & Tarts
Ingredients
*for the cake*
3 tablespoon vegan butter, melted (or coconut oil)
1 cup all-purpose flour
1½ teaspoon baking powder
¾ cup packed dark brown sugar
½ cup nondairy milk
1 teaspoon cinnamon
1 teaspoon vanilla extract
*for the topping*
1 cup pecan pieces
¾ cup packed dark brown sugar
1½ cups hot water
Instructions
Preheat oven to 350F.
Grab an 8x8 square baking dish, or a 9" deep pie dish for baking.
Add the melted vegan butter to your baking dish, and mix in the flour, baking powder, brown sugar, cinnamon, and vanilla.
Stir the ingredients together, then add the milk and mix until a cake batter forms.
Sprinkle the pecans and additional brown sugar on top, then pour the HOT WATER on top at the end. I just microwaved the water in a heat-proof glass measuring cup for about 2 minutes. Do not stir the cobbler!!
Place your baking dish in the oven, and bake for about 40 minutes, until golden brown and caramelized on top. Totally normal for the middle of the cobbler to be a bit jiggly due to the caramel layer underneath.
Let pecan pie cobbler cool for a few minutes, then serve with vanilla ice cream or coconut whip!