This post and recipe was created for #HalloweenTreatsWeek! I was sent samples by some of the sponsor companies but as always opinions are 100% mine.
Vegan Pumpkin Cupcakes get a cute Halloween makeover thanks to sprinkle-encrusted, double-decker dark chocolate frosting and a cute ghost decoration on top!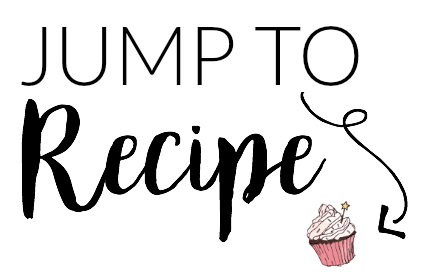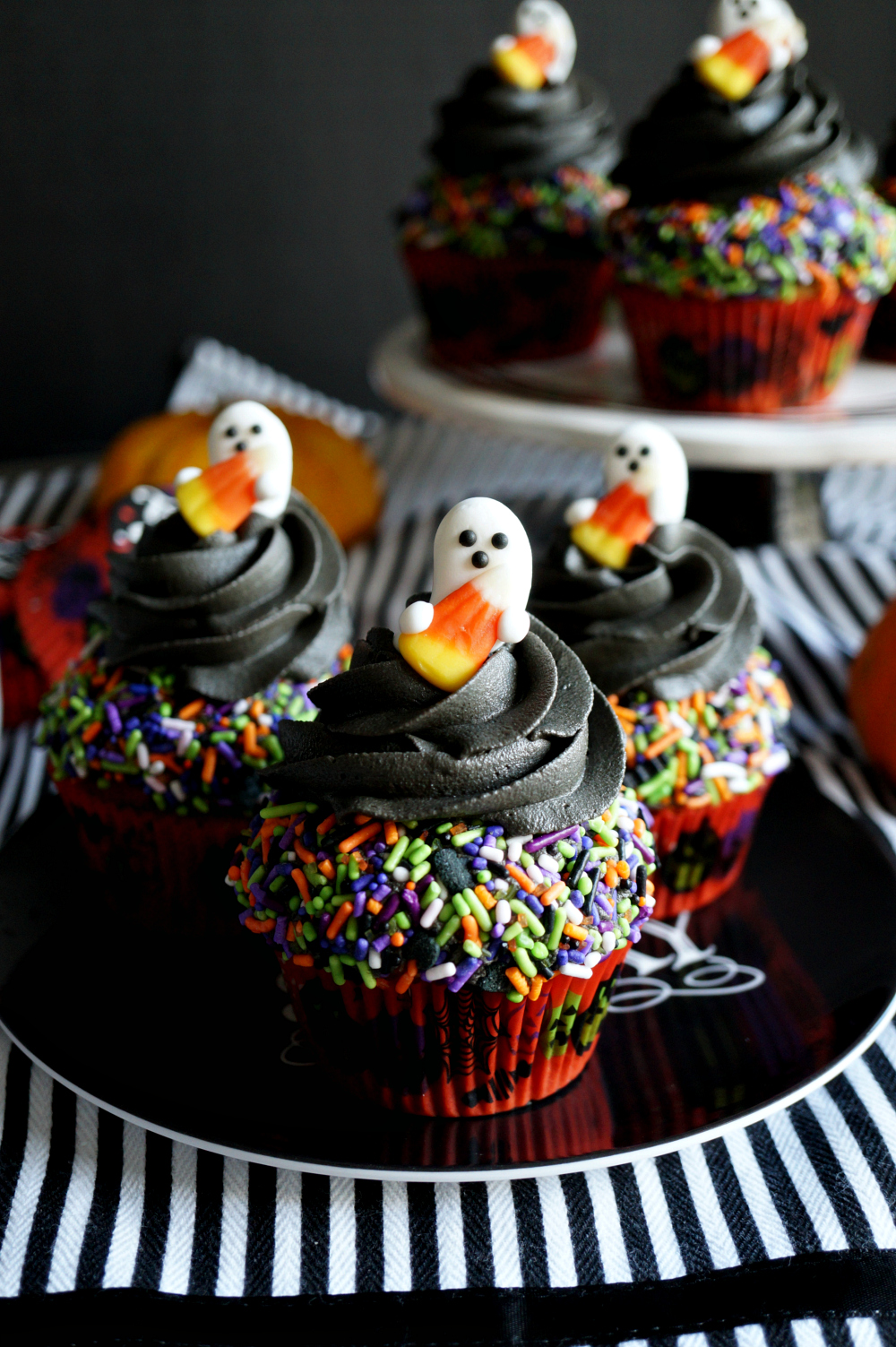 Hi friends and happy Thursday! Today is the last day of #HalloweenTreatsWeek (for me!) and I am wrapping up the festivities with these adorable Vegan Pumpkin Cupcakes with Dark Chocolate Sprinkle Frosting! Yes, I know the name is a bit of a mouthful but it's necessary. What else would you call these cute little treats?! They are fluffy pumpkin cupcakes topped with decadent dark chocolate frosting, and ALL THE SPRINKLES! I added the cute ghost toppers as a bonus, but these would be cute with any kind of Halloween candy on top.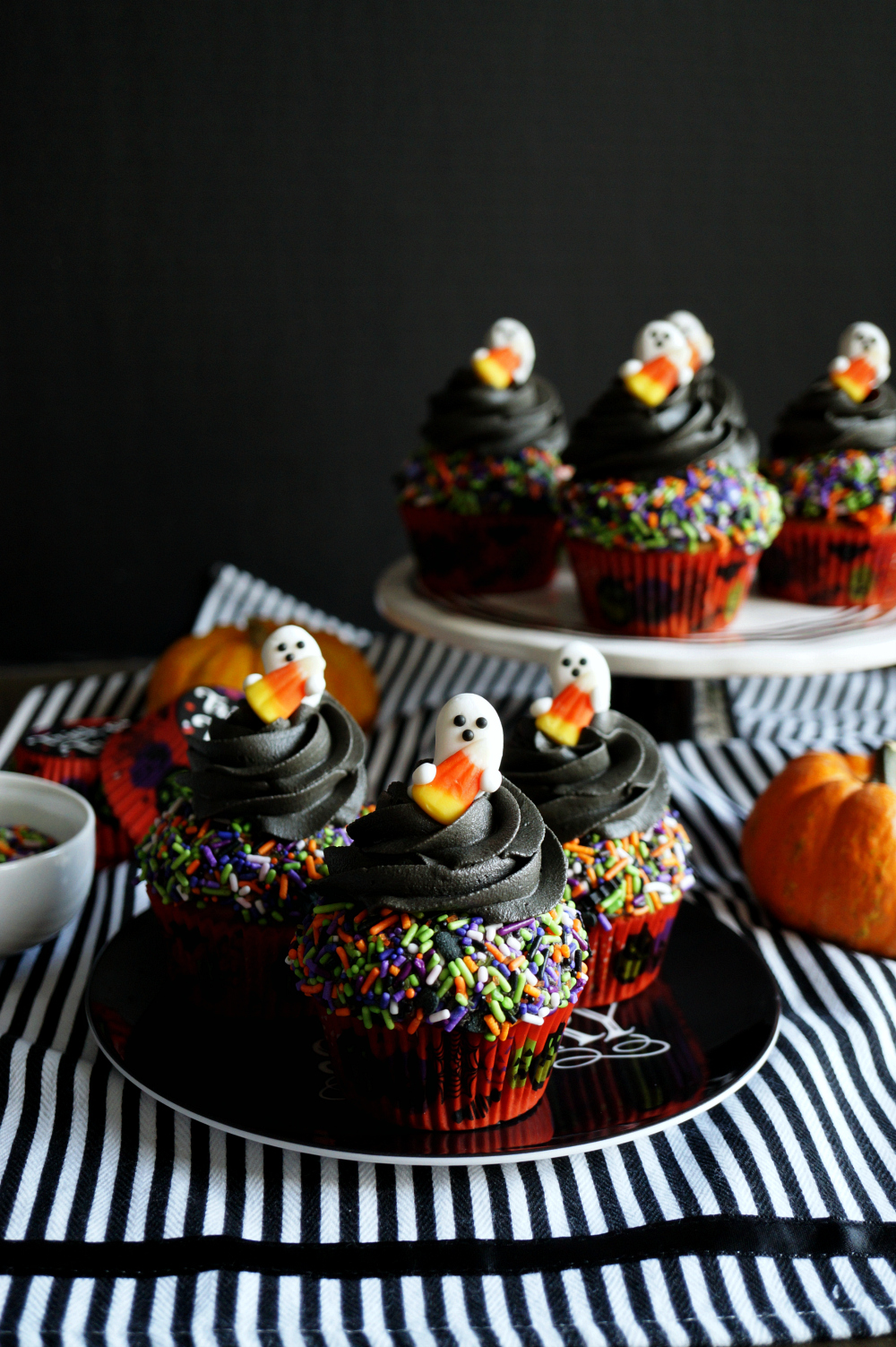 If you're a very astute follower, you may remember I made these super fun mermaid cupcakes last year, which were so cute. These are basically the Halloween version of those!! To make these pumpkin cupcakes, you basically have to frost them twice. First, you pipe a layer of frosting on top of the cupcake and then DUNK it into a bowl of sprinkles to get the crusted effect. Then you do a pretty swirl of frosting on top, and finish off with whatever cute garnish you want. So you end up with a double-decker of frosting! I used these adorable Monster Mash sprinkles from Sweets & Treats. The ghost topper and the cupcake wrappers are from Wilton!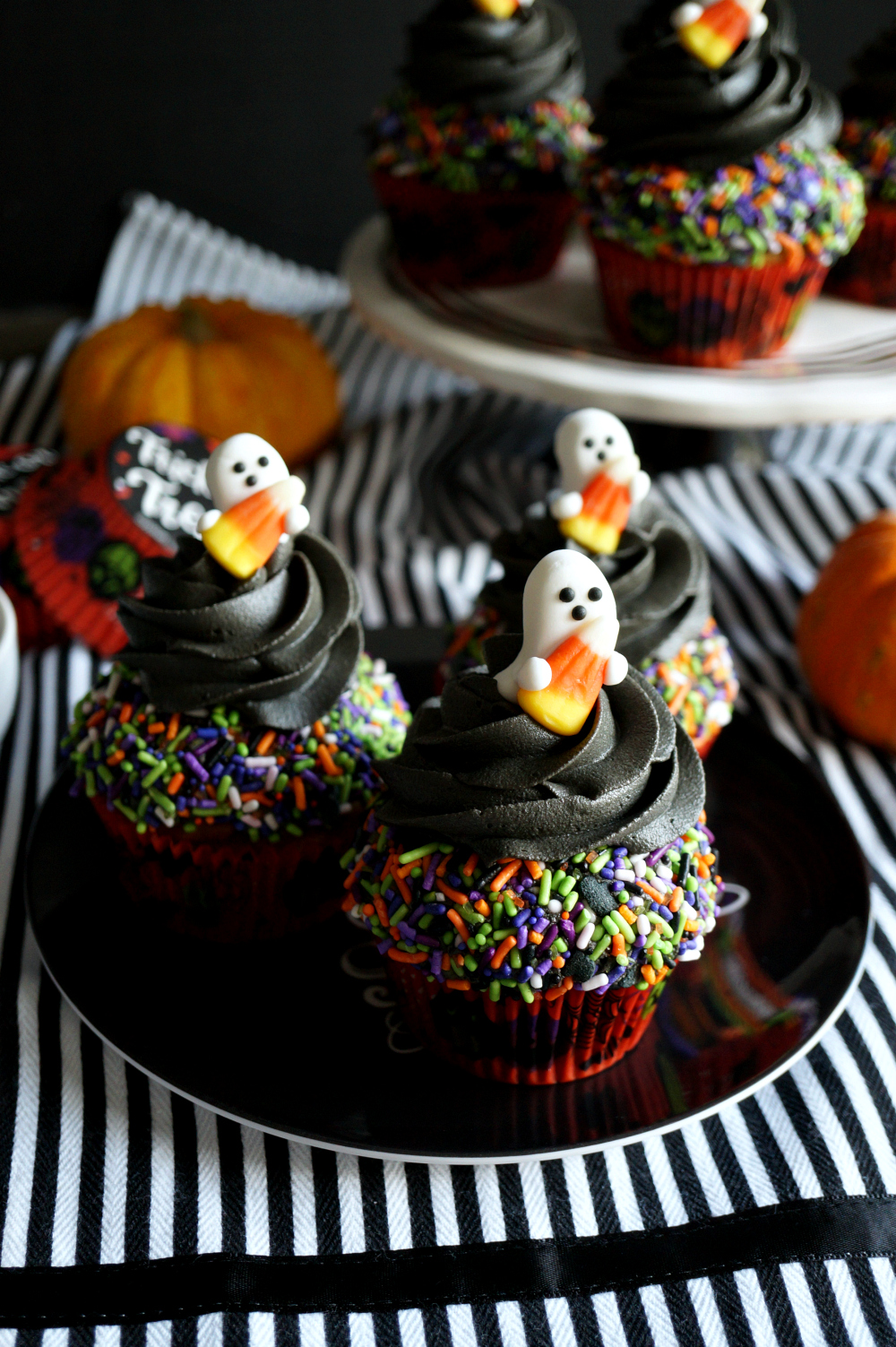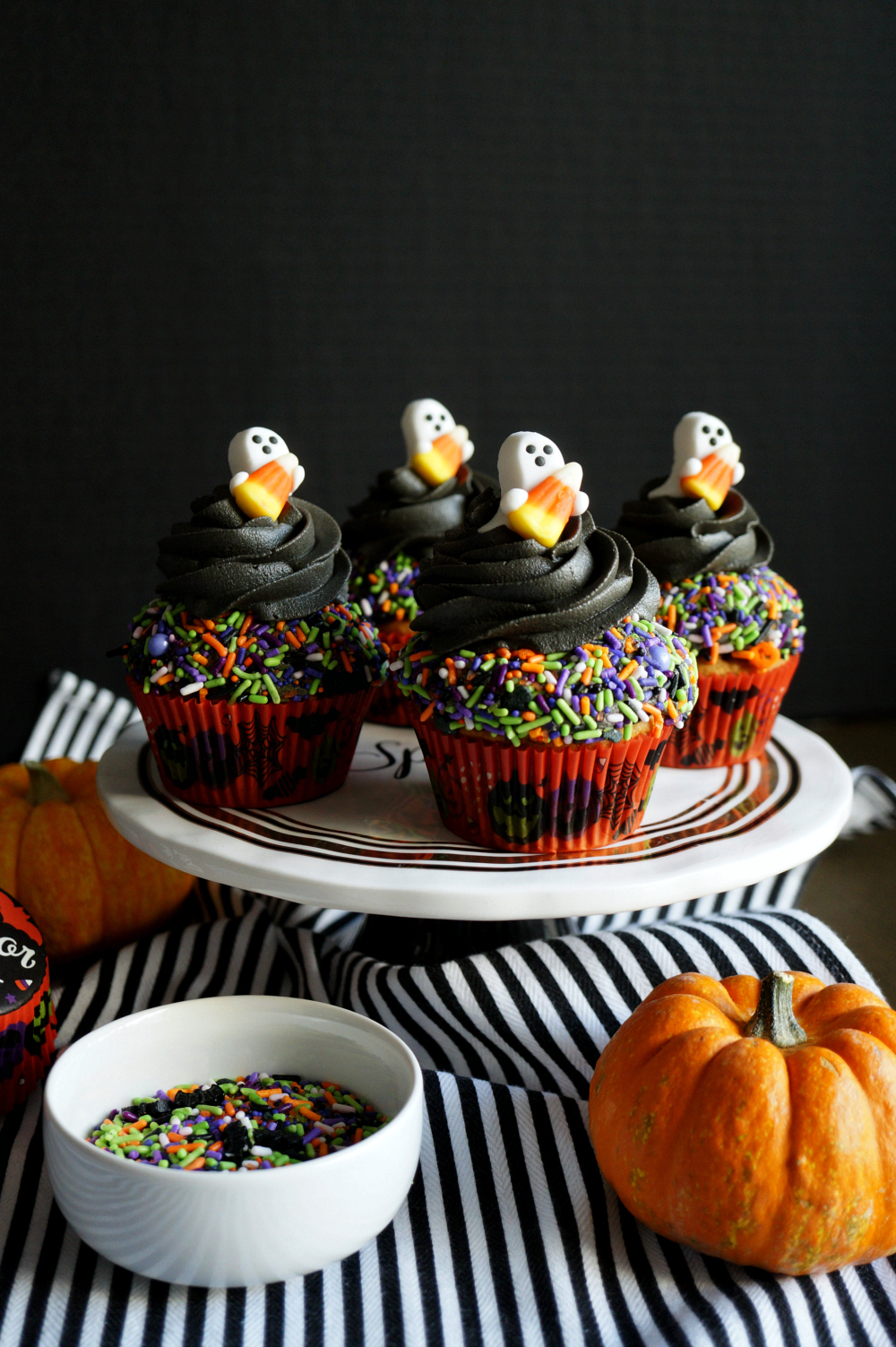 Check out the amazing #HalloweenTreatsWeek recipes from our bloggers today!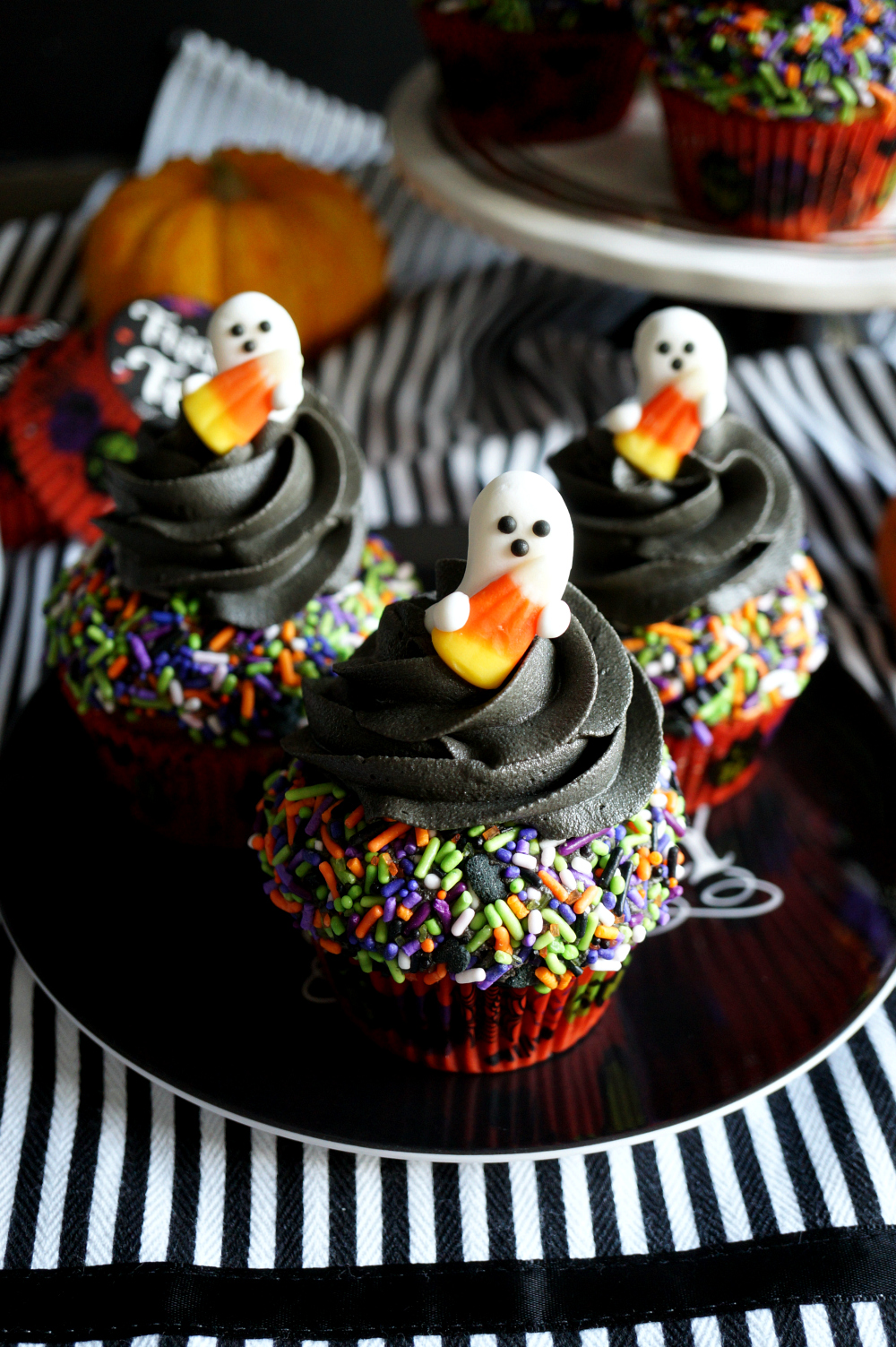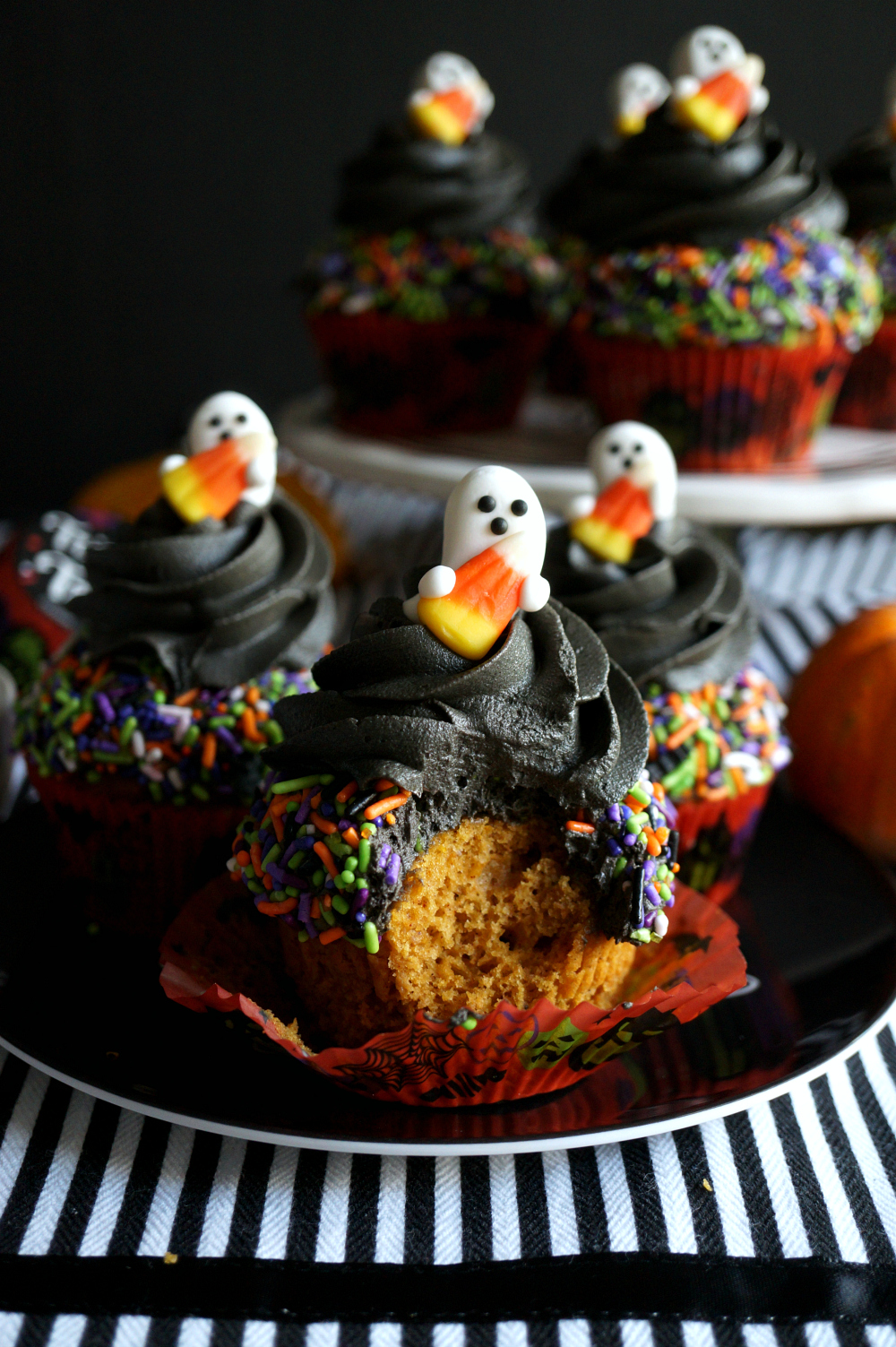 I hope you guys enjoyed all the fun and spooky recipes we made for #HalloweenTreatsWeek! I had a blast creating these treats for y'all! I hope you'll give these vegan pumpkin cupcakes (or another recipe I made this week) a try before Halloween gets here 🙂
Here's what I made for #HalloweenTreatsWeek!
P.S. if you're a visual learner, you can see step by step photos of how to make the double decker frosting on my mermaid cupcake post!

vegan pumpkin cupcakes with dark chocolate sprinkle frosting #HalloweenTreatsWeek
Vegan Pumpkin Cupcakes get a cute Halloween makeover thanks to sprinkle-encrusted, double-decker dark chocolate frosting and a cute ghost decoration on top!
Author:
Valentina | The Baking Fairy
Ingredients
*for the cupcakes*
1 cup pure pumpkin puree
⅓ cup vegetable oil
¾ cup packed Dixie Crystals dark brown sugar
¾ cup nondairy milk
2 cups all purpose flour
1 teaspoon baking soda
2 teaspoon baking powder
pinch of salt
1 teaspoon pumpkin spice mix
½ tablespoon Adams Best vanilla extract
*for the frosting*
1 cup vegan shortening
½ cup vegan butter
¼ cup dark cocoa powder
3 cups Dixie Crystals powdered sugar
½ tablespoon vanilla extract
pinch of salt
1-2 tablespoon nondairy milk, as needed
black food coloring
Sweets & Treats Monster Mash sprinkles
Wilton ghost toppers
Instructions
First, make the cupcakes. Preheat the oven to 350F, and prepare about 16 cupcake lines in a pan.
In a large bowl, mix together the pumpkin puree, vegetable oil, brown sugar, and milk.
Add in the flour, baking powder, baking soda, salt, pumpkin spice, and vanilla. Mix to combine.
Fill each cupcake liner about ⅔ of the way full. You should get 16-18 cupcakes.
Bake in preheated oven for 20 minutes, until a toothpick inserted in the center comes out clean.
Let cupcakes cool completely before frosting.
When ready, prepare the frosting.
Place the vegan shortening and vegan butter in the bowl of a stand mixer, and beat together until smooth and creamy. Add in the cocoa powder, vanilla, and salt, and mix to combine.
Mix in the powdered sugar, about 1 cup at a time, until a thick frosting forms. It is normal to need a bit of milk to get the consistency just right. Add in a few drops of black food coloring. Remember that the frosting WILL get darker as it sits, too.
To create the double decker frosting effect, first pour your sprinkles into a small shallow bowl.
Spread a layer of frosting onto your cupcakes, then dunk the top of the cupcake into the prepared bowl of sprinkles. You may have to roll it around a bit to get it all covered. Repeat with all cupcakes.
For the second portion, place the remaining frosting in a piping bag fitted with a 1M tip, and pipe a swirl of frosting on top of each cupcake. Top with a Halloween candy or edible decoration if desired.