This Vegan "Honey" Jalapeño Cornbread is the perfect mix of sweet and spicy, and it is so simple to make! Bake it in a cast iron skillet for the perfect golden brown crust.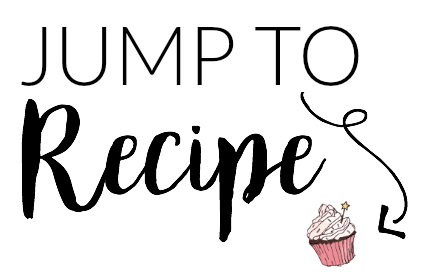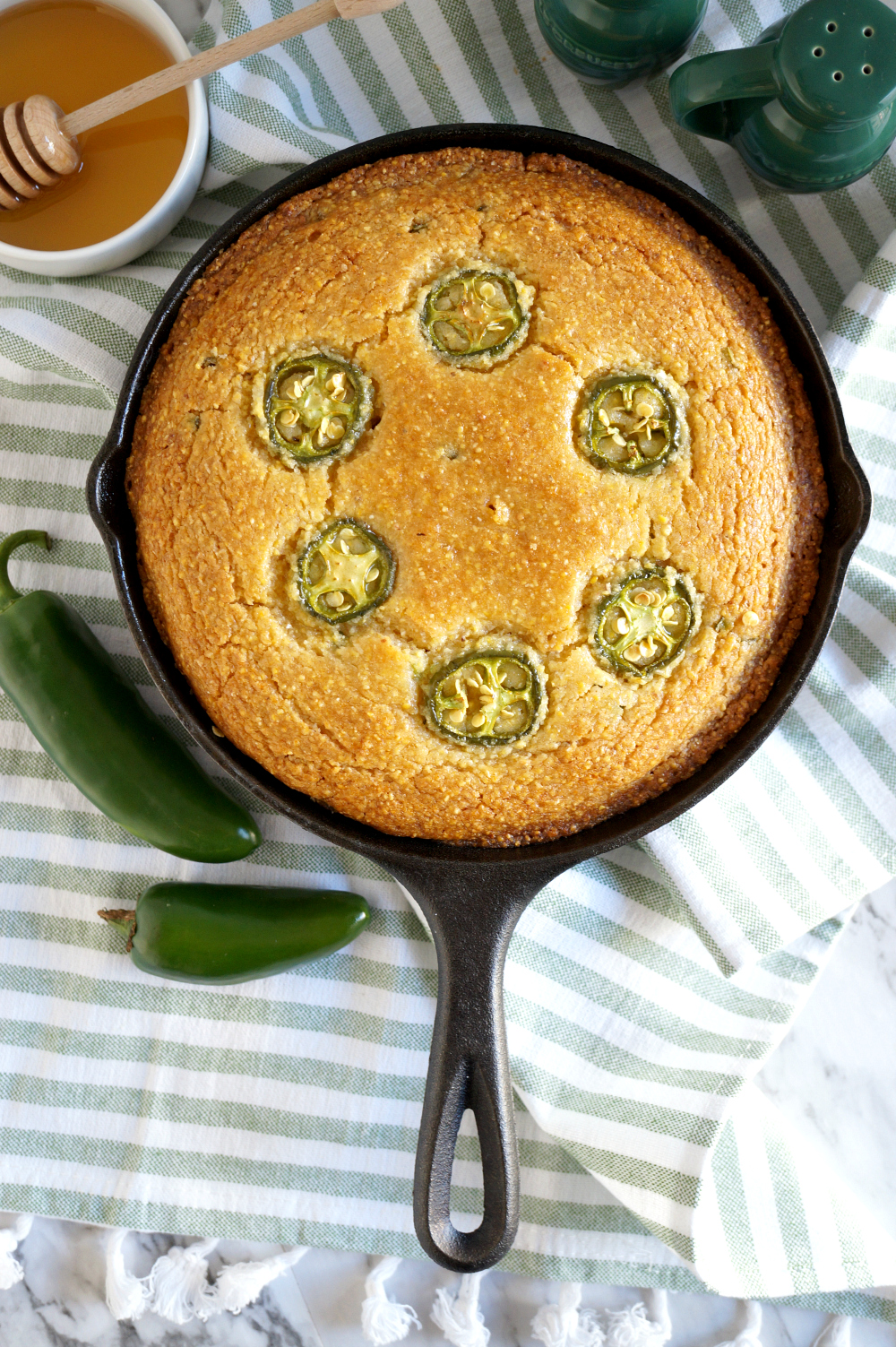 Happy Sunday, my lovely friends! Thanksgiving is fast approaching and I still have so many recipes I want to share with you! This one I am super excited about because it was a big request from my Instagram followers and I really wanted to make it happen. Say hello to this delicious Vegan "Honey" Jalapeño Cornbread! It is super soft and fluffy, moist, sweet, and with just a hint of spice thanks to fresh chopped jalapeños throughout. I'm not a big cornbread person, but this one checks all the boxes for me!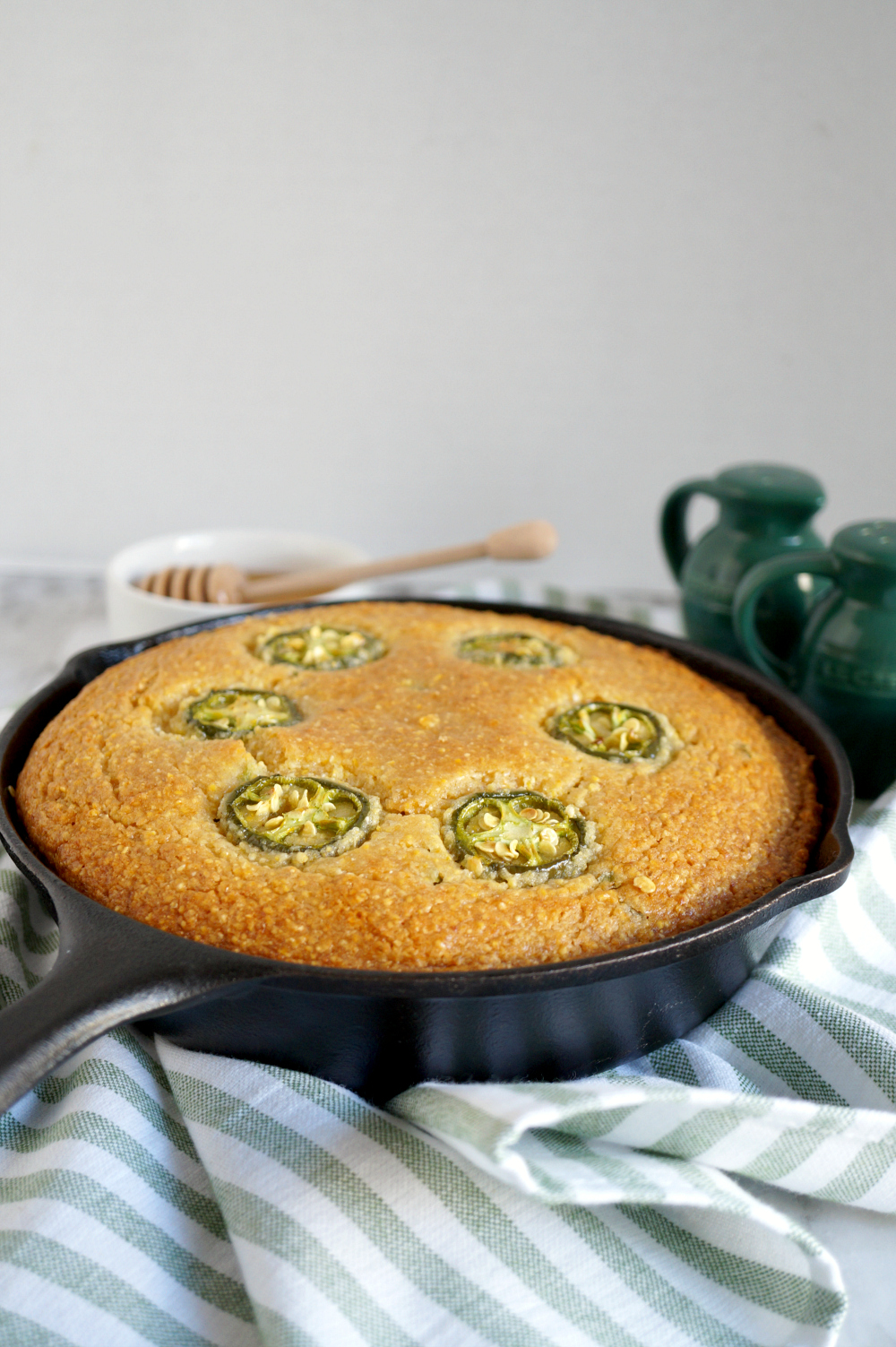 I have NEVER made cornbread before, so I definitely had to poll the masses for everyone's favorite. Aaaaand turns out everyone has very different opinions about their cornbread! Most people said sweet cornbread is their favorite. Some people said they add actual corn while some said ABSOLUTELY NO CORN ALLOWED and some said, just a small sprinkle of corn kernels is perfect. A few also mentioned that spoon cornbread is their favorite. Ooof. How's a girl supposed to make a plan with all of these different ideas?! ????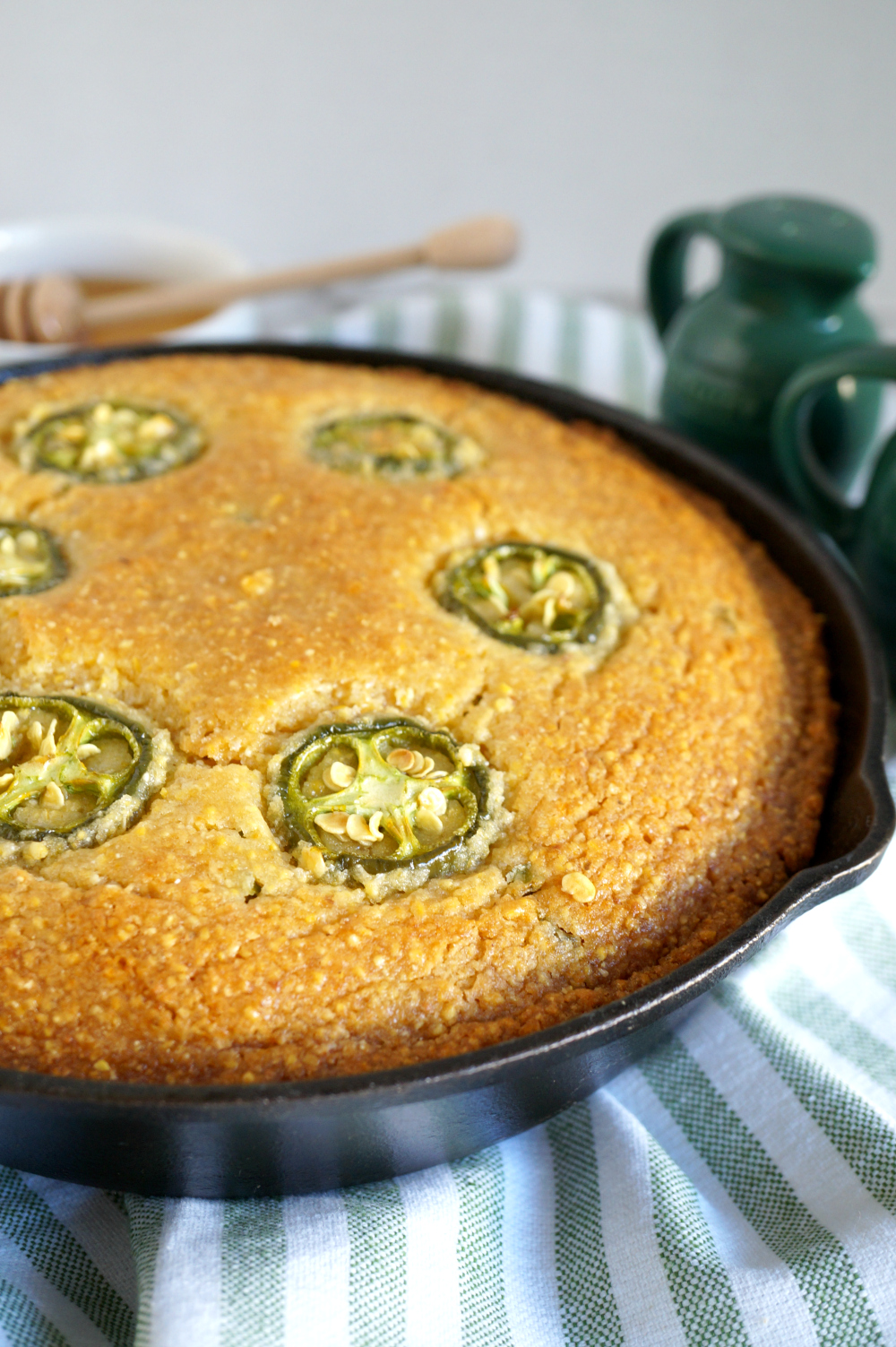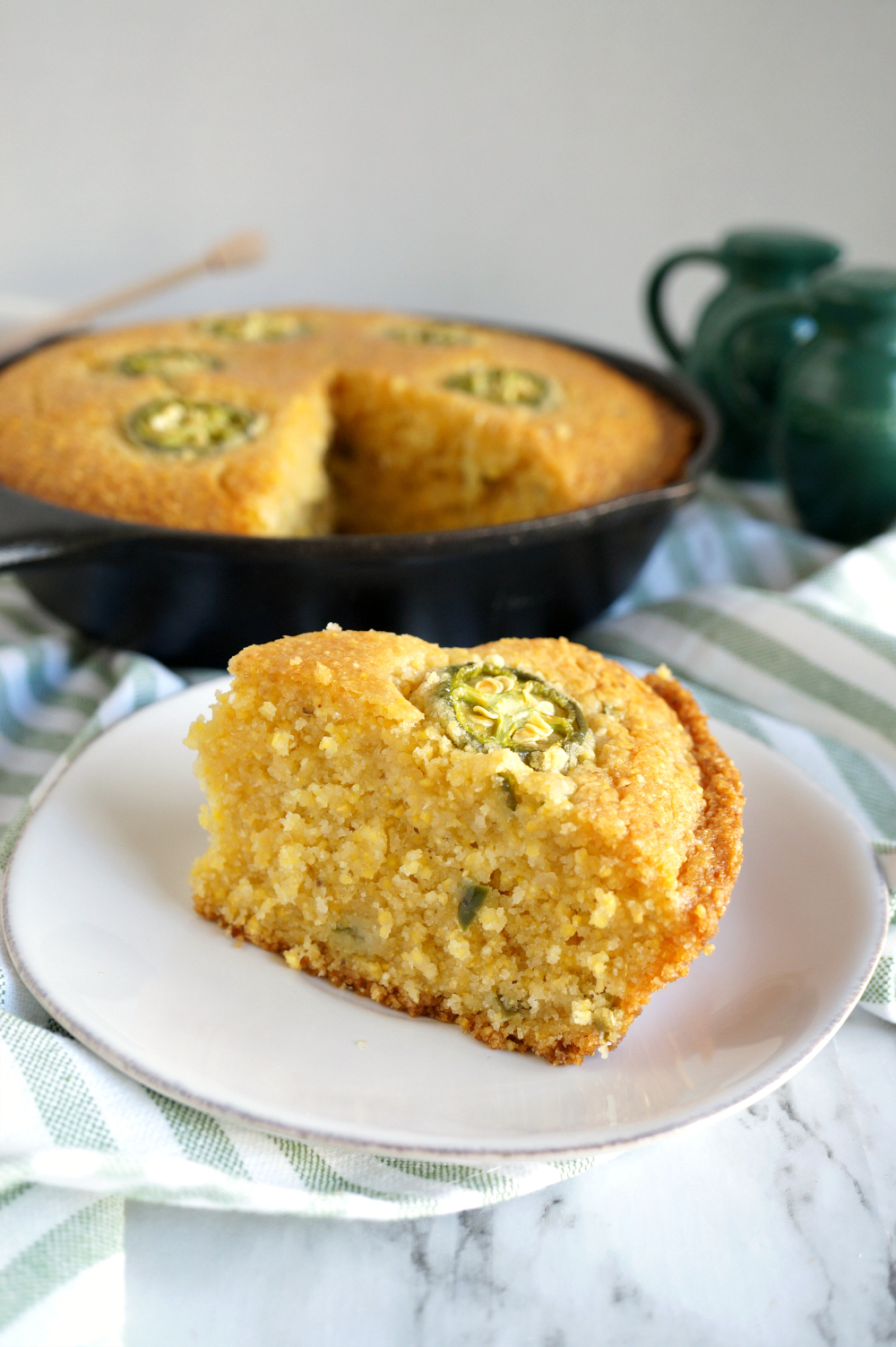 I came up with a compromise - skillet cornbread for a great crust, some sugar and agave (aka "honey") for a touch of sweetness, and a handful of jalapeños thrown in for some extra color and flavor. You guys know I couldn't just make plain cornbread. That isn't my style at all! My other thing is that I wanted this to be corn BREAD, not cake, so I have a smidge more cornmeal than flour in my recipe. Some that I saw while researching had as little as ¼ of the dry ingredients as cornmeal which seemed silly. I adapted my recipe from this one by Darius Cooks and I loved the butter + agave finishing "glaze" so I incorporated it as well. It is such a tasty touch and makes the cornbread extra soft and moist!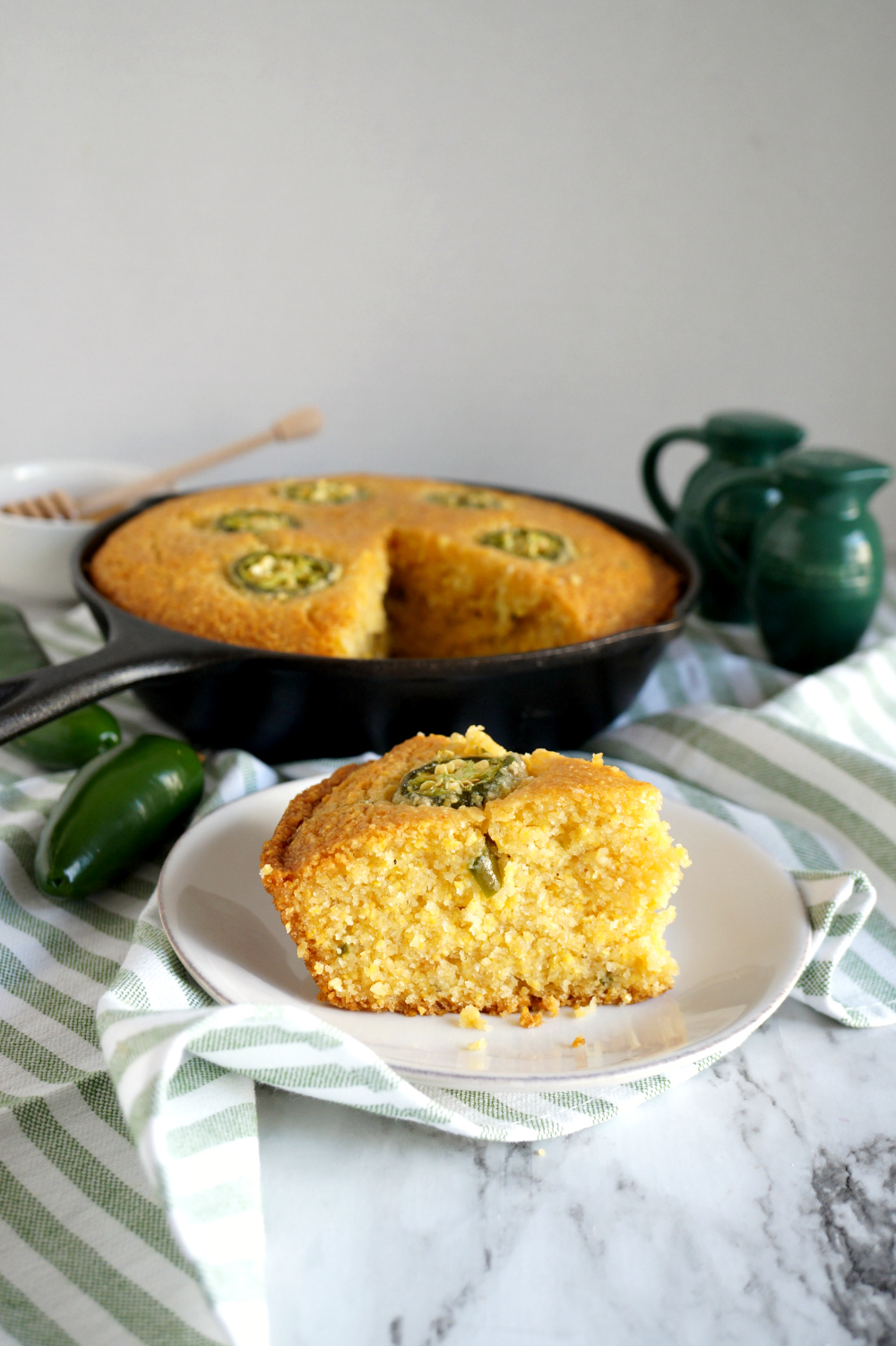 Tips for success:
A cast iron skillet is the perfect baking vessel for this jalapeño cornbread, as you can preheat it as the oven heats. When you pour in your cornbread batter, you'll hear a nice satisfying sizzle... and end up with perfectly golden brown, crispy edges!
I am very wimpy when it comes to spice, so I removed all the ribs and seeds from my jalapeños. If you can handle the heat, then you don't have to do that. And feel free to add more peppers if you want!
I used medium-grind cornmeal for this cornbread, and I did find that it made the cornbread a little gritty... which is pretty expected. For a finer crumb, you can use fine ground cornmeal instead!
I used agave in lieu of honey as it has a neutral flavor that works well with the jalapeños. If you prefer, you can use maple syrup instead or another vegan honey substitute!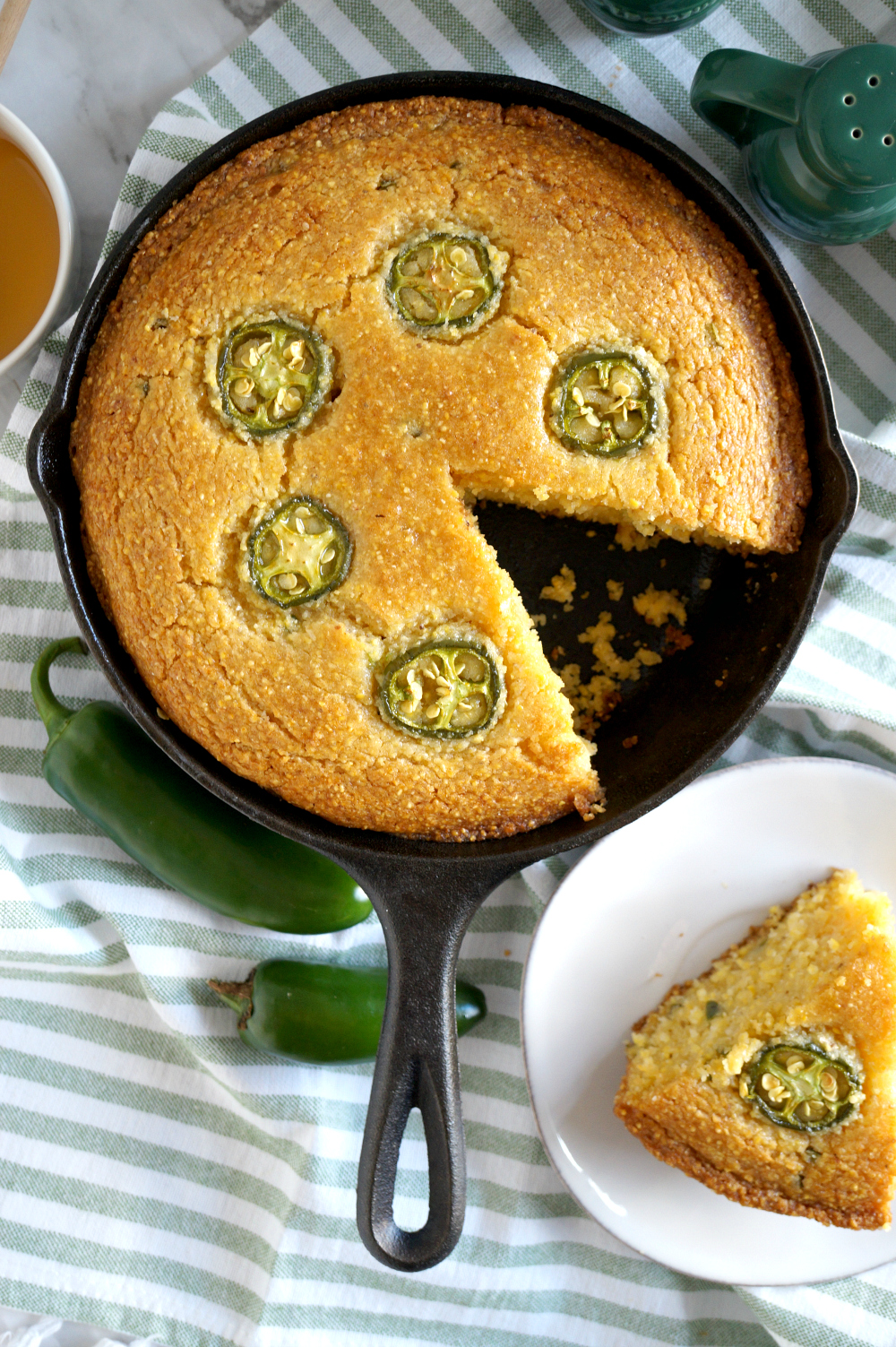 I hope you guys will give my honey jalapeño cornbread a try! It is seriously delicious, so easy to make, and the perfect balance of sweet, savory, and spicy!
Here are some cornbread recipes by my blogger friends!
Recipe adapted from Darius Cooks - thank you!!

vegan "honey" jalapeño cornbread
This Vegan "Honey" Jalapeño Cornbread is the perfect mix of sweet and spicy, and it is so simple to make! Bake it in a cast iron skillet for the perfect golden brown crust.
Author:
Valentina | The Baking Fairy
Recipe type:
Breads & Loaf Cakes
Ingredients
1 cup all purpose flour
1¼ cups cornmeal
¼ cup granulated white sugar
¼ cup agave syrup
¾ cup vegan butter, melted
1 cup nondairy milk
1 tablespoon baking powder
½ teaspoon salt
¼ cup chopped jalapeños
sliced jalapeño, for garnish
½ tablespoon vegetable oil
*for the finishing glaze*
2 tablespoon vegan butter, melted
2 tablespoon agave syrup
Instructions
Preheat the oven to 350F, and place your 8" cast iron skillet in the oven as it heats.
In a large bowl, mix together the flour, cornmeal, sugar, agave, melted butter, milk, baking powder, and salt. Mix until a smooth batter forms and there are no lumps. Fold in the jalapeño pieces.
When the oven is ready, carefully add the oil to the hot cast iron skillet and swirl it around. Add in the cornbread batter, and arrange jalapeno slices on top.
Bake for 40-45 minutes, until a toothpick inserted in the center comes out with a few crumbs.
As soon as the cornbread comes out of the oven, mix the melted butter and agave together for the glaze, and pour all over the top.
Allow cornbread to cool off, then enjoy!
*Disclosure: I am part of the Amazon Associates Program, and there may be affiliate links on this page. If you buy anything through my website, I will receive a small percentage of the profit at no extra cost to you. Thank you for supporting my blog!*