This post and recipe was created for Rodelle Vanilla! I was sent samples to aid in recipe creation, but as always opinions are 100% mine.
These Vegan Hot Cocoa Cupcakes are cute, delicious, and perfect for the holiday season! Rich chocolate cupcakes are stuffed with marshmallow creme and crowned with vanilla buttercream for a festive treat.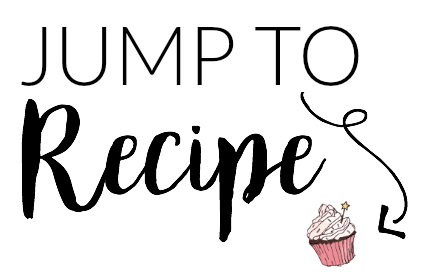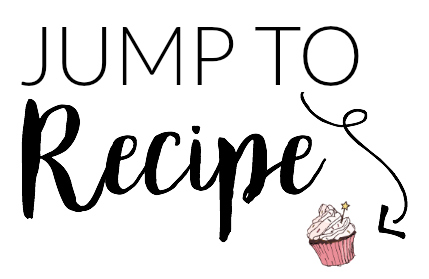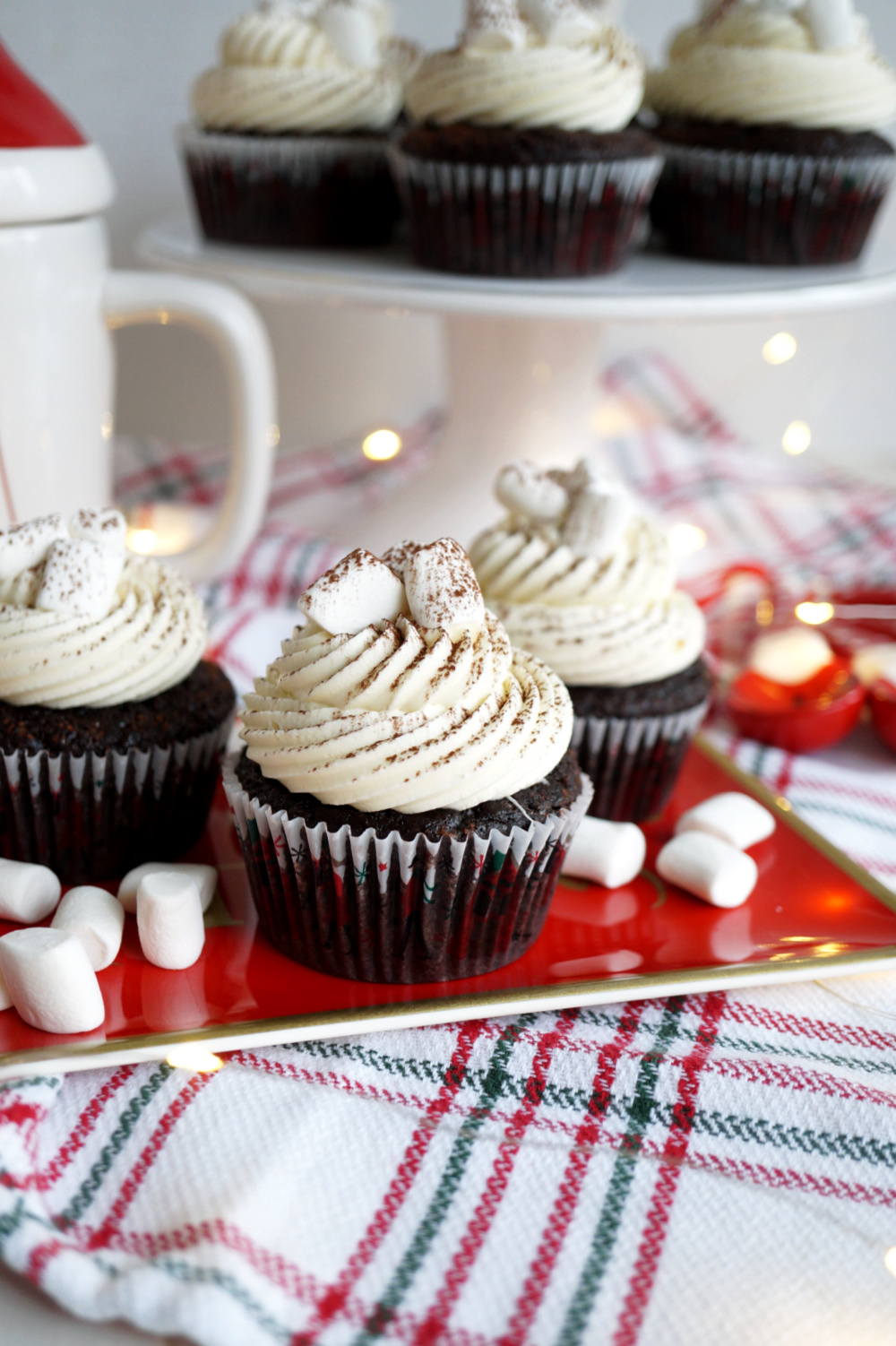 Happy Thursday, my dear friends! I hope everyone had a wonderful week 🙂 I am so excited to be sharing these fun Vegan Hot Cocoa Cupcakes with you guys today, in partnership with Rodelle Vanilla! These fluffy, decadent chocolate cupcakes are stuffed with homemade vegan marshmallow creme and crowned with fluffy vanilla buttercream and fresh marshmallows for a fun edible version of winter's staple drink. I don't know about y'all but I have really been loving a cup of hot cocoa in the evening as a treat lately!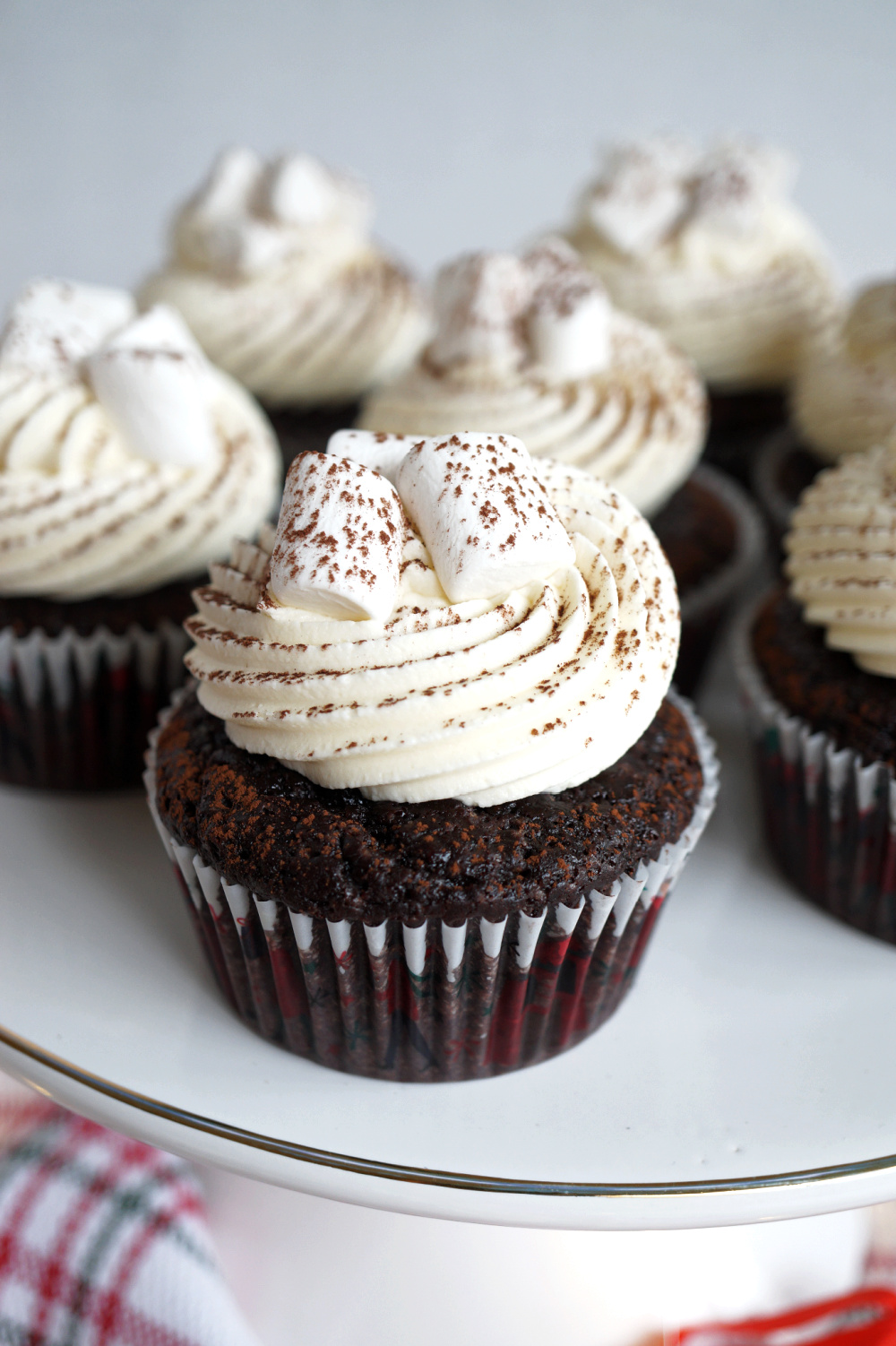 While these hot cocoa cupcakes are delicious and adorable and exciting, there is an even MORE exciting announcement to make! Tomorrow I kick off my BIG BAKING GIVEAWAY! Over the past month, I have been buying up all my favorite baking things... so that I can gift them to one of you! I am partnering up with Rodelle Vanilla for this giveaway (hence the fun recipe today!), as well as Sage & Stitch and Sweets and Treats. Rodelle is gifting an amazing care package including vanilla extract, vanilla bean paste, almond extract, peppermint extract, cocoa powder (which I used in these hot cocoa cupcakes), and hot cocoa mix! Sage & Stitch will be providing the winner with an apron and oven mitt set in the pattern of their choosing. And Sweets and Treats is gifting a fun cupcake decorating kit, complete with cupcake wrappers and lots of cute sprinkles!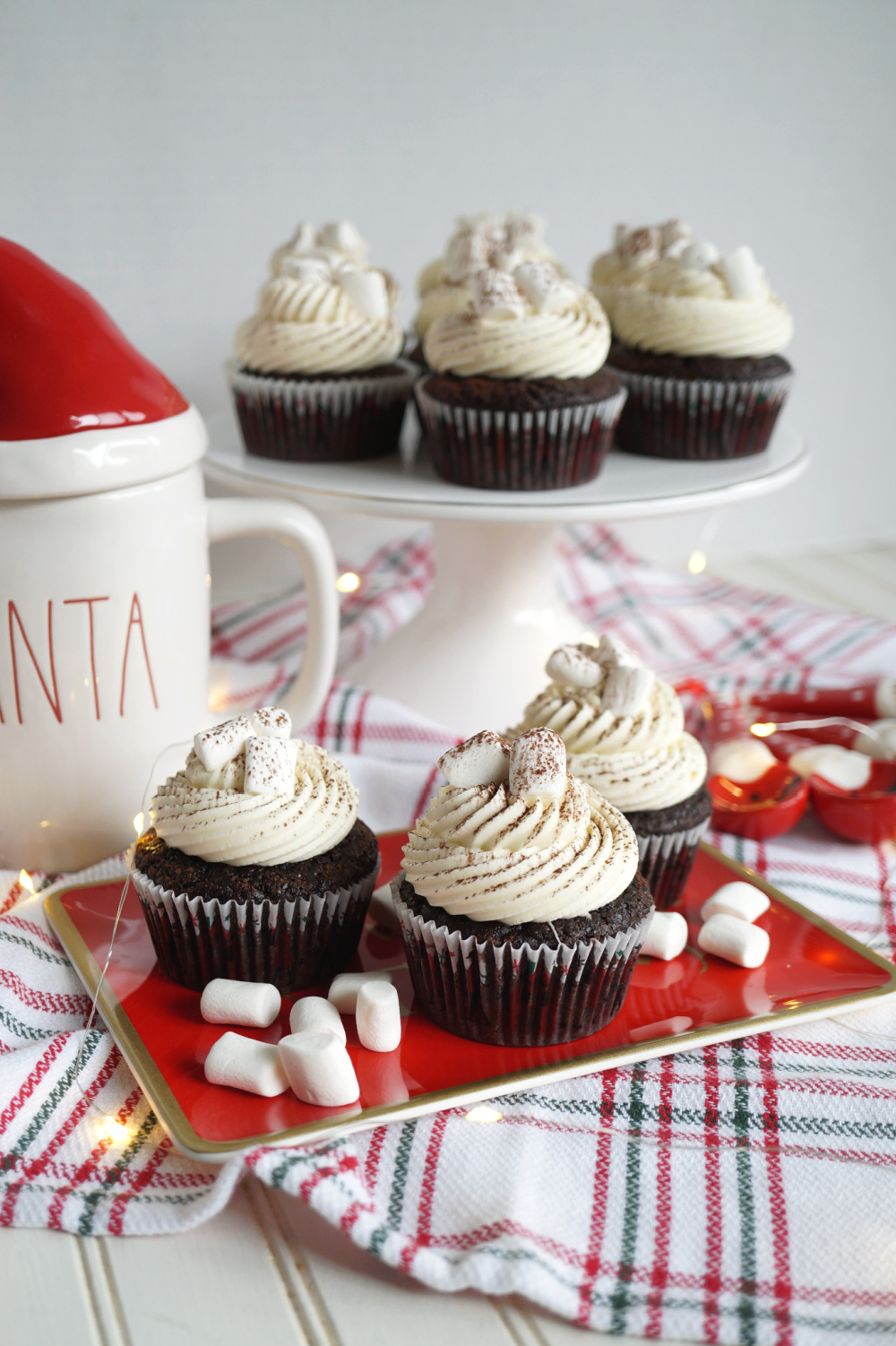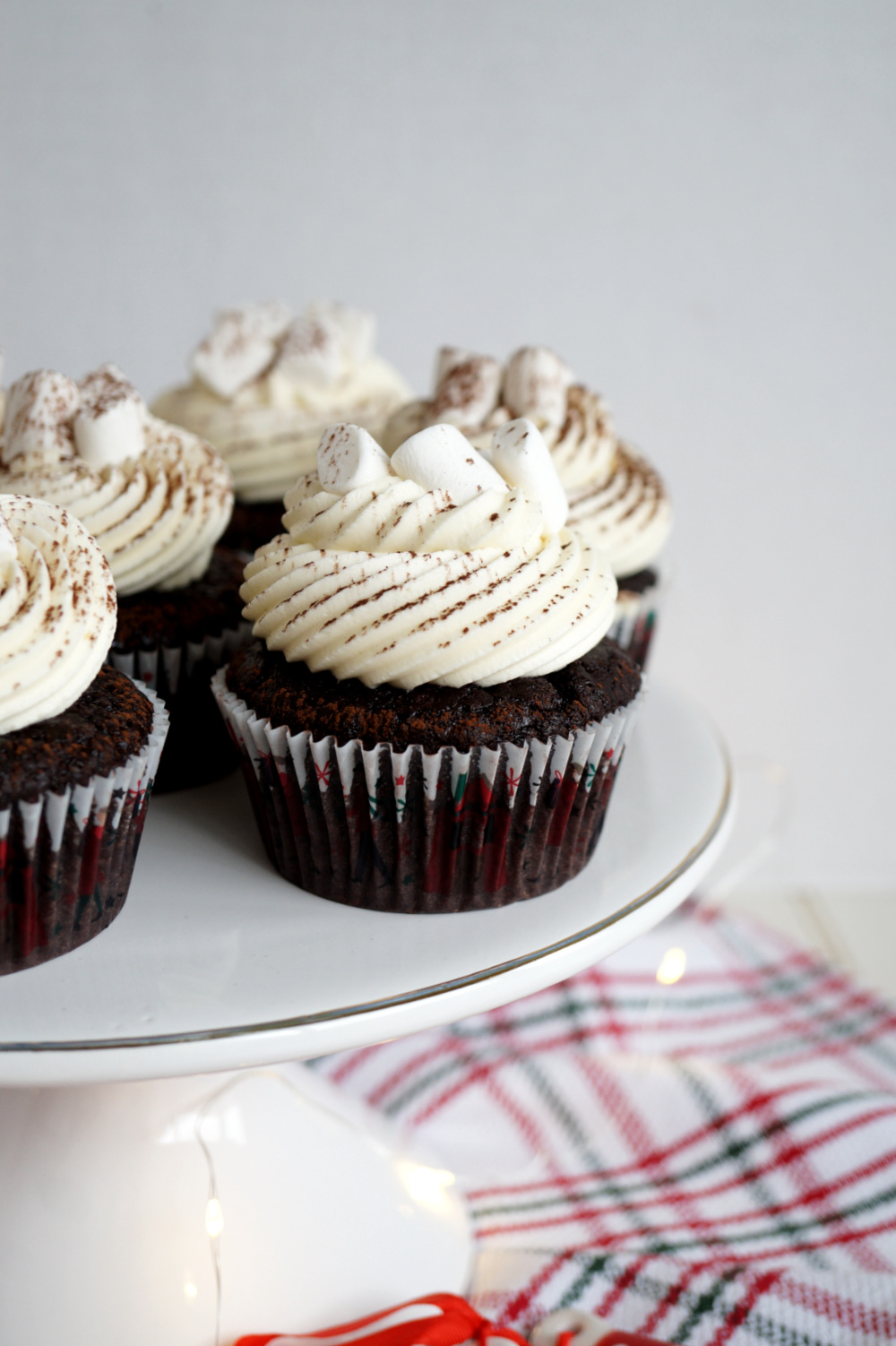 And now, back to the cupcakes! These are so cute and perfect for holiday gifting or entertaining.
What do I need for these hot cocoa cupcakes?
Cocoa powder: Rodelle cocoa is my favorite! It is richly colored and flavored, and makes these hot cocoa cupcakes chocolatey and decadent. I also sprinkled a little on top for a cute finish!
Chocolate extract: this is my favorite secret weapon when it comes to chocolate baked goods! Especially if I am only using cocoa powder and no melted chocolate. This extract makes the cupcakes extra rich and delicious!
Vanilla extract: vanilla is a MUST no matter what I am baking! That sweet, creamy flavor complements your baked goods and makes everything taste better.
Vegan marshmallows: marshmallows are a must for these cupcakes! I melted some down to make the marshmallow creme filling, and added some on top for garnish. My two go-to brands are Dandies and Trader Joe's. 
Vegan butter: you can't make buttercream without butter! I always stay stocked up on Country Crock's avocado oil plant butter sticks. They work so well for baked goods and frostings, and the neutral flavor is perfect. Earth Balance is also a great option, as is Flora!
Shortening: I always add some shortening into my vegan frostings, as I find that the butter alone tends to be too runny and makes the frosting too melty. I recommend a "clean" frosting brand to avoid a chemical aftertaste - my favorites are Nutiva and Spectrum!
White vinegar: I mention this every time I make this chocolate cake recipe (which is... a lot. LOL), but because I don't use an egg replacer in here, the vinegar reacts with the baking soda to make the cupcakes light and fluffy!
Powdered sugar: the most important ingredient in the frosting! Remember that in the US, most commercial brands use bone char to whiten their sugar. When in doubt, opt for organic powdered sugar or... go to Target! I have confirmed with one of their reps that their store-brand Good & Gather sugar does not use bone char.
Other dry ingredients: flour, baking powder, baking soda, salt.
Other wet ingredients: nondairy milk, vegetable oil.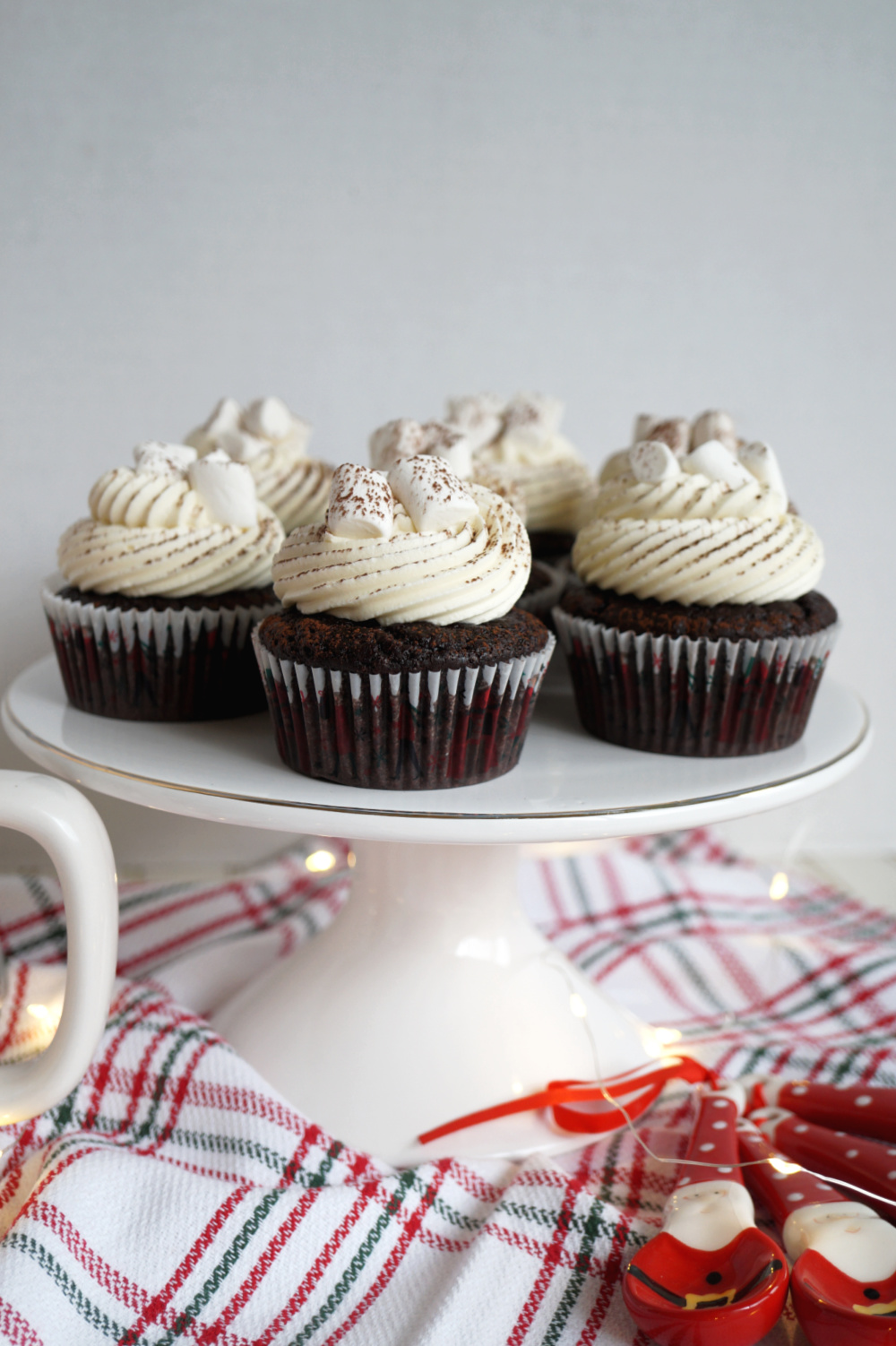 Tips for success for your cupcakes:
Add the vinegar last! Because these hot cocoa cupcakes rely on the chemical reaction of vinegar and baking soda to rise, I mix everything together first and stir in the vinegar at the very last second. This helps ensure that the reaction happens in the oven and doesn't run itself out in the bowl!
Wait until the cupcakes are completely cool before decorating. This is a common tip but so important! You have to make sure the cupcakes have cooled off so that your frosting doesn't melt when you pipe it on top.
Use a large decorating tip or measuring spoon to scoop out the cupcakes. To make room for the marshmallow filling, you have to scoop out a bit of cupcake off the top! To make this easier and ensure that they're all the same size, I recommend using a teaspoon measuring spoon, or the wide end of a large decorating tip, to carve out the hole. You can check out this cherry cupcake recipe for step by step photos.
Use your marshmallow creme while it's still warm! I know we always say to wait until things have cooled off to use them, but... this marshmallow creme becomes very stiff at room temperature and it's hard to work with. Use it while it's still warm so that it's more pliable and easier to use.
Decorate with a large tip! I find that when people struggle to make cute cupcakes, it's not usually their fault... it's the decorating tip they are using! I recommend large open star tips for cute cupcakes, every time. For this recipe, I tried out the 8B tip for the first time and I am in love with how it turned out!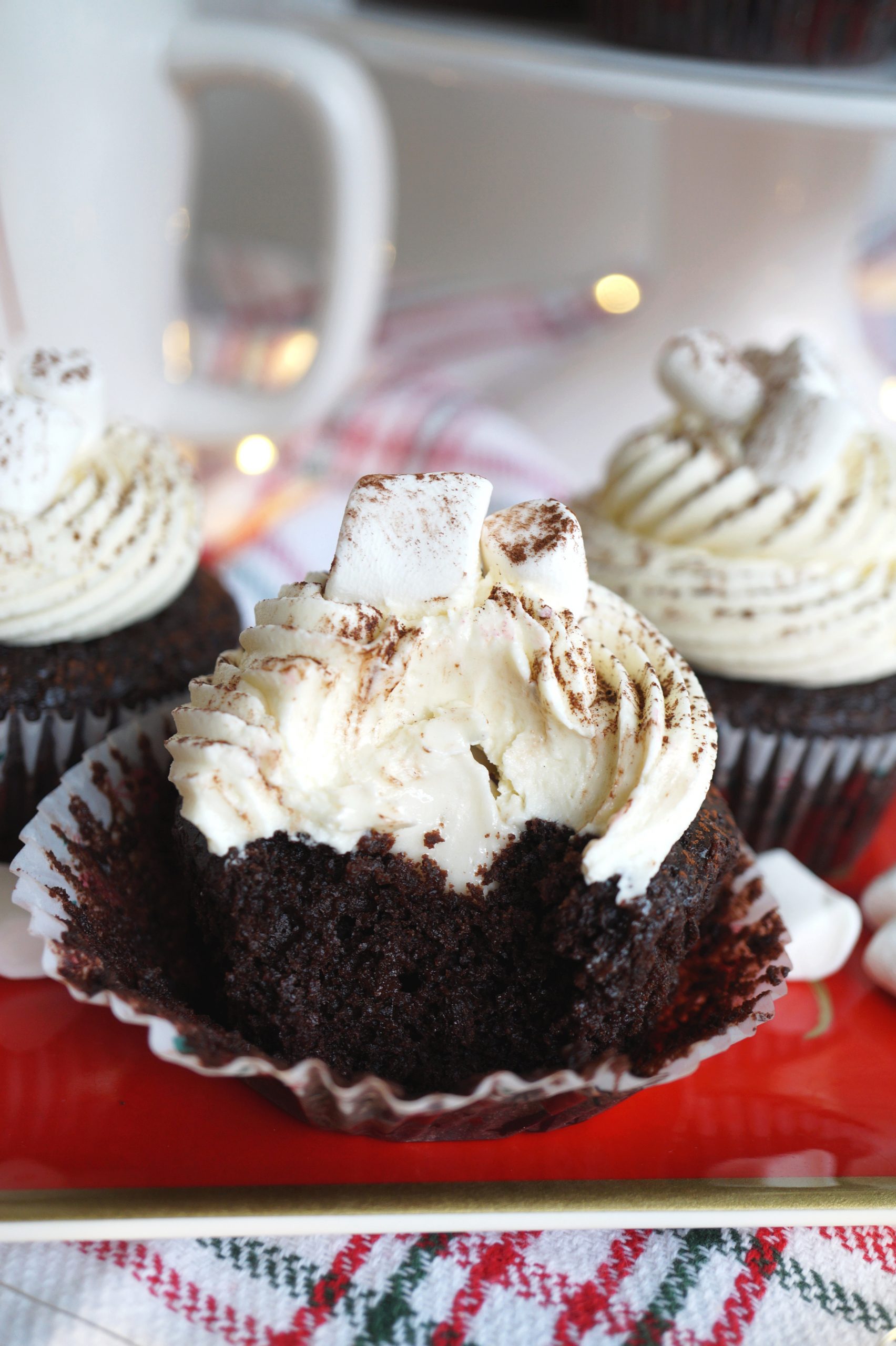 I hope you guys will make these hot cocoa cupcakes sometime this holiday season! They are cute, delicious, and so fun to make! If you're interested in the giveaway, make sure you're following me on Instagram and look for the post going up tomorrow! Happy baking 🙂
Looking for more hot cocoa treats?
vegan hot cocoa cupcakes
These Vegan Hot Cocoa Cupcakes are cute, delicious, and perfect for the holiday season! Rich chocolate cupcakes are stuffed with marshmallow creme and crowned with vanilla buttercream for a festive treat.
Author:
Valentina | The Baking Fairy
Ingredients
*for the cupcakes*
1¼ cups all-purpose flour
1 cup white granulated sugar
½ cup cocoa powder
1 teaspoon baking powder
½ teaspoon baking soda
¼ teaspoon salt
1 cup nondairy milk
⅓ cup vegetable oil
2 tablespoon white vinegar
1 tablespoon Rodelle vanilla extract
1 teaspoon Rodelle chocolate extract
*for the marshmallow filling*
2 cup vegan marshmallows
2 tablespoon corn syrup
¼ cup nondairy milk
*for the frosting*
½ cup vegan shortening
½ cup vegan butter, softened
2 cups powdered sugar
½ tablespoon Rodelle vanilla extract
pinch of salt
*for garnish: mini marshmallows, cocoa powder
Instructions
Preheat oven to 350F. Place 15 cupcake liners in 2 muffin pans and set aside.
To make the cake, whisk together the flour, cocoa, sugar, salt, baking powder, and baking soda in a large bowl.
Add in the coconut milk and oil, and mix vigorously. Add in the vinegar and vanilla, and mix until well combined.
Divide the cake batter between the prepared cupcake liners, and bake for 17-20 minutes, until a toothpick inserted in the center comes out with just a few crumbs. Set aside to cool completely before filling.
Combine the marshmallows, corn syrup, and nondairy milk in a microwave-safe bowl. Microwave in 15 second increments, until mixture is smooth and silky. Set aside to cool slightly before using. Alternatively, you can also do this on the stove in a nonstick pot. Be sure to use medium heat and watch closely!
Finally, make the frosting. Simply combine your shortening and softened vegan butter in the bowl of a stand mixer.
Beat until creamy and smooth, then add in the powdered sugar, about ¼ cup at a time, until fully incorporated. Frosting should be light and fluffy. Stir in the vanilla extract and salt.
If your frosting is dry and doughy, add a few spoonfuls of nondairy milk and beat until combined. If your frosting is too soft and buttery, add more powdered sugar until it reaches desired consistency.
To assemble, first carve out a small portion of the top of your cupcakes. A teaspoon measuring spoon works great for this.
Spoon the marshmallow creme in each cavity - if it's too stiff, warm it back up a bit to make it more pliable and easy to work with!
Finally, decorate the tops of the cupcakes as desired with your frosting. I used an 8B decorating tip. Top with additional mini marshmallows and a sprinkle of cocoa. Enjoy!
In accordance with the FTC Guidelines, I am disclosing that I received compensation from Rodelle Vanilla for my time and participation in the
Rodelle Ambassador Program
. Although I have material connection to Rodelle Vanilla, any publicly stated opinions of Rodelle and their products remains my own. Recipe is an original creation of Valentina Celant at TheBakingFairy.net.
*Disclosure: I am part of the Amazon Associates Program, and there may be affiliate links on this page. If you buy anything through my website, I will receive a small percentage of the profit at no extra cost to you. Thank you for supporting my blog!*