These Vegan Hot Cocoa Rice Krispie Treats are ridiculously simple to make, and so delicious! All you need is 4 ingredients and less than 30 minutes.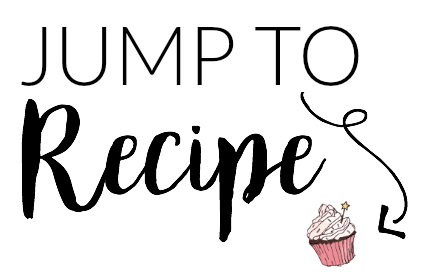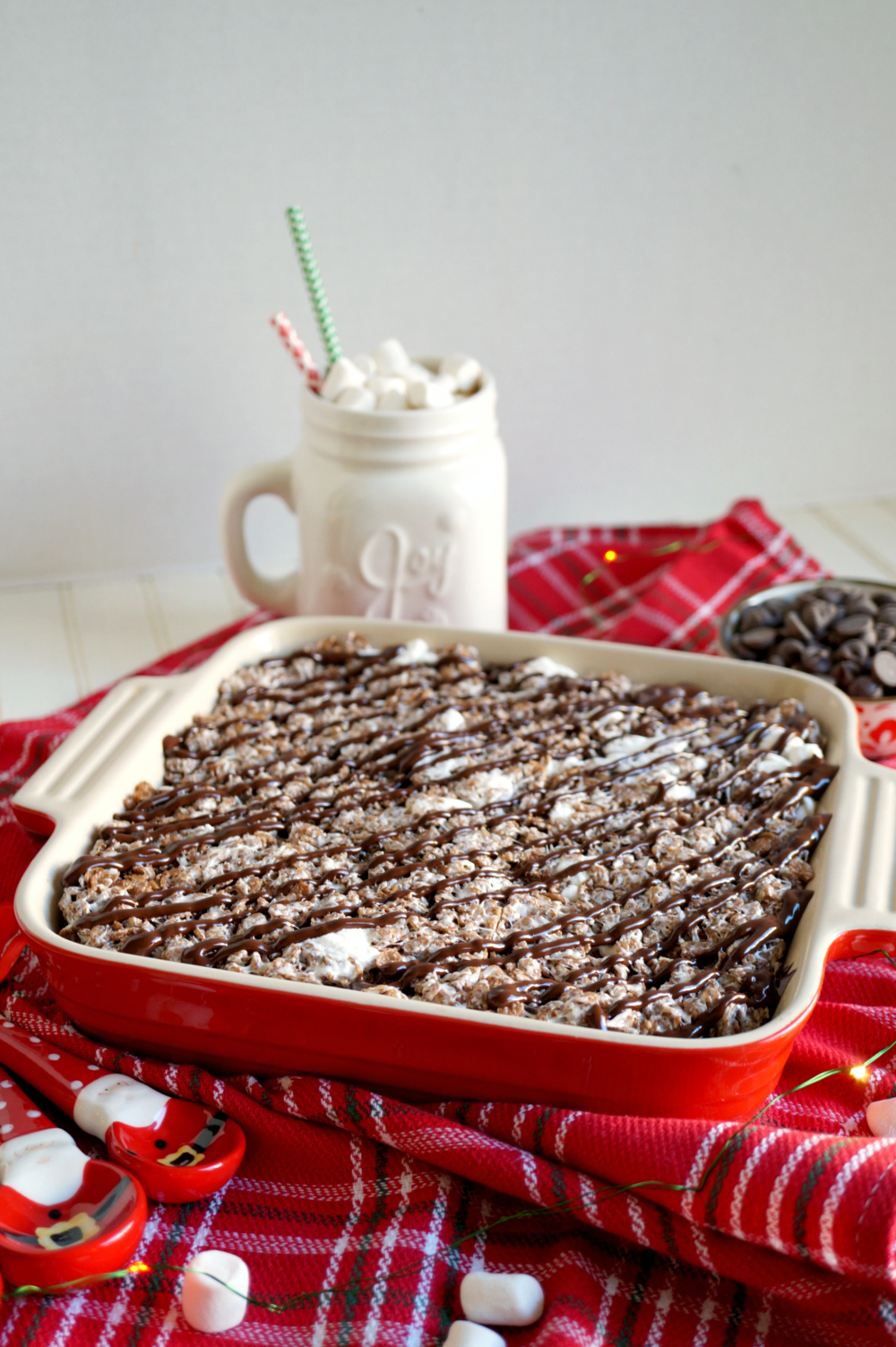 Happy Monday, friends! I don't know about y'all, but this December has been absolutely hectic for me. I feel like I am ALWAYS working and I haven't had much time to devote to this little blog of mine! This is why I am sharing this super easy, super delicious recipe for Vegan Hot Cocoa Rice Krispie Treats today! It is seriously so simple - I made these start to finish in less than 30 minutes, and they were a huge hit with my friends and co-workers. Quick treats like this are so handy to have for all of the winter festivities coming up!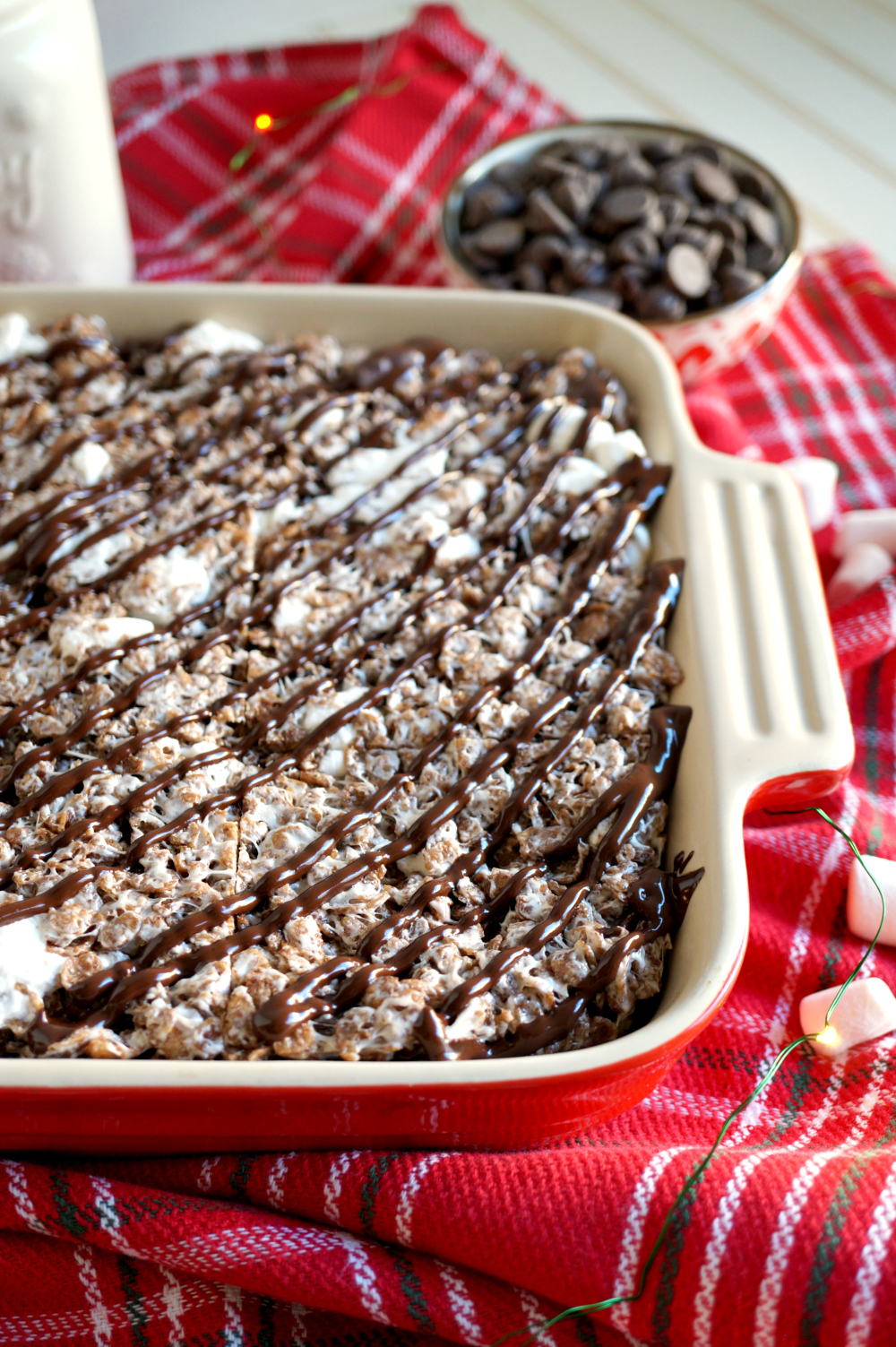 All you need for these hot cocoa rice krispie treats is literally FOUR ingredients - cocoa rice cereal, vegan marshmallows, vegan butter, and chocolate chips. I wasn't lying when I said they were super simple! You just melt the butter and most of the marshmallows over the stove, and then fold in the cereal. I saved about 1 cup of the marshmallows to stir in last minute so that they are scattered throughout the bars instead of being melted in, and I loved the effect! The topping is then just melted chocolate chips drizzled on top. I promise anyone can make these!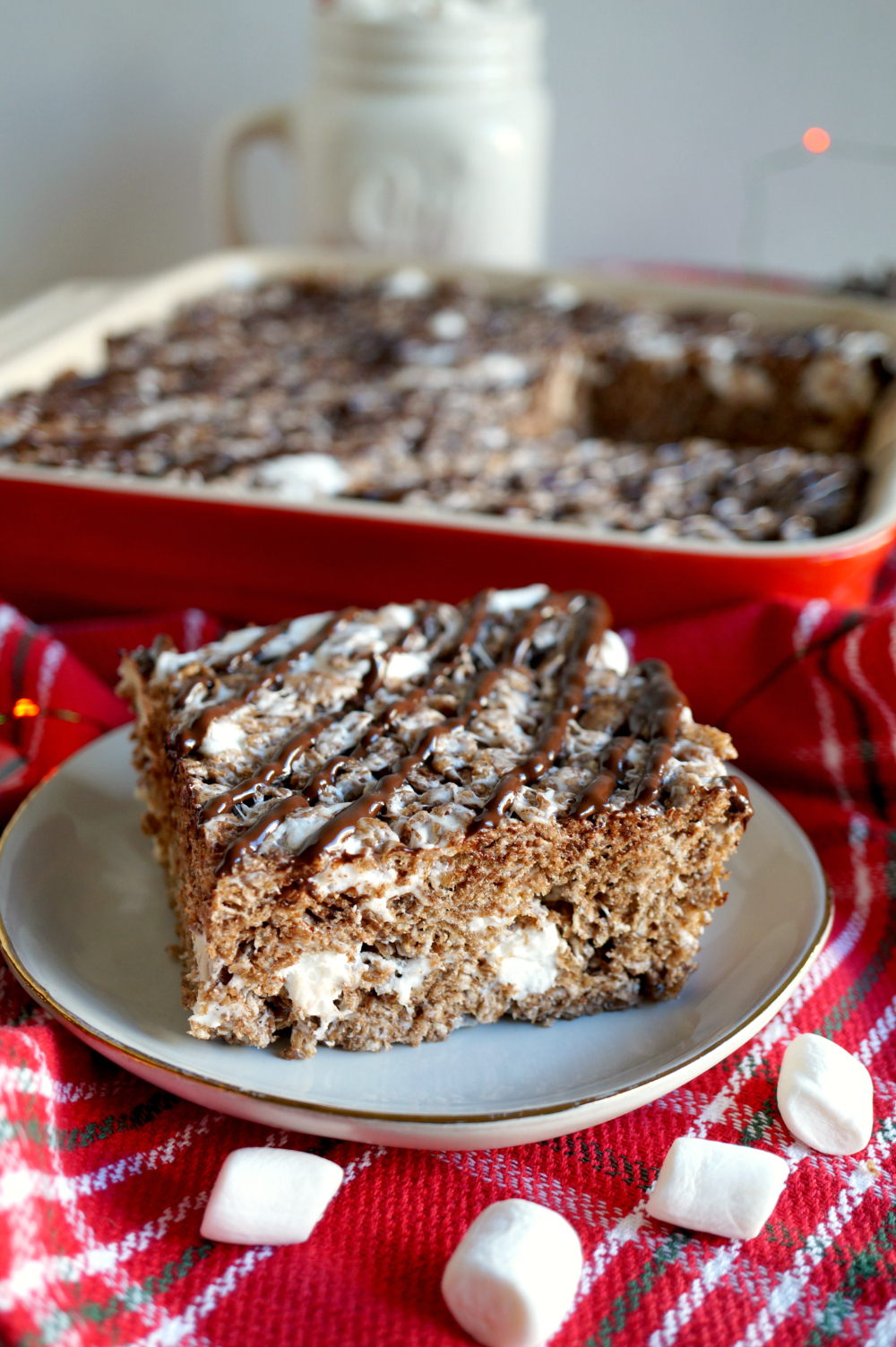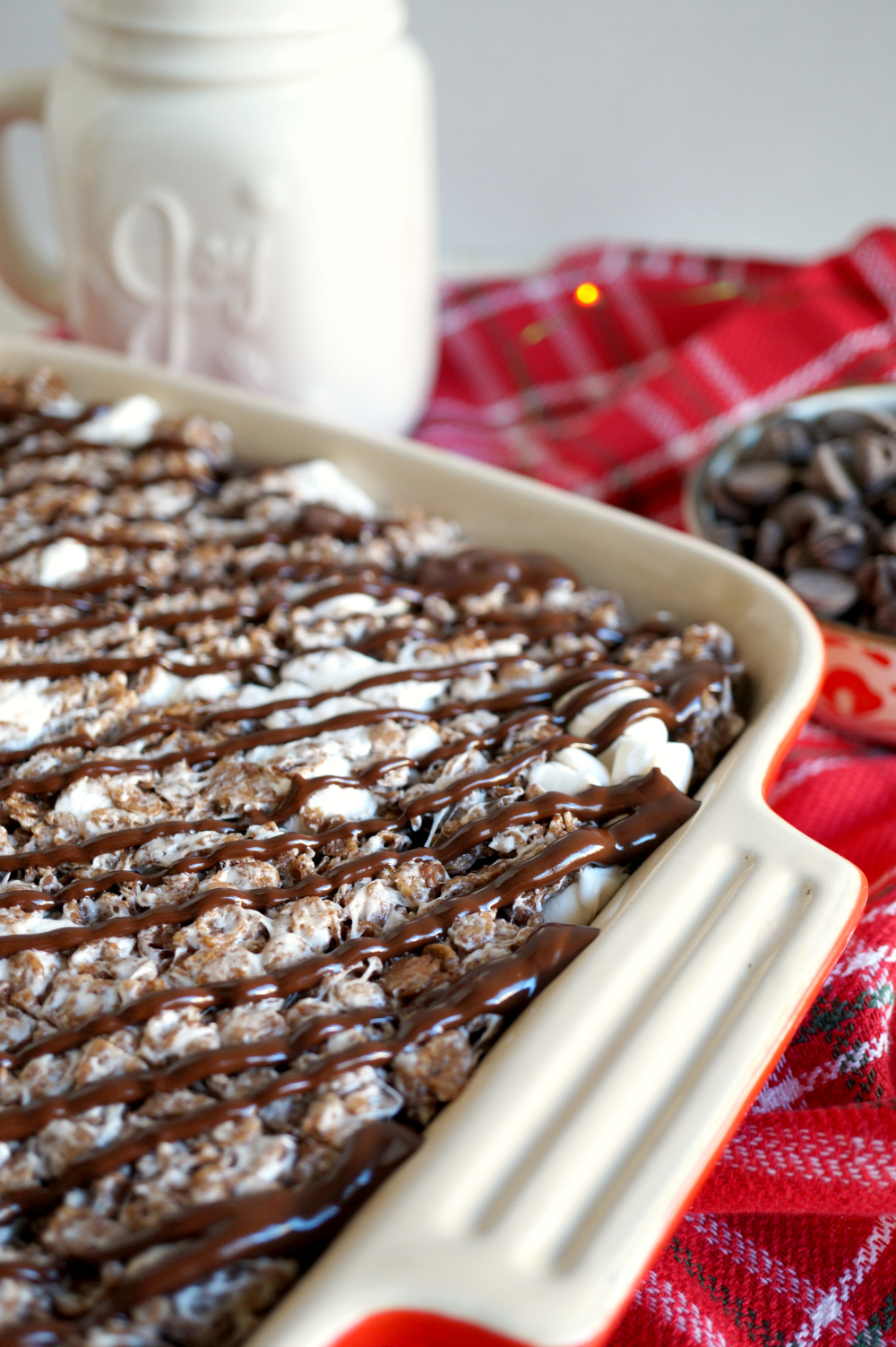 Tips for success for your hot cocoa rice krispie treats:
Because the ingredients are so simple, quality is KEY! I splurged on the organic, fancy cocoa rice cereal and I didn't regret it one bit. It was worth it to me to pay an extra $0.50 to ensure these would be delicious.
Where do you find vegan marshmallows? They are becoming more and more common nowadays which is great! My go-to are the marshmallows from Trader Joe's - both the minis and the regular sized are naturally vegan! The most common brand out there is Dandies, which I've seen at stores like Whole Foods and Sprouts.
Use the biggest pot you have! It will seem too big, but I promise you want all the room you can get when it comes to folding in the cereal. I still struggled and made a bit of a mess but it worked out. LOL.
Save some of the marshmallows to fold in at the last second. This was my first time trying it and I love how it turned out! I melted down 3 cups of marshmallows with the butter to hold everything together, and then AFTER folding in all the cereal, I threw in 1 more cup of marshmallows so they would stay intact. I feel like this really emphasized the "hot cocoa" effect 🙂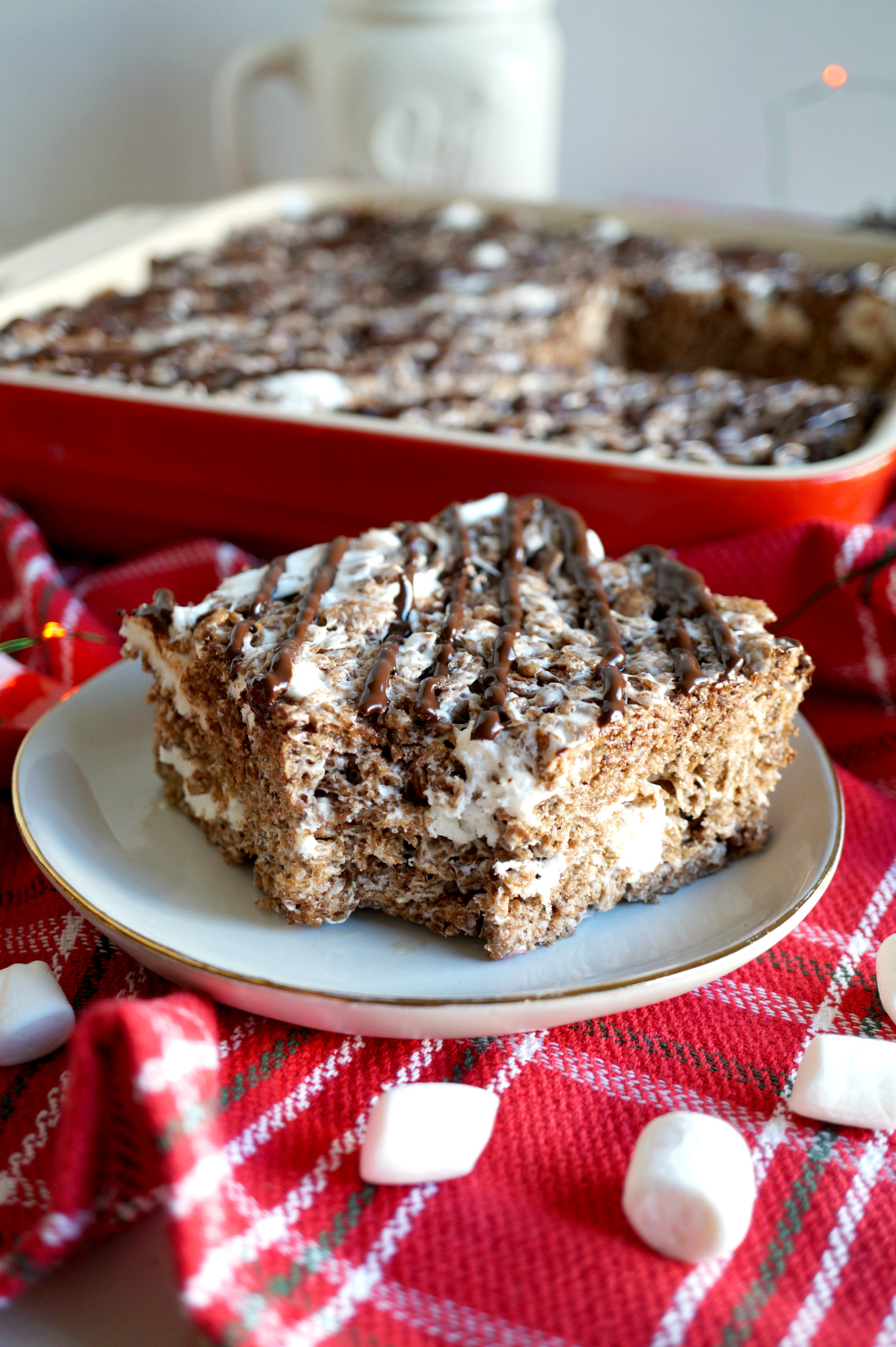 I hope you guys will whip up these delicious vegan hot cocoa rice krispie treats! They are super simple and so tasty. I promise everyone will love them!
Looking for more fun cereal treats?
vegan hot cocoa rice krispie treats
These Vegan Hot Cocoa Rice Krispie Treats are ridiculously simple to make, and so delicious! All you need is 4 ingredients and less than 30 minutes.
Author:
Valentina | The Baking Fairy
Recipe type:
Brownies & Bars
Ingredients
¼ cup vegan butter
3 cups vegan marshmallows + 1 cup for later
7 cups cocoa rice cereal
¼ cup vegan chocolate chips
Instructions
First, prepare an 8x8 baking sheet and spray with nonstick spray or coat with vegan butter. Set aside.
Place the vegan butter in a large pot, and melt over medium-low heat. Once it is melted, add in 3 cups of marshmallows. Melt down, stirring often. This will take 5-7 minutes.
When the marshmallows are all melted, add in the cocoa rice cereal. Fold everything together until well combined. Finally, stir in the reserved cup of mini marshmallows and mix to combine.
Press rice krispie mixture into the prepared pan and allow to cool slightly so it can set.
While the rice krispies set, melt down the ¼ cup of vegan chocolate. Place in a zip-top baggie, and snip the corner. Drizzle the chocolate on top of the prepared bars.
When the rice krispies have cooled and hardened, cut into bars and enjoy!