Make the best Vegan Snickerdoodle Cookies ever with this simple recipe! These cookies are chewy in the middle, crispy at the edges, and perfectly spiced with cinnamon in each bite.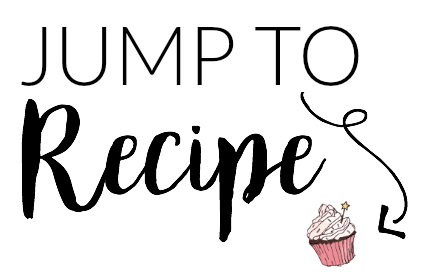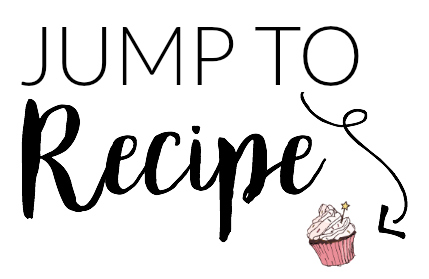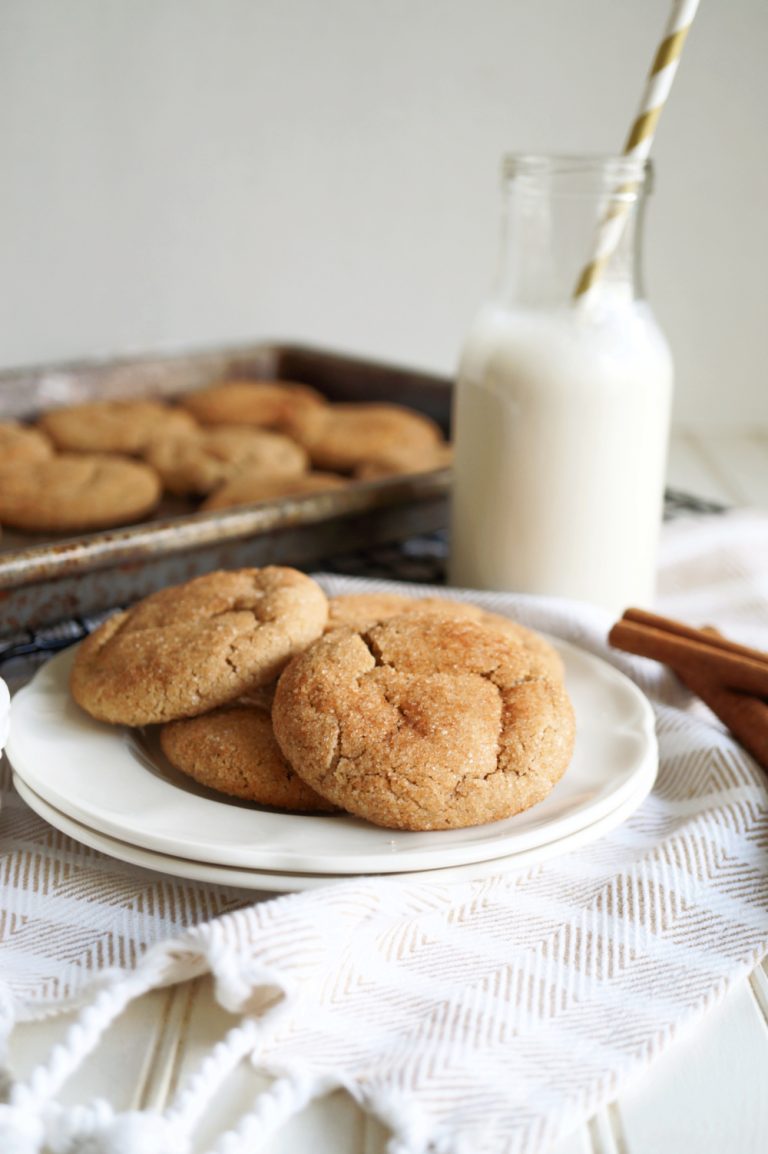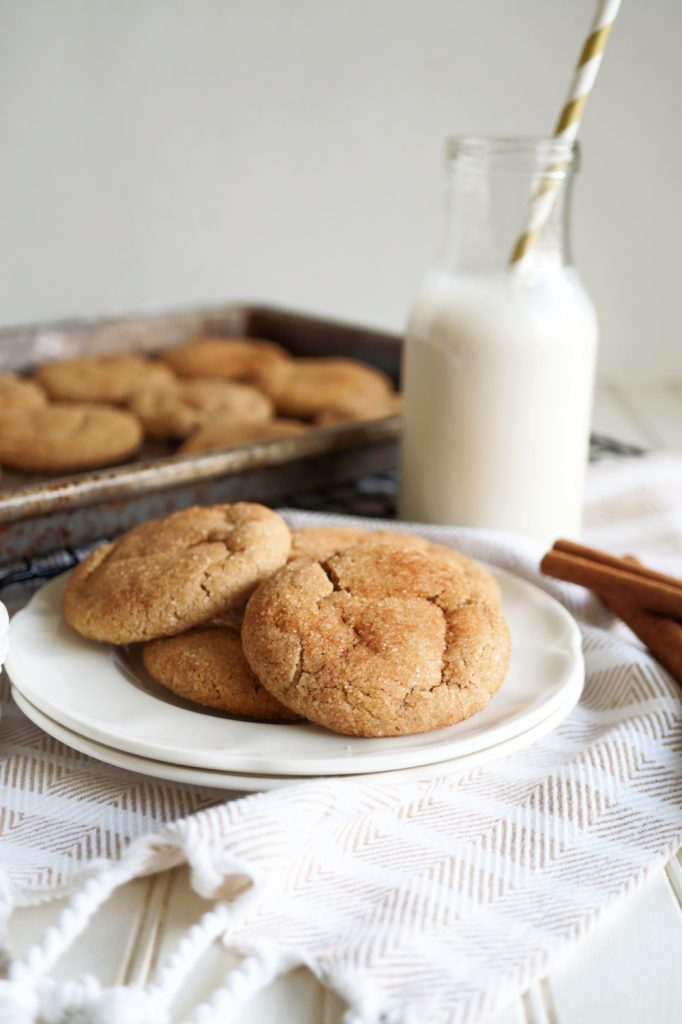 Hello friends and happy Monday! Long time no see - but I am happy to be here today with a new treat for you. I am so excited to be sharing this recipe for The Best Vegan Snickerdoodle Cookies! This recipe is easy, delicious, and sure to fulfill all your cinnamon sugar dreams. If you're craving some chewy, pillowy, perfectly spiced cookies then these snickerdoodles will definitely make you happy! Keep on reading and I'll tell you how to make them 🙂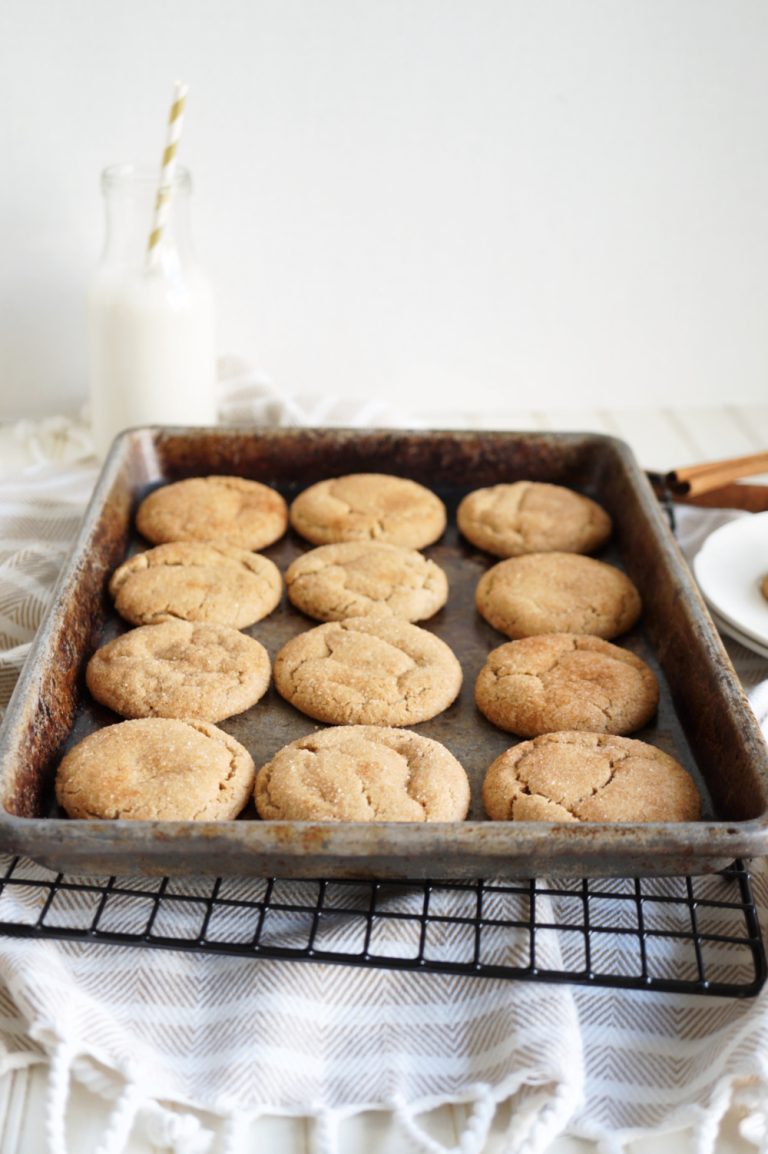 What do I need to make these vegan snickerdoodle cookies?
Vegan butter & vegan shortening: this is the base of most of my vegan cookie recipes! I love using half butter and half shortening for the best flavor and texture. The butter makes the cookies tasty but the shortening helps them keep their fluff and shape, and prevents them from turning into puddles!

You don't have to buy super fancy vegan butter - I've made these types of cookies with anything from EarthBalance to Country Crock plant-based, Flora, and Miyoko's. Anything works. I will say Miyoko's salted butter does tend to be a bit runny so keep that in mind.
I prefer a "clean" shortening brand such as Nutiva or Spectrum as the flavor is better than something cheap like Crisco. The flavor will come through in the final product though not as much as in something "raw" like frosting.

Aquafaba: this is my favorite egg replacer when it comes to cookies! Aquafaba is chickpea brine and it works perfectly in cookies and cookie dough to yield that perfectly "chewy in the middle and crispy on the edges" texture.
Sugar: you will need both white and brown sugar for these cookies! I like using more brown sugar in the cookie dough for a softer, chewier cookie, but granulated white sugar works perfectly for that "cinnamon sugar" coating. A friendly reminder that a lot of sugar (in the US) is not vegan-friendly due to the way it is processed. Some vegan-friendly brands include Zulka, Florida Crystals, and Sugar in the Raw. When in doubt, just remember all organic sugar is vegan.
Cinnamon: the most important ingredient in these snickerdoodle cookies!! I add cinnamon inside the cookie dough as well as in the cinnamon sugar coating for a double hit of spiced goodness.
Vanilla extract: even though cinnamon is the star, sweet and creamy vanilla extract is also a must in these cookies.
Flour, baking powder, baking soda, and salt.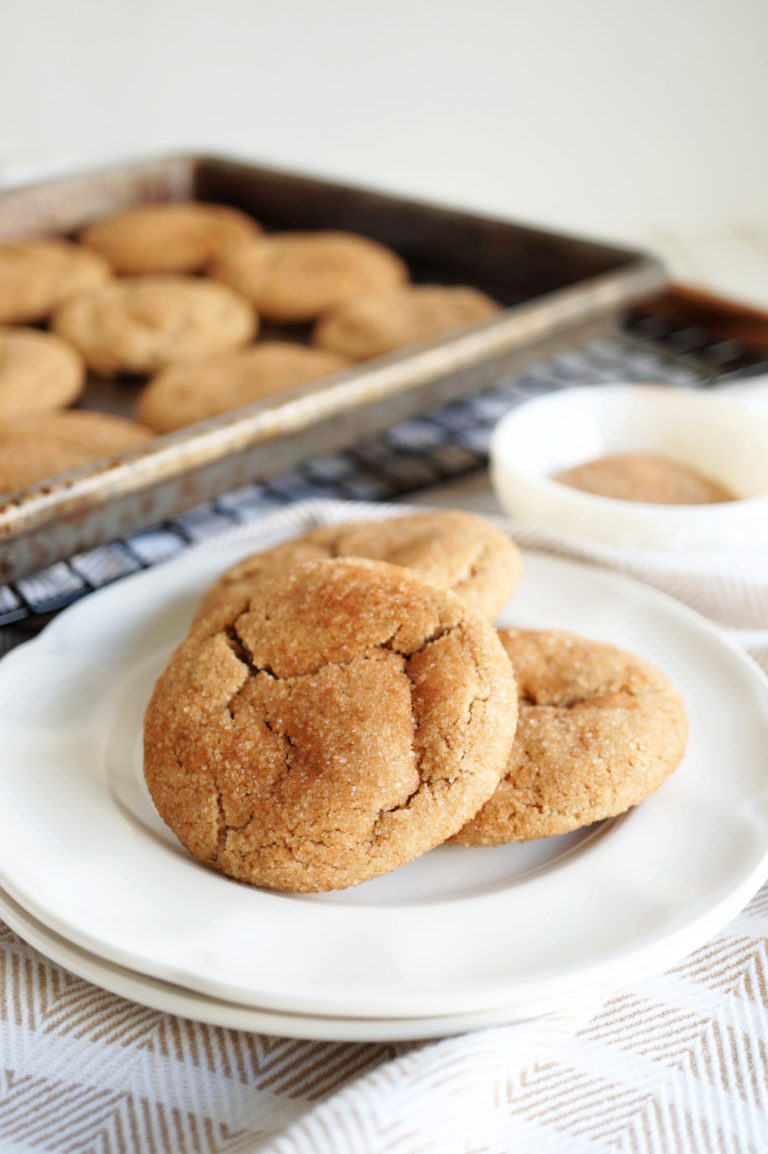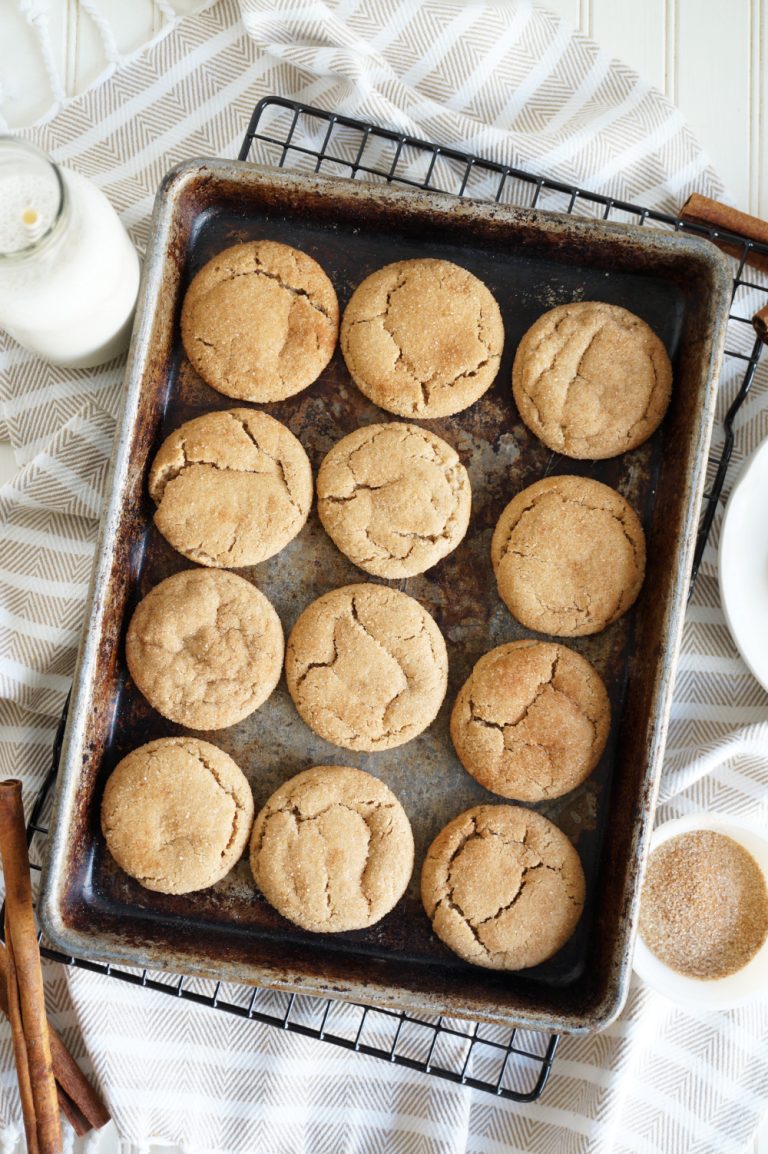 How do I make these snickerdoodle cookies?
These cookies are super simple to make, but taste wonderful! You don't need to work hard for a great flavor payoff!
First, make the cookie dough! In the bowl of a stand mixer (or with a hand mixer), beat together the vegan butter and shortening with your white and brown sugar until light and fluffy.
Next, add in your aquafaba "egg" and vanilla extract, and mix until combined.
Finally, add in your dry ingredients - cinnamon, flour, baking powder, baking soda, and salt. Mix until your cookie dough comes together! 
The next step is important - you must let your cookie dough chill for at least 30 minutes so that you get the right texture! Baking your cookies right away will make them spread out into puddles and they will be too thin and crunchy!
When you're almost ready to bake, it's time to roll your cookies into cinnamon sugar! Mix white sugar and cinnamon in a small bowl. Scoop out tablespoons of cookie dough, coat them with the cinnamon sugar, and place them on a baking sheet lined with parchment or silicone. 
Now - the easiest part - bake and then eat!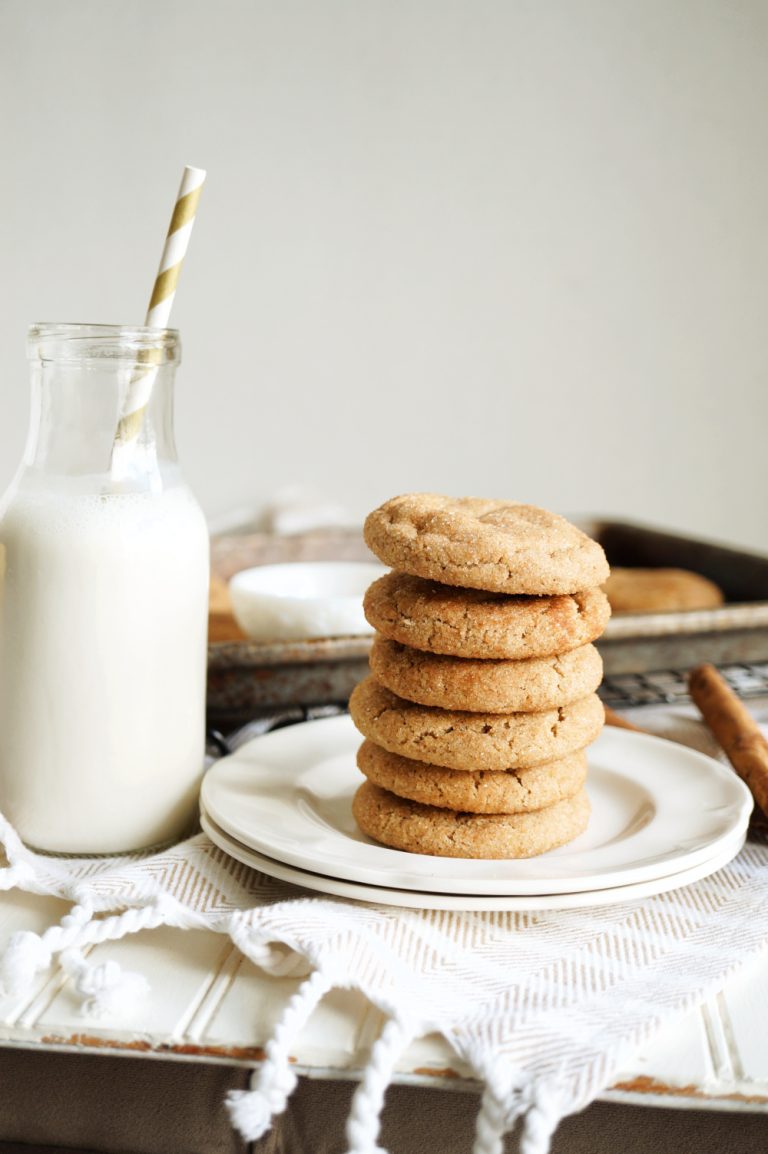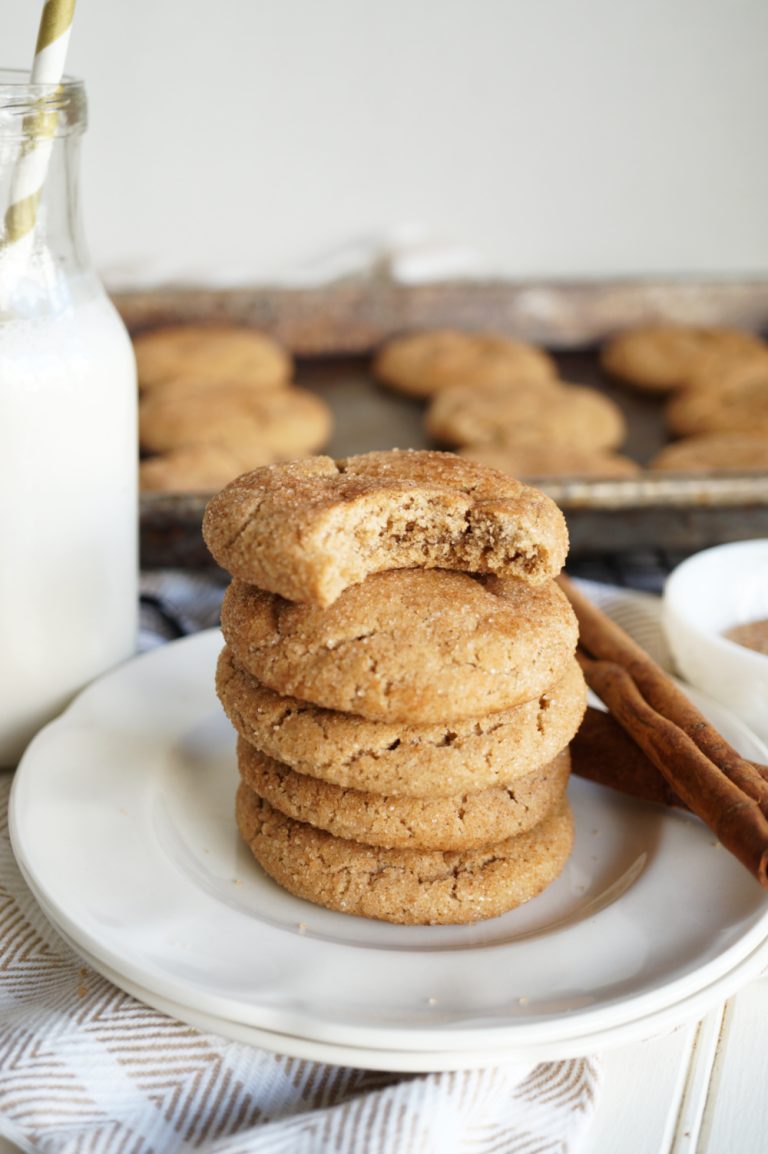 I hope you guys will give these vegan snickerdoodle cookies a try! They are so super easy, quick to make, and absolutely delicious. They are sure to be a taste of nostalgia!
Check out these other cookie recipes!
the best vegan snickerdoodle cookies
Make the best Vegan Snickerdoodle Cookies ever with this simple recipe! These cookies are chewy in the middle, crispy at the edges, and perfectly spiced with cinnamon in each bite.
Author:
Valentina | The Baking Fairy
Ingredients
¼ cup vegan butter
¼ cup vegan shortening
¼ cup granulated white sugar
½ cup packed dark brown sugar
3 tablespoon aquafaba (chickpea brine)
1 tablespoon vanilla extract
1¼ cups all purpose flour
½ teaspoon baking powder
½ teaspoon baking soda
½ salt
2 teaspoon ground cinnamon
*for the cinnamon sugar coating*
3 tablespoon white granulated sugar
1 tablespoon ground cinnamon
Instructions
In a medium bowl, beat together the vegan butter, vegan shortening, white sugar, and brown sugar together until light and fluffy.
Add in the aquafaba and vanilla, and beat until combined.
Stir in the flour, baking powder, baking soda, salt, and cinnamon until the cookie dough comes together.
Refrigerate dough for 30-60 minutes until solid.
When ready to bake, preheat oven to 350F and line 2 baking sheets with silicone liners or parchment paper.
In a small bowl, combine the granulated sugar and cinnamon to make the cinnamon sugar. Scoop out about 2 tablespoon sized portions of cookie dough, and roll them between your hands. Then, drop the cookie dough balls into the cinnamon sugar to coat them. Repeat with all.
Bake cookies for 15 minutes until golden brown and fragrant. Enjoy!
*Disclosure: I am part of the Amazon Associates Program, and there may be affiliate links on this page. If you buy anything through my website, I will receive a small percentage of the profit at no extra cost to you. Thank you for supporting my blog!*