Impress your party guests with this fun vegetarian take on pigs in a blanket! Garlic-Stuffed Olives in a Blanket are flavorful, addicting, and so easy to make. 
Happy Saturday!! Y'all, it's officially September which means ITS FALL! YAY. No pumpkin today but... oh, it's coming. I promise. Today, we are still in the season-neutral side of things so I'm sharing these littles bites that are perfect for any party! These Garlic-Stuffed Olives in a Blanket are the veggie version of the famous pigs in a blanket, and dare I say it... I think they're even better! Tangy olives stuffed with garlic are wrapped in a soft and squishy blanket of dough and brushed with garlic olive oil and baked until golden brown. These are stupid-simple and they taste amazing!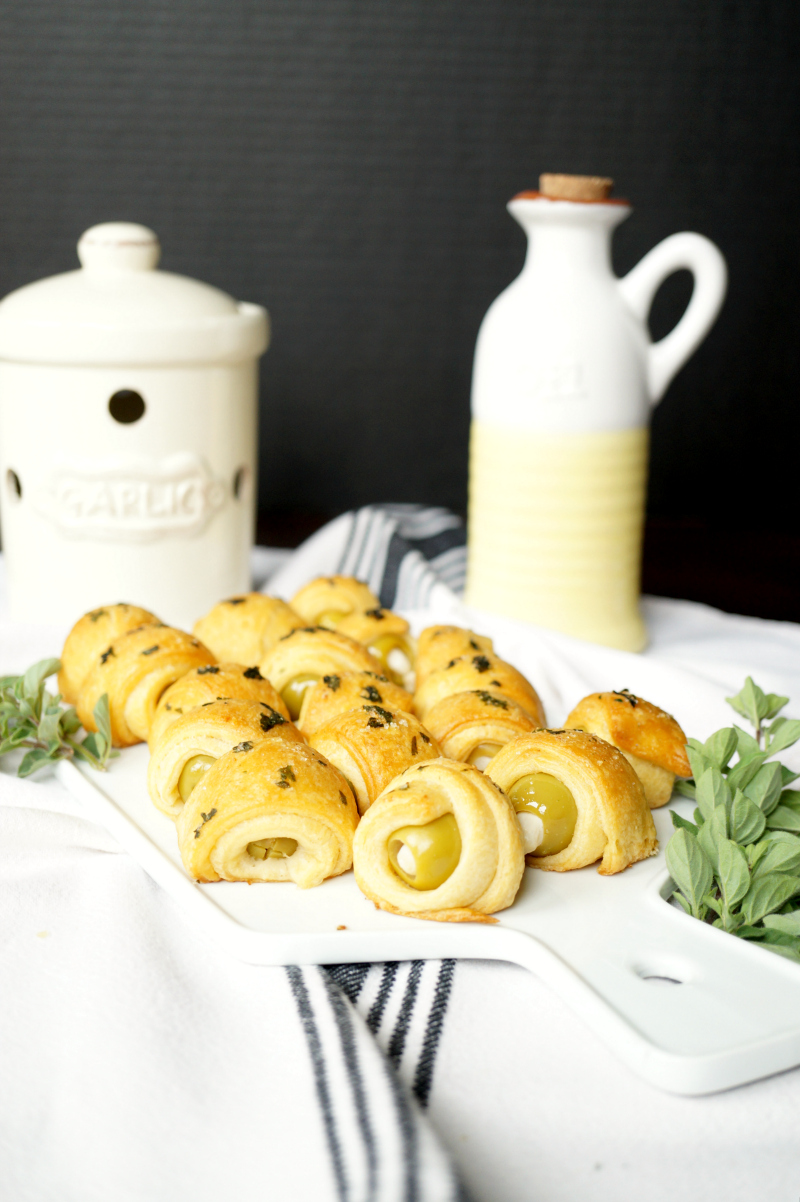 Hard to believe it, but I'm already halfway through my OB/GYN rotation and it has been so much fun! I'm honestly sad to be this far along already because it's such an interesting field for me! Never say never, but maybe that's what I'll end up going into. We shall see. I still have so many rotations left to do in my PA program! It might already be obvious, but in case you didn't realize, I am always more than happy to chat with anyone about PA school and the PA profession! It's such a great field to be going into and I LOVE IT!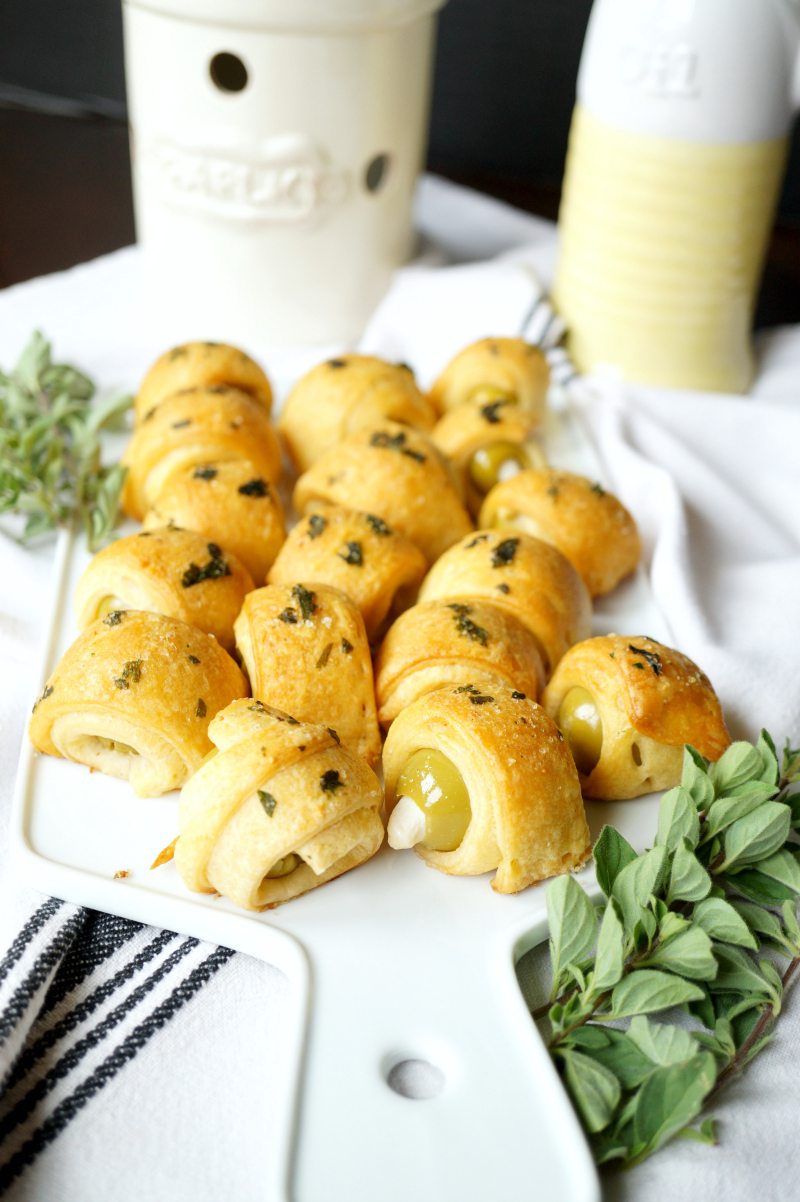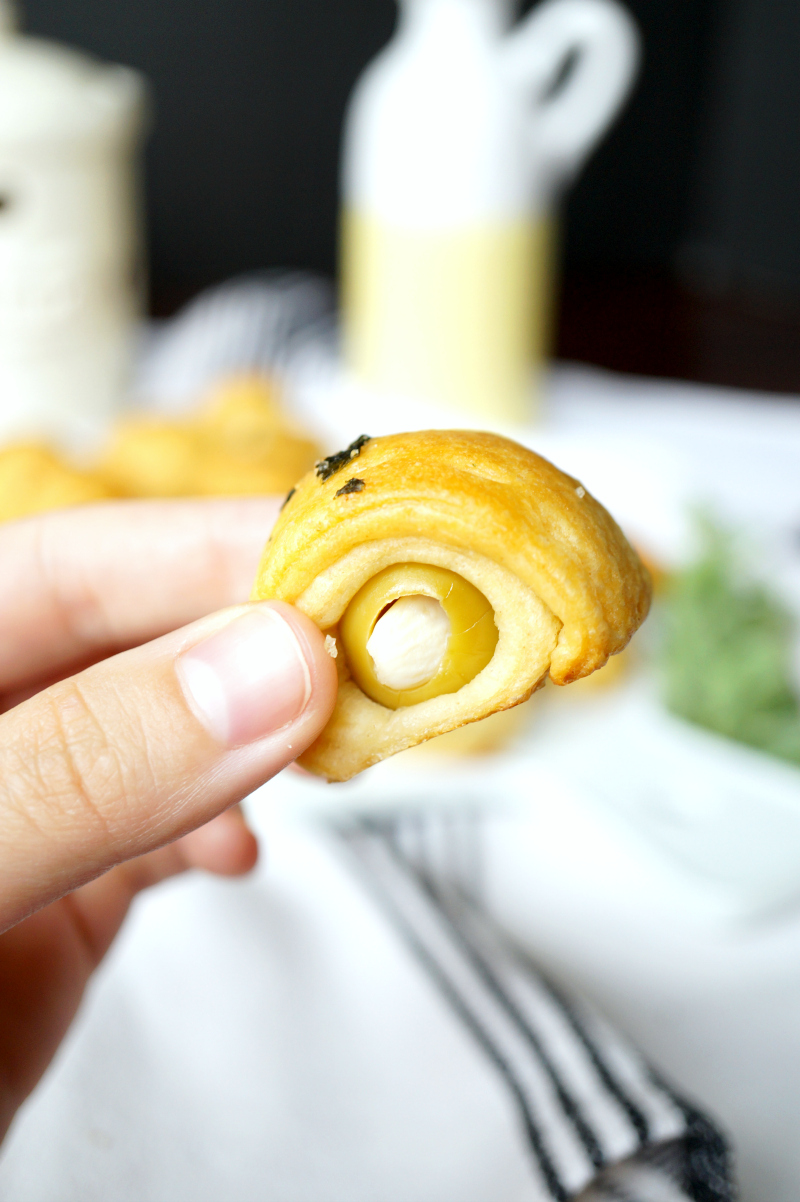 But okay, back to these olives in a blanket! These are seriously genius. Y'all know I've been incorporating more vegan cooking on the blog, and these are just another recipe to add to the ongoing list! I feel like not eating meat at a potluck or party is always tricky because it seems like everything has meat in it! Pigs in a blanket, sausage dip, potato skins with bacon. Somehow wanting veggies seems like the hardest thing ever and your only solace is the sad veggie tray. Though I do have a solution for that... But still! These olives are seriously just as easy to make as the hot dog version, and they taste SO GOOD. If you're wanting something vegetarian and not necessarily vegan, you could also use blue cheese stuffed olives!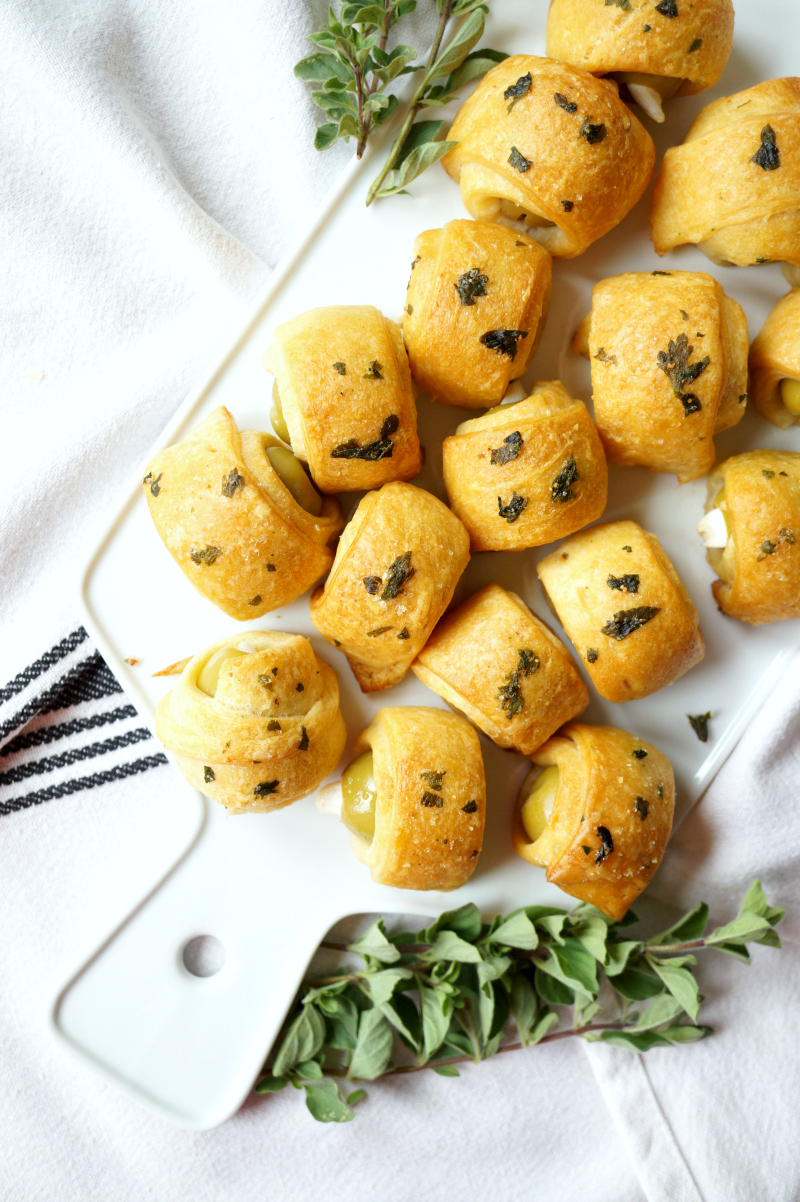 I hope you bring these yummy little garlic-stuffed olives in a blanket to your next get-together! Impress everyone with how delicious meatless dishes can really be! 🙂

Looking for more vegan snacks? Check out my Vegan Pretzel Dogs, Kalamata Olive Hummus, Jackfruit Taquitos, and Vegan Cream Cheese Crab Wontons!

garlic-stuffed olives in a blanket
Author:
Valentina | The Baking Fairy
Ingredients
1 pack refrigerated crescent rolls (Pillsbury are vegan)
1 jar large garlic-stuffed olives (about 24)
2-3 tablespoon olive oil
½ teaspoon garlic powder
½ teaspoon parsley flakes
Instructions
Preheat oven to 375F. Line a baking sheet with parchment or a silicone liner.
Lightly flour a clean working surface, and lay the crescent rolls on top, being sure not to separate them. Press around the cut lines to create one big sheet of pastry.
Cut dough into 12 long strips, and cut each in half to make 24.
Drain the olives and pat dry with a paper towel. Place each olive at the end of a dough strip, and roll up. Place on prepared baking sheet.
In a small bowl, mix together the olive oil, garlic powder, and parsley. Brush on each of the prepared olives in a blanket.
Bake in preheated oven for 12-15 minutes, until golden brown and puffy. If you have any of the garlic oil left, you can brush it on now. Serve warm!

SaveSaveSaveSaveSaveSave