If you've never made homemade Ricotta, you're in for a treat! This mild, creamy Italian cheese is so simple to make at home, and tastes so much better than the store-bought stuff. It pairs perfectly with savory tomato garlic confit!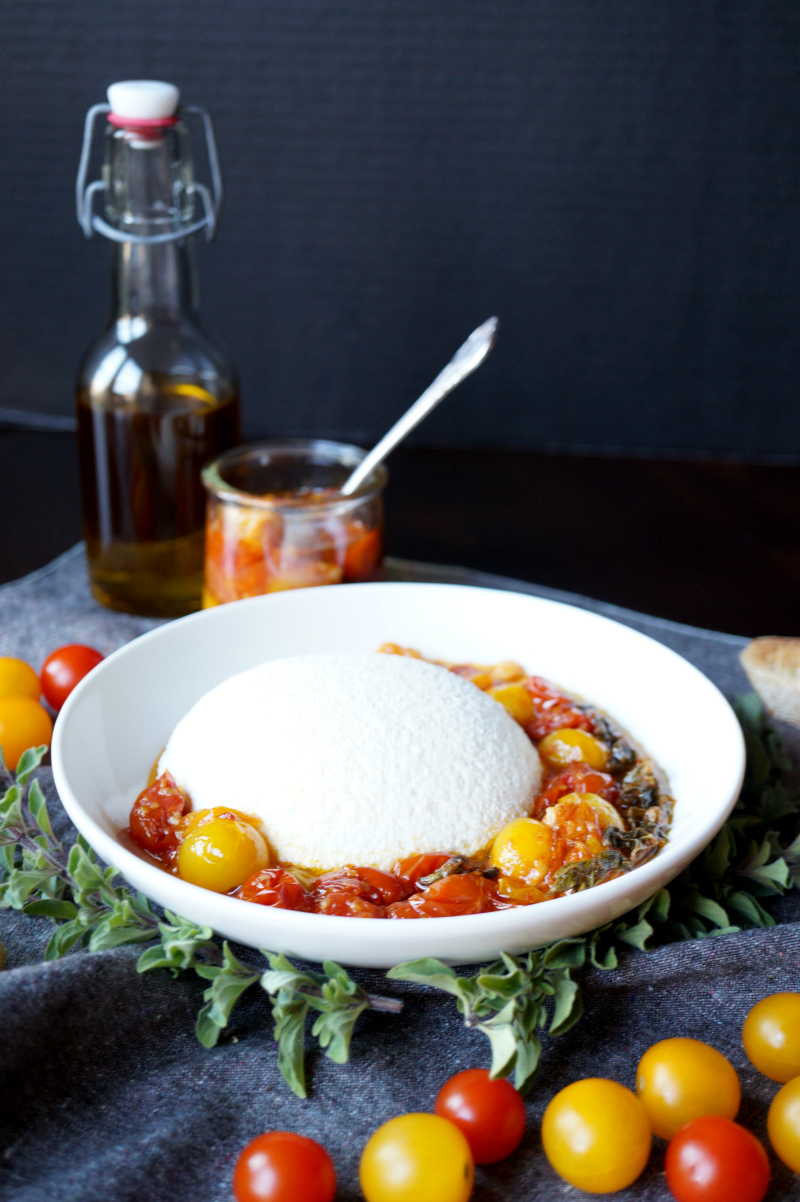 Hello, friends and happy Monday! Yes, I'm still in Paris. But yes, I am still sharing new recipes for y'all! Today's recipe is seriously the appetizer to end allll appetizers. Or snacks. Or really dinner too, I won't judge. This Homemade Ricotta with Tomato Garlic Confit is what all my cheesy, salty, savory dreams are made of. Homemade ricotta by itself already tastes like actual heaven. Add in jammy, melt-in-your mouth tomatoes, some crusty Italian bread and - I'm yours. Calgon, take me awaaaaaay.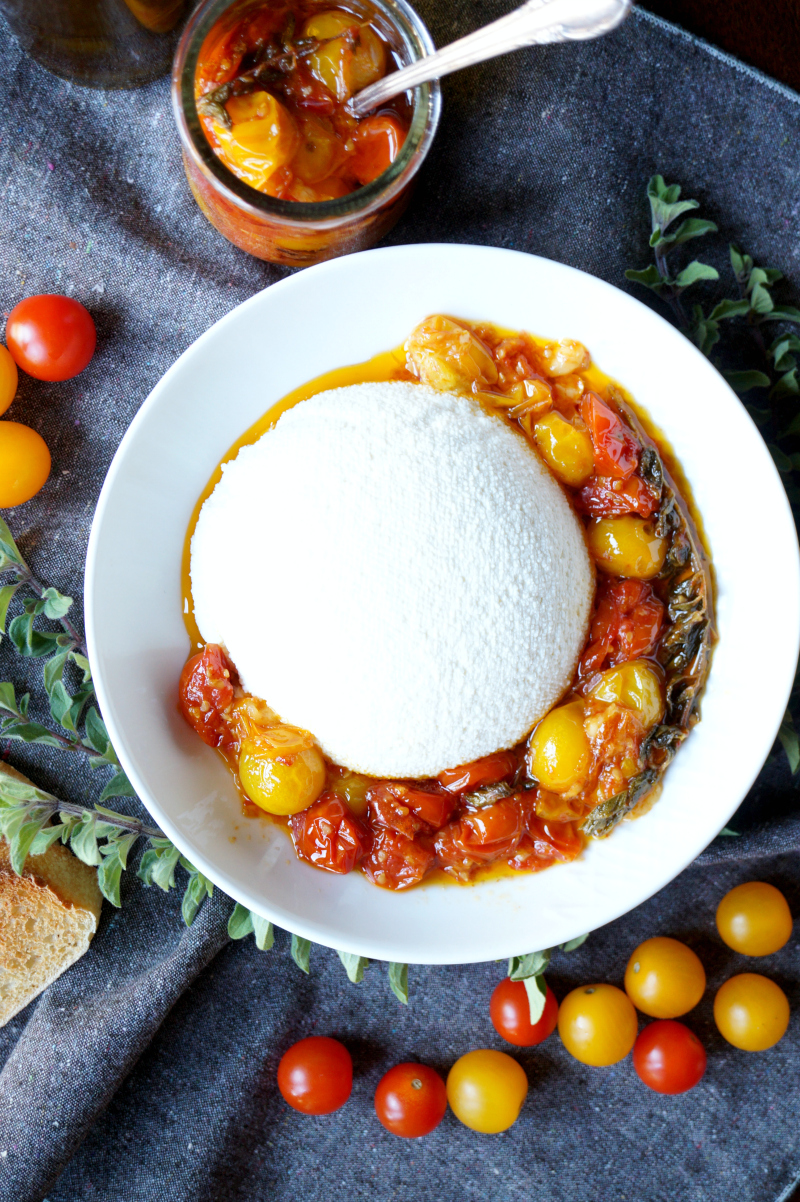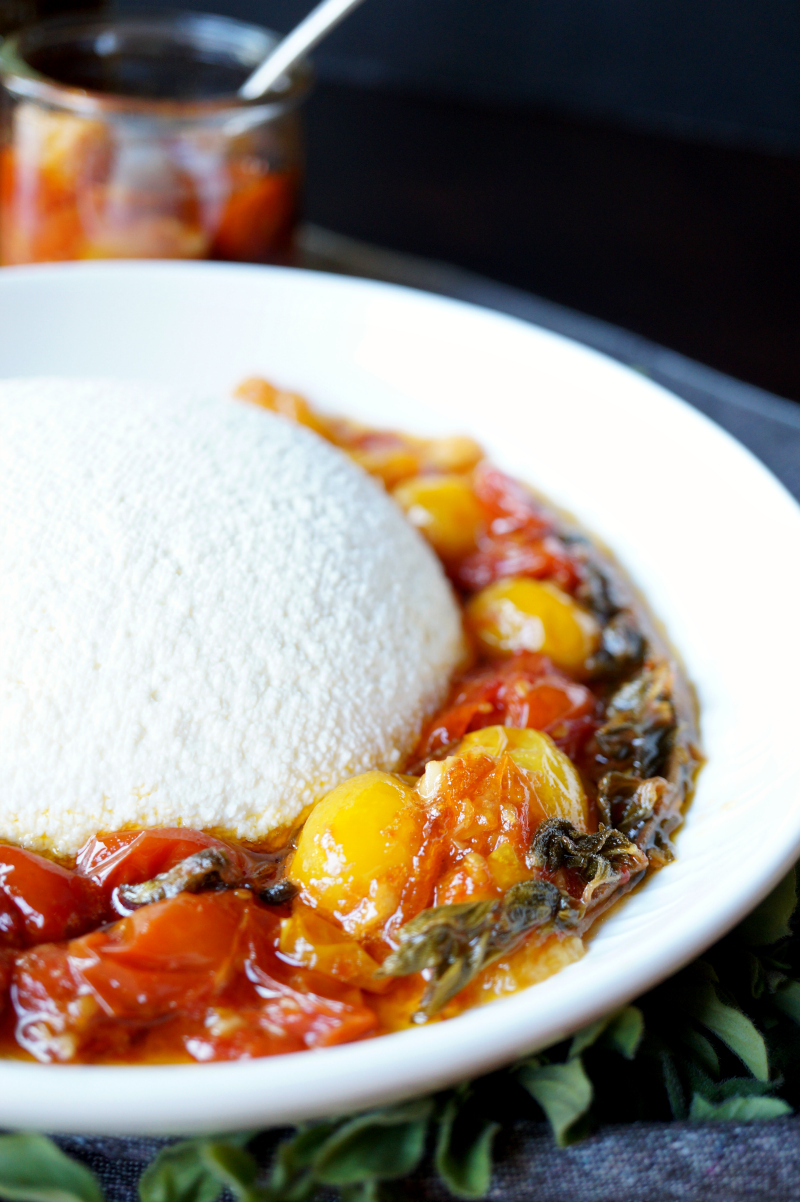 Okay so, this recipe. It's actually TWO recipes, which you can make separately if you wish, as they are pretty delicious individually. But together is when they both shine! Homemade ricotta... there's nothing quite like it. You will second-guess yourself every time you buy ricotta from the store after you've tried the stuff from scratch. It's mild, salty, ridiculously creamy, and spreads like a dream on some toasted bread. My mom tends to make homemade ricotta at least once a year and it's always such a treat. I figured I had to share with you guys, too!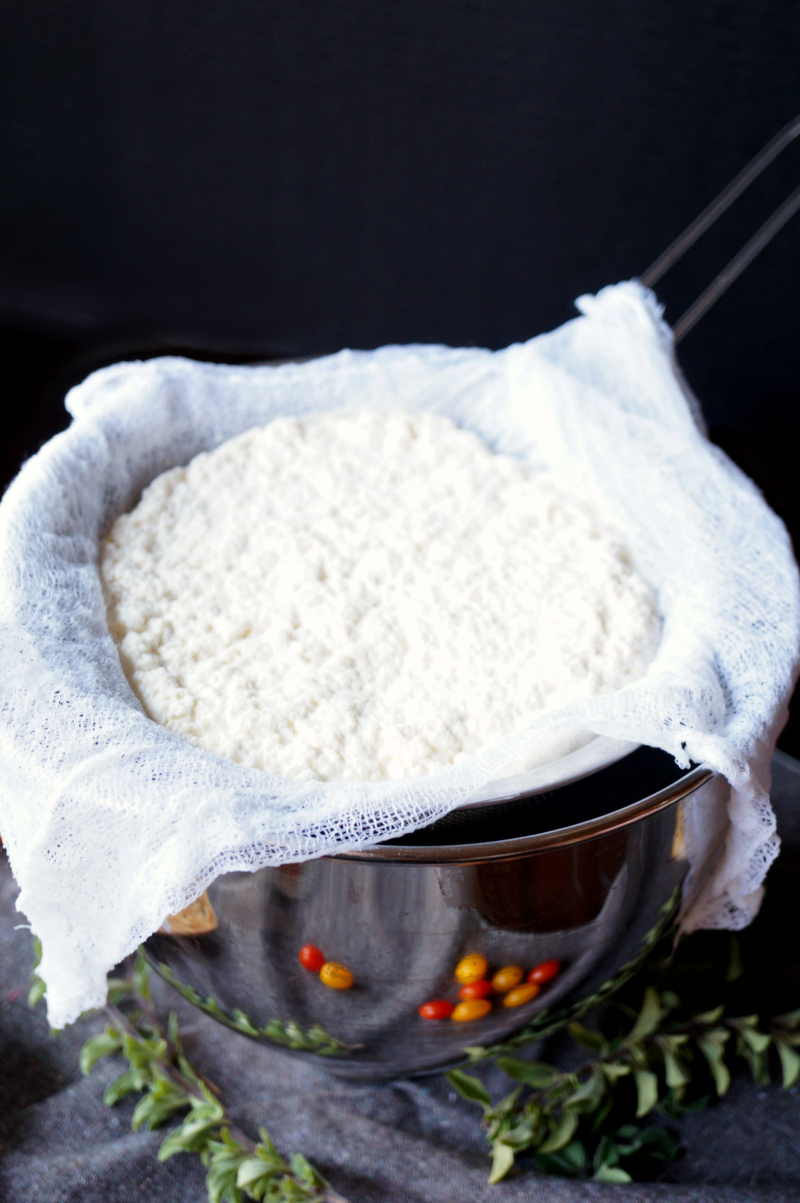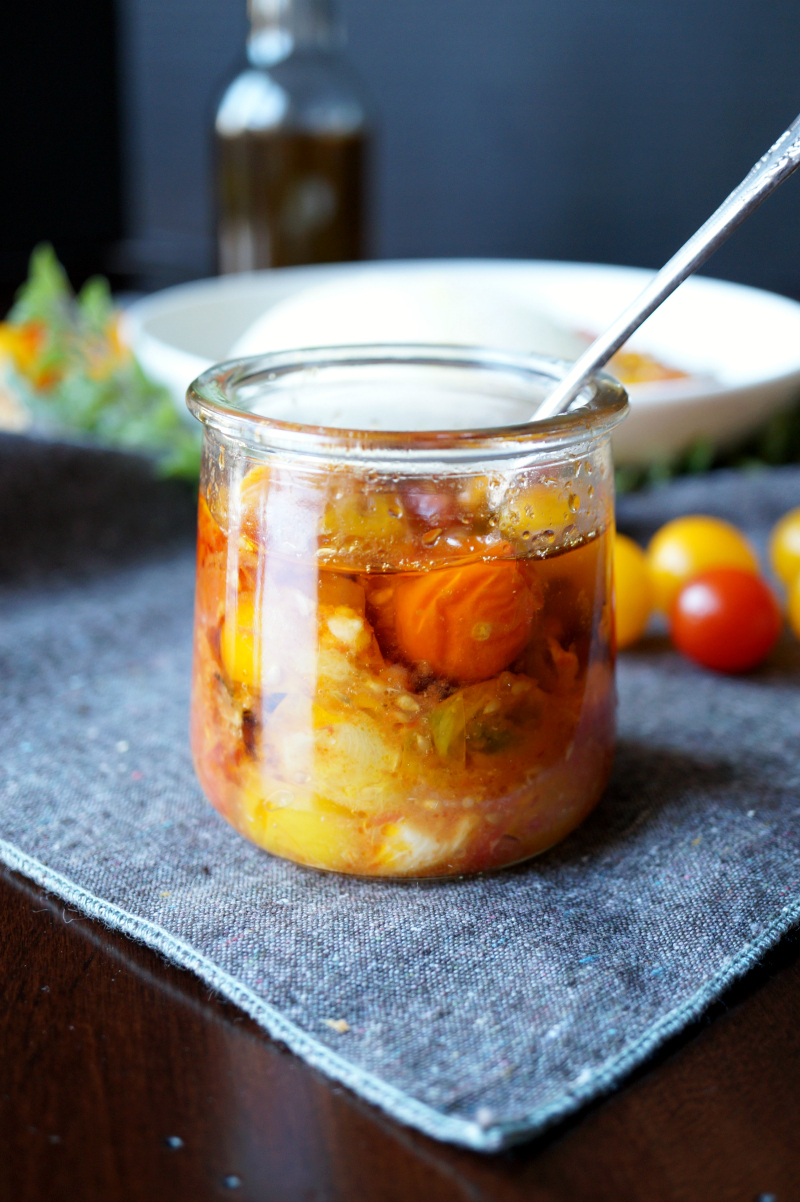 I have to like, wax poetic about this tomato garlic confit for a second. It is probably the BEST thing I have ever made. EVER. And it is so easy! If you're gonna make only one thing from this post, make it the confit because once you try it, you'll want this stuff on everything. Again, it's fairly perfect on bread with ricotta. But it's also amazing as pasta sauce! On pizza! Literally just on a spoon and into your mouth. And did I say it was easy? It's soooo easy. You're welcome.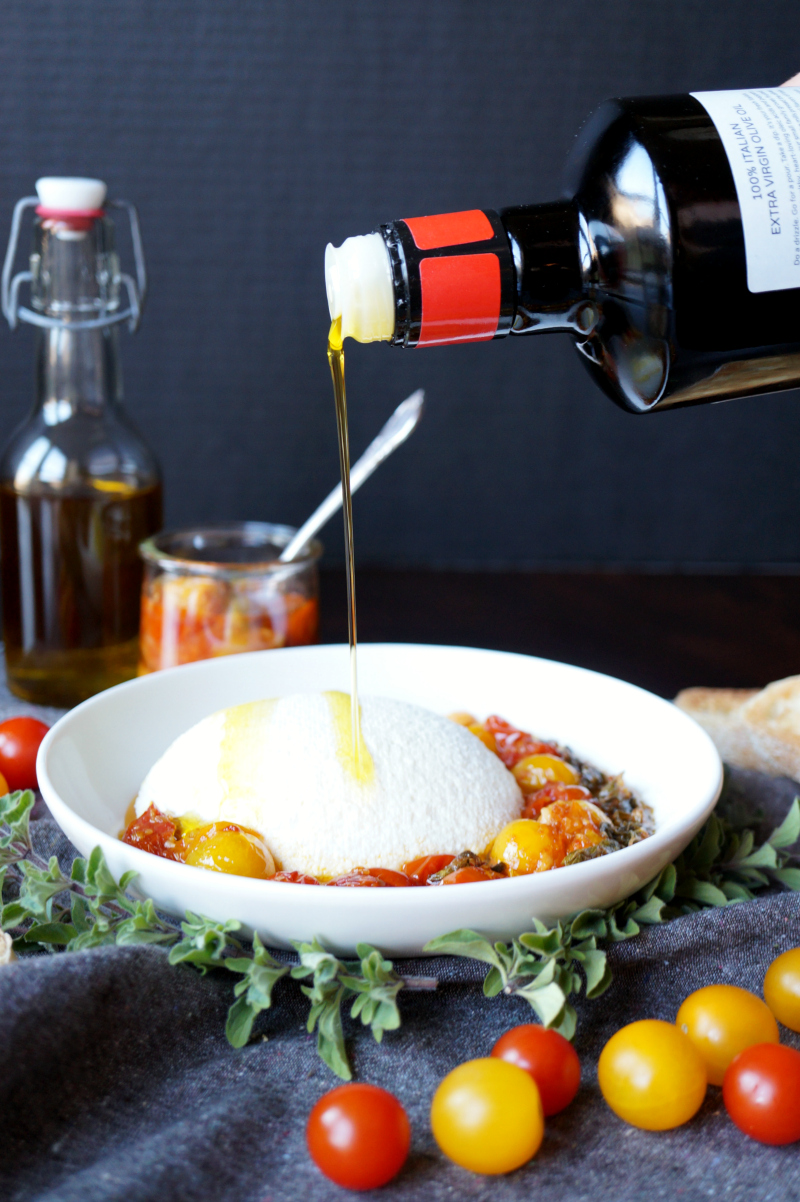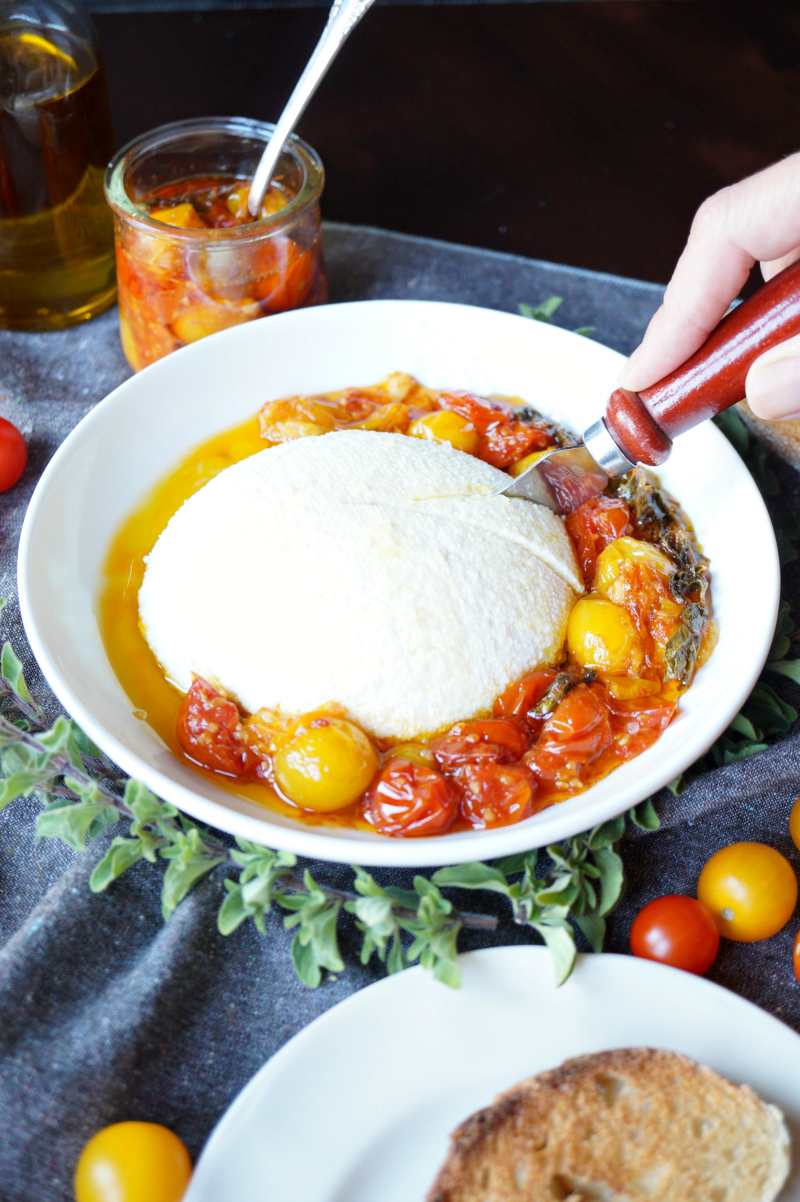 Bottom line here - homemade ricotta is the bomb.com. Tomato garlic confit will literally change your life. Make both and your mind will most likely be blown by how simple ingredients can make something SO FREAKIN DELICIOUS. At the end of the day, that's the basis of most Italian cooking, isn't it? Humble ingredients becoming something spectacular thanks to some culinary sorcery. Just in time for Halloween, too. ? I don't know how many different ways I can say it, but you need these in your life!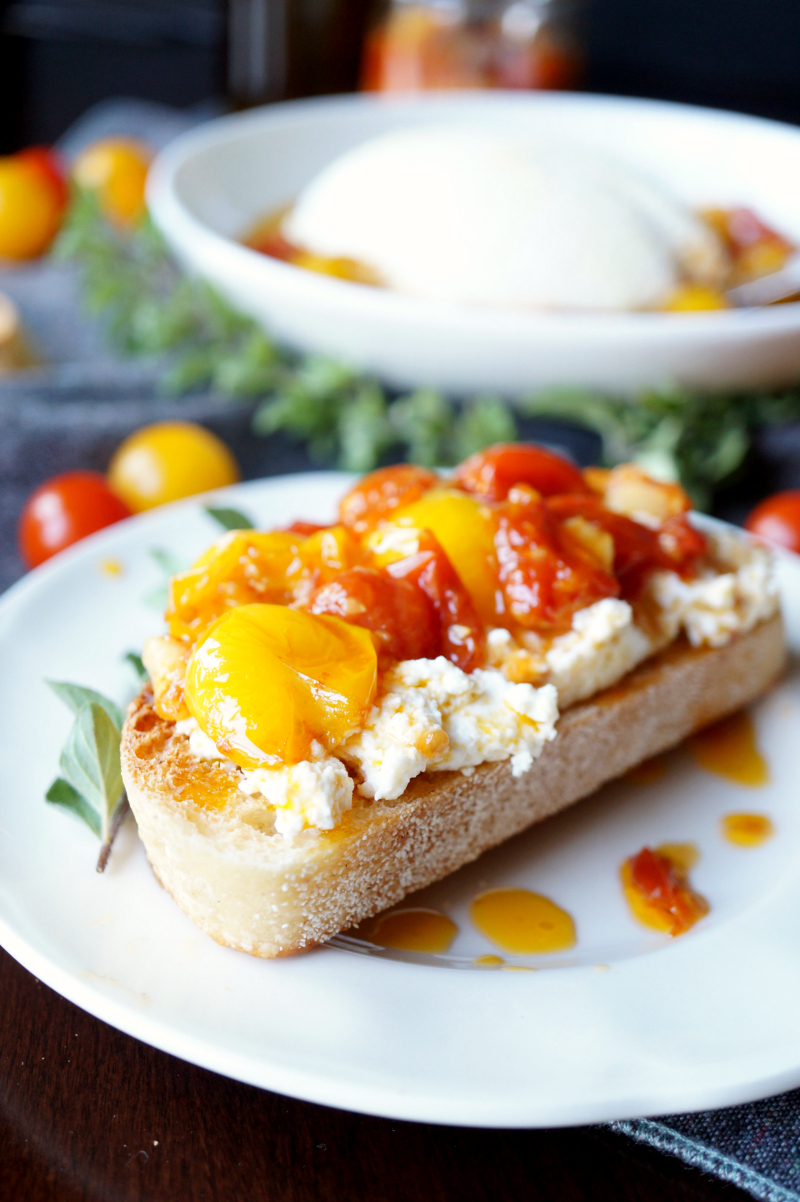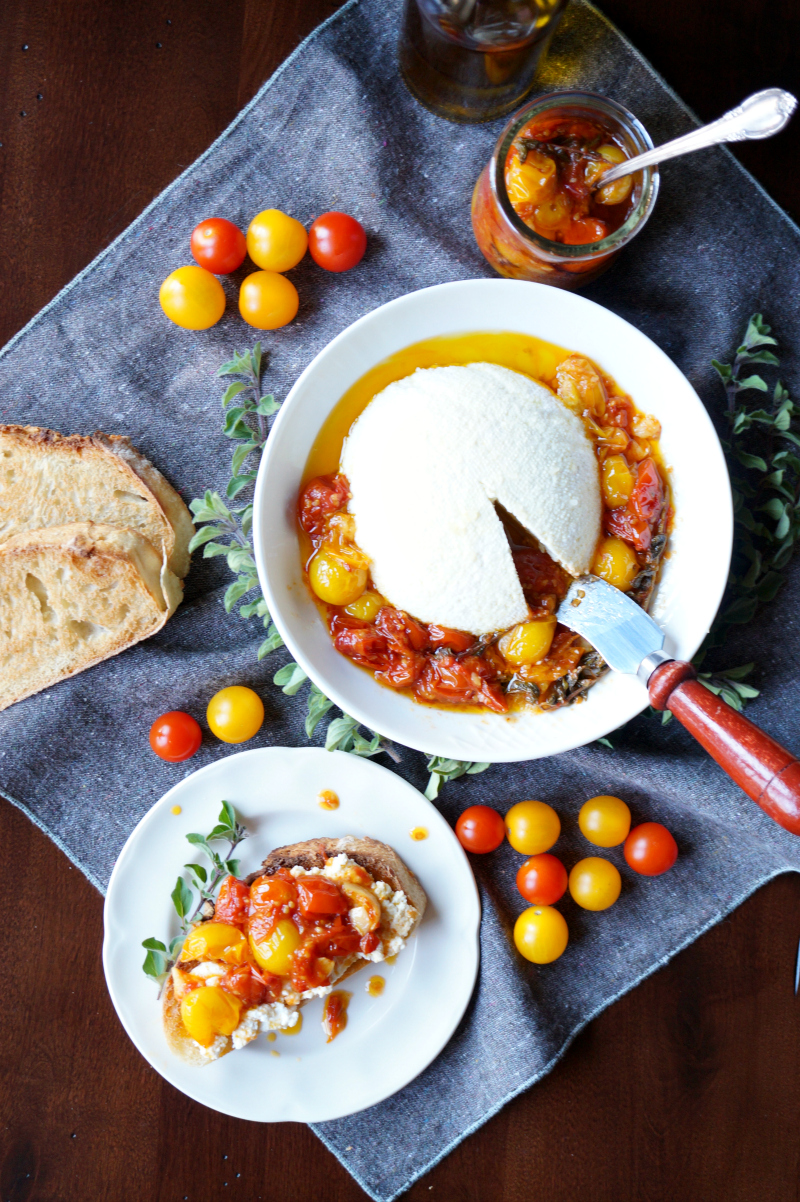 Further proof that cheese + tomatoes are the best match of all time: Heirloom Tomato Burrata Pizza, Roasted Cherry Tomato & Burrata Pasta, Tomato & Mozzarella Pesto Pasta Salad, Cheesy Lasagna Pasta Bake, Creamy Tomato Basil Soup, and Caprese Pasta Salad. Happy eating!
homemade ricotta
Author:
Valentina | The Baking Fairy
Ingredients
½ gallon whole milk
1 pint heavy whipping cream
1 pint buttermilk
½ teaspoon salt
¼ cup cold water
Instructions
In a large pot, combine the milk, cream and salt.
Turn heat on low, and slowly heat the mixture until warm but can still be comfortably touched with a fingertip.
Add in the buttermilk, and stirring constantly, continue to cook the mixture.
As you stir, clumps of ricotta will start forming and floating to the surface.
When it starts to boil, add in the cold water and continue to stir. More ricotta will keep forming.
After the mixture has been vigorously boiling for a few minutes, turn the heat down even lower and you can start transferring the ricotta to a strainer.
Prepare a fine-mesh strainer with 2-3 layers of cheesecloth, and set it over a large bowl. As the mixture is still heating, carefully ladle the ricotta out of the pot and into the strainer. Repeat until all the ricotta is out. If you have a small strainer, you may need to use two.
Allow ricotta to drain for 10 min, then transfer to a serving platter or container with lid. It is fine if it's still a bit soft and leaks a bit more water.
Ricotta will keep in a tight-lidded container in the fridge for up to 8-10 days. It will progressively become drier as the days pass.
Tomato Garlic Confit
Recipe type: Vegetarian
Prep time: 5 min
Cook time: 30 min
Makes: 1 cup
Ingredients
2 pints cherry tomatoes
5-6 cloves of garlic, peeled and smashed
½ cup olive oil
1-2 teaspoon dry oregano (or 2-3 stalks fresh oregano)
½ teaspoon salt
¼ teaspoon sugar
Instructions
First, wash and dry your cherry tomatoes. Set aside.
In a large nonstick pot, heat the olive oil and garlic over low heat. Add in the cherry tomatoes, and season with the salt and sugar.
Cook, stirring occasionally, over low heat. Over time, tomatoes will slowly burst and become more saucy and jammy.
After about 20 min of cooking, add in the oregano. Continue cooking for 10-20 more minutes, until tomatoes are very caramelized and soft.
You can enjoy immediately, or tomatoes can be stored in a glass container with a tight-fitting screw lid for up to a week. Make sure to transfer all the oil into the jar.
*Disclosure: I am part of the Amazon Associates Program, and there may be affiliate links on this page. If you buy anything through my website, I will receive a small percentage of the profit at no extra cost to you. Thank you for supporting my blog!*