These fun and bright Mermaid Birthday Cupcakes are perfect for any mermaid-obsessed little girl! Tie-dye vanilla cupcakes are crowned with confetti-encrusted frosting and fun white chocolate tails.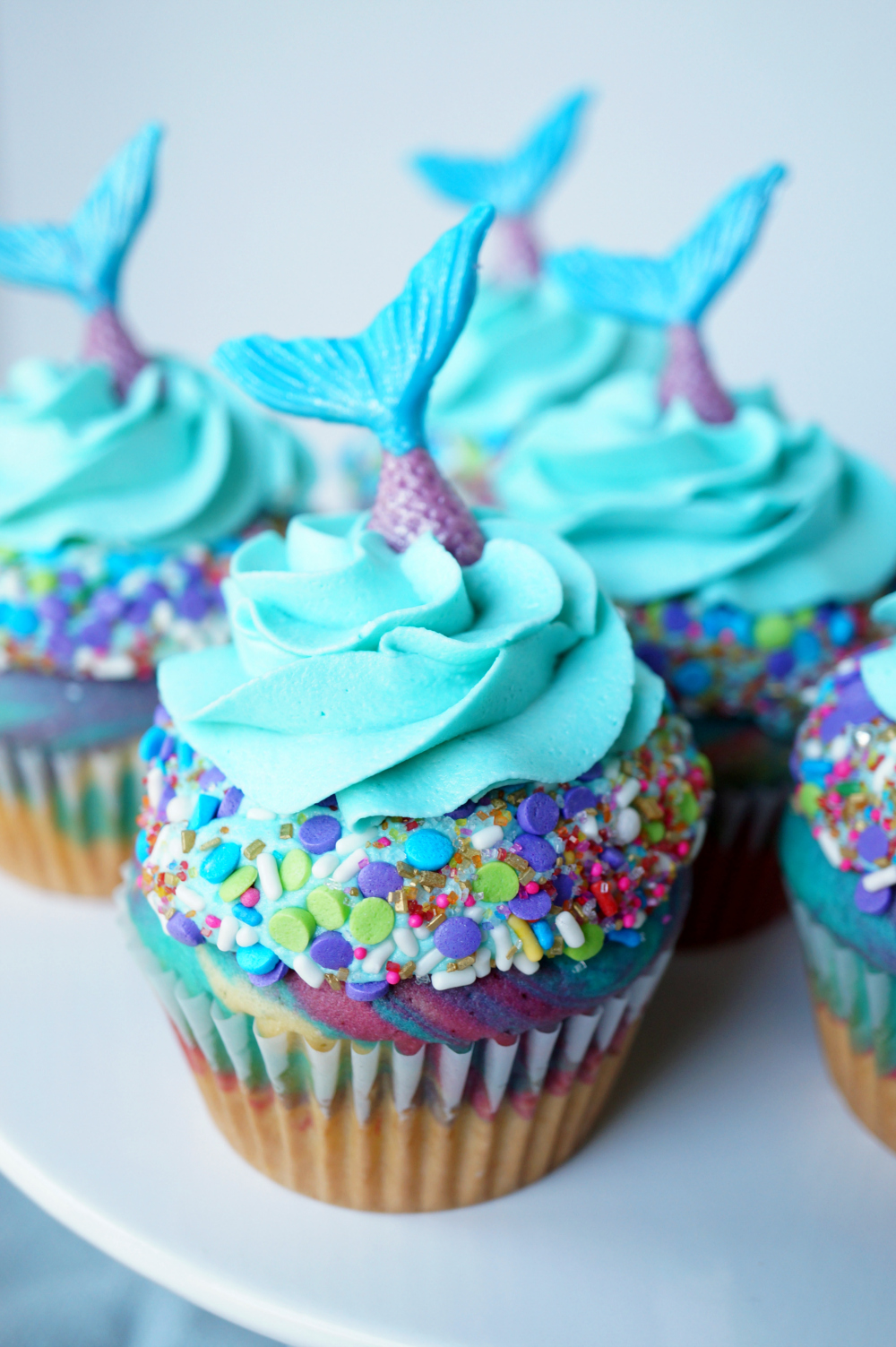 Hi friends and happy Tuesday! After the absolute busy craziness that was #Choctoberfest last week, I had to take it a little easier with the blog posts ? A girl can only crank out so many recipes, you know?! I am so excited to share these adorable Mermaid Birthday Cupcakes that I made for an order a couple of months ago! Mermaids aren't particularly seasonal but we can say they're for Halloween, right? Yes. I like that idea.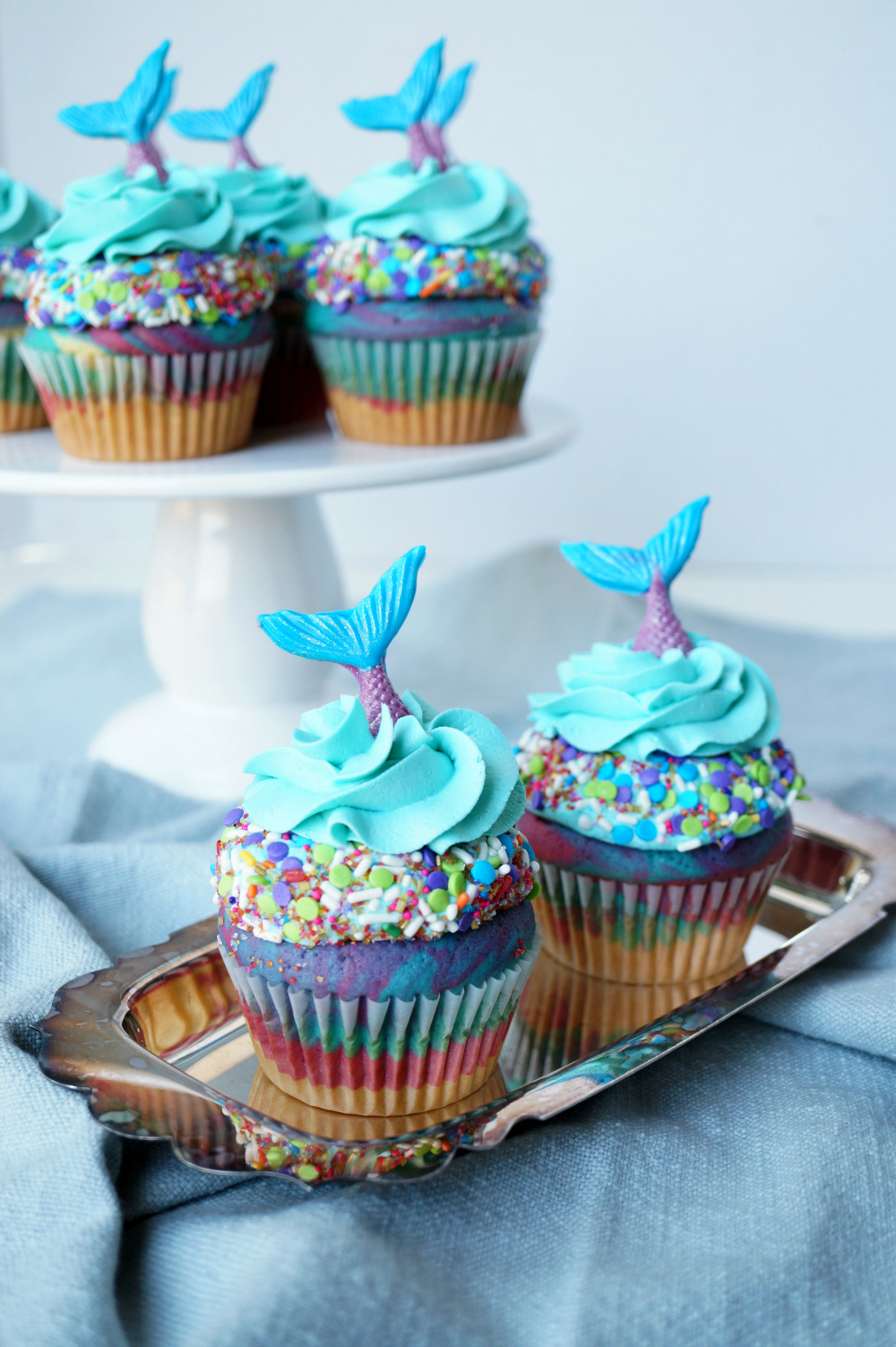 I am obsessed with how these mermaid birthday cupcakes turned out! They do have a few different elements going on, but really it's all so simple to put together. It's just one vanilla cupcake batter, one frosting recipe, a bunch of sprinkles, and mermaid tails made of candy melts to go on top! You make the cake batter and divide it into 4 bowls to create white, purple, pink, and turquoise. The frosting is just one batch of turquoise vanilla buttercream, but half is encrusted in sprinkles to make a fun two-tiered effect! And the tails are super easy to make, all you need is a candy mold from Amazon
!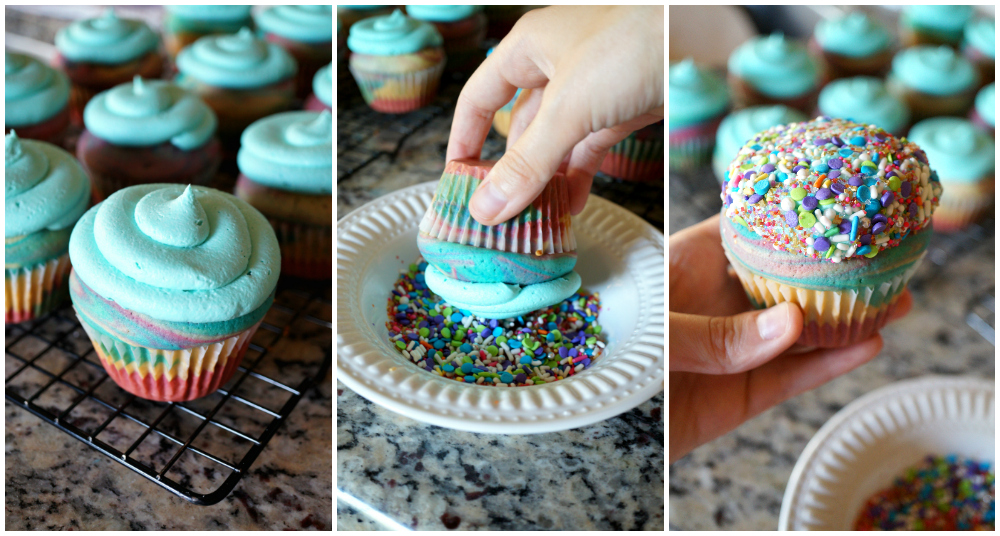 Making the sprinkle layer for these mermaid birthday cupcakes is deceivingly easy! Just pipe a flat layer of frosting on the cupcake with a large round tip... dunk the top into a bowl of sprinkles... and ta-da! To finish it off, just add a swirl of frosting on top using a star tip like a 1M. I just love the two-tiered effect! It's also a great use of pretty sprinkles as they totally get shown off this way!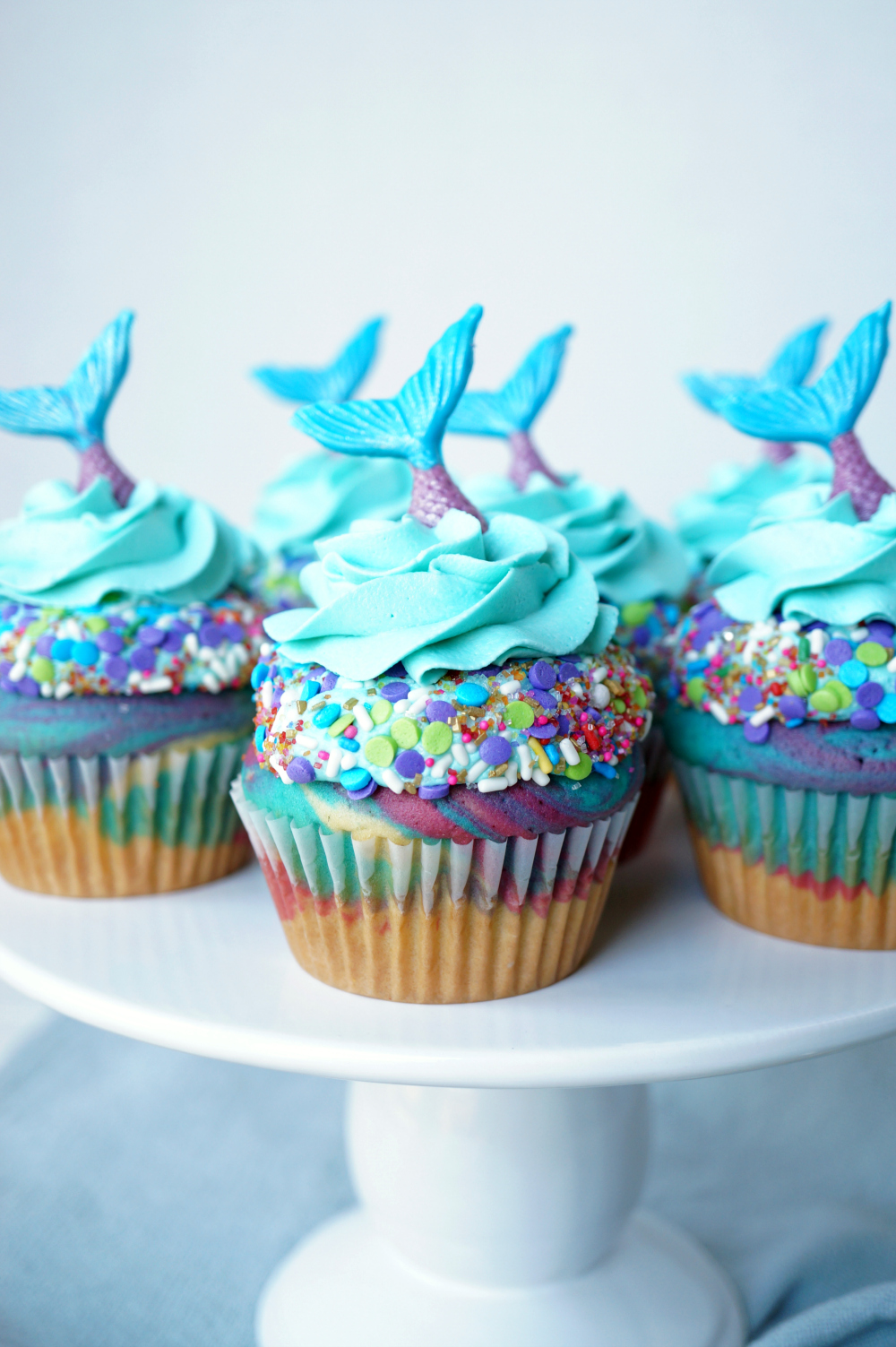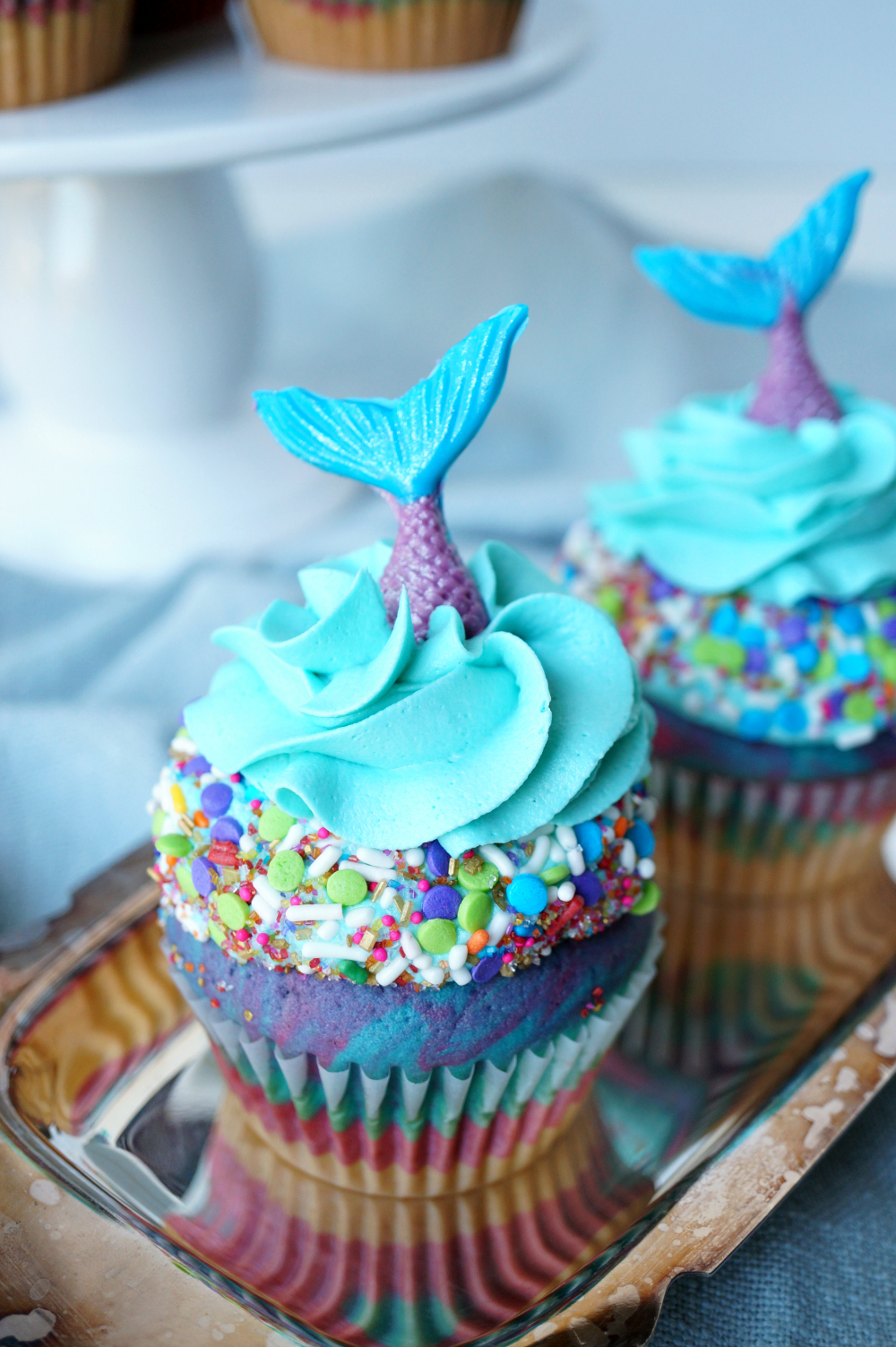 These mermaid birthday cupcakes were such a fun project and I loved them so much! The only thing more fun than making them would have been eating them but... that privilege wasn't for me ? As fancy as these look, there is nothing better than a classic vanilla cupcake with vanilla frosting! All I had to do was get a little creative with the food coloring.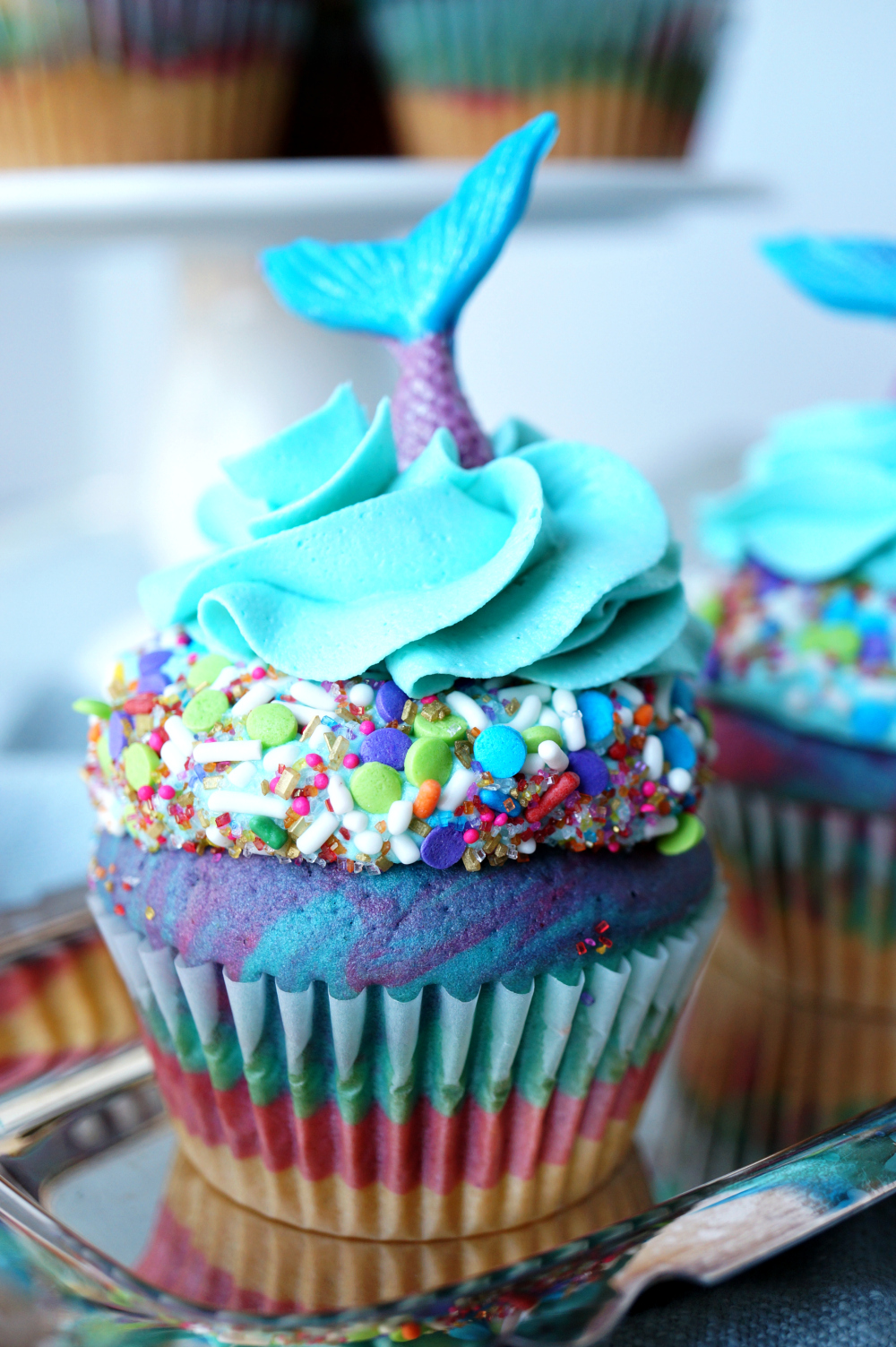 I hope you guys loved these mermaid birthday cupcakes! The cupcake recipe is from my gender reveal cupcakes, and the frosting is from my russian tips post! Just be sure to be generous with the sprinkles and colored chocolate and you won't have any problems 😉 Don't forget a hint of white luster dust on the mermaid tails for the finishing touch! Let me know if you have any questions!!
*Disclosure: I am part of the Amazon Associates Program, and there may be affiliate links on this page. If you buy anything through my website, I will receive a small percentage of the profit at no extra cost to you. Thank you for supporting my blog!*