This post and recipe was created for #FreakyFruitsFriday! I was sent products by the sponsor company but as always opinions are 100% mine.
Autumn Harvest Bowls are the perfect fall meal! They are packed with hearty brown rice, creamy lentils, caramelized roasted vegetables, and topped with a smooth blood orange tahini drizzle.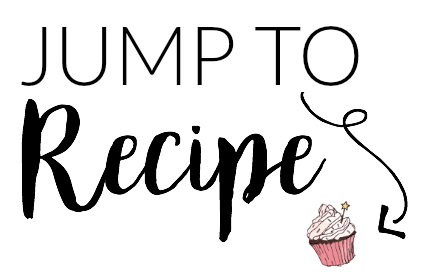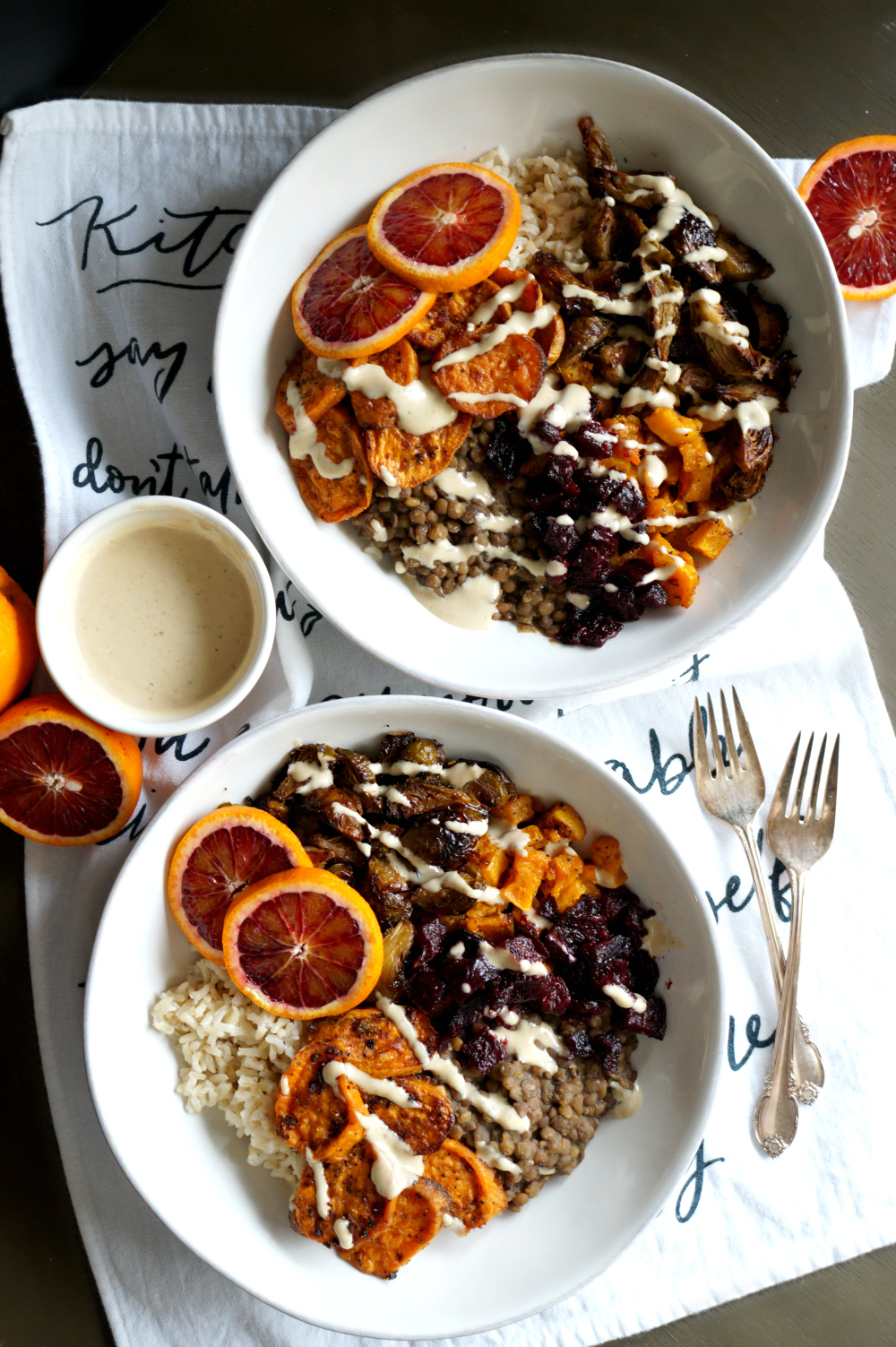 Hiiii friends and happy Tuesday! Did the title of this recipe throw you off? Worry not, I know it's not Friday but... since #FreakyFruitsFriday consists of three Fridays and I missed the first one, I'm making up for it now! As you may remember when I shared my tropical fruit trifles the other day, I am working with Melissa's Produce to showcase some of their most unusual and exotic products. Blood oranges are some of my absolute FAVORITES, and they worked so well in these Autumn Harvest Bowls with Blood Orange Tahini Drizzle! Let me show you how I did it.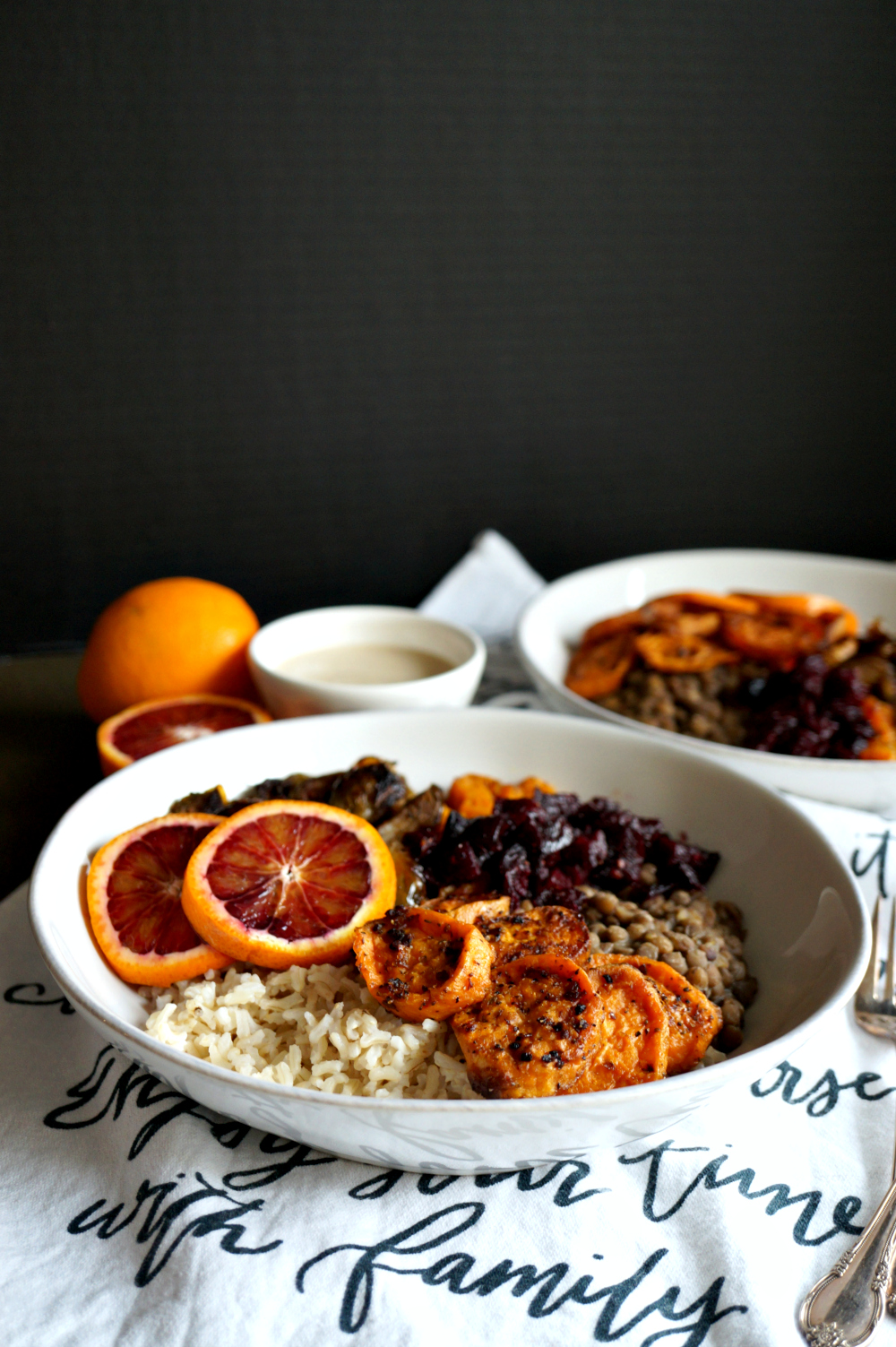 These kind of "buddha bowl" meals are some of my go-to's, especially to use up a variety of vegetables. I even shared my ultimate fridge clean-out veggie bowls for this exact reason! I was dreaming up of a warm and cozy fall version, and these autumn harvest bowls were born! They start off with hearty brown rice and are topped with creamy lentils and a variety of savory roasted veggies. I used butternut squash, brussel sprouts, sweet potatoes, and beets because they felt so perfect for the season. I feel like a bowl is just not complete without a sauce on top, so I whipped up a simple blood orange tahini drizzle using tahini paste, blood orange juice, garlic salt, and just enough water to make it thin and easy to drizzle. So easy, but this dish is seriously such a flavor bomb!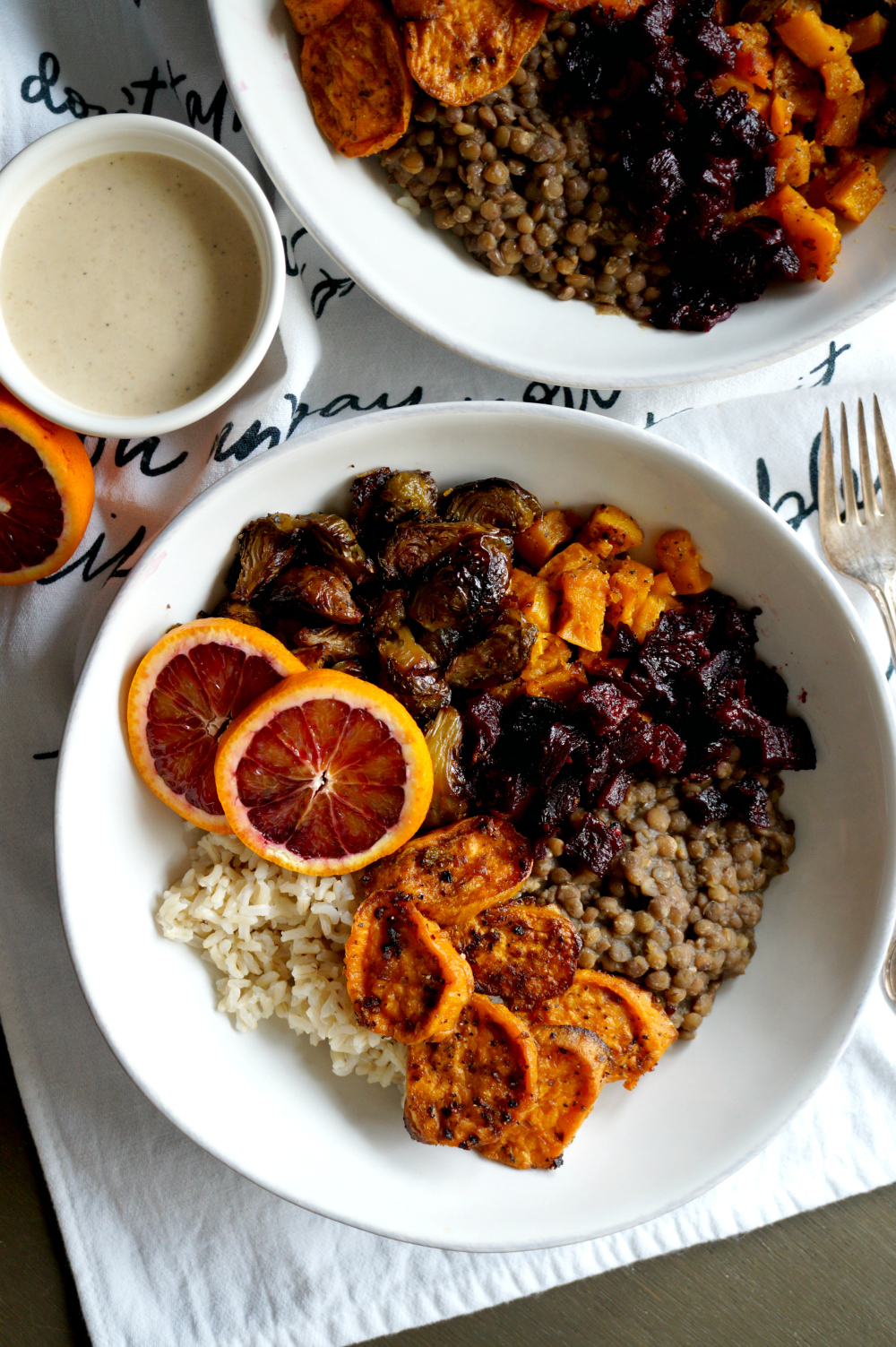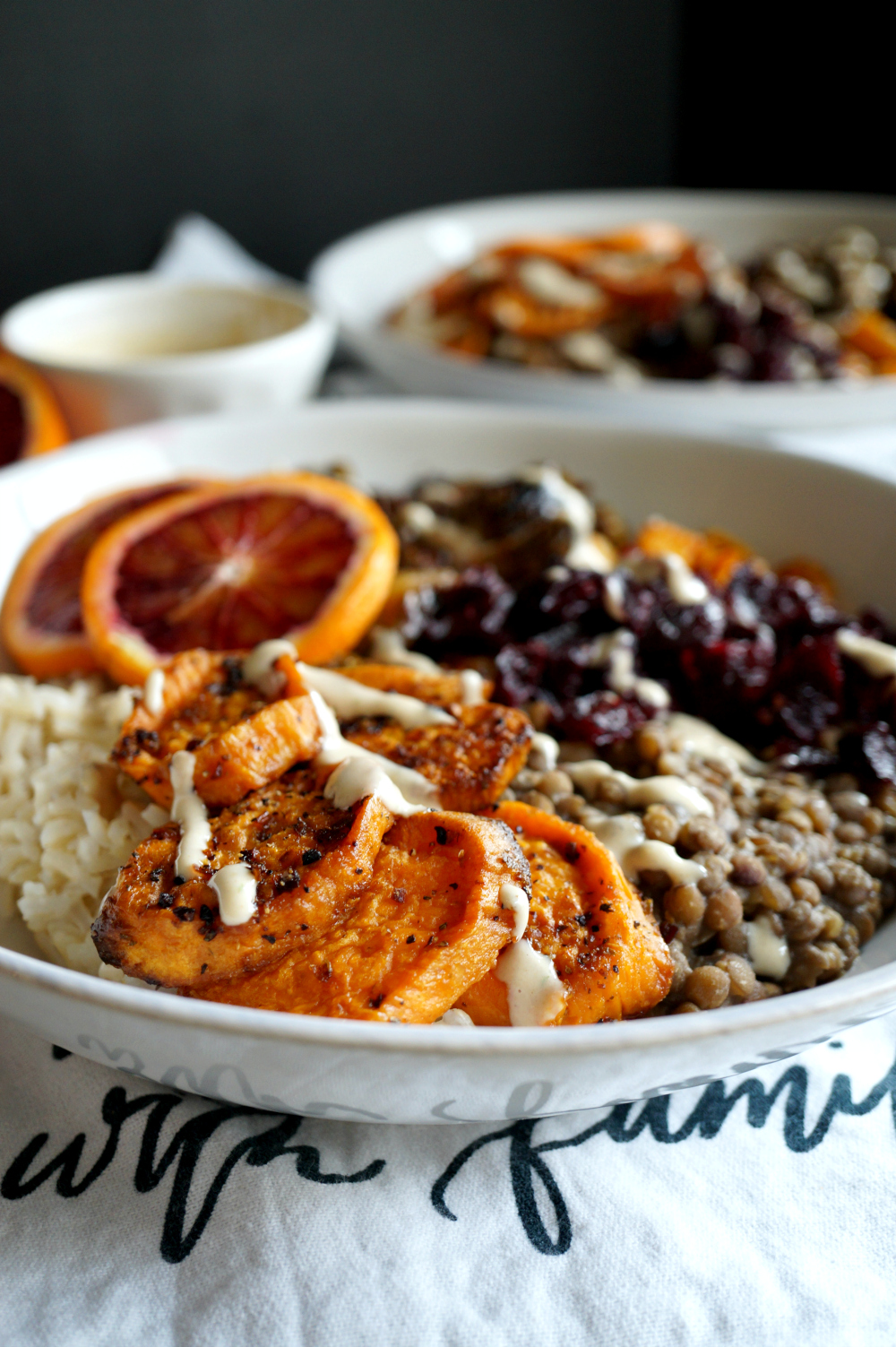 Growing up in Italy, blood oranges were one of my favorite fruits! I am so glad that I've been able to find them here and there and use them for some fun treats. I whipped up this blood orange dark chocolate loaf cake earlier this year, as well as a blood orange berry sangria! These gorgeous oranges also made an appearance in the tropical fruit trifles that I shared the other day for the event. They are sweeter than normal oranges, but my favorite part is the COLOR! Gosh they are just so pretty.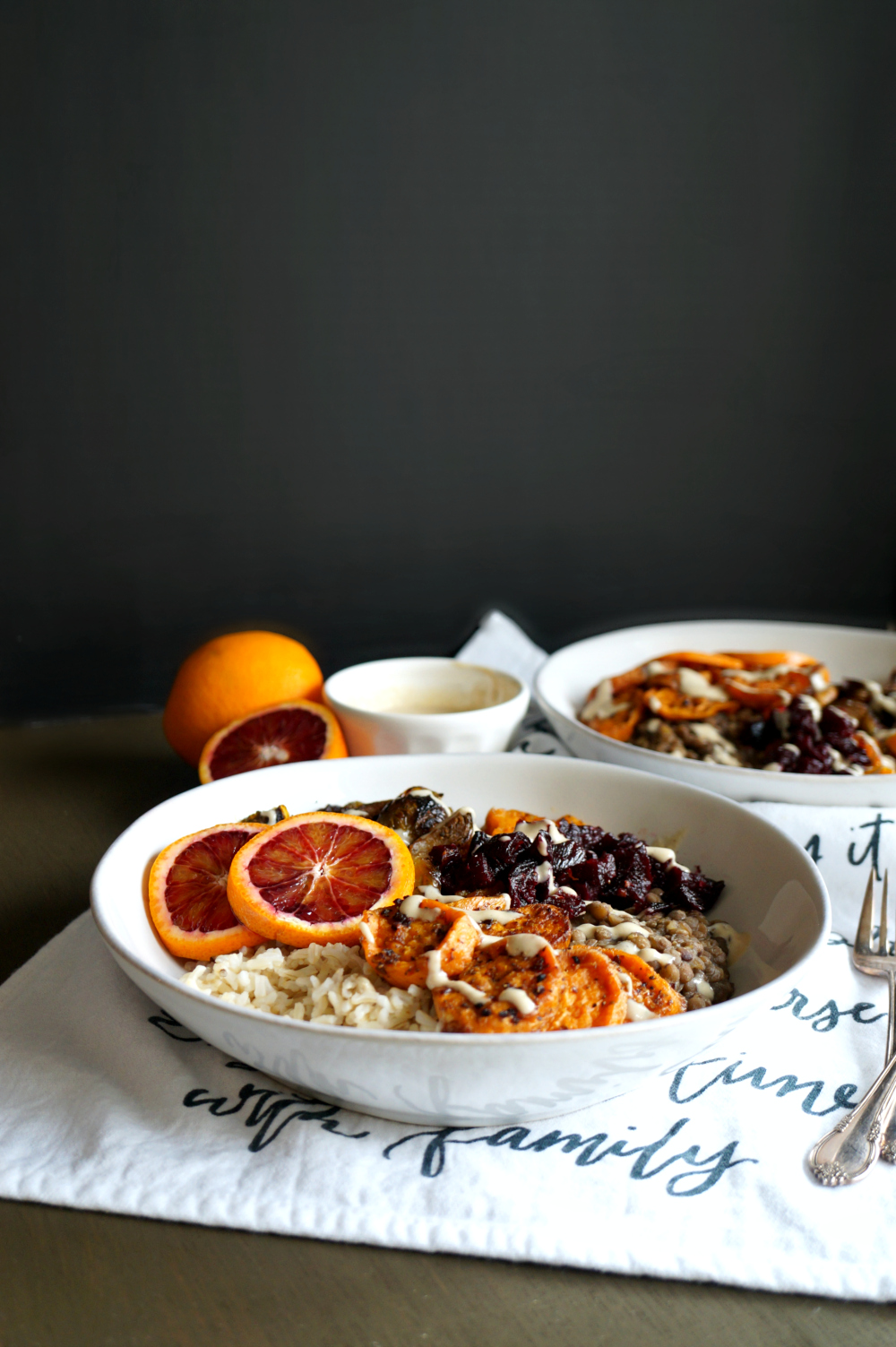 Tips for your Autumn Harvest Bowls:
Cut all the vegetables around the same size so they will be ready at the same time! That's the beauty of the sheetpan method.
I bought a whole butternut squash and peeled/cut it up myself, but you can definitely use the prepared squash cubes in the produce section instead.
I like my lentils to be soft and creamy, so I used about 4 cups of water for 1 cup of lentils. You can use less water if you want yours to be drier and more like beans. You will need 2 cups minimum, but you can taste and increase as needed!
If you can't find blood oranges, you can use any other citrus juice in the tahini sauce instead. My go-to is lemon juice!
If you're not a fan of brown rice, feel free to use white rice, quinoa, barley, farro cauliflower rice, or any other grain-like ingredient instead.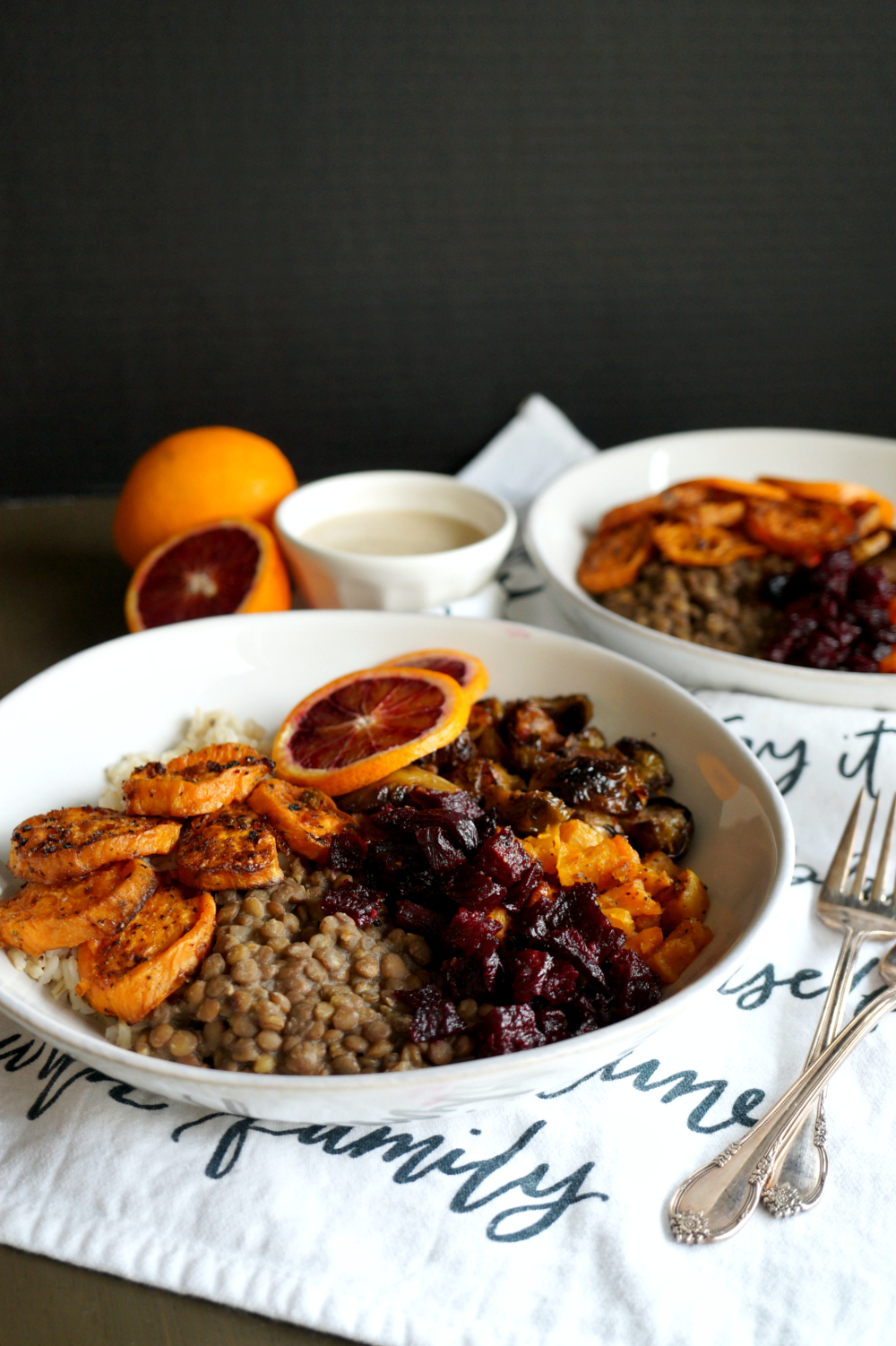 I hope you guys will give these autumn harvest bowls a whirl! They are so tasty and the perfect warm and cozy dish for a chilly fall night. All the textures and flavors work so well together! Let me know what you think of them! 🙂

autumn harvest bowls with blood orange tahini drizzle
Autumn Harvest Bowls are the perfect fall meal! They are packed with hearty brown rice, creamy lentils, caramelized roasted vegetables, and topped with a smooth blood orange tahini drizzle.
Author:
Valentina | The Baking Fairy
Ingredients
*for the lentils*
1 cup dry green lentils
2-4 cups water (depending how soft and creamy you like your lentils)
pinch of salt
1 bay leaf
*for the vegetables*
1 butternut squash
2 sweet potatoes
1 beet
1 lb brussel sprouts
2-3 tablespoon olive oil
2 tablespoon Italian herb seasoning
1-2 teaspoon garlic powder
salt & pepper to taste
*for the sauce*
¼ cup tahini
juice of 1 blood orange
½ - 1 teaspoon garlic salt
water as needed, to thin
*to serve*
brown rice, quinoa, or other grain
blood orange slices
Instructions
First, prepare the lentils. Rinse them well, and add to a medium sized pot.
Add 2 cups of cold water, along with the salt and bay leaf, and bring mixture to a boil.
Lower to a simmer and cover, stirring occasionally. You can add more water as you go if you find that the lentils are too hard for your liking. This will take 15-20 minutes.
Next, prep the vegetables. Preheat oven to 450F and line two baking sheets with foil, parchment, or silicone liners.
Wash all veggies, and peel the butternut squash, sweet potatoes, and beet. Cut the butternut and beet into small cubes. Cut the sweet potato into slices. Cut the bottoms off of the brussel sprouts, and divide into 4.
Arrange the vegetables on your prepared baking sheets, drizzle with the olive oil, and sprinkle on the seasoning.
Bake for 45-50 minutes, until vegetables are golden brown and caramelized.
Right before serving, prepare the tahini sauce. In a small bowl, mix together the tahini and blood orange juice. It is normal for the tahini to "seize" a little and become thick. Add in the garlic salt to taste, and add water, a bit at a time, until sauce is thin and fluid, and easy to drizzle.
To serve, prepare your brown rice/quinoa/etc according to package directions. Spoon some of your grains into each of 4 bowls, and add in the lentils. Divide the vegetables evenly among the bowls, and drizzle on the sauce. Garnish with 1-2 slices of blood orange if desired. Enjoy!