This post is sponsored in conjunction with #SpringSweetsWeek. I received product samples from sponsor companies to help in the creation of the #SpringSweetsWeek recipes. All opinions are mine alone.
This gorgeous Blood Orange Dark Chocolate Loaf Cake tastes just like spring! Bright citrus and indulgent chocolate come together for a delicious dessert, with a fun (naturally) hot pink glaze!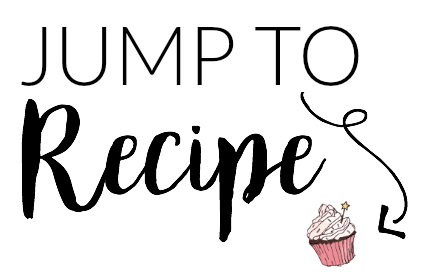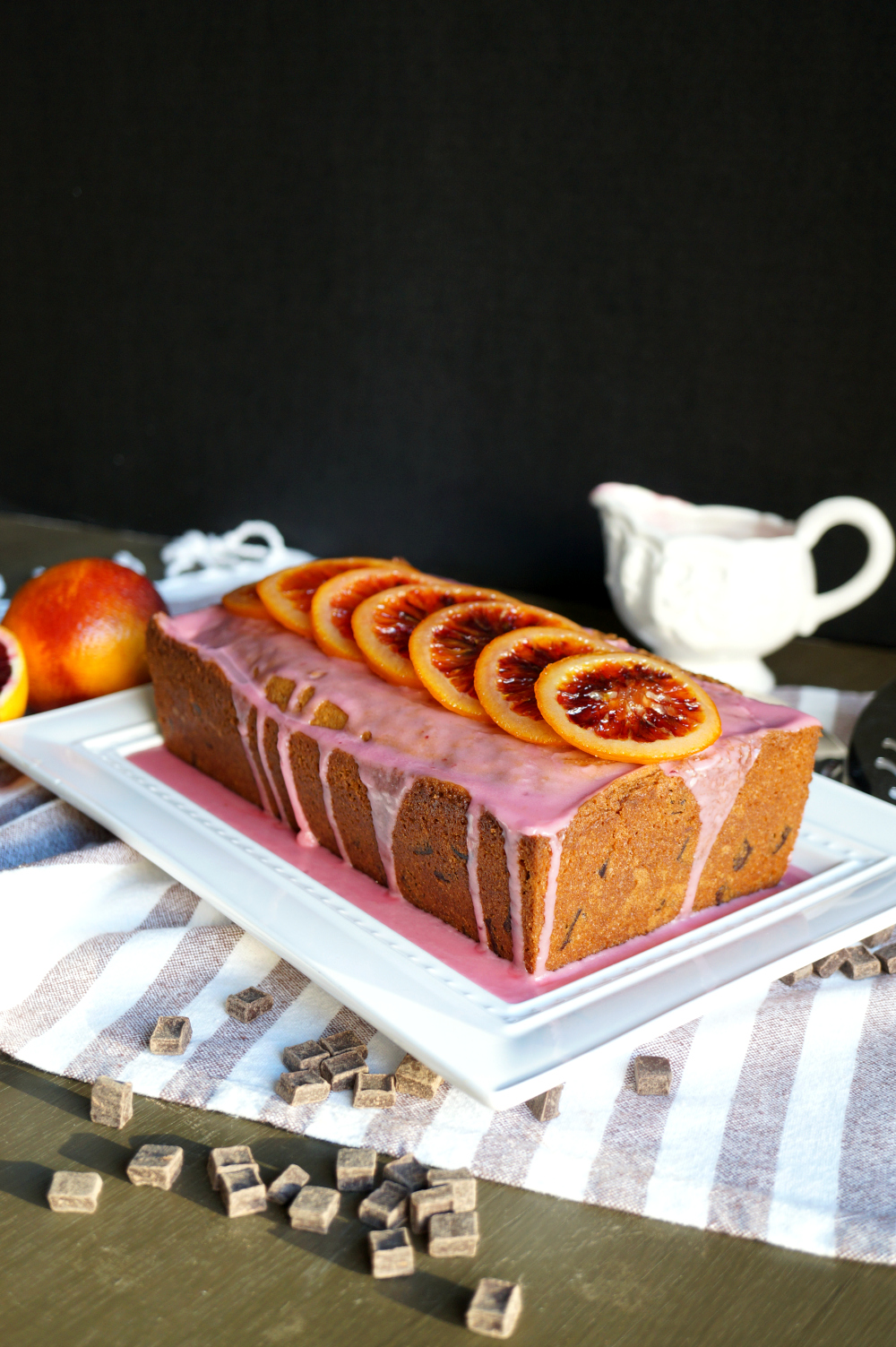 You guys, we made it! It's Saturday and it's my LAST day of #SpringSweetsWeek. PHEW. It has been a doozy! This special week was seriously months in the making, and I am so excited I got to share it all with you. It was also a doozy because I basically wrote all the blog posts in one day and scheduled them ahead of time. Becaaaaause... today's my frickin WEDDING DAY!!! No big deal. All the photos to come in the future, of course. In the meanwhile, enjoy this amazing Vegan Blood Orange Dark Chocolate Loaf Cake because it's one of my favorite things I made all week!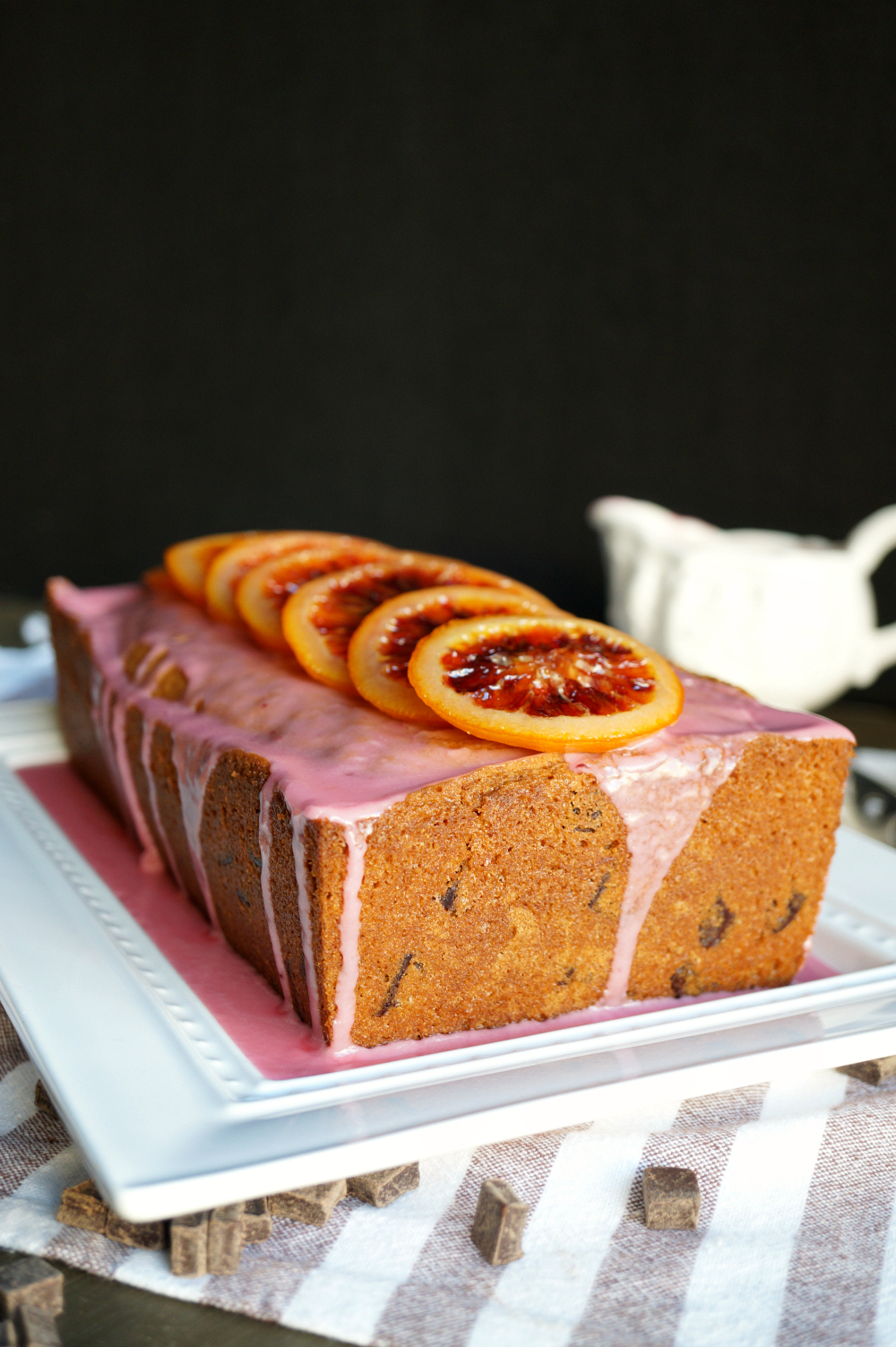 Today's last-but-not-least sponsor is Melissa's Produce! They sent us some gorgeous fruit including Meyer lemons, key limes, papaya, and these beautiful blood oranges. I adore blood oranges!! I don't know how many people can say this, but it's been my favorite fruit since I was a kid. They are relatively easy to find in Italy (they just come from Sicily), but the season here in the US is so short! When I saw them in my box, I KNEW they had to be my star product!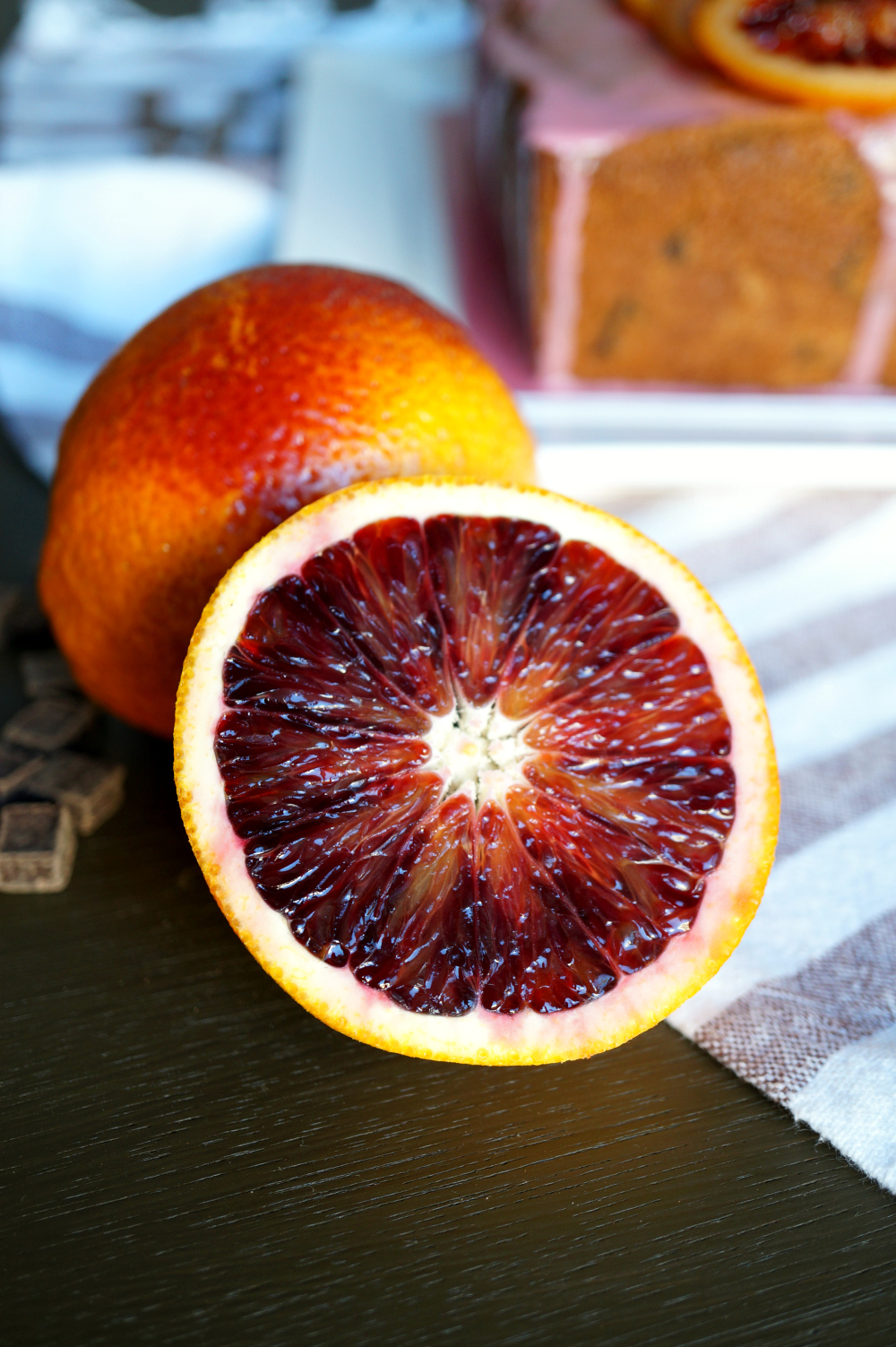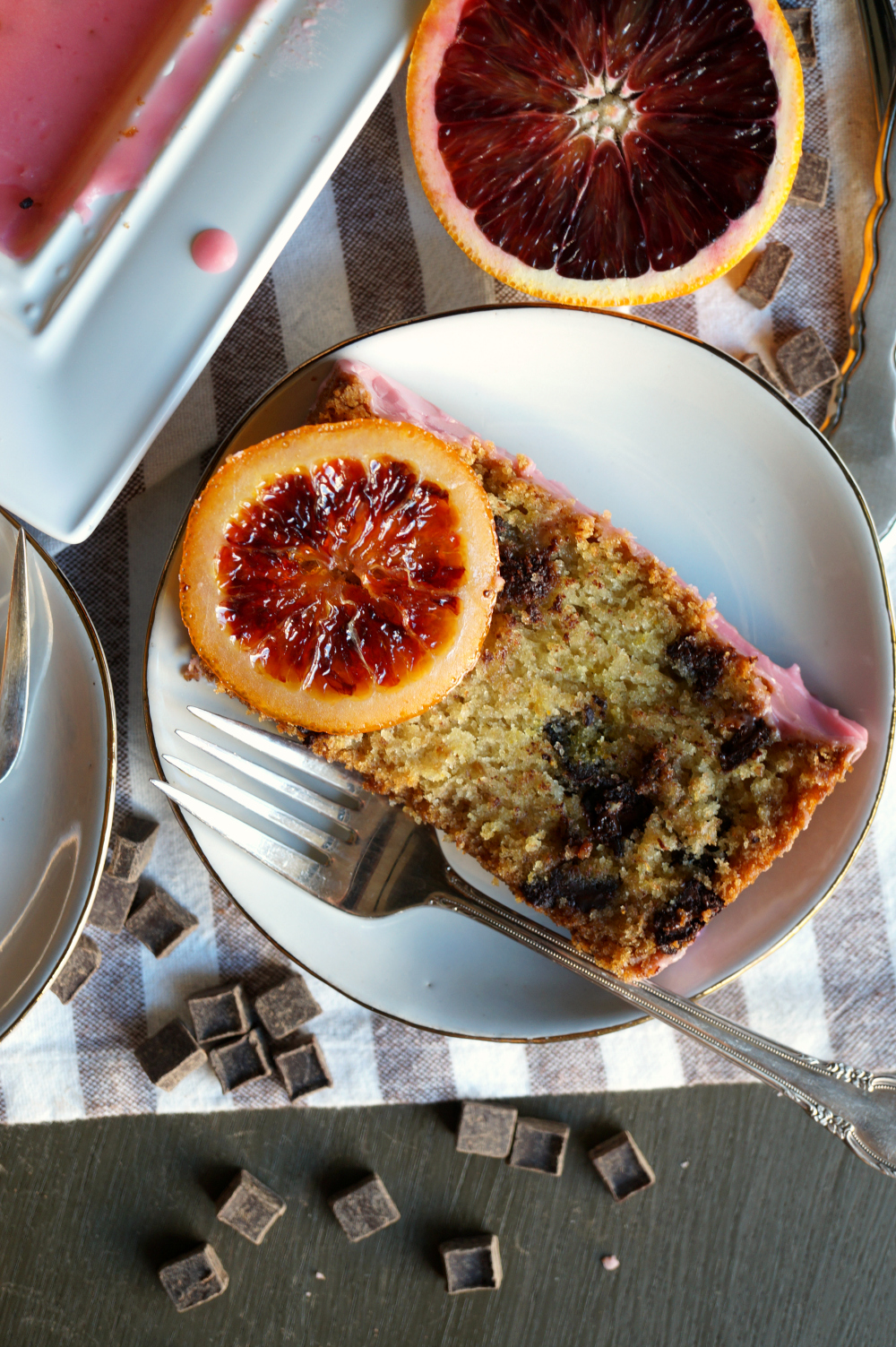 I know some people aren't into the orange + chocolate combo but... hear me out here. I'm not either - usually. This cake was seriously next level for me! I think that orange desserts can be too sweet sometimes, so using dark chocolate chunks really keeps it from being cloying. There's orange juice and zest in the batter, and more juice in the glaze which gives it that gorgeous all-natural BRIGHT PINK color! The finishing touch on top is the candied blood orange slices which are super easy to make, and so pretty.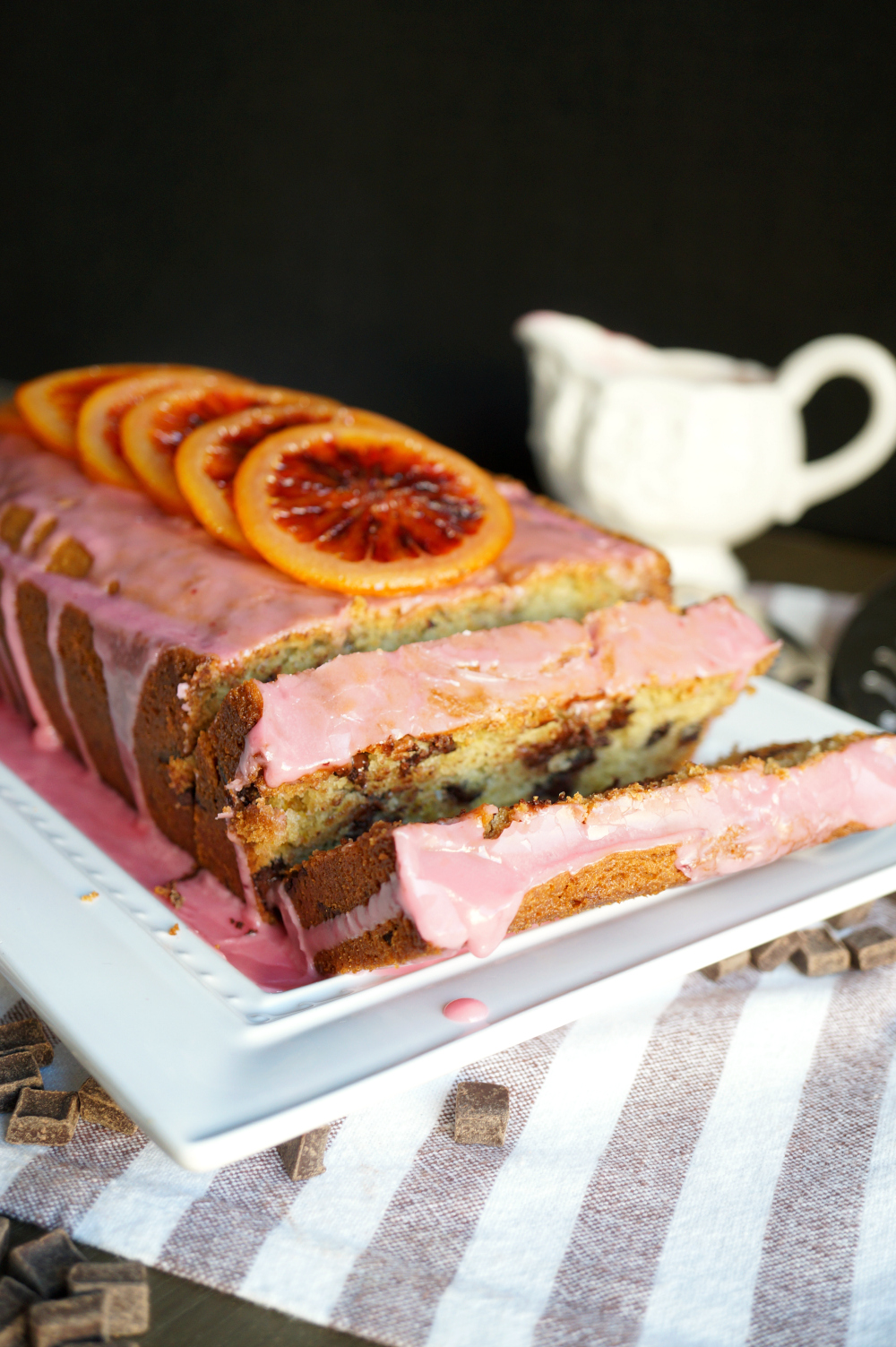 One last time - check out all of my blogger buddies' recipes for today! And don't forget to enter the giveaway before it closes! You can find it at the bottom of this post.
Saturday #SpringSweetsWeek Recipes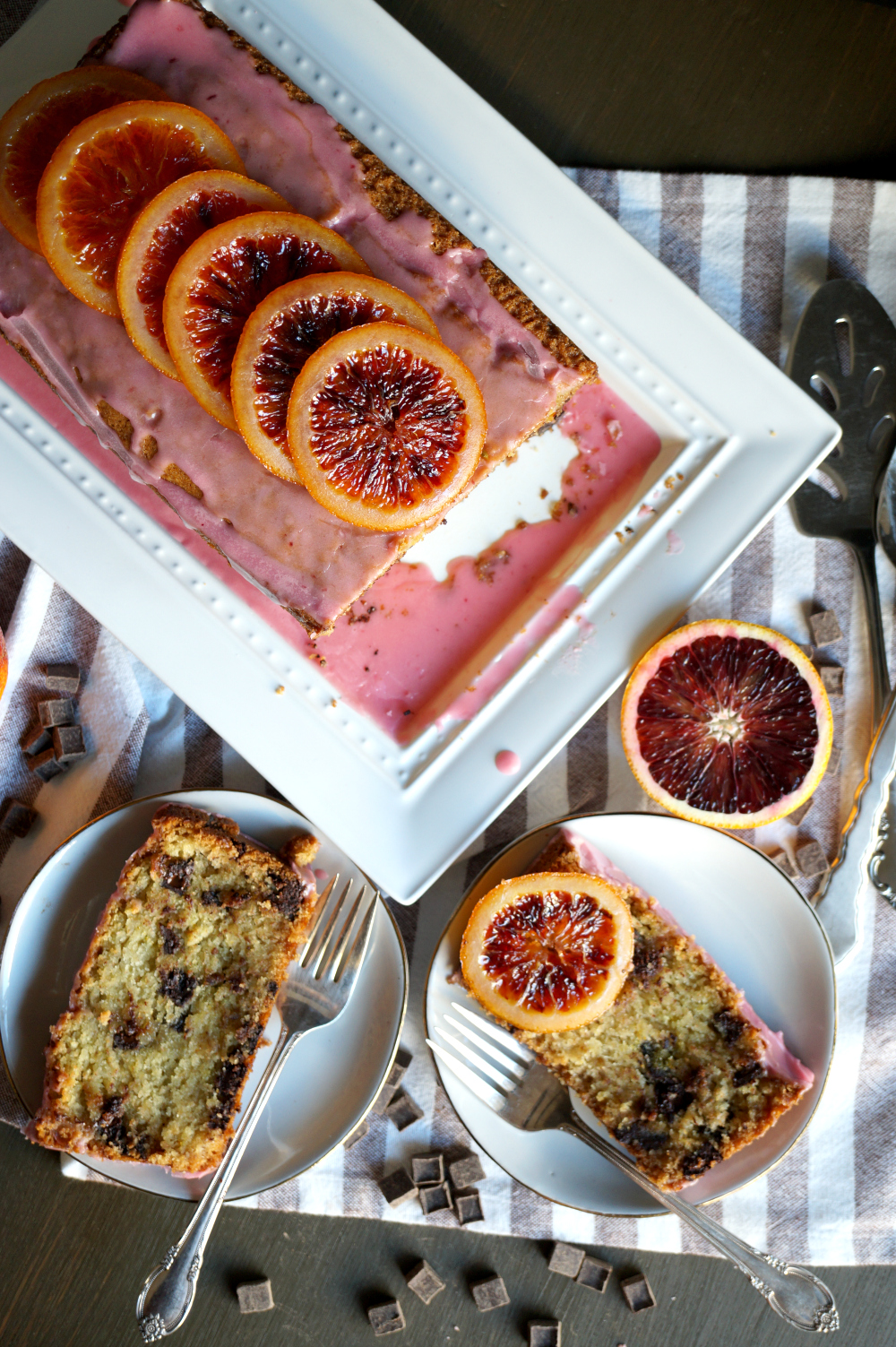 Earlier this #SpringSweetsWeek:
vegan blood orange dark chocolate loaf cake
This gorgeous Blood Orange Dark Chocolate Loaf Cake tastes just like spring! Bright citrus and indulgent chocolate come together for a delicious dessert, with a fun hot pink glaze!
Author:
Valentina | The Baking Fairy
Recipe type:
Breads & Loaf Cakes
Ingredients
2 tablespoon ground flaxseed + 6 tablespoon water
1 cup white granulated sugar
1¾ cups all-purpose flour
1½ teaspoon baking powder
1 teaspoon baking soda
½ teaspoon salt
¼ cup vegan butter
⅓ cup nondairy yogurt
¼ cup vegetable oil
⅓ cup blood orange juice (about 1 orange's worth)
⅓ cup nondairy milk
zest of 1 blood orange
1 cup vegan dark chocolate chunks
1 teaspoon vanilla
*for the glaze*
¼ cup blood orange juice
1-2 cups powdered sugar
*for the candied orange slices*
1-2 blood orange, sliced thin
1 cup water
1 cup granulated sugar
Instructions
If you want to top your loaf cake with candied orange slices, we need to prepare those first. Wash one of your blood oranges, and slice thinly.
In a large, shallow pot, combine the water and sugar. Heat over medium until sugar is melted and mixture starts to bubble gently. Add in the orange slices, and turn heat to medium-low.
Cook orange slices for 20-30 minutes, flipping occasionally, until they appear translucent and the syrup they're cooking in turns a soft pink.
Carefully remove orange slices from the syrup, and place on parchment paper to cool. Set aside until they are cooled off and hardened. You do not need the syrup for this recipe, but save it to add to cocktails, iced tea, or sparkling water!
When ready to bake, preheat oven to 400F. Grease & flour a 9x5 loaf pan.
In a small bowl, whisk together the flaxseed and water, and allow it to gel while you prepare the rest.
In the bowl of a stand mixer, combine the sugar, flour, baking powder, baking soda, salt, and vegan butter. Beat at low speed until mixture is combined and appears sandy.
In a medium bowl, mix together the nondairy yogurt, vegetable oil, the flax mixture, and vanilla.
Slowly pour this into the flour mixture while the mixer runs.
Finally, pour in the blood orange juice and nondairy milk. Stir in the orange zest and chocolate chunks.
Pour batter into prepared loaf pan, and bake at 400F for 10 minutes, then lower the oven to 350F and bake for 30 more minutes. If cake is getting too brown on top, cover with a piece of foil and continue to bake for 5-10 additional minutes. Cake is ready when a toothpick inserted in the center comes out clean. Allow cake to cool slightly in pan before transferring to a plate.
When ready to serve, prepare the glaze. Simply whisk together the blood orange juice and powdered sugar until you have a thick glaze. Pour over the loaf cake, and top with the prepared candied orange slices. Enjoy!