This post is sponsored in conjunction with #SpringSweetsWeek. I received product samples from sponsor companies to help in the creation of the #SpringSweetsWeek recipes. All opinions are mine alone.
This Vanilla Bean Dutch Baby is the perfect special occasion breakfast! Super easy and topped with a delicious strawberry hibiscus syrup.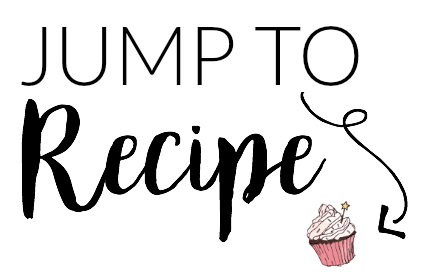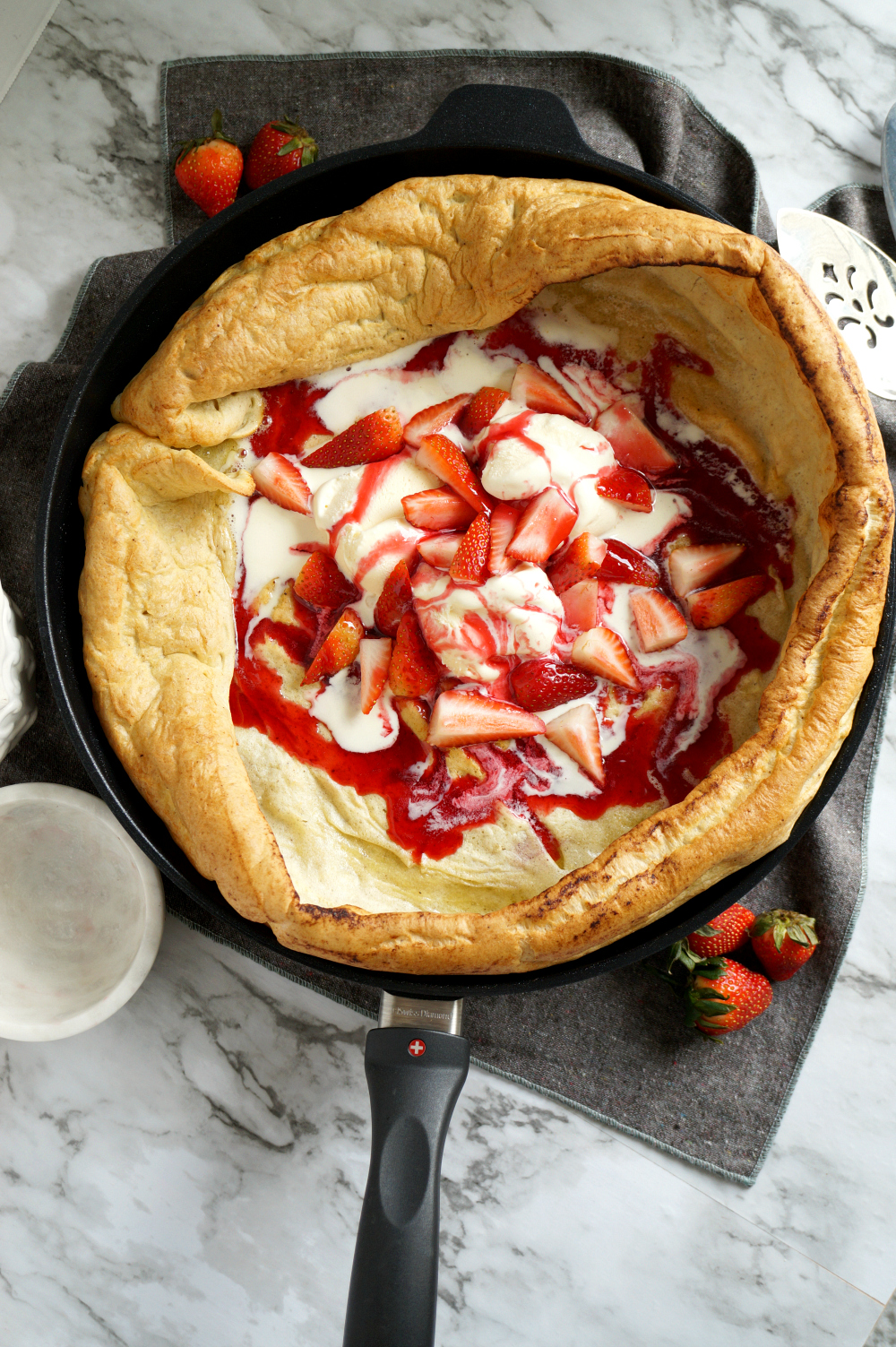 Hi buddies and HAPPY MONDAY! I am so excited to announce that today kicks off #SpringSweetsWeek! I seriously feel like I've been working on these recipes forever, and I am so happy to finally get to share all the deliciousness with you. This week is also exciting for another reason... IT'S WEDDING WEEK! Thank goodness for scheduling ???? To kick off the party, I am sharing this gorgeous Vanilla Bean Dutch Baby with Strawberry Hibiscus Syrup, made in partnership with Swiss Diamond! You may remember that I worked with them back in the fall for Apple Week, and I was only too happy to make another recipe with them! Let's jump right in...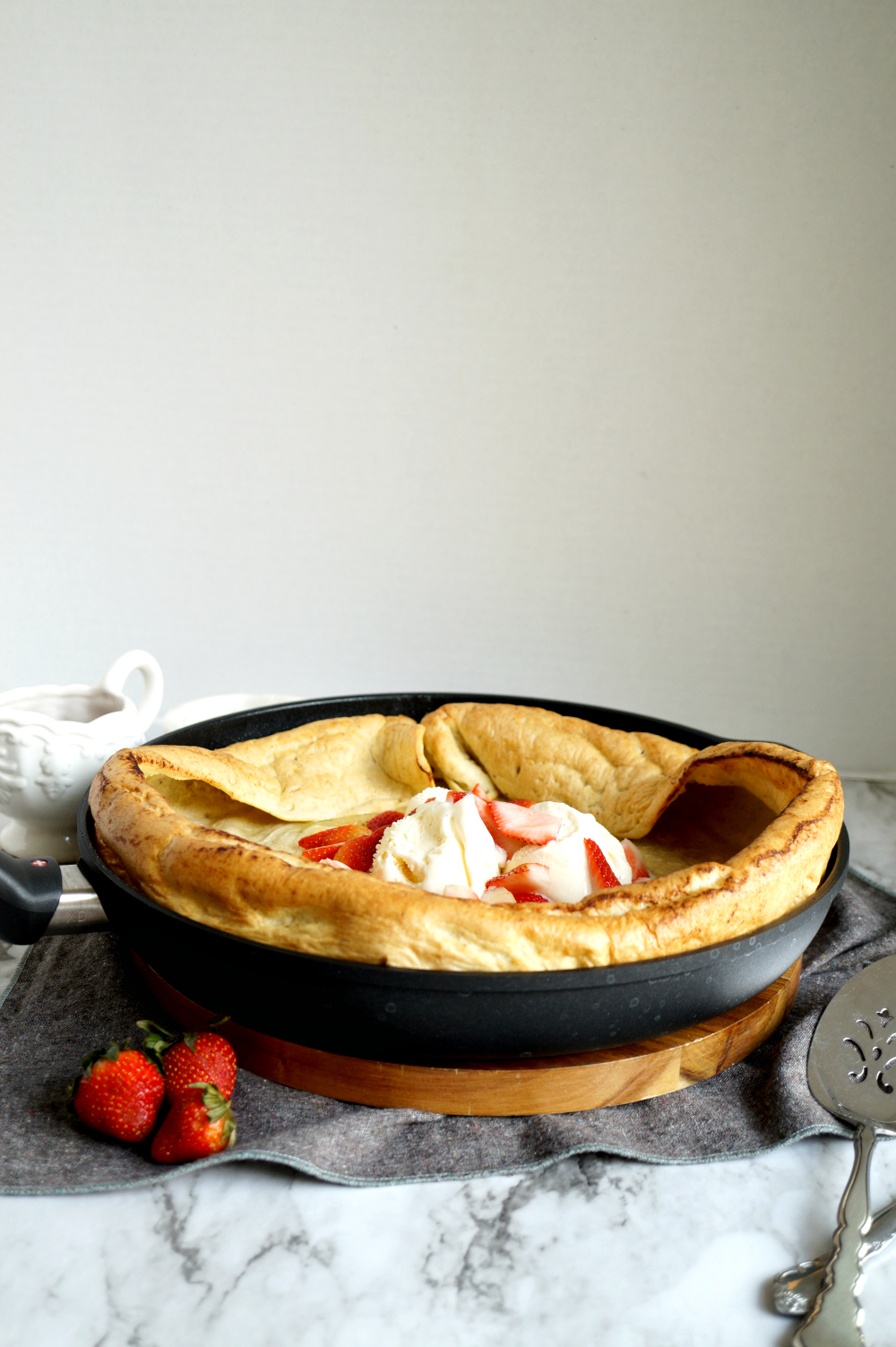 I want to thank Heather from Hezzi-D's Books and Cooks and Christie from A Kitchen Hoor's Adventures for putting together this wonderful event! What better way to celebrate the coming of spring than with food and a fun giveaway? 30 bloggers from around the country have come together to share over 100 sweet recipes perfect for spring!  Get ready to ditch your hats, coats, and snow boots and get ready for some delicious sweet treats like cupcakes, cookies, sweet breads, and cocktails! Our #SpringSweetsWeek sponsors are helping us give away some great prizes. Thank you so much Swiss Diamond, Dixie Crystals, Nancy's Yogurt, Sprinkle Pop, Adams Extracts, Barleans, Melissa's Produce, and PEEPS® for your generosity. Keep scrolling to the bottom of the post to check out the amazing giveaway we put together for you!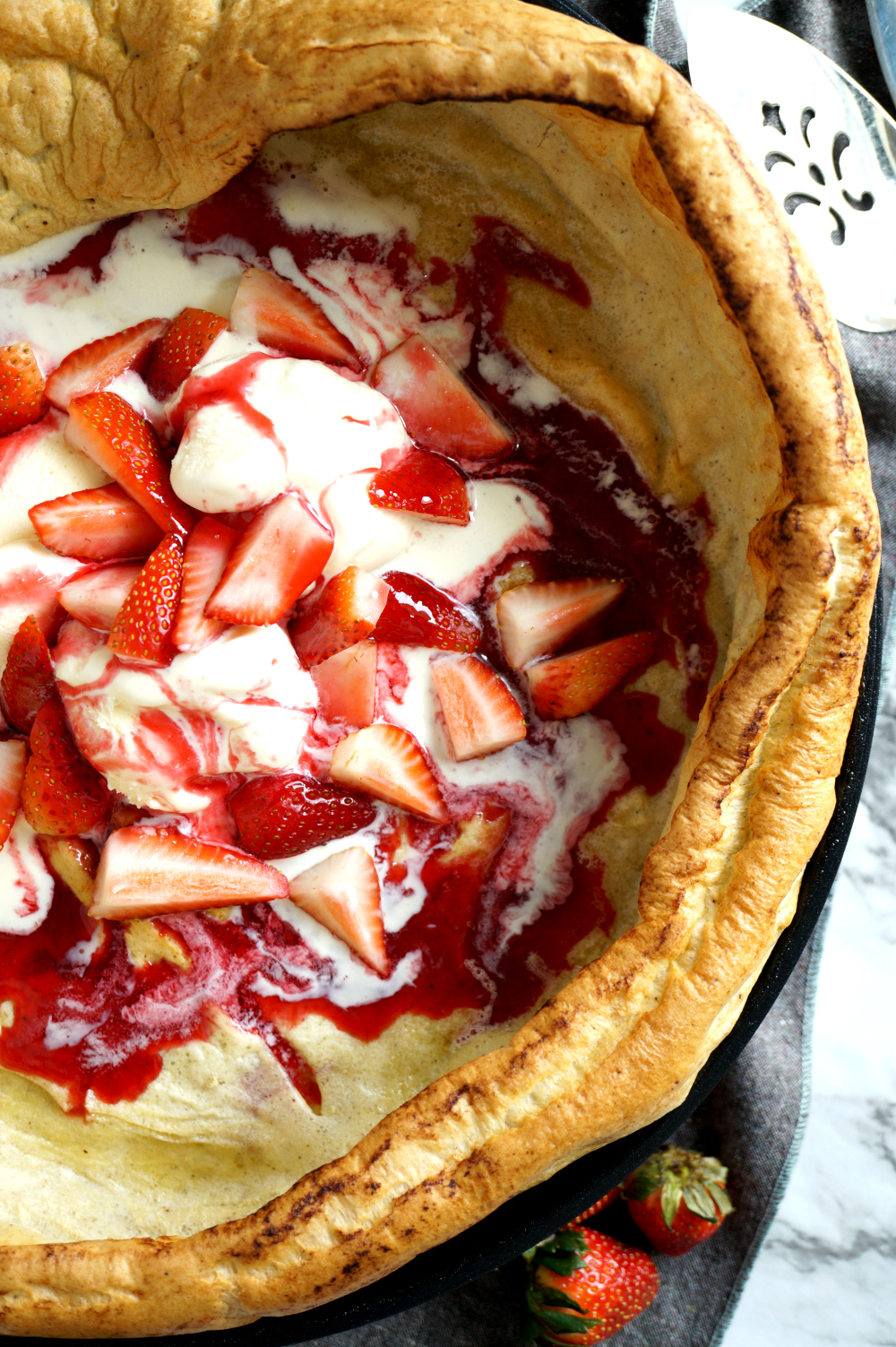 So, let's talk about Dutch baby pancakes! The name is totally funny, but this dish is basically just a huge pancake that is made in the oven. It is incredibly easy to make, and the batter is whipped up in a blender so it comes together in a pinch! The basic batter is quite plain, so I added some vanilla bean to add some interest but... the real stars are the toppings! I made a super simple strawberry hibiscus syrup to pour over the top, and paired it with fresh strawberries and vanilla ice cream. Think of this like strawberry shortcake on a whoooole other level!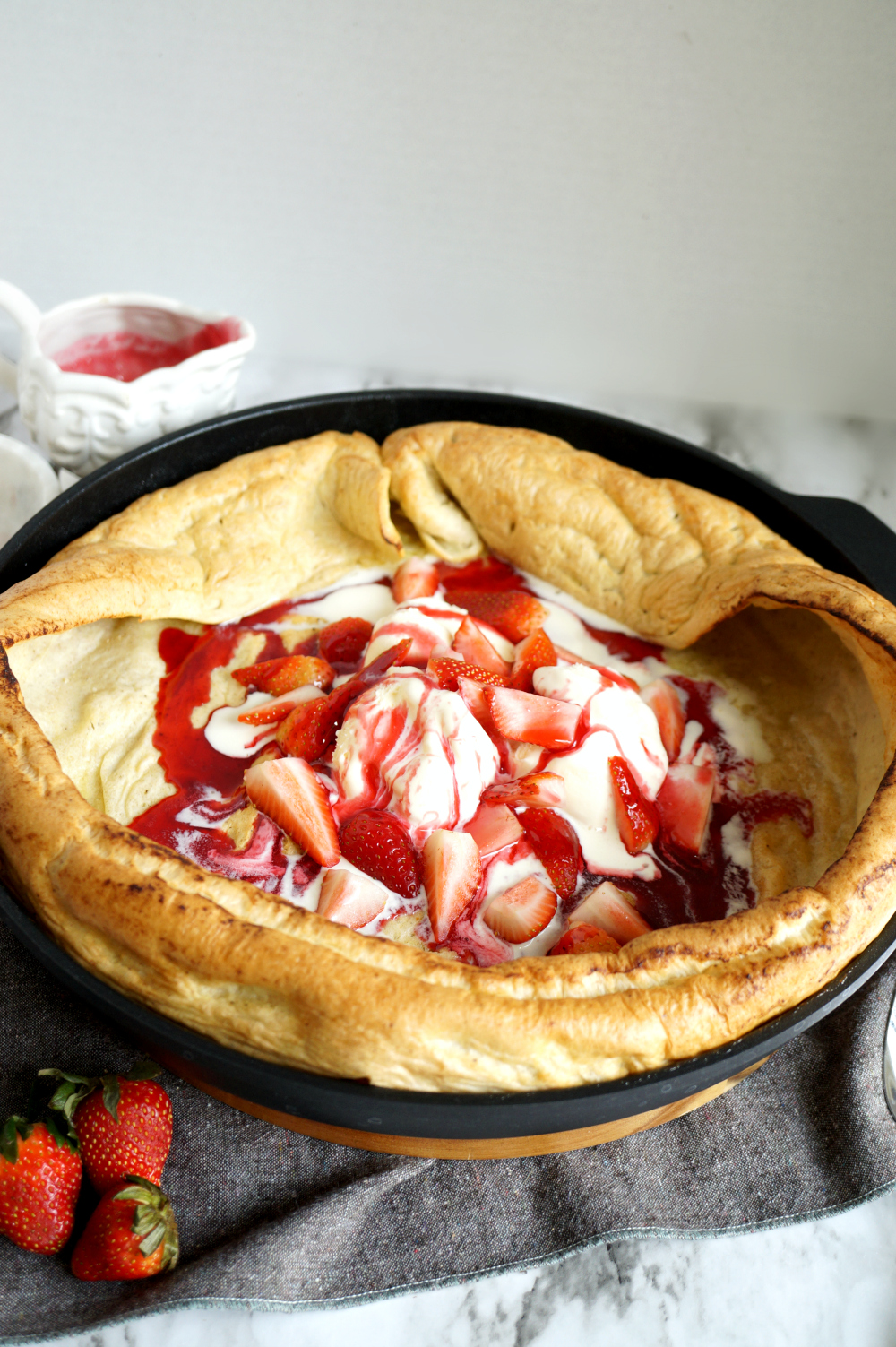 The only tricky thing about making a Dutch baby is that you need an oven safe pan. My gorgeous Swiss Diamond pan worked perfectly for this, as it's oven-safe up to 500F! In a pinch, you can also use a cast iron skillet. Whatever you use, just double check that it's oven safe because you don't want any melted handles! The other great part about this pan is that it is super nonstick, so I could bake my pancake without any worries that it would be stuck. I actually made the strawberry hibiscus syrup in my other Swiss Diamond saucepan and it worked perfectly. You know it's the real deal when even sugary strawberry syrup won't stick!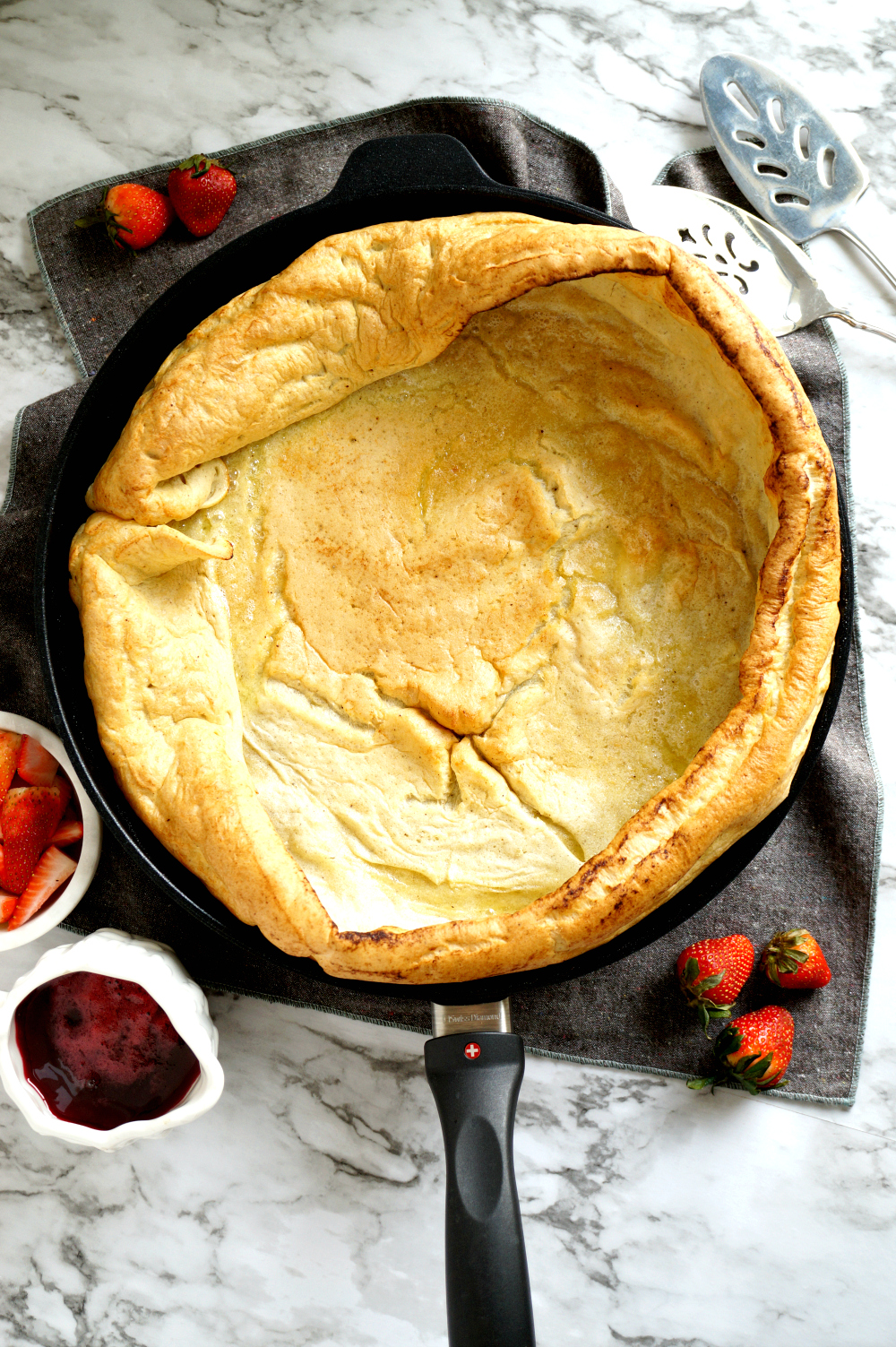 As always, you know these event weeks are a group effort! Be sure to check out all my blogger friends' delicious recipes for today.
Monday #SpringSweetsWeek Recipes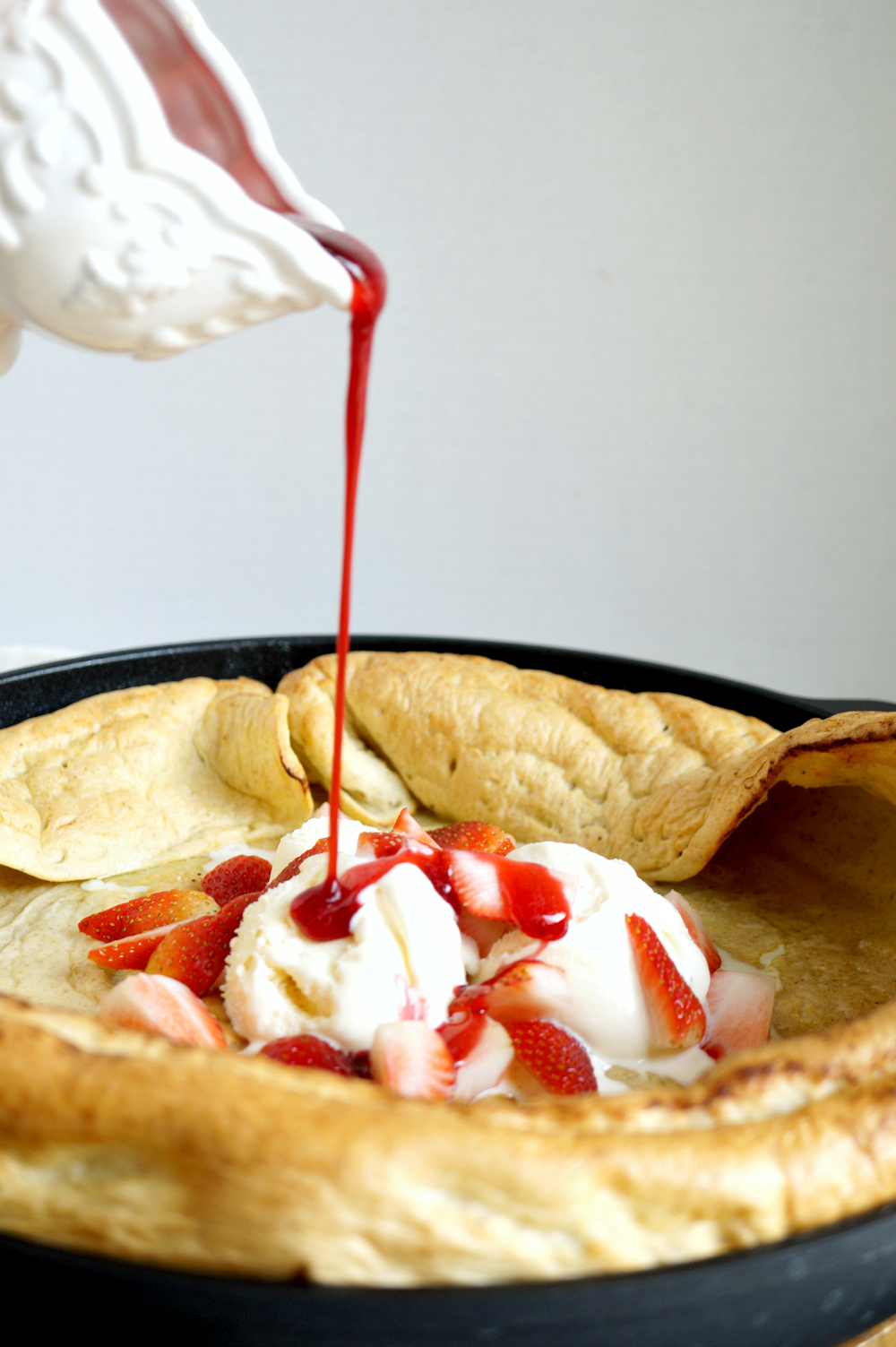 I hope you will give this vanilla bean dutch baby with strawberry hibiscus syrup a try! It was absolutely delicious and I couldn't believe how easy it was to put together!
Tips for success:
Make the strawberry hibiscus syrup ahead of time, so it's ready when you need it! It stores wonderfully in the fridge.
No hibiscus flowers? No worries! Just omit them and make regular strawberry syrup instead!
For a lighter dessert, serve with freshly whipped cream instead of vanilla ice cream.
Prep your Dutch baby batter in a blender for easy mixing and easy clean-up!
 Check out all my #SpringSweetsWeek recipes:
vanilla bean dutch baby with strawberry hibiscus syrup
This Vanilla Bean Dutch Baby is the perfect special occasion breakfast! Super easy and topped with a delicious strawberry hibiscus syrup.
Author:
Valentina | The Baking Fairy
Ingredients
*for the strawberry hibiscus syrup*
½ cup water
½ cup granulated white sugar
1 cup sliced strawberries
2 tablespoon dried hibiscus flowers
*for the Dutch baby*
6 tablespoon unsalted butter, cut into small pieces
4 eggs
1 cup all-purpose flour
1 cup milk (dairy or nondairy both work fine)
½ tablespoon vanilla bean paste (can substitute with vanilla extract)
pinch of salt
*to serve*
fresh strawberries
vanilla ice cream
Instructions
First, prepare the syrup. In a small nonstick pot, combine the water, sugar, strawberry slices, and hibiscus. Heat on medium-high until it comes to a boil, then lower to medium-low, and simmer. Cook syrup for 20-30 minutes, stirring occasionally, until it becomes thick and dark pink.
Strain syrup through a fine mesh sieve to get rid of the strawberry and hibiscus pieces.
Store in a jar in the fridge until needed.
When ready to make the Dutch baby, heat oven to 450F. Place a 10" oven-safe pan in the oven to preheat as well.
In a blender, combine the eggs, flour, milk, vanilla bean paste, and salt. Blend until smooth and silky.
When oven is ready, add the pieces of butter to the hot pan, and swirl around to coat the whole surface.
Pour in the prepared batter, and bake for 18-20 minutes. Dutch baby will get super puffy!
When pancake is ready, top with ice cream, fresh strawberries, and the prepared strawberry hibiscus syrup. Serve immediately!
Check out the amazing prizes you can win in our #SpringSweetsWeek Giveaway!
Prize #1:  Swiss Diamond Cookware is giving one winner an XD Nonstick 6 Piece Newlywed Kitchen Kit!  Swiss Diamond's 6-Piece XD Newlywed Set is the ultimate nonstick cookware collection, with a pot or pan for nearly every recipe you can think of! Nothing conducts heat more efficiently than diamonds, and combined with the extra-thick cast aluminum body, these pans have amazingly even heat distribution. With this superior heat retention, they sear ingredients as well as stainless steel, but without the messy cleanup. The XD nonstick coating releases so well, you can cook anything without a drop of oil or butter.   This set includes a 9.5" fry pan, an 8" fry pan, a 2.2 quart saucepan with lid, and 5.5 quart soup pot with lid.
Swiss Diamond® International dates back to 1974, when HORT Coating Center SA was founded in Sierre, Switzerland, as a scientific research company exploring new materials and surface coatings. Fast forward a few years to 2001, when a revolutionary nonstick coating suitable for use on cookware was developed, which led to the creation of Swiss Diamond® International SA. Visit https://www.swissdiamond.com/ for delicious recipes and the best nonstick cookware around.
Prize #2: Dixie Crystals is giving one winner the Wilton Ultimate Cake Decorating Tools Set!   What better way to decorate your cakes made with Dixie Crystals sugar then to use this decorating set?  A blue and white rectangular organizer caddy has 4 see-through drawers and 2 top compartments for holding tips, plus slots on the side to hold spatulas.  Included in the caddy are 263 pieces including piping tips, a practice board, decorating bags, straight and angled spatulas, flower nails and an icing comb. There's also a lot of handy fondant tools including a roller, cut-out sets, impression mats, modeling tools, shaping foam and a fondant smoother. It's a cake decorators dream!
Since 1917, Dixie Crystals® has been the South's choice for high-quality sugar and sweeteners. Our pure cane sugar products are all natural, non-GMO and provide consistently delicious results.   Visit www.dixiecrystals.com for hundreds of recipes, holiday ideas, great ways to get kids baking in the kitchen, and plenty of baking videos.
Prize #3:  Melissa's Produce is giving one winner an Organic Family Produce Box.  This box contains 100% organic fruits and vegetables including kale, cucumbers, apples, pears, lemons, oranges, carrots, onions, celery, garlic, and so much more!  It's easy to get in your five servings of fruits and vegetables with this fun produce box.
Joe and Sharon Hernandez founded Melissa's Produce with a decade of produce industry experience in a small, rented produce warehouse lunchroom. The original office had just three telephones and four chairs.  In a few short years the company would grew to occupy a newly renovated and expanded 280,000 square foot office and warehouse complex.  The Melissa's brand is named after Joe and Sharon's daughter, who takes an active role in the company.  The company's Food Service Division has become a full-service operation that supplies culinary professionals with staples, exotics and Melissa's full line of organic produce.  Visit https://www.melissas.com to find the best fruits, vegetables, gifts, and to get tasty recipes!
Prize #4: Nancy's Yogurt is giving one winner a fabulous Nancy's Yogurt tote bag full of fun items!   One winner will receive a tote bag stuffed with coupons for free Nancy's Yogurt products, a super cute T-shirt, recipe cards, and Post-Its.  It's everything you need to learn more about Nancy's Yogurt.
Chuck and Sue Kesey opened Springfield Creamery in Oregon in 1960 right after they got married.  For the first decade they focused on bottling glass jugs of milk for home delivery and school lunches.  Nancy Van Brasch Hamren joined the Creamery in 1969 and shared her recipe for making yogurt.  Nancy's became the first yogurt sold in the United States to contain live probiotics.  In 1999 Nancy's Yogurt began distributing to all 50 states.  Today there are nearly 60 employees and Springfield Creamery makes over 100 cultured dairy and soy products.   To learn more about Nancy's Yogurt, the products they sell, and how they make their products visit https://nancysyogurt.com/.
Prize #5:  PEEPS is giving one winner a gift card to PEEPS® & Co.  The winner can choose from a variety of delicious PEEPS® & Co candy items as well as apparel.  They even have fun gifts like throw blankets, slippers, plush bunnies, and socks.   The choice is yours!
Just Born, the company that makes PEEPS® & Co., was founded in 1923 in New York and moved to Bethlehem, Pennsylvania in 1932.  Just Born got its name when founder, Sam Born, proudly displayed in his store window an evolving line of daily-made candy, declaring them "just born".  Today we enjoy the wonderful combination of sweet colored sugar and fluffy marshmallows that create the unforgettable taste experience of PEEPS® Brand Marshmallow Candies.  Visit https://www.marshmallowpeeps.com/ to buy PEEPS® & Co. candy, gifts, and apparel.
Prize #6:  Barlean's is giving one winner a bottle of Seriously Delicious Omega-3, Extra Strength Ideal CBD Hemp Oil, and a bag of Super Seeds.    Seriously Delicious Omega-3 is a tasty way to add Omega-3's to your diet without a fishy after taste.  The Extra Strength Ideal CBD Hemp Oil is made from US grown hemp, contains no artificial ingredients, has a natural mint flavor, and is gluten free, vegan, and is known to promote health and to keep people resilient to changes in their environment.  Super Seeds are a delicious way to add antioxidants and Omega-3's to your morning oatmeal, smoothies, and yogurt.
Barlean's believes that people can make a difference in the world through ordinary purchases. They are on a mission to make premium natural supplements and functional foods that feed the mind and body and using our profits to support outreach programs for people in need, both locally and around the world.  Visit www.barleans.com to learn more about their products, community, and where you can purchase their products.

Prize #7:  Adams Extract is giving one winner four of their amazing extracts and a set of their food colors.   The extracts include Pure Almond Extract, Pure Vanilla Extract, and Pure Lemon Extract.  The winner will also receive Adams Best Twice as Strong Vanilla which is awesome to bake with.
John A. Adams began making and selling his Green Plant Sarsaparilla extract in 1888 in Battle Creek, Michigan. In 1905, he moved his family to Beeville, TX.  Working with just $6.71 worth of materials on top of an old icebox, John A. Adams created a new formula for vanilla.  His wife tested it by whipping up a cake and announced, "John, this is the BEST flavoring I have ever used." "Well, that's old man Adams BEST," he responded. The name stuck, and Adams Best was born!  Today, Adams manufactures and markets under several Adams Brand banners, including Adams Best®, Adams Extract®, Adams® Seasoning & Spice, and many more.   To learn more about Adams Extract, to shop their products, or to find delicious recipes visit https://www.adamsextract.com/default.aspx.
Prize #8:  Sprinkle Pop is giving one winner six fabulous sprinkle mixes from their Easter collection!   The sprinkle mixes include Hangin' with my Peeps, Bewitched, Signature, Green Tea, Cottontail Confetti, and Egg Hunt.  These fun sprinkles are a great addition to any spring or Easter baked goods.
Liz Butts founded Sprinkle Pop in Texas.  Liz found that not only can she pinpoint exactly what sprinkle color combinations work best together, she can create a custom blend with the perfect textures.  She grew the business from a one-woman show operating out of the small "sprinkle room" in her house on nights and weekends then soon expanded to a dedicated warehouse space with a devoted team of sprinkle fairies in under a year. She makes delicious sprinkle mixes that are custom, vibrant and luxurious.  Over 50% of all the sprinkles are dyed in house so they are one of a kind!   Visit https://sprinklepop.shop/ to shop their sprinkles, learn how they give back to the community, and for fun recipes!

Thank you #SpringSweetsWeek Sponsors: Dixie Crystals, Swiss Diamond, Nancy's Yogurt, Barlean's, Sprinkle Pop, PEEPS, Melissa's Produce, and Adams Extracts for providing the prizes free of charge. These companies also provided the bloggers with samples and product to use for #SpringSweetsWeek recipes. All opinions are my own. The #SpringSweetsWeek giveaway is open to residents of the United States who are 18 years of age or older.   All entries for the winner will be checked and verified. By entering you give the right to use your name and likeness. The number of entries received determines the odds of winning. Eight (8) winners will be selected. The prize packages will be sent directly from the giveaway sponsors. The #SpringSweetsWeek Bloggers are not responsible for the fulfillment or delivery of the prize packages. Bloggers hosting this giveaway and their immediate family members in their household cannot enter or win the giveaway. No purchase necessary. Void where prohibited by law. This promotion is in no way sponsored, endorsed or administered by, or associated with Facebook, Instagram, Pinterest, Twitter or any other social channel mentioned in the #SpringSweetsWeek posts or entry.