This post is sponsored in conjunction with #SpringSweetsWeek. I received product samples from sponsor companies to help in the creation of the #SpringSweetsWeek recipes. All opinions are mine alone.
These Vegan Lemon Blueberry Cupcakes are light and fluffy, and packed with fresh lemon flavor. The zesty lemon frosting on top seals the deal!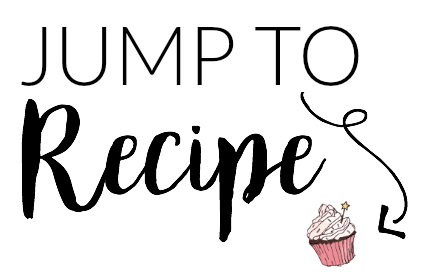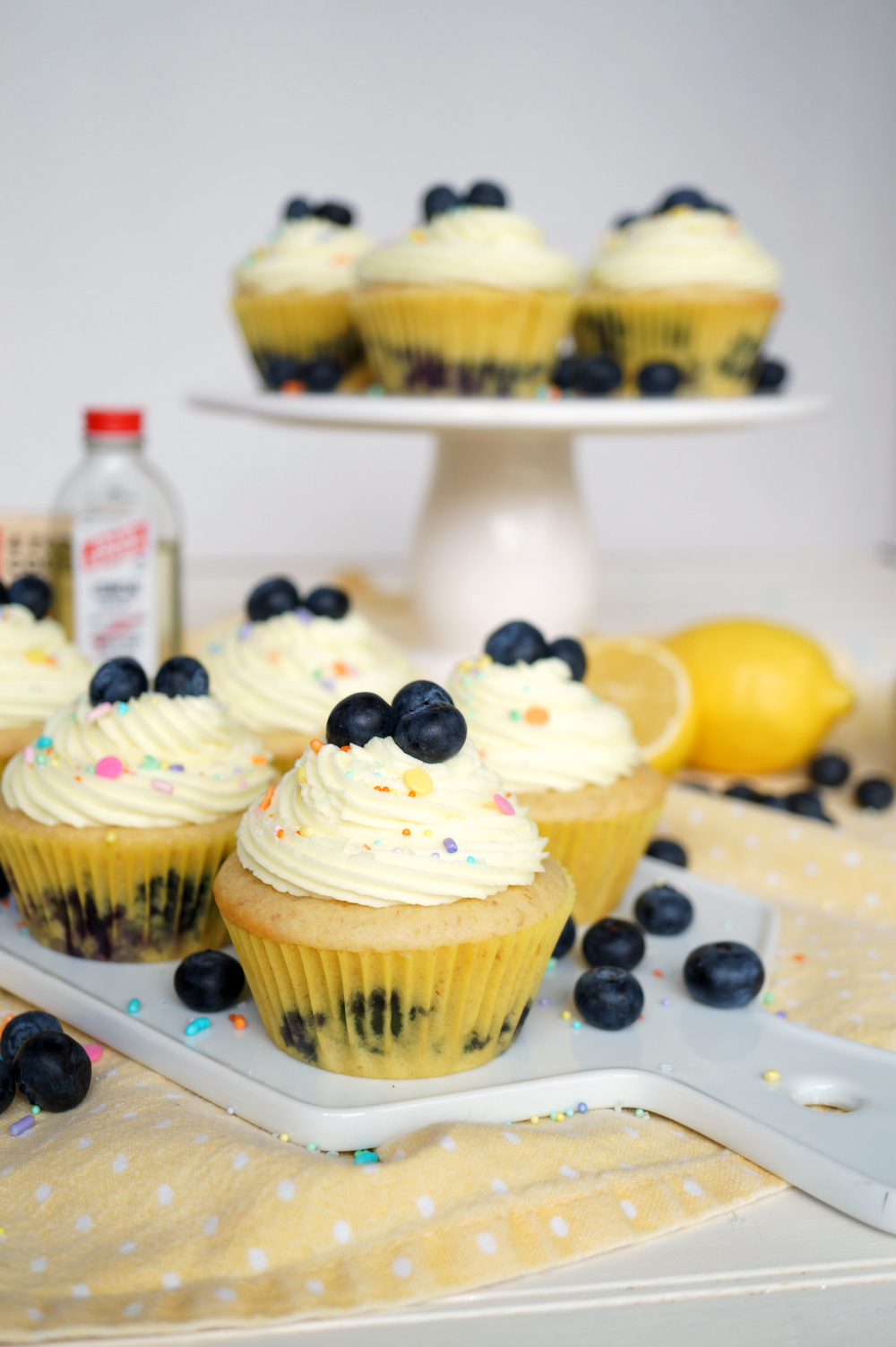 Happy Fri-YAY, friends!! #SpringSweetsWeek is still going strong, and I have yet another delicious dessert recipe for y'all today. These Vegan Lemon Blueberry Cupcakes are made in partnership with Adams Extracts AND Sprinkle Pop! They are so darling, and when I fed them to an unsuspecting group of my friends, they were a HUGE hit - nobody could believe they were vegan! I have found that the best way to get people to eat vegan food is to just... not tell them. Reveal the secret afterwards and everyone's mind is blown ???? #VeganBloggerHacks, ya know. ALSO - don't forget to enter the big G I V E A W A Y before the week is over! You can find it at the bottom of this post!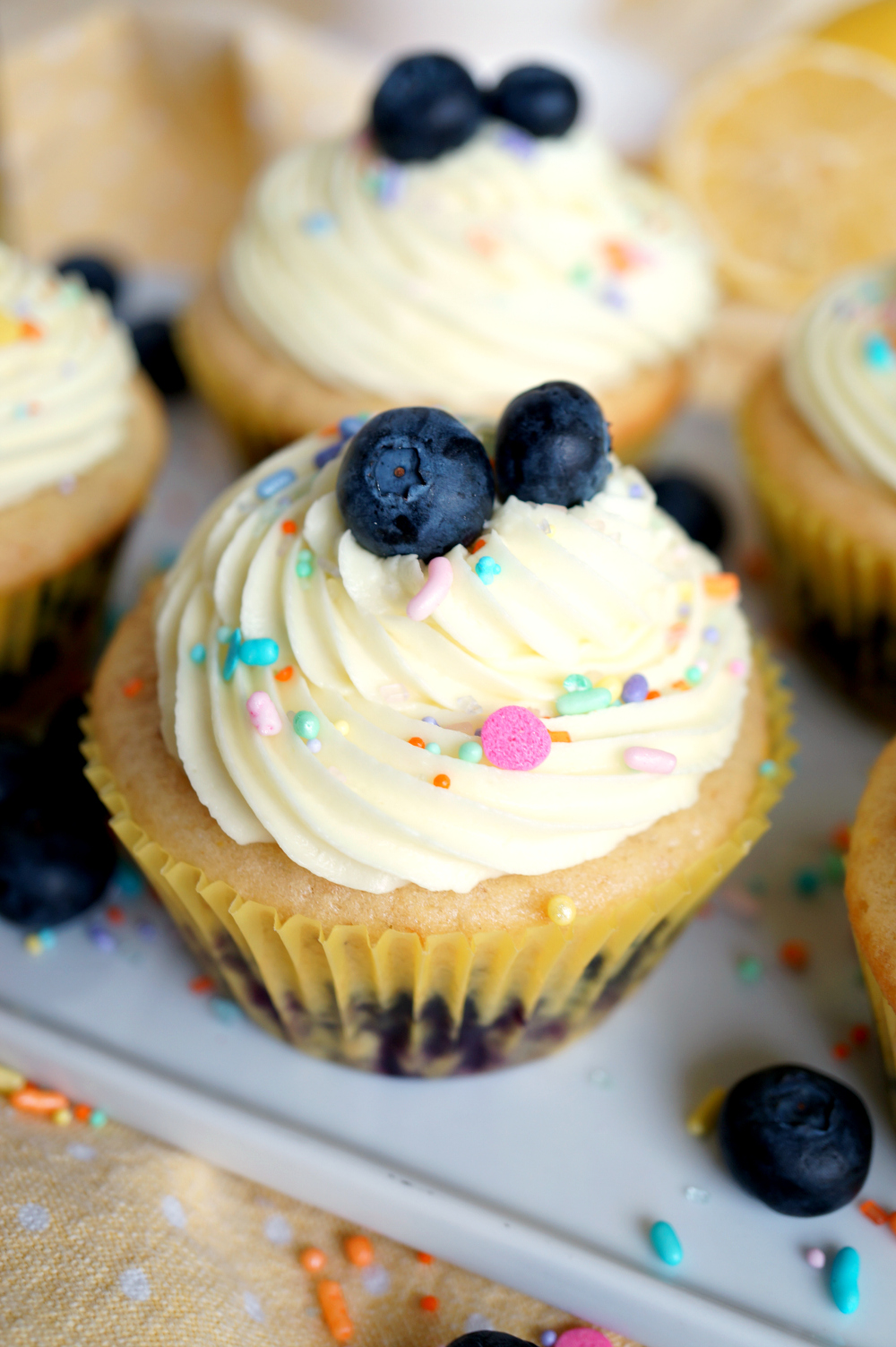 So, a story about these lemon blueberry cupcakes... originally, they were supposed to be baked donuts! I tried a test batch though, and I don't know if it was because I was too heavy-handed with the blueberries or what, but those suckers would not come out of the pan. They were totally glued. So... back to the drawing board. What's a dessert that DOESN'T have to come out of its pan? Well, a cupcake! I changed my proportions just a bit, and was rewarded with these light & fluffy treats.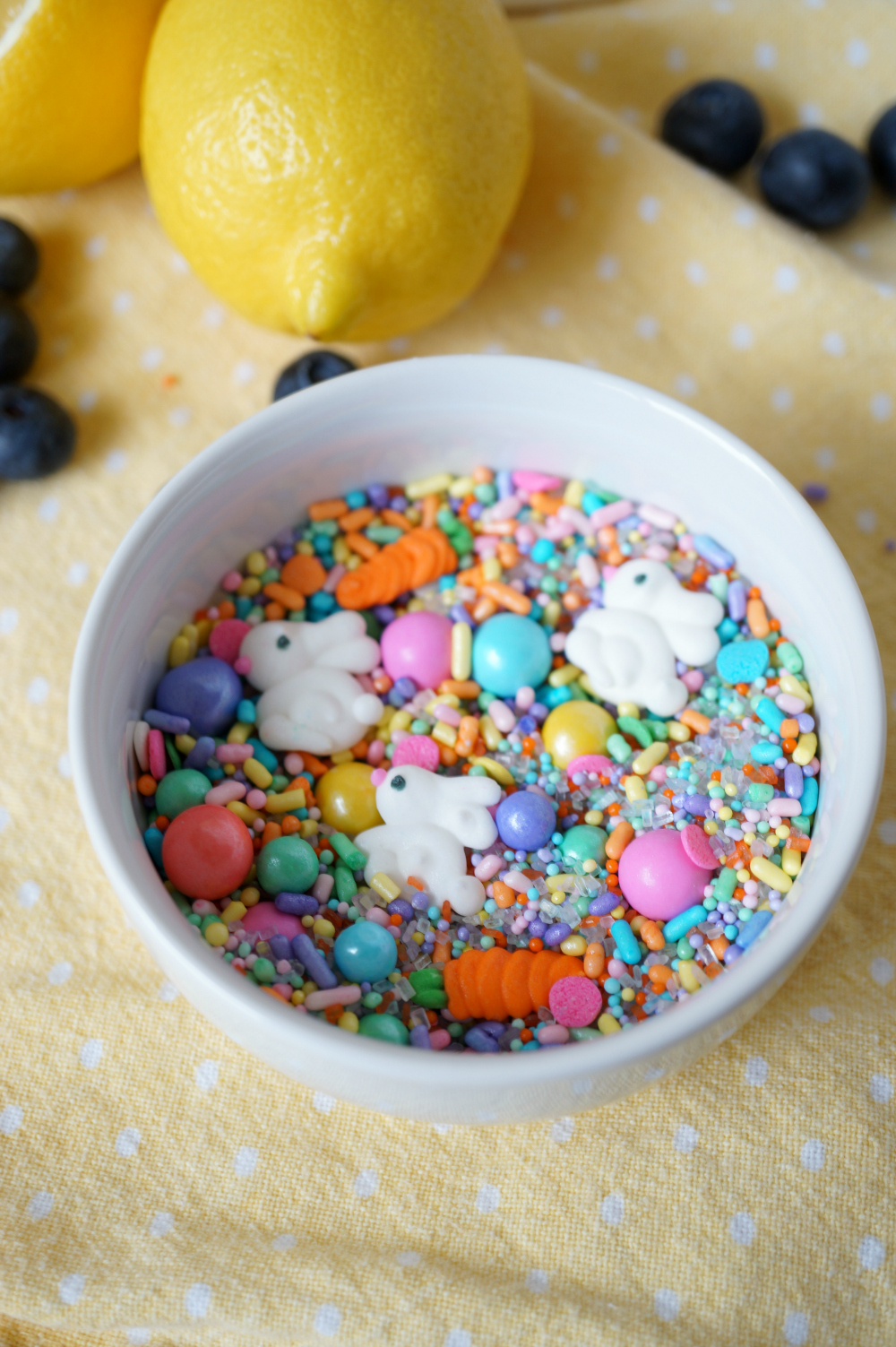 These lemon blueberry cupcakes are packed with flavor, and have a triple threat of lemon juice, lemon zest AND Adam's lemon extract in them! The frosting on top also has some lemon extract in it, and I used Adam's natural yellow food coloring to achieve the perfect pastel yellow. The finishing touch was these ADORABLE sprinkles from Sprinkle Pop! This cute Easter mix is called Egg Hunt. Can you even deal with those tiny bunnies and carrots?!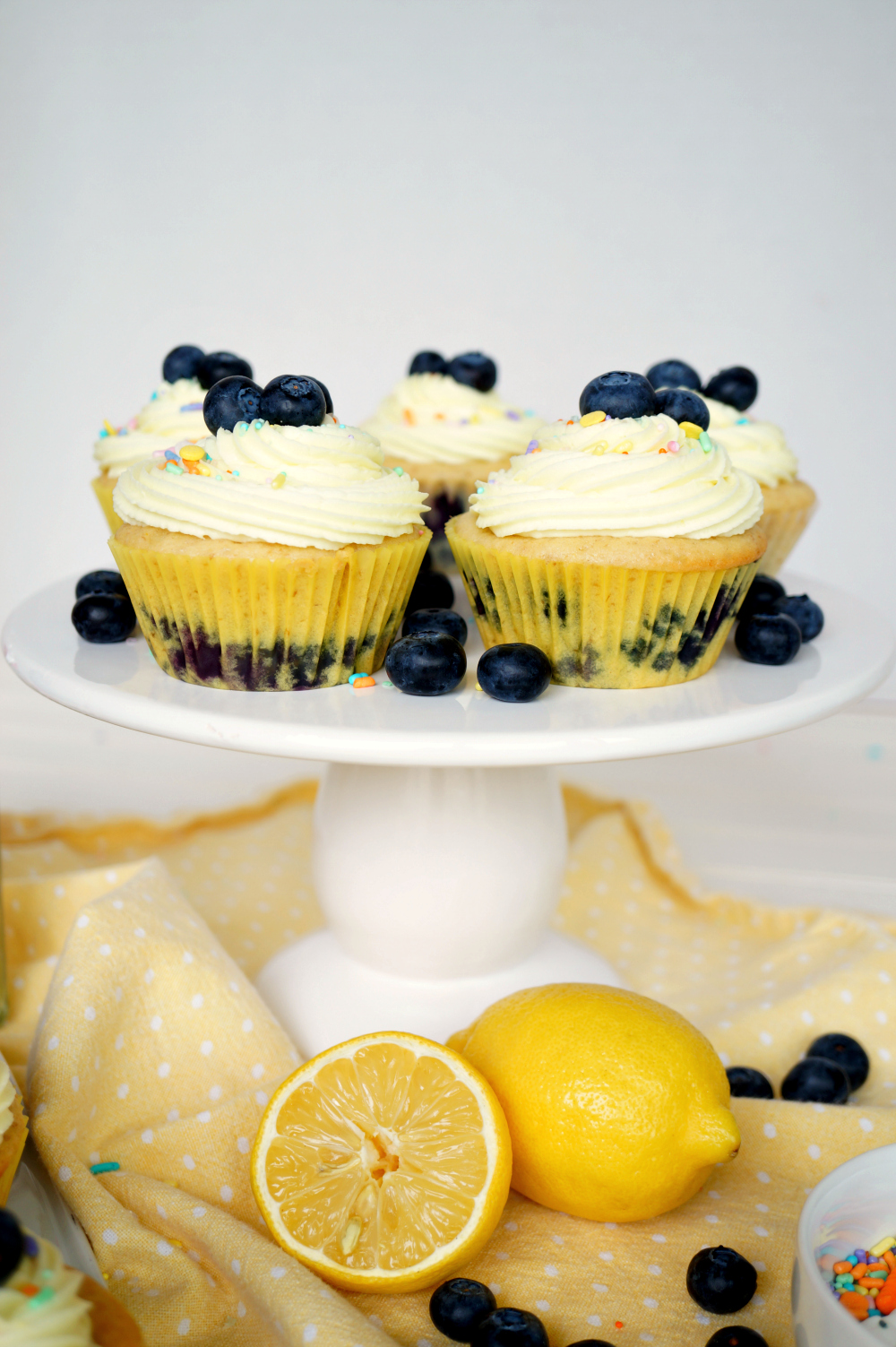 By now, I know you guys know the drill... be sure to hit up all my blogger friends for their delicious recipes of the day! I love how everyone has had such great ideas for showcasing the same brands and products in a completely different way!
Friday #SpringSweetsWeek Recipes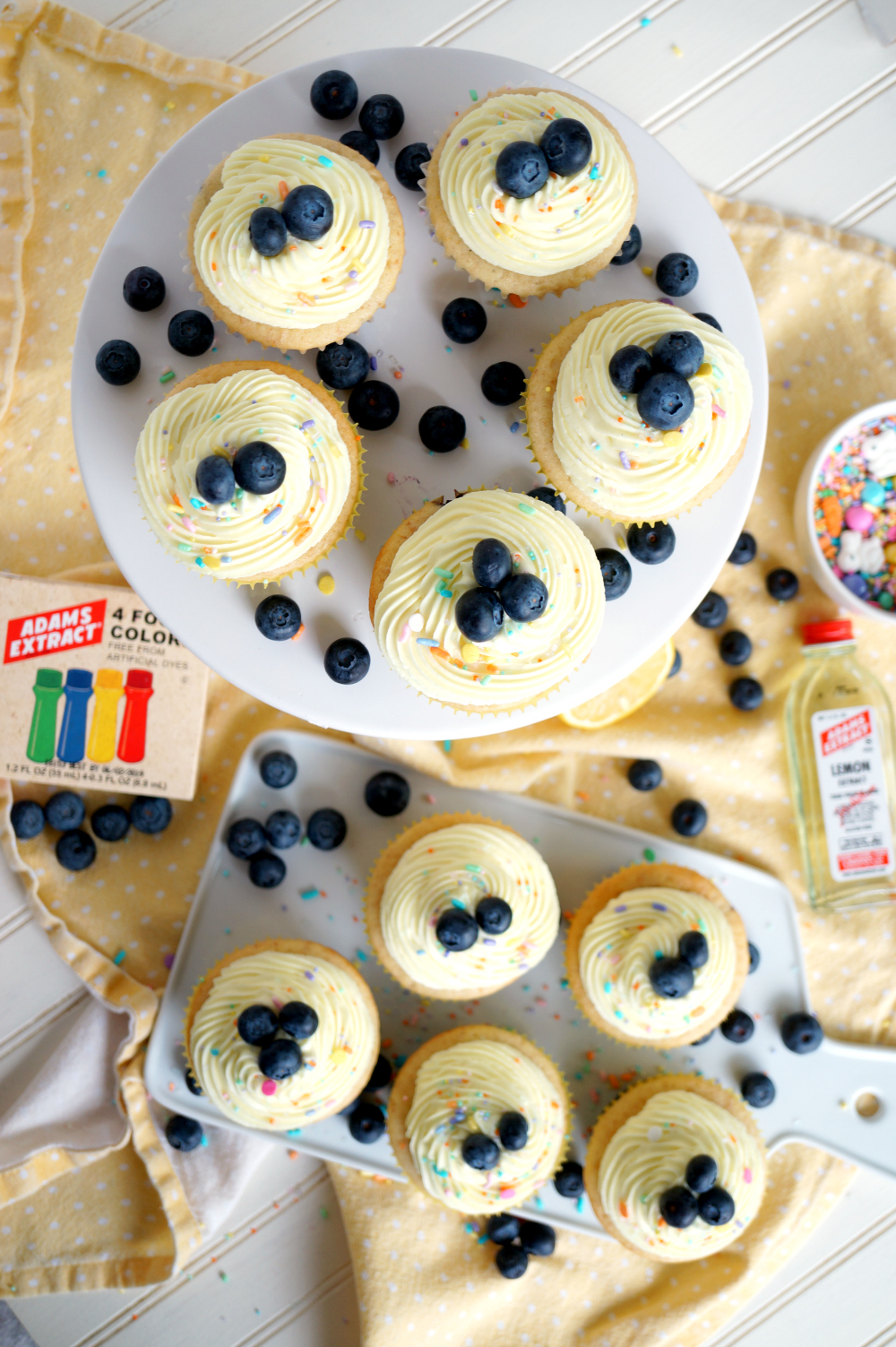 Check out all my #SpringSweetsWeek recipes:
vegan lemon blueberry cupcakes
These Vegan Lemon Blueberry Cupcakes are light and fluffy, and packed with fresh lemon flavor. The zesty lemon frosting on top seals the deal!
Author:
Valentina | The Baking Fairy
Ingredients
*for the lemon cupcakes*
2 tablespoon ground flaxseed + 6 tablespoon water
1 cup granulated sugar
1¾ cup all-purpose flour
1½ teaspoon baking powder
1 teaspoon baking soda
½ teaspoon salt
¼ cup vegan butter, at room temperature
⅓ cup nondairy yogurt
¼ cup vegetable oil
1 tablespoon Adams lemon extract
⅓ cup unsweetened nondairy milk
⅓ cup lemon juice
zest of 1 lemon
1 cup fresh blueberries
*for the frosting*
½ cup shortening
¼ cup vegan butter
3 cups powdered sugar
1 tablespoon Adams lemon extract
pinch of salt
2-3 tablespoon nondairy milk, as needed
few drops of Adams Natural yellow food coloring (optional)
Instructions
First, make the cupcakes. Preheat oven to 350F and line two muffin pans with 18 muffin liners.
In a small bowl, whisk together the ground flaxseed with the water and set aside to thicken.
In the bowl of a stand mixer, combine the flour, baking powder, baking soda, salt, and sugar.
Add in the vegan butter, and beat on low until it's incorporated and has a sandy texture.
In a small bowl, whisk together the oil, flaxseed mixture, nondairy yogurt, lemon zest and and lemon extract, and add them to the dry ingredients. Mix until combined.
Pour in the unsweetened nondairy milk, and beat on medium-low until smooth and creamy. Finally, gently fold in the blueberries.
Divide batter evenly among the prepared cupcake liners. Bake cupcakes for 20-25 min until they are fluffy and a toothpick inserted in the center comes out clean.
While the cupcakes cool, prepare the frosting.
In the bowl of a stand mixer, beat the shortening, vegan butter, and lemon extract together until completely smooth and creamy. Add in the powdered sugar, 1 cup at a time, until a thick frosting forms. Add in the salt and some food coloring if desired. You can add a few spoonfuls of nondairy milk if it's too thick.
When the cupcakes are cooled completely, decorate them with the frosting. I used an open star tip (#8B). Top the cupcakes with a few blueberries and the Sprinkle Pop sprinkles.