This post is sponsored in conjunction with #SpringSweetsWeek. I received product samples from sponsor companies to help in the creation of the #SpringSweetsWeek recipes. All opinions are mine alone.
This adorable Vegan Banana Split Cake tastes just like the classic ice cream dessert, but in cake form! Banana cake layers are sandwiched with strawberry jam, covered in vanilla frosting, and decorated with a dark chocolate drip and cherries on top.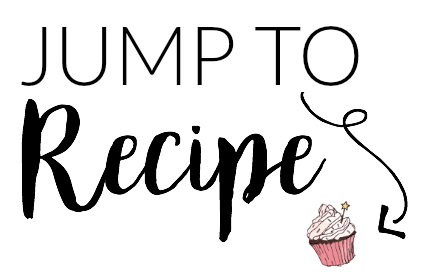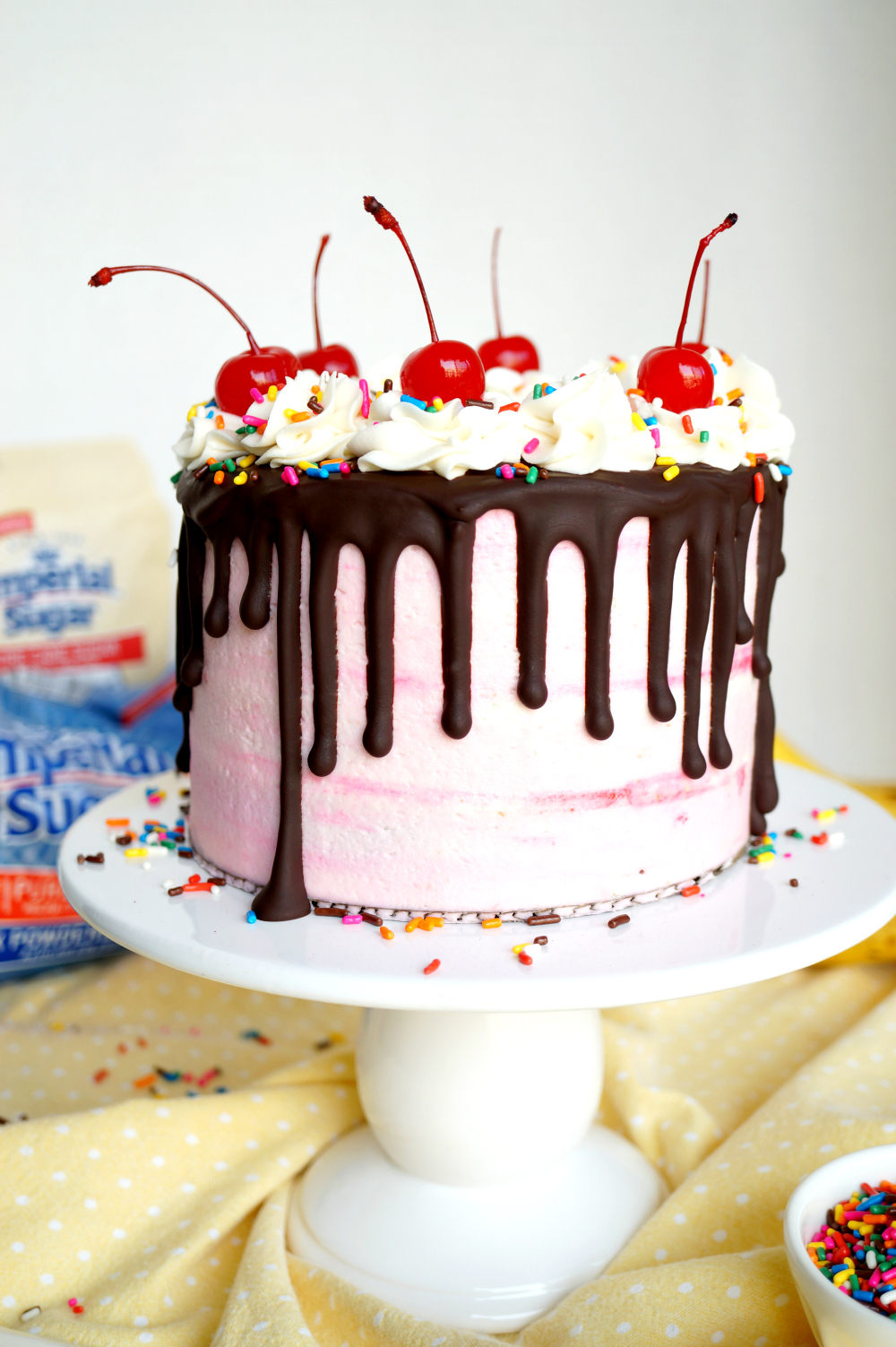 Hi friends and happy Thursday! The treats for #SpringSweetsWeek are STILL not done! Y'all know little layer cakes are my favorite, so it was only fitting that I made one of these cuties for the occasion. This Vegan Banana Split Cake is seriously one of my favorite cakes that I've ever made! Soft and fluffy banana cake is stuffed with strawberry jam, covered in pink vanilla buttercream, and crowned with a decadent ganache drip and of course - cherries on top. SO FUN. I'm obsessed!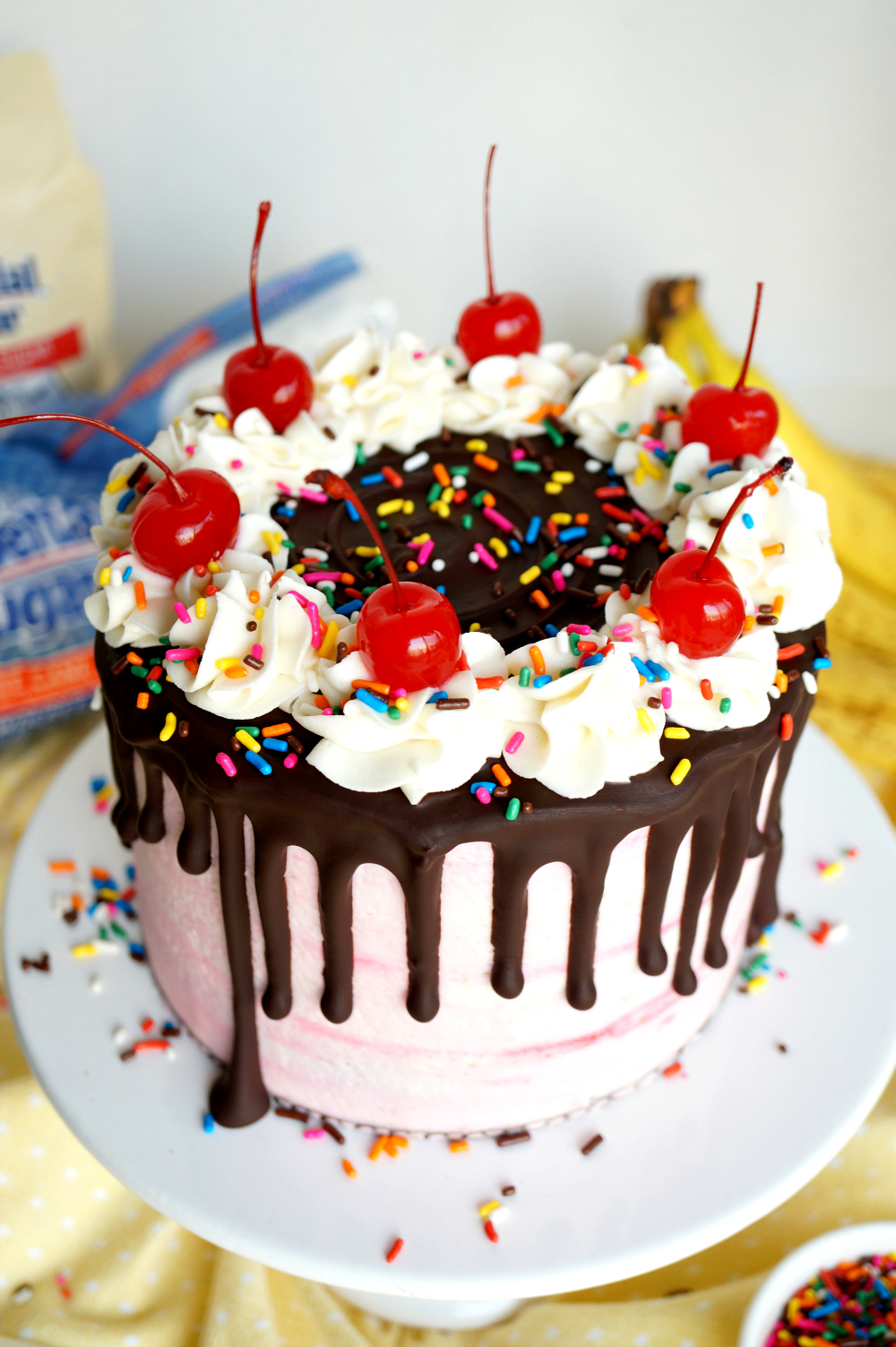 Today's generous sponsor is Dixie Crystals! I've worked with them a few times in the past, and they are just my favorite. As a baker, high quality sugar makes a HUGE difference in my products, and Dixie is a brand I can trust. The fact that they are vegan and do not filter their sugar with bone char (like some lower quality brands do) makes me very happy indeed! I used their granulated sugar in the banana cake, and heaps of their powdered sugar in the frosting! To be honest, powdered sugar is probably the thing I go through the quickest in my house ????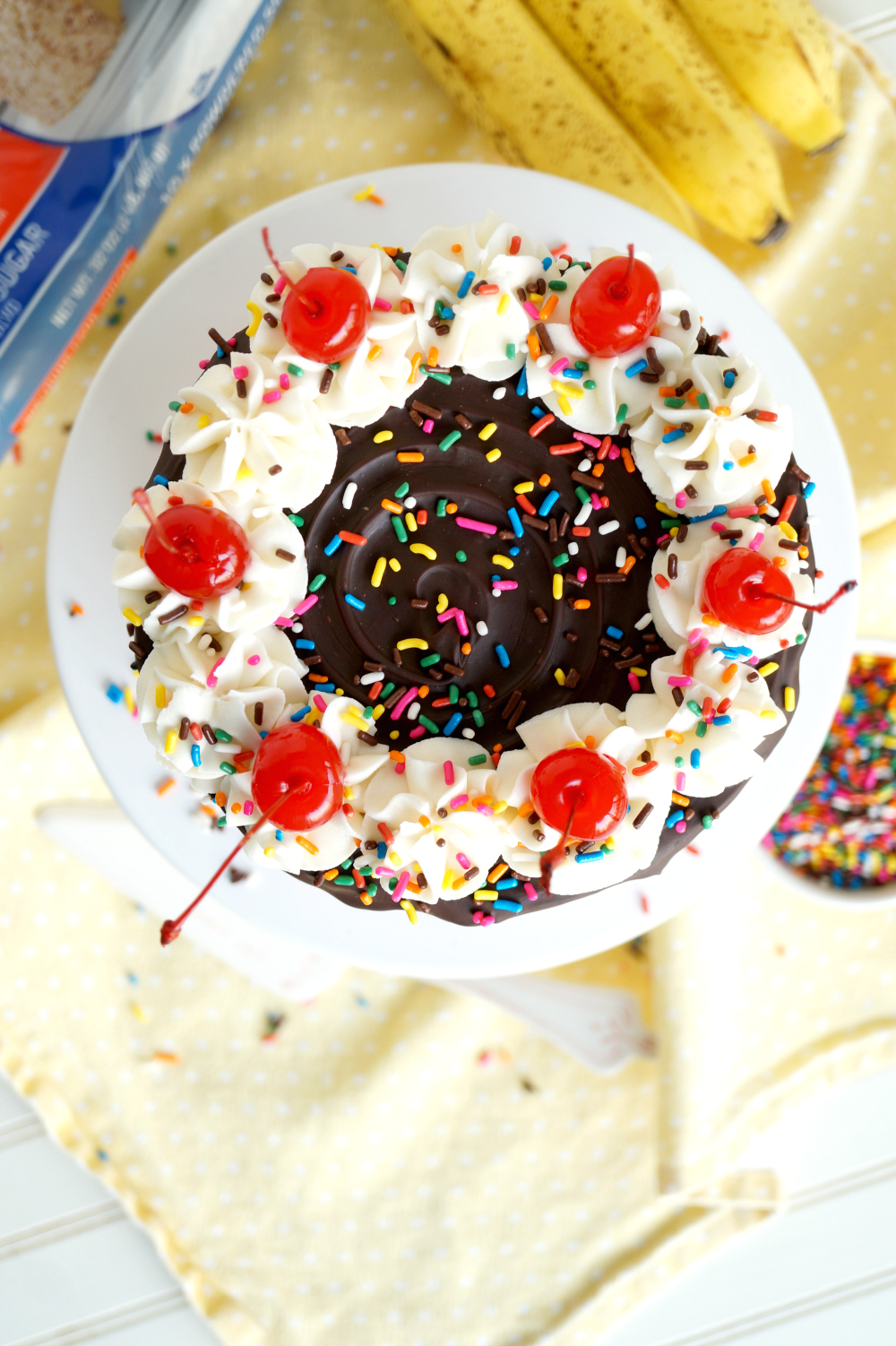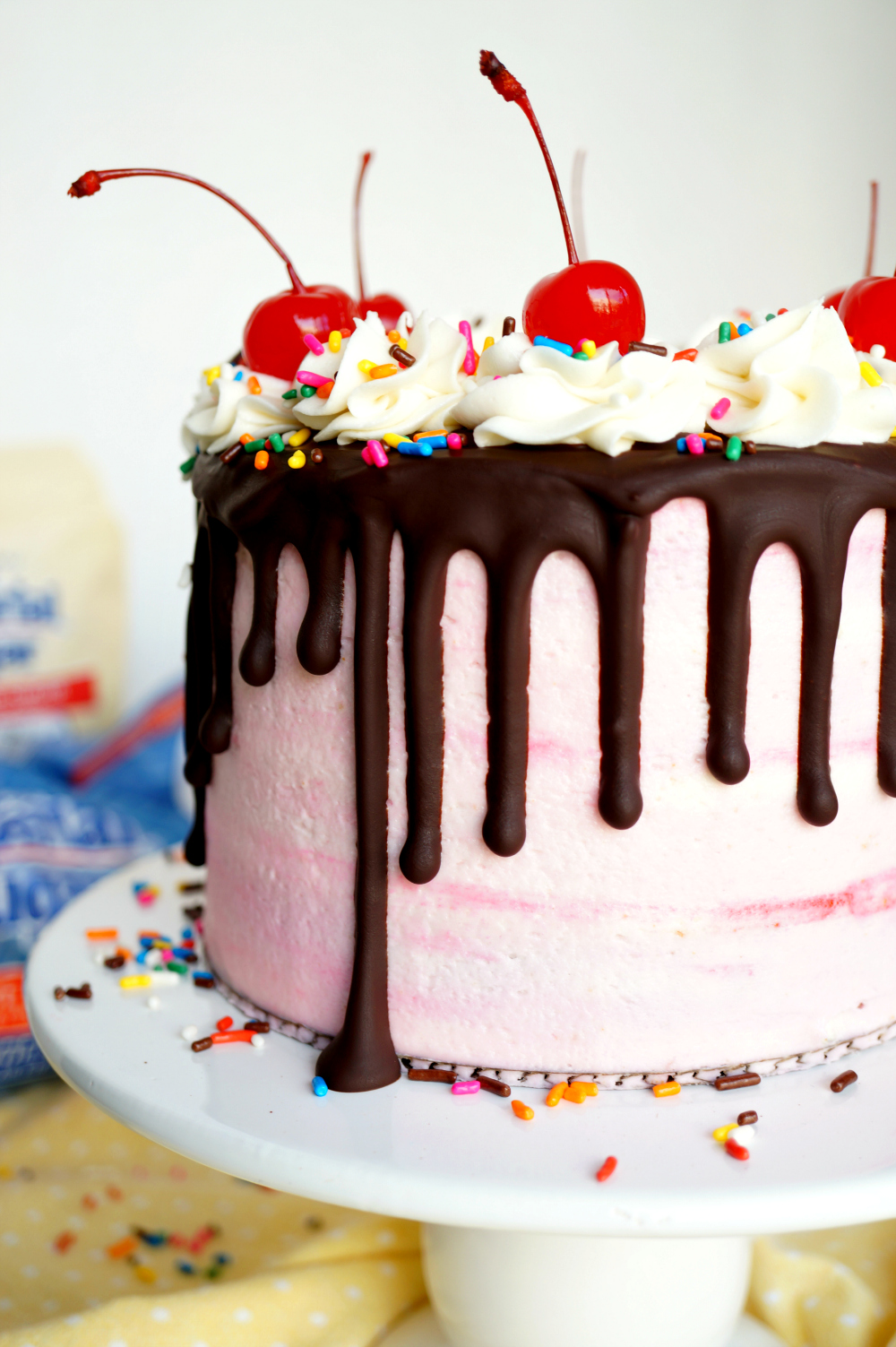 I made this banana split cake a few weeks ago, and then brought it to my friend's birthday dinner to celebrate (and share)! As a food blogger, I have a bit of a deal with my friends... I'll make them a birthday cake BUT they have to let me make whatever I need to make for my calendar. It's a win-win because they always get a fun cake, and I have a way to get these sugar bombs out of the house so I don't eat them all. LOL.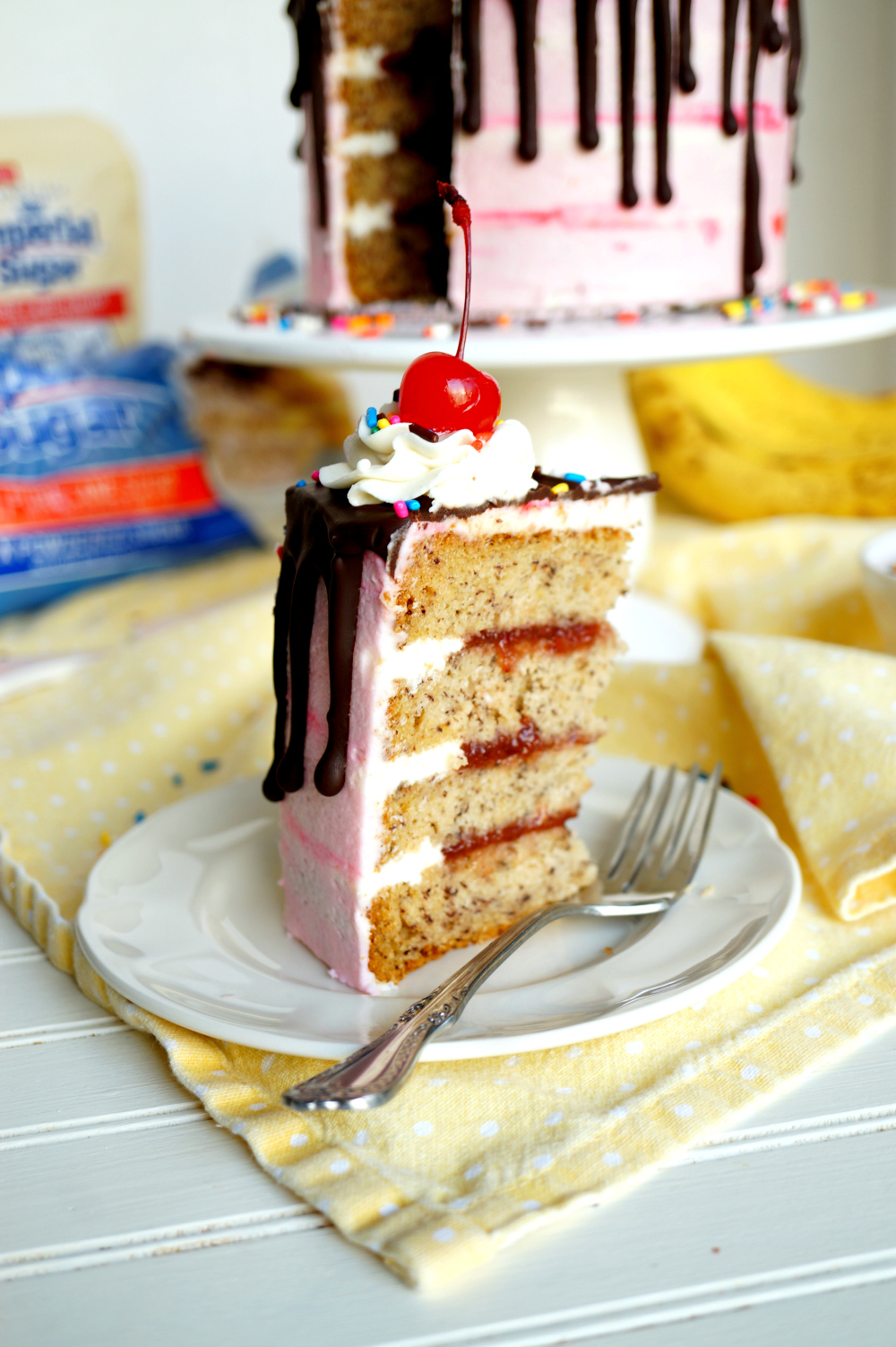 As always, go show my blogger friends some love for their delicious creations today!
Thursday #SpringSweetsWeek Recipes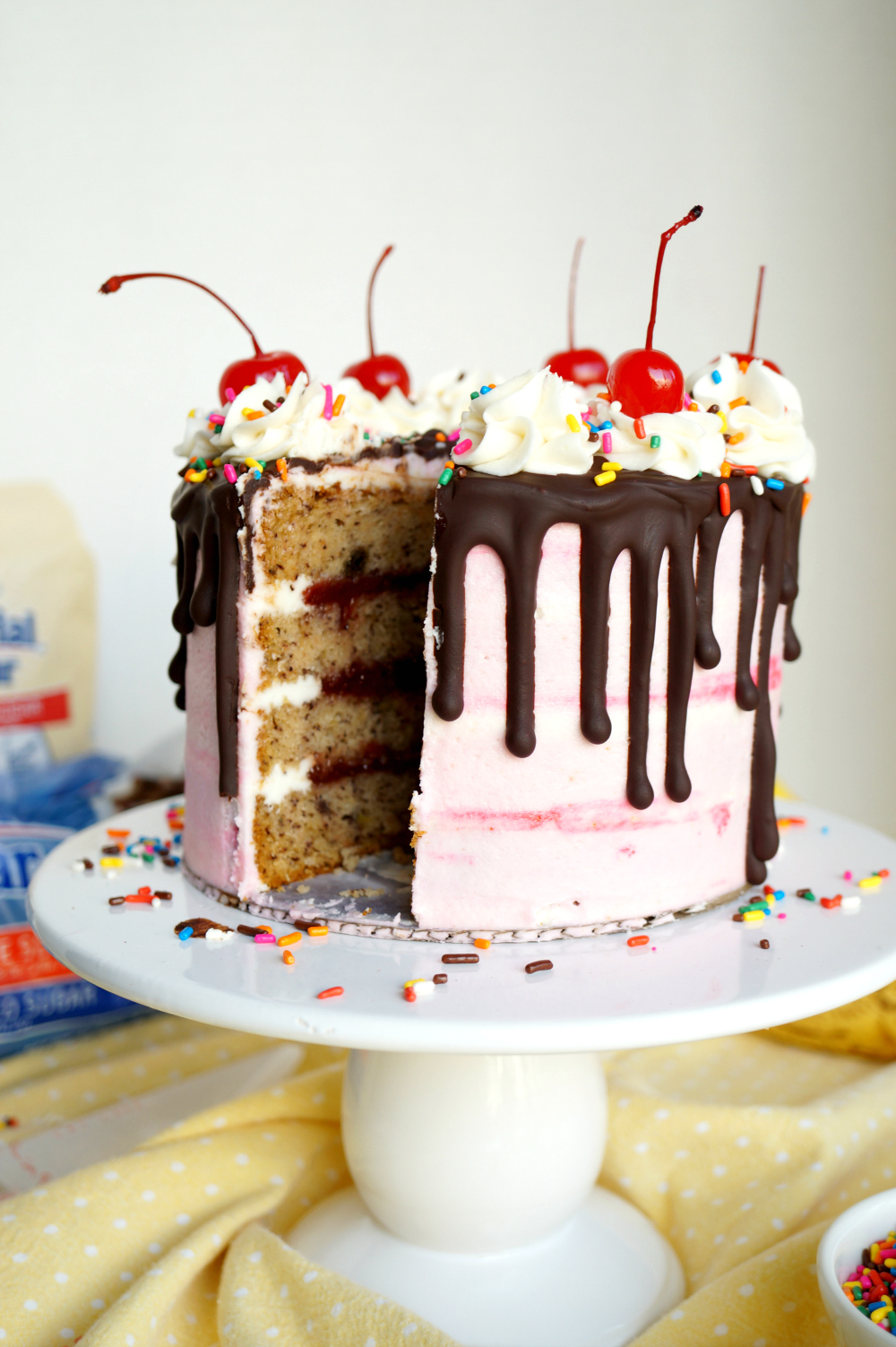 Tips for success:
Let your vegan butter and vegan shortening both come to room temperature before making your frosting! Having them at the same temperature will let them mix together really well, so your frosting comes out super fluffy and smooth. And on that note, be sure to beat these two together BY THEMSELVES until totally smooth and creamy before adding in any powdered sugar!
When making your frosting, remember to set aside just a bit of white frosting before coloring the whole batch pink - so you have the "whipped cream" for the top!
For banana cake, as for banana bread, the more ripe your bananas are, the better! Don't be scared if they start to be very spotted and turn black. That's where all the flavor and sweetness is hiding!
Traditionally, banana split also includes pineapple. I personally don't like it so I didn't add it. If you're feeling crazy, you can buy some pineapple sundae topping in a jar at the store and use it to fill the center layer!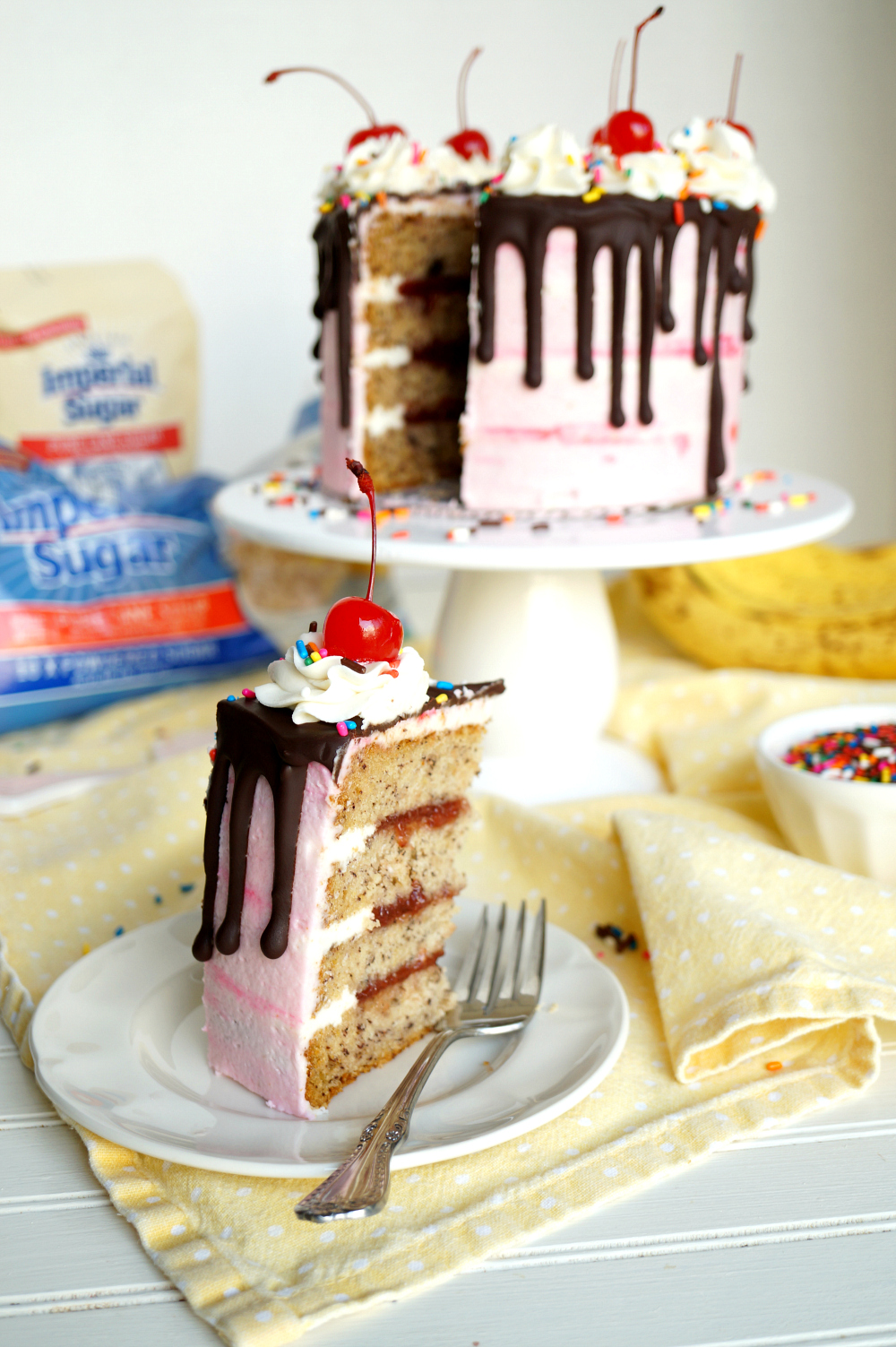 Check out all my #SpringSweetsWeek recipes:
vegan banana split cake #SpringSweetsWeek
This adorable Vegan Banana Split Cake tastes just like the classic ice cream dessert, but in cake form! Banana cake layers are sandwiched with strawberry jam, covered in vanilla frosting, and decorated with a dark chocolate drip and cherries on top.
Author:
Valentina | The Baking Fairy
Ingredients
*for the cake*
4 ripe medium bananas
¼ cup vegetable oil (can sub melted coconut oil)
⅓ cup unsweetened nondairy milk
½ cup Dixie Crystals granulated white sugar
2 teaspoon vanilla extract
2 cups all-purpose flour
1 teaspoon baking soda
1½ teaspoon baking powder
½ teaspoon salt
1 teaspoon cinnamon
*for the frosting*
½ cup vegan shortening
½ cup vegan butter
4 cups Dixie Crystals powdered sugar
1 teaspoon vanilla extract
pinch of salt
*for the ganache*
3oz dark chocolate
2-3 tablespoon nondairy unsweetened milk, as needed
*for assembling*
strawberry preserves
sprinkles
maraschino cherries
Instructions
First, make the cake. Preheat oven to 350F and spray two 6" round cake pans with nonstick baking spray.
In a large bowl, mash the bananas. Add in the oil, milk, sugar, and vanilla, and mix well.
Stir in the flour, baking powder, baking soda, cinnamon, and salt.
Divide the batter between the two prepared cake pans, and bake for 45 minutes until cake is set in the center and a toothpick comes out clean.
When ready to assemble, make the frosting. With a stand mixer fitted with the paddle attachment, beat together the vegan butter shortening until creamy.
Add in powdered sugar as needed to create a frosting, and add a pinch of salt. Add nondairy milk as needed if the frosting is too thick and lumpy. Set a small amount of white frosting aside, then color the rest a pale pink.
To assemble the cake, divide the 2 cake layers in half to create 4 thin layers.
Place one cake piece on your cake stand or platter, pipe some of the pink frosting around the edge of the cake to create a "fence", then spoon some strawberry preserves in the center. Spread it to create a thin layer, and repeat with all.
Frost the outside of the cake with the rest of the frosting as desired. Place cake in fridge while you prepare the ganache.
Place the chocolate in a microwave safe bowl and heat in 15-20 second increments until melted. Add in nondairy milk as needed, stirring well, until ganache is smooth and creamy. If it appears lumpy or grainy, don't worry! Just add more milk and keep stirring. It will come back together!
Drizzle the ganache on top of the cooled cake, then allow to cool and harden.
To finish decorating, place the white frosting you had set aside in a decorating bag fitted with a wide star (1M) tip. Pipe little mounds of frosting all around the top of the cake, and place a maraschino cherry on each. Finish off the cake with rainbow sprinkles, and enjoy!