This post and recipe was created for Rodelle Vanilla! I was sent samples to aid in recipe creation, but as always opinions are 100% mine.
This spooky Vegan Marshmallow Spiderweb Cake is sure to get you in the Halloween mood! Black chocolate cake is decorated with sticky marshmallow spiderwebs and plastic spiders for a party-ready dessert.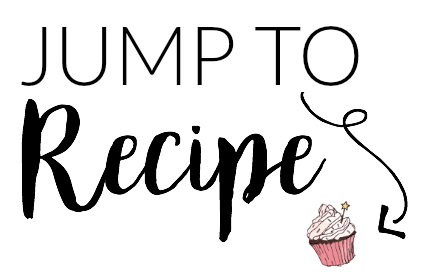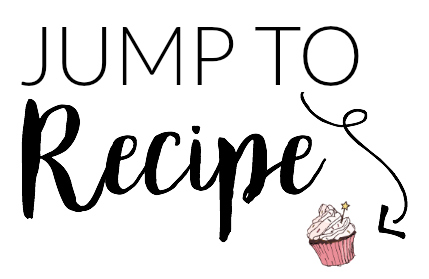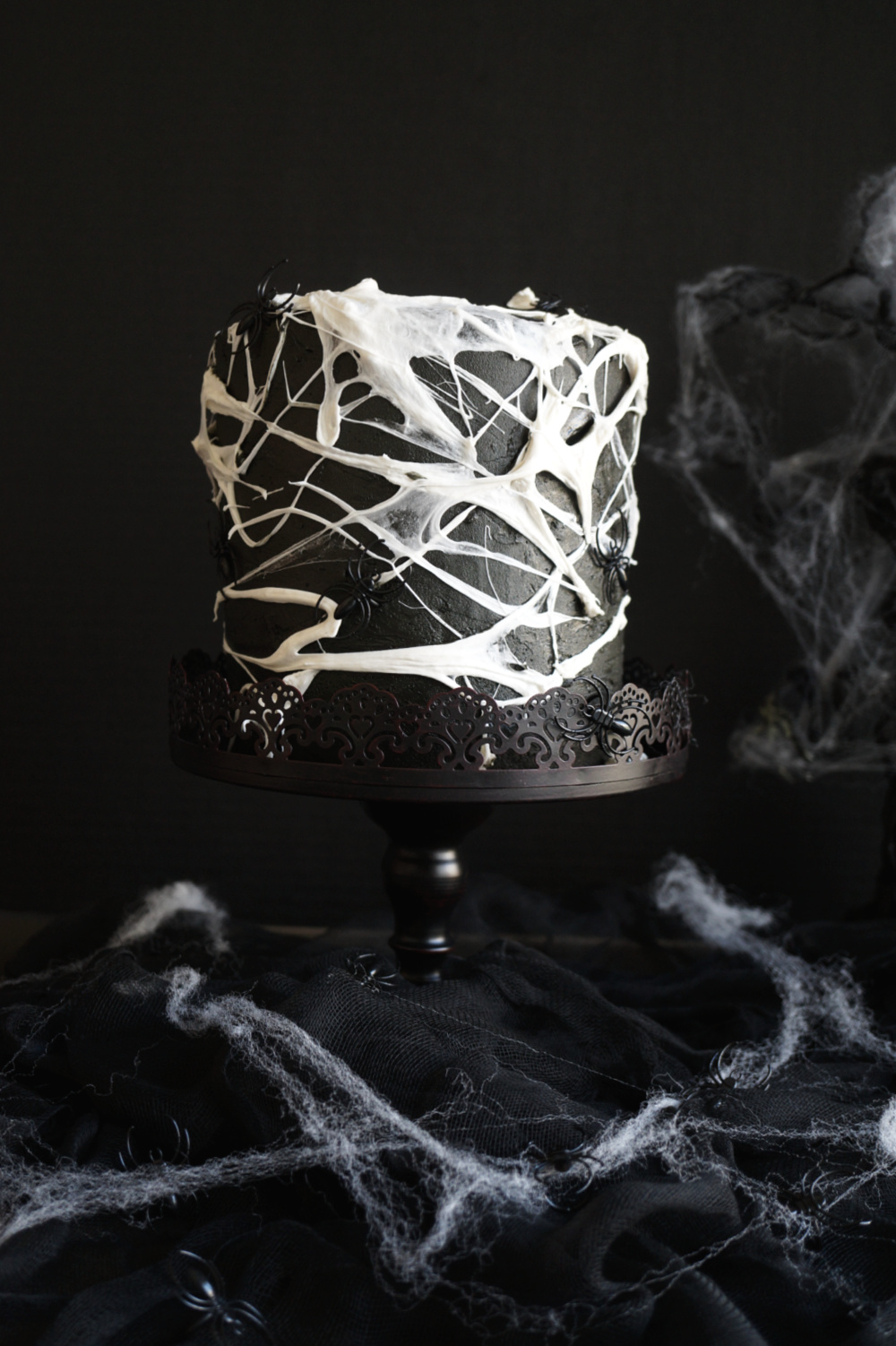 Hello lovely friends and happy Friday! Most importantly, happy OCTOBER! I am so excited for this month as I have tons of super fun Halloween treats to share with y'all. Today, I am starting with this awesome Vegan Marshmallow Spiderweb Cake, made in partnership with Rodelle Vanilla. This baby features black chocolate cake, stuffed with marshmallow creme, covered in black chocolate frosting, and decorated with, you guessed it, marshmallow spiderwebs. It is such a perfect cake for Halloween, and spooky without being too gross! The finishing touch is a handful of plastic spiders... as many as you can handle! 😉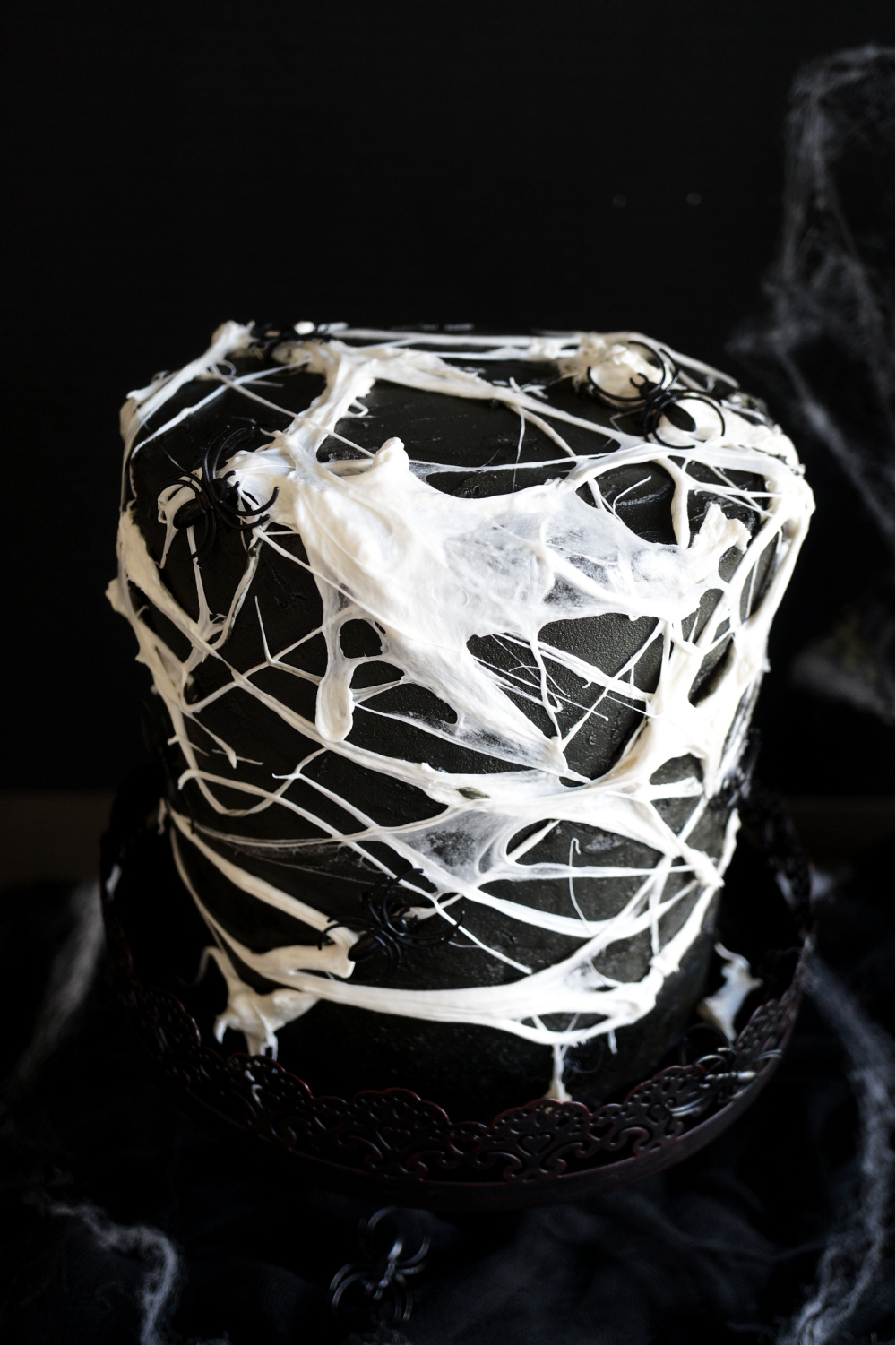 Before we get too far into cake talk, let's touch on Rodelle Vanilla! This is the first of hopefully many posts to come in partnership with them 🙂 As a baker, I just can't do my job without quality ingredients! When it comes to baking, what is something that is in almost every single recipe? Vanilla extract! And Rodelle is really good at what they do... they don't just have one type of delicious vanilla, but several! Not to mention different extracts including lemon, chocolate, almond, and my personal secret weapon... Baker's Extract. It adds the perfect touch to all baked goods! They also sell delicious cocoa powder, which I used today in both the cake and the frosting.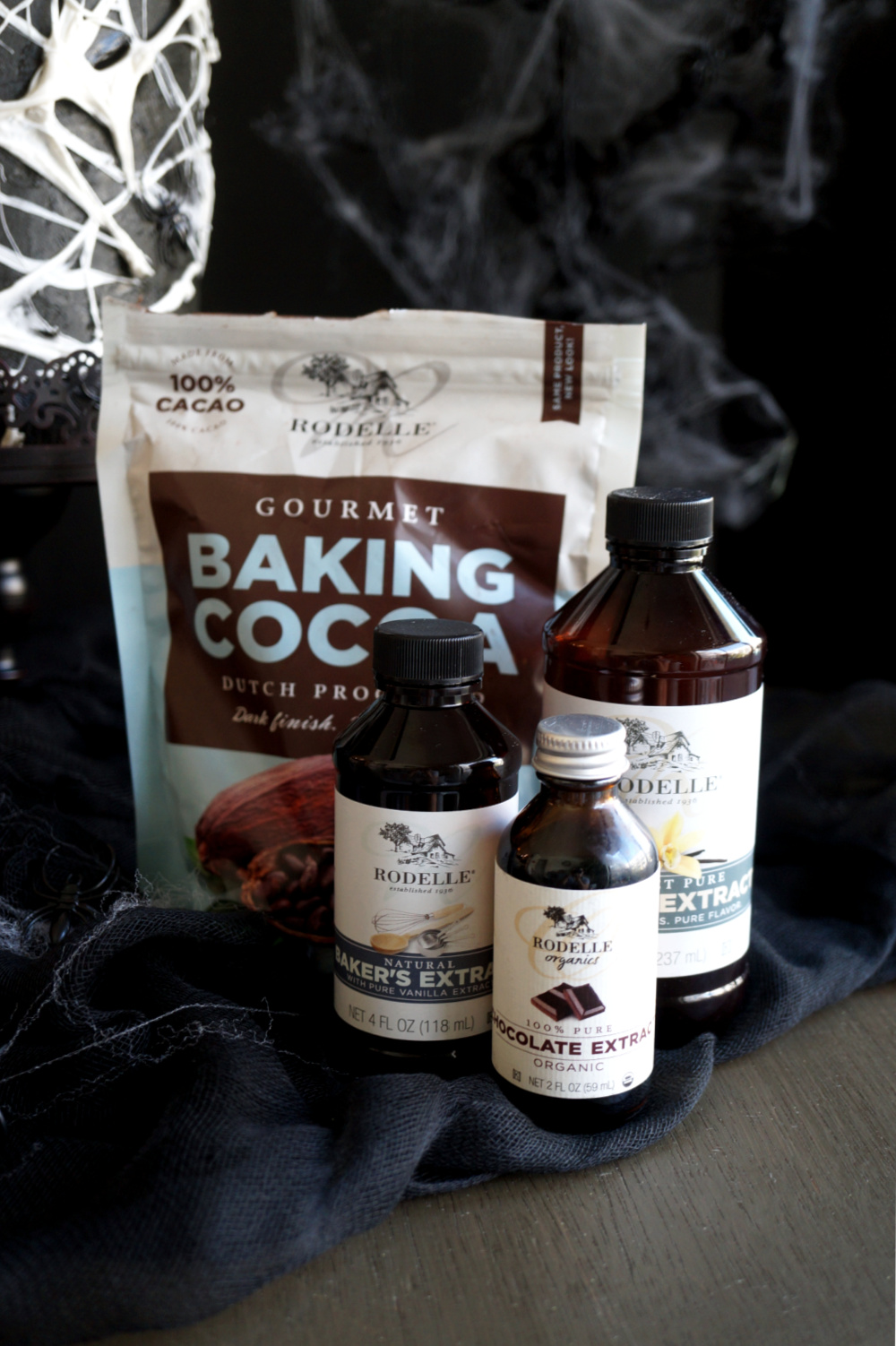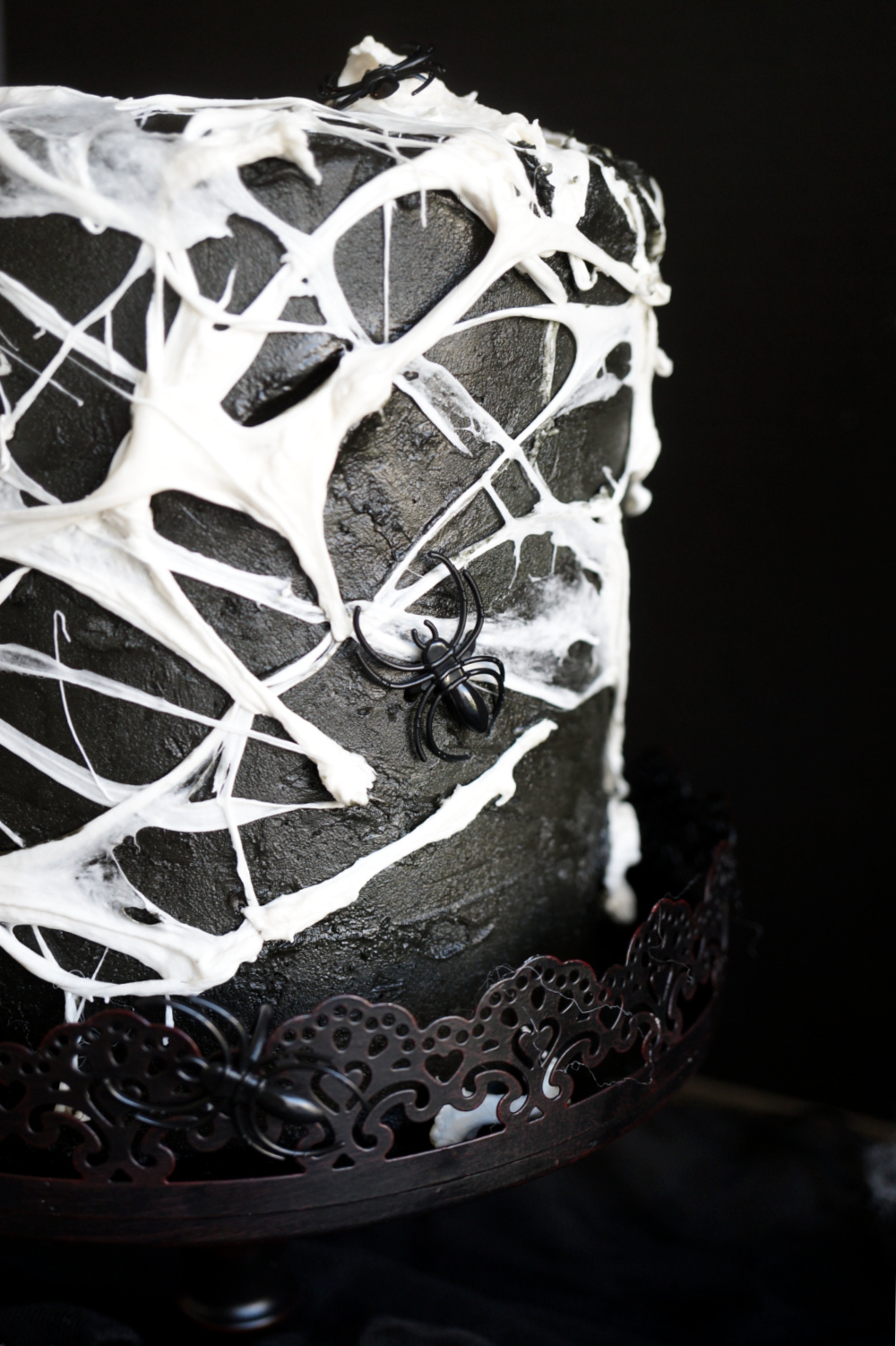 What do I need to make a marshmallow spiderweb cake?
Vegan marshmallows: these are pretty crucial to the success of the cake! I love Dandies vegan marshmallows, but Trader Joe's marshmallows are vegan-friendly as well.
Cocoa powder: my secret for a rich, black color in my cakes and frostings is starting with a dark chocolate cake! Rodelle cocoa powder has a "dark finish" which works perfectly for this. That way you don't have to add as much food coloring!
Black food coloring: I recommend Americolor gel colors which are super concentrated! Their "super black" coloring is my go-to for spooky Halloween treats. 
Baker's extract: this extract by Rodelle is a blend of flavors to give your baked goods extra complexity and depth of flavor.
Chocolate extract: this is a must for all chocolate lovers! It helps give your baked goods an extra chocolatey flavor, especially for recipes that just use cocoa powder and no actual chocolate.
Vanilla extract: this is a must in all baked goods for that sweet, creamy taste. 
Vegetable oil: this is my go-to for baking as it's colorless, flavorless, and yields soft and fluffy baked goods.
White vinegar: my secret weapon when it comes to my chocolate cakes! This reacts with the baking soda to make the cake rise without needing eggs.
Nondairy milk: anything you have in the house works! I usually use cashew or almond milk since that is what I have on hand.
All-purpose flour, baking powder, baking soda, and salt.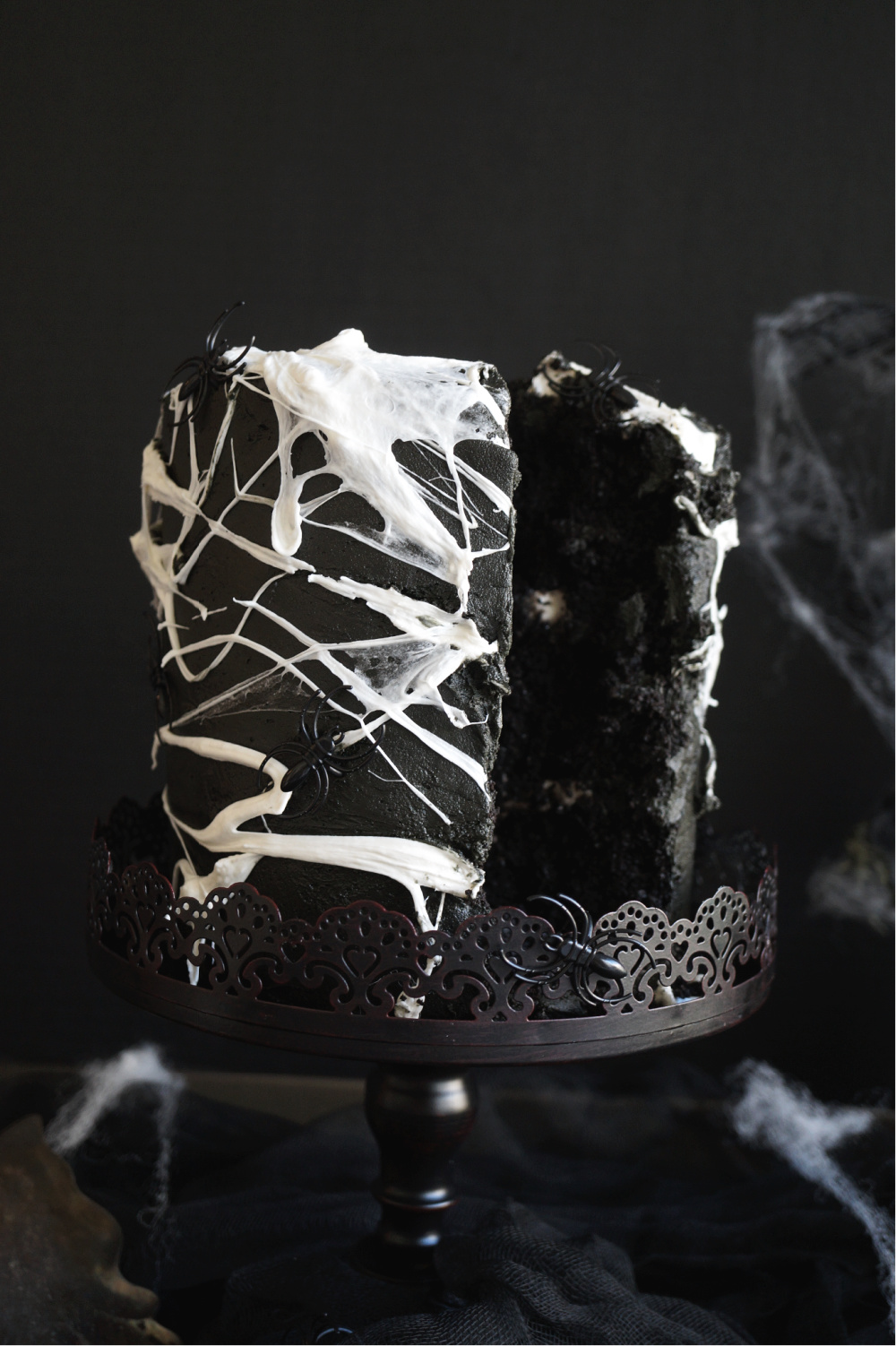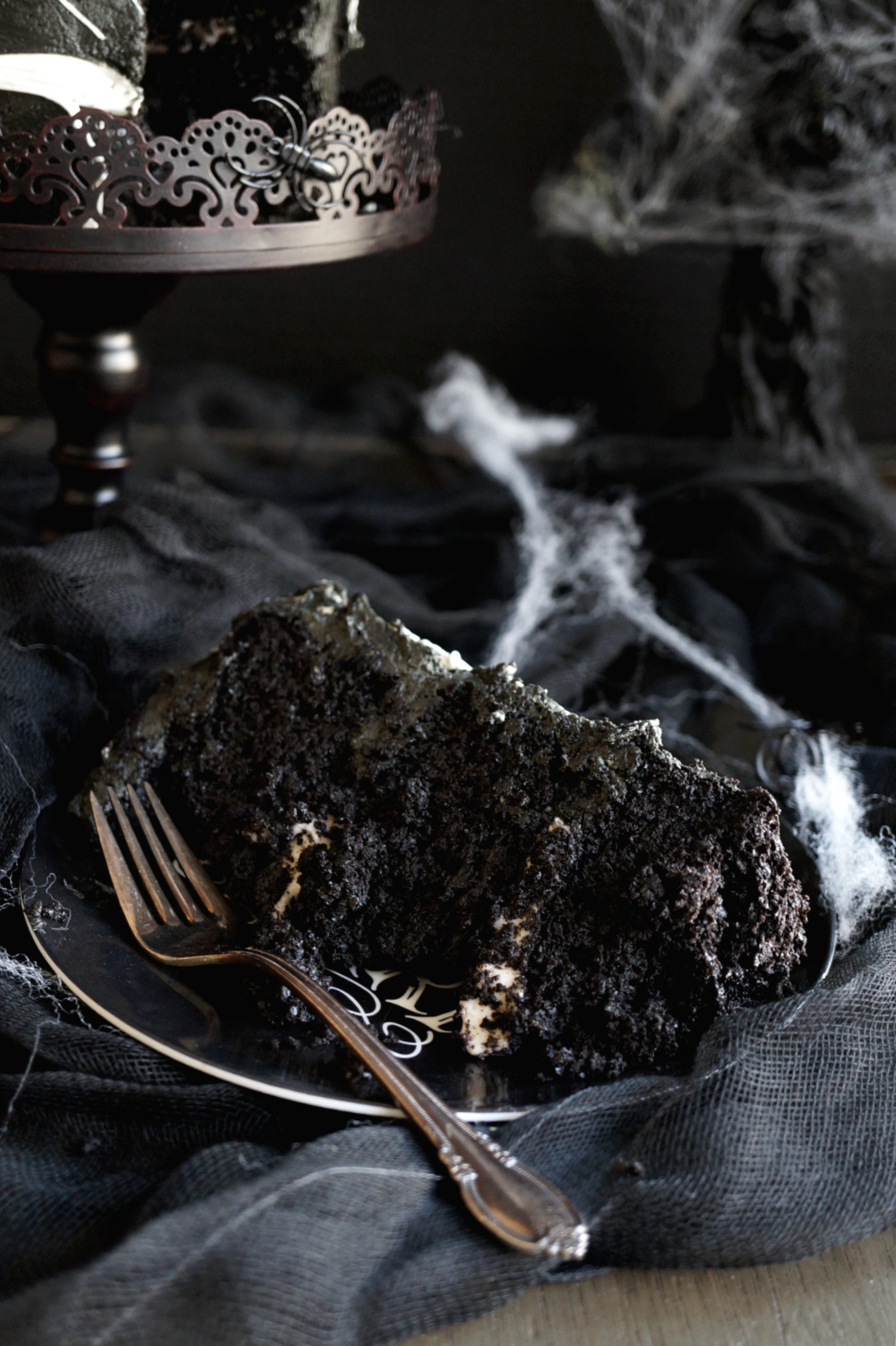 How do I make the marshmallow filling?
The microwave is your BEST FRIEND when it comes to making the filling for this marshmallow spiderweb cake. Most sources online said to use a double-boiler, but when I tried, I just wasted 40 minutes without anything melting. 
Combine vegan marshmallows with corn syrup and nondairy milk in a microwave-safe bowl
Heat in 20 second increments until marshmallows are soft and melted
Mix everything together and... that's it! Filling is ready!
What about the marshmallow spiderwebs on the cake?
These were a little tricky, I'm not gonna lie! All you need for the spiderwebs is vegan marshmallows. Getting the hang of turning them into spiderwebs takes a little practice, though!
Simply place your marshmallows in a microwave safe bowl, and heat in 15-20 second increments until melted
Mix everything with a spoon or spatula to make a smooth cream
Be warned that the vegan marshmallows start to harden VERY QUICKLY as they cool, so you have to work fast while the mixture is still hot! Grab a small bit of marshmallow cream (think dime-sized) and rub it between your fingers. Carefully stretch your fingers out to stretch the webs, and stretch them onto the cake! It helps if your cake is nice and cold from the fridge.
Now - repeat, repeat, repeat! You will have to re-heat the marshmallows as they cool and harden. I had to re-melt my marshmallows probably 4-5 times. It's okay! Just work fast and try not to burn yourself!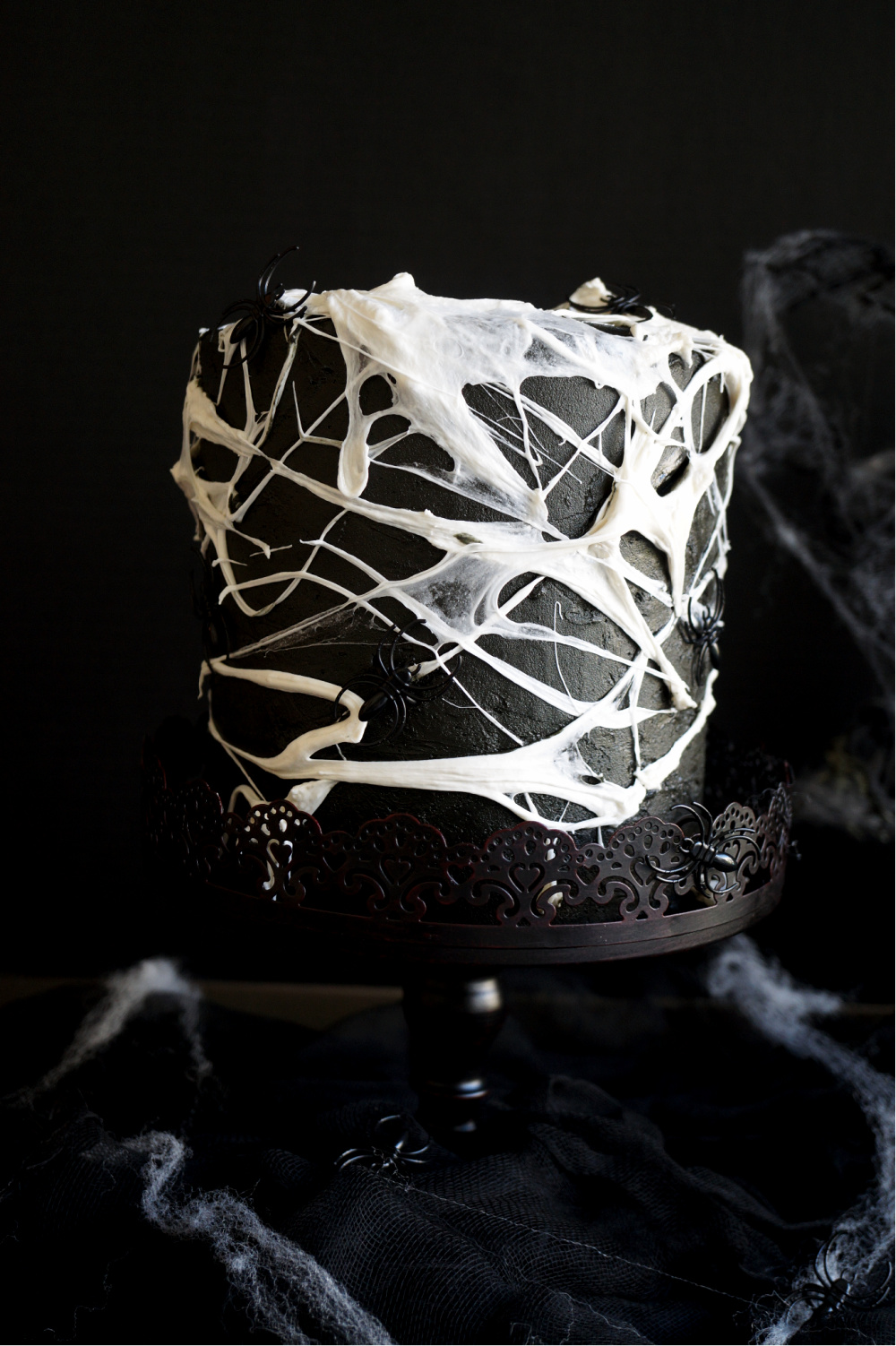 I hope you guys enjoyed this vegan marshmallow spiderweb cake! It is so fun and surprisingly easy to make. The flavors are pretty great, too! Thank you for your support, now and always. Happy baking! 🙂
Looking for more fun Halloween treats?
vegan marshmallow spiderweb cake
This spooky Vegan Marshmallow Spiderweb Cake is sure to get you in the Halloween mood! Black chocolate cake is decorated with sticky marshmallow spiderwebs and plastic spiders for a party-ready dessert.
Author:
Valentina | The Baking Fairy
Ingredients
*for the cake*
2½ cups all-purpose flour
2 cups white granulated sugar
1 cup cocoa powder
2 teaspoon baking powder
1 teaspoon baking soda
½ teaspoon salt
2 cups unsweetened nondairy milk
⅔ cup vegetable oil
4 tablespoon white vinegar
1 teaspoon vanilla extract
1 teaspoon Baker's extract
1 teaspoon chocolate extract
a few drops of black food coloring
*for the marshmallow filling*
1 cup vegan marshmallows
1 tablespoon corn syrup
1 tablespoon nondairy milk
*for the frosting*
3½ cups powdered sugar
½ cup cocoa powder
½ cup vegan butter
½ cup vegan shortening
¼ cup nondairy milk, more or less as needed
1 teaspoon Rodelle vanilla extract
pinch of salt
black food coloring as needed for desired color
*for the marshmallow spiderweb decorations*
1 cup vegan marshmallows
Instructions
First, make the chocolate cake. Preheat the oven to 350F. Spray three 6" round cake pans with baking spray, and set aside.
In a large bowl, whisk together the flour, cocoa, sugar, salt, baking powder, and baking soda.
Add in the nondairy milk and oil, and mix vigorously. Add in the vinegar, vanilla, chocolate, and Baker's extract and mix until well combined. Finally, add in a few drops of black food coloring and mix to combine.
Pour the batter into the prepared pan, and bake for 25-30 minutes.
Let cakes cool slightly, then turn onto a wire rack to finish cooling off.
While the cakes cool, you can prepare the chocolate frosting.
Beat the vegan butter and vegan shortening until creamy in the bowl of a stand mixer fitted with the paddle attachment.
Add in the cocoa powder, followed by the powdered sugar, one cup at a time. Add the nondairy milk if needed - add more or less as needed to get the right consistency.
Stir in the salt and vanilla extract. Add in black food coloring until frosting reaches your desired color - keep in mind that the color will darken as it sits as well.
Finally, make the marshmallow filling.
Combine the marshmallows, corn syrup, and nondairy milk in a microwave-safe bowl. Microwave in 15 second increments, until mixture is smooth and silky. Set aside to cool slightly before using.
When ready to assemble, flip cakes out of the pans and trim the tops off to make them level.
To assemble, place one of the cake layers on a serving platter or cake circle.
Spread a thin layer of chocolate frosting on top. Then pipe a circle of frosting on top of the cake, close to the edge, and spoon in some of the marshmallow cream. Repeat with the remaining cake layers.
Using an offset spatula, smooth on top and outside of the cake for a crumb coat.
Place the cake in the fridge for at least 10-15 minutes, until the crumb coat is solid, before putting on the final coat of frosting. After you are done frosting, make the marshmallow spiderwebs.
Place the marshmallows in a microwave-safe bowl, and heat in 15-20 second increments until smooth and melted. Mix together to make a smooth, fluffy cream.
Working quickly but carefully, grab a small amount of the melted marshmallows (about dime sized) between your fingers, and rub together to create stringy webs. Stretch your webs over the cake. Repeat until cake looks as desired. You will have to reheat the marshmallows several times, as they harden quickly once cooled. Decorate the cake with plastic spiders as well, if desired.
*Disclosure: I am part of the Amazon Associates Program, and there may be affiliate links on this page. If you buy anything through my website, I will receive a small percentage of the profit at no extra cost to you. Thank you for supporting my blog!*
In accordance with the FTC Guidelines, I am disclosing that I received compensation from Rodelle Vanilla for my time and participation in the Rodelle Ambassador Program. Although I have material connection to Rodelle Vanilla, any publicly stated opinions of Rodelle and their products remains my own. Recipe is an original creation of Valentina Celant at TheBakingFairy.net.