This Vegan Pumpkin Coffee Cake is the perfect way to celebrate fall. Fluffy pumpkin cake is swirled with spiced brown sugar and crowned with a buttery crumble topping and vanilla icing.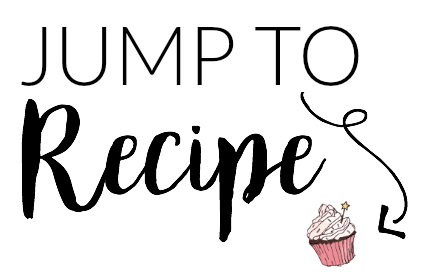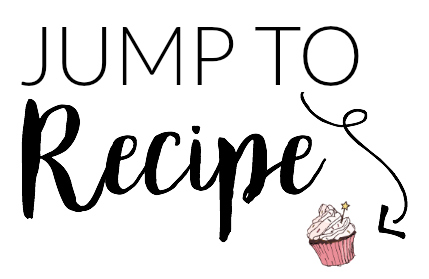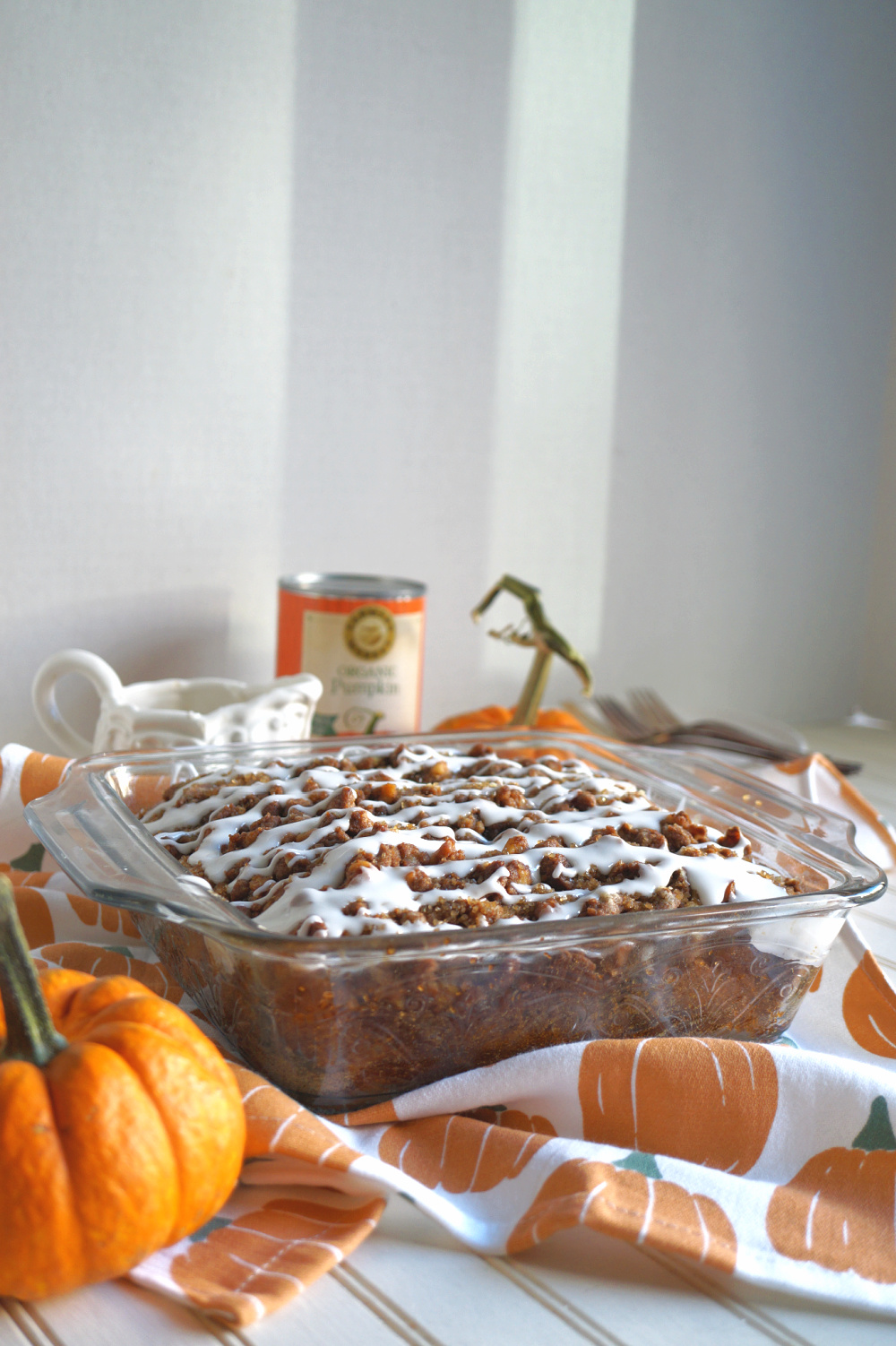 Hello my lovely friends, and happy Monday! I am so excited to be sharing this delicious recipe today that is absolutely perfect for fall. This Vegan Pumpkin Coffee Cake is fluffy, delicious, and packed with spiced sugary flavors. It is truly the ultimate pairing to a hot cup of bittersweet coffee! Coffee cake is always a good idea, but the addition of pumpkin puree and pumpkin spice takes this one over the top!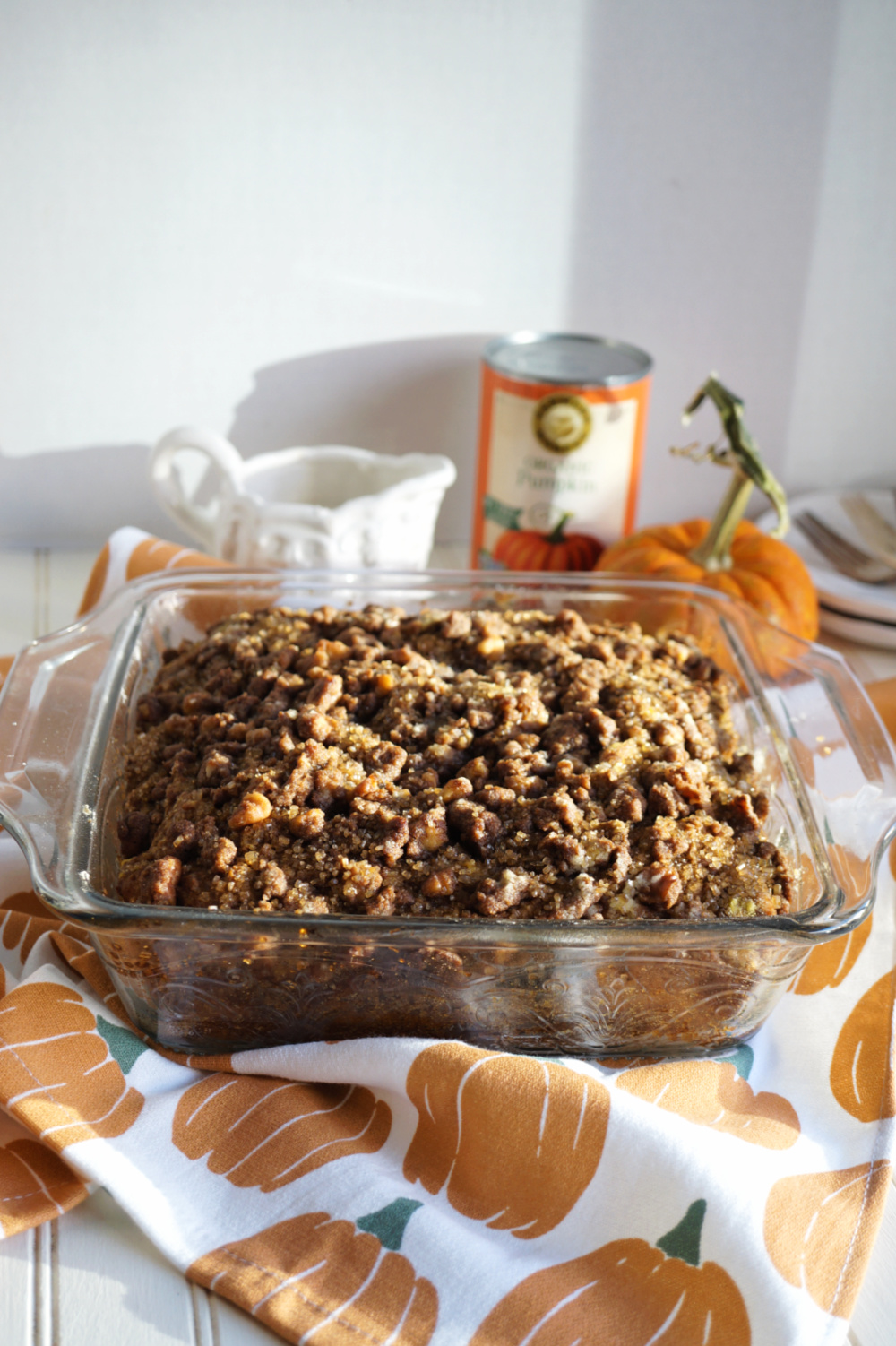 So while sharing recipes is what I always do here, today there is a special reason for it! I have paired up with a group of wonderful foodie friends for an allergen friendly fall treat roundup! And not only do we have delicious treats for you... we also have a GIVEAWAY! We are gifting one of you lucky readers a KitchenAid mixer!!! The only catch is that the giveaway is hosted on Instagram, so hop on over there if you're interested in entering 🙂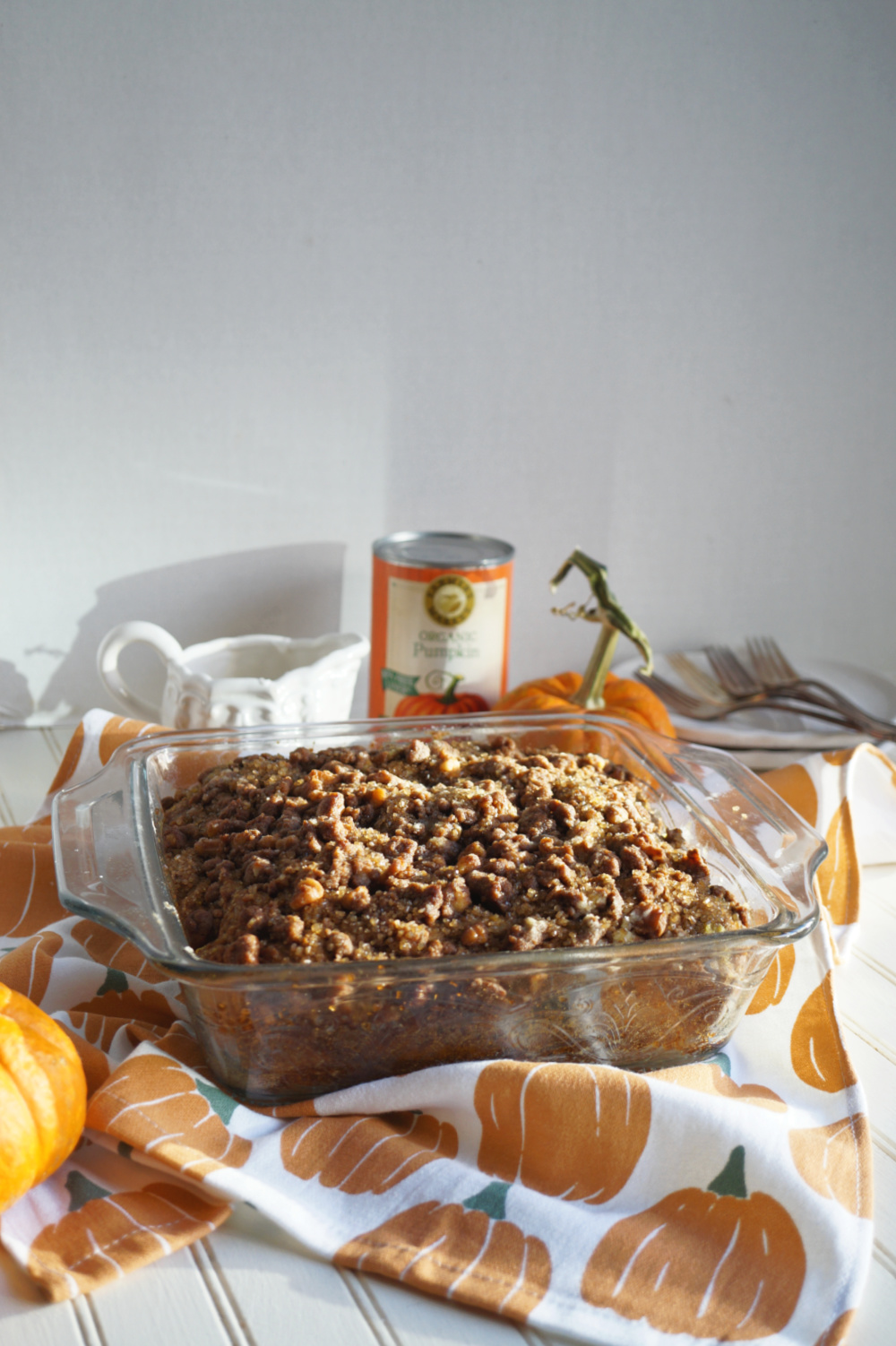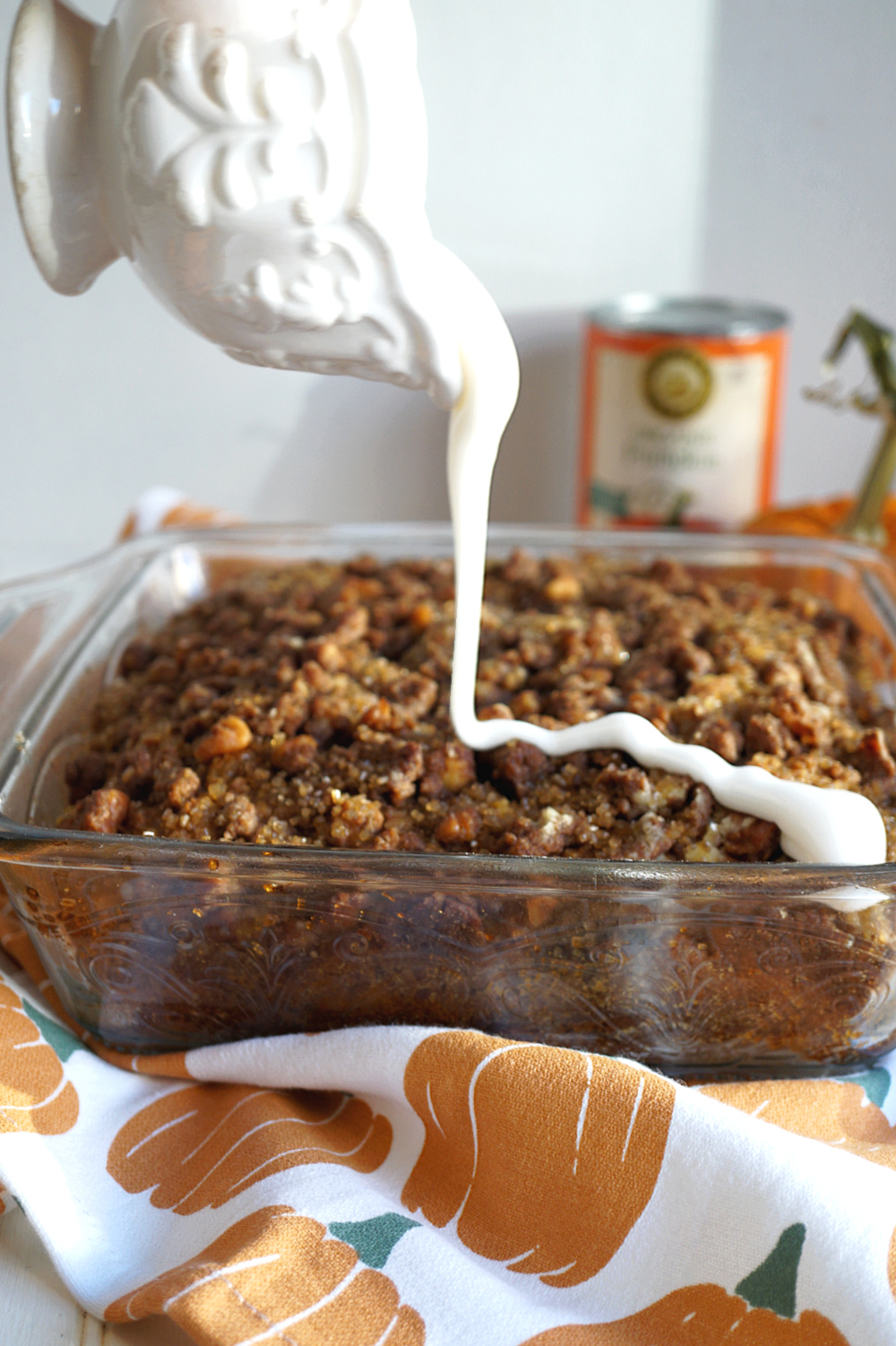 Be sure to check out everyone's wonderful recipes for today!
Allergy-Friendly Fall Blog Hop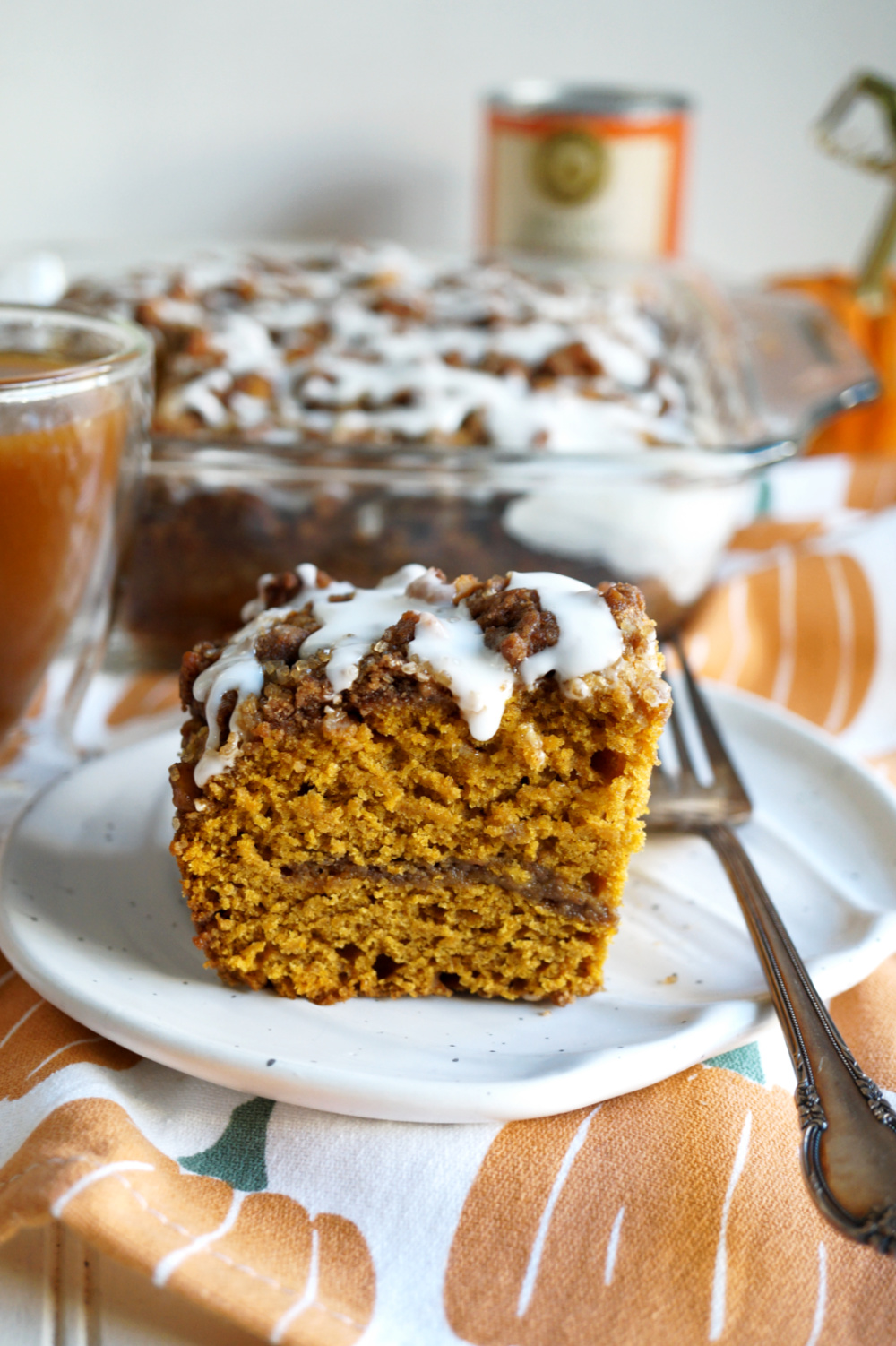 Here is the skinny on this fabulous vegan pumpkin coffee cake - you start with this super fluffy, light pumpkin spiced cake batter. Then you make this brown sugar filling for the middle. Add more pumpkin cake. And then on top, you have to have that crumbly, clumpy sugar topping! Mine combines more brown sugar with vegan butter, cinnamon, and nuts. It is just the most perfect fall dessert and it works wonderfully as an afternoon snack (or breakfast). I don't judge cake for breakfast!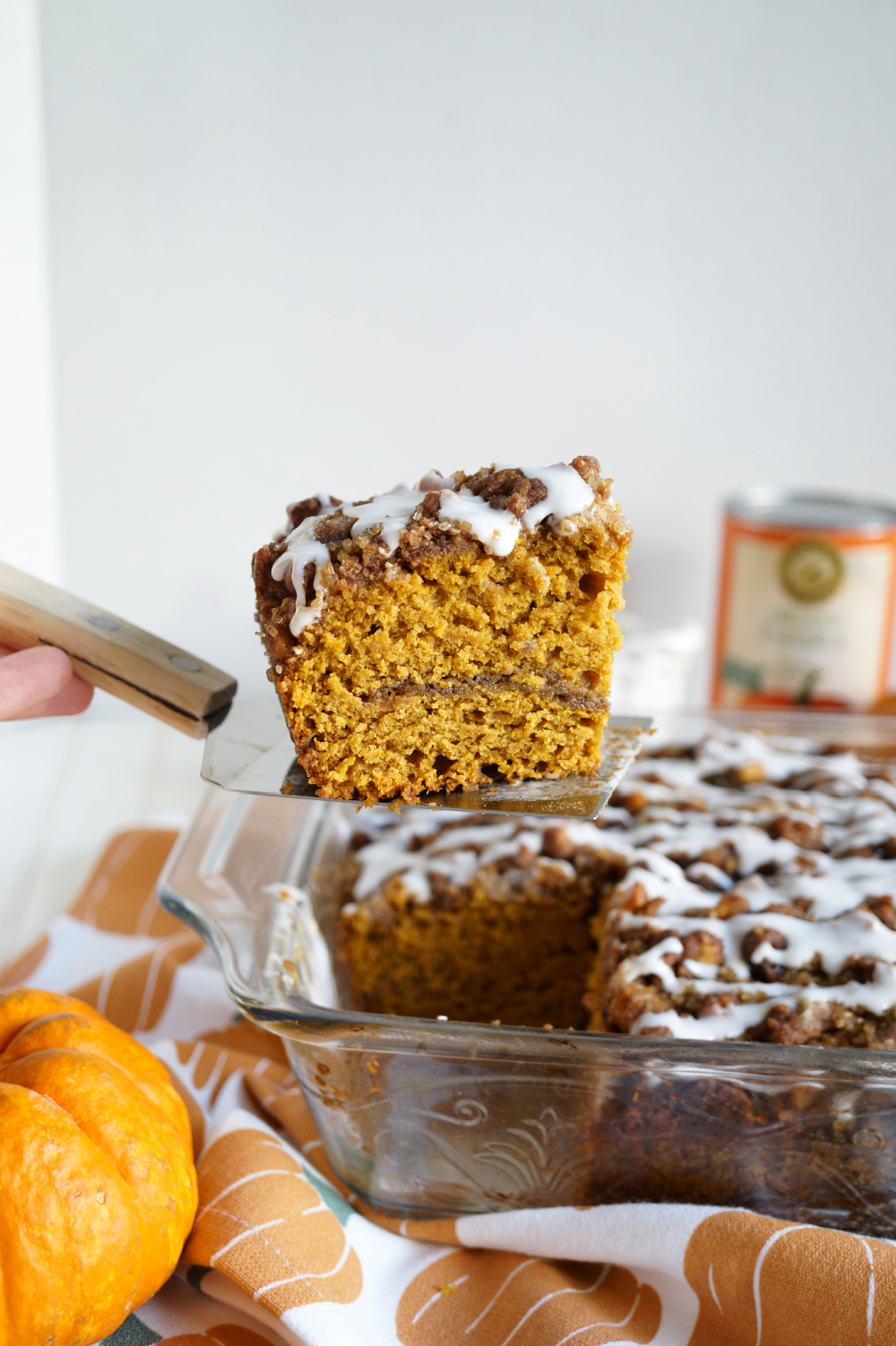 I hope you guys will give this pumpkin coffee cake a try before the Christmas treats take over! I promise it's a winner! Don't forget to check out my friends' recipes too and enter the giveaway on Insta!
Looking for more pumpkin recipes?
vegan pumpkin coffee cake
Author:
Valentina | The Baking Fairy
Ingredients
*for the cake batter*
1 cup pumpkin purée
⅓ cup melted vegan butter
¾ cup packed brown sugar
¾ cup full fat coconut milk (can substitute with other non-dairy milk)
2 cups all purpose flour
1 teaspoon baking soda
2 teaspoons baking powder
½ teaspoon salt
1 teaspoon pumpkin spice extract (can substitute with pumpkin spice mix)
2 teaspoon vanilla extract
2 teaspoon ground cinnamon
*for the middle layer*
3 tablespoons flour
3 tablespoons brown sugar
1 teaspoon cinnamon
*for the topping*
2.5 tablespoons melted butter (this should be the rest of the stick after you have used ⅓ cup for the cake batter)
⅓ cup flour
⅓ cup brown sugar
1 teaspoon cinnamon
¼ cup walnuts, chopped (can substitute with pecans or other nut of choice)
*for the glaze*
1 cup powdered sugar
2 tablespoon nondairy milk
¼ teaspoon vanilla extract
Instructions
Preheat oven to 350F and spray or butter an 8 x 8 baking pan
In a large bowl, combine the pumpkin purée with the melted butter, brown sugar, and coconut milk. Mix together and stir in the pumpkin spice, vanilla, and cinnamon.
Gently fold in the flour, baking powder, baking soda, and salt. Mix until batter is just combined. It will be thick.
Spread half of the cake batter into your prepared pan.
Make the filling for the middle layer. In a small bowl, combine the flour, brown sugar, and cinnamon. Sprinkle the mixture on top of your cake.
Spread your remaining cake batter on top, then prepare the topping. In a small bowl, combine the flour, brown sugar, cinnamon, and nuts. Mix in the melted butter and combine until the mixture is clumpy and crumbly. Sprinkle on top of the cake.
Bake the cake in the preheated oven for 45 min. I covered mine after about 35 min so it didn't get too brown on top.
To serve, top with powdered sugar or the glaze.
For the glaze, just mix the powdered sugar with the milk, adding it a little bit at a time. You may or may not need it all. Stir in the vanilla extract, then drizzle on your coffee cake. Enjoy!