These Vegan Pumpkin Banana Muffins are so easy to make, and absolutely delicious! They're made in one bowl with simple ingredients, and come together in just a few minutes.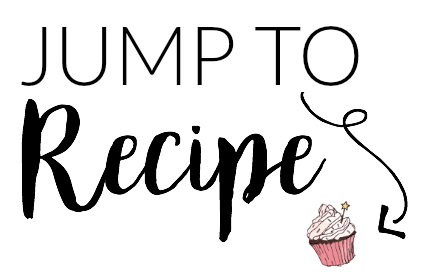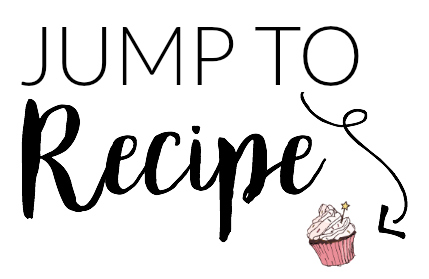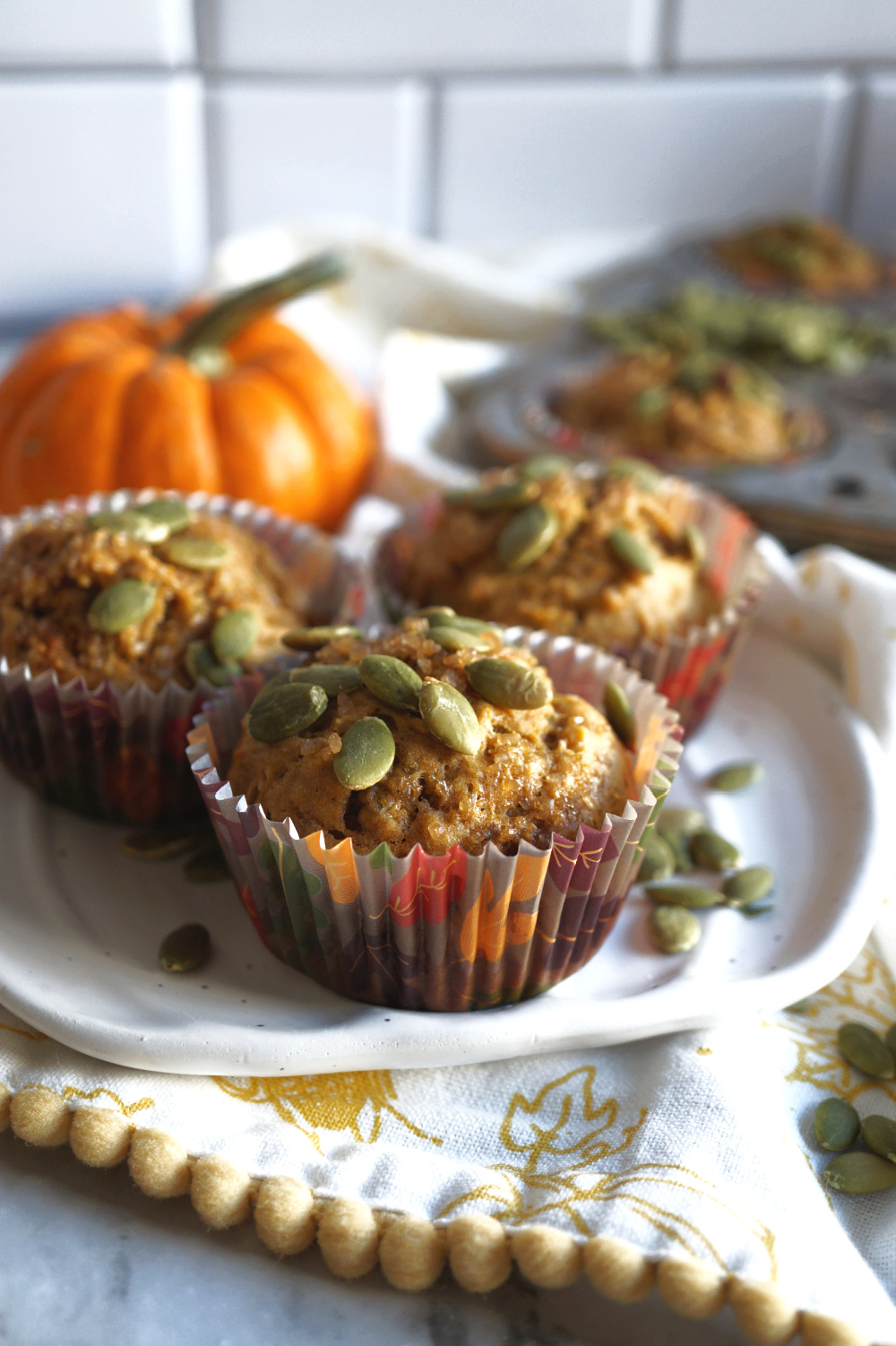 Hi friends and happy Thursday! Spooky October is over, which means we are back to our regularly scheduled programming of recipes 🙂 I have some super fun fall recipes planned for you this month! Give me all the pumpkin & the cozy, comforting food. We are starting off with these Easy Pumpkin Banana Muffins! Super simple, one-bowl, and they go from bowl to oven to mouth in 30 minutes. What could be better than that?!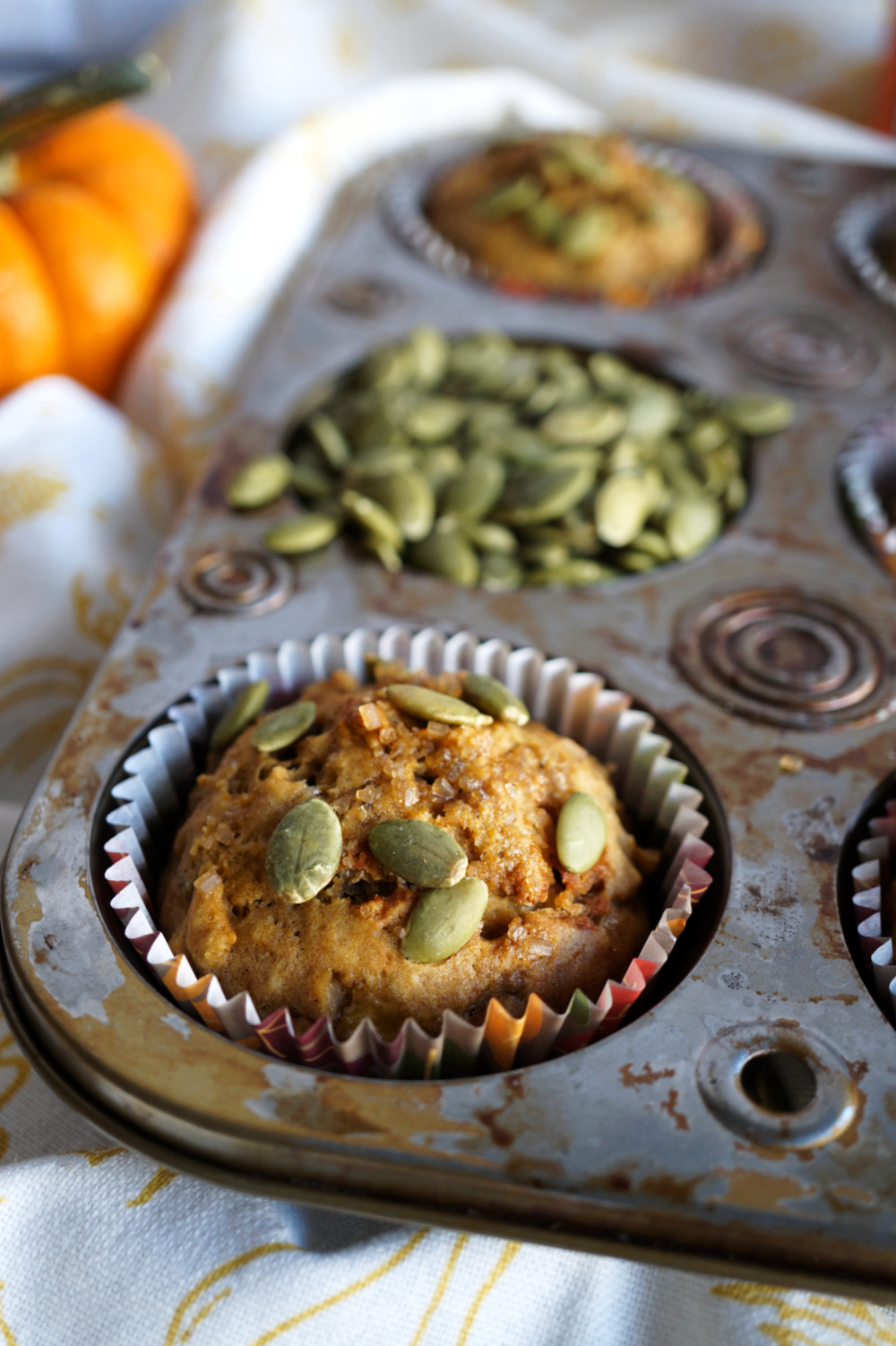 Are you guys pumpkin fans? You already know that I am based on the gazillion pumpkin recipes I have on this blog! And somehow I keep coming up with more pumpkin goods. These pumpkin banana muffins are sweet thanks to the bananas, and super soft and moist due to the pumpkin puree! I flavored them with brown sugar, pumpkin spice, cinnamon, and baker's extract for a simply delicious muffin. These babies are topped with pumpkin seeds and some turbinado sugar for crunch, but feel free to add in whatever you wish! Use different nuts or even chocolate chips to change it up.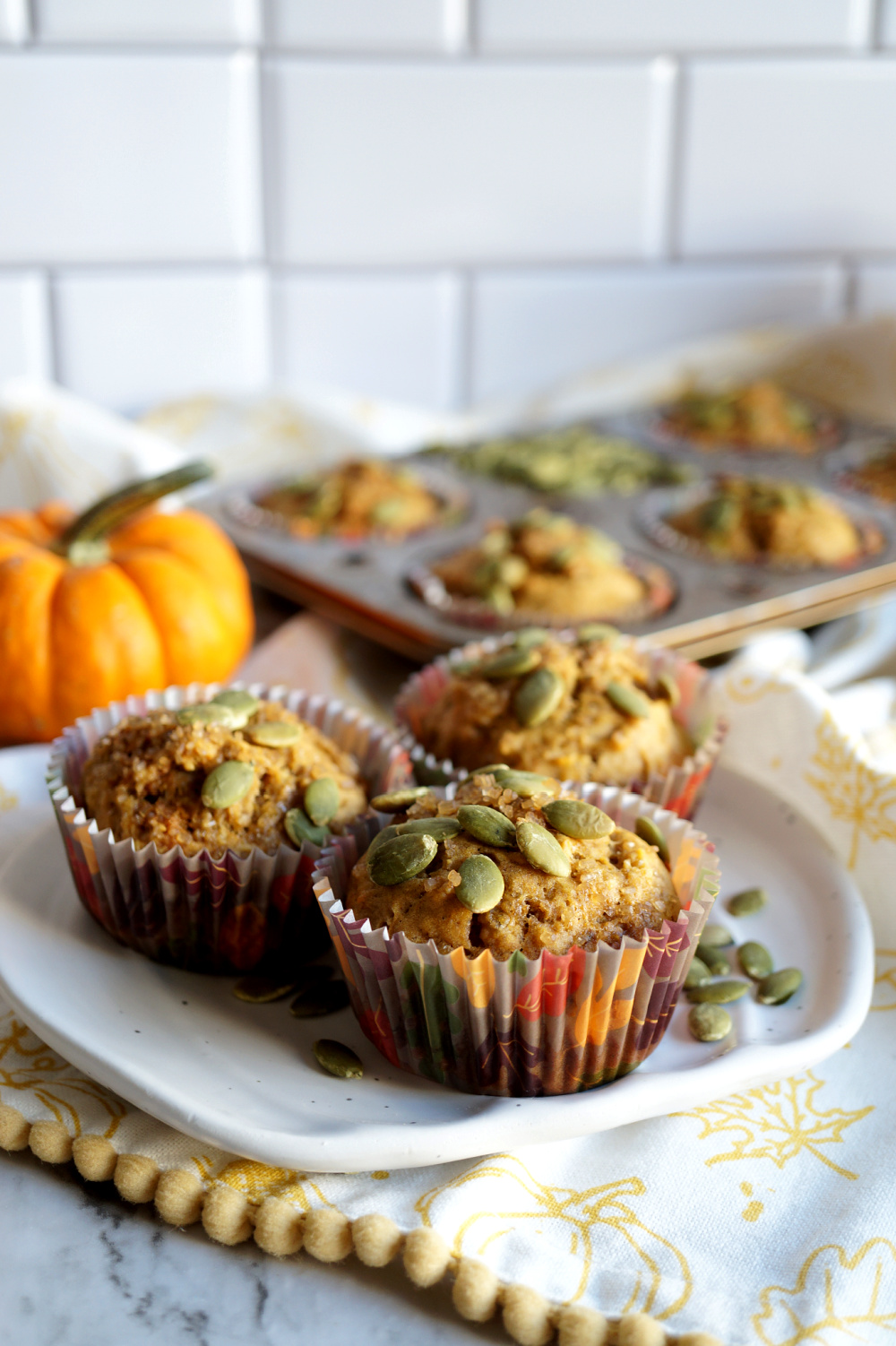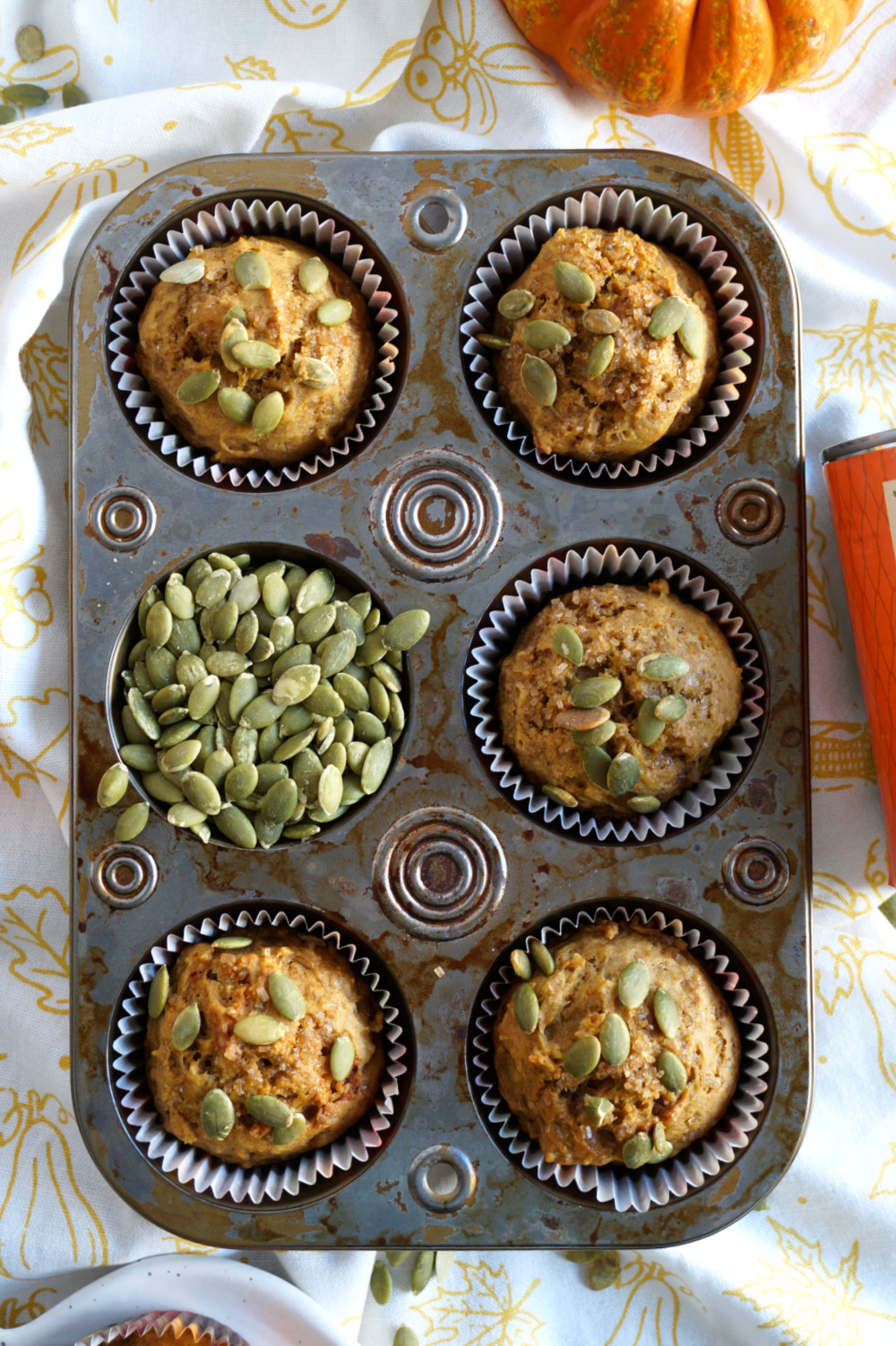 What do I need for these pumpkin banana muffins?
Pumpkin puree: of course, this is a must! Canned pumpkin puree makes this recipe extra easy. 
Ripe bananas: you need two super ripe bananas! The riper and darker, the better. If they look like you should throw them away... they're probably perfect.
Brown sugar: I much prefer brown sugar in muffins, and especially with pumpkin! The mild molasses flavor plays so well with the earthy pumpkin. Light and dark brown sugar work the same!
Pumpkin spice extract: this is a newer ingredient for me, but wow I love it for pumpkin desserts! It is liquid extract with a blend of cinnamon and spices, and the flavor is just unbeatable. I definitely recommend getting some if you're a pumpkin lover like me!
Baker's Extract: this is one of my favorite little "secret ingredients" when baking - the bakers extract adds such great depth of flavor to baked goods! It's a blend of vanilla, chocolate, and other flavors that works perfectly in pretty much all desserts.
Ground cinnamon: I like to add extra cinnamon even when I use pumpkin pie spice mix or extract for a stronger flavor!
Pumpkin seeds: these make the perfect little crunchy topping for these pumpkin banana muffins, especially when paired with Turbinado sugar!
Vegetable oil, nondairy milk.
All purpose flour, baking powder, baking soda, and salt.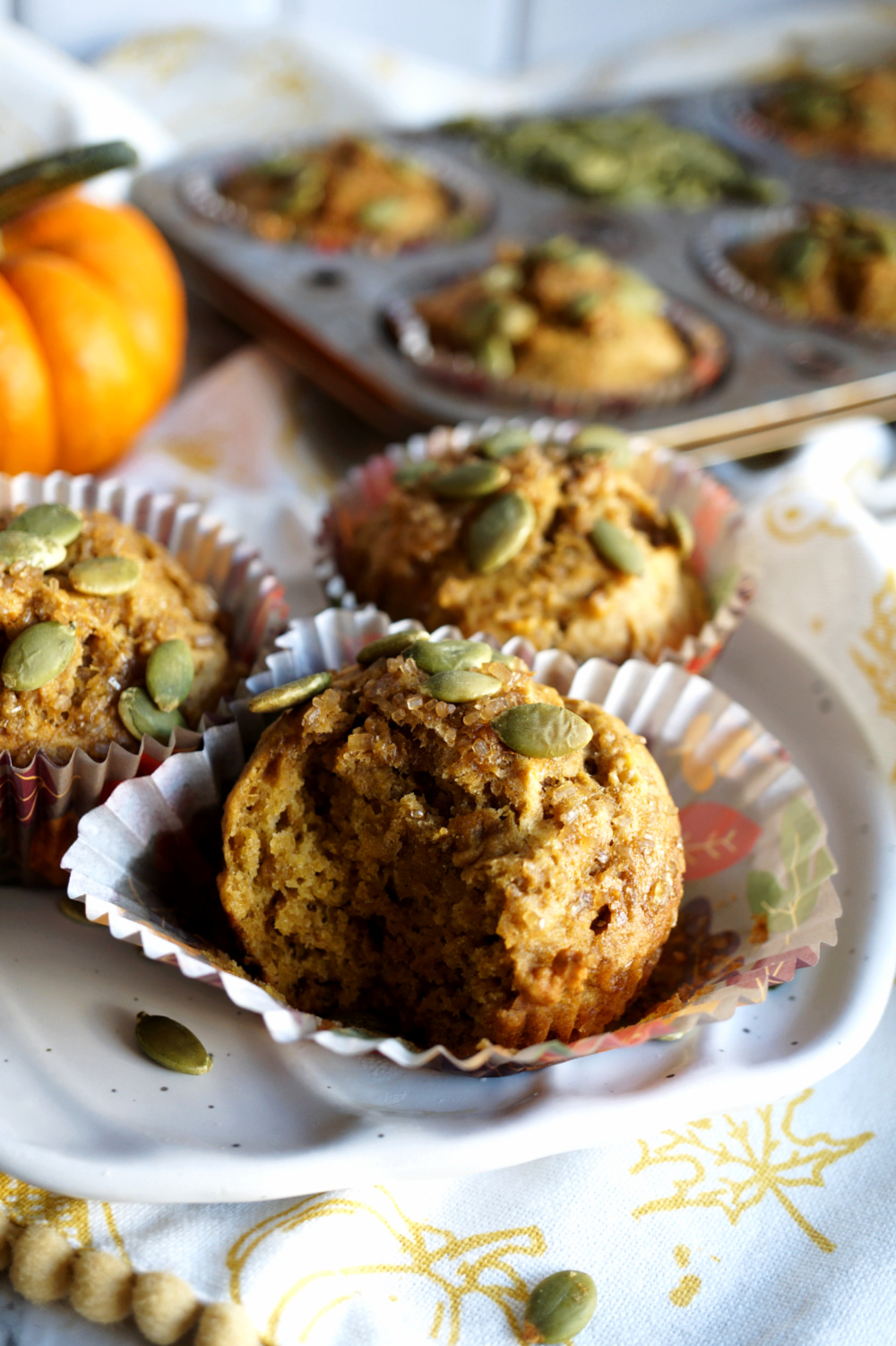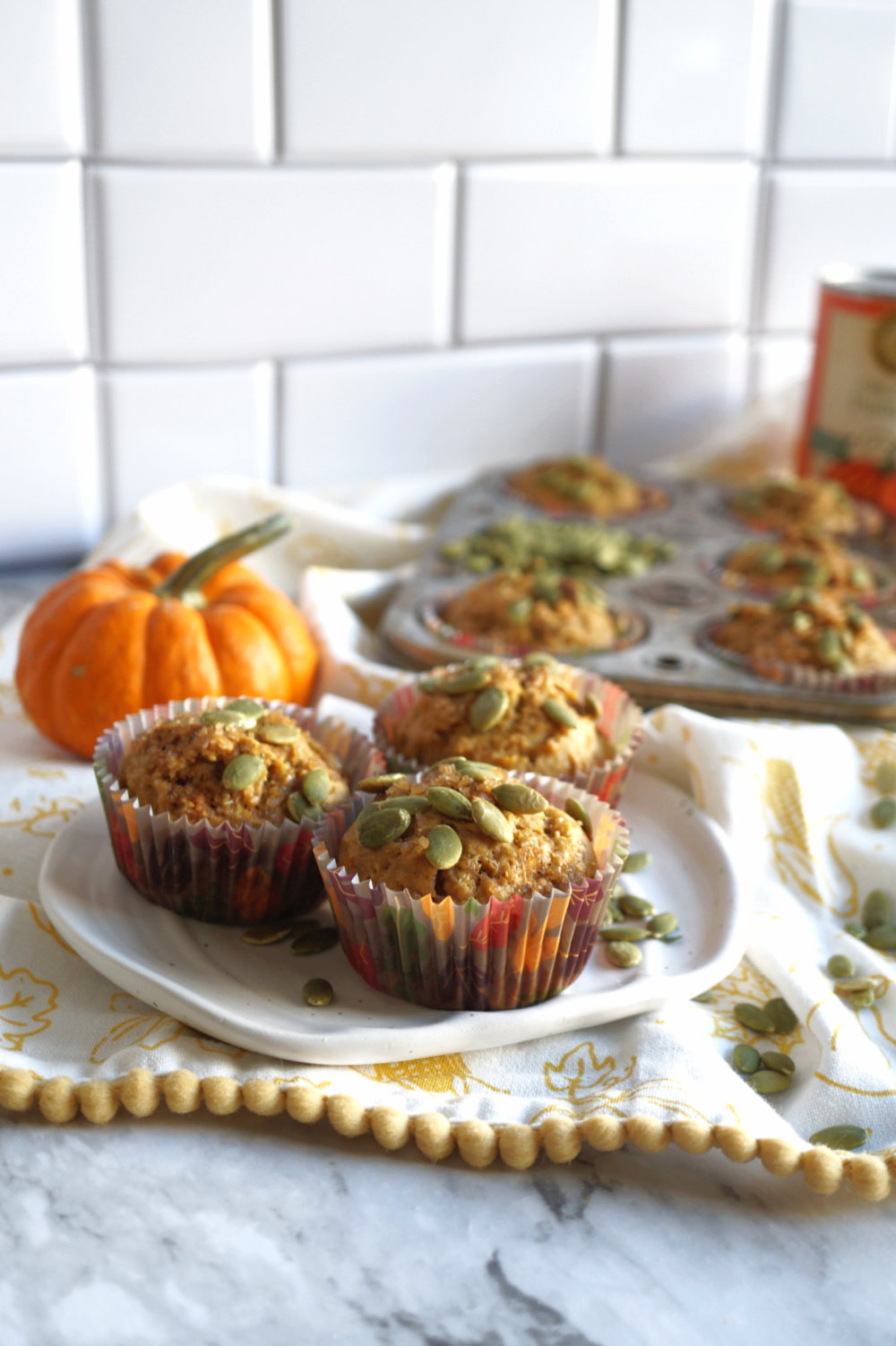 I hope you guys will give these pumpkin banana muffins a try! They are so simple, delicious, and comforting. They make a fantastic breakfast on the go, or afternoon snack!
Looking for more pumpkin treats?
easy vegan pumpkin banana muffins
These Vegan Pumpkin Banana Muffins are so easy to make, and absolutely delicious! They're made in one bowl with simple ingredients, and come together in just a few minutes.
Author:
Valentina | The Baking Fairy
Ingredients
2 ripe bananas
½ cup pumpkin puree
¼ cup vegetable oil
½ cup brown sugar
¼ cup nondairy milk
2 teaspoons Bakers Extract (can substitute vanilla extract)
1 teaspoon pumpkin spice extract (can substitute pumpkin pie spice)
1 teaspoon cinnamon
2 cups all purpose flour
1 teaspoon baking soda
½ teaspoon salt
*for topping: pumpkin seeds and turbinado sugar
Instructions
Preheat oven to 350F and prepare a muffin tin with muffin liners.
In a large bowl, mash up the bananas. Add in the pumpkin puree, oil, brown sugar, milk, extracts, and spices. Mix until well combined.
Add in the flour, baking soda, and salt. Stir until the batter just comes together.
Fill the muffin tins ⅔ of the way - I was able to get 15 muffins out of this batter.
Sprinkle turbinado sugar and pumpkin seeds on top. Bake muffins for 20 minutes, until golden brown and fluffy.
Let muffins cools lightly, then enjoy!
*Disclosure: I am part of the Amazon Associates Program, and there may be affiliate links on this page. If you buy anything through my website, I will receive a small percentage of the profit at no extra cost to you. Thank you for supporting my blog!*