Who says French cuisine can't be veganized? This Vegan French Onion Soup is comforting, savory, and perfect for cold fall nights!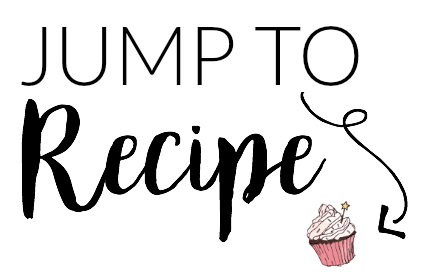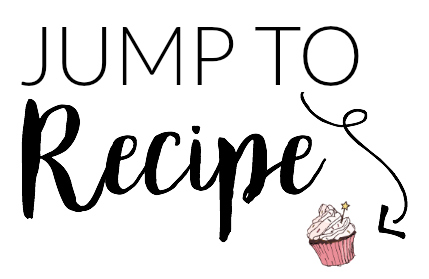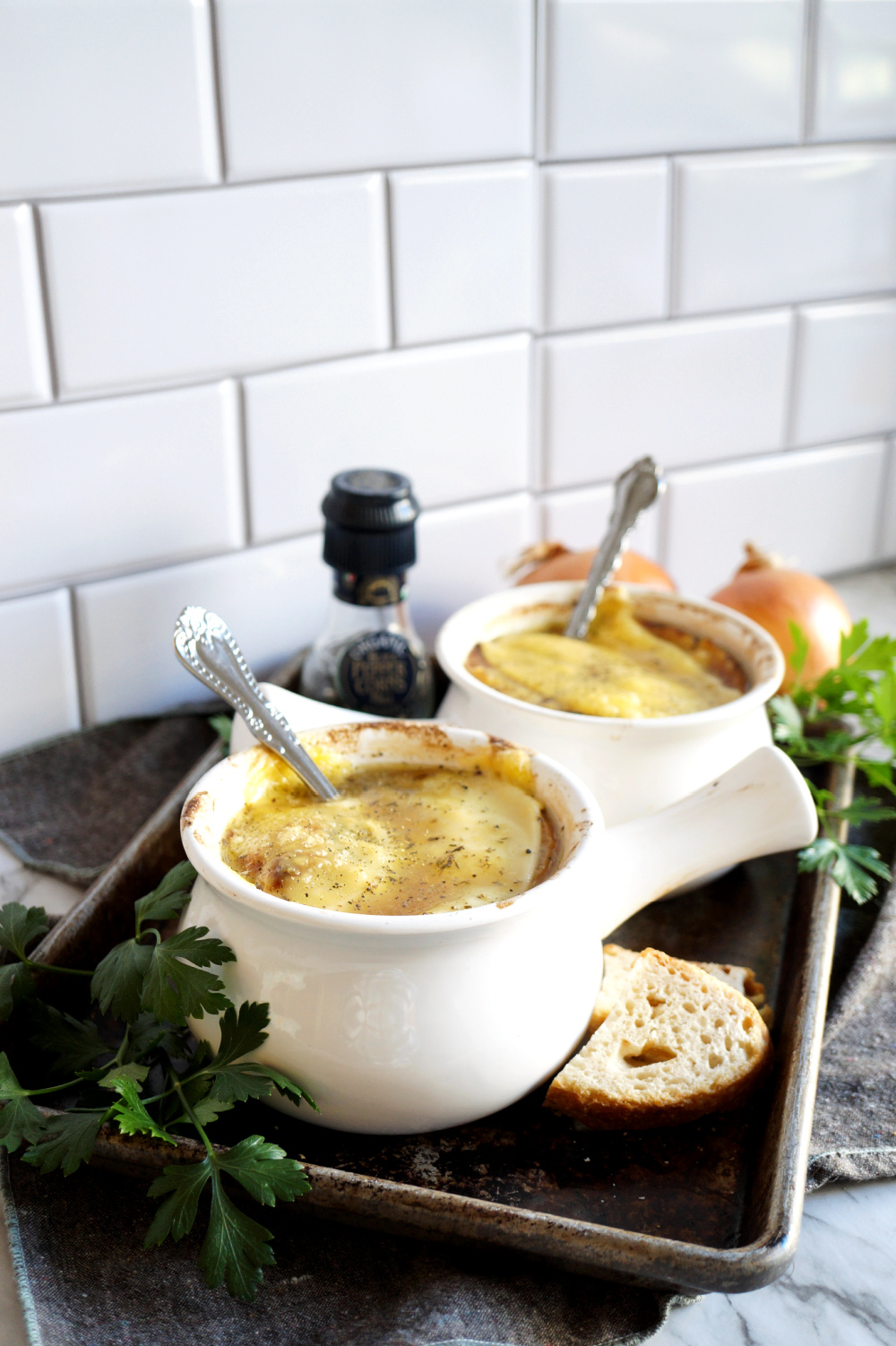 Happy Monday, friends! After allll the sweets, I finally have a savory recipe for you. This Vegan French Onion Soup is savory, delicious, and a perfect cozy dinner for a cold night! Rich caramelized onions are steeped in a rich "beef" broth and served with toasted bread and melty cheese on top. This traditional French dish can seem fancy, but it is incredibly simple and the flavor payoff is so worth it!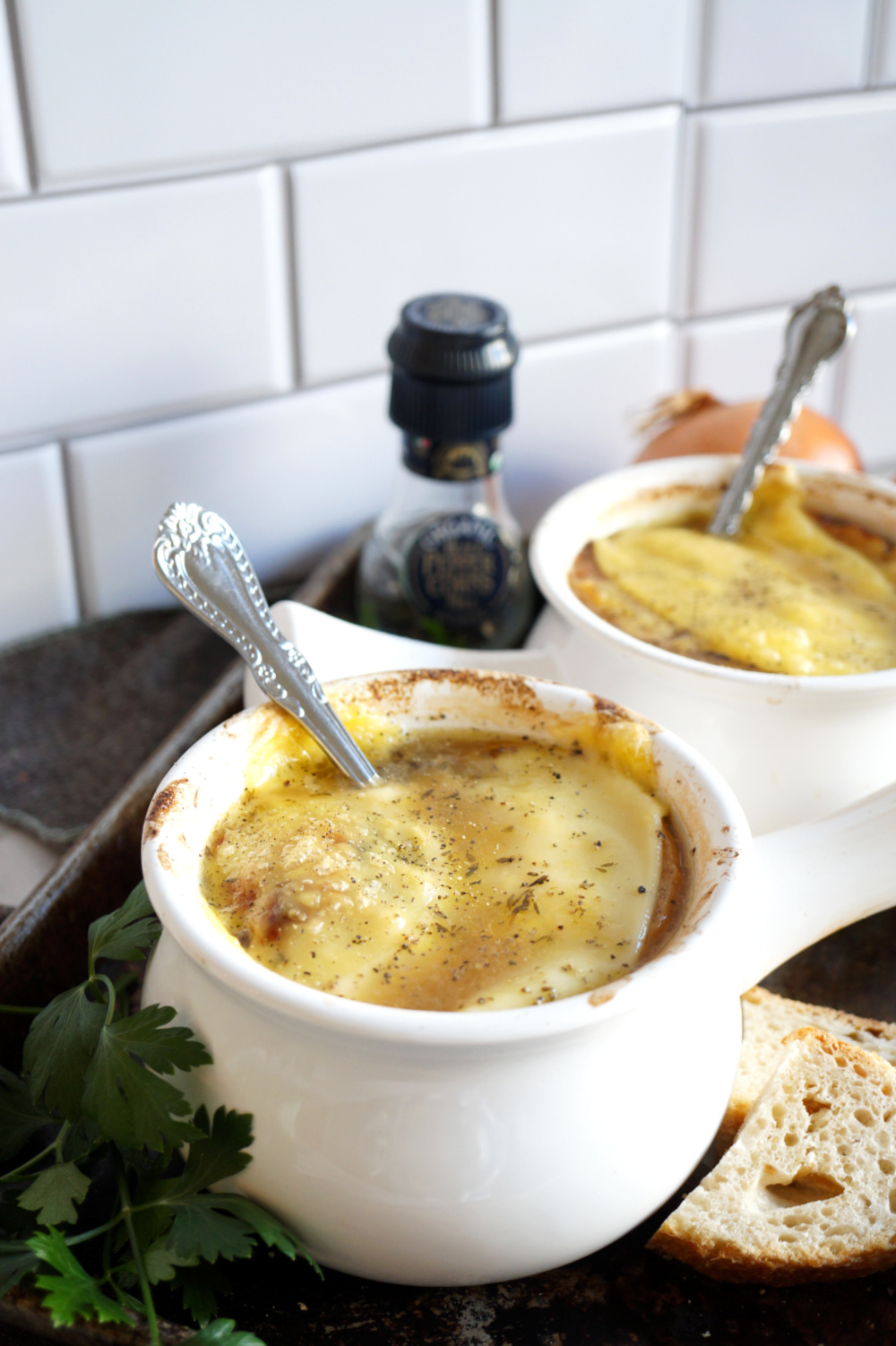 What do I need to make French onion soup?
Onions - well, duh! Of course we need onions 🙂 I recommend sweet onions in this case! They do reduce down in volume a lot when caramelizing and cooking, so use more onions than you think at first. I used 6 onions and ended up with just enough soup for 4 servings!
Vegan beef bouillon - this is what inspired me to make this French onion soup in the first place... I found vegan "not-beef" bouillon at Sprouts! You can also buy it online. The brand I found is Edward & Sons, but I also love the Better Than Bouillon paste and they make a no-beef base as well. In a pinch, you can use vegetable bouillon instead!
Wine - either white wine or red wine will work, but adding in wine to cook in with the onions adds so much extra flavor! If you don't do alcohol, you can substitute with cooking sherry or even apple cider vinegar.
Garlic - y'all know me... garlic is always a good idea! Even though this is onion soup, the garlic adds extra flavor and deliciousness. 
Bay leaf - this isn't a super common herb, but I love adding it to soups (and even to my vegan meat sauce). It adds great flavor! Toss a couple of leaves in to cook with the soup.
Thyme - this classic French herb is a must in the soup to round out the flavors. 
Vegan cheese - French onion soup just isn't complete without the melty cheese on top! Today, I used Follow Your Heart's smoked gouda and I felt like it was a touch too smokey. I would recommend something a little more neutral like vegan "mozzarella" or even "provolone" for this recipe!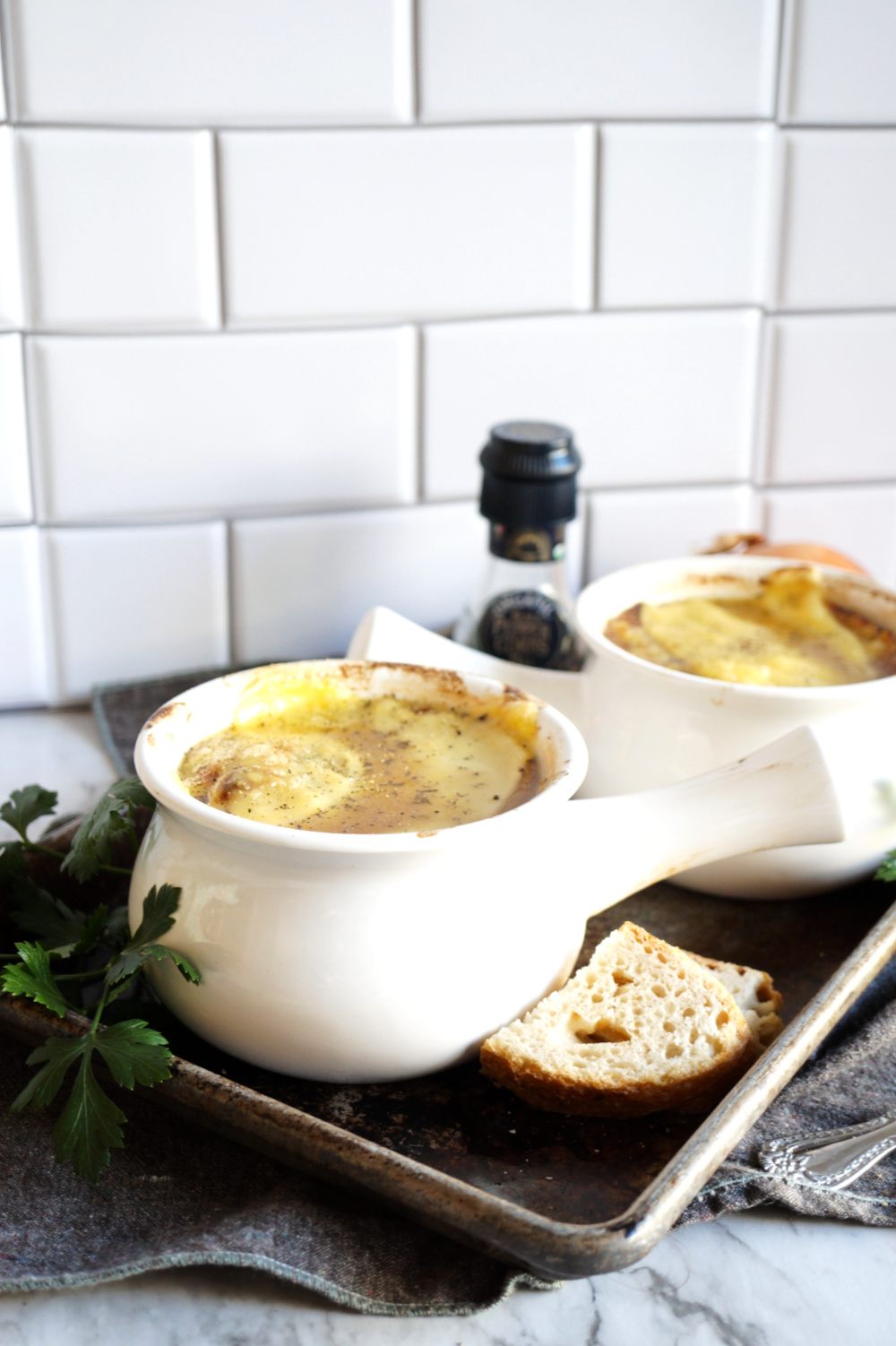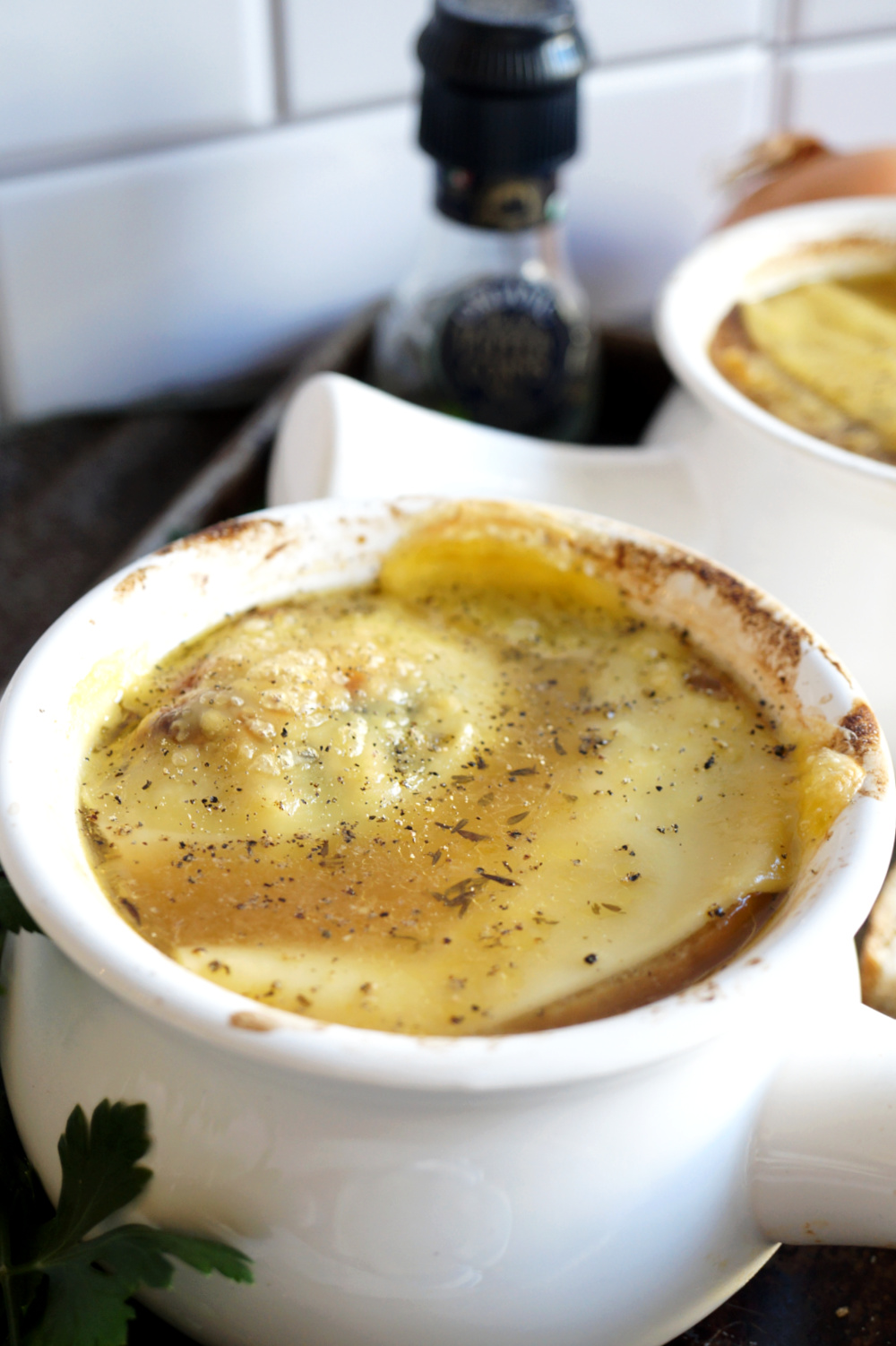 How do I make French Onion Soup at home?
Caramelize your onions! This is the most important (and longest) step. Slice your onions thinly, and set them to cook over medium heat with some melted vegan butter and olive oil. Add a pinch of salt to help draw out the moisture! And now, we wait. Stir occasionally for a GOOD 30-40 minutes until the onions are soft, melty, and a deep golden brown color. Make sure the heat isn't too high because you don't want to burn all your hard work!
Add in the wine! Once the onions are nice and caramelized, pour in the wine and add in the extra flavor! Stir them around until the wine has evaporated. 
Toss in the flour. Now, sprinkle in the flour to thicken it up! Stir everything around so that the flour can toast and you can get rid of the "raw flour" flavor. This only takes a couple of minutes.
Add in the "beef" bouillon in water + herbs. Now it's time to add in the liquids. Pour in your beefy bouillon dissolved in water, along with your herbs, salt, and pepper. Stir it all together, and lower the heat to a simmer so all the delicious flavors can infuse together. 
To serve, top with bread and vegan cheese! When ready to eat, divide your soup among 4 oven safe bowls. Top with a slice of French bread and your favorite vegan cheese and pop it under the broiler until everything is melty and golden!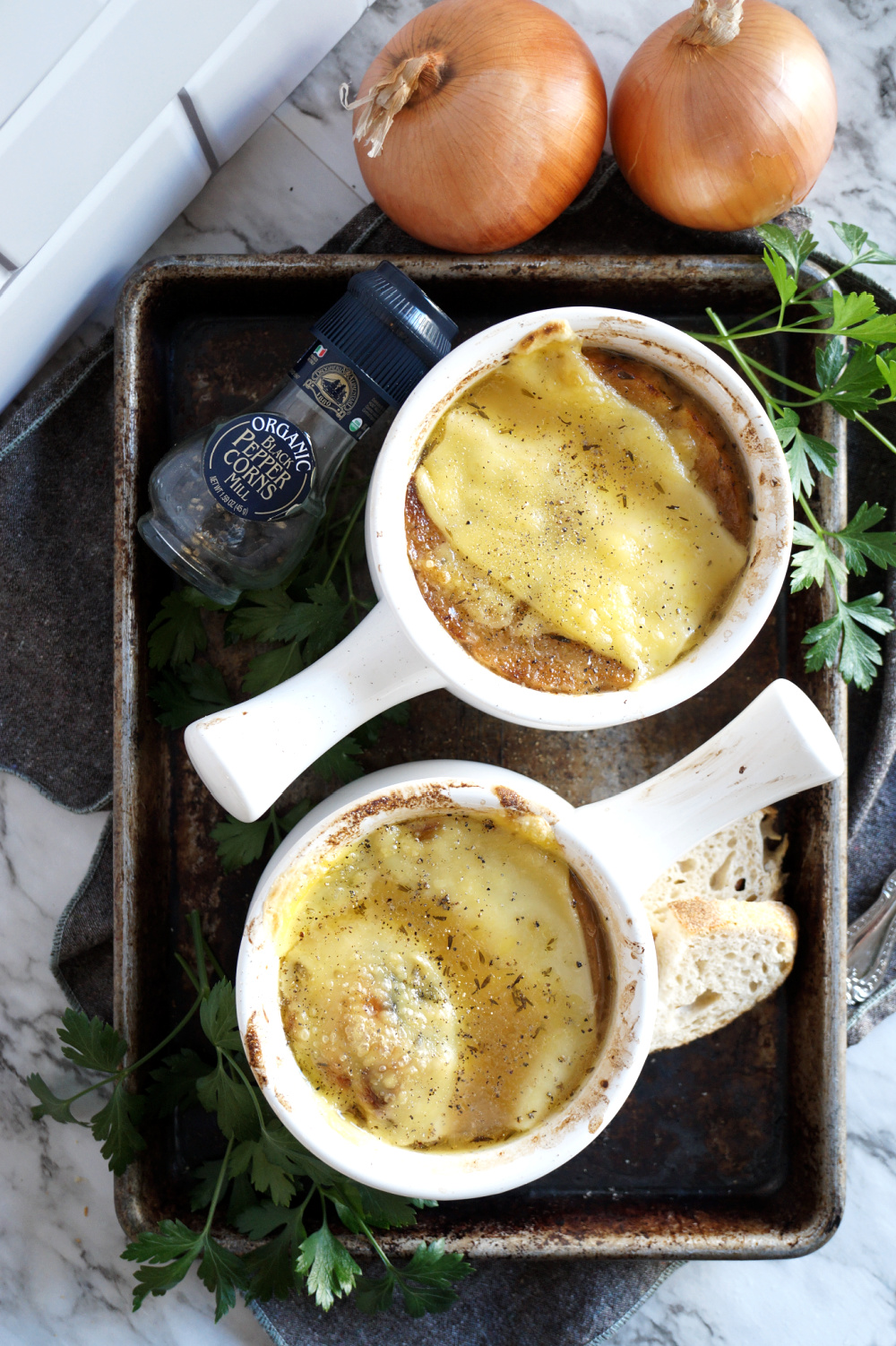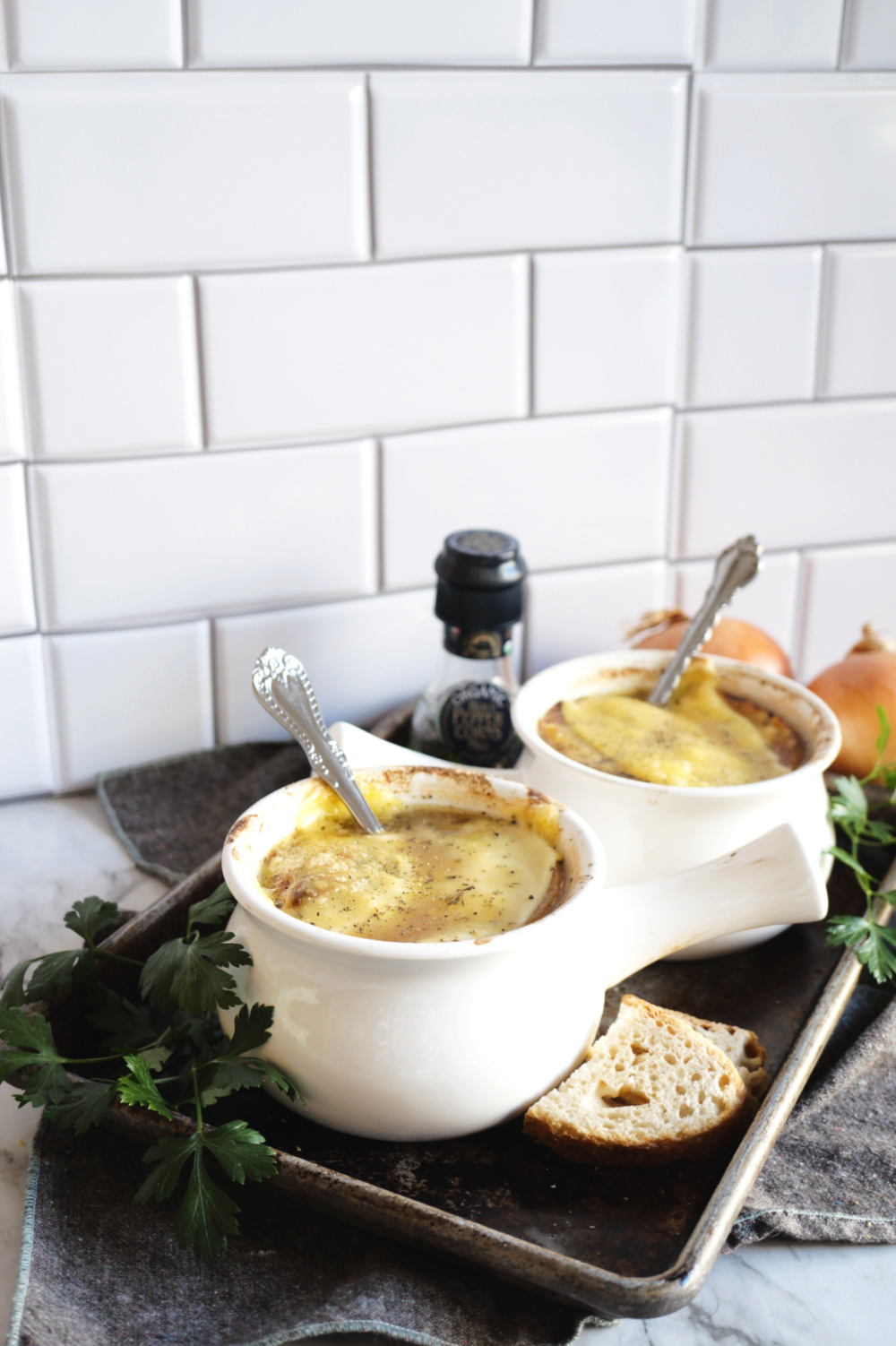 I hope you guys will give this vegan french onion soup a twirl - it is so comforting, delicious, and quite easy to put together!
Looking for more vegan soup recipes?
vegan french onion soup
Who says French cuisine can't be veganized? This Vegan French Onion Soup is comforting, savory, and perfect for cold fall nights!
Author:
Valentina | The Baking Fairy
Ingredients
5-6 sweet yellow onions (I used a 3 lb bag)
2 tablespoon vegan butter
2 tablespoon olive oil
1 teaspoon sugar
1 teaspoon salt
5 garlic cloves, chopped
½ cup red wine (can substitute white wine or ACV)
2 tablespoon flour
2 vegan "no-beef" bouillon cube
8 cups hot water
2 bay leaves
½ teaspoon dry thyme
1 teaspoon garlic powder
1 teaspoon onion powder
extra salt & pepper to taste
to serve: toasted bread, vegan cheese
Instructions
First, peel the onions and slice them up very thinly.
In a large pot, heat up the vegan butter and olive oil over medium-low heat. Add in the sliced onions, along with the salt and sugar. Stir everything together and turn heat down to low. Allow the onions to slowly caramelize - this will take a good 30-40 minutes. Stir mixture every few minutes until onions are significantly reduced down, almost melted, and a golden brown color. Be careful not to burn your hard work!
When the onions are ready, toss in the chopped garlic and wine. Turn heat back up to medium and mix everything together.
Cook until the wine has evaporated, then toss in the flour. Stir around and cook for a couple of minutes to get rid of the "raw flour" flavor.
Next, dissolve your bouillon cubes in your hot water, and add to your pot. Toss in the bay leaves, thyme, garlic, and onion powder. Bring mixture to a low simmer, and cover. Allow soup to cook for at least 30 minutes so that the flavors can all infuse together. Taste and add more salt and pepper to taste.
To serve, ladle your soup into oven-safe bowls and top with slices of bread and some vegan cheese. Place on a baking sheet (for easier transfer) and pop under the broiler until cheese is melted and bubbly. Enjoy!
*Disclosure: I am part of the Amazon Associates Program, and there may be affiliate links on this page. If you buy anything through my website, I will receive a small percentage of the profit at no extra cost to you. Thank you for supporting my blog!*