This collaboration has been compensated by JoyJolt. All opinions are mine alone. #ad #JoyJolt #DrinkForJoy
These simple and delicious Vegan Raspberry Chocolate Cake Parfaits combine homemade chocolate cake with rich chocolate ganache, coconut whipped cream, and zesty fresh raspberries for a perfect combination.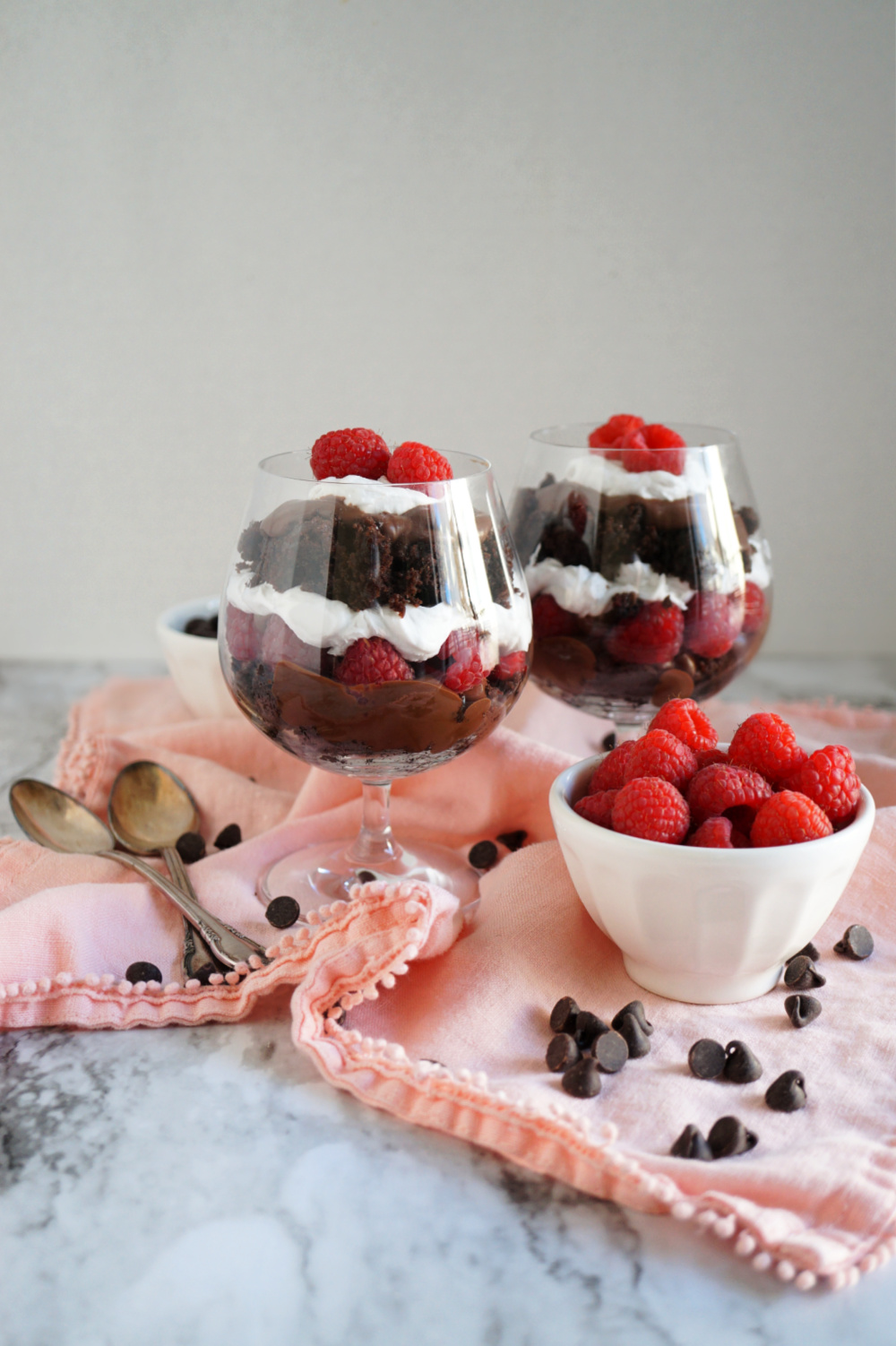 Hi friends and happy Wednesday! The valentine's day countdown continues and I have another treat to share with you today, in partnership with JoyJolt. These Vegan Raspberry Chocolate Cake Parfaits are absolutely delicious and so easy to make! You layer up pieces of chocolate cake with ganache, whipped coconut cream, and fresh raspberries for a scrumptious dessert. These are perfect for a Valentine's get-together, or easy to make just for one or two people for a special dinner.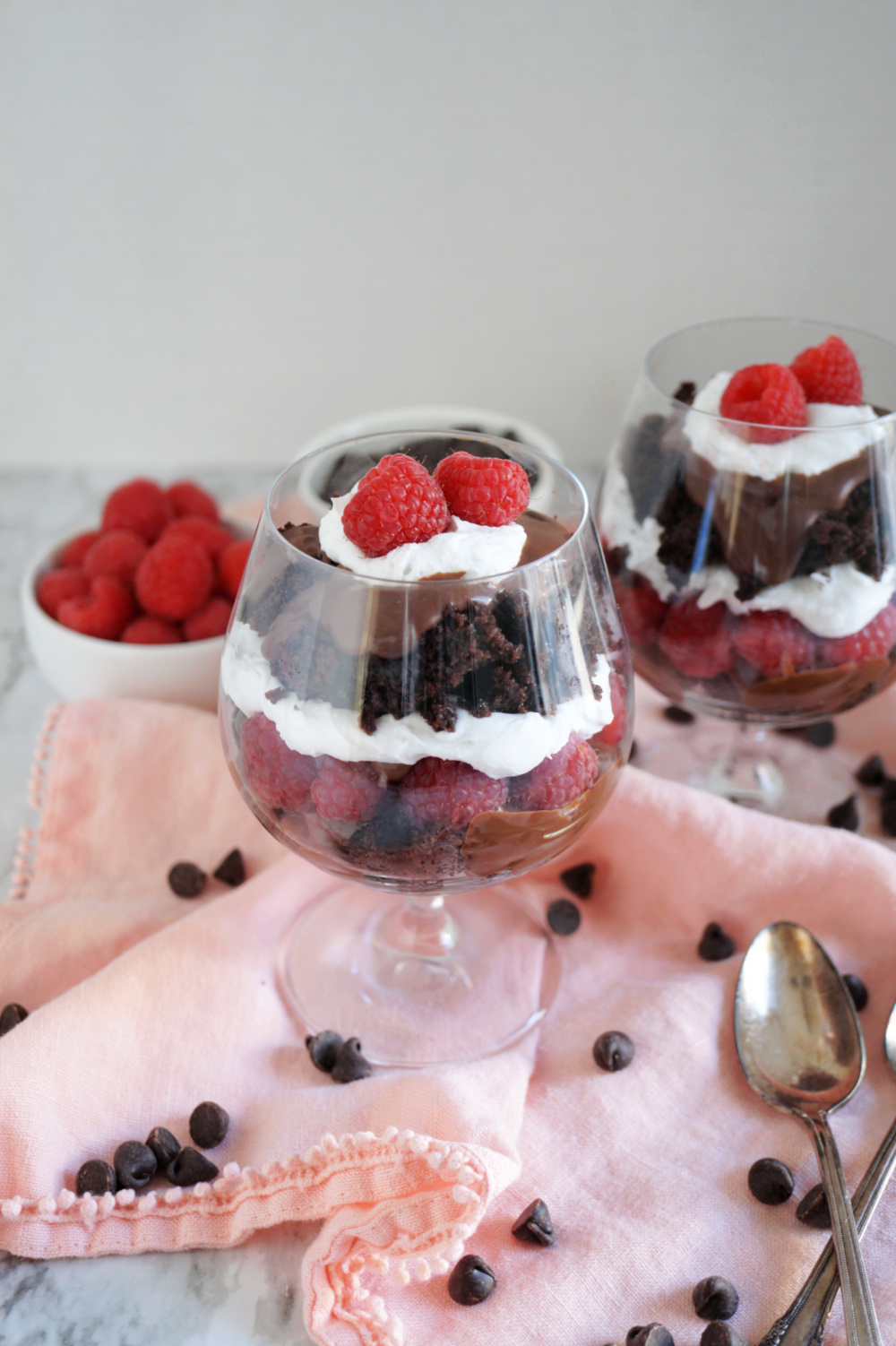 What do I need to make these raspberry chocolate cake parfaits?
Chocolate cake - the main component of these parfaits! I used my basic chocolate cake recipe for these and baked it in an 8" cake pan, then cut it into cubes. You could also make brownies instead!
Chocolate ganache - this is simple but adds so much flavor to the parfaits. You just mix up equal parts of vegan chocolate chips and nondairy milk for a silky smooth sauce. 
Coconut whipped cream - this whipped cream alternative is my absolute favorite and so delicious! I just buy a can of coconut cream at the store, chill it overnight, and then whip up the solids to make a fluffy topping. I didn't add any sugar to my whipped cream this time since the cake and ganache are already so sweet!
Fresh raspberries - the berries really help bring everything together! Fresh, juicy, and tart, they help cut through the sugar and richness of the cake and chocolate.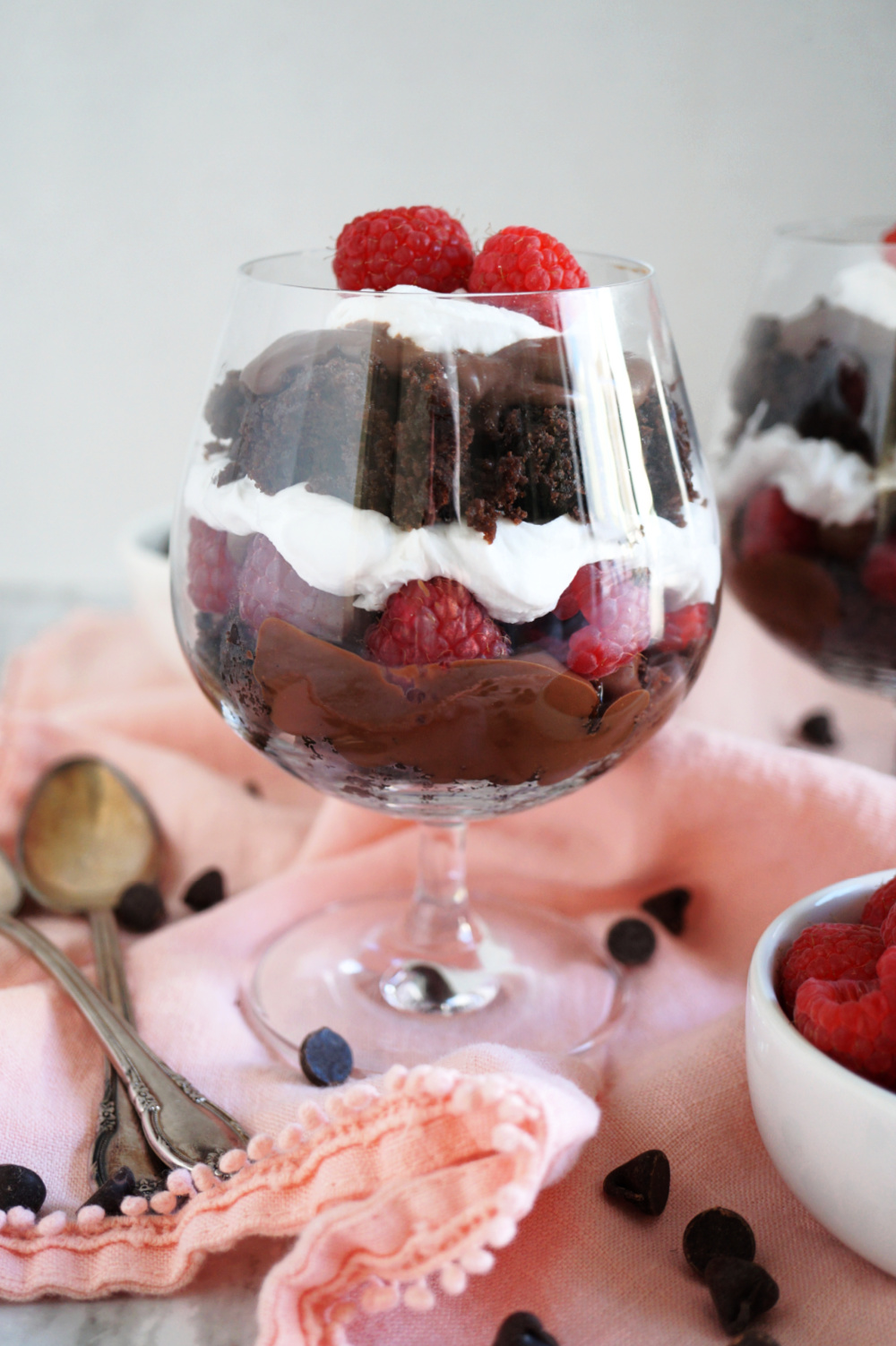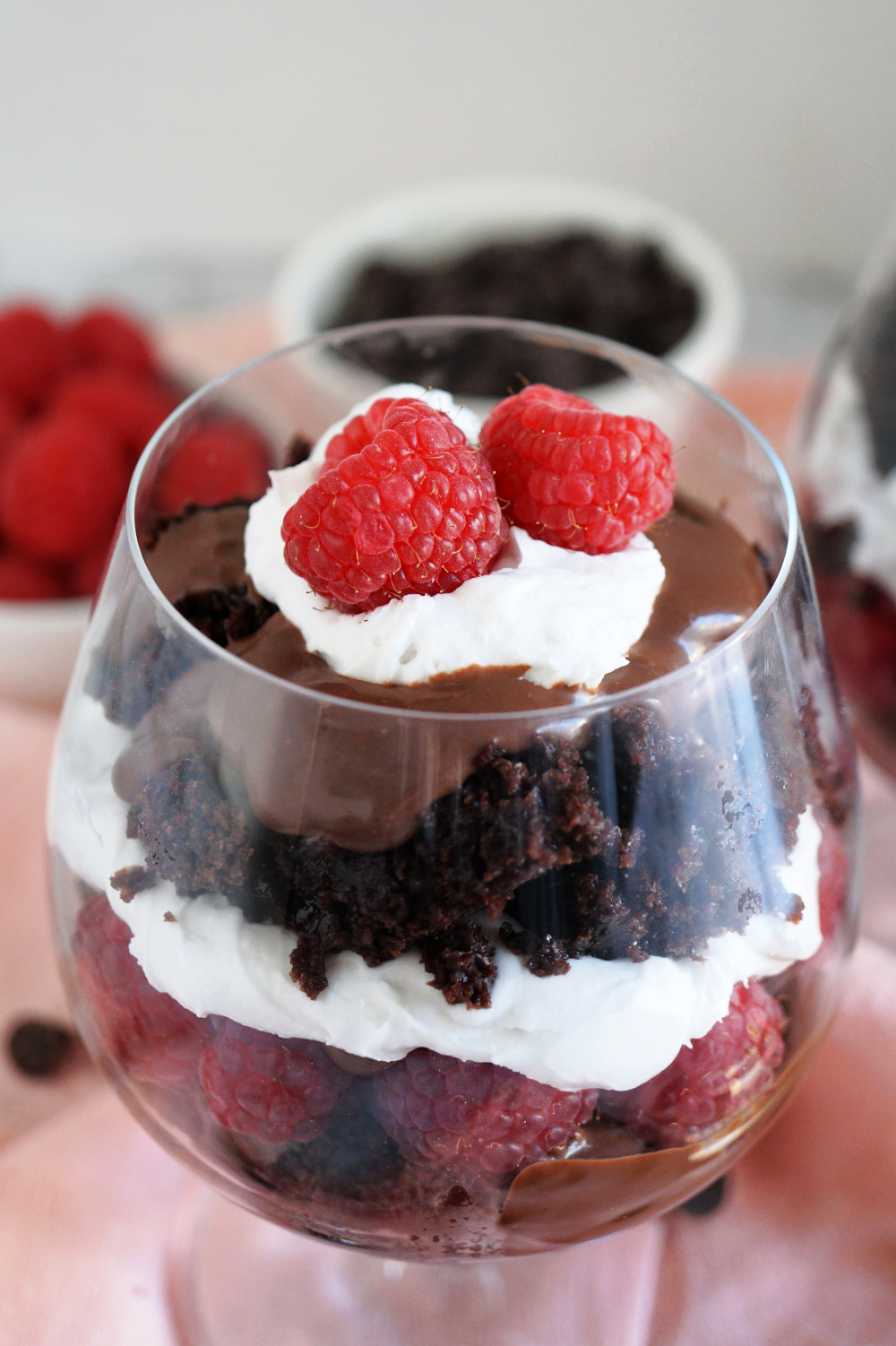 Tips for success!
Make your cake ahead of time - the chocolate cake needs to be cooled off before you can use it in these parfaits, so plan ahead! These are also a great way to use up cake scraps from other projects.
Remember to chill the coconut cream the night before - this is a MUST. The coconut cream has to chill overnight to be firm enough to whip up like heavy cream. In a pinch, you can buy frozen CocoWhip and use that instead. 
Use your favorite berries to make it your own - I love raspberries paired with chocolate, but you could also use strawberries for a chocolate-covered strawberry inspired dessert, or do a mix of berries for a delicious twist. You could even use bananas or a different fruit altogether!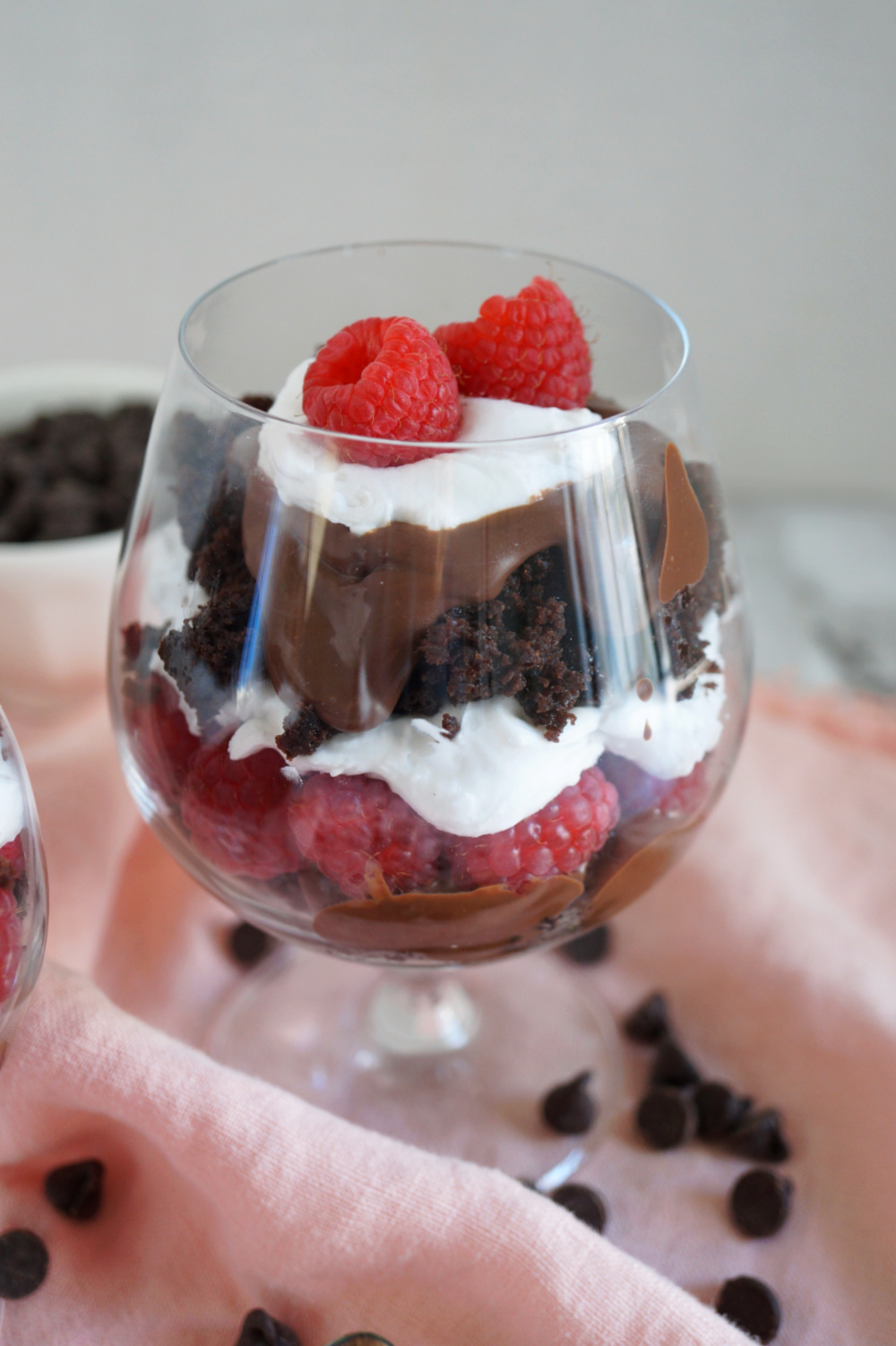 I hope you guys will give these chocolate cake raspberry parfaits a try! They are absolutely delicious! Be sure to check out JoyJolt for the gorgeous Cask Brandy Glasses that I used for these parfaits. Use my code BAKINGFAIRY15 for 15% off any non-sale items 🙂
Looking for more Valentine's Day treats?
vegan raspberry chocolate cake parfaits
These simple and delicious Vegan Raspberry Chocolate Cake Parfaits combine homemade chocolate cake with rich chocolate ganache, coconut whipped cream, and zesty fresh raspberries for a perfect combination. 
Author:
Valentina | The Baking Fairy
Ingredients
*for the chocolate cake*
1¼ cup flour
1 cup sugar
½ cup cocoa powder
1 teaspoon baking powder
½ teaspoon baking soda
¼ teaspoon salt
1 cup nondairy milk
⅓ cup vegetable oil
½ tablespoon vanilla extract
2 tablespoon white vinegar
*for the ganache*
½ cup vegan chocolate chips
½ cup nondairy milk
*to serve*
1 can coconut cream
1 pint fresh raspberries
Instructions
First, place your canned coconut cream in the fridge. Allow it to chill overnight to solidify.
Next, bake the cake. Preheat oven to 350F. Spray one 8" pan with nonstick spray or coat with vegan butter and flour.
In a large bowl, mix together the flour, sugar, cocoa powder, baking powder, baking soda, and salt. Add in the milk, oil, and vanilla extract. Finally, stir in the white vinegar.
Pour the cake batter into the pan, and bake for 30-35 minutes until a toothpick inserted in the center comes out clean. Remove cake from pan & allow to cool completely.
When ready to assemble, make the coconut whipped cream. Carefully open your chilled can of coconut cream, and scoop the coconut solids into a medium bowl. Leave any coconut water behind. Use a hand mixer to beat the coconut solids until fluffy and whipped like whipped cream. You can add some powdered sugar if desired - I didn't since the other components of the parfaits are so sweet!
Next, make the ganache. Combine the chocolate and nondairy milk in a microwave safe bowl, and heat in 30 second intervals until smooth and creamy.
Finally, it is time to assemble. Once the cake has cooled, cut it into small cubes. Place some cubes of cake in the bottom of a glass, top with some spoonfuls of ganache, fresh raspberries, and whipped coconut cream. Repeat once again to finish your parfait. Repeat up to 4 times to make four parfaits.
Serve immediately, or store in the refrigerator until ready to eat!
*Disclosure: I am part of the Amazon Associates Program, and there may be affiliate links on this page. If you buy anything through my website, I will receive a small percentage of the profit at no extra cost to you. Thank you for supporting my blog!*