This Vegan Coconut Banoffee Pie is super simple to make and delicious! A graham cracker crust is stuffed with homemade coconut toffee sauce, fresh bananas, whipped coconut cream, and toasted coconut shavings on top.
Hi friends and happy Wednesday! I am trying to really load up on the recipes this week since next week is already Christmas! WAH. Where does the time even go?! Today I have this incredible Vegan Coconut Banoffee Pie and while it may not be especially Christmas-y, it is dang delicious. I promise this is worth making any time of year! It's also super simple! You just make an easy graham cracker crust and whip up a coconut caramel sauce, then top it with sliced bananas and whipped coconut cream. Sprinkle on some toasted coconut shavings for good measure and my friend, you are all done.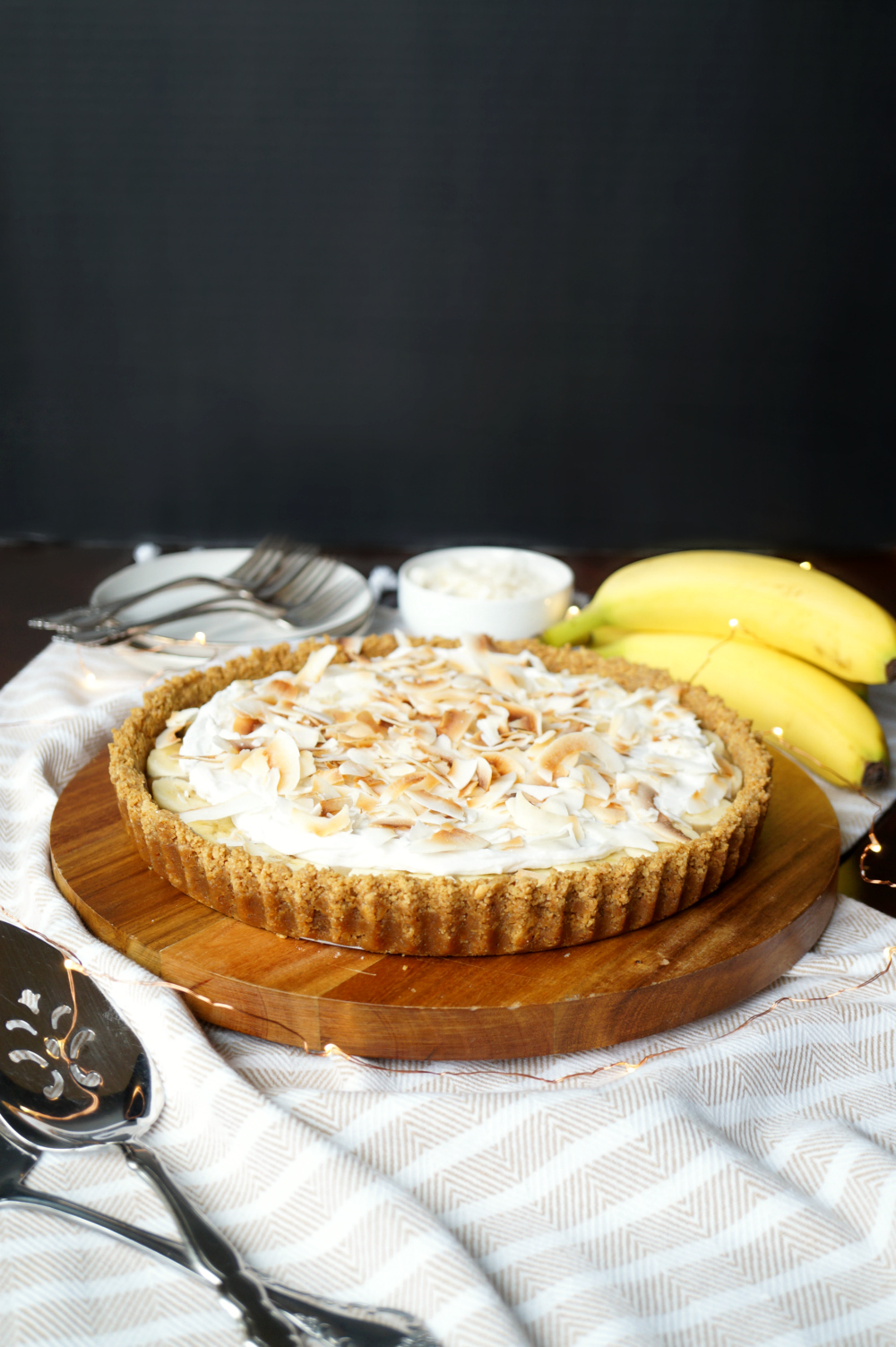 I have to confess that since I finished up school the other weekend, I have been watching a lot more tv shows than normal. And for me, the tv shows are usually cooking shows! I am getting through the latest season of British Baking Show on Netflix and I just love it so much. I watched the vegan week episode last night and it was so fun! They made the most gorgeous vegan pavlovas so... you know who else will be baking one soon ? My other recent obsession has been the Holiday Baking Championship on Food Network, and what do you know... of course they had a pie episode. And someone made a coconut banoffee pie, which then inspired ME to make one too!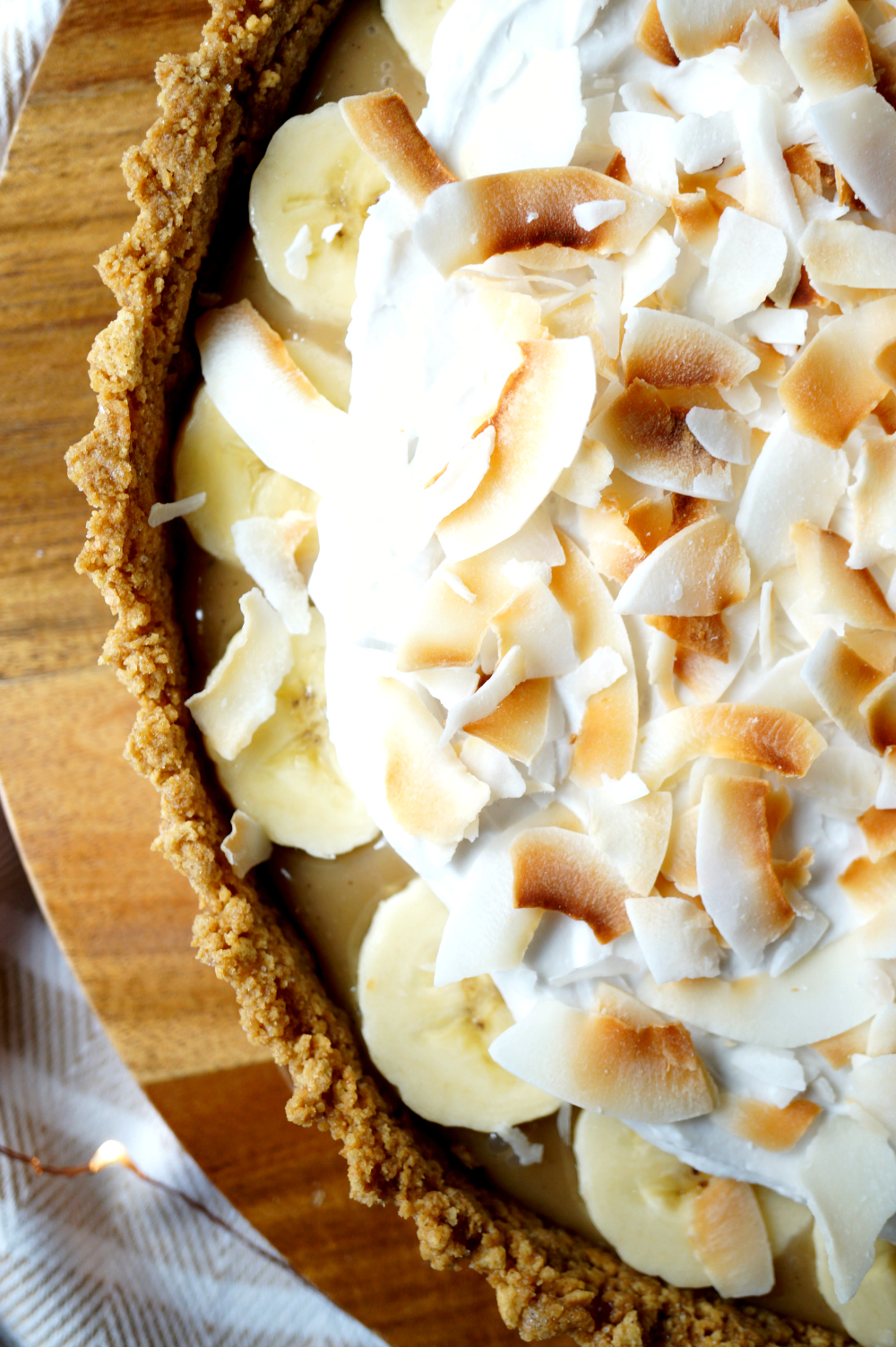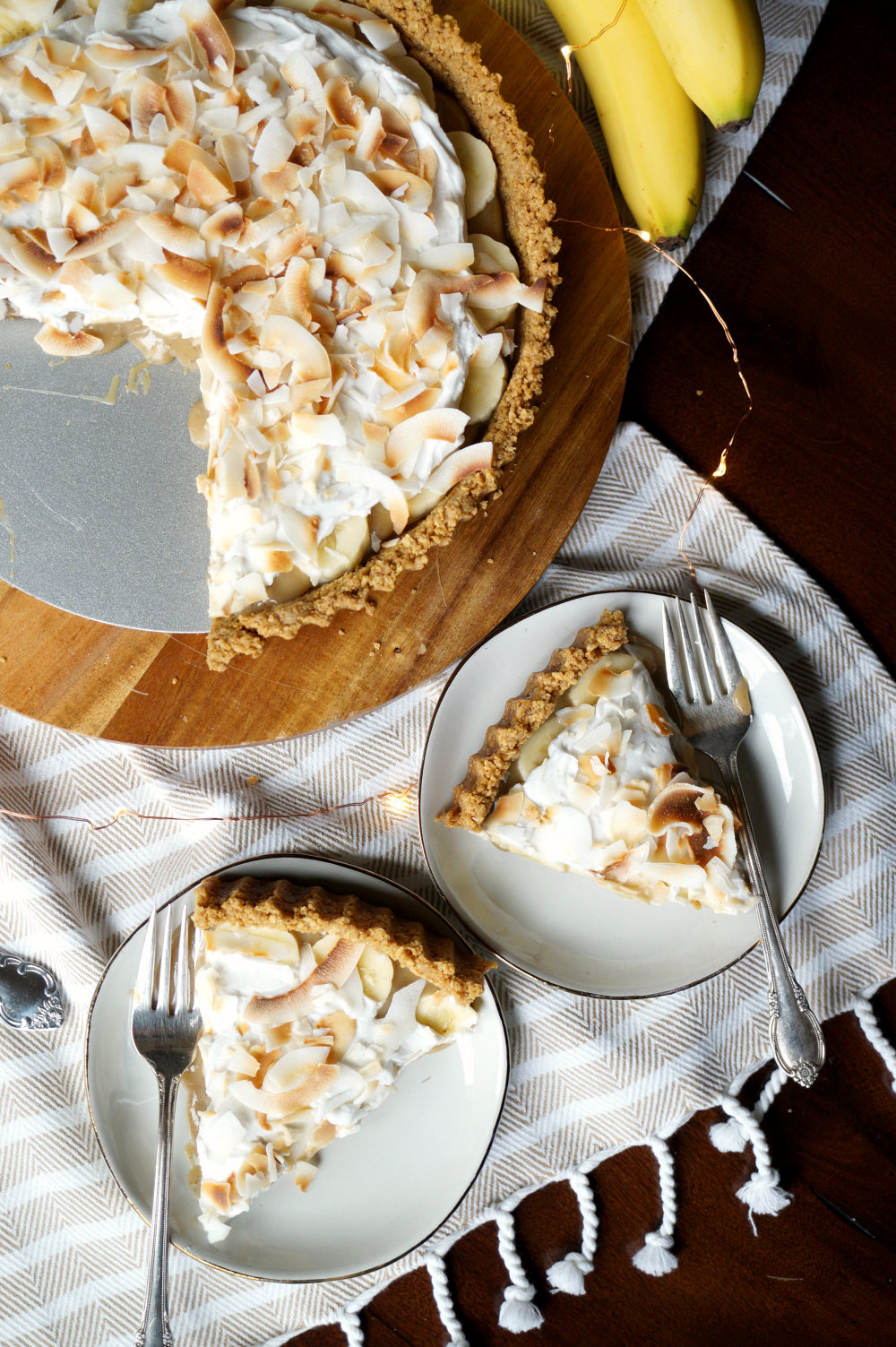 I've known about this classic British dessert for ever, but I've never had the pleasure of making (or eating) a banoffee pie. Like I said earlier, it is criminally easy and I know I'll be making it again soon. My family ate the whole thing in literally 24 hrs. It may be a new record! ? There's just something about the combination of creamy toffee sauce, fresh bananas, and fluffy coconut cream that is super addicting. It does also have the bonus of being a cool pie which makes it a little more light and less cloying than the usual fruit pie.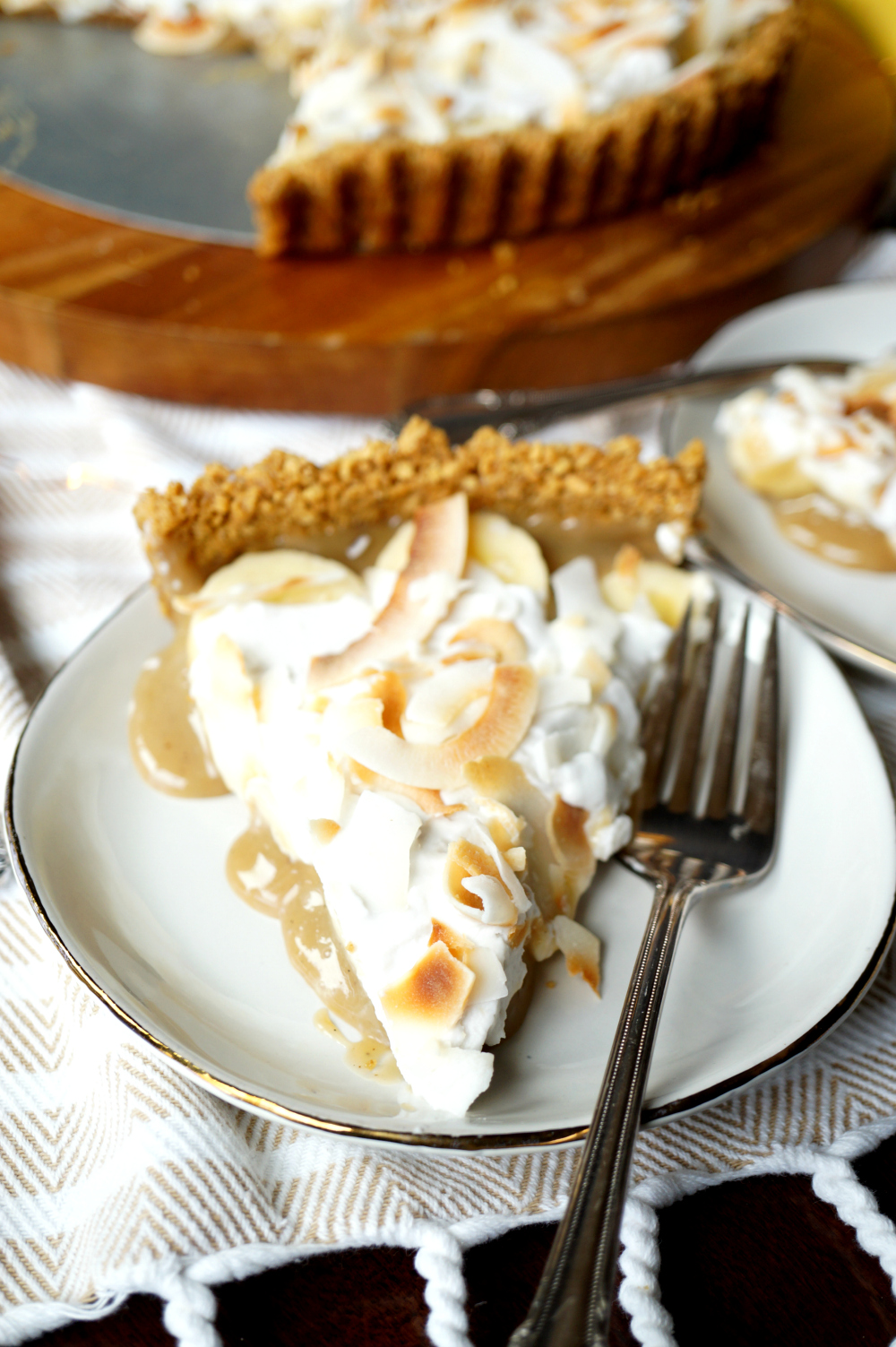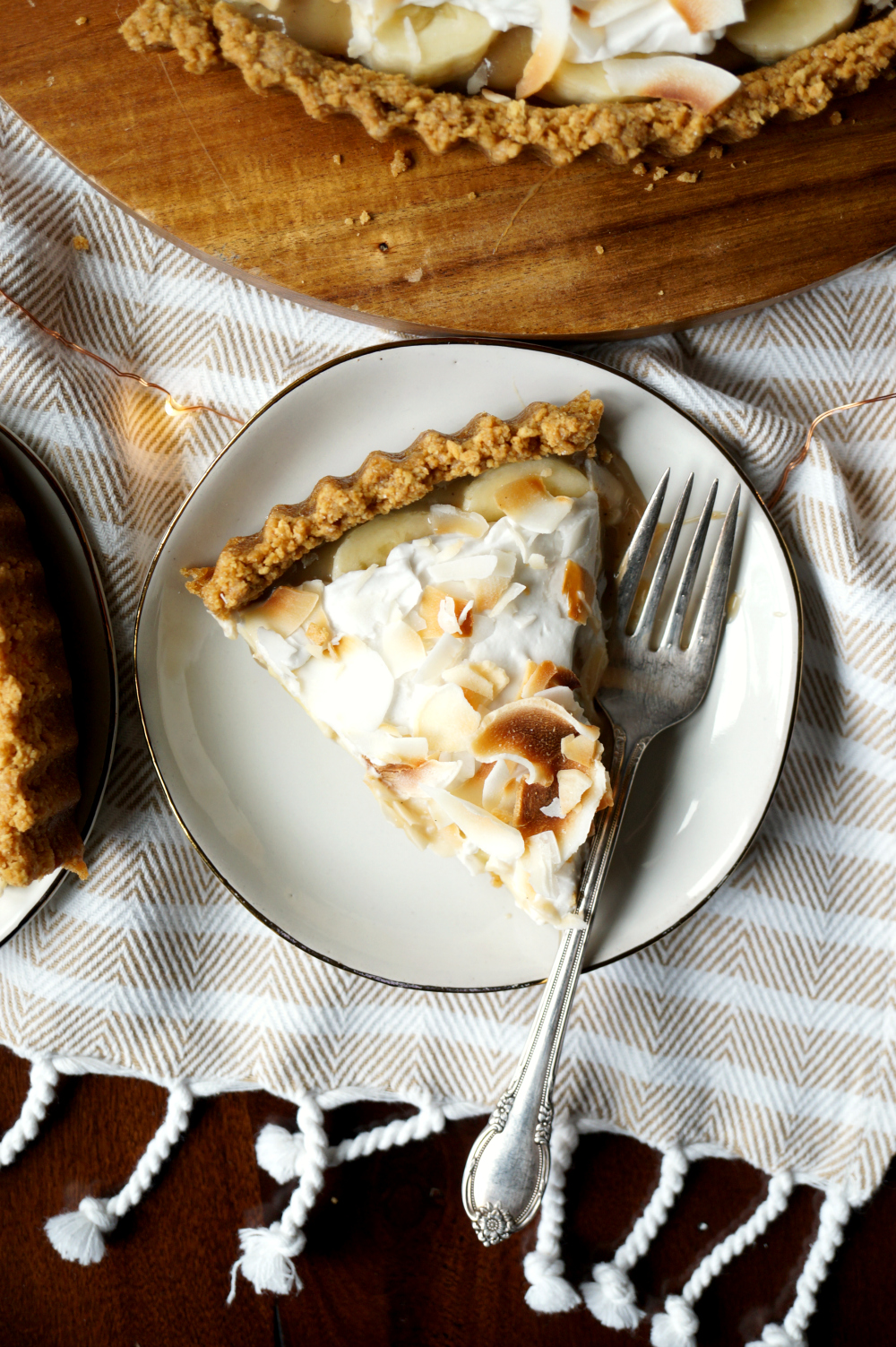 I hope you guys will make this vegan coconut banoffee soon! It is honestly LIFE-CHANGINGLY GOOD. If you want to take an extra shortcut and save yourself some work, you can definitely use a store-bought graham cracker crust. Just double-check the ingredients, but most are accidentally vegan! My other comment is if you don't want to play up the coconut, sub the coconut pieces on top for some shaved chocolate! I know both the caramel and the whip on top are made of coconut, but it's really not very strong. The banana is definitely the main player here 🙂 Happy baking!

Looking for more vegan-friendly pie? Check out my Vegan S'Mores Pie, Cranberry Pear Pie, Blueberry Peach Streusel Pie, Vegan Mini Chocolate Chai Pies, and my Vegan Caramel Apple Galette!
vegan coconut banoffee pie
This Vegan Coconut Banoffee Pie is super simple to make and delicious! A graham cracker crust is stuffed with homemade coconut toffee sauce, fresh bananas, whipped coconut cream, and toasted coconut shavings on top.
Author:
Valentina | The Baking Fairy
Recipe type:
Pies & Tarts
Ingredients
*for the crust*
6 tablespoon vegan butter or shortening
⅓ cup light brown sugar
12 full sheets of plain graham crackers (about 1¾ cups)
*for the toffee sauce*
1 13.5oz can full-fat coconut milk
⅓ cup granulated white sugar
⅓ cup light brown sugar
2 teaspoon vanilla paste (or extract)
*for topping*
2 medium ripe bananas, sliced
1 can coconut cream, chilled overnight
2-3 tablespoon powdered sugar
1 teaspoon vanilla extract
½ cup coconut shavings, toasted
Instructions
First things first, place the can of coconut cream in the fridge overnight. Be sure to buy the CREAM and do not shake or jostle the can at any point.
Next, prepare the crust. Preheat oven to 350F.
In a food processor, pulse the graham crackers until they are fine crumbs. Combine in a medium bowl with the brown sugar and melted vegan butter.
Grab an 11" fluted tart pan (or a deep-dish pie pan) and pour in the graham cracker mixture. Press the crust all over the bottom and up the sides using a glass or measuring cup.
Bake in preheated oven for 7-8 minutes, until it's golden brown and smells toasty. Cool to room temperature, then refrigerate until needed.
To make the toffee sauce, combine the coconut milk, sugars, and vanilla in a small nonstick pot.
Heat over medium until mixture comes to a boil, then lower to a simmer and cook, stirring occasionally, until mixture is reduced by about ⅔ and appears thick and caramel-y. This will take 30-45 minutes. Remember that it will thicken a little more as it cools.
Let toffee cool to room temperature, then pour into prepared pie crust. You can stop here until you are ready to serve, and place the crust with toffee in the fridge until needed.
When ready to serve the pie, top the entire surface with banana slices.
Make the coconut whipped cream by carefully opening the chilled can, and spooning the solid portion into a medium bowl. Whip using a hand or stand mixer until light and fluffy. Add in the powered sugar and vanilla extract.
Spoon the coconut whip on top of the prepared pie, and top with coconut shavings.
To toast the coconut shavings, arrange in a single layer on baking sheet, and place under broiler for 1-2 minutes until golden brown. Let cool before sprinkling on top of whipped cream.
Enjoy chilled and refrigerate leftovers!
*Disclosure: I am part of the Amazon Associates Program, and there may be affiliate links on this page. If you buy anything through my website, I will receive a small percentage of the profit at no extra cost to you. Thank you for supporting my blog!*