This Vegan Carrot Cake Banana Bread combines the delicious spiced flavors of carrot cake in one easy-to-make, veggie-packed loaf!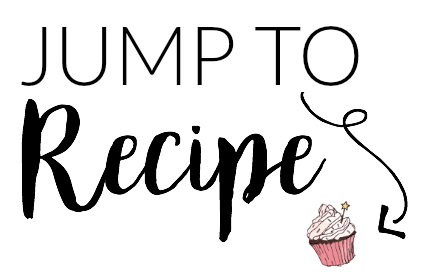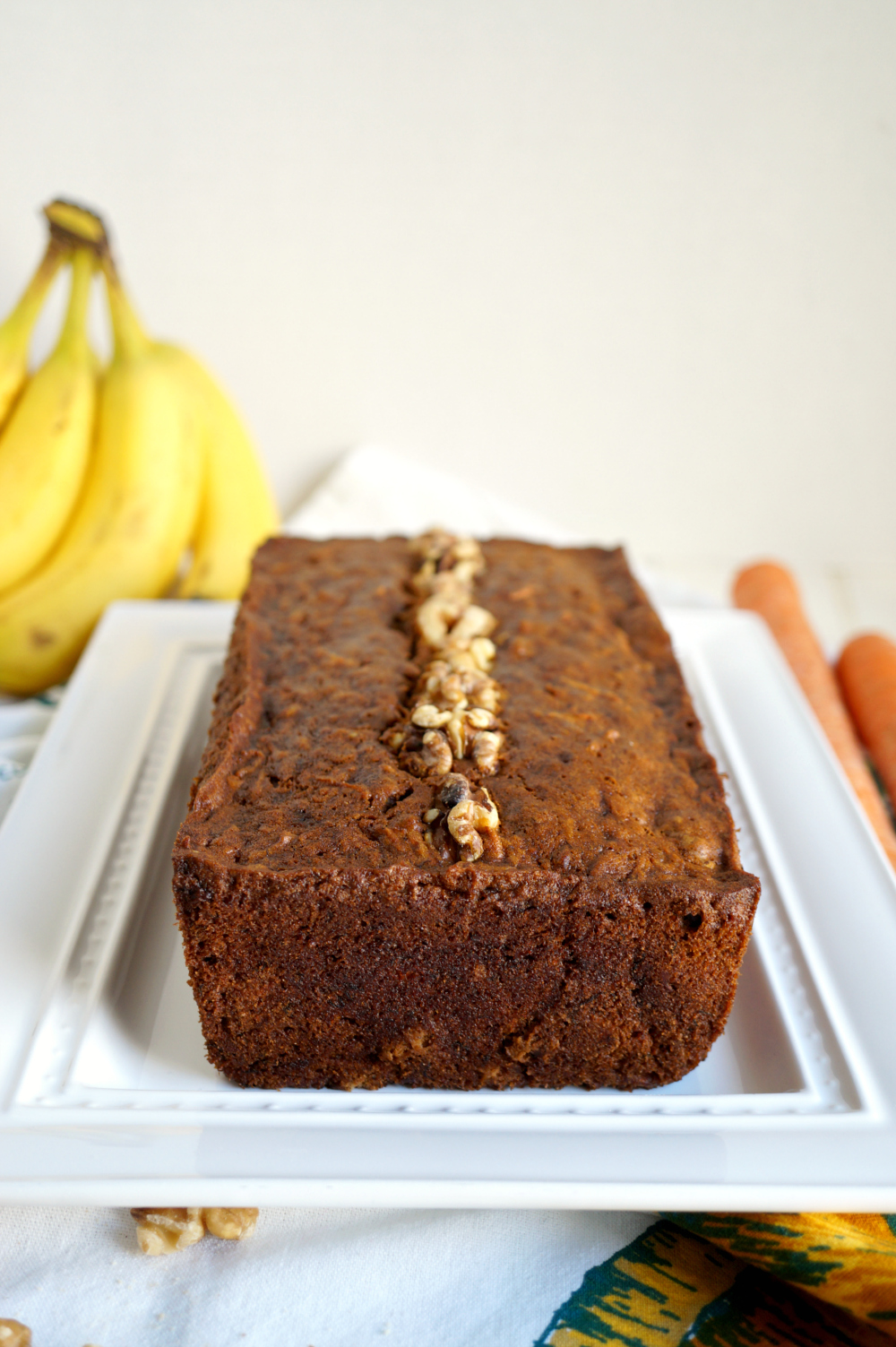 Hi guys! I can't believe it's already Easter this Sunday! I definitely didn't plan very well this year since I don't have any super-themed recipes. I did participate in #EasterBrunchWeek last week but I mean... I'd eat those brunch recipes all year round! 🙂 The closest thing I have to an Easter recipe is this Vegan Carrot Cake Banana Bread, packed with sweet bananas, shredded carrots, walnuts, and a whole lot of cinnamony goodness. I'm seriously obsessed with how yummy this is!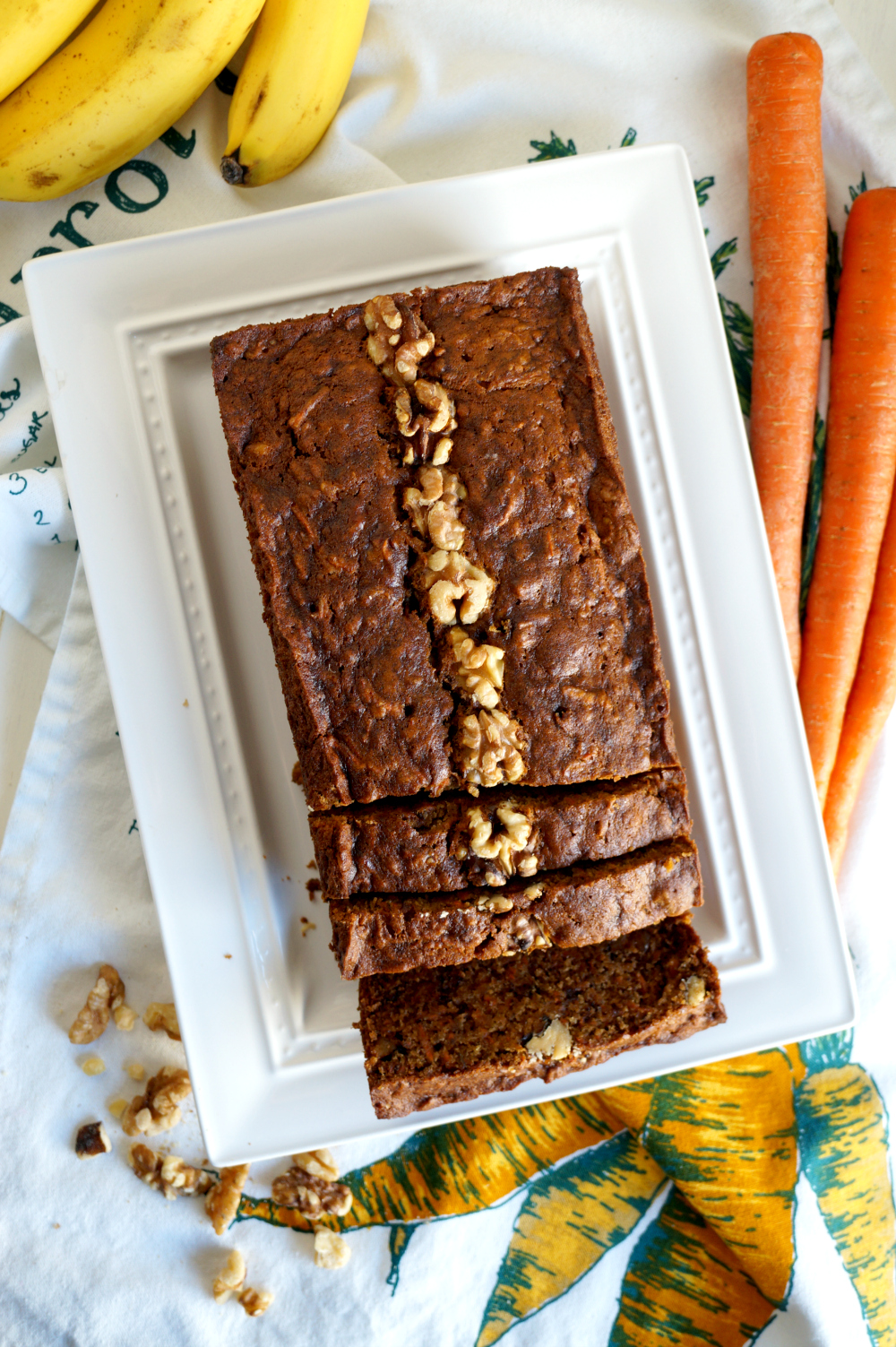 You guys seem to LOVE any banana bread recipe I post, from my tried & true vegan banana bread, to this blueberry & chocolate version, to this fun Hummingbird variety. Once I got the inspiration for a carrot cake banana bread, I just knew I had to at least try! My first attempt - not my best. I was going for a CARROT BREAD (no bananas), and while the flavor was delicious, it was just SO mushy. It never properly solidified. Womp womp. The original recipe I had based it off of had eggs, and for the first trial I subbed them with flaxseed. It didn't work but, you know what's another great substitute for eggs? BANANAS. Bingo! They were just what this loaf needed to work!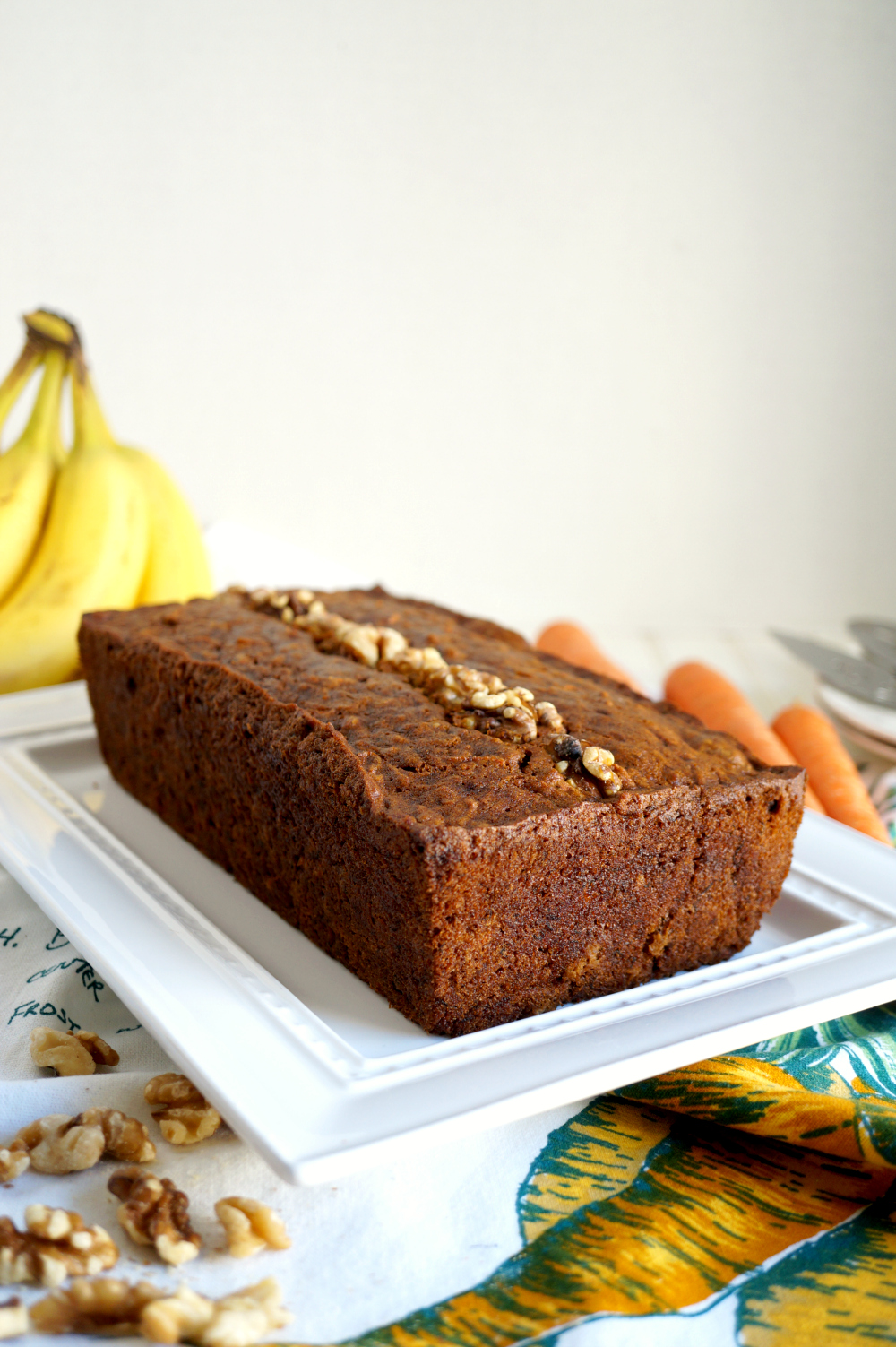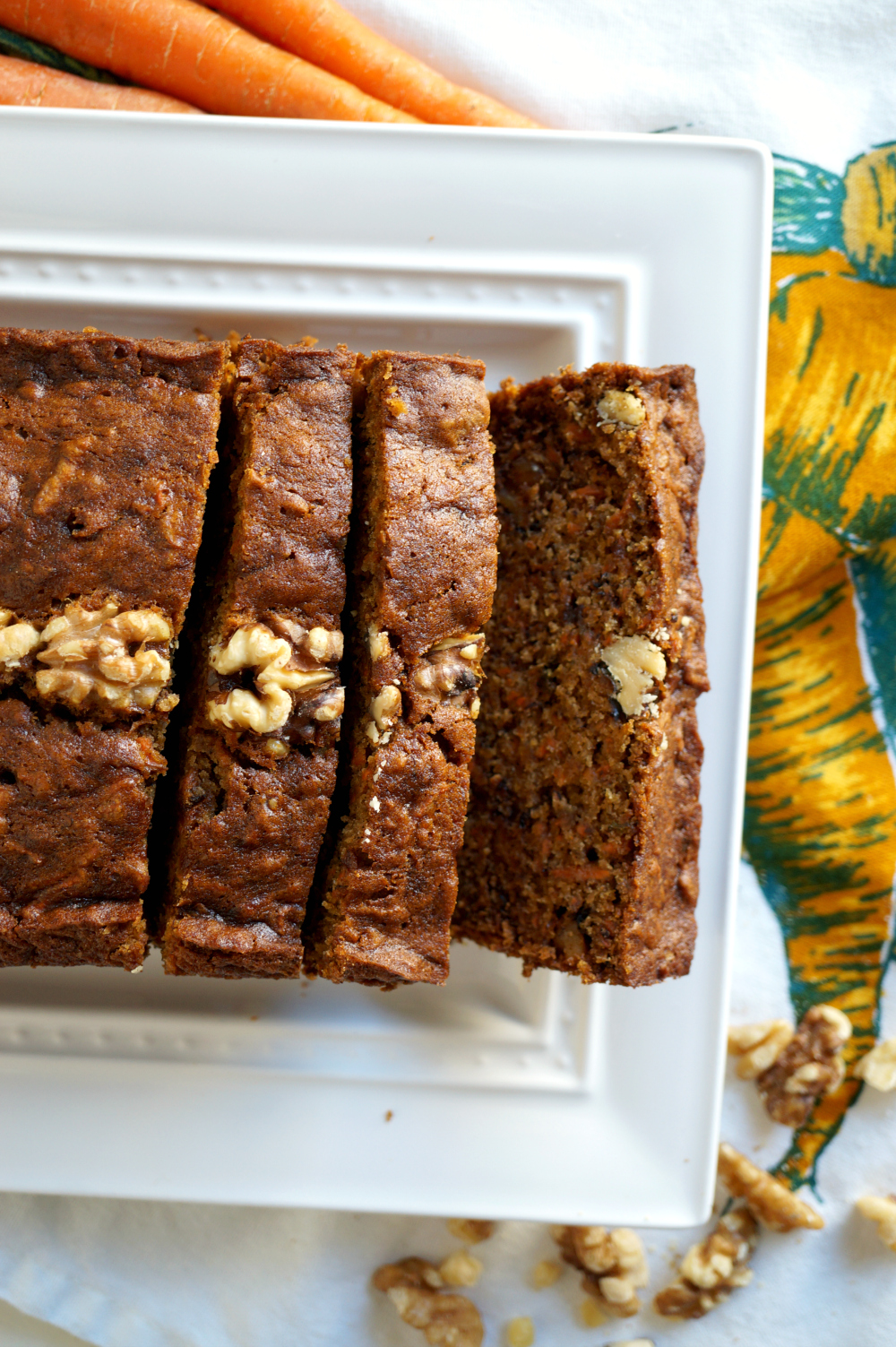 The final product is this wonderful loaf - super soft and moist, not to sweet, and with a warm hit of cinnamon that works so perfectly. I didn't make any frosting for this carrot cake banana bread, but if you want some, I'd recommend my vegan cream cheese frosting! Or in a pinch - just slather some vegan cream cheese on a slice like I did ???? It's kind of the best thing ever!! Hope you guys will give this Easter-y banana bread a try, it really is so delicious!


Looking for more carrot cake goodness?
vegan carrot cake banana bread
This Vegan Carrot Cake Banana Bread combines the delicious spiced flavors of carrot cake in one easy-to-make, veggie-packed loaf!
Author:
Valentina | The Baking Fairy
Recipe type:
Breads & Loaf Cakes
Ingredients
3 medium carrots, shredded (about 2 cups)
2 medium ripe bananas
½ cup dark brown sugar
½ cup granulated white sugar
½ cup vegan butter
1½ cups all-purpose flour
1½ teaspoon baking powder
½ teaspoon salt
1 teaspoon vanilla extract
1 teaspoon cinnamon
½ cup toasted walnuts
Instructions
Preheat oven to 400F, and grease & flour a 9x5 loaf pan.
In a medium bowl, beat together the vegan butter, white sugar, and brown sugar until fluffy.
Add in the mashed bananas and shredded carrots, followed by all the dry ingredients.
Finally, fold in the walnuts. You can save some to decorate the top!
Pour the batter into the prepared pan, and place some walnuts on top if desired.
Bake carrot cake banana bread for 10 minutes at 400F, then lower oven to 350F and bake for 30 minutes. Then, cover the loaf with foil and bake for 20-25 minutes more. A toothpick inserted in the center should come out with just a few crumbs.
Serve warm with vegan cream cheese!
*Disclosure: I am part of the Amazon Associates Program, and there may be affiliate links on this page. If you buy anything through my website, I will receive a small percentage of the profit at no extra cost to you. Thank you for supporting my blog!*