This post is sponsored in conjunction with #EasterBrunchWeek. I received product samples from sponsor companies to help in the creation of the #EasterBrunchWeek recipes. All opinions are mine alone. #ad #EasterBrunchRecipes #NordicWare
These rich Vegan Chocolate Coconut Waffles are packed with chocolate chips and coconut milk, coconut oil, and coconut flakes for a delicious tropical twist!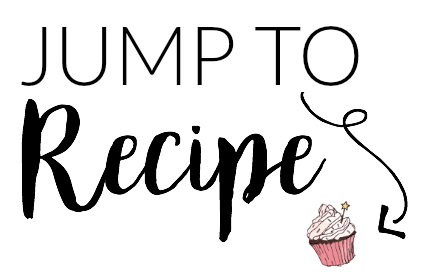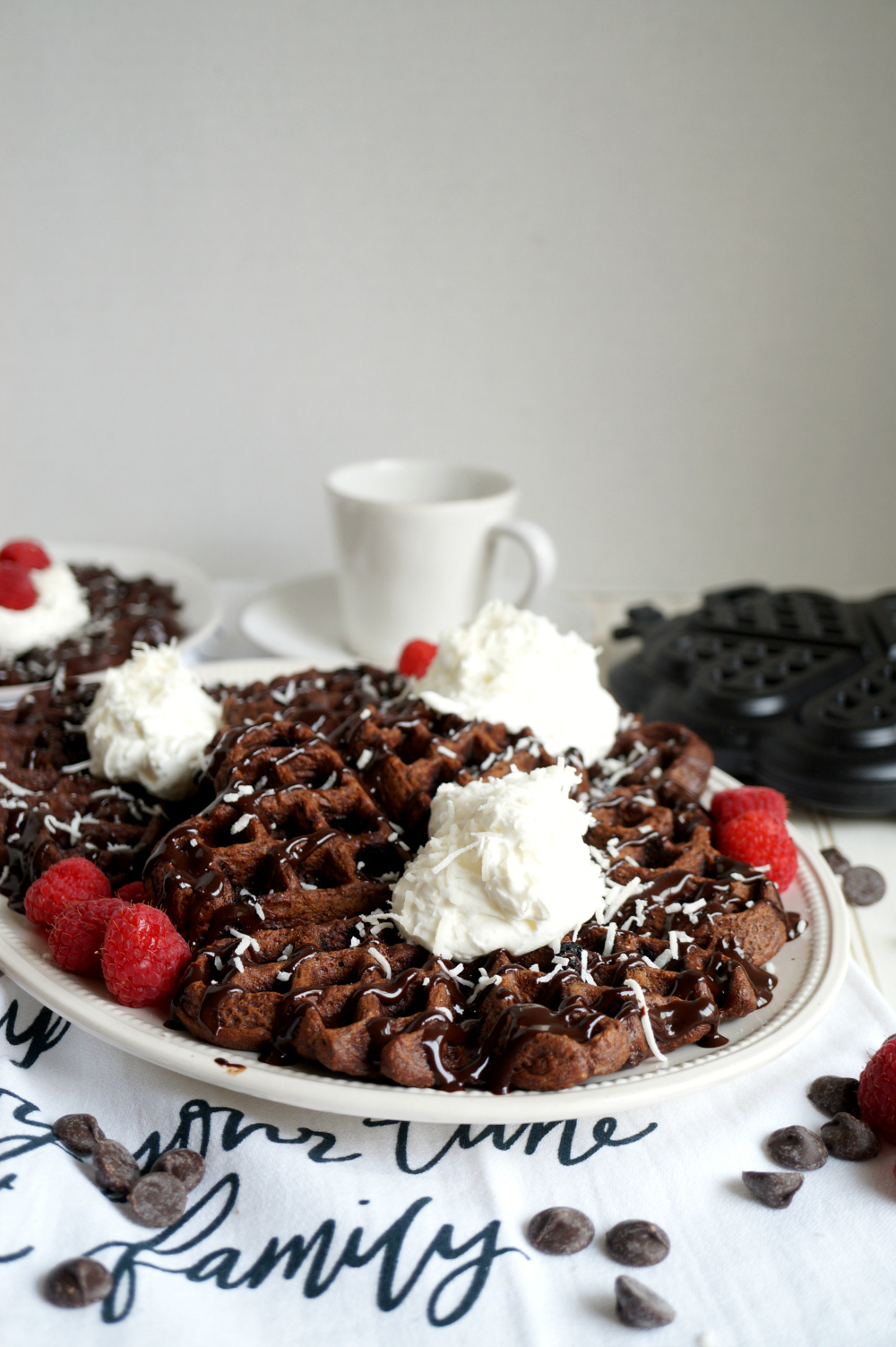 Hey hey!! Can you guys believe today is the last day of #EasterBrunchWeek? At least for me... the GIVEAWAY continues for a few more days, so be sure to enter if you haven't already! Get all the deets at the bottom of this post if you've been out of the loop???????? And now, time for the last recipe! These Vegan Chocolate Coconut Waffles are made with cocoa powder, coconut milk, shredded coconut, and coconut extract for the most coconutty goodness I could pack in one bite. Oh, and topped with coconut whip, too! They're so cute because they're cooked in the most adorable Sweetheart Waffler by NordicWare. Let's go make them!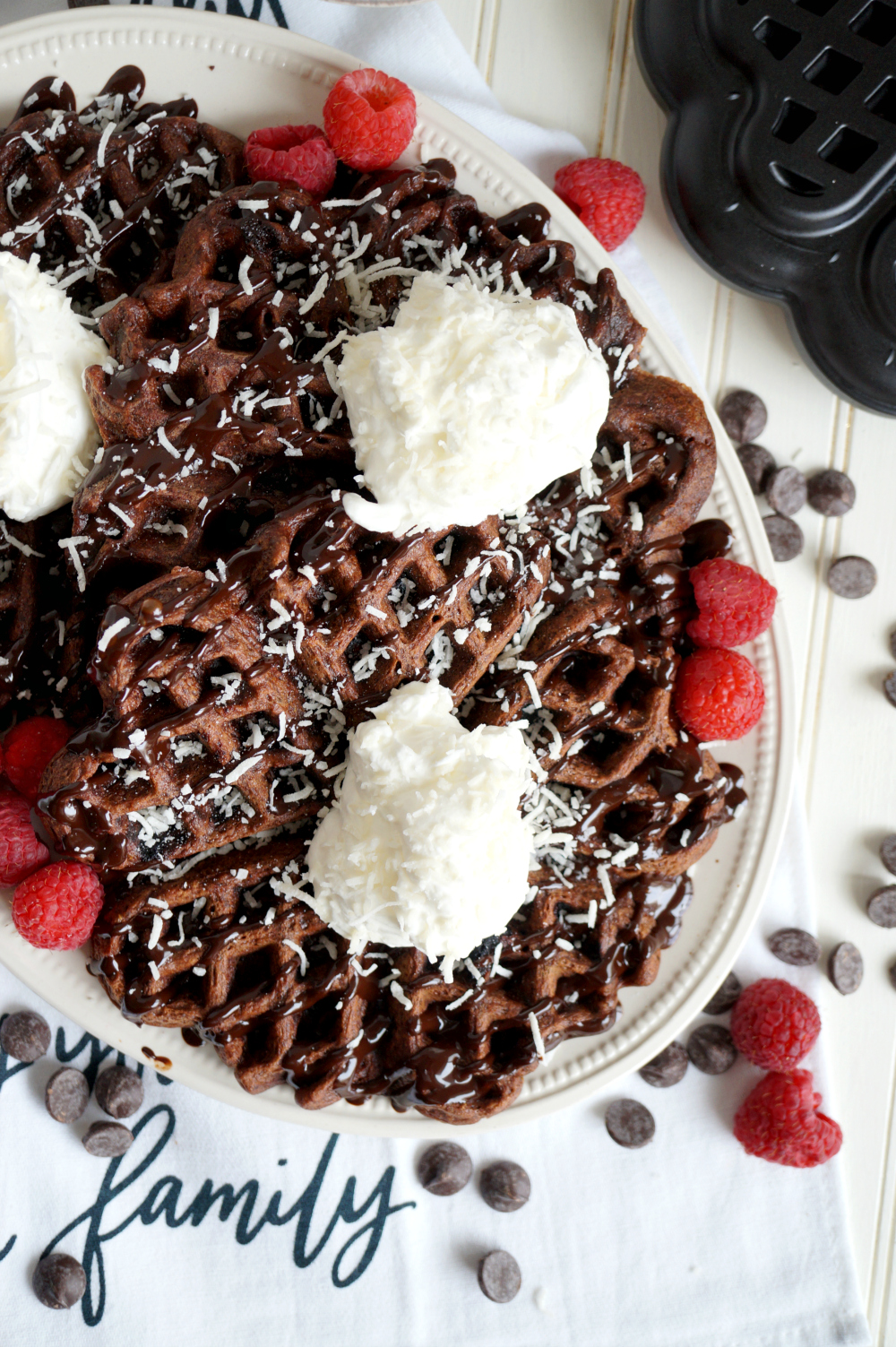 If you've always wanted a waffle maker but thought those electrical ones were too bulky and took up too much space, NordicWare created the perfect solution. This cute lil waffler is used on the stovetop! So when you're not using it, it takes up about as much space as a little frypan. It's great for those of us with little apartment kitchens!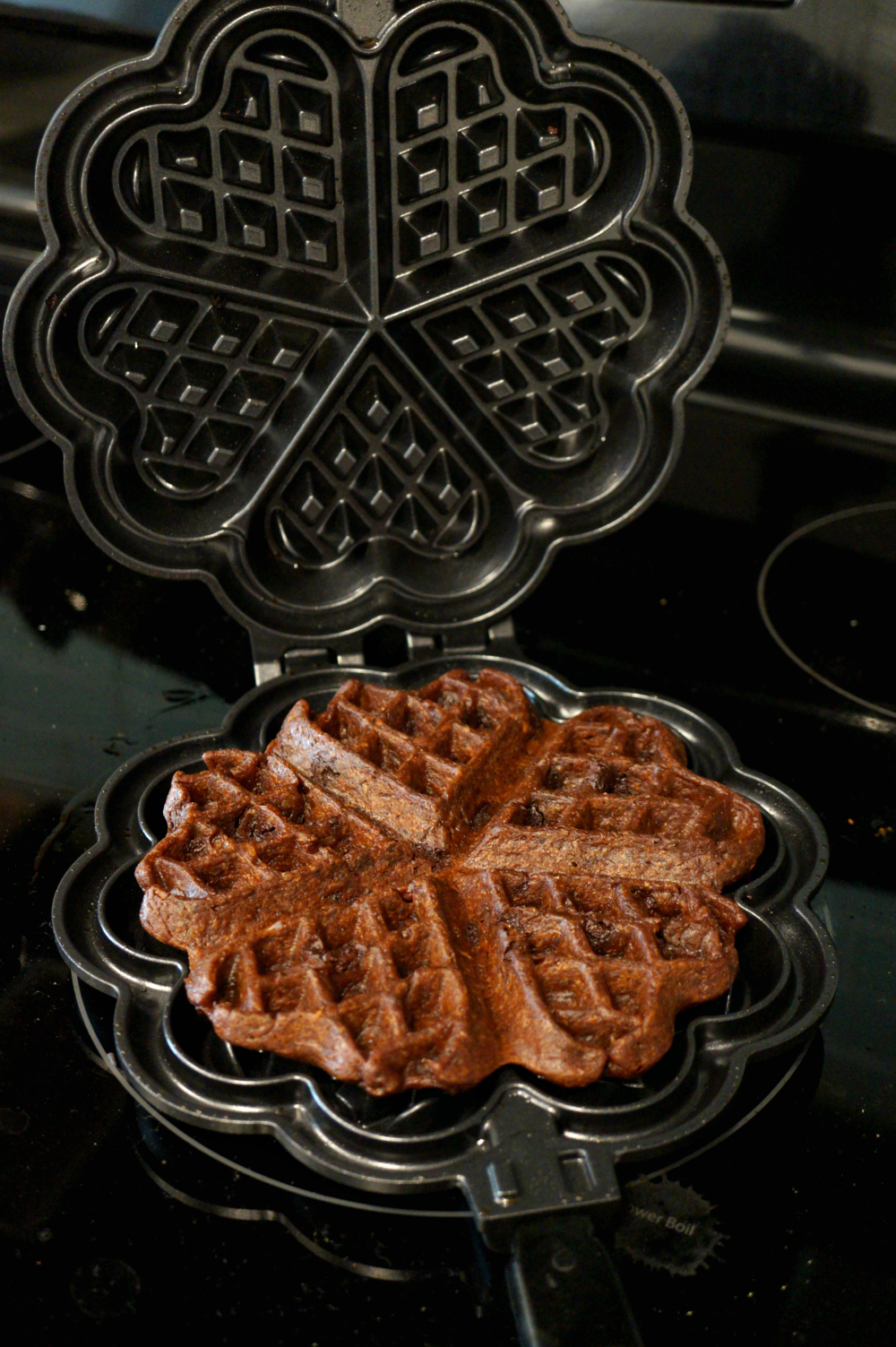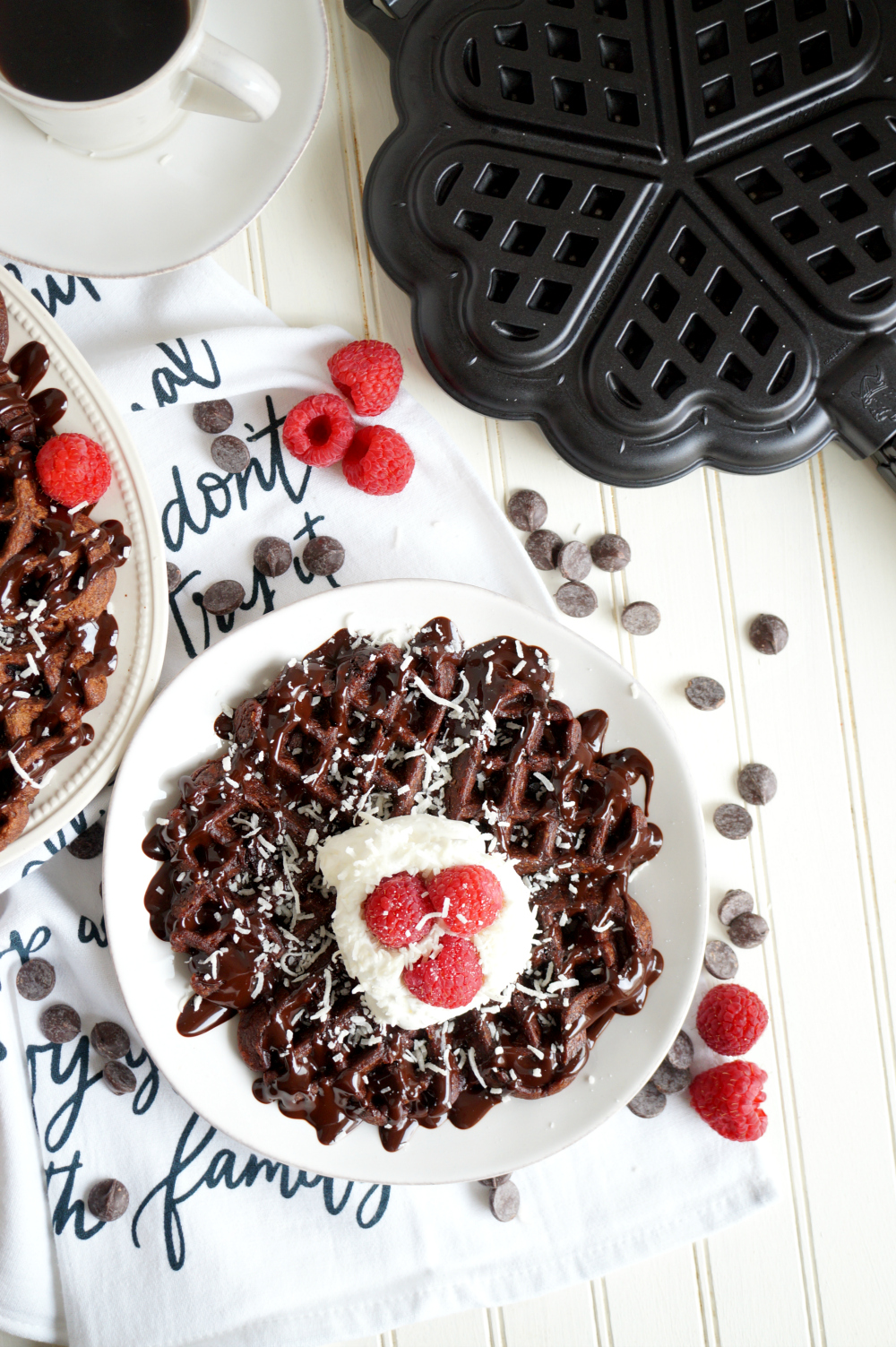 I am obsessed with NordicWare and as y'all know, I have a bit of a penchant for bundt cakes. I have a firm rule that all my bundt pans HAVE TO BE NordicWare! Their quality just can't be beat and I can 100% trust that my bundt will come out perfectly. And, not naming names, BUT... I used to work at a bundt bakery and all their pans were NW so I mean, I have good reason to trust them. 😉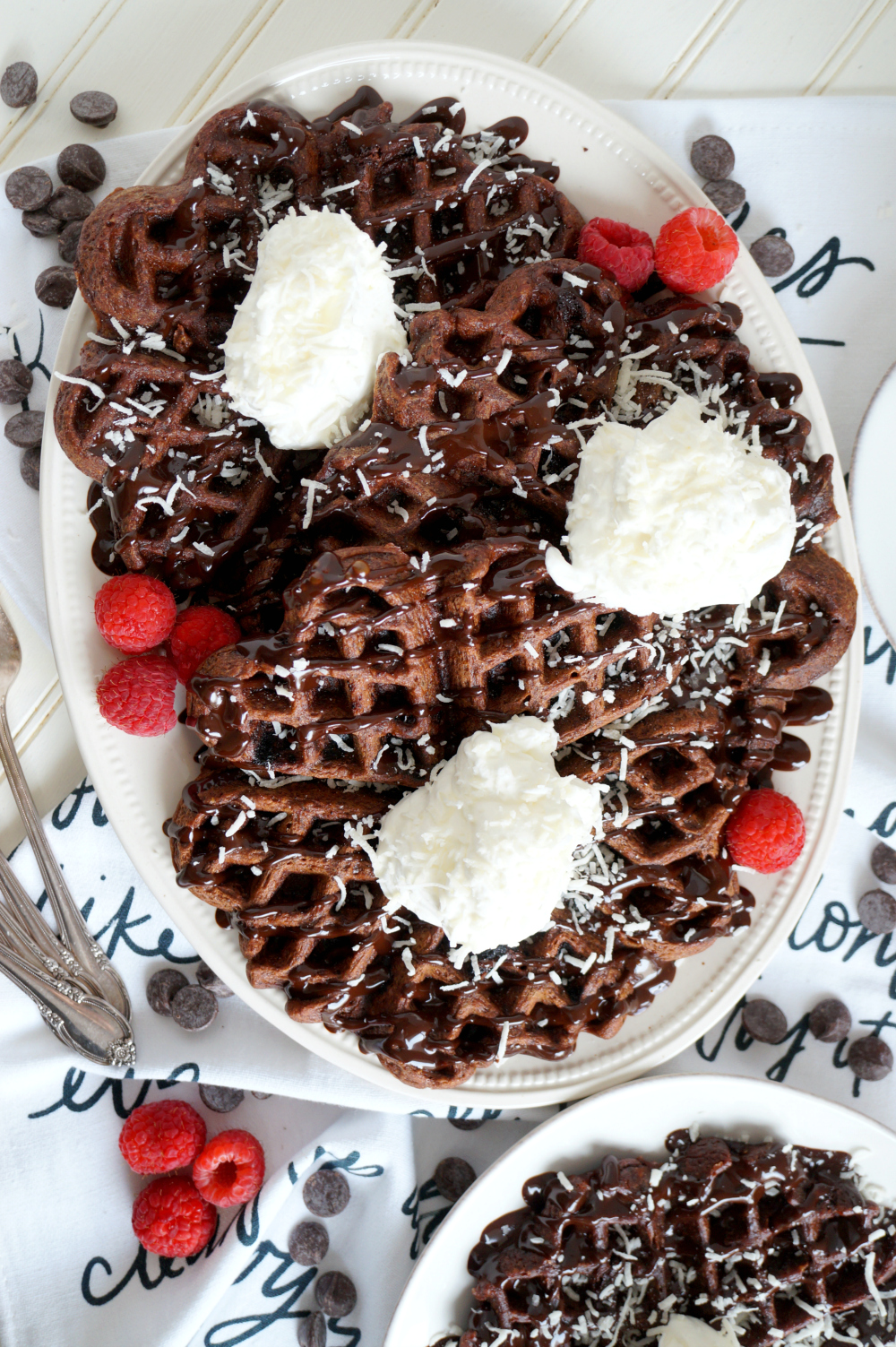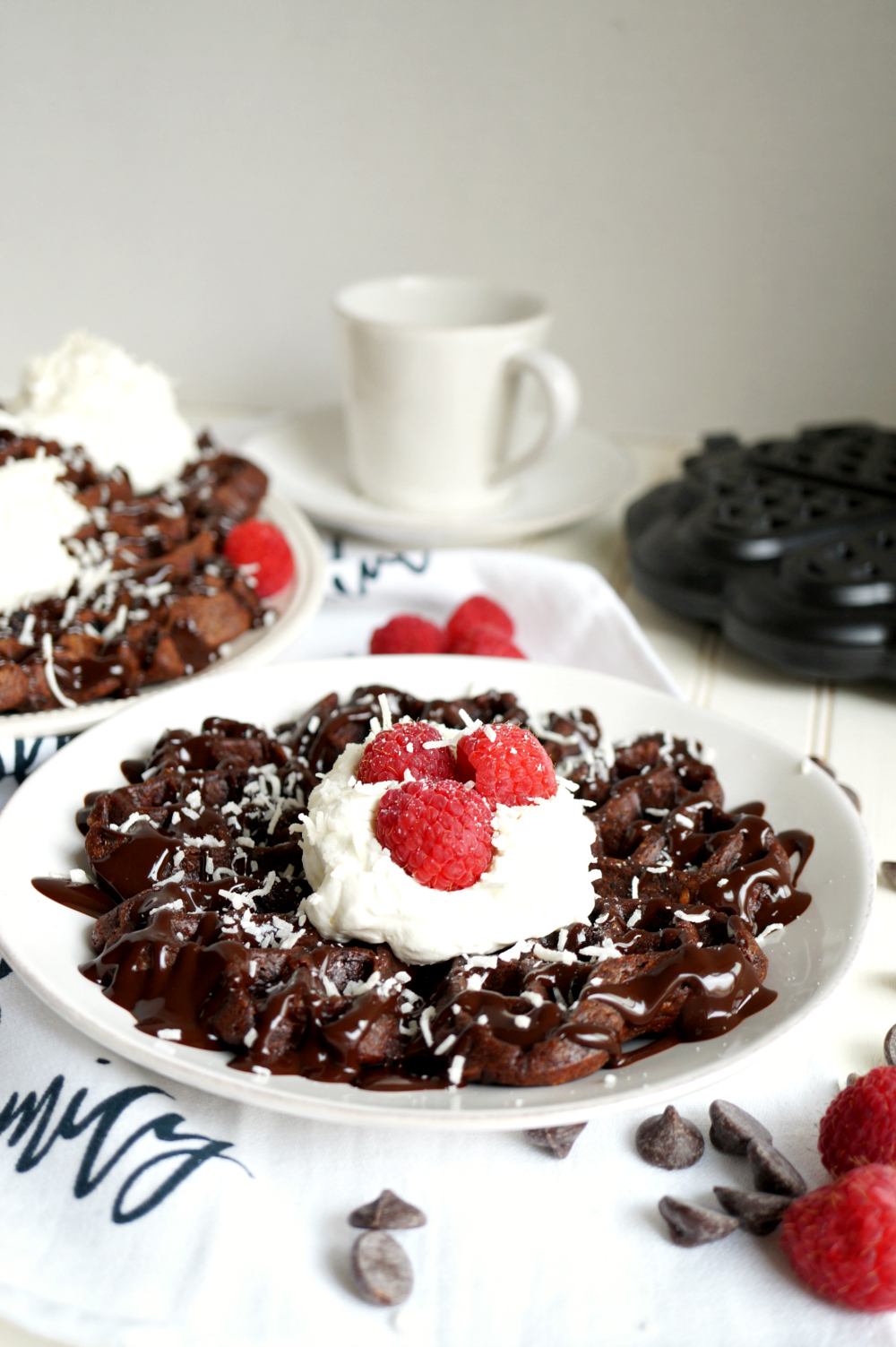 In case you haven't been keeping up with this week's treats, here is a recap for you!
Plans for #EasterBrunchWeek: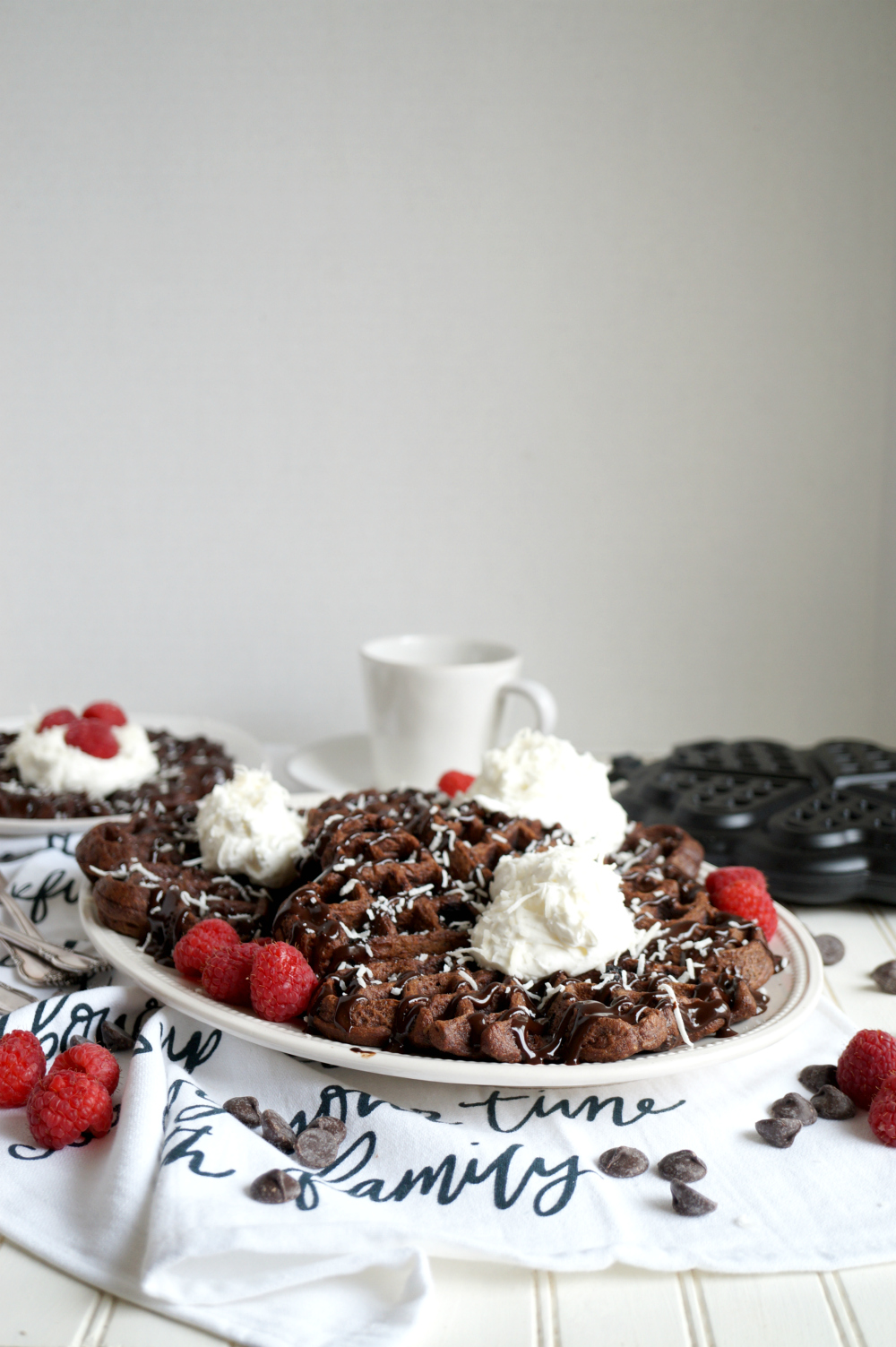 I hope you guys have had fun this #EasterBrunchWeek! I know I have! I hope some of these delicious treats will make an appearance on your tables soon 🙂
Make it vegetarian!
You can substitute the canned coconut milk in the batter for whole milk (but then you'll miss out on some extra coconut flavor!)
Melted coconut oil can be replaced with melted unsalted butter
The flaxseed and water mixture can be subbed with 2 whole eggs
Top the waffles with heavy whipped cream instead of coconut cream
vegan chocolate coconut waffles
These rich Vegan Chocolate Coconut Waffles are packed with chocolate chips and coconut milk, coconut oil, and coconut flakes for a delicious tropical twist!
Author:
Valentina | The Baking Fairy
Ingredients
2 tablespoon ground flaxseed + 6 tablespoon water
1¼ cup all-purpose flour
¼ cup cornstarch
½ cup cocoa powder
¼ cup shredded coconut
1¾ cup lite coconut milk (1 can)
¼ cup melted coconut oil
1 teaspoon coconut extract
2 teaspoon vanilla extract
3 tablespoon sugar
pinch of salt
½ cup dark chocolate chips
*for serving*
1 can coconut cream, refrigerated overnight
melted vegan chocolate
coconut flakes
fresh raspberries
Instructions
First, place your can of coconut CREAM in the fridge overnight to solidify so that it can be whipped the next day. Be careful not to shake the can at any point!
When ready to make waffles, combine the flaxseed and water in a small bowl and set aside while you prepare the rest.
In a large bowl, whisk together the flour, cornstarch, cocoa, sugar, and shredded coconut.
Add in the coconut milk, melted coconut oil, coconut & vanilla extracts, and the prepared flaxseed mixture. Finally, stir in the chocolate chips.
Heat your NordicWare waffler over medium heat for about 5 minutes. When ready to cook, spray both sides with nonstick spray.
Pour in about ¼ of the mixture into the waffler, and cook for about 5 minutes, then flip and cook for 5 minutes more. Be sure to watch the heat and lower if needed, as the iron stays really hot! When waffle is cooked, transfer to a wire rack to prevent from getting soggy. Repeat with all.
To serve, open your can of coconut cream and carefully spoon out all the solid pieces from the top of the can. Place in a medium bowl, and whip as you would regular whipped cream. Add a spoonful of powdered sugar if desired.
Top the waffles with melted chocolate, the coconut whipped cream, and some shredded coconut and fresh raspberries. Enjoy!